We're now two weeks through the 2019 NFL preseason, and there's been a lot to like so far, especially from the first-year players who have done the incredibly difficult but necessary job of distancing themselves from their classmates.
Some of these players were drafted to be the future of their respective franchises, others have come out of nowhere to secure a place on their 53-man rosters, others may face the chop on Aug. 31 but have done enough so far to make them a prime target for teams looking to add depth to their practice squad.
Here, in reverse order, are the highest-graded rookies so far this preseason.

Offense
Grade: 75.3
Offensive Snaps: 91
Dugas was not on the 53-man roster radar until after the Jonah Williams injury, and he seized his preseason opportunity. The Louisiana Tech product has surrendered five quarterback pressures, but zero hits and sacks across 67 total pass-block snaps.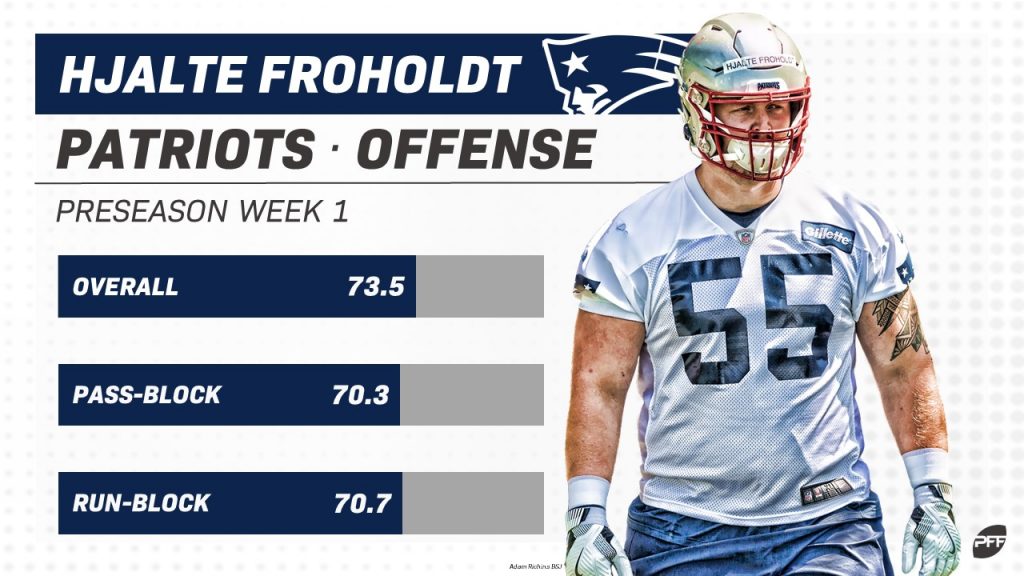 Grade: 75.6
Offensive Snaps: 152
After a standout career at Arkansas that saw him earn a fourth-round selection in the 2019 NFL Draft, Froholdt and his talents were on display for the first time in his NFL career against Detroit, and he didn't disappoint. For starters, he and fellow New England guard James Ferentz played 84 snaps apiece — 20 more than the next offensive lineman in preseason Week 1. That influx of snaps gave a clear look at how Froholdt can perform across a full NFL game, albeit against lesser competition.
Grade: 77.2
Offensive Snaps: 75
Hentges has not only obtained the highest grade among rookie tight ends with 50-plus snaps, but he has also participated in the fourth-most snaps among any tight end. The undrafted Alabama product lined up inline on 69.9% of his snaps and has seen eight targets which he has turned into seven receptions and an impressive 11.3 yards per reception average.
Grade: 77.4
Offensive Snaps: 51
Cody Thomspon, former Toledo Rocket, has been one of the most targeted receivers in the preseason (13 targets ties for sixth among wide receivers). He is also one of twelve receivers to amass over 100 receiving yards. The 6-foot-2, 215-pound receiver has yet to catch a touchdown pass but has registered two of each missed tackles forced and explosive plays (15-plus yard catches).
Grade: 77.9
Offensive Snaps: 64
Bates is the highest-graded rookie center who has played 50-plus snaps in the preseason. This feat is even more remarkable on account of him playing 100% of his 2018 offensive snaps at left or right tackle with Penn State. Although he has recorded 13 of his 64 NFL snaps at tackle, he has yet to allow a quarterback pressure at any position. Bates finds himself behind Mitch Morse, the highest-paid center in NFL, but his versatility should be a factor when Buffalo's front office makes soon makes their personnel decisions.
Grade: 80.1
Offensive Snaps: 86
Deiter's high preseason mark is more of a result of his Week 2 performance than Week 1. All told, he received a 36.4 pass-blocking grade in Week 1 as opposed to an 82.1 mark in week two. Deiter will battle Miami's longstanding curse regarding the offensive guard position. Just one year after a 2017 season that saw the team's guards combine to give up 69 total pressures, the side lost Josh Sitton to injury, and Jesse Davis, Ted Larsen and Travis Swanson combined to allow 98 pressures on the interior in 2018. 
Grade: 80.2
Offensive Snaps: 64
HBO's Hard Knocks has helped dub the rookie wide receiver as a fan-favorite because of his dedication and home-town proximity, but the recent spotlight isn't solely dramatization. Doss has been developing a serious case to be a part of Oakland's loaded receiver depth chart entering 2019.
Doss, far from a one-tool player, has been targeted eight times on six different routes this preseason which has warranted a 130.7 passer rating when targeted. The former FCS standout also caught his first NFL touchdown on the Rams' four yard-line on an inside slant. His NFL size (6-foot-2, 211 pounds) will be his best friend when battling for a roster spot entering 2019.
Grade: 81.0
Offensive Snaps: 104
Few players have a more challenging road for a player to make a roster than the third quarterback on the Patriots' depth chart, but Stidham, the Auburn-alumnus, may have the preseason resume to do so. Stidham earned an overall grade of 84.8 against the Detroit Lions, which ranked first among rookie quarterbacks who played at least 25 snaps in the preseason opener. He followed up that performance with a game where he recorded a Big-Time Throw, setting his preseason total at three, 196 yards and a touchdown. If New England chooses to keep three quarterbacks, Stidham is their guy heading into 2019.
Grade: 83.8
Offensive Snaps: 70
The lone first-round pick to find himself on this list is Andre Dillard, and for good reason. Philadelphia's rookie offensive tackle has surrendered zero quarterback pressures on 47 pass-blocking snaps. 0.0% pressure rate. Zero sacks allowed. However you choose to phrase it, it's impressive and a massive positive for an Eagles offensive line that already owns the top spot in the NFL.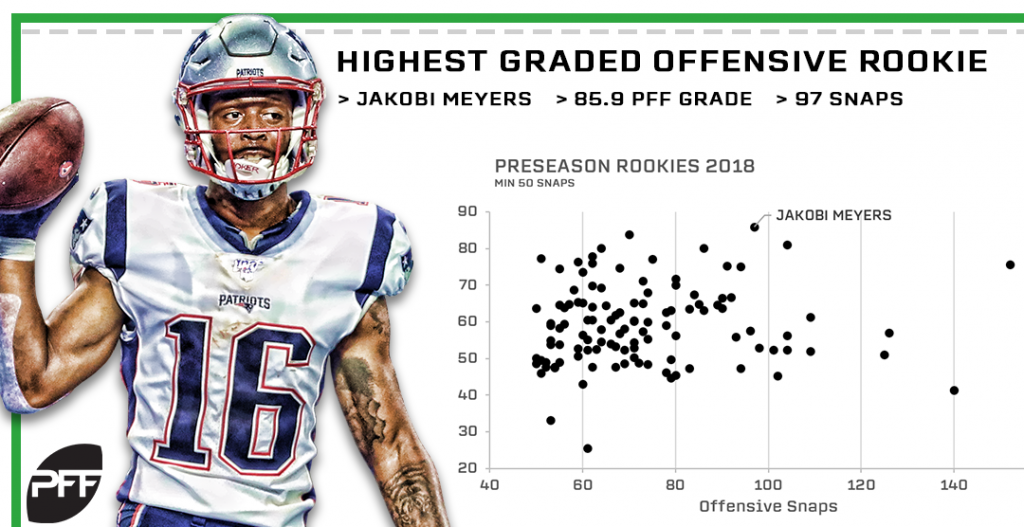 Grade: 85.9
Offensive Snaps: 97
Few have been as high on Meyers as PFF has over the past few months, which is primarily a result of his contested-catch ability as well as his collegiate progression. The undrafted rookie from NC State earned an 82.5 overall grade last year, 37th among wide receivers while his 86.2 receiving graded pitted him at No. 21, seven spots behind his now-teammate N'Keal Harry. In eight of his 11 regular-season games last year, he saw double-digit targets, earning 80.0-plus grades in four them.
Meyers has always been up for the challenge and working with the Patriots first team in training camp appears to be just another stepping stone on his inevitable path to success at the next level.
Defense
Grade: 81.9
Offensive Snaps: 53
Former Boise State standout Durrant Miles has put together quite the resume in the 2019 preseason. Miles has amassed four total quarterback pressures, a sack and an 81.9 overall grade across 53 defensive snaps. The edge defender is surely a longshot to make the Falcons' 53-man roster, but he has been one of the most consistent players thus far.
Grade: 82.4
Offensive Snaps: 52
The undrafted Clemson alumnus, often overshadowed by the collection of first-round talent on his collegiate defensive line, has stood out when given the opportunity this preseason. He struggled in his first NFL game, but burst onto the scene in Week 2 and earned a 90.6 pass-rush grade after he recorded five quarterback pressures on 22 pass-rush snaps. 
Grade: 84.3
Offensive Snaps: 69
Malik Reed saw game action in the Hall of Fame Game, which allowed him one more week to refine his in-game skillset. Reed is one of the players on this list who is creeping up his team's depth chart in an effort to make the 53-man roster. So far, he has secured eight quarterback pressures on 40 pass-rush snaps. Overall grade isn't the only metric he's recorded a top-ten mark in: Reed has attained five defensive stops while missing zero tackles. If you didn't think Malik Reed was one to watch heading into the preseason, he should be firmly on your radar now.
Grade: 84.4
Offensive Snaps: 50
Georgia had a bevy of players enter the NFL this season, and Jonathan Ledbetter is one more player on that list. Although undrafted, Ledbetter has earned the seventh-highest rookie preseason grade as a result of his run-defense (82.3) and pass-rush efforts (67.7).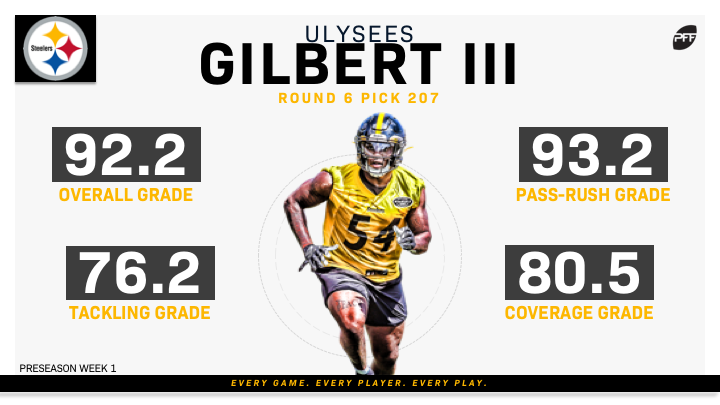 Grade: 85.7
Offensive Snaps: 83
Pittsburgh's affinity for selecting linebackers in the NFL draft doesn't conclude with the first round. Sixth-round pick and Akron-alumnus Ulysees Gilbert III has made a substantial impact on the Steelers defense this preseason. With 75.9% of his snaps being played in the box, he is playing a similar role as he did in college (70.4%). Gilbert has struggled in run defense (47.1 grade), but his 40.0% pass-rush win-rate and two sacks on 15 pass-rush snaps are impressive even with the minute sample size.
Grade: 86.0
Offensive Snaps: 58
Patrick is a compelling case. The undrafted rookie hasn't excelled in any one particular area but has yet to earn a sub-60.0 grade in the PFF grading system regarding the three primary facets of defense – run-defense, pass-rush and coverage. His consistency has resulted in an 86.0 overall grade through two weeks of the preseason. 
Patrick has accumulated six total pressures, four run stops and a formidable 56.3 passer rating allowed when targeted across his 58 defensive snaps. It's a stretch for the undrafted Georgia Bulldog to make the roster, but few NFL teams would refuse to employ a consistent edge player such as Patrick.
Grade: 90.5
Offensive Snaps: 91
Cleveland drafted a pair of linebackers in this year's draft, BYU's Sione Takitaki and Alabama's Mack Wilson. Although the former was first off the board, the latter has been the focal point on account of his stellar performance thus far. 
Wilson has registered 91 defensive snaps this preseason and has made a tremendous impact in the passing game, specifically in coverage. In Week 1, Wilson earned a 95.3 game grade as a result of two interceptions and a 2.8 passer rating allowed.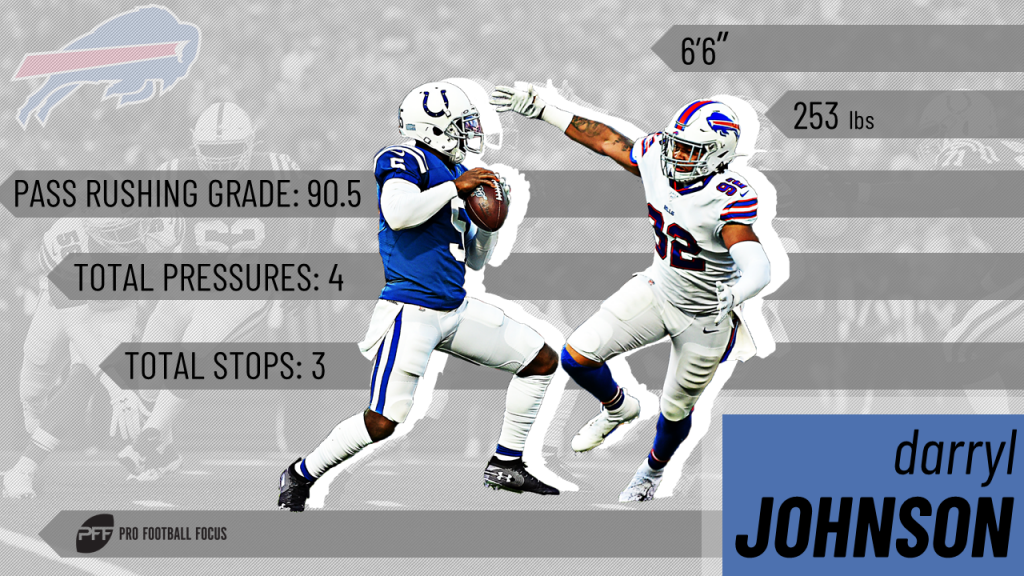 Grade: 91.1
Offensive Snaps: 58
Save for New England's Chase Winovich, Bills' edge rusher Darryl Johnson has had one of the best pass-rushing performances so far this preseason. On 36 pass-rush snaps, Johnson has recorded a 22.2% win-rate and a 13.9 pressure percentage which has resulted in two sacks and five total pressures. 
It is a question mark whether Johnson will make Buffalo's 53-man roster, but if he continues to trend upwards, his emergence would add one more weapon to coach Sean McDermott's arsenal.
Grade: 92.5
Offensive Snaps: 74
PFF has been high on Winovich for some time now and even went as far as ranking him above his Michigan counterpart Rahsaan Gary entering the 2019 draft. Although PFF admires his pro potential, our data suggests he may already be outplaying Gary.
So far this preseason, Winovich has rushed the passer on 40 occasions which have resulted in three sacks, one hit, and six hurries. There were also an additional five plays where he beat his blocker only to see the quarterback attempt the pass before he could have recorded a pressure. Excluding his one unblocked pressure, Winovich beat a blocker on 16 of his 40 pass-rushing snaps, leading to a whopping win rate of 40.0%. The rookie edge defender will compete with Deatrich Wise Jr. and Michael Bennett for snaps in 2019.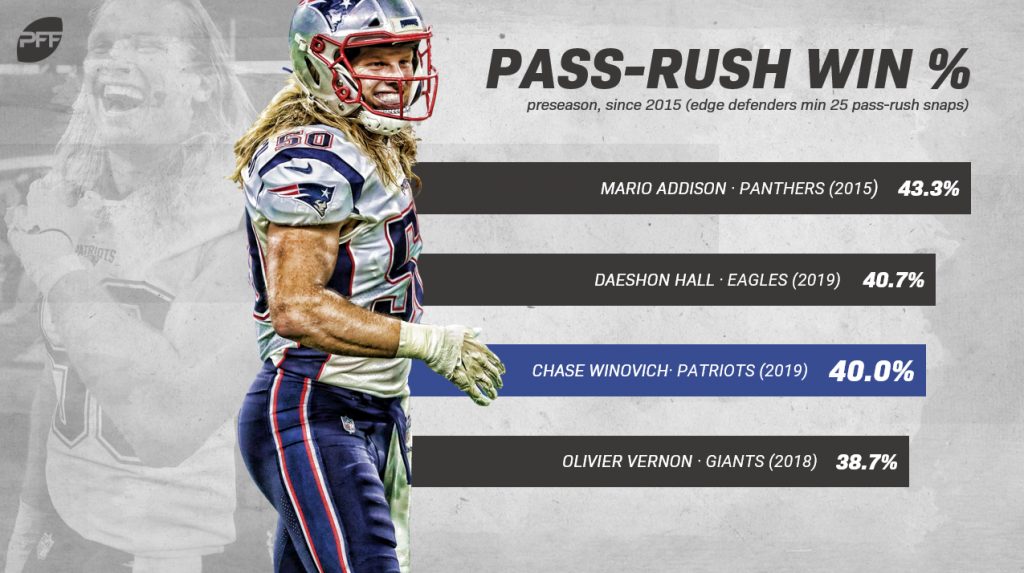 Grade: 92.7
Offensive Snaps: 56
Donovan Wilson earns the top spot on this list primarily because of his coverage ability. Through the first two weeks of the 2019 preseason, Wilson has been targeted twice on 32 coverage snaps, surrendering just five yards with an interception to boot. His 16.7 passer rating allowed ranks third among safeties this preseason.
Although the national media is focusing its attention on Dallas' ongoing offensive contract negotiations, the Cowboys are quietly building one of the better secondaries in the NFL.