Only three things are certain in life: death, taxes and the draft community arguing over whether one player's athletic profile or his college tape is more predictive and important. Rest assured, these arguments took place in 2019 as well, and the division between the two groups was never more evident than when it came to two edge rushers from the same school. Michigan teammates Rashan Gary and Chase Winovich were both starters along the Wolverines' defensive line over the last two years, and both were mentioned among the top defensive line prospects of the 2019 NFL Draft — but they still divided experts.

Gary has had all the measurables ever since he enrolled at Michigan, so it came as no surprise that he put on a show at the NFL Scouting Combine. His 40-yard dash of 4.58 seconds is in the 97th percentile of all defensive line prospects, his vertical jump of 38'' is in the 95th percentile while his 6-foot-4 and 277-pound frame is that of a prototypical defensive lineman. His 40-yard time was actually faster than that of Winovich despite Gary being 20 pounds heavier.
However, Gary could never pair the production with his athletic skills. His highest overall grade came in 2018 when he earned a grade of 82.2, but even that wasn't enough to finish in the top 40 of edge rushers in college football last year. Furthermore, Gary never finished a season with more than seven sacks or with a pass-rushing grade higher than 73.0.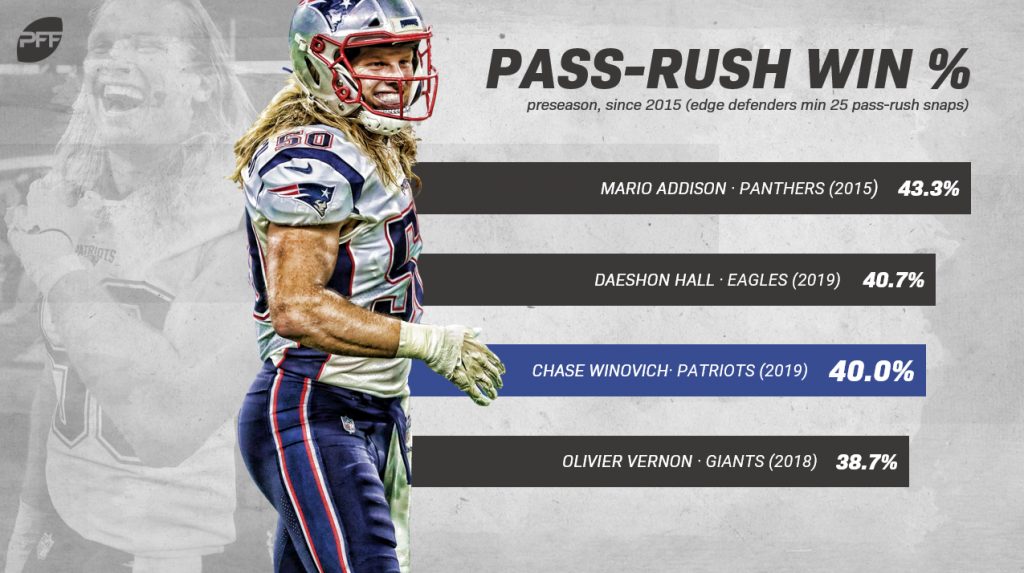 Similar to Gary's combine performance, Winovich has also confirmed the athletic skills that people had assumed for him after watching him play at Michigan. He was deemed too small to be considered a first-round prospect. Winovich's arm length was just in the 18th percentile among edge defenders and he bench pressed just 18 times, which is in the 11th percentile. In addition, when you look at former prospects with similar athletic profiles, it is not necessarily a who's who of All-Pro players. However, the one thing that Winovich does is that he — no pun intended — wins. He earned an overall grade higher than 90.0 (considered elite) in each of his last two seasons and ranked ninth among all college edge defenders in 2018 with a grade of 90.2.
NFL teams somewhat took a side between the people participating in the above-mentioned argument, with the Packers taking Gary 12th overall, while Winovich slid to the middle of the third round, where he was selected by the Patriots. So far this preseason, both have been on the field a lot, and thus their production seems to be very similar to their college tape. Gary has played 61 snaps and earned an overall grade of 56.5, which ranks 40th among rookie edge defenders, while Winovich's grade of 92.2 on 66 snaps leads all rookie edge defenders.
Pass-rush was not Gary's forte in college, either, and he has yet to make an impact rushing the passer, as he picked up just one hurry on 29 pass-rushing snaps while he also beat his blocker on another play where the QB got rid of the ball before he could have got there. Gary not only failed to make an impact rushing the passer, he also struggled in run defense in his first two games, failing to set the edge multiple times, which led to a run defense grade of 58.4 as he recorded no tackles on 32 run plays.
On the other hand, Winovich has been making splash plays right out of the gate. The Patriots rookie edge defender has earned a run-defense grade of 70.8 over the first two preseason games as he made five tackles — including three defensive stops — on 24 run plays. However, Winovich was even better on pass plays, where he has been basically unstoppable.
He rushed the passer on 40 plays and recorded three sacks, one hit and six hurries while there were an additional five plays where he beat his blocker just to see the quarterback attempt the pass before he could have recorded a pressure. Excluding his one unblocked pressure, Winovich beat a blocker on 16 of his 40 pass-rushing snaps, leading to a whopping win rate of 40.0%. Who were the other defenders who had similar rates in previous preseasons since 2015? Mario Addison (43.3%, 2015) and Daeshon Hall (40.7%, 2019). That's it.
Obviously it is very early, we are looking at a relatively small sample size and it takes time for most rookies — not just edge defenders — to adjust to the NFL, so we hope Gary will figure it out with time. Nevertheless, if you disregard where these two players were taken in the NFL Draft and just put on the Michigan tape from the last couple seasons, then what we have seen in the preseason from the two should not come as a surprise.