The Cincinnati Bengals had high expectations for improvement on the offensive side of the ball with the arrival of new head coach Zac Taylor, who was the quarterbacks coach of the Los Angeles Rams — one of the most effective offenses a year ago. However, those plans were possibly derailed when star wide receiver A.J. Green went down with an injury in July, and while return date is uncertain, Green will surely miss at least the first game of the regular season. Fourth-year receiver Tyler Boyd showed last year that he can handle a bigger workload, as he finished with more than 1,000 receiving yards in the absence of an injured Green. Still, Taylor's Rams lined up in 11 personnel — a personnel grouping which features three wide receivers — on a league-high 91.2% of their snaps, which would suggest that other wide receivers will also need to step up. Former undrafted free agent Alex Erickson might be one candidate who not many think of at the moment.

Last year, Erickson played the fourth-most snaps among Cincinnati wide receivers with 364 behind Boyd, former first-round pick John Ross and Green. Erickson was unable to get on the field more frequently even after Green went down with an injury since fellow receiver Cody Core was ahead of him on the depth chart by that time. And when Boyd was injured, Erickson was heavily featured in the offense, and the former Wisconsin Badger did not disappoint when he got the opportunity. In fact, he was the best Bengals receiver and one of the best receivers in the entire NFL over that period.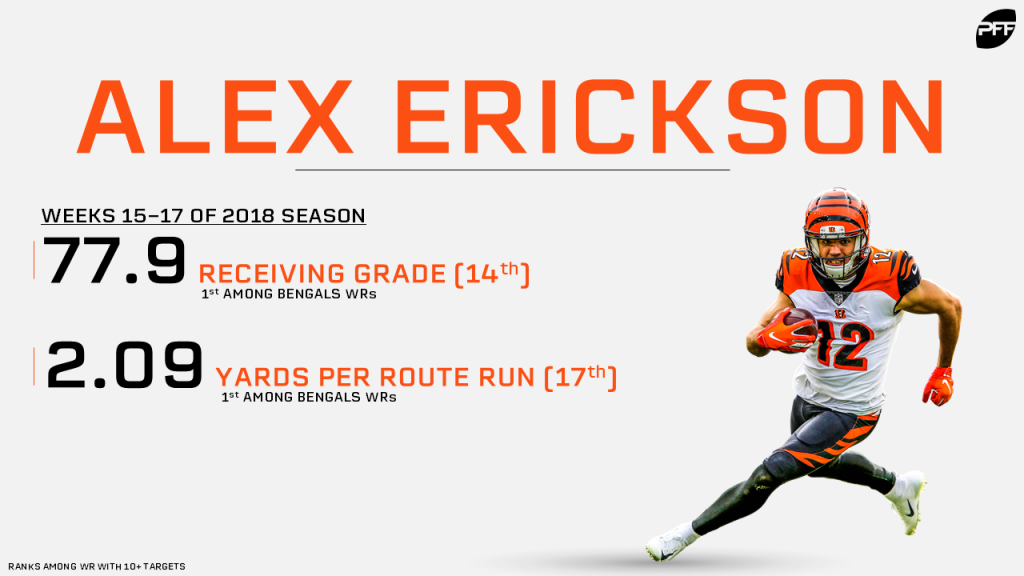 In the last three weeks of the season, Erickson caught 11 of his 13 targets — with no dropped passes — for 121 receiving yards and six first downs. As a result, he averaged 2.09 receiving yards per route run, which ranked 17th among 75 qualifying receivers, ahead of the likes of Michael Thomas, Davante Adams and Robert Woods. Furthermore, his PFF receiving grade of 77.0 ranked 14th in the NFL in that time span. As a comparison, his Cincinnati teammate John Ross ranked last among all receivers with a grade of 41.7, as he caught just 3 of his 14 targets and dropped four passes in the last three weeks of the season.
Even though it was not on offense, Erickson has already made the highlights this very preseason. He broke a couple of tackles en route to a 75-yard punt return touchdown last week against the Redskins. However, his ability to contribute on special teams should not come as a surprise either, since Erickson ranked third among kick returners with a PFF grade of 81.8 on returns last year. Although he did not take one to the house, Erickson averaged 26.2 yards per kickoff return, which ranked sixth among players with at least 10 attempts.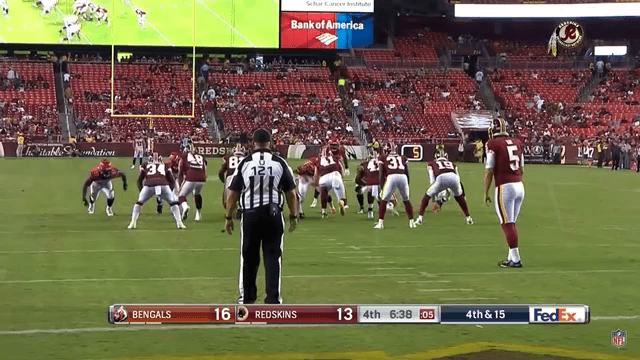 Erickson has been reliable on offense this preseason as well, reeling in all four of his catchable targets; however, the last three weeks of the 2018 regular season are probably a better indicator of what we can expect from the Bengals receiver than his snaps this preseason. And if we combine his late-season emergence and his play-making ability on special teams, then don't be surprised if we see Cincinnati rely more on the former undrafted free agent, especially while they are without A.J. Green.
[Editor's Note: All of PFF's advanced stats and grades for every NFL player are made available in PFF's ELITE subscription. Subscribe today to gain access!]