The Philadelphia Eagles have fielded one of the NFL's most fearsome pass-rushing units in the NFL since Jim Schwartz took over as the defensive coordinator in 2016. But this preseason, the team is presumably looking for a fourth pass-rusher to emerge behind starters Brandon Graham, Vinny Curry and former top-15 pick Derek Barnett. That has opened the door for fourth-year edge rusher Daeshon Hall, who has had two very productive weeks to start the exhibition season. Hall is a former third-round pick of the Carolina Panthers who spent time with the Eagles last season, as well.
Hall has put up 'wow' numbers in his first two games, with a PFF grade of 90.9 in Week 1 against the Tennessee Titans and a 93.4 mark in Week 2 against Jacksonville Jaguars. More impressively, Hall has now earned a pass-rushing grade of 95.4 across 30 rushing attempts this preseason. It's not surprising when you see how Hall has stuffed the stat sheet with eight total pressures, three sacks and two forced fumbles.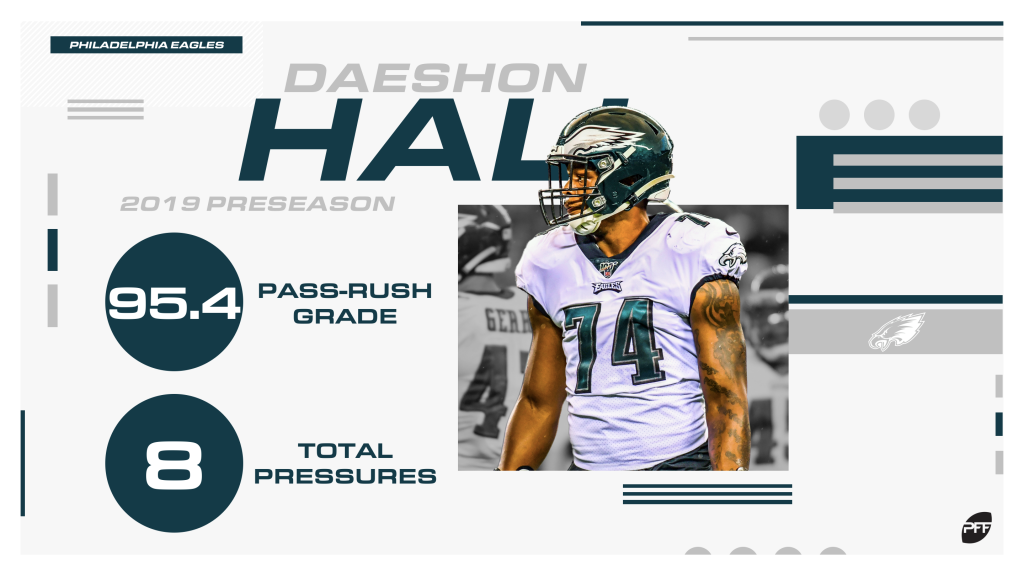 His 95.4 grade is tops in the NFL among edge rushers in the preseason through Thursday's slate of games, and his grade is a full 30 points higher than it was last season when he was cut by the Panthers. The former Aggie put up eight pressures last preseason too, but those pressures came on nearly 40 more pass-rushing attempts. He leads all edge rushers in overall pass-rushing grade and is tied with Malik Reed of Denver for the most total pressures through two games.
Right now Hall has a significant lead on the pair of fourth-round picks that he's competing with for the final spot in the Eagles' rotation. Josh Sweat, the team's 2017 fourth-round pick, and rookie fourth-rounder Shareef Miller have yet to record a pass-rushing grade of 70.0. If Hall is able to produce at even a fraction of this rate going forward, the rich will have gotten richer in Philadelphia.
[Editor's Note: All of PFF's advanced stats and grades for every NFL player are made available in PFF's ELITE subscription. Subscribe today to gain access!]