In seven seasons with the Miami Dolphins, quarterback Ryan Tannehill compiled a 42-46 overall record in games he started — a bit of a letdown given his status as the No. 8 overall pick in the 2012 NFL Draft.

And while onlookers have never ceased to criticize Tannehill's failures, the former Texas A&M quarterback hasn't really had to face questions regarding his status as a starting quarterback. That was solidified with his six-year, $96 million extension with the Dolphins in 2015.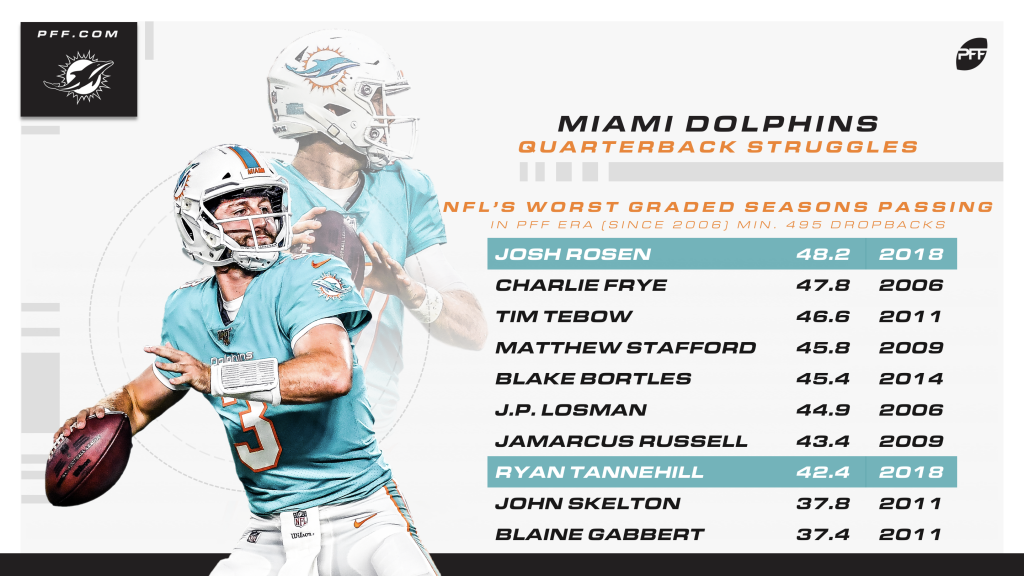 But another mediocre season at the helm in 2018, where he compiled a 5-6 record as a starter, made him expendable. And Miami was quick to pull the trigger, dealing him early in the free agency period to the Tennessee Titans for draft picks.
The 2018 season was by far Tannehill's worst yet, earning an abysmal 45.3 overall grade — nearly 30 points fewer than his 2016 mark. Coincidentally, Marcus Mariota is coming off his highest-graded season yet, putting up a 76.8 grade. Yet, the two are embroiled what appears to be a media-driven quarterback controversy as the 2019 campaign approaches.
"I didn't know it was a story," Tannehill said, per Erik Bacharach of the Tennessean. "I don't really listen to the media at all. Sorry guys."
Judging based on the two quarterbacks' respective 2018 seasons and careers, Tannehill appears to be onto something: there's no controversy in Tennessee.
Mariota earned the 17th-best overall grade, while Tannehill stumbled to the worst mark among 38 qualifying quarterbacks. In the same vein, Mariota had 13 big-time throws to 10 turnover-worthy plays. Tannehill, perhaps to no one's surprise given his grade, was the only qualifying quarterback to have 10 more turnover-worthy tosses than big-time throws, with his 8:18 ratio.
Tannehill has various redeeming qualities, though. His overall accuracy rate (64.9%) was on par with Mariota (64.7%) in 2018, but when he misfired, it was clear as day. Both signal-callers performed admirably under pressure, too, with Tannehill generating a 73.5 passer rating (17th) and Mariota putting up a 76.4 rating (15th).
Then, there were the major discrepancies.
One of those was the deep ball, where Mariota was far and away the better player. He completed 14 of his 34 throws targeted 20 or more yards downfield, but six were dropped — tied for most in the NFL. That led to an adjusted completion rate of 58.8%, best in the league.
You'll have to scroll down that list a bit to find Tannehill — all the way to the bottom, in fact. He ranked 35th with an adjusted completion rate of 28.6% on deep throws. Only twice in his career has he managed to bring that rate above 40%: in 2012 and 2016.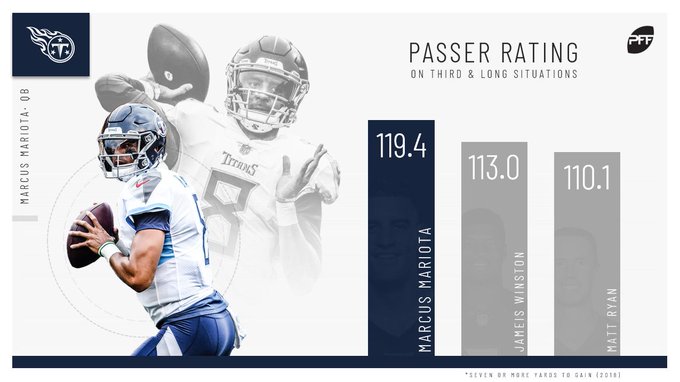 In terms of overall grading, Mariota has improved in his four years, albeit ever so slightly, while Tannehill has been up-and-down, with injuries getting the best of him as of late. He's started just 24 of 48 possible games since 2016.
Tannehill has earned a grade as high as 80.4 in 2013, but he regressed the following two years with a 75.6 and a 69.8 mark, respectively. Mariota began his career in Tennessee with a 63.5 and has since worked his way up each year to a 76.8 grade in 2018.
It's not every day you see two former top-10 quarterback picks, separated by just three drafts, on the same roster. Such is the case in Tennessee, but the signal-caller picture remains as clear as it was when Tannehill was in Miami. This is Mariota's team — at least for 2019.