It seems like the New York Giants' quarterback spot is shrouded in controversy every year. Eli Manning is far removed from his days of beating the Patriots in Super Bowls, but the 38-year-old quarterback is still doing what he can to keep the Manning name alive in the NFL. Going into the 2019 season, Manning will once again be the starter for the G-Men in Week 1, but his job security is in as much doubt as it ever has been.

Manning hasn't earned a passing grade above 70.0 since the 2013 season. He is also coming off the second-lowest passing grade of his career, as his 63.7 mark ranked 30th out of 39 qualifying quarterbacks last season. Furthermore, Manning's inability to lead the team with his arm was evident in his big-time throw percentage of just 3.8% last season, which ranked 19th among quarterbacks. Perhaps even more detrimental to the team was his turnover-worthy play percentage of 4.8%, which ranked 28th.
As the Giants' losing seasons continue and Eli's performance continues to regress, fans in New York aren't getting any happier with the team, and the Giants' latest draft selections didn't help alleviate that problem.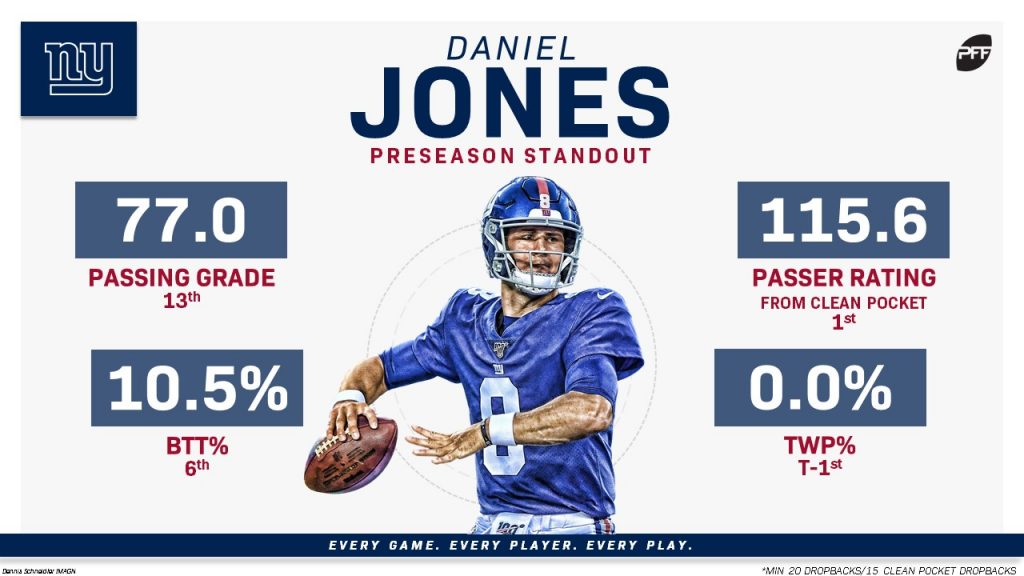 Daniel Jones, whom the Giants drafted out of Duke with the sixth overall pick last April, was one of the most highly criticized draft picks of recent memory. No one had Jones going off the board anywhere near sixth overall, but Dave Gettleman and the Giants truly believed that Jones was their franchise quarterback, and they didn't want to miss out on him.
In a pleasant surprise, Jones actually looked unstoppable in his first preseason game, going 5-for-5 for 67 yards, one touchdown and a perfect passer rating of 158.3. Although the five dropbacks from his preseason debut are a small sample size, he did rank fifth among quarterbacks that week with an elite passing grade of 90.3. However, Jones came back down to earth with a passing grade of 63.2 in Week 2, ranking 43rd out of 82 qualifying quarterbacks no thanks to two bad fumbles.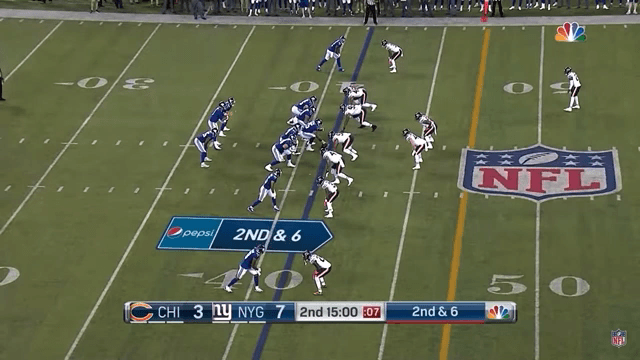 After two weeks of preseason action, Jones has one elite game and one so-so game, and his passing grade of 77.0 over the course of the preseason ranks 12th out of 64 quarterbacks who have logged at least 20 dropbacks.
Jones has been particularly impressive when given a clean pocket, as he is averaging 12.4 yards per clean-pocket attempt this preseason, which ranks first among quarterbacks who have at least 15 such attempts. Jones also ranks first in passer rating from a clean pocket (155.6).
Among 168 qualifying quarterbacks in college last year, Jones ranked 29th in adjusted completion percentage (74.3%), and that has translated well into the NFL preseason, as Jones is currently tied for the best adjusted completion percentage (89.5%) in the league.
Despite Jones' solid play thus far, it has only been two preseason weeks, and we can't completely ignore the flaws that were evident in Jones' college tape. But if Jones continues to have a solid preseason and Manning struggles out of the gate, could this be the year the Giants finally close the Manning chapter for good in New York?
[Editor's Note: All of PFF's advanced stats and grades for every NFL player are made available in PFF's ELITE subscription. Subscribe today to gain access!]