As should be expected with the game of football, many high-profile NFL players suffered season-altering injuries last season. Some of these injuries happened at the start of the campaign, derailing that player and that team's season almost immediately; others struck in the middle of the year, forcing players to miss a substantial amount of time when the stakes were perhaps the highest; others battled through the pain so that they could remain on the field with their teammates, even though that meant not performing at 100%.
As unfortunate as that may have been, there is always a silver lining for those who are able to recover in time for the next season – they get to make a comeback, return to form, and show everyone just how valuable they truly are to the team. The setback is always a setup for a comeback. Here, in no particular order, are PFF's top-10 candidates for the NFL Comeback Player of the Year award in 2019.

For the best part of the last two years, Newton has been battling through a shoulder injury that has very obviously hindered his on-field performance. This showed up in a big way in 2018 when he aggravated the malady in Week 10 against the Pittsburgh Steelers, and he limped his way to a 56.3 passing grade over his last five games. Newton ended the 2018 season with  20 turnover-worthy plays next to his name and an average depth of target (7.6 yards) that was a yard and a half shy of his previous career-low, which brought his three-year grade (2016-2018) to an underwhelming 72.0 – 24th among the 36 signal-callers with at least 1000 snaps in that span.
The spectacular, MVP-winning 2015 season is still the high point of Cam Newton's career, and we've not really seen him come close to replicating it in any of the three years since, but now that he's "feeling great" after surgery on his shoulder and armed with an arsenal of young and talented receiving weapons, Newton should be at his best in 2019.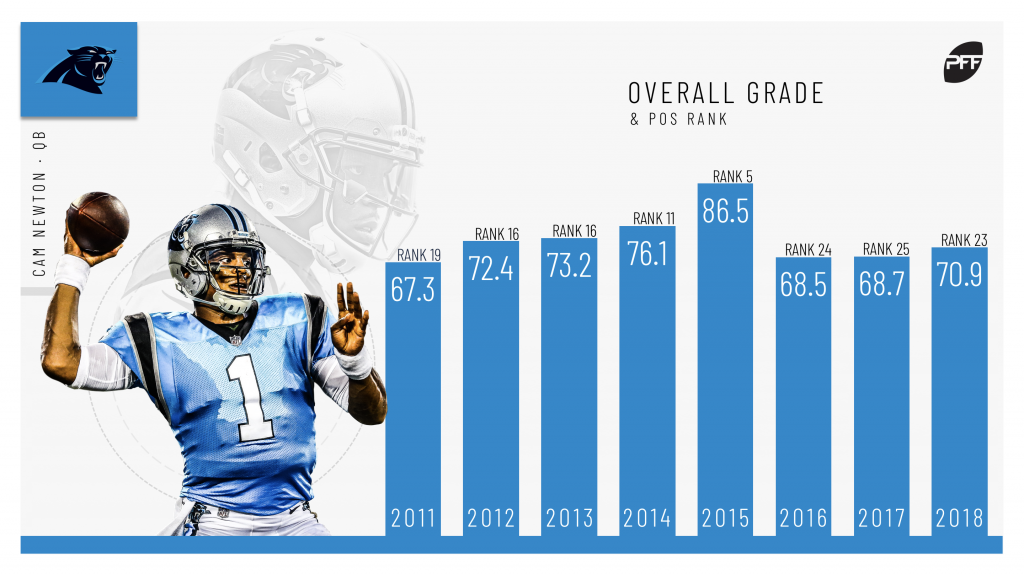 From 2013 to 2017,  the Cowboys' offensive line was the only unit to record top-five marks in both pass-blocking grade (87.6, 4th) and run-blocking grade (90.9, 2nd) over the span, and Frederick's work from the middle of that line was a huge reason why. In those five seasons, Frederick allowed only 69 pressures (and just five sacks) from his 2827 pass-blocking snaps, while he earned a run-blocking grade of 93.2 that was second to only Philadelphia's Jason Kelce. Frederick played over 1000 snaps in each season, he graded above 85.0 in each, and he received a downgrade on just 6.6% of his total snaps, which shows just how consistent he's been throughout his tenure in Dallas.
Unfortunately, Frederick was diagnosed with an autoimmune disorder which forced him to sit out of the 2018 campaign, but after a season-long recovery, the reports out of Dallas are positive: the rehab is going well, and he is progressing through the team's offseason program in preparation for the 2019 campaign. His consistency has been exemplary throughout his career, so if he is indeed back to full strength, he should be a favorite for this award.
Cooper Kupp wasn't just off to a solid start to the 2018 season; he was in the midst of a career year as a receiver. He had already bettered his receiving grade, his catch rate, his yards per reception average and his yards after the catch per reception average from his rookie year. And among the 99 wide receivers with at least 150 receiving snaps from Week 1 to Week 10, Kupp's  2.27 yards per route run ranked 12th, and his near-perfect WR rating of 145.9 ranked third.
An ill-timed ACL tear cost him a chance at playing in the Super Bowl last year, a game in which the Rams badly missed him, but as a member of one of the most creative offensive units in football, Kupp should find his way back to the top in 2019.
Since joining the Seahawks with the 14th overall pick of the 2010 NFL Draft, Earl Thomas' work on the backend of the Seahawks' secondary has put him among the very best to ever play the position. His coverage grade of 92.7 is the fifth-best mark among qualifying safeties in that nine-year span, while his 64 combined pass breakups and interceptions and his 80 total coverage stops rank second and fourth among safeties, respectively.
While he may be 30 years old and coming off another broken leg, he's graded at 90.0-plus in each of the past two seasons and has shown no signs of slowing down. Now with a chip on his shoulder and a new home in the bruising AFC North, Thomas has a point to prove with a team that will allow him to do so.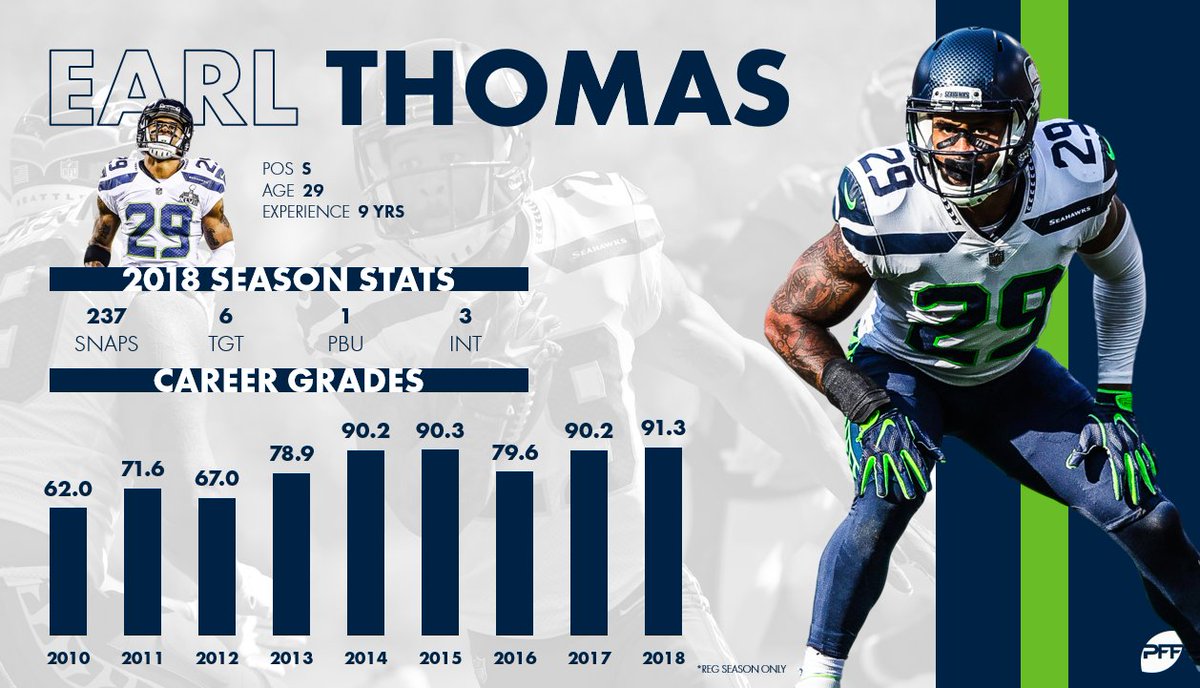 The trade for quarterback Jimmy Garoppolo brought about a revitalization of the San Francisco 49ers' franchise, and it finally marked the end of the quarterback drought that had plagued them from 2013 to the latter stage of the 2017 season. Garoppolo made his first start for the team in Week 13, and he put all concerns about sample size behind him, as went on to record overall grades of 70.0 or higher in all five of his games until the close of the season. He ended his first season with the 'Niners with an 86.6 overall grade, and he displayed remarkable, game-changing poise both from a clean pocket (110.1 passer rating – sixth among quarterbacks) and while under pressure (108.0 passer rating against unblocked pressure) – much like his mentor during his time in New England.
The quarterback position didn't pan out how the 49ers had planned after re-signing Garoppolo in the offseason. After Garoppolo's ACL tear in Week 3, both C.J. Beathard and Nick Mullens posted mediocre passing grades of 65.5 and 66.7, respectively, and the 'Niners lost all the momentum they had built up with the arrival of their franchise quarterback. With almost a full season of rehab, Garoppolo will be looking forward to retaking the reigns of the offense and proving that 2017 was no fluke.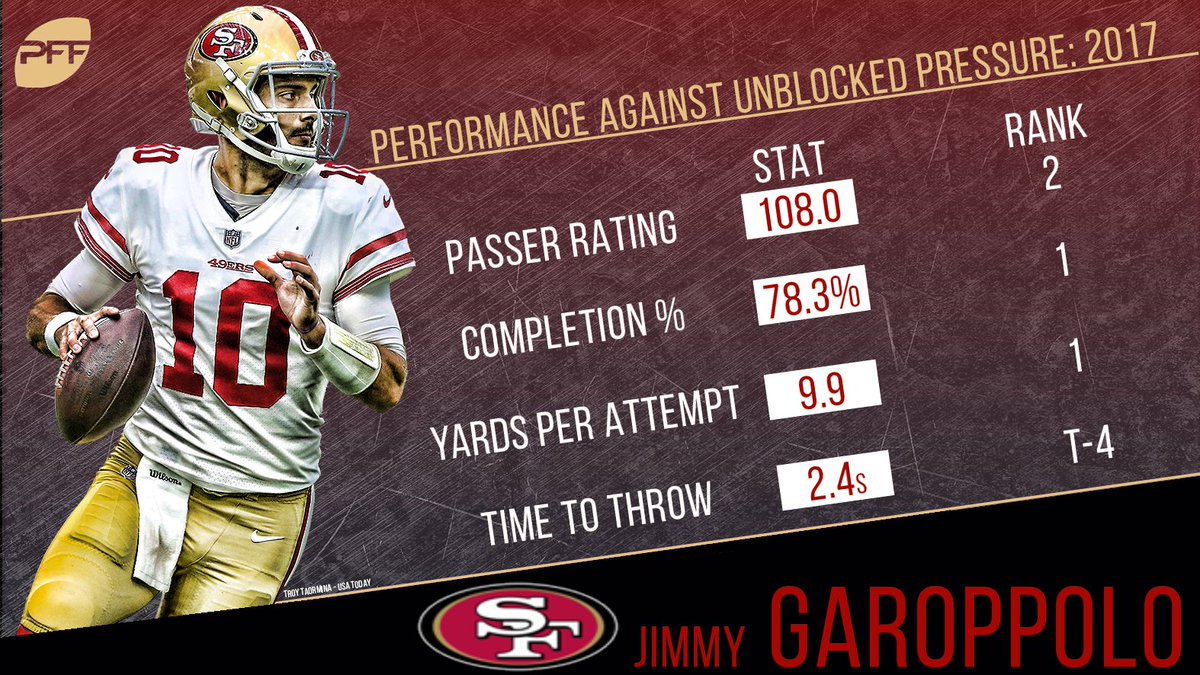 Before his season-ending injury in Week 12, the Red Rifle seemed to be putting together one of his better years in the NFL. He earned three single-game grades of 85.0 or higher from Week 1 to Week 12, and he finished the season with an 81.9 overall grade – the highest mark of his career. Dalton was lights out from a clean pocket: He finished the season ranked third in clean-pocket big-time throw percentage (5.99%), and his 89.4 passing grade from a clean pocket ranked 11th among 38 qualifying signal-callers. However, he simply wasn't kept clean enough to stay healthy and take Cincinnati further.
Dalton will enter his ninth season in the NFL with a new offensive-minded coaching staff, a healthy A.J. Green, an ascending Tyler Boyd, a returning Tyler Eifert and the best offensive lineman from the 2019 draft class. Dalton is one to watch in 2019.
Before the 2018 season, the Chargers' young tight end was considered to be one of the league's most dangerous players at the position after he earned an 87.2 overall grade in 2017 that ranked second among his peers. As a significant part of the Los Angeles passing attack since his arrival in the NFL in 2016, Henry has averaged 2.00 yards per route run that ranks fourth among all qualifying tight ends since 2016, and together with Philip Rivers, the pair have generated the best passer rating of any qualifying quarterback to receiver tandem over the last 13 seasons.
Now almost a season removed from his injury, Henry has the chance to return to the top tier of tight ends and help a Chargers team that just seems to get better and better with each passing year.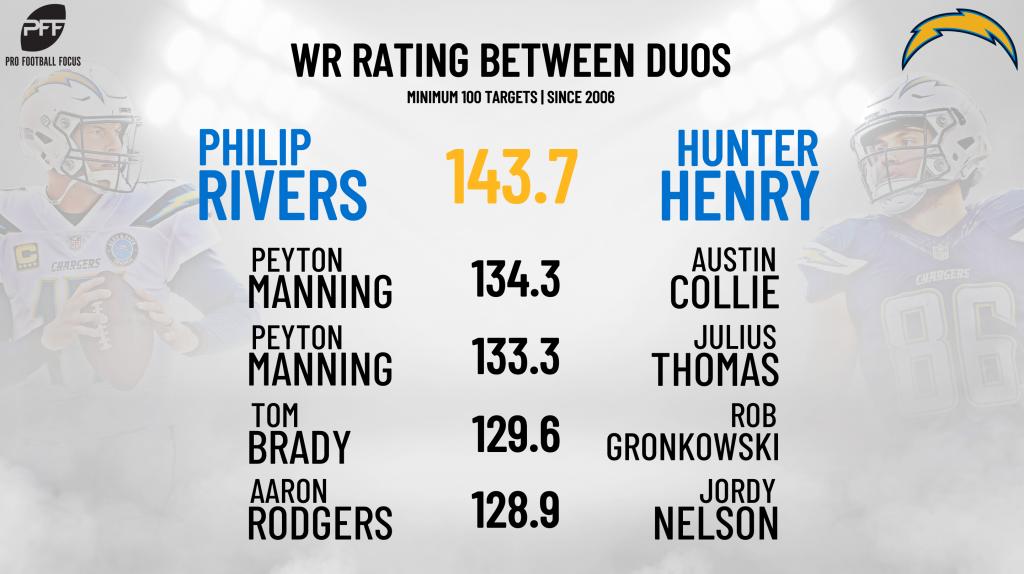 If there is ever a comeback story to get behind, it's this one. Verrett, a supremely talented cornerback out of TCU, has managed all of 1,266 snaps over his first five years in the league, no thanks to his improbably bad injury luck. However, in his lone "full" season in 2015 (and even that consisted of only 720 snaps), he managed to put together an elite 90.9 coverage grade while allowing a passer rating of just 82.9 on throws into his coverage.
If he can stay healthy (and it is a big if), he is, without doubt, a starting-caliber cornerback, one that can bring the 'Niners defense back to former glory.
You can make the case that Deion Jones' early-season injury played a pivotal role in the Falcons' struggle to make the playoffs last year, as his presence as a coverage ace across the middle of the field can not be overstated. In 2017, Jones ranked sixth in forced incompletion percentage (12.3), tied for third in total coverage stops (22), tied for sixth in passer rating allowed (79.3) and tied for seventh in yards allowed per reception (7.9) among the 74 off-ball linebackers with at least 25 targets in coverage that season. His three-year coverage grade of 90.5 falls behind only Luke Kuechly, Jordan Hicks, and Bobby Wagner in that span.
With Jones in the lineup during 2017, the Falcons' linebackers collectively earned a coverage grade of 90.1, forced an incompletion on 9.4% of their targets, and allowed 38.6 yards per game. Without him in the lineup in 2018, they collectively earned a coverage grade of 53.1, they forced an incompletion on just 1.8% of their targets, and they allowed 110 yards per game. Jones' return to the fold is invaluable to the Falcons' defense, and he has the chance to show it in 2019.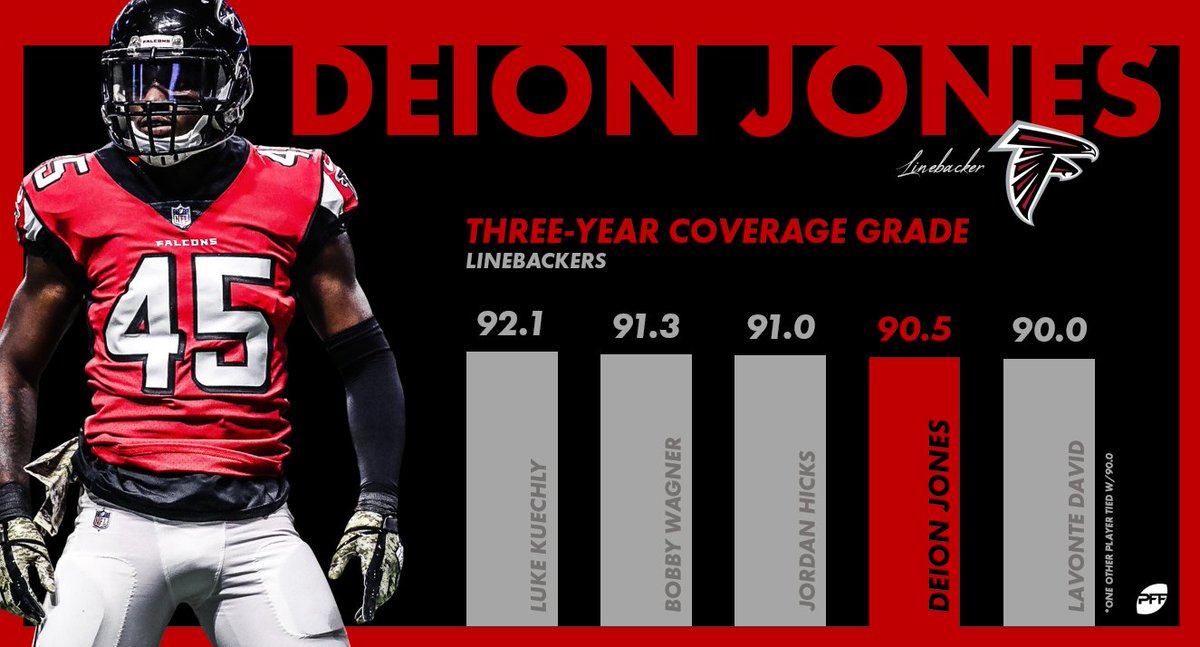 A PFF favorite from his college days at Auburn, Lawson earned the second-best pass-rushing grade in college football back in 2016 before he came into the NFL and led all rookies with 59 total pressures – including 10 sacks and 11 hits – in 2017. A torn ACL in Week 8 of the 2018 season deprived us of what looked to be yet another exceptional season, as he was well on his way to at least emulating his rookie campaign, but he still won 23.4% of his pass-rushing snaps when he was on the field – the second-highest rate among edge defenders last year.
Back with a new coaching staff and a revitalized roster, Lawson will have his eye on hitting the 70-plus pressure range for the 2019 season, something that he's more than capable of doing.