PFF previews the 16 NFL games in Week 1, highlighting storylines to watch while also taking a fantasy football and betting approach to offer insight for every NFL fan.
Headline of the Game: The headliners of the 2017 draft class show that they're worth every penny of their contract extensions in the season opener
Patrick Mahomes and Deshaun Watson reset the quarterback market this offseason, signing contracts that make them the first- and second-highest paid quarterbacks in annual average value, respectively. Both players have shown to this point in their young NFL careers that they're deserving of those deals.
There are few matchups better than this one if you want to watch high-end quarterback play that has you asking how that just happened. Mahomes and Watson both rank among the league's top signal-callers in positively graded play rate over the past two seasons and have routinely made big plays outside of the structure of the offense.
Mahomes turned in his lowest PFF grade of the season (40.0) against Houston last year in the regular season, but he won't be limited by an ankle injury in this one. I expect both quarterbacks to put on a show against secondaries that have question marks. Kansas City will be thin on cornerback depth with Bashaud Breeland's suspension, and that will likely push second-year cornerback Rashad Fenton outside. The Texans, meanwhile, will need either Vernon Hargreaves or Lonnie Johnson Jr. to improve on their performance in 2019 after ranking 108th and 115th, respectively, among 115 qualifying cornerbacks in overall grade.
It probably won't get to the 82-point total that their meeting in the postseason ended at, but I would be surprised if Mahomes and Watson didn't light up the scoreboard in this one.
Fantasy
With two high-powered offenses, this game is full of fantasy stars. Both quarterbacks should be top-five fantasy scorers, and as usual, Travis Kelce will be a top-tier tight end. The interesting part of the matchup is how to handle the rest of the skill players.
The Chiefs wide receivers have the best matchup of the week according to our strength of schedule metric. Figuring out which wide receivers will see enough targets to take advantage of the matchups is the bigger question. Sammy Watkins was largely disappointing last regular season but had over 75 yards in each of the Chiefs' playoff games. Mecole Hardman is expected to see a bigger role in the offense but saw less playing time as 2019 went on rather than more. Both are risky plays with a lot of upside.
This game also features the best matchup for running backs, as the strength of schedule tool also gives the Texans running backs a top score of 10. If the game stays close, then David Johnson should be able to break some big runs. If not, we will quickly find out how much Houston views Johnson as a three-down back compared to how much it values Duke Johnson. The Chiefs defense allowed 951 receiving yards to running backs last year, which was the most in the league, so the opportunity should also be there for running backs to catch a lot of passes.
The Texans allowed the league's second-most receiving yards to running backs (860), so the Texans running backs aren't the only ones who could have a big game. That could mean a big NFL debut for Clyde Edwards-Helaire.
Betting
The betting market has continued to move against the Chiefs. After opening as -11 point favorites, the number has dropped to -9. We have seen a full-point movement within the past week, so the idea that this is related to an adjustment on home-field advantage appears incorrect.
The moneyline has a vast majority of the tickets printed for the Chiefs, but a high percentage of dollars taken have been on the Texans, signaling that big bettors appear to be taking the underdog. The spread cash and ticket percentages are more evenly distributed, but the line movement highlights a clear lean from betting markets.
According to the PFF models, this movement has opened up value with betting options available on all three markets that we set lines for.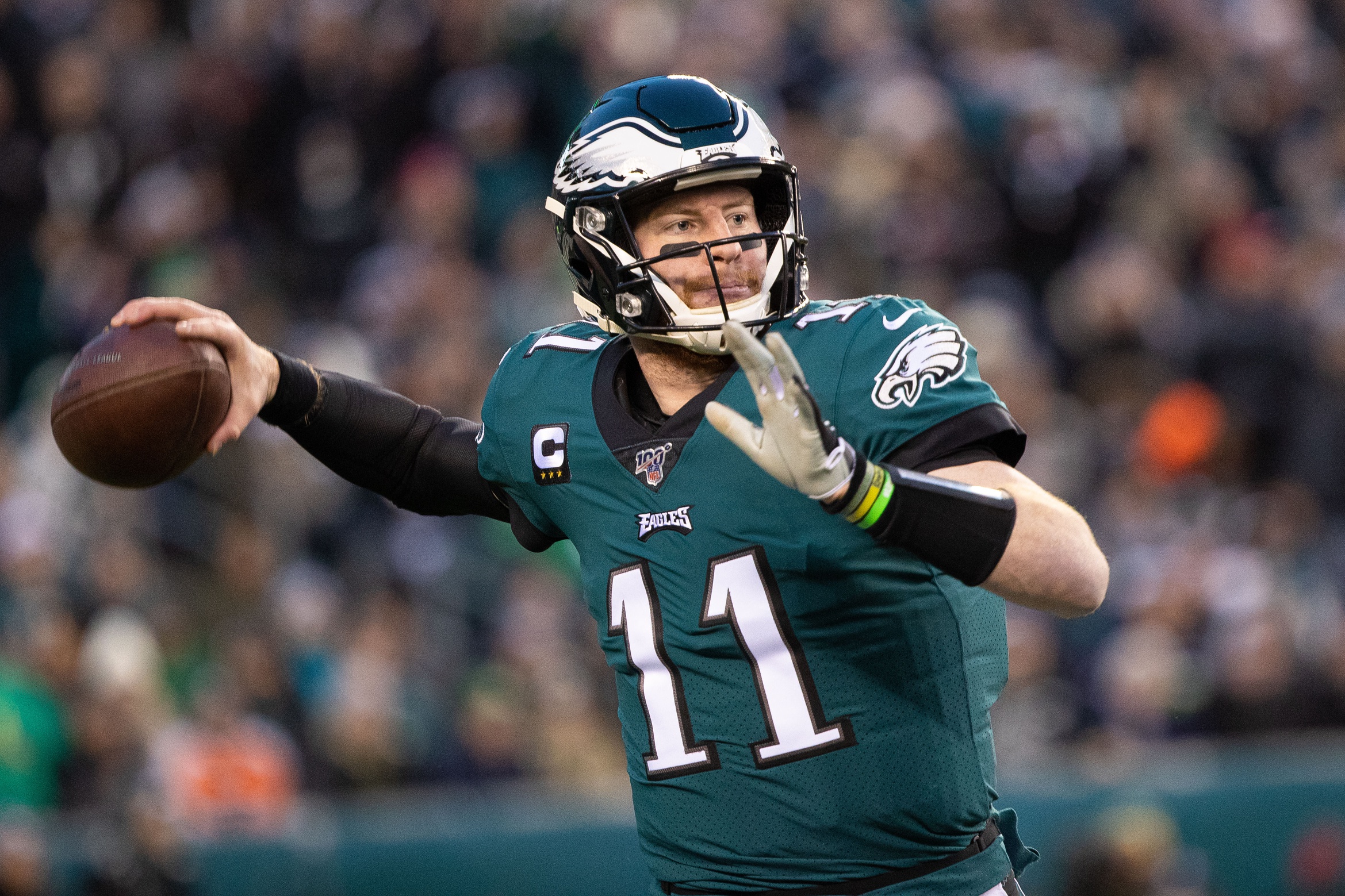 Headline of the Game: Two of the best defensive lines in the NFL should make things difficult on Dwayne Haskins and Carson Wentz
Washington and Philadelphia finished second and third, respectively, in PFF's defensive line rankings that came out earlier this offseason. Both units are loaded with talent, and they'll make things difficult on the opposing offensive lines.
The Eagles' defensive line is led by the Brandon Graham and Fletcher Cox duo that has wrecked opposing offensive lines for years. Graham's 338 quarterback pressures over the past five seasons rank sixth among all defenders, and Cox follows right behind him in the rankings at seventh with 336 pressures. The addition of Javon Hargrave — who produced a 14.2% pressure rate in 2019, a top-five mark among all interior defenders — and the return of Malik Jackson from injury only bolsters the interior of that defensive line.
That group should be able to feast on the left side of Washington's offensive line. Geron Christian Sr. is projected to start at left tackle, and either Wes Martin or Wes Schweitzer is projected to start at left guard. Translation: it's not an ideal situation. Making matters worse is the fact that no quarterback took sacks on a higher percentage of their pressured dropbacks in 2019 than Haskins did (33%), so pressure could snowball into big, negative plays for the Football Team in Week 1.
Defensively, Washington should have a slight edge along the line of scrimmage considering the injuries Philadelphia has dealt with up front. Back-to-back first-round picks Montez Sweat and Chase Young should push Ryan Kerrigan out of the starting lineup and into a rotational role, and there is every reason to believe that Young will immediately profile as an upper-tier NFL edge rusher after posting a 96.0 overall grade this past season at Ohio State. On the inside, Jonathan Allen and Matt Ioannidis are both capable of being disruptive pass-rushers, as well — even if Allen needs to show he can do so with more consistency.
The Eagles are down two projected starters on the offensive line in right guard Brandon Brooks and left tackle Andre Dillard. That will force 38-year-old Jason Peters back out to left tackle — where he was very good a season ago — and probably Matt Pryor into the right guard job. This was one of the best offensive lines in the NFL in 2019 and still shouldn't be much worse than average, but the Eagles can't be as confident in the group as they were several months ago. They'll be tested in this matchup.
Fantasy
If there is any week to see what DeSean Jackson has left in the tank, it's this one. The wide receiver cornerback matchup chart gives Jackson the third-best matchup of the week while the strength of schedule tool puts the Eagles wide receivers as a unit with the second-best matchup. When we last saw Jackson in a full game, it was also against Washington when he caught eight of nine passes for 154 yards and two touchdowns. While he might not be that dominant, the upside is there.
The matchup for the Eagles tight ends is also favorable. Alshon Jeffery was removed from the preseason PUP list on Sunday and is unlikely to play, while Jalen Reagor is also probably out. Philadelphia was the only team to use 12 personnel on over half of its snaps last year, which should be the case again with so many injuries. This is a week to not only trust Zach Ertz, who should have his usual good game, but also Dallas Goedert.
As for Washington, outside of Terry McLaurin, everyone comes with risk. Antonio Gibson might eventually be an every-down back, but chances are he's eased into his first NFL game — and this isn't a favorable matchup. You shouldn't take much from the teams' depth charts, but J.D. McKissic is listed as the starter. This shouldn't be a sign of concern for Gibson's season-long prospects, but it is for Week 1.
Betting
The Eagles opened as a touchdown favorite but have dropped a full point to 6-point favorites in most spots. The cash and ticket percentages are skewed toward the Eagles, but a heavier percentage of tickets have been bought on the road favorites. This signals — along with the spread movement — that the majority of sharp action is heavily leaning towards Washington. The total has dropped over 2 points in most spots and has crossed two of the three most important numbers from a total perspective. Live movement rarely is more significant than that, but only PFF's prediction algorithms can highlight if this movement has created opportunity on either side.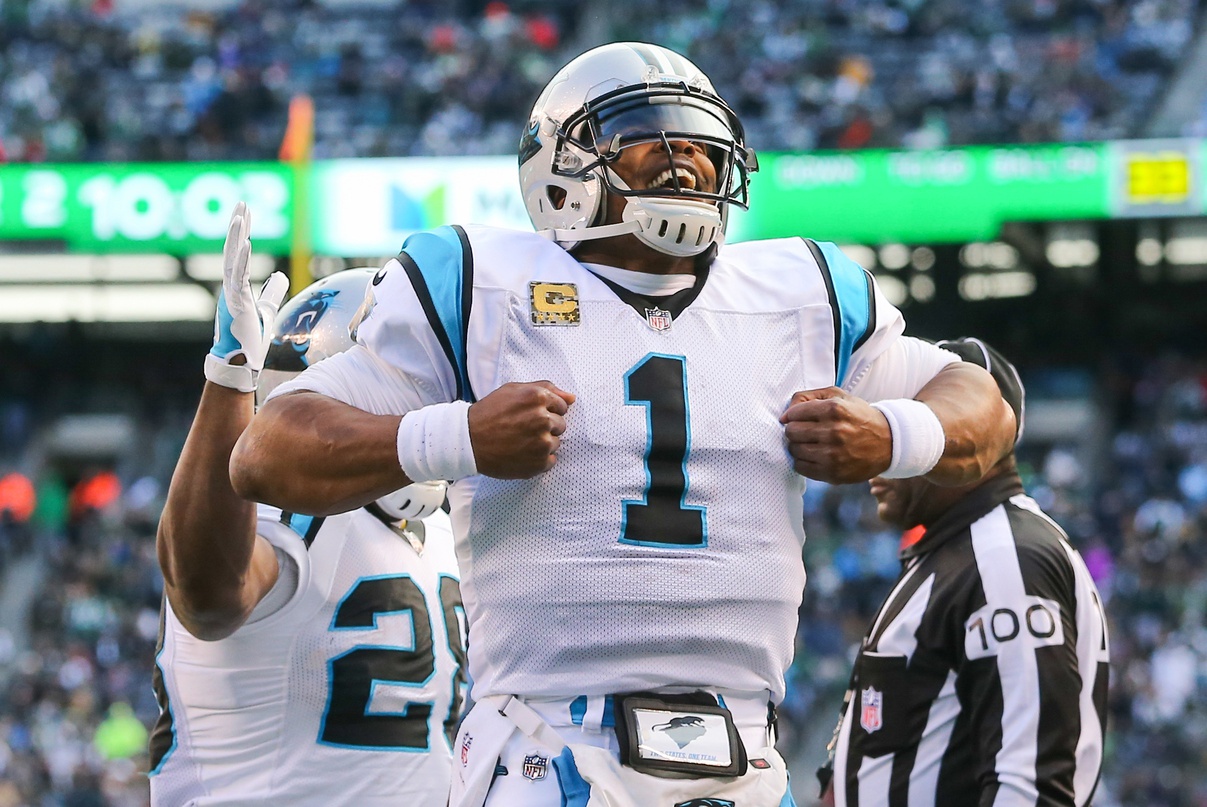 Headline of the Game: Cam Newton gives Josh McDaniels and this New England Patriots' offense different possibilities in the post-Tom Brady era
Newton and Brady have their stylistic differences beyond their significantly different capacities as runners of the football. In Carolina, Newton had one of the highest average time-to-throw averages in the NFL (2.9 seconds), and his average depth of target of 9.7 yards downfield ranks third among 32 qualifying quarterbacks since getting drafted in 2011. Brady is on the opposite end of the spectrum in both categories. It will be interesting to see whether it's Newton or the Patriots offense that changes or if the two meet somewhere in the middle in their first year together.
We at PFF are not often proponents of the run game, but there are pros to the run game when you involve an athlete like Newton at quarterback. Since entering the league, no quarterback has had more designed runs called for them than Newton has — often on plays that help tilt the ever-important numbers game in the offense's favor. That's not something that has been in New England's repertoire with Brady behind center, but we did see several quarterback runs dialed up when Jimmy Garoppolo and Jacoby Brissett saw playing time for the Patriots. It will be worth monitoring how New England deploys Newton early in the 2020 season.
They'll have an opening matchup with a Dolphins defense that finished the 2019 season ranked 31st in EPA per play allowed, ahead of only the Raiders. It is a group that added several key contributors in free agency and the 2020 NFL Draft — namely Byron Jones, Kyle Van Noy, Noah Igbinoghene and Shaq Lawson — and they also have Xavien Howard returning from the injury that sidelined him for much of last season. It should be an improved unit in Brian Flores' second year as head coach.
Fantasy
The Patriots' running back situation has been in flux in recent months, but it's stabilizing at a time when fantasy owners can take advantage. Lamar Miller was released while Damien Harris landed on injured reserve. This paves the way for Sony Michel to hold onto the early-down role he had last season. The Patriots offensive line has the fourth-highest advantage over the Dolphins defensive line in our matchup chart. Michel had 39 carries for 157 yards and two touchdowns in two games against Miami last year.
Our projections put Cam Newton as the fourth-best quarterback this week. The Dolphins' strength is at outside cornerback in Xavien Howard and Byron Jones, but the Patriots are known for attacking the middle of defenses. He's also projected to get the fourth-most rushing yards.
It's hard to get too excited about any of the Dolphins' fantasy prospects. The Patriots lost a number of defensive players this offseason but retained an elite secondary. Because of New England's new front-seven, Jordan Howard or Matt Breida could have a big game. It's unclear how snaps will be distributed since they're both new to the backfield, so it will be hard to depend on either.
Betting
The cash and ticket percentages are heavily skewed toward the Patriots, but a higher percentage of cash compared to tickets is on the Patriots, which rarely happens.
The Patriots are still a public team but could be undervalued when comparing the current betting market outlook to where sharps project them to be. The loss of Brady cannot be understated, but the Patriots will be a case study for how much a coach can matter when building betting market models. The total hasn't moved off of 43, with the majority of tickets buying into the Patriots' fourth-ranked defense. PFF Greenline offers no strong lean on the total but still sees considerable value in both the spread and moneyline.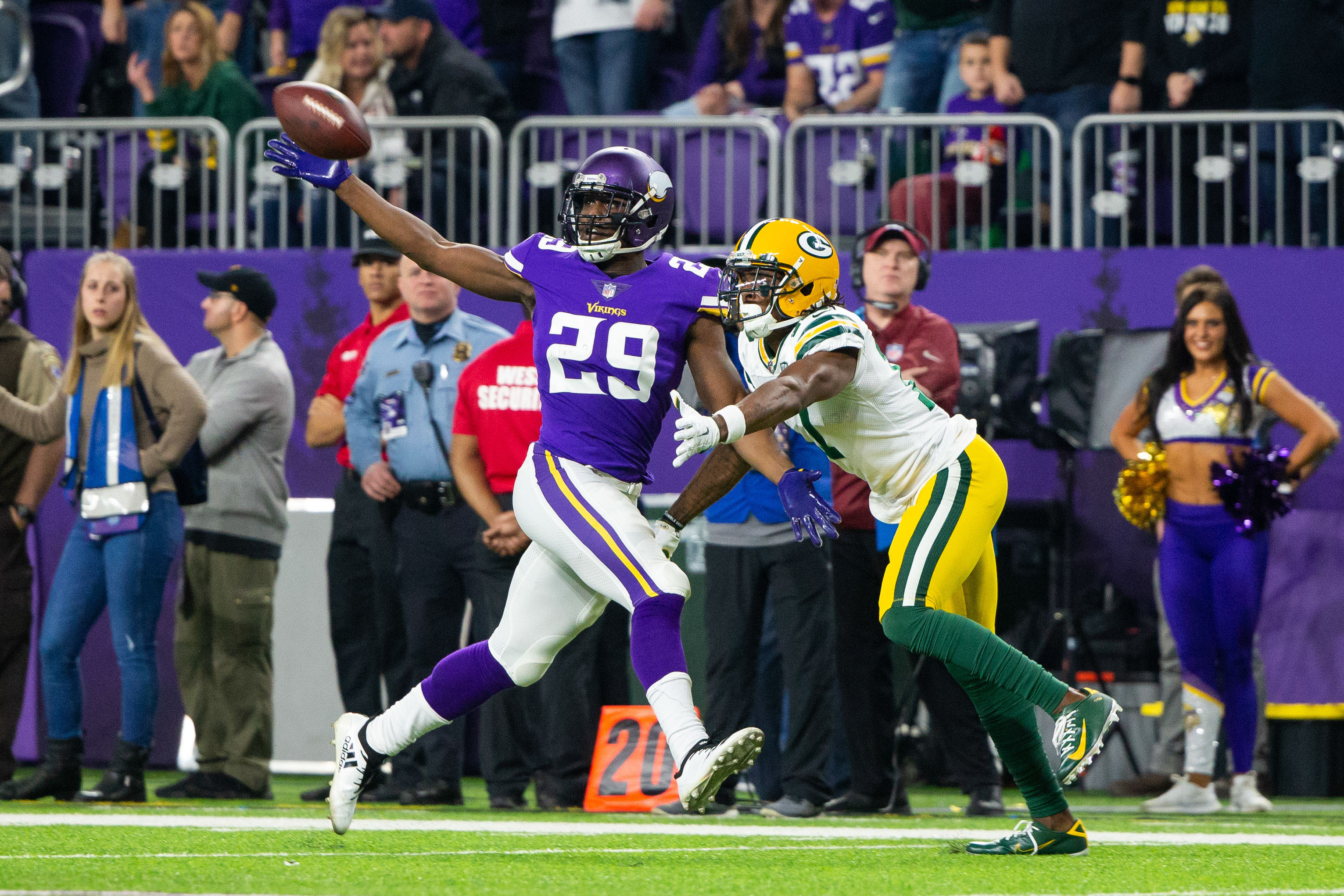 Headline of the Game: Two young position groups with a lot to prove — Green Bay's receiving corps and the cornerback position for the Vikings — go head to head
These two teams are still the favorites in the NFC North, but both have questions following this past offseason. Two of those question marks — the Packers' receiving corps behind Davante Adams and the Vikings' new starting lineup at cornerback — will line up across from each other. The matchup will go a long way towards determining the outcome of the game.
The only significant addition Green Bay made to their group of receivers was adding Devin Funchess in free agency — an addition that won't pay dividends after he opted out of the 2020 NFL season. In the draft, the Packers opted to go after Aaron Rodgers' eventual replacement (Jordan Love), a change of pace for Aaron Jones (A.J. Dillon) and hybrid tight end Josiah Deguara in the early rounds. Deguara is the only one in that group who could potentially impact the passing game early on.
That lack of new faces to the pass-catching group indicates two things. First, the Packers have a lot of trust in young guys like Allen Lazard, Marquez Valdes-Scantling and Equanimeous St. Brown to produce this season. Second, there's a lot of pressure on them to complement Adams.
They'll go up against a Vikings defense that will be fielding an entirely new cornerback lineup. In two-cornerback sets, Mike Hughes and Holton Hill are the likely starters, with Hughes kicking inside and third-round rookie Cameron Dantzler lining up outside when the defense is in nickel. That's certainly not set in stone, though. First-round selection Jeff Gladney could very well get the first-team reps in the slot with Hughes remaining outside. However the starting lineup shakes out, Adams will be a problem for Minnesota both outside and when he travels to the slot. He is one of the league's top route-runners, and his 88.1 receiving grade in the red zone since 2016 is the highest mark in the NFL. It will be trial by fire for a team with no cornerback over the age of 23.
Fantasy
Dalvin Cook and Davante Adams will be must starts as usual, but the rest of the players in this game might not have their best starts. First off, both teams are expected to use multiple tight ends, and neither defense is bad against TEs, meaning there isn't an upside play at that position.
Aaron Rodgers wasn't a QB1 in either matchup against Minnesota last year despite 35-plus attempts in both games. He's now without Bryan Bulaga blocking Danielle Hunter, while David Bakhtiari faces Yannick Ngakoue. The Vikings are the only team with two edge rushers with 115 or more pressures over the last two seasons. Even if the Packers win, we shouldn't expect Rodgers to have a QB1 performance.
Late last season, Jaire Alexander shadowed No. 1 receivers in a few games, which could lead to him shadowing Adam Thielen. Over the last three games Alexander shadowed an opponent, he held receivers to three catches in his coverage. This would also make it difficult for Thielen to have a big game.
Betting
The NFC North matchup has crossed the most important number from a spread perspective, settling into -2.5. The ticket percentages have been split, but a high percentage of cash has found its way to the Packers. Typically, road favorites for a spread less than a field goal haven't been a great spot to back, but bettors with influence appear to be buying up the Packers. The total has also seen significant line movement to the downside and is most likely being overlooked by DFS players. Additional line movement on the spread or total will open up value, so make sure to check PFF's betting prediction models as we approach kickoff.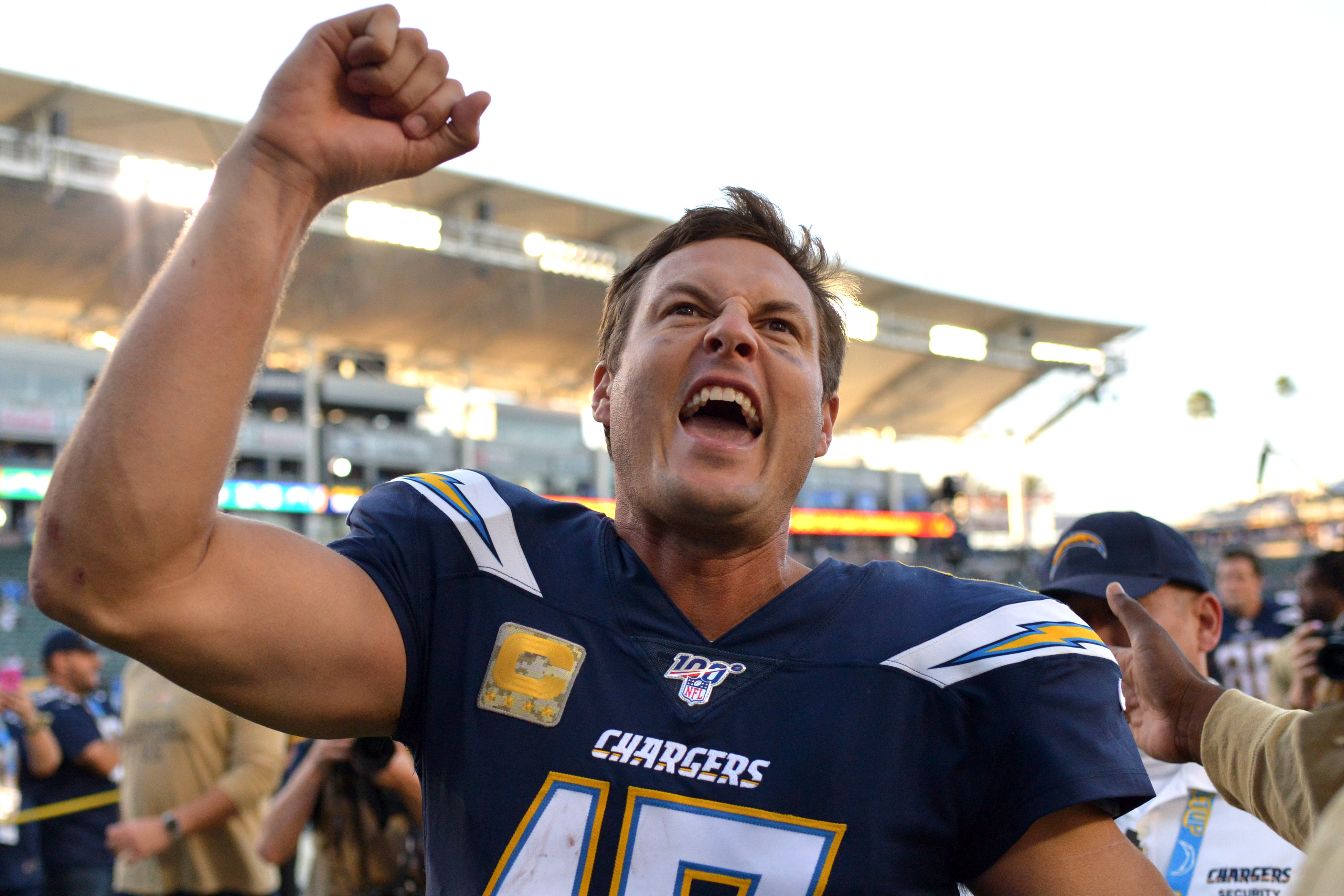 Headline of the Game: Philip Rivers takes advantage of the NFL's best offensive line to show that he isn't washed
If you watched the Chargers last season, it's clear that Rivers' arm strength is not what it once was. That led to a year that saw him repeatedly force passes that he shouldn't have — often putting the ball in harm's way, given his 32 turnover-worthy plays (third-most in the NFL) — and anticipate many of his throws over the middle of the field. PFF's Seth Galina explored some of those issues in a recent piece on the 38-year-old quarterback. You don't have to go back far to see that Rivers' accuracy can still lead to a top-five season at the quarterback position, however. His 87.4 passing grade in 2018 ranked fifth in the NFL.
Now, he gets what is by far the best offensive line that he has played with. It's a group that is headlined by Quenton Nelson and his league-high 90.0 overall grade at guard over the past two seasons, but more importantly, it's also a unit that has played together for over a year and one that doesn't have a true weak point. Indianapolis came in as the top offensive line in the league in PFF's preseason offensive line rankings.
That should give Rivers confidence to take what comes to him in the Colts offense without worrying about the defender that is about to ruin his day. He has a real chance to rebound with a strong Week 1 performance against a Jaguars defense that has unloaded much of its talent over the past few seasons.
Fantasy
The most favorable matchup in the offensive line defensive line matchup chart is the Colts' offensive line against Jacksonville's defensive line in the run game. In Week 11 when Jacksonville and Indianapolis faced off, Both Marlon Mack and Jonathan Williams had 100-yard games. The Jaguars' only run defender last year with a run defense grade above 75.0 was Calais Campbell, who is now with the Ravens. While we don't know how the rushing snaps will be distributed between Mack and Jonathan Taylor, the matchup is good enough for both to have big games.
With how big of an advantage the Colts should have running the ball, and since they are unlikely to be in a game situation to abandon it, this might not be the best week for the Indianapolis pass game.
The Jaguars' running backs, on the other hand, should be avoided. How the snaps and carries are distributed is a mystery, and the Colts run defense allowed just three rushing touchdowns to running backs last year. D.J. Chark Jr. is the only interesting play. Last year he had his best games of the season against the Colts with 104 yards and two touchdowns, but that was with Nick Foles at quarterback. A few weeks later, he had four catches for 34 yards and no touchdowns. With Xavier Rhodes as one of the two outside cornerbacks, Chark has a shot at a big game.
Betting
The lone spread that is greater than a touchdown for the road favorite highlights how low the betting market has gotten on the Jags. A preseason firesale will typically temper expectations, with the Jaguars a short distance from the basement at 30 in our initial Elo rankings. The market is heavily siding with the Colts, who are seeing a majority of cash and ticket percentages on both the spread and moneyline. With this number fluctuating heavily between books, this is an opportunity where line-shopping could pay dividends. The +8 number is relevant, so finding the best price could be the difference between a value bet and one where you are on the wrong side of the vig.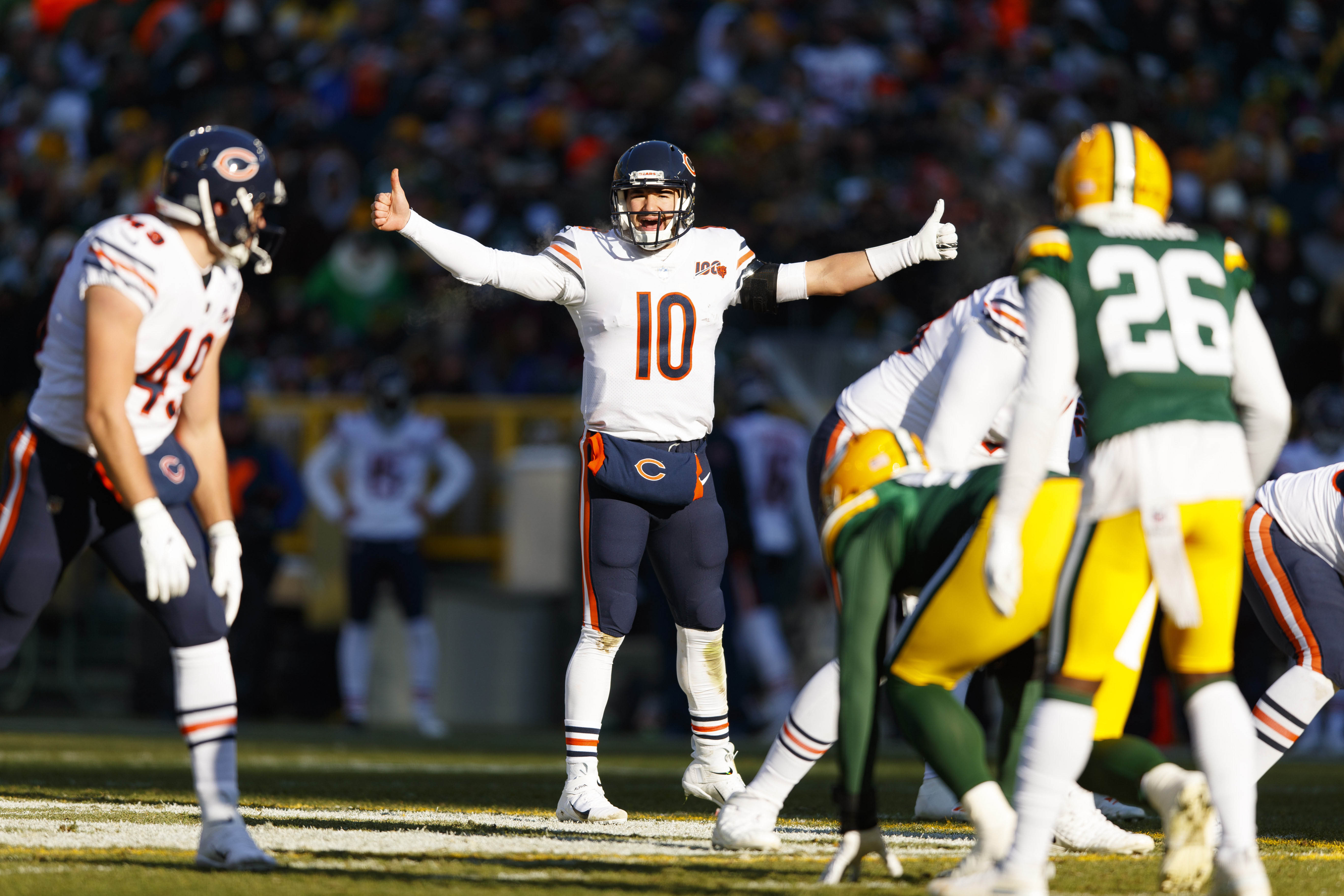 Headline of the Game: Mitchell Trubisky continues to kick the can down the road at quarterback for Chicago
Rather than signing Cam Newton or Jameis Winston to a low-risk, team-friendly deal to compete for the quarterback job, the Bears traded for Nick Foles only to see him lose the quarterback job to Trubisky and his 65.9 overall grade since 2017 that ranks 29th among 32 qualifying quarterbacks. It's not an ideal situation for the Bears, as it's unlikely that Trubisky will take that big step forward Chicago desperately wants him to take in his fourth season.
Over the course of his career, there has been no better matchup for Trubisky to come out and look good than this one, though. He has had some of his best games against the Lions. In fact, three of the five highest single-game passing grades of his career have come against Detroit. Brace yourself for a potential big Trubisky stat line, rekindling the belief that this may be the year.
This will be a new look for the Lions' defense. They added Desmond Trufant, Duron Harmon, Jamie Collins, Jeffrey Okudah and Julian Okwara this offseason after trading away longtime cornerback Darius Slay to Philadelphia. It appears as if head coach Matt Patricia is trying to get as many of "his guys" from New England as possible, and though much of the focus will be on Matthew Stafford and the Lions' offense, it will be interesting to see how the defense looks with the new faces in place.
Fantasy
Kenny Golladay has made his fair share of big plays against Chicago, and this game should be no different. Last year in two games he only had seven catches but managed 205 yards and two touchdowns. While Golladay should see plenty of Kyle Fuller, he will also see plenty of second-round rookie Jaylon Johnson. With this offseason and no preseason, rookie defenders seeing their first NFL action are matchups that can be exploited. This is also a boost for Marvin Jones.
Still, this isn't the most favorable game for Matthew Stafford. All of our rankers have him at either 16th or 17th.
From Chicago's perspective, Tarik Cohen could be an interesting player to gamble on. The Lions allowed 852 receiving yards to running backs last year, which was third-most in the league. David Montgomery might not play, but even if he does, Cohen should have a little more playing time than usual. This game should at least be close for most of the contest, which means plenty of passing.
Betting
The offseason steam the Lions received has been reflected in this spread, which opened as a pick 'em before rocketing out to -3. Since -3 has the highest probability that a game finishes with that differential, it changes everything when a spread moves to that number.
PFF Greenline was leaning heavily toward the Lions until this spread moved to the current price, which now looks unplayable from both sides. The cash and ticket percentages are split at this point, as we have seen some buyback with this spread moving to -3. The total has held steady despite the Bears naming Trubisky as the Week 1 starter. The PFF models have a slight lean on the total, but depending on the number, it may not be enough of a value add given the current state of these offenses.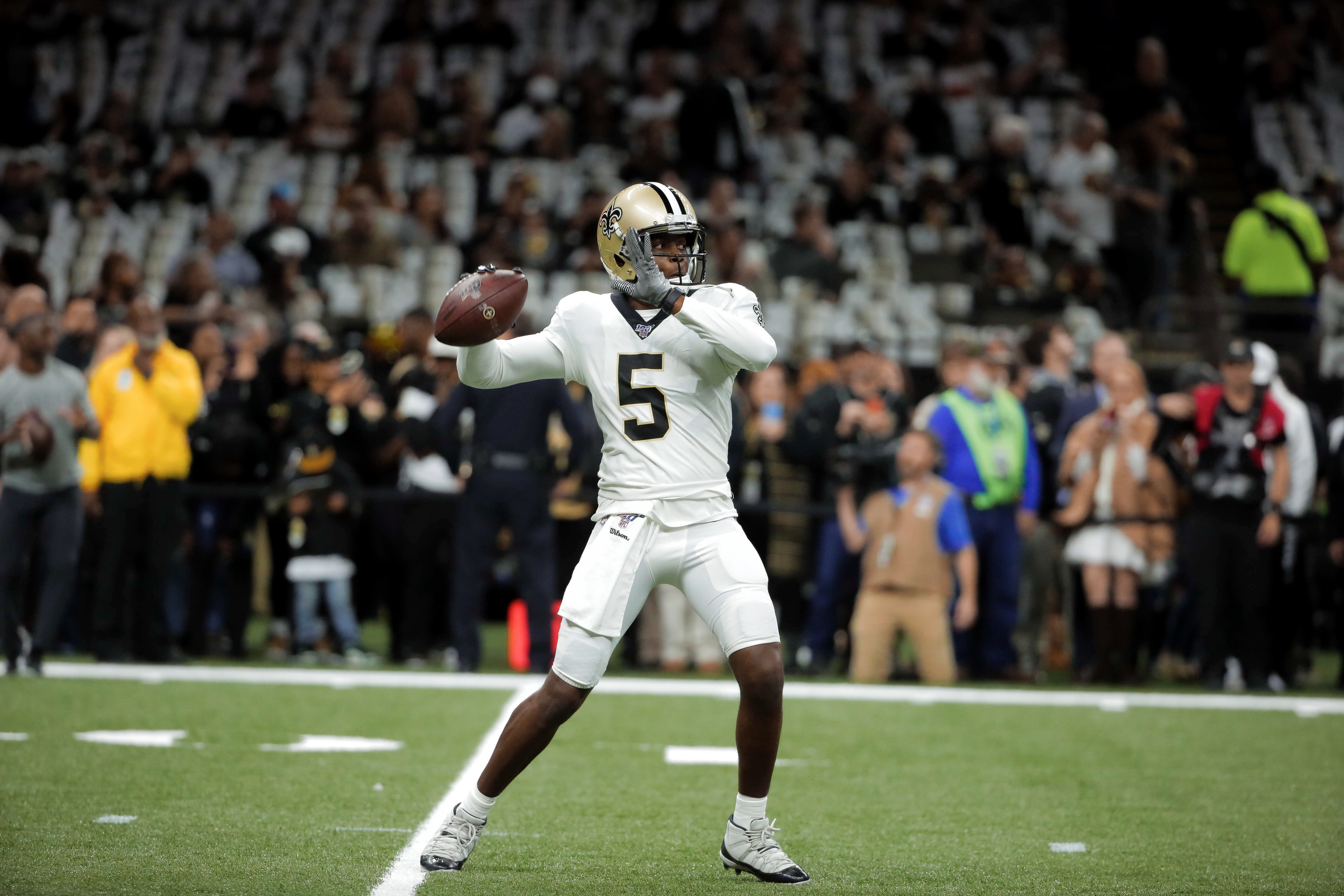 Headline of the Game: Young Raiders' secondary will be tested by Joe Brady's offense in Carolina
There were few hotter names in football than Joe Brady after the show that his LSU offense put up with Joe Burrow at the helm last season. That led to a jump to the NFL as the Panthers' offensive coordinator under new head coach Matt Rhule, and there are pieces for him to work with in that Carolina offense. Teddy Bridgewater wasn't electric in his starting opportunities last season, but he was solid, particularly as he got more comfortable later in his stint as a starter. He put up four consecutive grades of 70.0-plus over his final four starts and projects as a considerable upgrade over what the Panthers had to work with at the quarterback position in 2019.
Bridgewater also has weapons to work with. D.J. Moore has been excellent over the first two seasons of his NFL career, and Brady will put him in positions to succeed over the middle of the field with his after-the-catch ability. He enters the season as the highest-graded receiver from the 2018 draft class. The complementary options in the passing game from Christian McCaffrey to offseason acquisition Robby Anderson to Curtis Samuel — who somehow just turned 24 in August — are intriguing, as well.
That group will line up against what is a young secondary in Las Vegas, particularly after the release of Prince Amukamara. First-round rookie selection Damon Arnette will start opposite second-year cornerback Trayvon Mullen assuming that Arnette is able to play through his broken thumb, while last year's first-round pick Johnathan Abram will see his first game action at safety since the opener last season. The starters in nickel will be rounded out by Erik Harris at free safety and Lamarcus Joyner in the slot.
No team was worse against the pass in 2019 than the Raiders were (32nd in EPA per pass play allowed), and they're still not likely to be very good in 2020. They have added some coverage talent — not just in the secondary but also at linebacker with the addition of Cory Littleton — so there's potential for improvement. This should still be a defense that Carolina's passing attack can exploit, particularly early in the season.
Fantasy
Moore has the right mix of things going for him to have a monster game for Carolina. The Panthers have a new head coach in Matt Rhule, and opposing defenses have no NFL film on any of his tendencies. Without any preseason, the offense should be more surprising. The Raiders also have very inexperienced cornerbacks starting — 2019 second-round pick Trayvon Mullen holds one outside cornerback spot. He started 10 games without playing much in the other six and had a 62.5 PFF grade in that time. The other spot is for first-round rookie Damon Arnette. This is a clear advantage for Moore, who is a must-start.
Everyone facing Carolina has the opportunity for a big game, which could be a weekly trend. They had a below-average defense last year and lost their highest-graded defender in future Hall of Famer Luke Kuechly. Their top three defenders in total pressures are no longer on the rosters. They had three cornerbacks with more than 20 snaps, and the only one still on the roster is Donte Jackson, who graded lowest among the four. The Panthers drafted only defensive players in the 2020 NFL Draft to make up for the losses, but it will take time for them to gel. Because of this, all four position groups for the Raiders offense are in the top seven of the strength of schedule metric.
Even with the Panthers' defense, it might be hard to trust the Las Vegas rookie wide receivers playing in their first action. It could be hard to trust Derek Carr as well. Josh Jacobs and Darren Waller should both be top-five in their positions — they are the players who can take advantage of this matchup the most.
Betting
The Raiders have seen an influx of interest from betting markets — after opening as a pick 'em, they have now pushed out to 3-point road favorites. Given the significance of +3, the current line should hold until kickoff with almost 90% of the cash amount forcing markets to readjust this spread.
Line-shopping could be beneficial in this matchup, as some rogue numbers could still be lingering at smaller shops, given the significant movement we have already seen. The total has moved up slightly, with an even percentage of cash and tickets coming in on both sides. It is a sneaky game from a DFS perspective, with everyone but Christian McCaffrey going to be overlooked despite the inflated total. PFF's prediction models find some value on both the moneyline and total, but with both markets on the move, this is a situation to constantly monitor up to game time.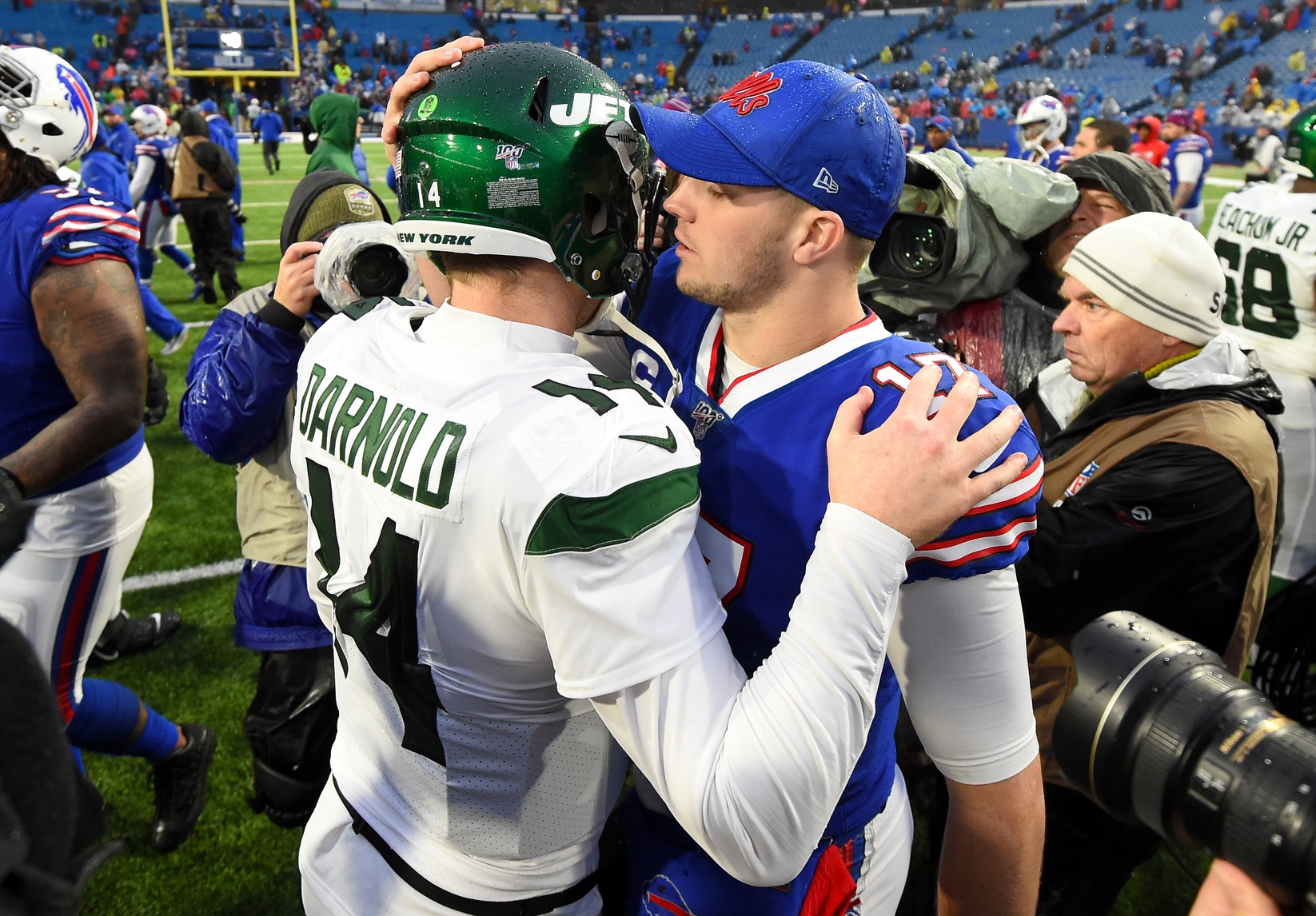 Headline of the Game: Two top-10 picks from the 2018 NFL Draft both enter Week 1 with a lot to prove
The 2020 season will be a pivotal one for both Sam Darnold and Josh Allen. Darnold's seat is probably a little hotter than Allen's, simply based on team performance over the past two seasons, but we've seen that a postseason appearance isn't guaranteed to buy you multiple seasons of job security with cases like Blake Bortles and Mitchell Trubisky.
If you look at each quarterback's PFF grading profile over the past two seasons, you can see that the two quarterbacks have performed quite similarly. Allen's PFF grade of 65.3 ranks 28th out of 32 starting quarterbacks while Darnold's mark of 64.9 follows right behind at 29th. The reason that the Bills are favorites in this one and projected to finish the season significantly ahead of New York is that Buffalo has surrounded Allen with a better roster than the Jets have put in place around Darnold.
Allen has PFF's 18th-ranked offensive line and fifth-ranked wide receiver group heading into the 2020 season. Darnold, meanwhile, has the 27th- and 31st-ranked units, respectively, in those categories. Even though the Jets attacked both the offensive line and their receiving corps this past offseason, there are just a lot of unknowns. How does Mekhi Becton look early at left tackle? Can their free-agent additions along the offensive line repeat their 2019 performance? Does Breshad Perriman continue his upward trajectory? Can Denzel Mims get past his hamstring injury and produce? Regardless of the answers to those questions, Darnold is going to have to show signs of consistency and improvement, and Allen will need to do the same.
Fantasy
Last year's regular-season matchups had scores of 17-16 and 13-6, and both team's defenses are still better than their offenses. The Bills' defense is the best play here.
Josh Allen is a must-start at quarterback most weeks and especially this week since the Jets no longer have Jamal Adams. He was by far their best defensive player, with an 87.9 grade. He's one of two quarterbacks projected to have over 40 rushing yards, which helps his floor. The strength of the Jets defense is their run-disrupting defensive tackles. It's not clear how much playing time Devin Singletary and Zack Moss will get, so passing on both might be the best option until we get more clarity against a better matchup.
The Jets replaced their entire offensive line this offseason, so they might be one of the most hurt units by a lack of preseason. Facing a top-10 defense makes it even harder to trust any of the Jets' skill players. We've hyped up Chris Herndon more than anyone this offseason, but he's facing a Bills defense that allowed just 6.6 fantasy points per game from tight ends — the best mark in the league.
Betting
Buffalo sits between -6 and -6.5-point favorites but has failed to touch the key number 7 since this spread initially opened. The Bills are 13 spots better than the Jets in our Elo rankings but, interestingly enough, have a worse offense according to our opponent-adjusted grades. Tickets are leaning heavily in the direction of the Bills, but an eye-opening percentage of cash can be found on the Jets. PFF is lower on the Bills than the betting market, though it is noteworthy that, at least for Week 1, the sharp side of the market appears to be as well. The lowest total on the slate makes this a spot to avoid for DFS. PFF Greenline finds little value on the total but is finding significant value on both the spread and moneyline markets.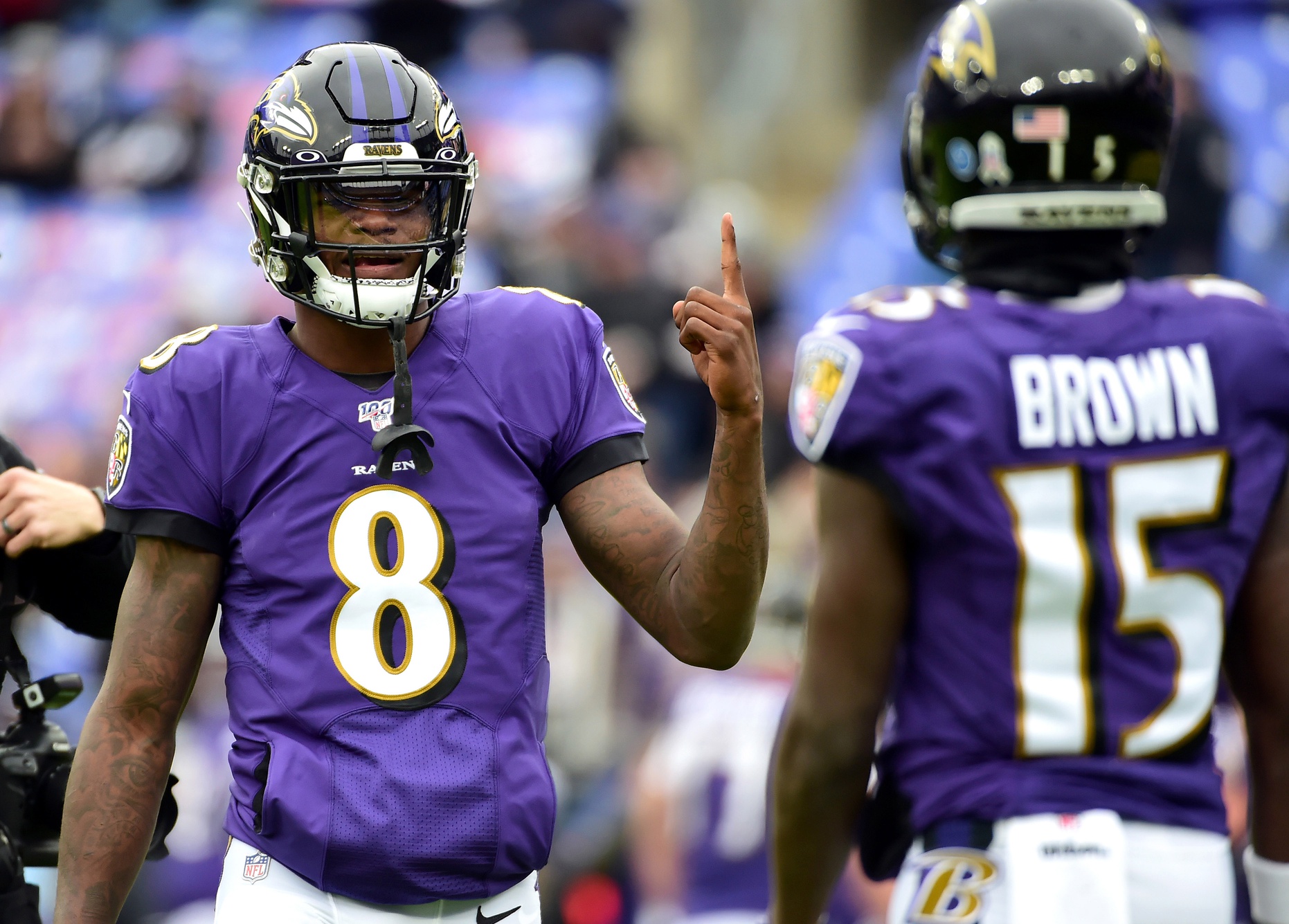 Headline of the Game: The Browns' attempt to make the jump from a talented roster to results under a new coaching staff
Cleveland was supposed to take the next step last year and make the postseason. That didn't pan out, as a step back from second-year quarterback Baker Mayfield, a mid-season suspension to the Browns' best defensive player, the worst season of Odell Beckham Jr.'s career and overall dysfunction led to a team that didn't live up to expectations.
However, this team has all the components to realize those expectations a year late. The Browns added two new tackles to the offensive line in Jack Conklin (80.5 PFF grade in 2019) and Jedrick Wills (88.7 PFF grade at Alabama in 2019). They went out and signed Austin Hooper to a deal that made him the highest-paid tight end in the NFL at the time of his signing. Perhaps most importantly, Freddie Kitchens is out and Kevin Stefanski is in as the head coach in Cleveland. Last season with the Vikings, Stefanski helped orchestrate an offense that finished sixth in expected points added per play over the course of the regular season.
Cleveland's defense is anchored by Myles Garrett and Denzel Ward, and there is plenty of talent to work with on that side of the ball. You could have said the same last season, though. An opening game against 2019's best team in the regular season is the perfect stage for Cleveland to show that it's ready to compete in the AFC.
Fantasy
This week will be very intriguing for Ravens tight end Mark Andrews. In two games against Cleveland last year, Andrews had 10 catches for 124 yards and three touchdowns. The Browns gave up a total of 10 TDs to tight ends last year, which was second-most in the league. Now with Hayden Hurst in Atlanta, Andrews should start to see more playing time. He's projected to be the fourth-best fantasy tight end both this week and over the season.
While the Browns defensive line has an advantage over the Ravens offensive line in the passing game, Baltimore's has an advantage in the run game. If you expect Baltimore to be winning late in the game (like we are), it could mean good things for J.K. Dobbins. Last season, the Ravens often gave their backups fourth-quarter carries to rest Mark Ingram II. Dobbins should also see more playing time earlier in games than the Ravens backups got last year.
The Cleveland quarterbacks, running backs and wide receivers all have below-average matchups according to our strength of schedule metrics, but tight end has the fourth-best matchup of the week. Austin Hooper could be a risky play — he's the only new skill player for the Browns who should see significant time, but the upside is there for him to have a big game.
Betting
No team is getting more respect from the betting market to start the season than the Baltimore Ravens. However, this spread has moved against Baltimore — after an opening of -10, it has dropped 2.5 points but holds the hook on the touchdown. The weekly spread picks article has an in-depth dive into this matchup. The cash and ticket percentages lean toward the Ravens, but with this number on the move, it is worthwhile to monitor PFF Greenline to hit this market at the appropriate time.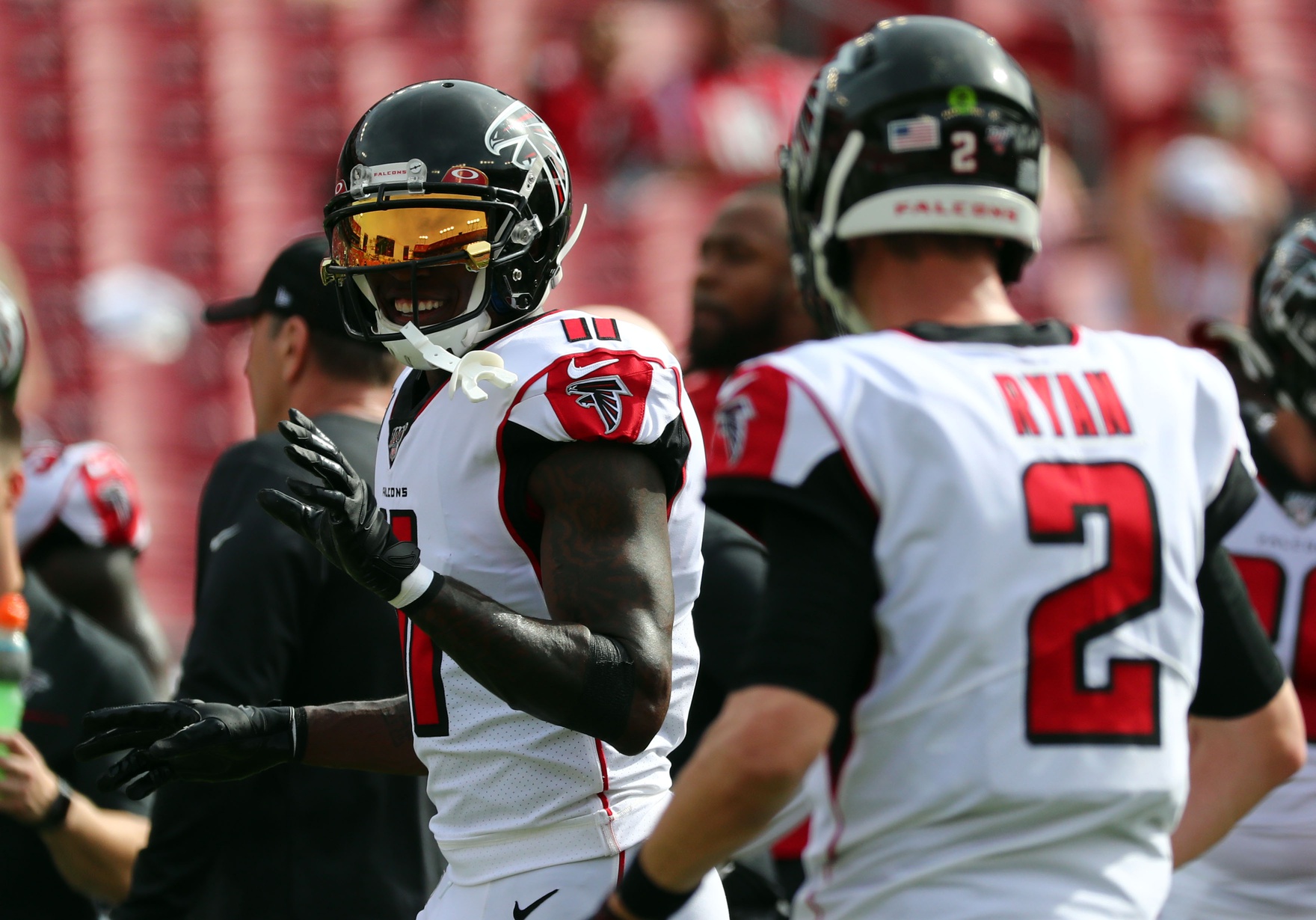 Headline of the Game: Seahawks' new-look secondary put to the test early against a talented passing offense in Atlanta
The Seahawks' secondary deteriorated over the past several seasons after the members of the Legion of Boom either retired or moved on to new teams. Seattle quickly rebuilt that group this offseason, however, and now it projects as one of the better secondaries in the NFL heading into 2020.
That transition starts with the acquisition of Jamal Adams, who can wear multiple hats in the secondary. Only Stephon Gilmore has been more valuable than Adams over the past two seasons among all defenders, per PFF WAR. He'll provide plus play in coverage, against the run and as a pass-rusher from the strong safety position.
Adding a player like Adams has somehow managed to overshadow the addition of PFF's second-highest graded cornerback in 2019 — Quinton Dunbar. Dunbar doesn't have a long track record of success as an NFL starter, but he should fit well in Seattle's secondary. Joining Shaquill Griffin and Quandre Diggs — both of whom played well with the Seahawks in 2019 — there is plenty of talent to go around.
The same can be said for the Falcons' passing game. Matt Ryan is coming off his lowest PFF grade since 2009 (76.0), but he still projects as one of the better quarterbacks in the NFL heading into the 2020 season. He also has one of the better one-two punches in the league at wide receiver with Julio Jones and Calvin Ridley. The fact that Jones' 2.44 receiving yards per route run (fifth at wide receiver) was half of a yard below his results in any of the prior four seasons is all you need to know about how dominant he has been of late. It sets up for a competitive matchup on that side of the ball.
Fantasy
Both teams have better offenses than defenses — and plenty of offensive weapons. Anyone from the two teams you would normally play should definitely play. Todd Gurley is as intriguing as he'll be at any point of the season since we know he's healthy now. The Seahawks had an average run defense last year but are now without Jadeveon Clowney, Quinton Jefferson and Al Woods — their three highest-graded run defenders.
Tight end Hayden Hurst has an opportunity to prove himself as one of Matt Ryan's favorite targets immediately. The Seahawks were one of two teams to allow over 1,000 yards to tight ends last year. Hurst has the eighth-biggest advantage for a tight end this week.
For Seattle, the interesting play is D.K. Metcalf due to his matchup against the Falcons outside cornerbacks. All three wide receivers should have the advantage on every play, but Metcalf should have the biggest due to primarily lining up outside. On one side is Isaiah Oliver, who allowed 794 receiving yards last year — eighth-most for cornerbacks. On the other side is first-round rookie A.J. Terrell.
Betting
This spread has held relatively steady throughout the offseason, bouncing between a pick 'em and plus-1, depending on the book. The movement is one of the smallest and least worthwhile that we have leading up to Week 1. The spread cash percentages are relatively split between the two teams, but Seattle has received most of the backing in regard to volume of tickets.
This typically indicates that more novice bettors are siding with the road favorite, while bigger bettors are buying into the Falcons at home. The total has taken a pounding on the over but hasn't moved off 49. We see a higher percentage of games end with a total of 48 or 50, so this total should hold steady until game time.
Due to projected game flow, this should be a popular target for DFS players. Both defenses sit in the bottom half of the league, according to our opponent-adjusted grades, so plenty of opportunities should exist for fantasy-relevant players. If the option exists to line shop, there are some playable moneyline numbers available at certain books.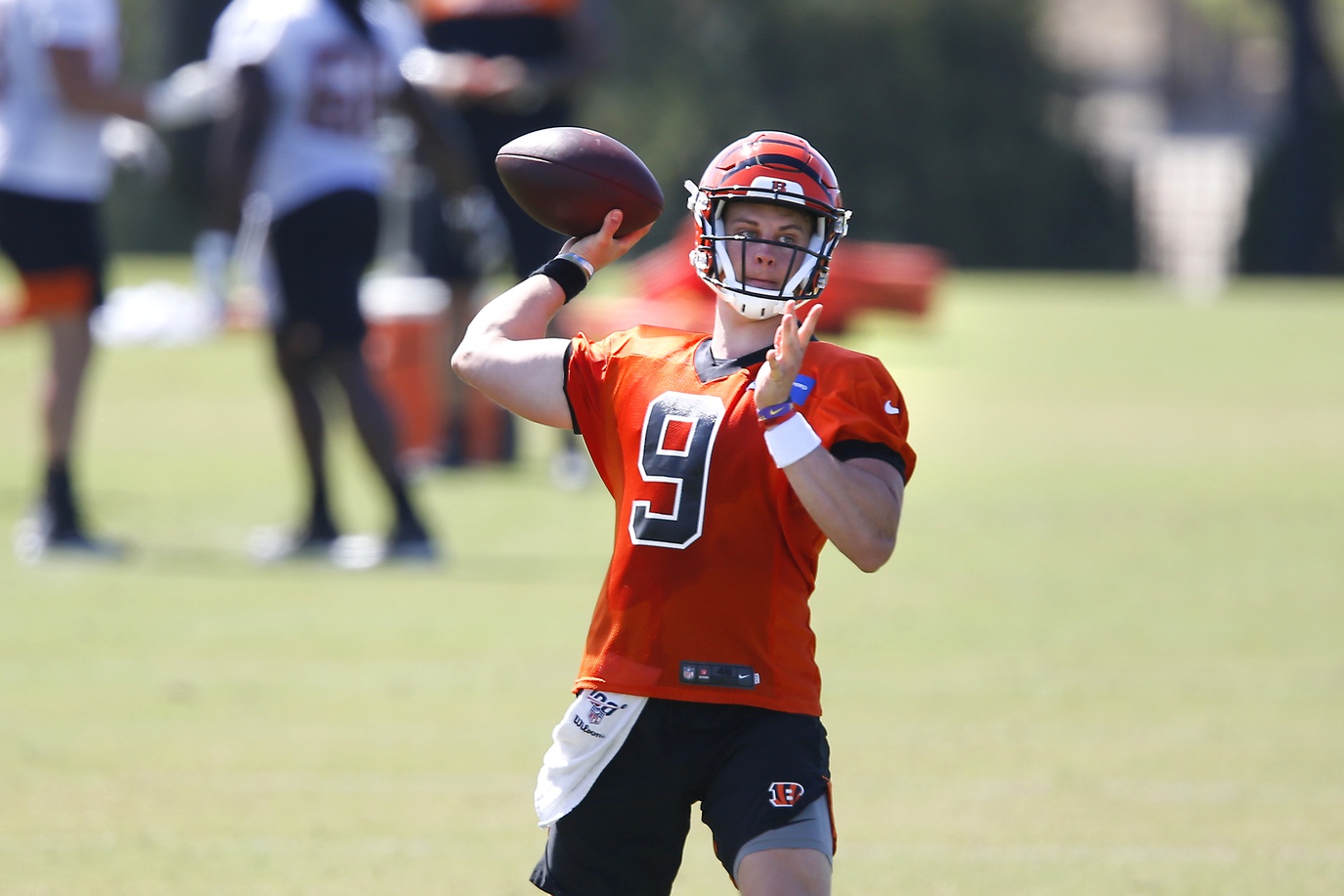 Headline of the Game: No Derwin James does not mean no problems for Joe Burrow in his first career game
The Chargers were dealt a tough blow with the season-ending knee injury to James — making it two straight years that one of the league's best safeties will miss the majority of the season — but that doesn't mean this defense is without talent. It still has three of the highest-graded cornerbacks in the NFL over the past three seasons between Casey Hayward, Chris Harris Jr. and Desmond King II, who could fill James' role at strong safety. Los Angeles also returns one of the better edge tandems in the NFL with Joey Bosa and Melvin Ingram III. Bosa, specifically, has been excellent to start his NFL career. His 21.7% pass-rush win rate since 2016 leads all qualifying edge defenders.
That could spell trouble for a Bengals offensive line that still projects as one of the worst groups in the NFL despite finally getting to see 2019 first-round pick Jonah Williams at left tackle. Burrow's ability to navigate the pocket and deliver the ball accurately with bodies around him will be the biggest hurdle to putting up the kind of rookie season that many expect him to have.
Both pocket presence and accuracy were distinct strengths of his this past season at LSU, a promising sign pointing to early success in the NFL. His 141.1 passer rating under pressure at LSU last season was by far the best mark in college football. Even against a talented Chargers defense, expect him to show why he was the first overall pick in the 2020 NFL Draft.
Fantasy
Tyrod Taylor isn't projected to be a QB1 this week, but some signs point to him having a big game. According to our strength of schedule metric, this is the best matchup he'll have all season. The Bengals added Trae Waynes at corner this offseason, but he's on injured reserve. They also added Mackensie Alexander to be their slot cornerback, but he missed a significant amount of practice. Taylor only took 31 snaps with the Chargers last year, but the offense isn't new to him.
What throws a wrench in the matchup for Los Angeles is how thin they are at wide receiver. Mike Williams is supposed to be the No. 2 receiver next to Keenan Allen but is a game-time decision due to a right shoulder sprain. All four receivers who followed those two in total snaps last season are no longer off the roster. This leaves Jason Moore and Jalen Guyton, who played a combined 93 snaps last year, along with late-round draft picks Joe Reed and K.J. Hill. Keenan Allen should see all the targets he can handle.
Joe Burrow is in for a fast welcome to the NFL with Casey Hayward and Chris Harris at cornerback and Joey Bosa and Melvin Ingram rushing the passer. This is probably not the week to gamble on Joe Burrow or any of the Cincinnati wide receivers. Other top running backs have a better matchup than Joe Mixon, which makes him a low-end RB1, but he should at least see plenty of touches.
Betting
The Bengals have revamped what our opponent-adjusted grades pegged as the worst offense in the NFL this offseason. The spread has switched around the juice but held steady on a field-goal differential since the opening print.
This is another spot where the general betting public appears to be backing the road favorites, with a high percentage of tickets on the Chargers. The cash percentage sides heavily with the Bengals, meaning bigger bettors tend to be taking the points with the home dog. PFF Greenline has no strong lean on the spread or total, but a play exists on the moneyline if acted upon quickly.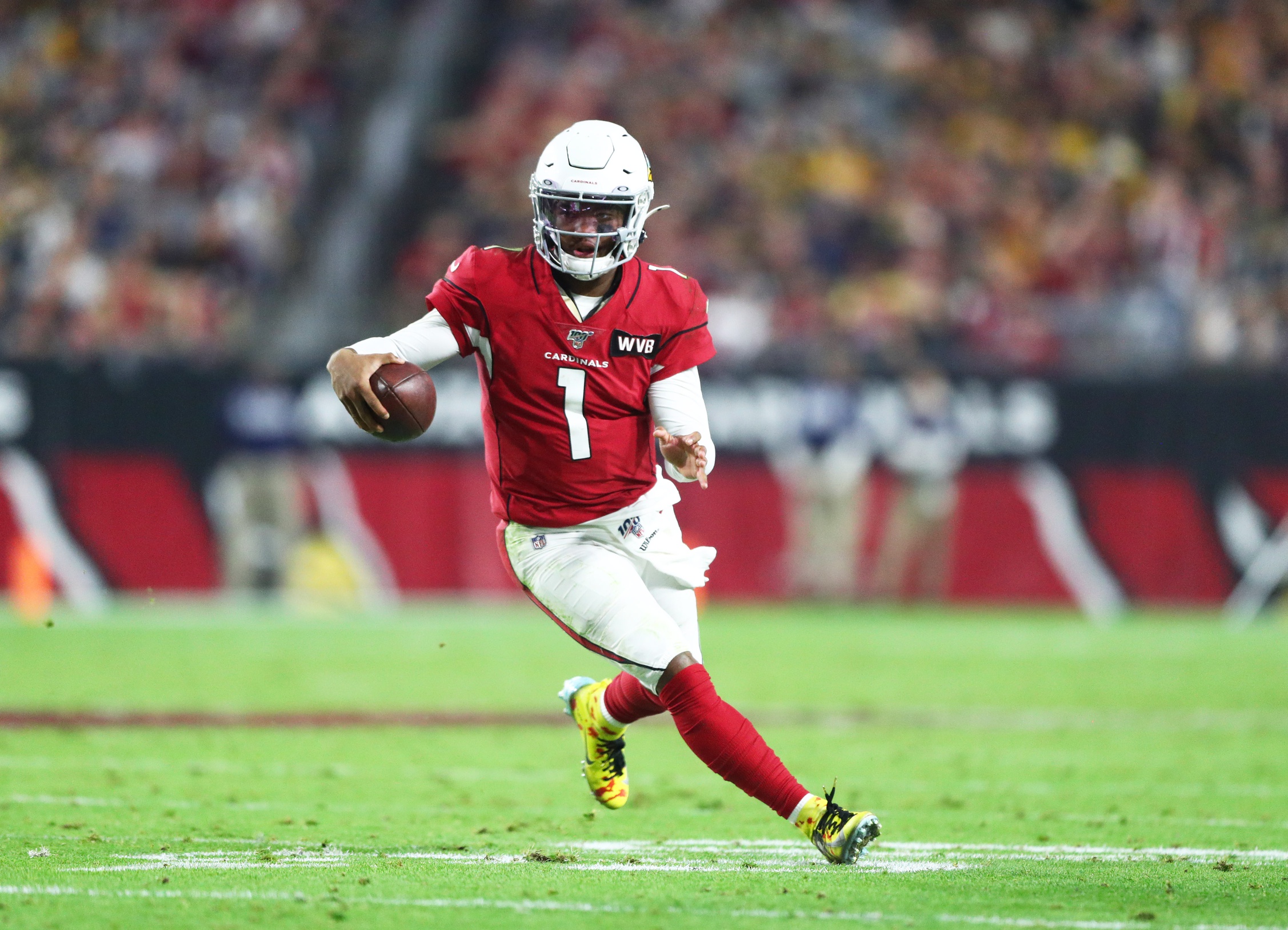 Headline of the Game: Cardinals show that their offense is for real against one of the 2019's best defenses
We don't talk enough about the improvement to Arizona's offense from 2018 to 2019. Just two seasons ago, the Cardinals fielded not just the worst offense in the NFL, but the worst offense the league had seen over the past five years by expected points added (EPA) per play. Enter Kliff Kingsbury and Kyler Murray. Despite up-and-down results from Murray in his rookie season, the Cardinals improved all the way to 13th in EPA per play.
And Arizona has even more room for improvement. The Kingsbury-Murray pairing should continue to improve in their second season together, and the addition of DeAndre Hopkins gives this offense the true No. 1 option in the passing game it was missing in 2019.
San Francisco's defense was one of the best in the league this past season, but the Cardinals were one of the few teams that were able to have some success against them. They ended up finishing as one of just four teams to generate positive EPA per play against the 49ers in 2019, joining the Saints, Falcons and Chiefs.
The 49ers' defense has some potential for regression, but it maintains one of the better defensive lines in the league, in addition to a talented secondary with Richard Sherman, K'Waun Williams and Jimmie Ward — all of whom were among the highest-graded players at their respective positions in 2019. The biggest concern for the Cardinals has to be how Murray handles San Francisco's pressure after leading the NFL in quarterback-fault sacks last year.
Fantasy
While the 49ers wide receivers have been hurting, there might not be a better matchup for Jimmy Garoppolo all season — last year he put up 28.9 fantasy points against them in Week 9 and 31.7 in Week 11. The only difference in the Cardinals secondary is the addition of Dre Kirkpatrick, who had a 61.7 overall PFF grade last year. While we can't expect Garoppolo to match his past performances against Arizona, the upside is definitely there.
The Cardinals wide receivers, now led by DeAndre Hopkins, have an interesting matchup. Christian Kirk only lined up at left wide receiver on eight percent of his snaps last year, with most coming at right wide receiver and a significant amount in the slot. Hopkins plays a lot more left wide receiver than right, so chances are they will play in similar spots to last year.
This places Kirk against Richard Sherman on a majority of plays, which gives Kirk the worst matchup of the week. Emmanuel Moseley will be facing Hopkins, and he's a good cornerback, but we shouldn't expect a lot of Hopkins against Sherman. If anything, the Cardinals will be sure to avoid it when they can. This won't be Hopkins' best game, but he should still have a solid first appearance with the Cardinals. Kirk should be avoided.
Betting
The second game highlighted in the Week 1 spread picks writeup is an intriguing early look at how the NFC West stacks up early in the season. This spread has seen some of the biggest movement since the opening print, with most value leaving the market as it settles into a touchdown differential. The cash and ticket percentages are relatively even, so it is hard to determine what exactly is moving this market.
The total has been on the rise, so it's possible to conclude that the market isn't as high on the 49ers as once perceived. With both numbers continuing to move, this is another situation where closely monitoring PFF Greenline will be rewarded with the best price at the current time.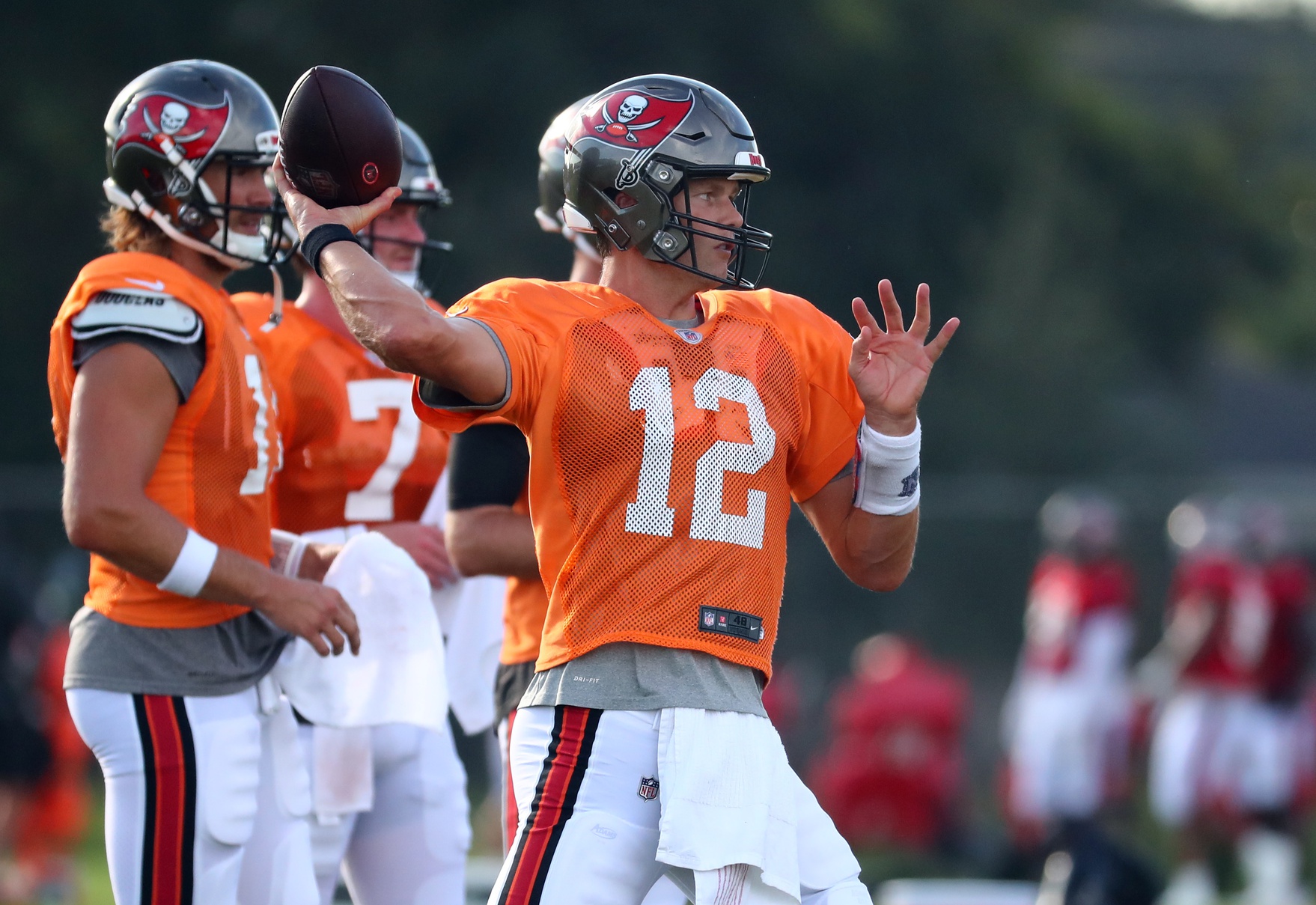 Headline of the Game: 40 is the new 30 — Tom Brady and Drew Brees head what projects to be two of the NFL's most efficient offenses
This is easily one of the games of the week, featuring Brady in a new uniform for the first time in 20 years and one of the NFL's deepest rosters in New Orleans.
There has been some talk about Brady's play declining after a down season in New England, but I wouldn't pull the plug on his career just yet. The Patriots had few weapons that could separate down the football field, while Tampa Bay sports two of PFF's top-10 graded wide receivers in 2019 (Mike Evans and Chris Godwin).
The return of Rob Gronkowski to rotate with O.J. Howard and Cameron Brate adds another element to this offense that defenses have to contend with. Gronkowski still ranked seventh among tight ends in receiving grade in what was considered a down season in 2018. It will be interesting to see how the Brady-to-Gronk connection looks after a year apart.
Brees is one of the few quarterbacks in the NFL who can come close to matching Brady in pedigree, and he has continued to profile as one of the league's best quarterbacks in recent seasons. Brees' 94.9 overall grade over the past three seasons ranks first at the position, and a league-high 69.8% of his passes have been charted as accurate over that same time frame.
The Saints' offense should be better than it was a year ago with the addition of Emmanuel Sanders and a healthy Alvin Kamara in the backfield. Even though these two defenses are far from sieves, each offense should put up points.
Fantasy
Chris Godwin has the best matchup according to the WR/CB matchup chart. The Saints' weakness in their secondary is at slot cornerback, and Godwin should see plenty of his snaps from the slot. In two games against the Saints last year, he had 10 catches for 172 yards and three touchdowns. Brady can only help him, and in what should be a high-scoring game, Godwin should have plenty of opportunities for targets.
Rob Gronkowski tops the tight end matchup chart. The Saints allowed 12.7 fantasy points per game to tight ends last year, which was ninth-most. Tampa Bay will likely need to throw a lot to keep up with the Saints, so there will be plenty of targets to go around.
The Buccaneers don't have a particular weak point to their defense, making it harder to find a particular area to attack. To continue the trend of attacking rookies, there should be at least some plays where tight end Jared Cook will be matched up with rookie strong safety Antoine Winfield Jr. This gives Cook one of the better matchups of the week, so he could see some big plays.
Betting
This game radiates intrigue with what many predict to be the two teams sitting atop the NFC. Tampa Bay quickly turned into a publicly backed team with the addition of Tom Brady, and we are seeing this play out in the Week 1 spread. The opening -4.5 line quickly dropped down a point, with an even split of tickets but a high percentage of the cash going with the Buccaneers.
The total has held to the opening number, but a high percentage of both the tickets and cash has gone toward the over. This will be a popular target for DFS players, as it is tied for the highest total on the main slate of NFL games.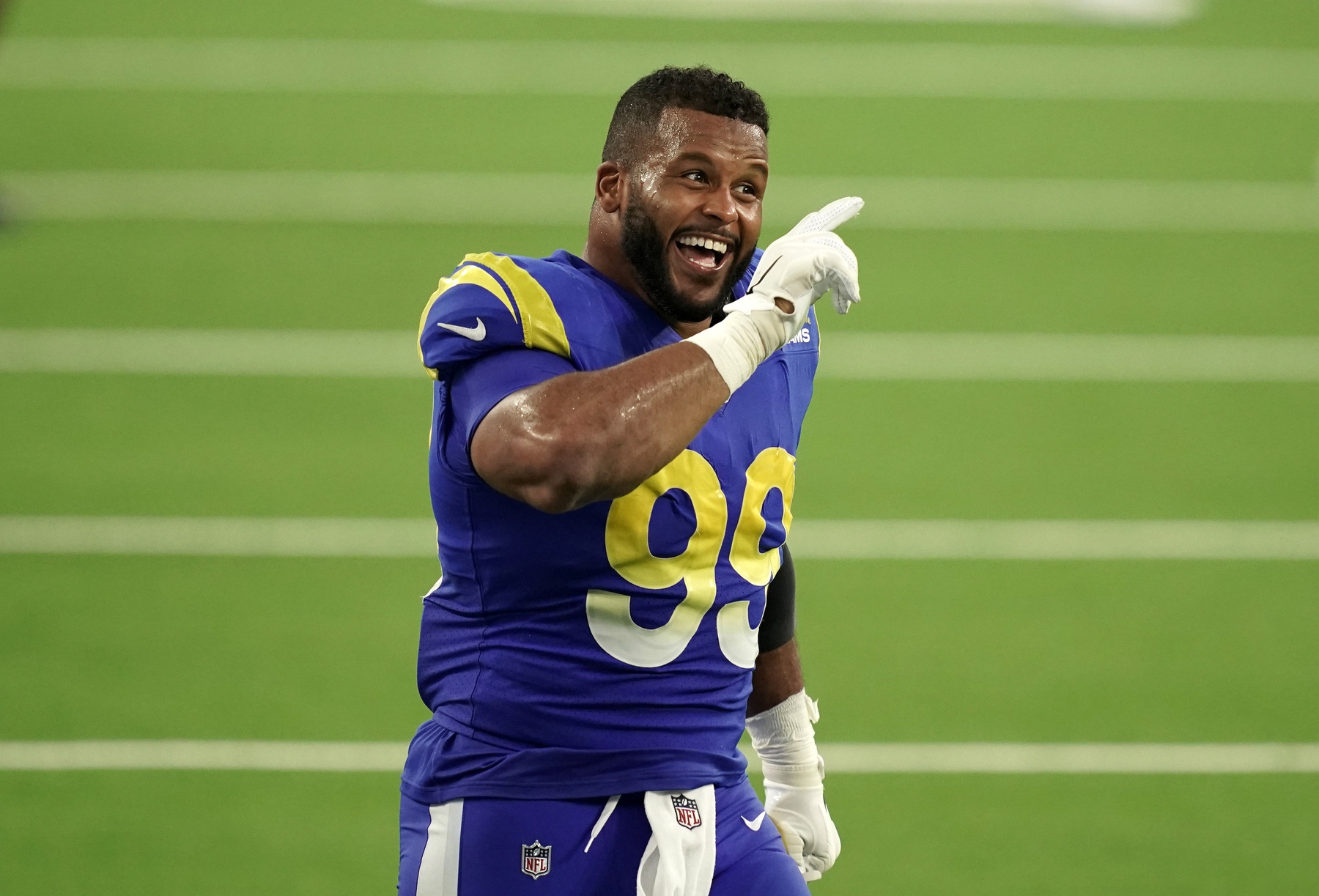 Headline of the Game: Retirements and injuries to Cowboys' offensive line could spell trouble against Aaron Donald and company
The Cowboys have gotten a lot of offseason hype, and deservedly so, but it seems like the potential for offensive line struggles early has quietly gone under the radar. Tyron Smith and Zack Martin remain two of the best players at their respective positions in the NFL, but the other three spots are question marks with La'el Collins getting placed on short-term IR.
Connor Williams and Joe Looney have extended starting experience at left guard and center, respectively, for Dallas, but neither has played particularly well in those opportunities. Now, Cam Erving is projected to man the right tackle position in Week 1 after picking up a 44.8 overall grade during the 2019 season in place of Eric Fisher in Kansas City.
The Los Angeles Rams' pass rush is admittedly not very deep, but the group does have the best pass-rusher in the NFL. Donald is a one-man wrecking crew. The attention he commands from the offensive line and his ability to penetrate the backfield despite consistent double and triple teams helps the other pass-rushers. His 277 pressures over the past three seasons are 53 more than second-place Von Miller. Simply put, Donald is a machine, and that's a problem for a weakened Cowboys' offensive line.
Luckily for Dak Prescott and company, a wide receiver trio of Amari Cooper, Michael Gallup and CeeDee Lamb has a better chance of winning and creating separation early than nearly any other receiving corps in the NFL. They may need to in this one.
Fantasy
Most of the favorable matchups in this game are on the Cowboys side. The Rams have invested very little at inside linebacker, which contributed to the Dallas tight end spot being the highest in our strength of schedule metric. If there's any week for Blake Jarwin to show he can be a TE1 in fantasy, this is it. Jarwin's 1.82 yards per route run last year was ninth-best for tight ends.
Prescott should also have a strong performance with the tight end advantage and the Rams' weakness at slot cornerback. It's hard to know which wide receivers to trust at this point — one will always have Jalen Ramsey across from him. Troy Hill will man the other outside cornerback spot. Hill started every game between Weeks 6 and 15 and averaged just 34 yards allowed in that time. CeeDee Lamb is expected to get significant time in the slot, but Dallas could also be changing up where the wide receivers line up, which has happened in Mike McCarthy offenses before.
The Cowboys defense allowed just 21.8 fantasy points per game to running backs, which was 12th-lowest. With Darrell Henderson a game-time decision and this being a Sunday Night game, it might be a situation to avoid. Even if Henderson is ruled out, Cam Akers could be eased into action. Don't be surprised if Malcolm Brown sees enough carries to hurt Akers' value. The Cowboys defense had an 88.7 coverage grade last year with largely the same players, so the Rams should be a team to avoid in fantasy.
Betting
Dallas opened as a field-goal road favorite on Sunday Night Football. This market has bounced around some but found its way back to the opening spread. It came off the key number three but was quickly bought up by Cowboys backers and pushed back to market consensus. Both the cash and ticket percentages are steady, so we should see little movement other than juice across sportsbooks.
Points appear to be on tap, given this total, despite both defenses ranking in the top six by our opponent-adjusted grades. With little betting market opportunity, this is the perfect game to test the DFS Showdown waters.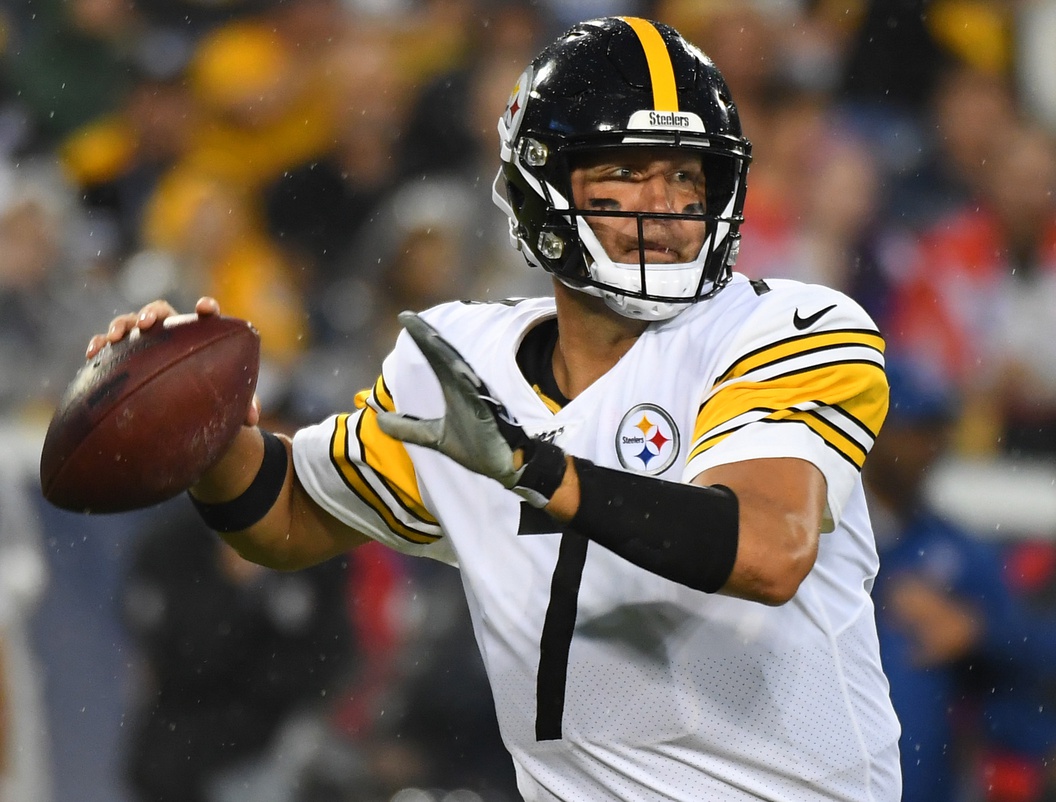 Headline of the Game: Ben Roethlisberger returns in a soft matchup to show that the Steelers are contenders in the AFC
I've said it before and I'll say it again — the fact that the Steelers went 8-8 last season with the least efficient offense in the NFL is remarkable. A lot of that had to do with a league-high 37 offensive turnovers forced by the defense, but it also points to the idea that the Steelers could be one of the better teams in the AFC with competent quarterback play.
Roethlisberger was PFF's fourth-highest graded quarterback from 2015 to 2017, behind only Tom Brady, Matt Ryan and Drew Brees, before seeing a slight downturn in play in his last full season in 2018. Despite leading the NFL in passing yards that year, Roethlisberger's 78.2 overall grade ranked just 15th at the position. It will be interesting to see if he comes back better than ever from an elbow injury that has reportedly bothered him for much of his career or if the downward trend he showed in 2018 carries over after the missed season in 2019.
He certainly has an opportunity to make the former ring true against this Giants' secondary. Cornerback DeAndre Baker, a 2019 first-round selection, was released for off-field reasons, and 2020 second-round selection Xavier McKinney is set to miss significant time at safety with a foot injury. The additions of Logan Ryan and James Bradberry do provide some veteran stability, but it's still a group that has question marks entering this season. With the reports coming out of Pittsburgh, it would not be surprising to see Roethlisberger pick apart this defense.
Fantasy
The Steelers had a 91.0 defensive grade last year, which was the best for all defenses, with 13 of the 15 players with at least 200 snaps for them returning. And the Giants have been best at getting fantasy points exactly where Pittsburgh was best at preventing them. The Steelers were top-eight in fantasy points against for both running backs and tight ends, making it hard to be happy starting Saquon Barkley or Evan Engram.
If there's one matchup to get excited about, it's the Steelers wide receivers against the Giants cornerbacks. The Giants added James Bradberry to be their top outside cornerback despite his 61.8 PFF grade. Corey Ballentine or Isaac Yiadom will play at the other cornerback spot, and they had 36.6 and 50.9 overall PFF grades, respectively. It wouldn't be surprising if Logan Ryan plays in the slot, but if he ends up playing more at safety that's a third advantage for Pittsburgh. Look for JuJu Smith-Schuster to be put into position to succeed, but Diontae Johnson and James Washington could also have big games.
The offensive and defensive line matchup are also heavily skewed in Pittsburgh's favor. The Steelers offensive line has the second-best pass-blocking advantage this week, while the Giants offensive line has the second-worst advantage. This will give Roethlisberger time to throw to his wide receivers while causing the opposite for Daniel Jones.
Betting
The betting market is buying into a resurgence from the Steelers, who have Big Ben returning along with the top-ranked defensive unit. This spread opened at +3.5 but pushed heavily toward the Steelers out to +6 in most spots. This has led to a highly skewed cash- and ticket-percentage lean toward the Steelers.
The total has been much less dramatic, dropping just a half-point since the opening of 48. PFF Greenline finds no value in the current spread, given the movement, but sees opportunity on the total in the first island game of Monday night.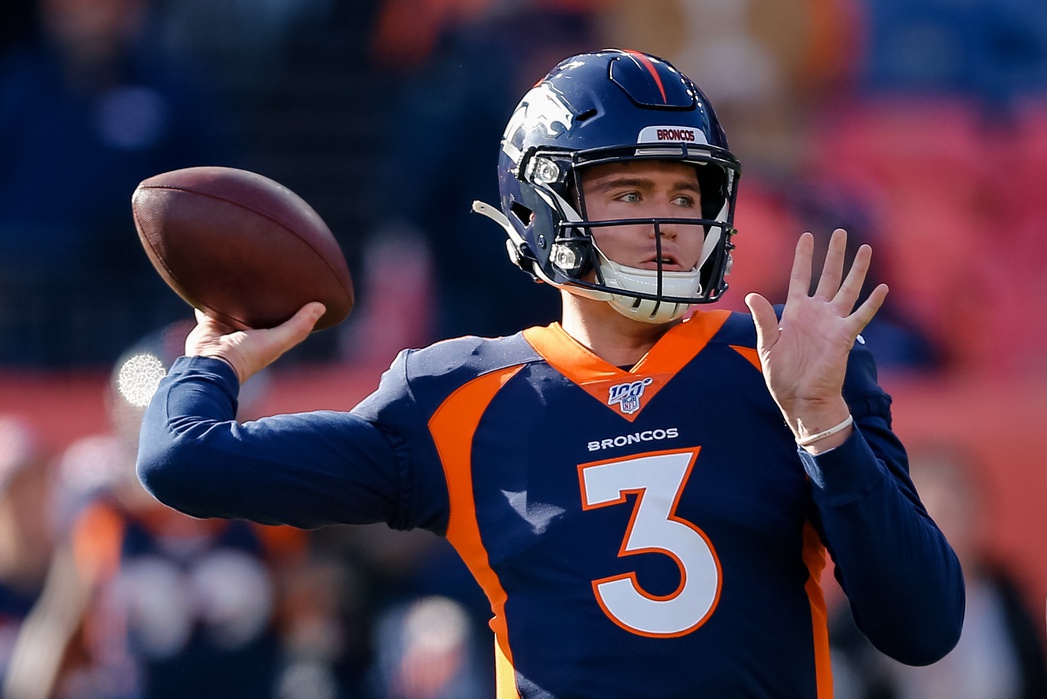 Headline of the Game: Tennessee and Denver battle for positioning early in what figures to be a crowded AFC behind Kansas City and Baltimore
Once you get past Kansas City and Baltimore, the AFC playoff picture is murky. There will be a lot of teams jockeying for positioning throughout the conference, with Tennessee and Denver likely among them.
The Titans have a better outlook in 2020 than the Broncos do a year after making a run to the AFC Championship Game last season, but the biggest thing that stands in their way of another deep postseason run is the looming Ryan Tannehill regression that most expect. It's not as if he was a bad signal-caller throughout his career in Miami, but it also seems unlikely that he repeats as the third-highest graded quarterback in the NFL. A.J. Brown is coming off a tremendous debut as a rookie last season — generating a 127.6 passer rating on his targets — and he'll look to do everything to ensure that regression doesn't rear its head for Tannehill.
Similarly for Denver, as is the case with nearly every NFL team, the 2020 season will come down to quarterback play. Drew Lock flashed what he could do in strong showings against Houston and Detroit in his five-game stint as a starter late last season, but he also produced a meager 27.9 grade against the Chiefs. The fact that Lock started only five games and was polarizing coming out of Missouri to begin with made him all the more a question mark this offseason. The Week 1 finale with a talented cast of receivers is the beginning of a season in which we should find out plenty more about the second-year quarterback.
Fantasy
The most interesting matchup for fantasy purposes is the Titans' wide receivers against the Broncos cornerbacks. Denver had a complete makeover at cornerback over the last two seasons. They added Bryce Callahan a year ago, but he missed the 2019 season due to injury. They traded for A.J. Bouye and drafted Michael Ojemudia. This gives the Titans an advantage, particularly on the outside.
Either Ojemudia or Davontae Harris will have one outside spot, and that is a big advantage for the Titans. Tennessee will try to match A.J. Brown up there, but Brown could be matched up more with Bouye more often. Bouye won the first matchup last season, holding Brown to zero catches with two pass breakups when Brown was targeted in Bouye's coverage. In the second, Brown caught both passes for 84 yards, a touchdown and a first down in one of Brown's biggest games of the year. It's worth giving Brown a chance in this one, and Corey Davis is a solid sleeper.
For Denver in general it's a tough matchup against the Titans' strong defense that just added Jadeveon Clowney. If there is any weakness, it's stopping tight ends. Six different tight ends had at least 70 yards against the Titans last year. Noah Fant was a popular high-upside tight end pick late in drafts, mostly due to the volume of catches and yards he had as a rookie. His 52.0 receiving grade wasn't great, but he should only get better from here. This game should be an early indication of how much better he can be.
Betting
No spread has flipped more in Week 1 than the nightcap on Monday Night Football. After opening as a field-goal favorite for the Broncos, the market has completely flipped course, with the Titans now favored by a point or pick 'em. This has skewed the moneyline percentages, with a significant portion of the cash being placed on the Broncos.
There is some opportunity on both the spread and moneyline if found at the right price. With how much this market has been on the move, it is worthwhile to monitor PFF Greenline to ensure you are finding the correct value at the appropriate price.