Well, we're back. After months of anything but normal circumstances, we return for our fourth season of this spread picks column. In the spirit of 2020, we are going to change things up a bit: We will pick games early in the week in conjunction with our post-SNF PFF Forecast podcast, and then have a follow-up article on Thursday that looks at where the lines have evolved over the course of the week while adding any additional picks that we find enticing. 
Since 2017, our picks have gone 128-115-11, including 85-73-7 (53.8%) against the spread and 6-3 (66.7%) on win totals. We've already weighed in on a bunch of things this offseason from a betting perspective, but the majority of our opinions over the next few months will come from our betting dashboard, which can be found here.
Week 1 lines have been available for months now, so the pickings in terms of value are slim. We've found some teams that present value, though, and we'll talk about them here:
Point (George Chahrouri): The Cardinals have improved more than any team since the end of 2019. Not only did they pick up a top-five wide receiver, but the Cardinals also cleaned up in the draft with versatile, hybrid defender Isaiah Simmons in the first round and PFF's No. 14 overall player, tackle Josh Jones, in the third round. Kyler Murray didn't have a single outside wide receiver earn a top-75 PFF grade last season, and he now has DeAndre Hopkins — the second-highest graded wideout over the past two seasons (92.3). The Cardinals' offense went from worst to 13th in expected points added per offensive play in 2019, and another leap is not out of the realm of possibility behind Kliff Kingsbury's impressive play calling.
The 49ers' defense was sensational last season. However, a repeat performance is unlikely. Defense is much less stable from season to season compared to offense, which means we should expect the 49ers' defense to regress — even if it remains near the top of the league overall. Predicting regression for a defense that returns so many of its key pieces is not fun, especially when one of those returning players is the highest-graded cornerback of the past decade, Richard Sherman. That said, it is the mathematically sensible thing to do and further proof that being a nerd sucks every so often.
Jimmy Garoppolo will undoubtedly be motivated to prove himself after all the questions that arose after San Francisco's 2019 playoff run. He'll have to do it without wide receiver Emmanuel Sanders, whose arrival dramatically turned the 49ers' passing game around last season. Garoppolo earned a 68.8 PFF grade from Weeks 1-10 but finished strong with a 79.3 grade through the remainder of the season while facing a much harder schedule. A little readjustment for Jimmy and the 49ers' offense, combined with some defensive regression, opens the door for the Cardinals to keep this one close.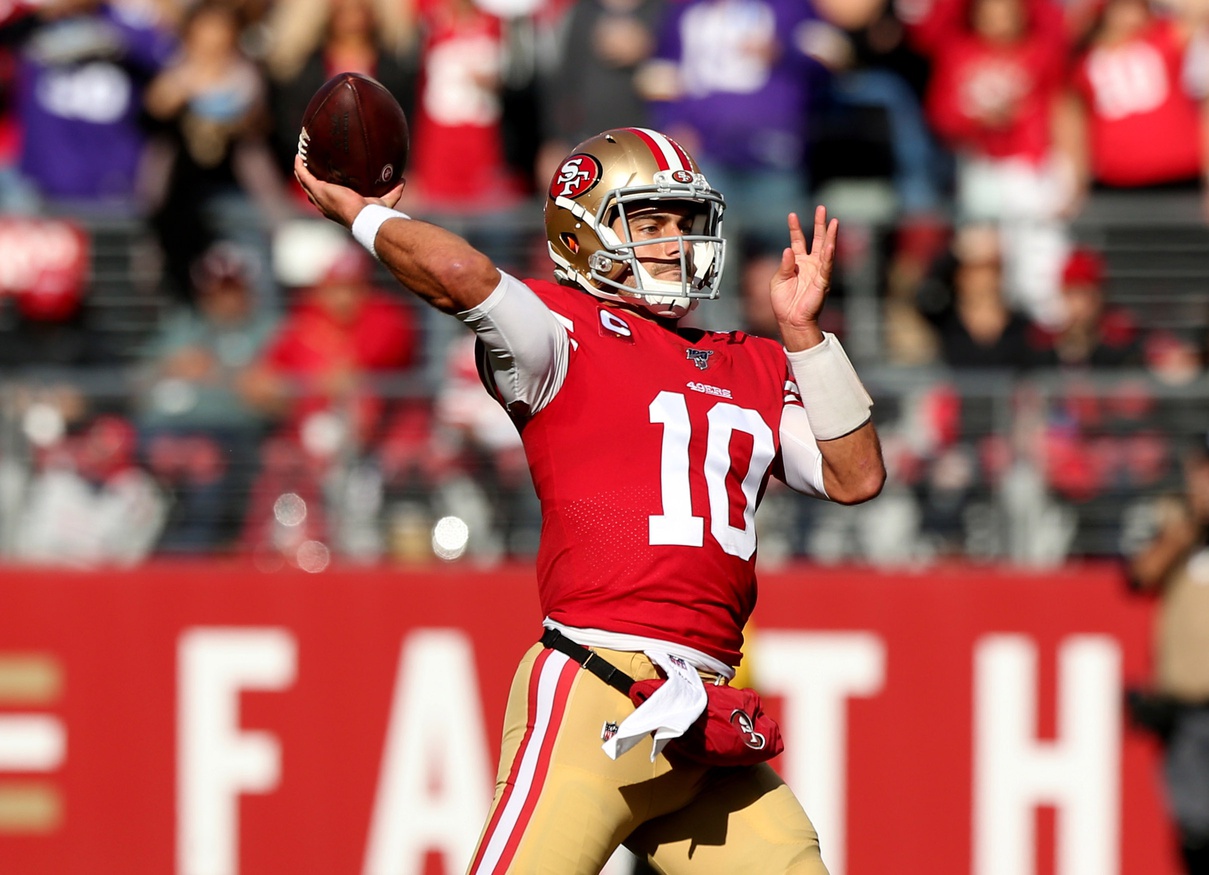 Counterpoint (Eric Eager): While George is normally the 49ers fan of the bunch, I'm going to give a little bit of respect to a team with one of the league's best offensive play callers and defensive play callers in Kyle Shanahan and Robert Saleh, respectively. The 49ers make up for Garoppolo's deficiencies by playing one of the more unique schemes in football, and they beat you on defense with one of the more talented groups in the game. Their front four earned the second-most wins above replacement of any group a season ago.
There is certainly some hope for the Cardinals going into this season, the second under Kliff Kingsbury, but I think they are a year away — or at least not ready as of right this very week. Jordan Hicks, who the Cardinals acquired after his solid career in Philadelphia, was unable to stop opposing offenses from getting shellacked by opposing tight ends (including George Kittle, who went for 6-79-1 in his lone, injury-slowed game against the Cardinals). This puts a bit of a damper on what I'm expecting from first-rounder Isaiah Simmons in his NFL debut at linebacker. I think the Cardinals will struggle defensively, even with everything the 49ers have to overcome personnel-wise.
On the other side of the ball, there's a lot to be excited about, as Kingsbury took the Cardinals from one of the worst offenses in recent memory to a middle-of-the-pack group — in many ways despite what Kyler Murray accomplished (about one win less than the average quarterback in 2019). Only 17.6% of Murray's dropbacks a season ago were positively graded, despite an average depth of target that was not completely egregious at 7.4 yards. This was one of the lowest marks in the league, and while I certainly think DeAndre Hopkins can improve this number, I might be inclined to wait a week to see it.
Subscribe to PFF Edge to continue reading
Already have a subscription? Sign In