NFL franchises are in a constant state of building toward championships, regardless of how they choose to accomplish that goal or what stage of the process they reside in. Lombardi Trophies aren't easy to come by, and they're near impossible to secure without difference-makers littered throughout a roster at key positions. The offseason is the time for general managers to evaluate which players represent those franchise cornerstones.
It's not simply a matter of picking out the best football players heading into next season. Tackle Andrew Whitworth has been excellent for the Los Angeles Rams, but he can't be part of their long-term plans as he enters a 2021 season in which he'll turn 40 years old. Josh Jacobs has been one of the best young running backs in the NFL, but does Las Vegas want to build around a position with such a short shelf life?
Production, age and positional value were all considered to put together a three-player core to build around for all 32 NFL teams. Contracts weren't considered for the purpose of this exercise.
Subscribe to
JUMP TO A TEAM:
ARZ | ATL | BLT | BUF | CAR | CIN | CHI | CLE | DEN | DAL | DET | GB | HOU | IND | JAX | KC | LVR | LAC | LAR | MIA | MIN | NE | NO | NYG | NYJ | PHI | PIT | SF | SEA | TB | TEN | WFT
QB Kyler Murray
WR DeAndre Hopkins
S Budda Baker
Murray still has work to do to enter the upper echelon of NFL quarterbacks, but he did improve his overall grade from 64.2 as a rookie to 82.8 this past season in Arizona. His talent at the game's most important position makes him an easy first choice when building out a core. Hopkins, PFF's No. 2 ranked wide receiver entering the 2021 season, should still have several elite years in him as Murray's top target, as well.
On defense, Baker is capable of playing a versatile safety role that is only becoming more valuable across the league. His coverage grade has improved every year of his career, and he's a 98th-percentile run defender among safeties since 2017.
WR Calvin Ridley
DI Grady Jarrett
TE Kyle Pitts
Even after the Falcons traded Julio Jones, two of the three players on this list reside in the team's receiving corps. Ridley is coming off a career-high 84.9 PFF grade last season, and Pitts has a chance to push into the upper tier of Travis Kelce, George Kittle and Darren Waller at tight end early in his career.
There isn't much to get excited about defensively for the Falcons, but Jarrett has been one of the lone positive presences up front in recent years. He is coming off four straight seasons with 80.0-plus PFF grades and is more than capable of winning his matchups both in the run game and as a pass rusher.
QB Lamar Jackson
CB Marlon Humphrey
T Ronnie Stanley
Jackson is one of the most polarizing players in the NFL. He has received his fair share of criticism for his postseason performances. But the truth is, Baltimore's offense — which has been built entirely around Jackson's unique skill set as a runner — ranks behind only the Chiefs in expected points added per play since 2019. That's worth building around. Stanley is the other major cornerstone on offense, ranking in the 88th percentile of all tackles in pass-blocking grade since 2016.
Humphrey would be one of the top defenders to build around in the league. He just turned 25 years old and is the only qualifying cornerback in the NFL to record coverage grades of at least 80.0 in the slot and out wide since 2017.
QB Josh Allen
WR Stefon Diggs
CB Tre'Davious White
Allen is fresh off one of the biggest third-year leaps at the quarterback position in NFL history. His elite physical tools paired with the improved accuracy he showcased during the 2020 season makes him one of the quarterbacks best suited to challenge Patrick Mahomes for the next decade. Diggs should help there for years to come, as well. He joins A.J. Brown and Julio Jones as the only two wide receivers to average at least 2.4 yards per route run in each of the past two seasons.
White is the clear player for Buffalo to center its efforts on defensively. Just over 17% of the targets into his coverage have resulted in either a pass breakup or an interception over his career, a top-five mark among qualifiers at the position.
WR D.J. Moore
EDGE Brian Burns
T Taylor Moton
Carolina is hoping that Sam Darnold plays well enough to make his omission here look like a snub, but the first three years of his career certainly haven't been enough to warrant consideration. Darnold does have some talent around him, though. Moore's 5.8 yards after the catch per reception since entering the league rank fourth among wide receivers with at least 100 receptions, and Moton is coming off a career-best 81.6 PFF grade in 2020.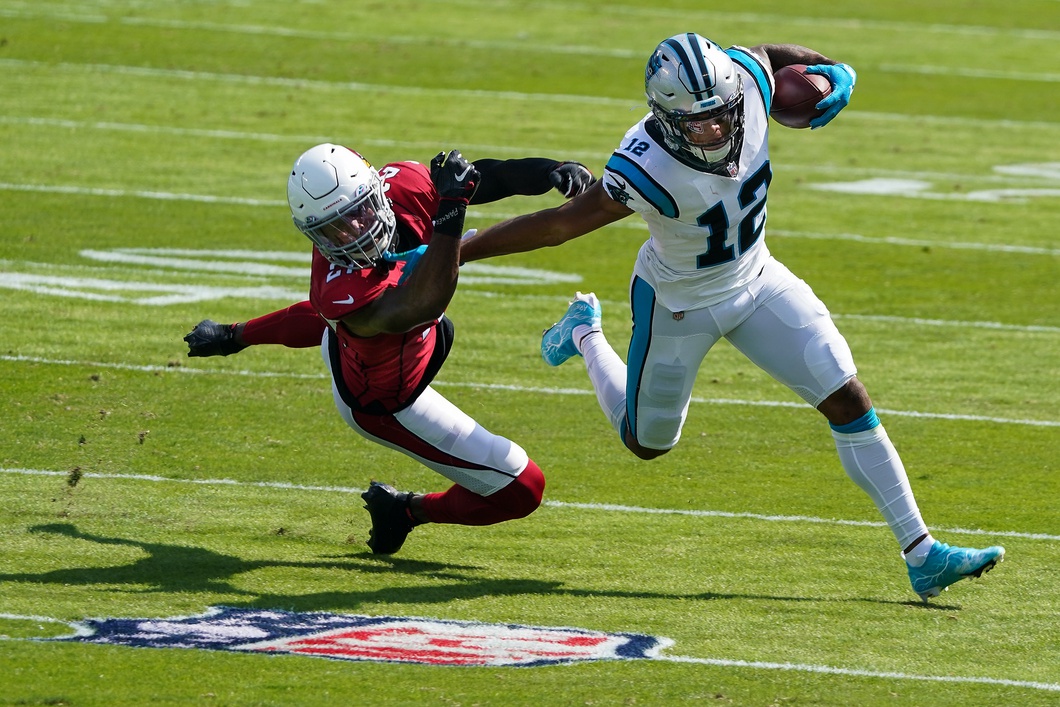 It's easier to expect longevity from those two than it is from Christian McCaffrey, which is why he's left off the list here. Some 58% of total Wins Above Replacement at the running back position are generated by players 25 or younger, easily the highest of any position.
A 23-year old, Burns is already the Panthers' best defender, and he should only continue to improve. His 86.9 pass-rushing grade last season ranked fifth among qualifying edge rushers.
QB Justin Fields
WR Allen Robinson
EDGE Khalil Mack
Head coach Matt Nagy can continue to say Andy Dalton is the starting quarterback, but it will be hard to keep Fields off the field for long. Fields was the most accurate quarterback PFF has charted at the college level, coming off two consecutive 90.0-plus grades at Ohio State in 2019 and 2020. He represents the Bears' best chance at quality quarterback play in a long time. And Robinson isn't a bad primary target for the first-round pick. Despite the turmoil at quarterback in 2020, Robinson's 88.3 PFF grade last season was the highest mark of his career.
Mack, meanwhile, crossed over the 30-year-old age threshold this offseason, but we've seen that players tend to age better in the trenches. The most valuable edge defender in the league over the past three seasons, according to PFF WAR, is tough to exclude with that in mind.
QB Joe Burrow
S Jessie Bates III
WR Ja'Marr Chase
Burrow had been sacked 32 times (second in NFL) and hit 43 times (fourth in NFL) at the time of his season-ending injury. It was far from an optimal situation, but he still managed to put together an impressive season, particularly in the short and intermediate ranges. He and Chase, the fifth-overall selection in the 2021 NFL Draft, are the two most logical pieces to build around on offense. That duo combined for 14.7 yards per attempt and a 141.3 passer rating in LSU's 2019 championship season.
Bates is one of the league's best free safeties, fresh off a 90.1 PFF grade last season. He's the star of a secondary that Cincinnati has worked to rebuild in free agency the past few seasons.
QB Baker Mayfield
EDGE Myles Garrett
CB Denzel Ward
Mayfield's career has been up and down thus far, but the former No. 1 overall pick is coming off his best stretch of play since being drafted. From Week 7 through the end of the postseason, his 91.7 PFF grade ranked fourth in the NFL — behind only Aaron Rodgers, Deshaun Watson and Tom Brady.
The other two players making an appearance are Cleveland's other two top-five picks since 2017. Garrett ranks in the 98th percentile of all edge rushers in pass-rush grade over the past three seasons, and Ward ranks in the 96th percentile of all cornerbacks in single coverage grade over that same span. That's not a bad starting point defensively.
QB Dak Prescott
WR CeeDee Lamb
WR Amari Cooper
Dallas boasts one of the NFL's more talented offenses entering the 2021 season. Prescott's 85.2 PFF grade prior to his injury last year represented a career-high and ranked seventh among qualifying quarterbacks through five weeks. He has shown that he can lead an efficient offense, particularly when he has wide receivers like Lamb and Cooper who can create separation against man coverage from the slot and outside. There's no reason those two shouldn't form one of the best wide receiver duos in the NFL for years to come at 22 and 27 years old, respectively.
Zack Martin, Tyron Smith and Demarcus Lawrence — all still elite options at their respective positions — were left off because of the higher chance of decline in coming years due to age and injury.
S Justin Simmons
WR Jerry Jeudy
EDGE Bradley Chubb
Broncos head coach Vic Fangio said of Simmons in a press conference this offseason, "He quarterbacks our secondary and plays a major role in our entire defense from an on-field leadership job and does very well." Simmons' strong play in that critical role for Denver makes him an easy inclusion. He has been the most valuable safety in the NFL over the past two seasons, per PFF's Wins Above Replacement metric. Chubb, coming off a career-high 79.4 pass-rushing grade at 24 years old last season, joins Simmons as a player to build around in Fangio's defense.
Offensively, Jeudy sticks out due to his ability as a route-runner. His 12 drops as a rookie were far from ideal, but so was his quarterback play. All-Pro cornerback Xavien Howard highlighted Jeudy as one of his toughest covers all season on the Cris Collinsworth Podcast.
C Frank Ragnow
T Penei Sewell
T Taylor Decker
Detroit's roster isn't in great shape, but the offensive line does have several impressive building blocks in place. According to PFF's Wins Above Replacement metric, Ragnow has been the second-most valuable center in the NFL over the past two seasons. Decker comes in at 18th among all tackles since 2019 by the same metric. The Lions' decision to add in Sewell, who earned a 95.8 PFF grade for Oregon the last time that he took the field, only strengthens an already solid unit. Those three will enter next season at just 25, 27 and 20 years old, respectively.
Jeffrey Okudah could prove to be a notable omission given the caliber of prospect he was coming out of Ohio State, but his rookie season was disappointing enough (30.9 coverage grade) to leave him off entering next season.
WR Davante Adams
CB Jaire Alexander
T David Bakhtiari
Aaron Rodgers is the reigning MVP, but he's also going to turn 38 years old this season and doesn't seem to have much interest in playing in Green Bay any longer. The Packers aren't short on candidates to take Rodgers' spot on this list, either. Adams, Alexander and Bakhtiari each finished first at their respective positions in PFF's positional rankings entering the 2021 season, and all three will enter next season at under 30 years old.
Jordan Love, whether he sees his first NFL playing time next season or not, is who the Packers would like to see here at this time next year. The 22-year-old earned an 82.0 PFF grade across his final two seasons at Utah State (37th in FBS).
T Laremy Tunsil
WR Brandin Cooks
S Justin Reid
Between Deshaun Watson's off-field situation and his request for a trade out of Houston, it makes sense to leave him off the list. That leaves a relatively thin list of remaining candidates.
Tunsil is the Texans' best player moving forward. He's been one of the top pass-protecting tackles in the NFL since arriving in Houston, ranking in the 98th percentile at the position in pass-blocking grade on true pass sets since 2019. And Cooks, despite playing for four different teams before turning 27, is a talented wideout. His 55 receptions on passes 20-plus yards downfield over the past five years are fewer than only Tyreek Hill and Julio Jones.
Reid, even after a down 2020 season, has the most promising outlook of any defensive player for Houston. He has been the 24th-most valuable safety in the league since being drafted in 2018.
G Quenton Nelson
LB Darius Leonard
DI DeForest Buckner
It is rare for an offensive lineman to be as good as Nelson has been this early in his NFL career. PFF's Wins Above Replacement metric doesn't just list Nelson as the most valuable guard since 2018; he's been the most valuable offensive lineman overall. At just 25 years old, he should continue to provide value for a long time.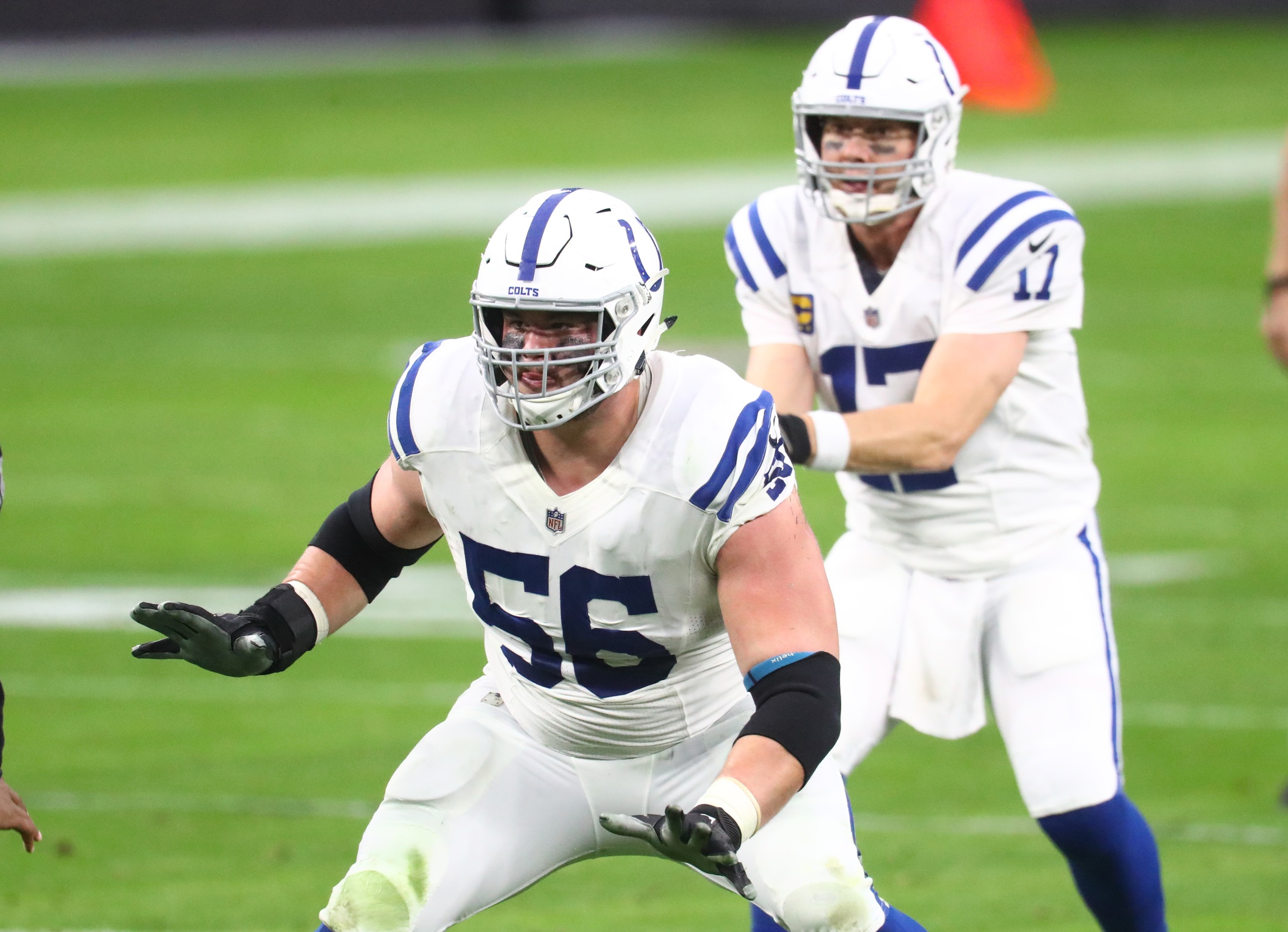 Indianapolis also has two relatively young, elite players at their respective positions on the defensive side in Leonard and Buckner. Leonard hasn't graded below 67.0 in any phase — run defense, tackling, pass rushing or coverage — since being drafted. Buckner, meanwhile, was everything the Colts could have imagined in his first year with the team. His 90.1 pass-rushing grade in 2020 ranked third among interior defenders.
QB Trevor Lawrence
EDGE Josh Allen
WR Laviska Shenault Jr.
Jacksonville managed to steal the first overall pick in the 2021 NFL Draft from the New York Jets late in the season, and the best quarterback prospect to come out of the college ranks in years was their prize. Lawrence earned 90.0-plus grades in three consecutive seasons as Clemson's quarterback. He has several intriguing young weapons to work with on offense. Shenault might top that list. The Colorado product was used in a limited role as a rookie, seeing an average depth of target just 6.6 yards downfield in 2020, but he has the size and rare athleticism to be a dynamic playmaker in a more traditional wide receiver role moving forward.
Allen represents the Jaguars' best chance of generating a consistent pass rush in 2021. The 24-year-old earned pass-rush grades of at least 70.0 in each of his first two seasons, and that should be his floor moving forward.
QB Patrick Mahomes
WR Tyreek Hill
DI Chris Jones
Being forced to leave off Travis Kelce, who will turn 32 years old next season, and the 29-year-old Tyrann Mathieu shows just how much high-end talent resides on this Kansas City roster.
Mahomes is the premier building block in the NFL, in a tier of his own atop the quarterback position at just 25 years old. He has been worth over a win more than any quarterback since 2018, according to PFF WAR, and he's only improving. Pairing his arm with the league's best deep threat is a big part of what makes Kansas City's offense so difficult to defend. Hill's 19 touchdown receptions on passes 20-plus yards downfield over the past three seasons are six more than any other wide receiver.
On the other side of the ball, Jones has been the league's best interior pass rusher not named Aaron Donald in recent years. His 19.6% pass-rush win rate is over three percentage points higher than the third-place interior defender (Fletcher Cox) since 2018.
TE Darren Waller
T Kolton Miller
QB Derek Carr
Carr is in the tier of quarterbacks where it's difficult to ascertain whether building around them is the right decision. However, Carr has graded out well the past two seasons (ninth in PFF grade since 2019), and much of the young talent on Las Vegas' roster has disappointed early in their NFL careers, thinning the candidates for this list. Waller is the lone high-end receiving threat at Carr's disposal entering the 2021 season, coming off an elite 90.9 receiving grade last season.
The arrow appears to be pointing up for Miller at left tackle, as well. He has improved his grade in each of the past two seasons, ranking in the 70th percentile of offensive tackles in pass-blocking grade in 2020. That is all the way up from the seventh percentile as a rookie in 2018.
QB Justin Herbert
EDGE Joey Bosa
S Derwin James
Herbert's rookie season provided plenty of reason for optimism for Chargers fans. His 79.9 PFF grade last season ranked third among rookie quarterbacks over the past five years, trailing only Dak Prescott in 2016 and Baker Mayfield in 2018. First-year head coach Brandon Staley not only has the opportunity to work with Herbert but also a pair of elite defenders.
Bosa and James represent just about the closest Staley could have gotten to Aaron Donald and Jalen Ramsey from a defensive impact perspective when both are healthy. Bosa is the only active edge rusher with a pass-rush win rate higher than 20% since 2016, and James has looked capable of playing just about any defensive position at a high level when on the field. He was tied for the third-most valuable safety in the league as a rookie in 2018.
DI Aaron Donald
CB Jalen Ramsey
QB Matthew Stafford
Donald turned 30 years old this offseason, but there's no reason to leave out the best player in football who will likely still produce at an elite level when he loses a step or two. His 456 pressures over the past five seasons are 86 more than any other defender, with nearly all of them coming on the interior against a heavy dose of double teams. The Rams also boast one of the league's top cornerbacks. Ramsey is coming off a 2020 campaign in which he limited opponents to 32 receptions and 309 receiving yards into his coverage.
The third spot is tougher to diagnose. Stafford ends up being the choice, even at 33 years old, behind the idea that he can elevate Los Angeles' offense in a way that Jared Goff couldn't due to his willingness to attack downfield and play outside of structure.
CB Xavien Howard
WR Jaylen Waddle
QB Tua Tagovailoa
Tagovailoa's rookie season didn't match that of fellow rookie quarterbacks Joe Burrow and Justin Herbert, but it's still too early to write off the fifth overall pick in the 2020 NFL Draft. Tagovailoa was returning from a major injury, and he was also surrounded by significantly less talent than at Alabama last year. 2021 will be a massive season for his future as the franchise quarterback in Miami.
His former college wide receiver, Waddle, will be a big part of Miami's new-look receiving corps next season. Waddle was the best after-the-catch wide receiver in the 2021 draft class, and his combination of speed and twitch should provide plenty of open targets for Tagovailoa over the middle of the field.
Howard is the top building block defensively for the Dolphins in their man-heavy defense. He's a top-five cornerback in the NFL after recording an 89.6 coverage grade in 2020.
WR Justin Jefferson
EDGE Danielle Hunter
T Brian O'Neill
Dalvin Cook is one of the best runners the NFL has to offer, but the 26-year-old also has a history of injuries at a position where 58% of total Wins Above Replacement are generated by players 25 or younger, easily the highest of any position. Jefferson (90.4 PFF grade as a rookie in 2020) and O'Neill (career-high 78.0 PFF grade in his third NFL season last year) are the safer bets for providing long-term value offensively in Minnesota.
The Vikings will certainly welcome back Hunter along the defensive line in 2021. He earned a career-high 89.0 PFF grade with 88 quarterback pressures in his last action back in 2019. Hunter should be entering his prime at 26 years old.
CB J.C. Jackson
G Michael Onwenu 
QB Mac Jones
Jackson gets the nod at cornerback over Stephon Gilmore based on the five-year age gap between them. Jackson has made plays on the ball at one of the highest rates in the NFL over the past three years, particularly on deep passes. He has allowed just five receptions on 48 targets of 20-plus yards downfield, tallying 11 interceptions in the process.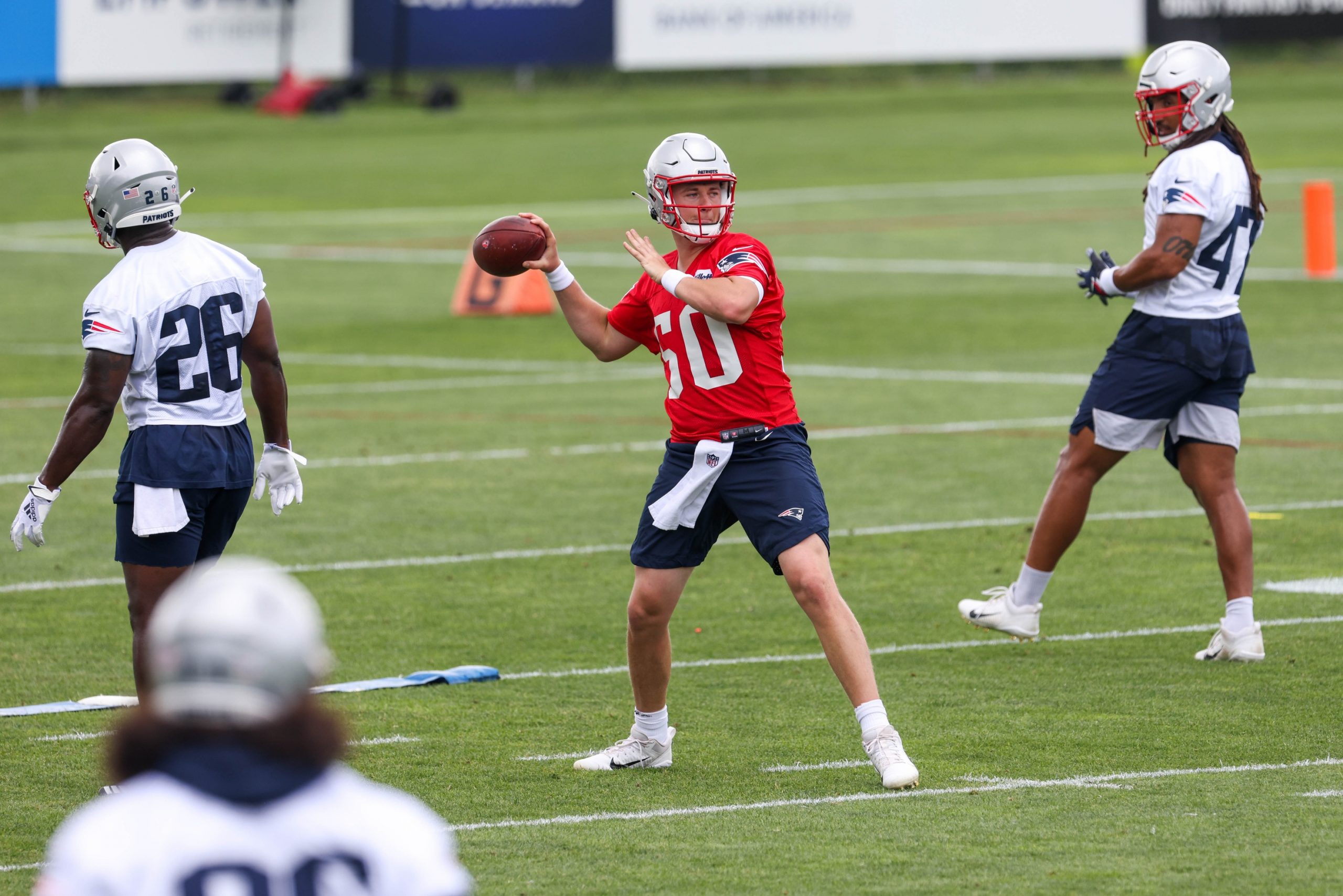 The offensive line features several options to consider for the Patriots, such as Shaq Mason and Isaiah Wynn. Onwenu's impressive play as a rookie in 2020 (84.3 PFF grade) across multiple positions ultimately earned him the nod. Jones, should he take over at quarterback next season, will have a reliable group protecting him. 72.0% of Jones' passes at Alabama last season were charted as accurate, second to only Justin Fields among FBS quarterbacks.
WR Michael Thomas
T Ryan Ramczyk
S Marcus Williams
The Saints have lost some of the depth that made their roster so impressive entering last season, but plenty of high-end talent still remains entering next season. Ramczyk has been the most valuable tackle in the NFL since he was drafted in 2017, according to PFF WAR. A healthy Thomas will look to bounce back from an injury-plagued 2020 season, as well. He is the only wide receiver in the past decade to earn an 85.0-plus PFF grade in each of his first four NFL seasons.
On defense, Williams may be one of the league's most underrated safeties. The Saints were smart to keep him in New Orleans via the franchise tag. He recently ranked fourth on PFF's preseason safety rankings and has yet to turn 25 years old.
CB James Bradberry
DI Leonard Williams
WR Kenny Golladay
In an ideal world, Andrew Thomas' rookie season would have resembled Tristan Wirfs' year, making him an easy inclusion here. There were promising things to take away from how Thomas closed the year, but his 62.4 grade was underwhelming. Bradberry's and Williams' performances in their first full season on the defense were not. They both ranked fourth at their respective positions in PFF's Wins Above Replacement metric during the 2020 season.
The Giants will be hoping Golladay entices quarterback Daniel Jones to take more downfield shots. Golladay recently ranked as the league's third-best deep threat, regularly winning in contested-catch situations downfield. Golladay's 53 contested catches overall over the past three seasons are second to only Allen Robinson II at the position, even despite all his missed time in 2020.
QB Zach Wilson
DI Quinnen Williams
T Mekhi Becton
Williams and Becton both appear to be ascending young talents at their positions with the requisite talent to be the best interior defender and offensive tackle, respectively, in the NFL at some point in their careers. Williams saw his overall grade leap to 81.4 in his second season out of Alabama last year, and Becton's rare blend of size and athleticism stood out as a rookie. Becton ranked in the 94th percentile among offensive tackles in percentage of positively graded run-blocking plays last season.
The Jets' future rides on the success of their No. 2 overall pick, though. Wilson lit college football on fire last season en route to a 95.4 overall grade. It admittedly wasn't against the best of competition, but his ability to throw off-platform and create outside the pocket was impressive, regardless of the context.
WR DeVonta Smith
TE Dallas Goedert
DI Fletcher Cox
Many of Philadelphia's talented players — Brandon Brooks, Jason Kelce, Lane Johnson, Brandon Graham and Darius Slay, to name a few — find themselves on the wrong side of 30 years old. Cox does, too, but he plays an interior position that tends to age more gracefully than most. His 194 pressures since 2018 are second to only Aaron Donald among interior defensive linemen.
The passing game has its concerns heading into the 2021 season with Jalen Hurts at quarterback, but Smith and Goedert should provide a solid foundation for the receiving corps. Smith is one of the best route-runners to come out of college in recent years. Meanwhile, Goedert is the only tight end in the NFL with receiving and run-blocking grades of 80.0 or higher since 2018.
EDGE T.J. Watt
S Minkah Fitzpatrick
WR Chase Claypool
Watt is in line for a massive second contract in Pittsburgh given his performance over the past two seasons. He joins Joey Bosa and Myles Garrett as the only two edge defenders with a PFF grade better than 90.0 in both 2019 and 2020. Fitzpatrick, like Watt, is also due for a big-time extension soon. His play at free safety is a big reason why the Steelers have allowed just 32 completions on passes 20 or more yards downfield (tied for fewest in NFL) since they traded for him.
The choices on offense come down to preference between Diontae Johnson, JuJu Smith-Schuster and Claypool with an aging Ben Roethlisberger and makeshift offensive line. Claypool's ability to challenge defenses vertically, which he showcased as a rookie, gives him the slight edge. Through a combination of receptions and pass interference penalties drawn, Claypool was responsible for 21 gains of 20-plus yards last year (eighth at wide receiver).
TE George Kittle
QB Trey Lance
EDGE Nick Bosa
Lance's combination of rare physical tools and intelligence bodes well for his future in Kyle Shanahan's offense, even if the accuracy isn't fully there yet. It also helps that Lance will have one of the few true difference-makers at tight end at his disposal as he makes the transitions into a starting role. Kittle is capable of winning as a receiver from any alignment and adding value as an inline blocker. He's the highest-graded tight end in the league since 2018 (93.4).
The decision over whether to include Bosa or Fred Warner next was a difficult one, but Bosa's dominance at the edge defender position as a rookie is hard to ignore. He broke the rookie pressure record in 2019 with 80 combined hurries, hits and sacks. There's no reason he won't get back to dominating opposing tackles in his return from injury next season.
QB Russell Wilson
WR D.K. Metcalf
S Jamal Adams
Wilson's play tailed off toward the back half of the 2020 season, but he still stands out as a top-five quarterback in the NFL as he enters a year in which he will turn 33 years old. The only quarterback to finish higher than Wilson in PFF's Wins Above Replacement metric since 2018 is Patrick Mahomes. Both Wilson and Metcalf, who has put up over 2,200 yards and 17 touchdowns in his first two NFL seasons, were easy inclusions on the list.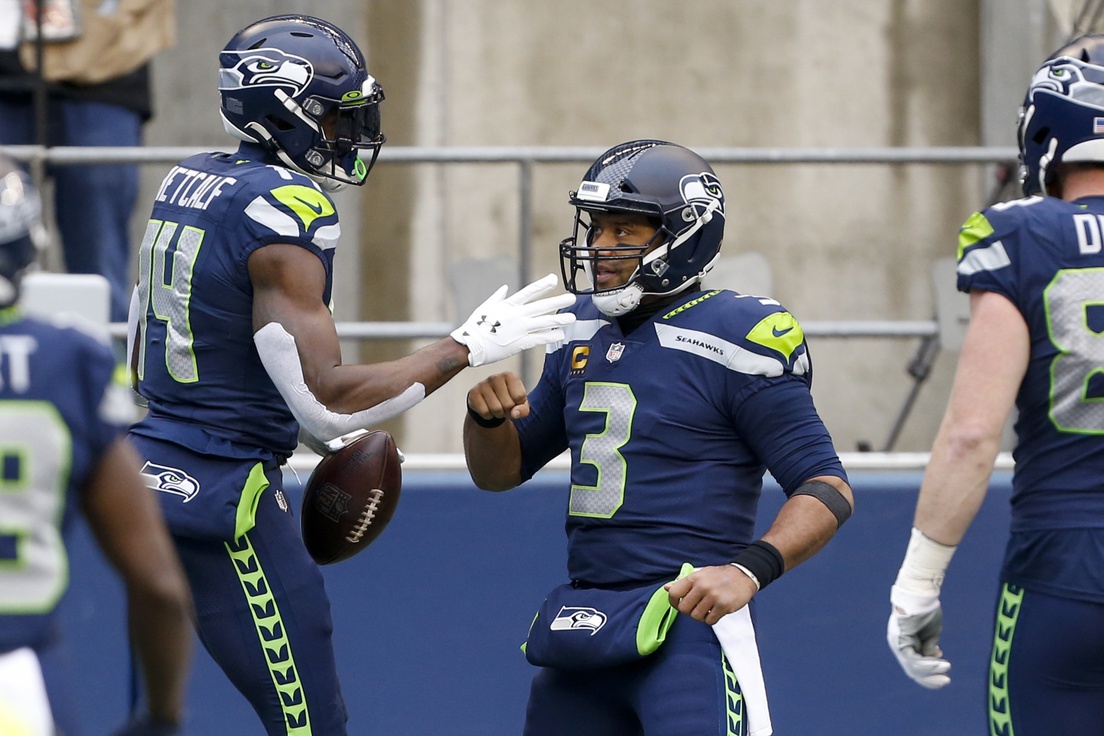 Adams has caught some flack for his struggles in coverage last season in Seattle, but he's just one campaign removed from a two-year stretch in New York where his 91.0 PFF grade ranked second among all qualifying safeties.
WR Chris Godwin
T Tristan Wirfs
WR Mike Evans
The Buccaneers have the best roster in the NFL, and their receiving corps is the strength of the team. Godwin and Evans are both top-15 wide receivers in PFF's preseason rankings entering the 2021 season, and they are in line to continue to produce at a high level for years to come at 25 and 27 years old, respectively.
Those two are far from the only bright spots on Tampa Bay's offense. Wirfs projects to have one of the brightest futures of any offensive tackle in the NFL following a rookie season in which he deserved All-Pro recognition. His 84.1 PFF grade on the year led all qualifying right tackles. 
WR A.J. Brown
DI Jeffery Simmons
S Kevin Byard
Brown, Julio Jones and Derrick Henry form one of the NFL's best offensive skill position trios entering the 2021 season, but it remains to be seen how long that group stays at its peak. Jones will turn 33 years old in January and has fought through injuries over his NFL career. Henry has carried the ball over 100 more times than any other running back since 2019 at a position where few players remain elite into their late 20s.
At 24 years old, Brown has no such concerns. No wide receiver with at least 100 receptions since 2019 has averaged more yards after the catch per reception than the former Ole Miss weapon (7.3).
Simmons saw his PFF grade jump to 83.3 last year in his second NFL season, providing reason for optimism heading into Year 3. And Byard remains one of the best safeties in the NFL despite a down 2020 season by his standards. PFF WAR ranked Byard as the third-most valuable safety in the league from 2017 to 2019.  
WR Terry McLaurin
EDGE Chase Young
DI Jonathan Allen
Washington's talented young defensive line is the easiest place to start. Young is likely the first selection from that group when projecting forward based on his track record at Ohio State, physical ability and impressive rookie performance (87.1 PFF grade) last season. Montez Sweat certainly deserves an honorable mention, but Allen was the best pass rusher of the group in 2020. His two sacks don't do justice to a 17.0% pass-rush win rate that was a top-10 mark at the interior defender position.
At wide receiver, McLaurin could put up big numbers next season with the potential for improved quarterback play under Ryan Fitzpatrick. His 2020 season wasn't quite as impressive as his rookie performance (85.7 overall grade), but he was forced to play in a different role, with his average depth of target dropping from 14.6 to 9.9 yards downfield.