Few players in NFL history have built the type of resume Patrick Mahomes has in such a short amount of time. Since taking over as the Kansas City Chiefs' starter in 2018, Mahomes has won an NFL MVP, a Super Bowl ring, a Super Bowl MVP and has appeared in three straight conference championship games. At just 25 years old, he has cemented himself as the unanimous No. 1 quarterback in the NFL, having been listed as the second-best overall player in the league in the PFF50 two years in a row.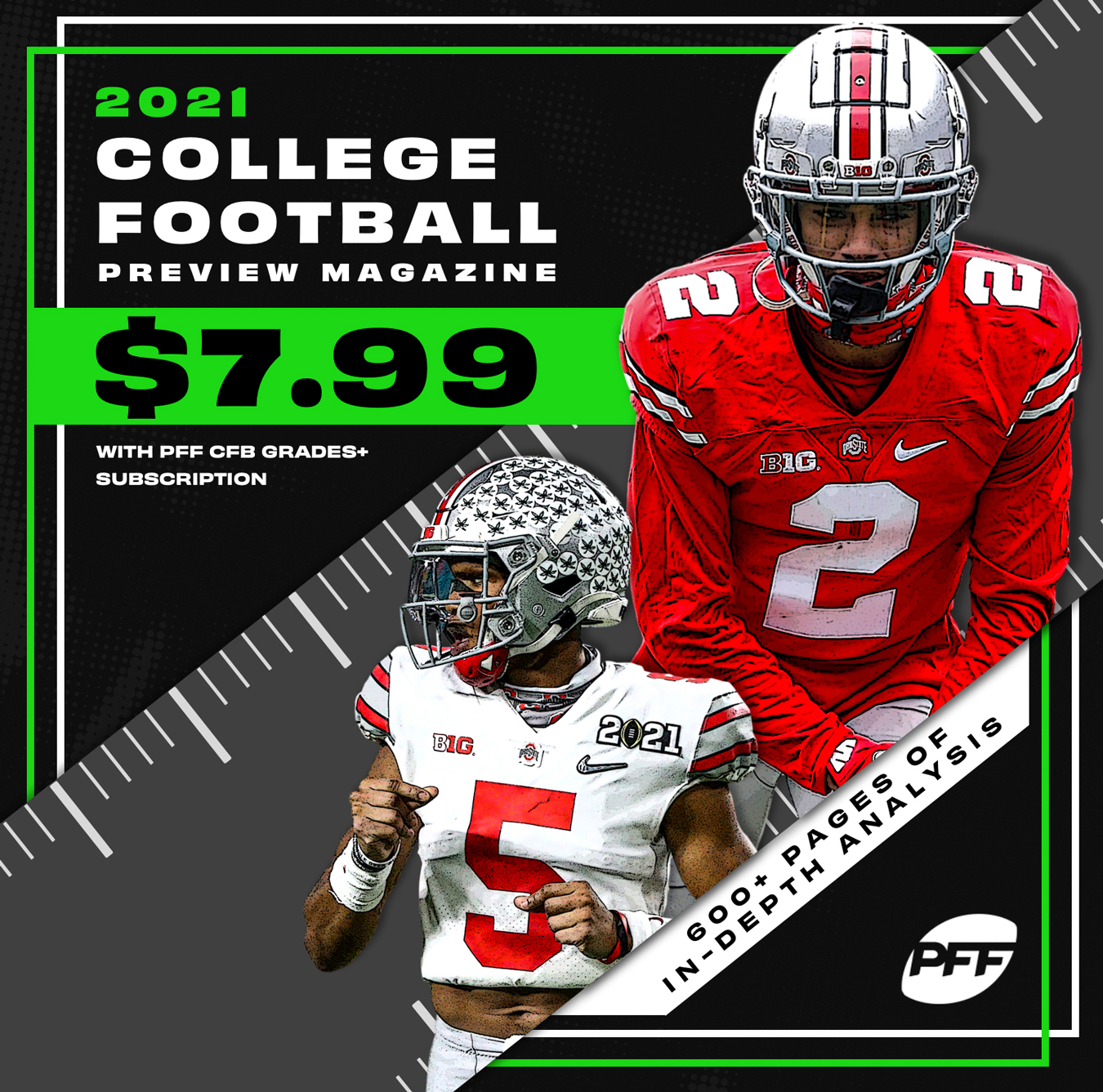 Mahomes wields an arm that can stretch defenses and makes throws no one else in the league can make. He combines the immense passing talent with the ability to be mobile when needed, limiting sacks at a 3.5% clip — the lowest rate in the NFL. 
Mahomes, how

— PFF (@PFF) January 25, 2021
As phenomenal as Mahomes has been over three seasons as an NFL starter, he actually entered the league with average accuracy — and it showed in his first year as starter. His athleticism and arm talent have always won out over this slight deficiency. But Mahomes appears to be rectifying his accuracy issues while maintaining elite efficiency and the rest of his special traits.
Using Expected Points Added (EPA) per pass is a good way to measure Mahomes' efficiency. The metric measures how much a pass changes a team's chances of scoring. EPA accounts for game situation and is superior to looking at yards, as gaining 6 yards on third-and-5 is better than gaining 6 yards on third-and-15. Between 2018 and 2020, no one has even come close to the cumulative EPA that Mahomes has gained.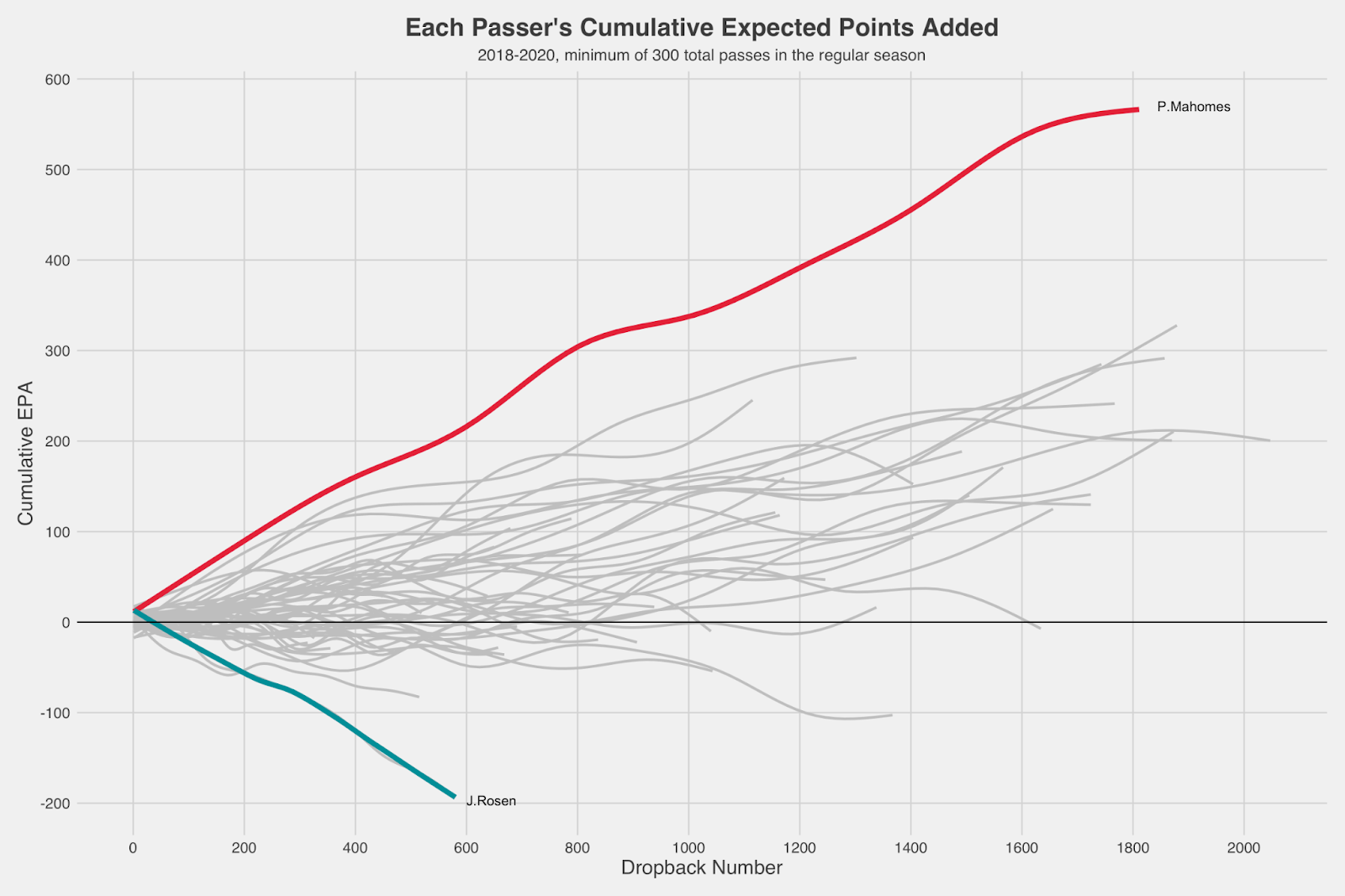 This basically means that when Mahomes has had the ball in his hands, he has increased scoring opportunities better than anyone else in the league. The most impressive aspect of his performance is that it hasn't been propped up by garbage time production like that of Mitchell Trubisky and Jameis Winston. Mahomes has only played in garbage time on 8% of his total snaps, but that small sample size is the only time when he's been average in EPA compared to the rest of the league.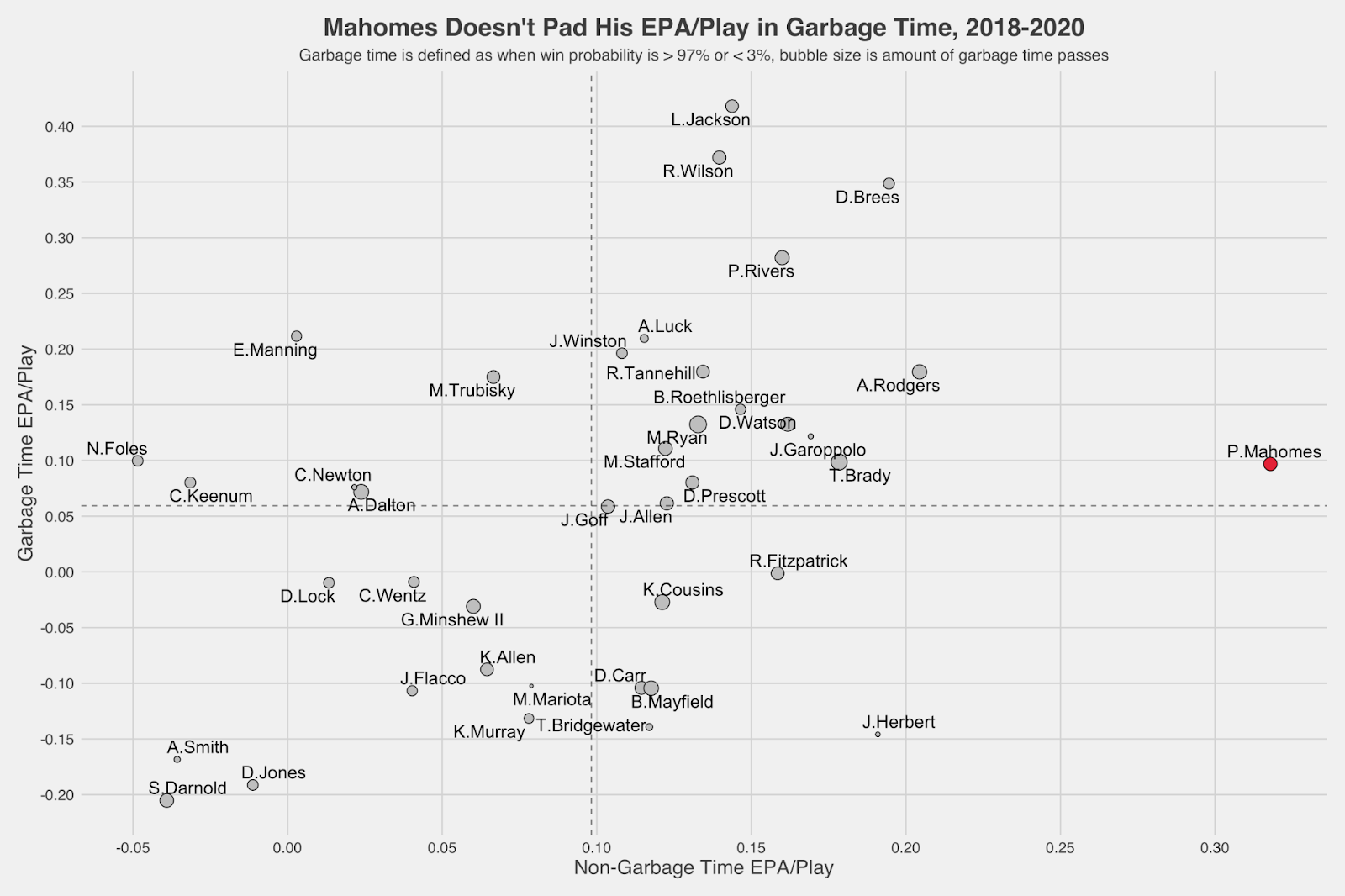 EPA/pass is a good way to evaluate quarterback play, but it could be considered a team passing statistic and not just a quarterback statistic. Because it captures everything that happens on a passing play, a receiver accumulating yards after a catch benefits a quarterback's EPA. We can split overall EPA/pass to look at Air EPA and YAC EPA.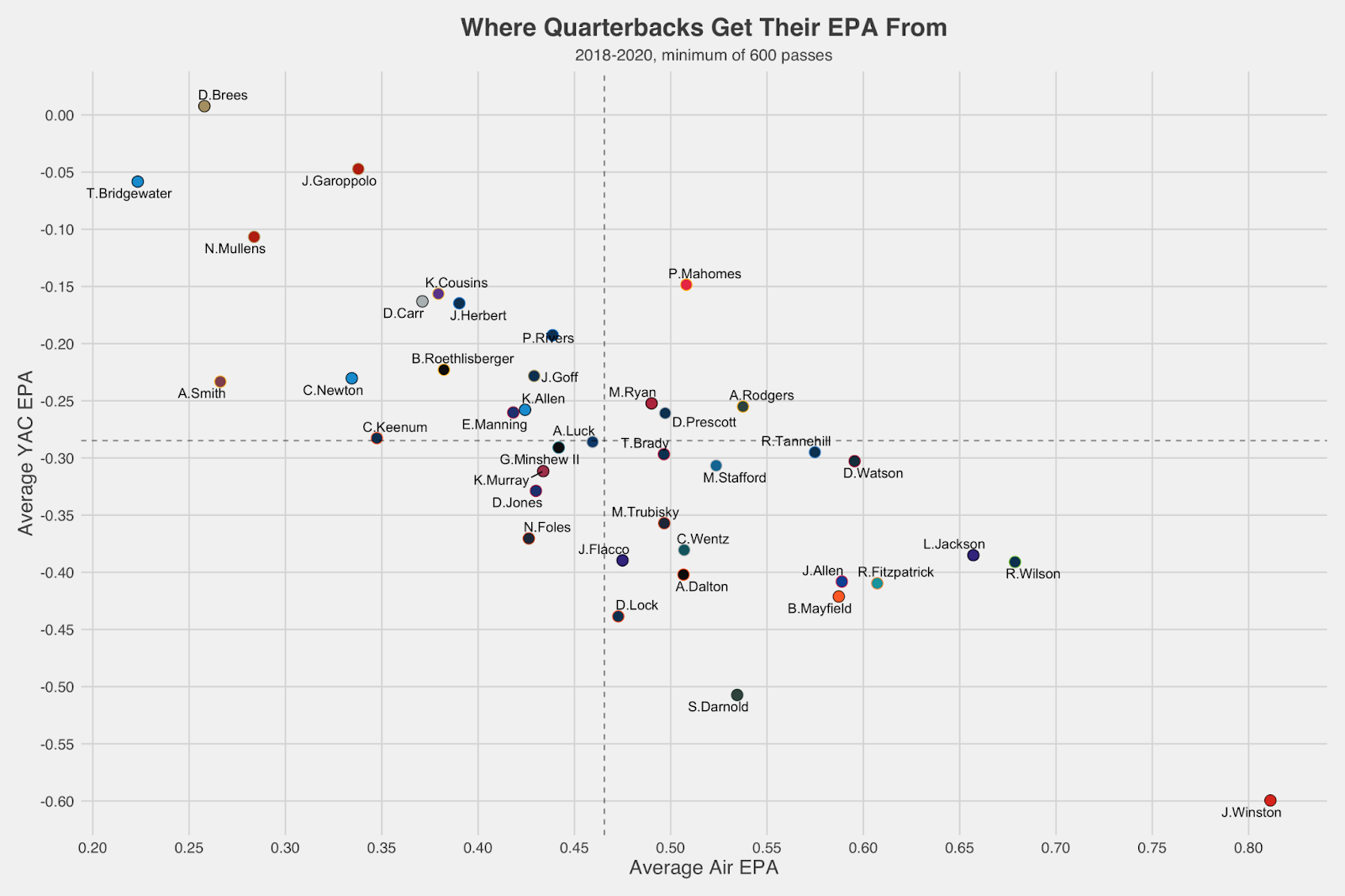 The Chiefs feature a great playcaller in Andy Reid and have weapons like Tyreek Hill (No. 18 on the PFF50) and Travis Kelce (No. 3 on the PFF50). Mahomes has the benefit of an above average YAC EPA on top of his above average Air EPA. Most quarterbacks have only one or the other.
Some of this can be attributed to quarterback skill, as passes that lead a receiver and are accurate can lead to more YAC. However, despite being universally regarded as the best quarterback in the NFL, Mahomes might still be improving when it comes to accuracy.