I still remember sitting in a dingy apartment in Columbus, Ohio, in the spring of 2014, grading a Sam Houston State vs. Texas A&M blowout from months prior. It was a fairly unremarkable game — Johnny Football and company rolled in a 65-28 victory — but for me, it was a milestone. It was our very first foray into the college game after six years of grading the NFL.
In 2014, PFF decided to grade every single FBS game, a feat we wrapped up only a couple of months before the 2015 NFL Draft. We have now completed seven FBS seasons, and we've refined our methods of prospect evaluation in the process. I cringe when I look back at some takes, but they were all part of learning the translatable and not-so-translatable aspects of our college grading system.
Presented below is the PFF era draft big board, a list of the top 50 NFL draft prospects from our seven years of college grading. There's no revisionist history here — this is how we felt about the prospects at the time, even if we look like idiots in retrospect. PFF's big boards will always take positional value into account, so get ready to start with some quarterbacks.
Subscribe to
We didn't get to grade Andrew Luck during his time at Stanford, but any choice between the two signal-callers would be splitting hairs. In my opinion, the underrated thing about Lawrence is that even though he came to Clemson as the most college-ready freshman of all time, he still showed improvement throughout his career. He earned a career-best 91.2 overall grade in 2020 despite playing with the worst receiving group and offensive line of his career.
Related: Trevor Lawrence continued to improve, and that's what separates him from the pack via Seth Galina
No other college quarterback has dominated top competition the way Burrow did in 2019. He faced top defense after top defense and put them on the turf, with his lowest-graded game still coming in at an above-average 70.4.
Wilson's 2020 tape is about as good as we've seen at the position, as his 95.5 passing grade is the highest grade we've ever given to a quarterback over a  single season. His situation wasn't terribly difficult, and it was only one year of his three as a starter, but his level of arm talent and sheer dominance as a true junior makes him a special prospect.
Related: How does BYU's Zach Wilson's 2020 season compare to Joe Burrow's 2019 at LSU? via Seth Galina
Mayfield has been somewhat of a roller coaster in the league. He had an exceptional Year 1 and second half of Year 3, with a lackluster stretch in between. Mayfield was a big-time throw machine in college, recording 77 in his three years as a starter. His pocket presence was always his biggest issue, and it's been a problem for him in the NFL at times, as well.
Fields falls into a similar bucket to the two guys ahead of him on this list, as he found himself in quite a favorable situation throughout his career. That said, there are no weaknesses in his physical profile. He earned passing grades of 92.4 and 92.2 in his two seasons at Ohio State.
Related: Projecting Ohio State QB Justin Fields' impact as an NFL player via Eric Eager
At the time, we didn't have the pleasure of grading Winston's Heisman season in full, but you could see the talent even in his more up and down 2014 campaign when he recorded an 80.9 PFF passing grade. Winston displayed a very projectable skill set in Florida State's offense, but his 18 turnover-worthy plays that year represented a trend that continued to plague him in the NFL.
The 94.6 PFF grade that Murray earned with Oklahoma in 2018 was once a PFF College record. After rolling through an admittedly soft Big 12 schedule in his one full season as a starter, Murray won us over with a gutsy 80.0 overall grade in the playoff against Alabama. We can overlook small stature when a quarterback has a cannon and Murray's kind of wheels.
While Mariota didn't have a cannon, he was ultra-accurate and showed up in big games during his final season at Oregon, ending his college career with a 90.8 overall grade in the national championship game loss to Ohio State. Despite running a 4.52-second 40 at 222 pounds, Mariota rarely looked as dynamic in the NFL as he did at Oregon, where he averaged 8.8 yards per rush attempt in his final season.
Darnold was always uniquely capable of those high-level throws down the football field. Even after losing JuJu Smith-Schuster to the NFL ranks, Darnold came back for his redshirt sophomore year and led college football in big-time throws, with 35. Unfortunately, he also finished with 30 turnover-worthy plays, fifth-most among quarterbacks. Those were very similar numbers to the ones Patrick Mahomes put up the year prior, but the turnovers have persisted for Darnold in the NFL.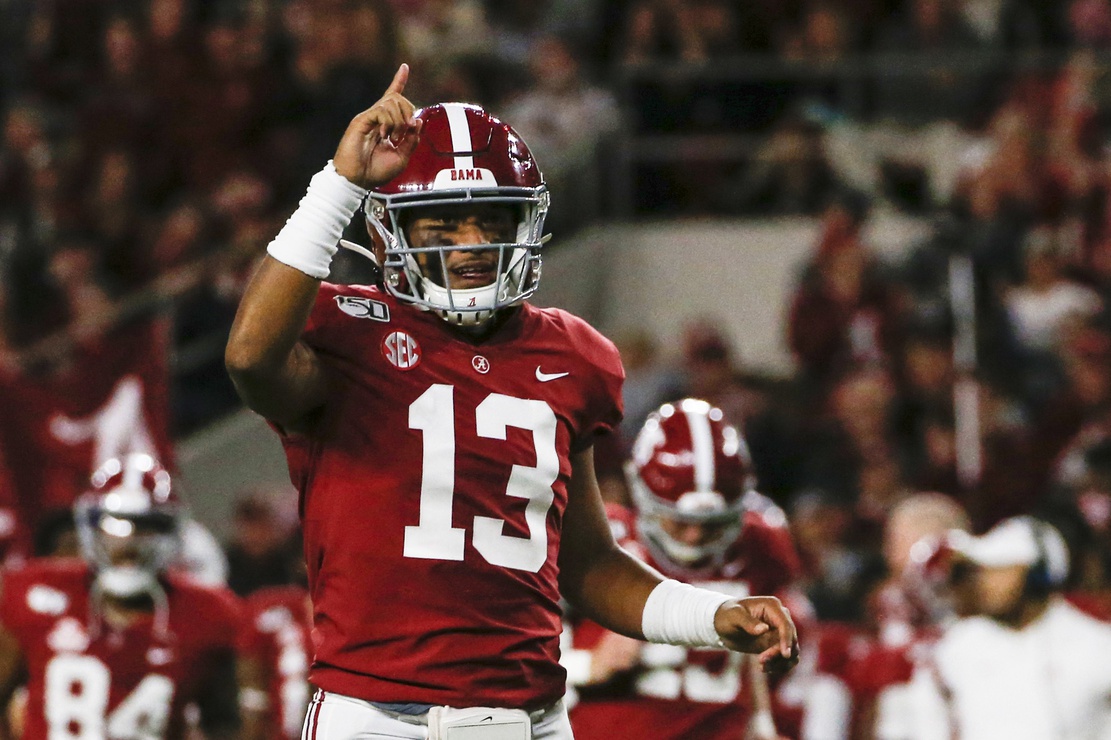 Tagovailoa falling toward the low end of what we'd deem "franchise status" at the quarterback position had a lot to do with his injury and the recovery it would entail. Because of that, it's hard to read too much into his early-career struggles with the Dolphins.
The coveted distinction for the first non-QB goes to Young. His 96.0 overall grade in 2019 was a product of the single most dominant season we've ever seen — regardless of position. Teams had to alter their entire game plans to account for him in a way not seen in recent college football history.
Garrett stepped onto the field in his freshman year as an unstoppable force and earned a 92.1 pass-rushing grade that season at Texas A&M. He wasn't as polished as Young coming out, but you just knew it was only a matter of time.
Sewell set the PFF record for the highest-graded season we've ever seen from an offensive lineman, and he did it as a true sophomore. That's unheard of for a player along the offensive line, a position that's hugely dependent on physical development. Sewell opted out this past season, but we're still not too worried about his future in the NFL.
Related: Oregon offensive tackle Penei Sewell is one of the best tackle prospects we have ever seen via Eric Eager
Bosa racked up 145 pressures over the two seasons we graded him on. He and his brother were easily the two most skilled pass-rushers we've seen in our seven years of college grading. It was no surprise to see them hitting the ground running in the NFL.
Health was the main differentiator between the Bosas because they were near-identical on the football field. Nick was a tad lighter and was the most productive pass-rusher we've ever seen on a per-snap basis.
Williams' early-career struggles in the NFL were bound to get figured out eventually. He was the most impactful player every time he stepped on the field in 2018, and he earned a 96.5 run-defense grade and a 92.5 pass-rushing grade for his efforts. Add to that an impressive performance at the combine, and he was borderline "sure thing" status.
Chase didn't need to play a down this past season to maintain this spot. As a 19-year-old sophomore, Chase went off for 84 receptions for 1,780 yards, with 24 deep receptions, 20 touchdowns and 22 broken tackles to boot. That is special stuff.
Related: Don't forget about Ja'Marr Chase — PFF's WR1 via Mike Renner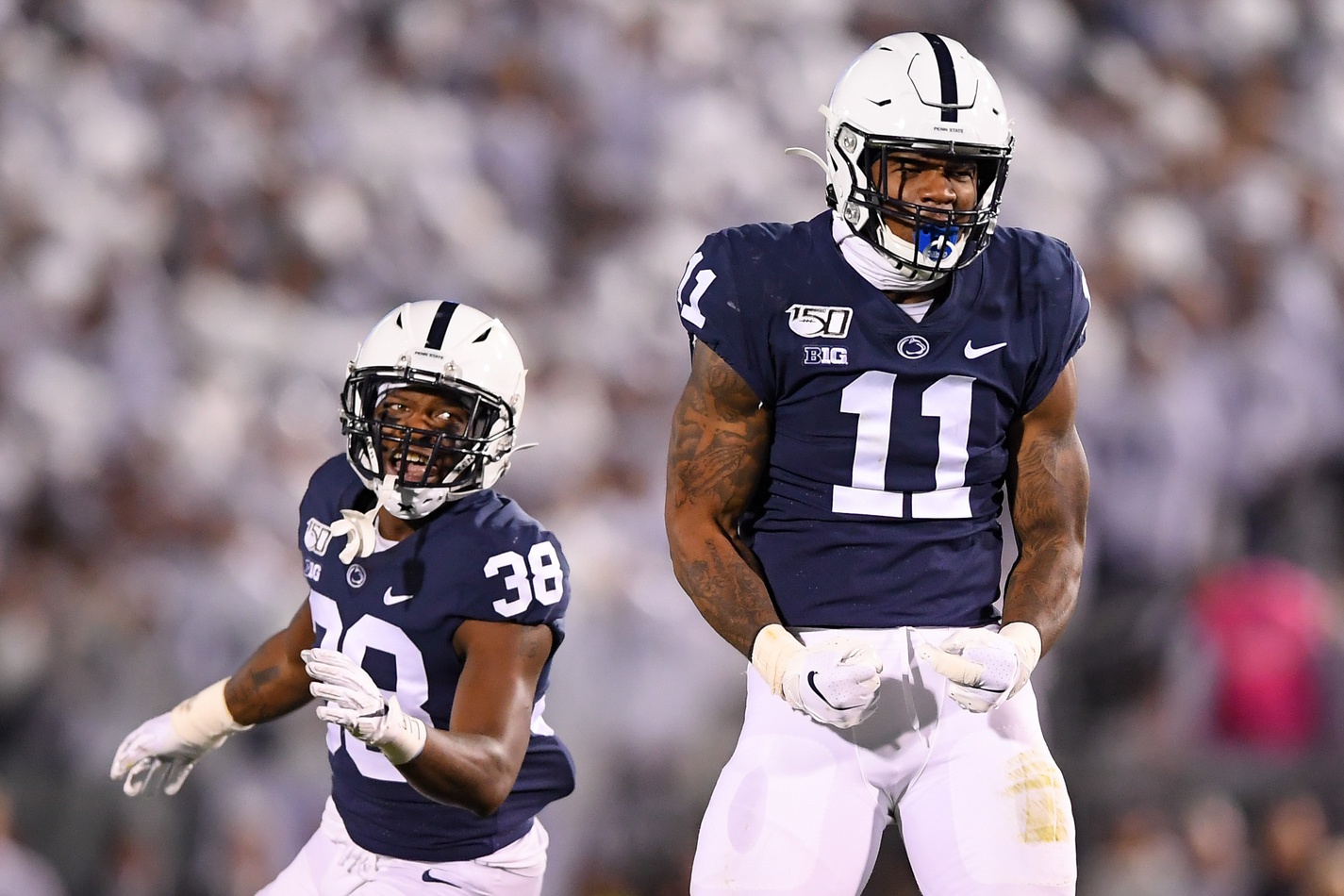 Parsons earned the second-highest run-defense grade we've ever given to a linebacker as a true sophomore. With mid-4.4 speed at 240-plus pounds, Parsons is your quintessential middle linebacker.
Related: 2021 NFL Draft linebacker rankings via Mike Renner
Allen was no freak athlete, but he was in control of seemingly every block back in 2016 at Alabama. That year, he earned a 90.8 run-defense grade and a 90.6 pass-rush grade. After a slow start to his NFL career, Allen has since developed into one of the best interior rushers in the league.
Buckner not only produced for Oregon, but he did so on an unreal workload — he played 1,894 snaps over his final two seasons for the Ducks. We've only seen eight 900-plus-snap seasons from an interior defender in our seven years of grading college football. Buckner has two of them.
Ramsey started his career as a safety in 2013. He then earned a 90.2 overall grade in the slot in 2014 before producing an 83.8 overall grade at cornerback in 2014. He beat up wide receivers at the line of scrimmage like no other and showed he was versatile enough to do it from anywhere.
Okudah was so clean in an NFL-caliber coverage scheme at Ohio State, allowing a passer rating of only 54.8 for his career. To say his ugly rookie season was a surprise is an understatement.
Cooper had some dropsies at Alabama that spilled over into the NFL, but he recorded 124 catches for 1,727 yards, 26 broken tackles and 16 scores in his final season. Combine that with 4.42 speed at 6-foot-1, 210 pounds, and you can see why he takes this spot on the list. He wasn't Megatron, but for what he did best — get open — he was a fairly sure thing.
Hurst's size has been an issue at the NFL level, where the Raiders still see him as more of a sub-package player. He's still been an effective rusher, though, earning grades of 77.8 and 78.5 in that regard over the past two seasons. That still hasn't quite lived up to the utter dominance we saw at Michigan, where he earned pass-rushing grades of 89.7, 90.3 and 91.0 in his three seasons of playing time.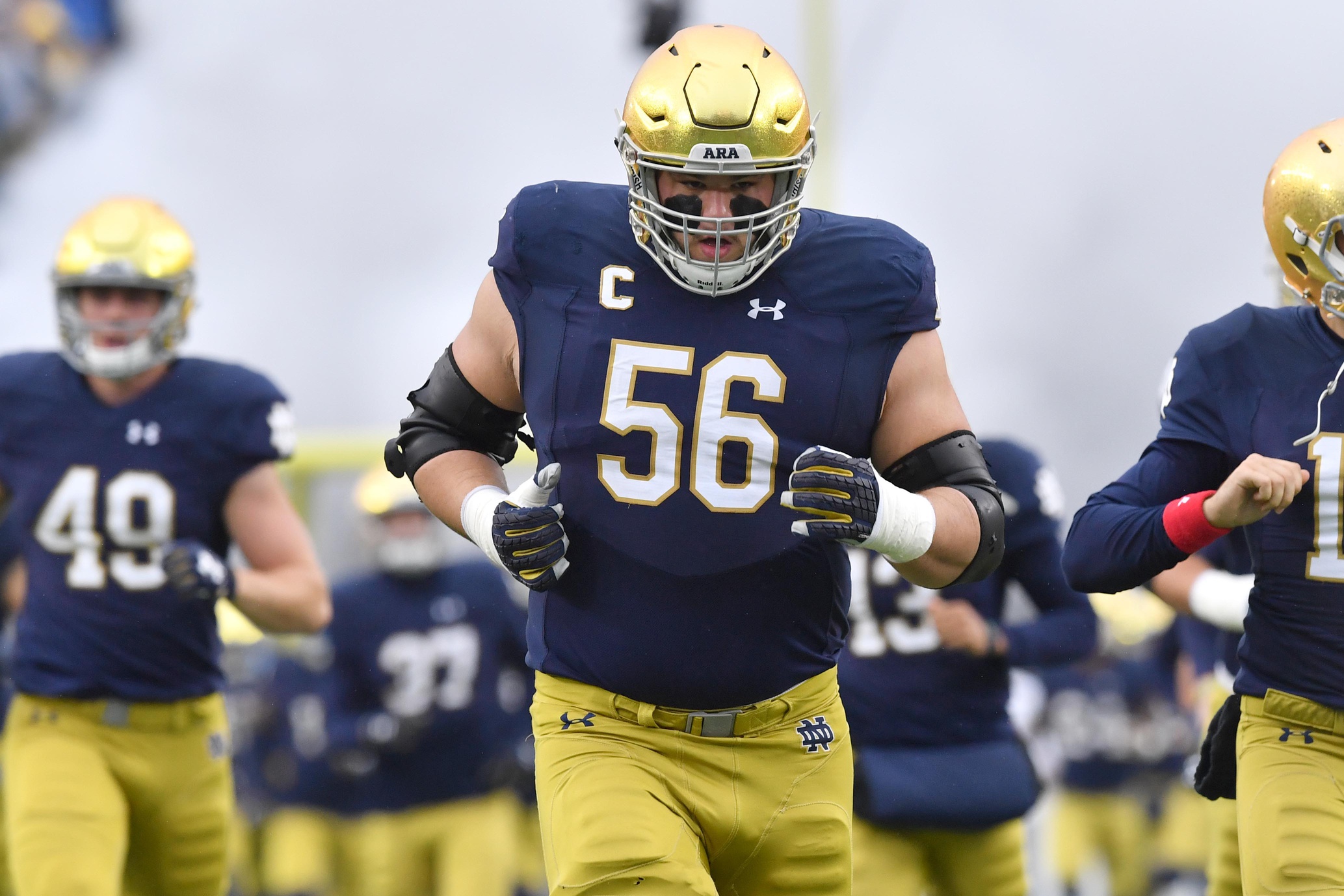 This one is about positional value. It's going to take a lot for us to put a guard higher than Nelson and his 92.2 overall grade from 2017. He was about as clean as it gets on the offensive line, earning an 85.0-plus overall grade in each of his three years as a starter.
James' draft-day fall to No. 17 overall is still an all-time head-scratcher. He was the highest-graded safety in the FBS as a freshman and as a junior — his lone two full seasons. He was also a hybrid freak of nature who could play almost any position you wanted him to defensively. He still is when he is healthy. The problem is that health has been an issue for him in the NFL.
Other guys just aren't capable of doing what Jeudy can do as a route-runner, and it's that special ability that lands him on this list. While he is still a bit rough around the edges with mental lapses, Jeudy showed that ability to get open as a rookie.
Lamb was simply clean across the board. Releases, ball skills, YAC, routes — he could do it all at a high level. He averaged a ridiculous 21.4 yards per catch — 11.0 after the catch — in his final season at Oklahoma.
This is our first real dud outside of the quarterback position. Barnett actually peaked as a rookie from a grading perspective with a 69.0 pass-rushing grade. His college production was on par with Myles Garrett's, but his below-average athletic profile was a red flag. His sub-standard NFL success has really shown how much tools matter on the edge.
What Lattimore lacked in sample size, he made up for with sheer ability. He played only 678 career snaps for the Buckeyes yet allowed only 18 catches from 40 targets for 226 yards in his final season. He also had the impressive accomplishment of missing zero tackles on 45 attempts over his college career.
Waddle may not have seen the field a ton in college, but he produced every time he did. No player in the 2021 draft class averaged more yards per route run than Waddle did in college (3.57). He held a comfortable margin over second-place Ja'Marr Chase (3.12).
Related: 2021 NFL Draft Profile: Alabama WR Jaylen Waddle via Sam Monson
Foster was the single most instinctive linebacker we had ever seen at the college level. His tape was littered with highlight-reel plays in 2016 when he earned a 92.9 overall grade. He was so good that 49ers GM John Lynch is on record saying he considered Foster with the No. 3 overall pick in that 2017 draft where they eventually got him at No. 31. His off-field issues derailed what was a promising career.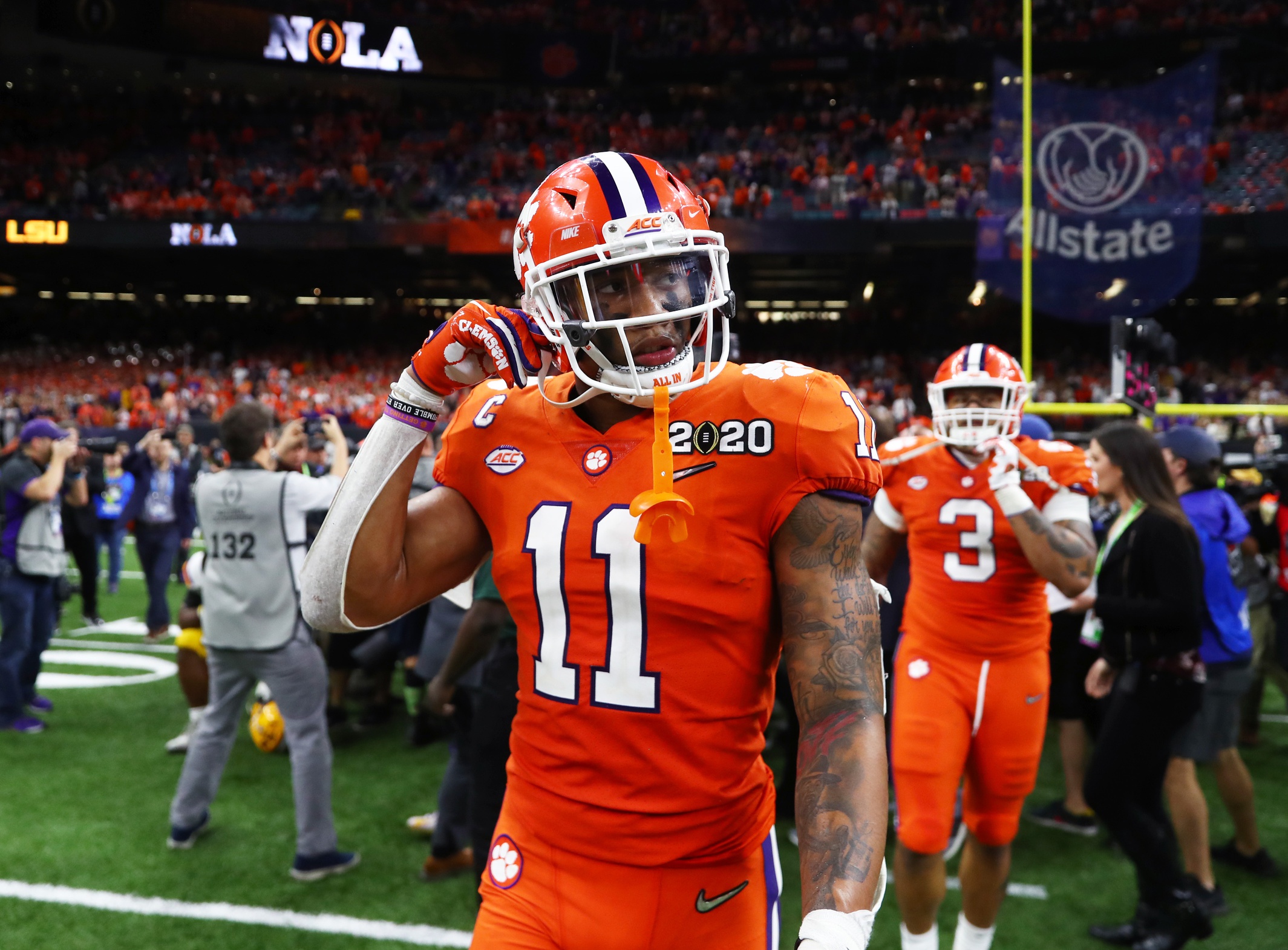 Simmons was a decidedly different linebacker prospect from Foster in that he wasn't even a linebacker at all. Still, as a hybrid safety, Simmons earned coverage grades of 90.0 and 88.2 as a sophomore and junior, respectively.
Smith is an exceptionally clean prospect. His concerns begin and end with his size at 6-foot-1, 175 pounds. If that's the only thing, we're not too worried. His 95.6 receiving grade in 2020 is the highest we've ever given to a receiver.
Related: 2021 NFL Draft Profile: Alabama WR DeVonta Smith via Sam Monson
With how notoriously low PFF is on the value of the tight end position, including Pitts here should tell you how special he is. He broke the single-season grade record for a tight end and won't turn 21 until October.
Related: 2021 NFL Draft Profile: Florida TE Kyle Pitts via Sam Monson
Admittedly, this ranking materialized before we found out that Goff didn't know the direction in which the sun rises. The way he elevated a Cal offense that was bereft of NFL-caliber talent was impressive. Goff earned a 92.4 overall grade back in 2015.
Tunsil allowed only 15 pressures on 599 pass-blocking snaps in the season and a half we graded him on. He had the type of easy-movement skills and length that was easy to see succeeding in pass protection in the NFL.
While Year 1 in the NFL was rocky, that's not uncommon at the tackle position. If his NFL career development is anything like his college one, he'll be well worth the fourth overall pick. Thomas went from a 68.4 overall grade as a true freshman to an 80.5 as a sophomore to a 92.7 in 2019 as a junior.
Thomas and Wirfs were inseparable on our big board in 2020, and such is the case here. Over his three seasons at Iowa, his rise was almost identical to Thomas', improving from a 59.3 grade as a freshman to a 74.5 as a sophomore to a 92.3 as a junior.
Beasley's issues in the league can't solely be chalked up to physical ability. He churned out an 88.4 pass-rushing grade back in 2014 and had an all-time combine performance with a 41-inch vertical, 4.53-second 40 and 35 bench press reps. He simply failed to develop in the league.
Injuries put Fowler behind the eight ball early in his career, as he tore his ACL before he ever played a snap in the NFL. He was an all-around edge defender at Florida, where he earned an 86.2 run-defense grade and an 81.9 pass-rushing grade in the lone year we graded him on back in 2014.
Adams was a three-year starter for the Tigers and earned grades above 90.0 in run defense and coverage in his final year. He was a true do-it-all safety, and that has continued in the NFL.
Jack slid down the draft due to a knee issue, but his linebacker — and running back — tape from UCLA was special. In his last full season, which came in 2014, Jack earned a 91.3 coverage grade and missed only five tackles on 93 attempts.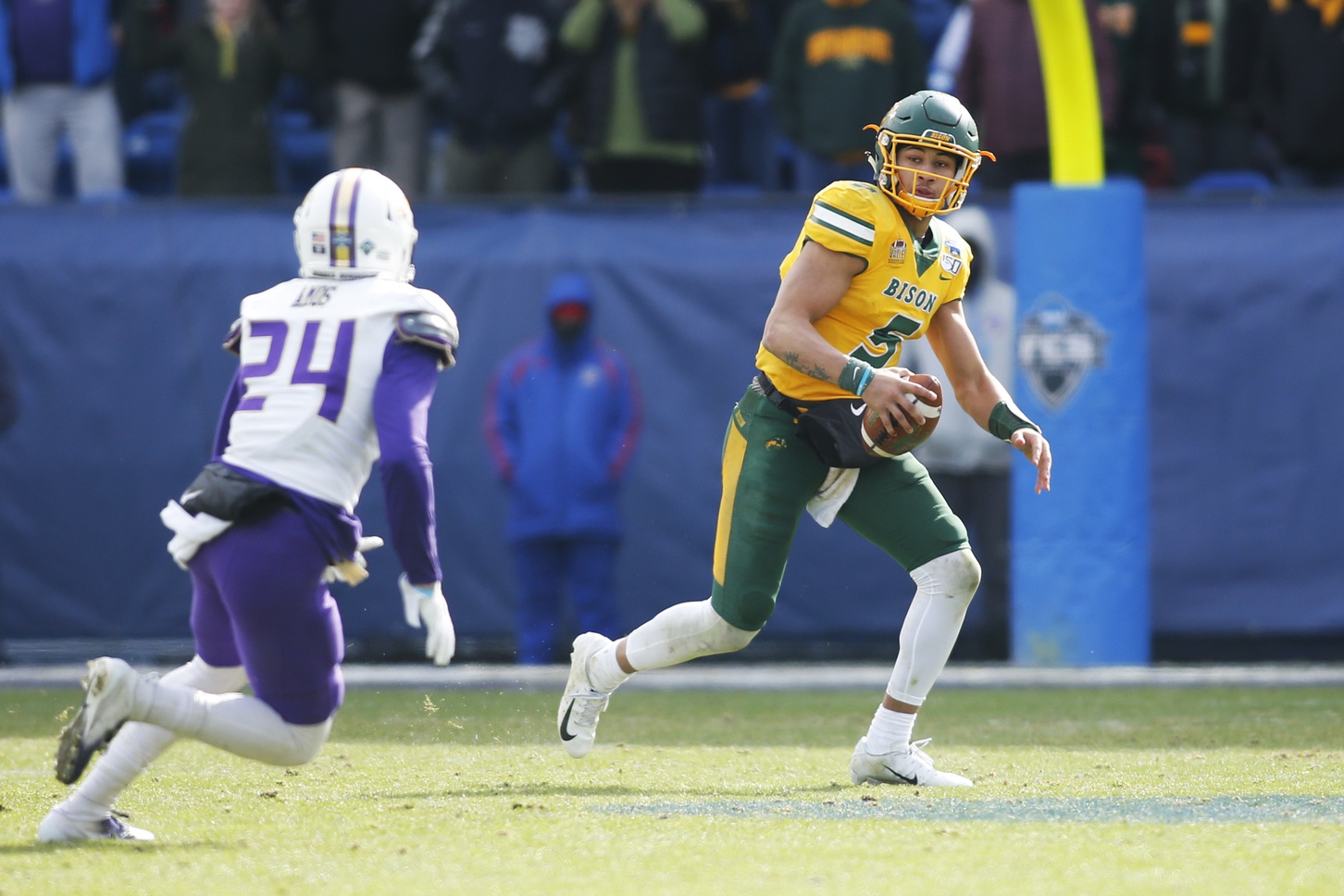 The final member of the 2021 draft class. Lance is the type of physical projection we may not have bought into early in our evaluation days at PFF. The biggest reason we buy in now, outside of his physical tools, is his ability to protect the football. He committed only six turnover-worthy plays in his college career.
Related: College-to-pro projections for North Dakota State QB Trey Lance via Eric Eager
We loved the fact that Williams was a plus pass-protector from the rip at Alabama. He allowed only 15 pressures and earned a 78.9 pass-blocking grade as a true freshman. That pass-blocking grade jumped to 88.6 in his final year. His rookie year ended before it began because of a shoulder injury, but he earned a 75.8 pass-blocking grade this past season for the Bengals.
Allen was a one-year wonder, but it was easy to buy into his physical tools and commitment to perfecting his craft. Allen's pass-rushing grade jumped from 82.2 as a junior to 94.4 as a senior at Kentucky.
Collins famously fell out of the 2015 draft altogether because of possible legal issues, but his 2014 tape was worthy of a top-10 pick. He earned a 92.2 pass-blocking grade and a 90.7 run-blocking grade while allowing only four pressures in 2014.
Williams was a dominant every-down run defender back in 2014 at USC. He earned a 92.4 run-defense grade that season to go with a ridiculous 47 run stops. His dominance as a pass-rusher didn't quite match, and that's been the case in the NFL, as well.
Davis went for over 1,400 yards for three straight seasons at Western Michigan while breaking 15-plus tackles in every single one. He was a crafty route-runner, but his limited athleticism hampered him in the league, as he never ended up running an official pre-draft 40-yard dash.
Hooker was a one-year wonder who was easy to fall in love with. He notched seven picks in his lone season of 2016, many of which came in highlight-reel fashion. Hooker looked like the prototypical deep safety, but that never quite came to fruition. He managed to come down with only seven picks over his four seasons with the Colts as injuries derailed multiple seasons.
---
Courtesy of PFF's 2021 NFL Draft Guide, find PFF's top draft prospect, biggest riser and wild card to watch at each position here: