Wide receivers fall into many different prototype buckets, but maybe no label is more exciting or important in today's NFL than "the deep threat." Those players can stress defenses like no other and are integral in generating the explosive pass plays that are so vital to offensive success.
Below, we'll outline the five best deep threats in the NFL at this moment in time. They all land here for different reasons, and while they might not be the typical all-around elite talents, such as Davante Adams, Stefon Diggs and Julio Jones, each of these players is still valuable to their respective team.
This does not take into account older receivers who were once among the league's best deep threats, such as DeSean Jackson or T.Y. Hilton. This is solely looking at the best deep threats heading into 2021 and does not insinuate I'd rather have one of these players over someone not on the list.
For our top 32 wide receiver rankings, which take into account the full breadth of a receiver's skill set, click here. 
(Note: Any stat mentioning "deep" refers to targets that travel 20 or more yards in the air.) 
Subscribe to
Last week, I inadvertently incited a Twitter debate regarding Tyreek Hill's deep receiving ability. I was quoted from an article where I was trying to say that Hill is on track to become the best deep threat in NFL history rather than implying he already ranked ahead of past greats — specifically, Randy Moss.
Let me be clear: Moss is still the GOAT, but Hill should at least enter the conversation for best NFL deep threat if he maintains his current pace.
Comparing eras is always tricky and mostly subjective, but it's indisputable that Hill's NFL numbers show he is currently on course to place himself in the "best deep threat" conversation. He's not there yet, and Moss still owns the throne, but Hill might take the title eventually. Regardless, I was happy to bring the NFL landscape together to reminisce about the glory days.
With that out of the way, let's dive into some of Hill's absurd deep receiving numbers:
Tyreek Hill's best deep stats since 2017 (20-plus-yard targets, regular season only)
| | | |
| --- | --- | --- |
| Stat | Tyreek Hill | Next best |
| Receptions | 56 | 46 |
| Yards | 2,240 | 1,553 |
| Touchdowns | 25 | 15 |
| Yards per target | 19.1  | 16.9 |
Sure, playing with Patrick Mahomes for most of that duration helps, but it takes two to tango, and the Cheetah has rare, uncoachable traits, including his speed and explosiveness. The amount of separation he creates on vertical routes is simply rare. Among his 25 deep receiving touchdowns, Hill had at least one clear step of separation on 21 of them. That's 10 more than anyone else in that span.
Taking into account Hill's rookie campaign when he wasn't utilized deep as often, he has 28 deep receiving touchdowns in his NFL career. That ranks tied for sixth among all wide receivers in the past 15 years.
Most deep receiving TDs in past 15 years (20-plus-yard targets, regular season only)
| | | |
| --- | --- | --- |
| Player | 20+ yard TDs | Total games played |
| DeSean Jackson | 40 | 160 |
| Calvin Johnson | 34 | 135 |
| Antonio Brown | 33 | 139 |
| A.J. Green | 31 | 127 |
| DeAndre Hopkins | 29 | 126 |
| Tyreek Hill | 28 | 74 |
| Mike Evans | 28 | 106 |
| Kenny Stills | 28 | 117 |
Hill is recording a deep receiving touchdown at a rate that's over 11 percentage points higher than any other receiver on that list. Here's how that stacks up against the top 30 deep receiving touchdown leaders of the PFF era (since 2006):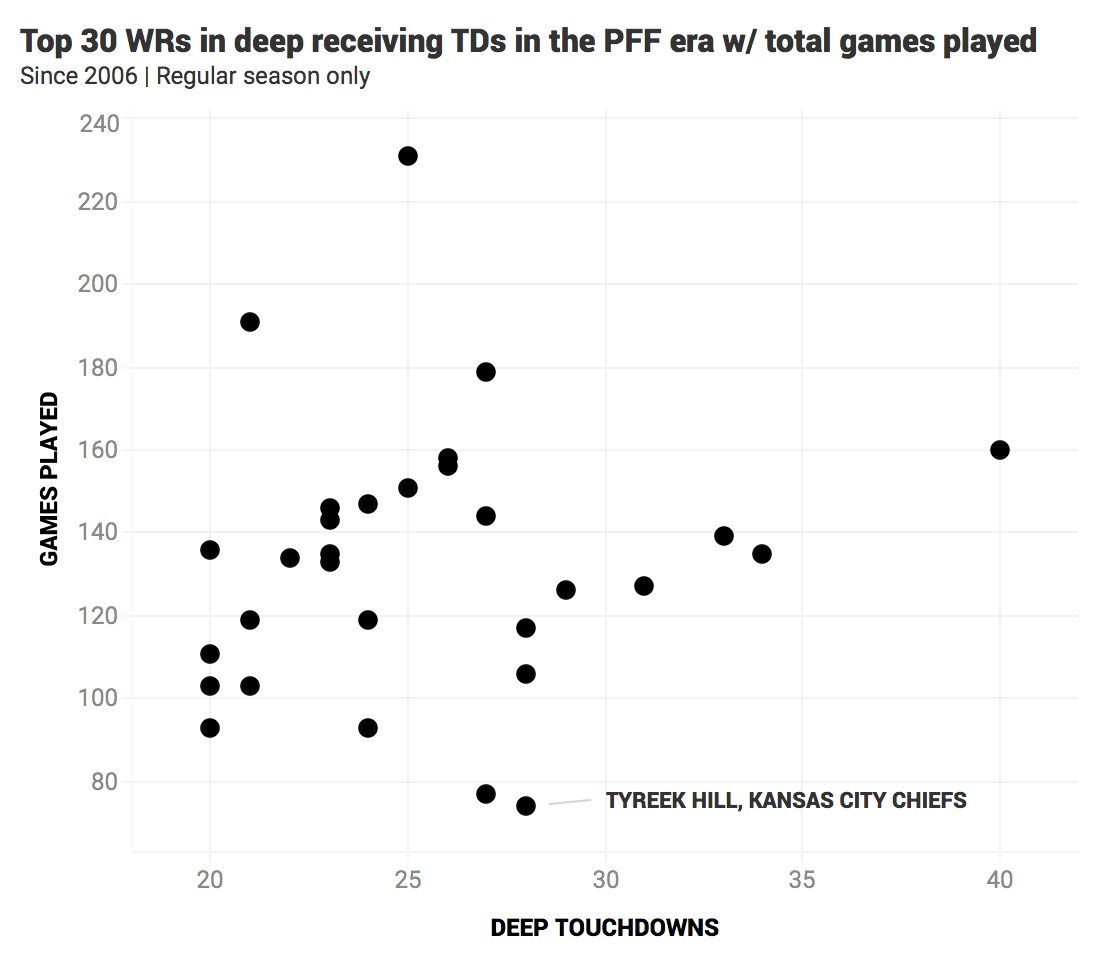 Hill is one of the most electric players of the PFF era. His 19 touchdowns of 40-plus yards (not targeted over 40-plus yards, just 40 or more yards overall) over the past four years is 10 more than any other wideout. Among all wide receivers in the 16 years of PFF's existence, those 19 such touchdowns in just four years place him at No. 3.
Tyreek Hill is undoubtedly the best deep threat in the NFL right now.
Three-cone be damned — Metcalf proved that the drill doesn't matter for someone with his rare blend of size and speed. Whether it be his 40-yard dash at the NFL scouting combine, chasing down Budda Baker to prevent a pick-six last season or running the 100-meter dash at the U.S. Olympic Team Trials a few weeks ago, the 6-foot-3, 229-pound Seahawk has countless examples showing how rare a human specimen he is. Very few can go one-on-one against him as a result. Many have tried, and many have been fried by him on deep balls. Metcalf leads the league over the past two seasons — his rookie and sophomore NFL seasons — in deep receptions (19), yards (728) and touchdowns (eight) against single coverage.
Despite missing most of the 2020 season, Golladay ranks fourth among NFL wide receivers in deep receiving yards over the past three years, and he was just nine yards behind third place. He's not racking up these yards by separating multiple steps away from coverage defenders like Tyreek Hill, but rather from bodying cornerbacks with his sheer size. Golladay jumps to No. 1 in deep receiving yards since 2018 on tight coverage targets, and he is tied for first in deep receptions on those same plays (14).
It'll be interesting to monitor how Golladay impacts the growth of Daniel Jones, who is entering a pivotal third year. The improvement he displayed in his 2020 sophomore campaign is slightly underappreciated, but he still has much to work on. Jones was fantastic when he threw the ball deep, but he was a bit trigger shy and the offense, by design, also limited his opportunities to throw it downfield. He ranked third in passing grade on deep throws but also placed in the bottom half of the NFL in many volume deep passing metrics, such as total deep completions and yards.
Staying on the field and maintaining consistency have long been issues for Fuller, but he's clearly one of the best big-play threats in the game when healthy. He hasn't even played two full regular seasons worth of games over the past three seasons, and yet, he is still tied for third in total deep touchdowns where he had a step or more of separation (seven) in that span. Fuller has racked up 17.3 yards per deep target since 2018, tying for the second-best mark. He has essentially lived on the vertical route tree.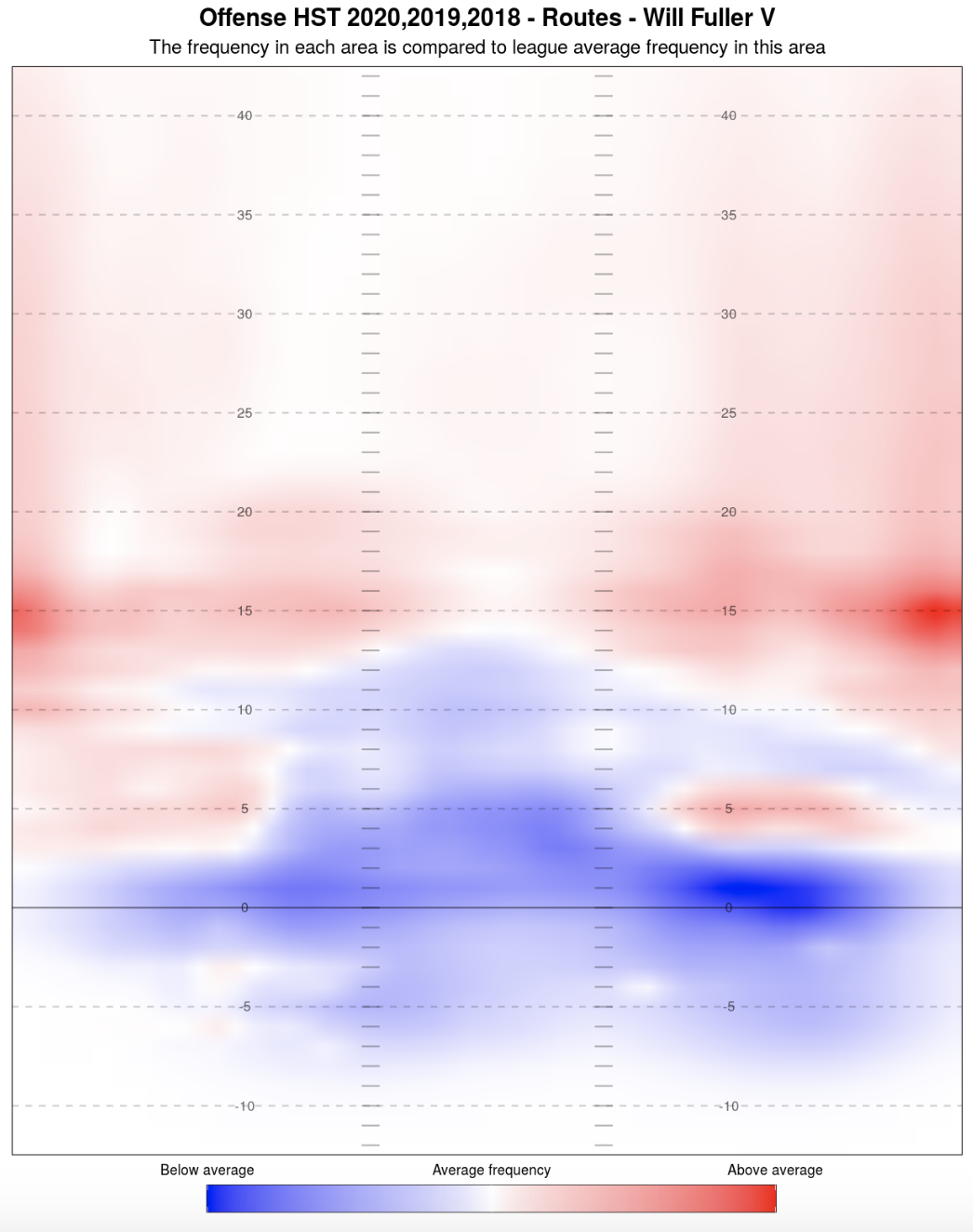 Fuller took his talents to South Beach this offseason after six years in Houston and will join forces with Tua Tagovailoa, DeVante Parker and 2021 sixth overall pick Jaylen Waddle, who very well could end up on this list at some point in his NFL career. That's a loaded wide receiver room.
Ridley ran deeper routes and was fed downfield targets in 2020, leading to a career year from both a grading and efficiency standpoint. He hauled in more 20-plus-yard targets (16) than anyone in the league last year. Ridley ended up surpassing his 2019 PFF grade by 10 points and was one of the 10 most productive receivers in the NFL, generating 2.44 yards per route run. He didn't land here on this deep threat list because of rare athleticism or size/contested-catch ability or a combination of both but, rather, mostly due to his route-running chops.
Ridley has established himself as one of the top route-runners in the game — selling routes and creating separation deep downfield is second nature to him. Since entering the NFL in 2018, Ridley is tied for first in total deep receptions in which he had at least two steps of separation (15).
Buddy, Calvin Ridley was creating separation with EASE against Dallas.

His route-running against off coverage is so impressive. pic.twitter.com/yLKAl5Gl4y

— Austin Gayle (@PFF_AustinGayle) September 22, 2020
After some additions to Washington's receiver unit and a new arm at quarterback, McLaurin will hopefully get back to doing what he does best in 2021: stretching the field. 
His average depth of target dipped from 14.6 yards as a rookie in 2019 to 9.9 yards in 2020. The percentage of his catches that turned into a 15-plus-yard gain decreased from 40% to 30%, and his yardage total from vertical routes was nearly halved, from 404 to 207, despite him seeing 37 more targets overall. This was solely because of the Football Team's quarterback situation. Just look at his targets above expectation from 2019 compared to 2020: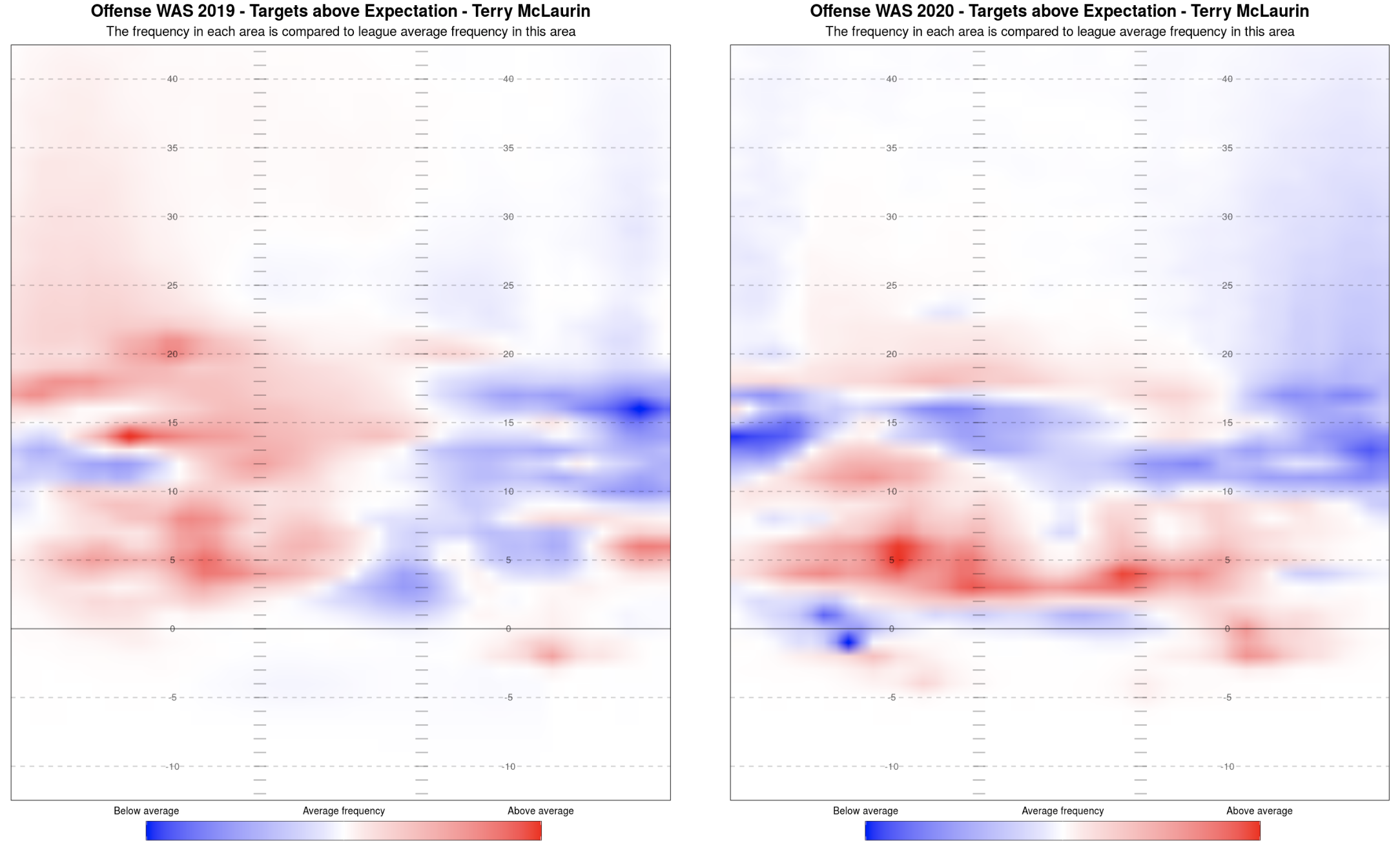 During his 2019 rookie campaign, McLaurin hauled in 12 deep receptions, tying for the eighth-most in the NFL that season and tying for the fourth-most we have seen from a first-year wideout in the PFF era. Only time will tell whether McLaurin gets back to his old ways in 2021, but the third-year receiver seems poised to finish near the top of the deep receiving ranks with Ryan Fitzpatrick throwing him the rock.