The NFL is a matchup-driven league. Offensive coordinators are always looking to scheme their playmakers into one-on-one situations against a defender, while defensive coordinators will attempt to do anything in their power to upset the timing and rhythm of the opposing QB.
Despite the obvious impact that defenses have on opposing offenses, fantasy players and fans alike are often left with one-way metrics to describe offenses and defenses that they are then forced to compare against each other in an attempt to identify mismatches.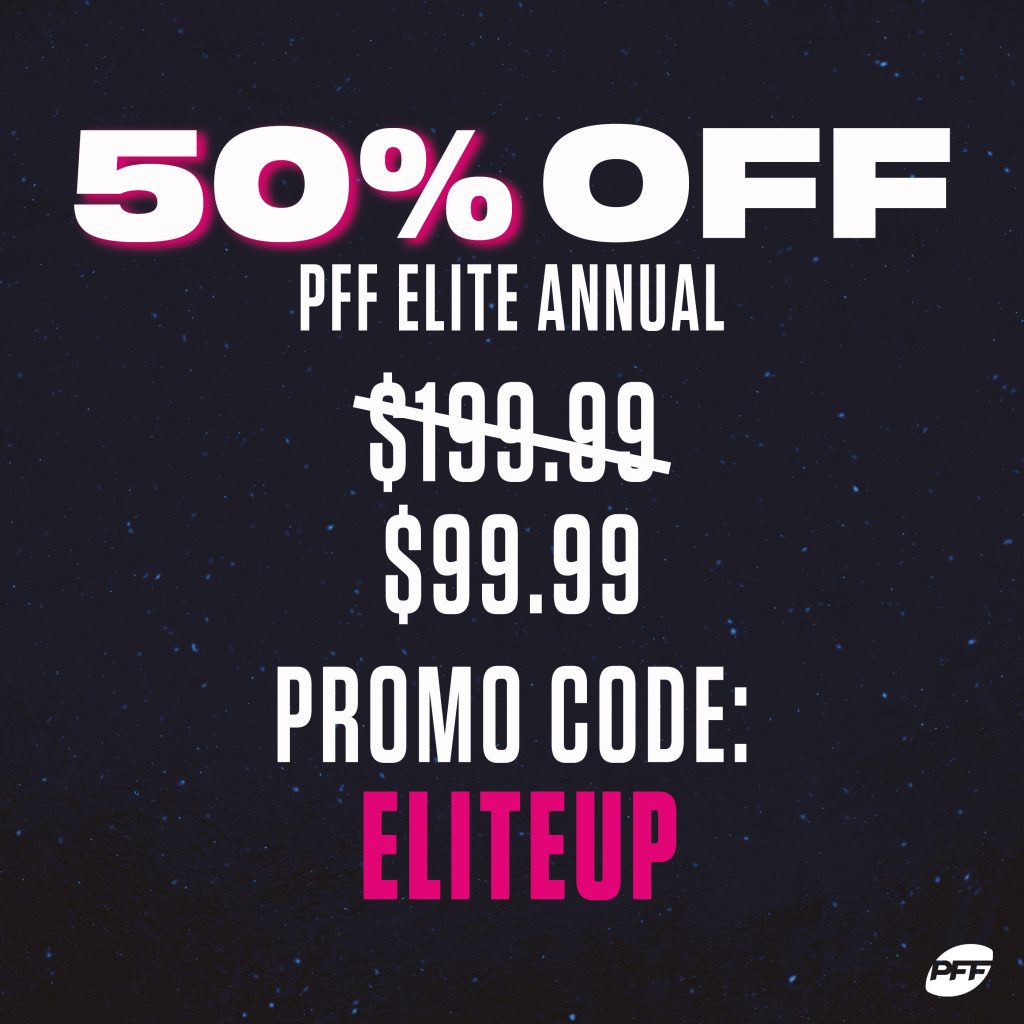 Click here for more PFF tools:
Rankings & Projections | WR/CB Matchup Chart | NFL & NCAA Betting Dashboards | NFL Player Props tool | NFL & NCAA Power Rankings
---
The goal here is to provide easy-to-decipher charts and notes to define each week's key matchups and advantages on both sides of the ball in:
Explosive Plays

Pace

Pressure

Yards Before Contact

Passing Game

EPA
The following charts display matchup-specific information meant to highlight the largest mismatches in these ever-important facets of football to ultimately gain actionable betting and fantasy takeaways. And, of course, to have fun.
Note: Data is from Weeks 1-15, 2021. Key discrepancies will be highlighted in the ensuing paragraphs.
Explosive Plays
Big plays make the football world go round. Matchups between explosive offenses and leaky defenses are exactly what we're looking for when compiling game stacks in DFS, or when betting an over.
Explosive Pass Rate

: The sum of an offense's rate of 20-plus yard completions per pass attempt and the opposing defense's rate of 20-plus yard completions allowed per pass attempt. A higher percentage is better for offenses (blue is good, red is bad).

Explosive Run Rate

: The sum of an offense's rate of 15-plus yard gains per rush attempt and the opposing defense's rate of 15-plus yard runs allowed per rush attempt. A higher percentage is better for offenses (blue is good, red is bad).
Mismatch Manifesto Week 16: combined explosive play rate.

Higher or lower % = large or small combined sum of the pass/rush big-play rate from the matchup's offense and defense (blue = good, red = bad)

Big pass play: 20+ yds
Big run play: 15+

All data from 2021, PFF pic.twitter.com/xN1h05lkwG

— Ian Hartitz (@Ihartitz) December 23, 2021
These offenses breed explosive plays: Six offenses are averaging an explosive pass play on at least 10% of their dropbacks: Rams (10.6%), 49ers (10.5%), Patriots (10.5%), Raiders (10.3%), Cardinals (10.1%) and Packers (10%). Notice there is just one rookie on this list.
Who? (Mac Jones): Few have been better than Jones this season when able to work within the Patriots' ever-efficient offensive system. Overall, nobody has a higher PFF passing grade than Jones (94.8) when targeting receivers deemed open or wide open. He's thrown 11 touchdowns against just one interception in these instances, averaging a robust 9.2 yards per attempt along the way.
Of course, the Bills' rather dope secondary hasn't made a habit of allowing these sorts of easy throws all season long: Literally nobody has allowed fewer completions to open targets than the Bills (165) after 15 weeks of action. It'd make sense if the group is less dominant moving forward without the services of stud CB Tre'Davious White (ACL, IR); they'll need to bring their A-game to avoid letting the Patriots' rookie signal-caller get too comfortable.
Good offense beats good defense in today's NFL: Offenses set up to thrive in their quest to create some explosive pass plays: Bengals, Rams, 49ers and Raiders. It's probably about time we put just a little more respect on Jimmy Garoppolo's name.
Style points are cool, but points are points: Jimmy G might not make a habit of slinging dimes into tight windows down the field, but that doesn't mean he doesn't generally move the ball through the air with a high level of efficiency. This has been the case throughout his time with the 49ers:
2021: 8.5 yards per attempt (No. 1 among 43 qualified quarterbacks)

2020: 7.8 (tied for No. 9)

2019: 8.4 (No. 3)

2018: 8.1 (tied for No. 9)
This is still a run-first offense; just realize Garoppolo has largely made the most out of his opportunities all season, particularly when each of George Kittle, Deebo Samuel and Brandon Aiyuk have been healthy enough to suit up. He's a solid enough streaming option against the Titans' 10th-worst defense in fantasy points per game allowed to opposing signal-callers.
Cincinnati might not have the best nightlife, but their quarterback is pretty damn good: Joe Burrow is PFF's highest-graded quarterback on the season after another efficient, albeit low-volume, performance in Week 15. Up next is a Ravens defense that he shredded to the tune of 416 yards and three scores back in Week 7 in large part because of his excellence against the blitz. The Ravens are one of just six defenses to blitz opponents on at least 30% of their dropbacks; and this has generally been a terrible strategy against the 2020 NFL Draft's No. 1 overall pick. The following metrics denote Burrow's performance specifically against the blitz in 2021:
PFF passing grade: 91.6 (No. 2 among 44 qualified quarterbacks)

QB rating: 121.1 (No. 6)

Yards per attempt: 10.8 (No. 1)

Adjusted completion rate: 76.7% (No. 14)
Burrow went 10-for-15 for 244 yards with two touchdowns and one interception when the Ravens blitzed him in their first matchup; expecting different results with an ever more banged-up group of corners is probably wishful thinking for the Bengals' AFC North rival.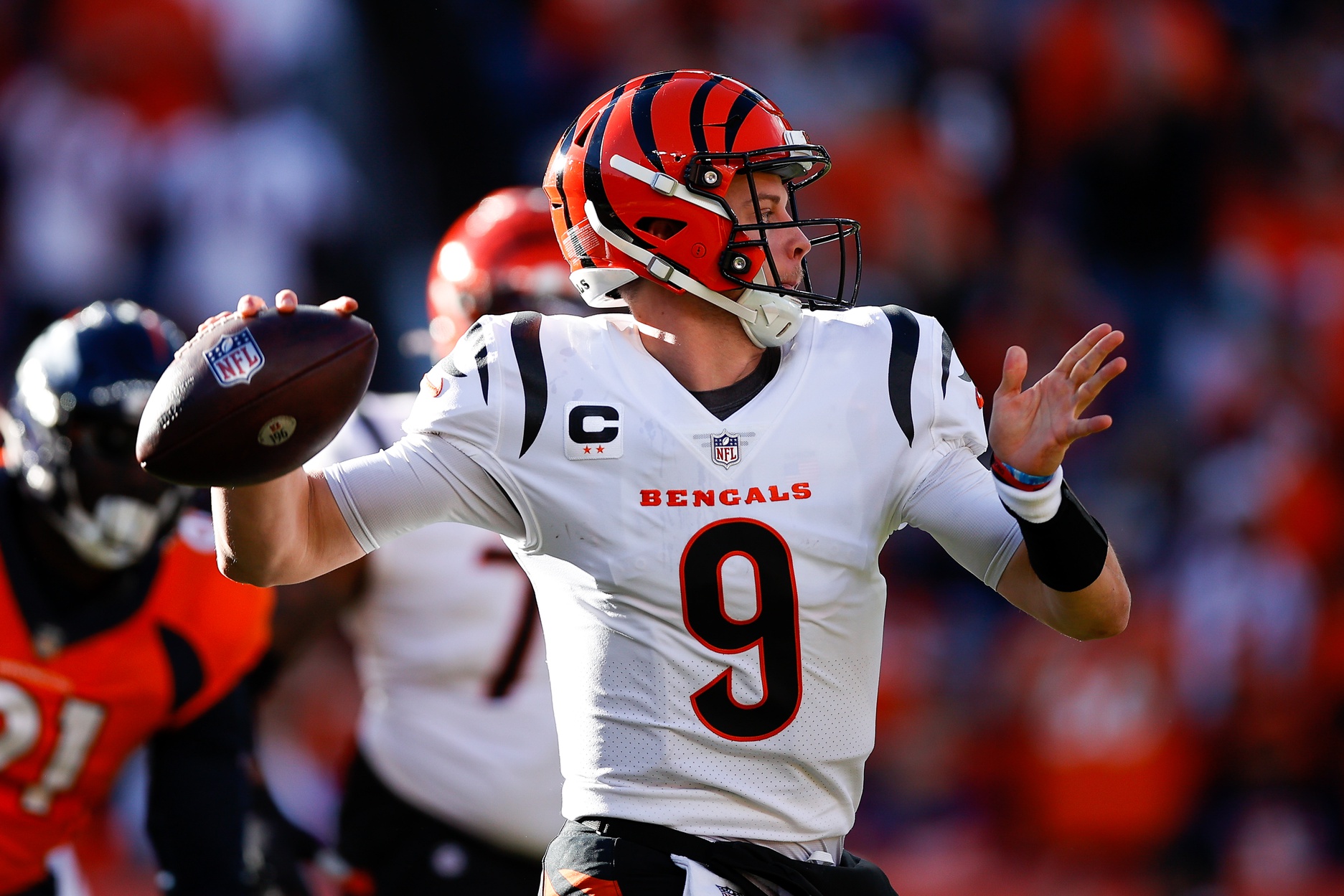 Offense is easier when the defense sucks: Only the Jets (11.7%) and Ravens (11.1%) are allowing an explosive pass play on at least 10% of their opponent's dropbacks. The Lions (9.9%), Cowboys (9.6%), Bengals (9.5%) and Vikings (9.3%) haven't been much better. The latter squad in particular has struggled mightily to have any sort of consistency at cornerback, which is fairly problematic when facing the Rams.
What's cooler than being cool? Ice cold!: Odell Beckham could have realistically had three touchdowns against the Vikings if it weren't for you meddling kids Baker Mayfield struggling to throw an accurate pass.
Odell Beckham gets the Vikings (again) in Week 16. Highlights from his 2-27-0 performance against them in Week 4pic.twitter.com/sVNiy75Tcb

— Ian Hartitz (@Ihartitz) December 21, 2021
The Vikings somehow don't have a single cornerback ranked inside PFF's top-60 corners in coverage grade among 127 qualified players:
Cooper Kupp (9-136-2) stole the show over OBJ (1-7-0) and Van Jefferson (2-23-0) last Tuesday night; just realize this is the sort of matchup that could feasibly enable three highish-end fantasy receivers due to the potential spike in efficiency at hand.
Obviously Kupp is the overall WR1 in fantasy because literally nobody in the last 50 years has bested his current single-season average of 26.4 PPR points per game. Also try to squeeze OBJ and Jefferson into more lineups than not as upside WR3 options; life should be awfully good for all parties involved inside the league's fifth-ranked scoring offense in this smash spot.
Not every passing attack is meant to fly: The clear-cut bottom-eight offenses in terms of expected failure in creating big plays through the air: Colts, Browns, Titans, Bills, Texans, Panthers, Bears and Broncos. At least one of these squads is likely getting an alpha No. 1 receiver back in action this week.
It's always AJB WR1 szn: A.J. Brown (chest, IR) has had his practice window activated and is eligible to suit up this Thursday night. He'll immediately be back on the WR2 map if healthy enough to play; frustration over his performance this season has been more about availability as opposed to on-field performance. Just six wide receivers have averaged more yards per route run than the third-year stud among 66 players with at least 50 targets this season:
Emmanuel Moseley is the 49ers' only cornerback ranked within PFF's top-75 players at the position in terms of coverage grade; don't be afraid to go back to the well with one of the league's most electric talents when fully healthy. Brown is firmly inside my top-24 receivers on the week; just be sure to monitor the news cycle on Thursday to make sure limited snaps aren't a possibility.
Will the real Josh Allen please stand up: Bill Belichick's evil empire has largely shut down their opponent's passing game all season long. Overall, they rank among the league's top-five defenses in yards per attempt (6.38), explosive pass play rate (12.1%) and QB rating allowed (76.1). Nobody has been stingier against opposing quarterbacks in terms of fantasy points per game allowed.
Allen has generally experienced more bad than good against this group:
2018, Week 16: 217 pass yards-1 TD-2 INT

2019, Week 4: 153-0-3

2019, Week 16: 208-2-0

2020, Week 8: 154-0-1

2020, Week 16: 320-4-0

2021, Week 13: 145-1-0
Obviously the latter performance was heavily influenced by extreme wind and snow; just realize the erratic version of Allen has been far more prevalent than the world-beater edition in this matchup over the years.
Targets are more condensed than usual in this offense with Cole Beasley (covid, IR) and Emmanuel Sanders (knee) each expected to be sidelined. Stefon Diggs and Gabriel Davis have been Allen's top-two targets against man coverage all year long; look for both to carry this passing attack with a little help from Isaiah McKenzie and Dawson Knox.
Don't let these run games get hot: The Mount Rushmore of rushing attacks expected to find all sorts of success in creating chunk plays: Colts, Bills, Chargers, Patriots, Panthers and Chiefs. Seriously: What in the hell are they putting in the water in Indy.
Everyone loves a three-down running back: Jonathan Taylor has 1,010 rushing yards after contact this season. Arguably planet Earth's best bet to work as our RB1 in the event that aliens invaded and forced us to play a game of football to save ourselves, JT has posted one ridiculous performance after another all season long. Nobody has spent more weeks as a fantasy RB1 than Taylor (12), and he's suddenly being featured more than just about any other player at the position.
And why shouldn't Frank Reich feed Taylor all the touches he can handle? All the man has done is work as one of just five backs in NFL history to average at least 20 PPR points per game:
You don't need me to tell you that Taylor remains the overall RB1 in fantasy land ahead of his Week 16 matchup against a Cardinals defense that just allowed someone named Craig Reynolds to surpass the century mark on the ground.
F*ck covid: Austin Ekeler (ankle) was working at less than 100% last week and accordingly saw his usage limited. Now he's on the covid list, although there's still a chance that he clears the protocol by Sunday.
The "good" news is that last week's usage clarified Justin Jackson is the clear leader in both the run and pass game in the absence of Ekeler. Rookie sixth-round pick Larry Rountree would likely be active if the Chargers are ultimately without their starting running back ahead of Week 16's breathtaking spot against the Texans, but he shouldn't be expected to see more than a handful of early-down carries.
This Texans defense is one of just seven groups to allow at least 27 PPR points per game to opposing backfields; Ekeler will be locked in as a top-five back if healthy enough to suit up come Sunday. Jackson would be a recommended start if active, although it'd hardly be surprising if the Chargers decide to lean on Justin Herbert's arm a bit more than usual. Treat the Chargers' capable backup as a borderline RB2 if Ekeler winds up sitting this one out; I'd start Jackson over all running backs from the Broncos, Ravens, Lions and Panthers among other squads.
These offenses might just want to pass the ball: Offenses that look pretty screwed in creating big plays on the ground this week: Falcons, Texans, Cowboys and Dolphins. Still: Did you see Duke Johnson last week?!
It turns out The U's all-time leading rusher is a beast: It's Duke's world; we're all just living in it.
Superman sleeps in a Duke Johnson jersey pic.twitter.com/JAHIVN9LFN

— Ian Hartitz (@Ihartitz) December 20, 2021
And yet: Don't be surprised if Myles Gaskin regains his starting job as soon as next week. Both he and Salvon Ahmed were only able to return to practice by Friday last week, meaning it's very possible that Johnson's rise to the top of the depth chart was more so due to the covid situation than a true takeover. Dolphins co-OC Eric Studesville confirmed as much Tuesday morning.
Johnson was too good to completely disappear. Still, Gaskin has been on this team for three years and Johnson for two months. Further complicating matters is the potential for either Malcolm Brown (quad, IR) or Phillip Lindsay (covid, IR) to rejoin the situation. Oh yeah, and the Dolphins face off with the Saints' second-best defense in limiting fantasy points to opposing backfields on Monday night, meaning we won't know who all is active until it's too late to make any sort of meaningful fantasy pivots.
Both Johnson and Gaskin are better treated as low-end RB3 types ahead of this tough spot; volume is more uncertain than ever inside of a committee that has morphed into various shapes and sizes all year long. Credit to Johnson for truly looking great against the Jets; expecting PFF's 30th-ranked offensive line in run-blocking grade to repeat their solid effort against Cameron Jordan and company seems like wishful thinking.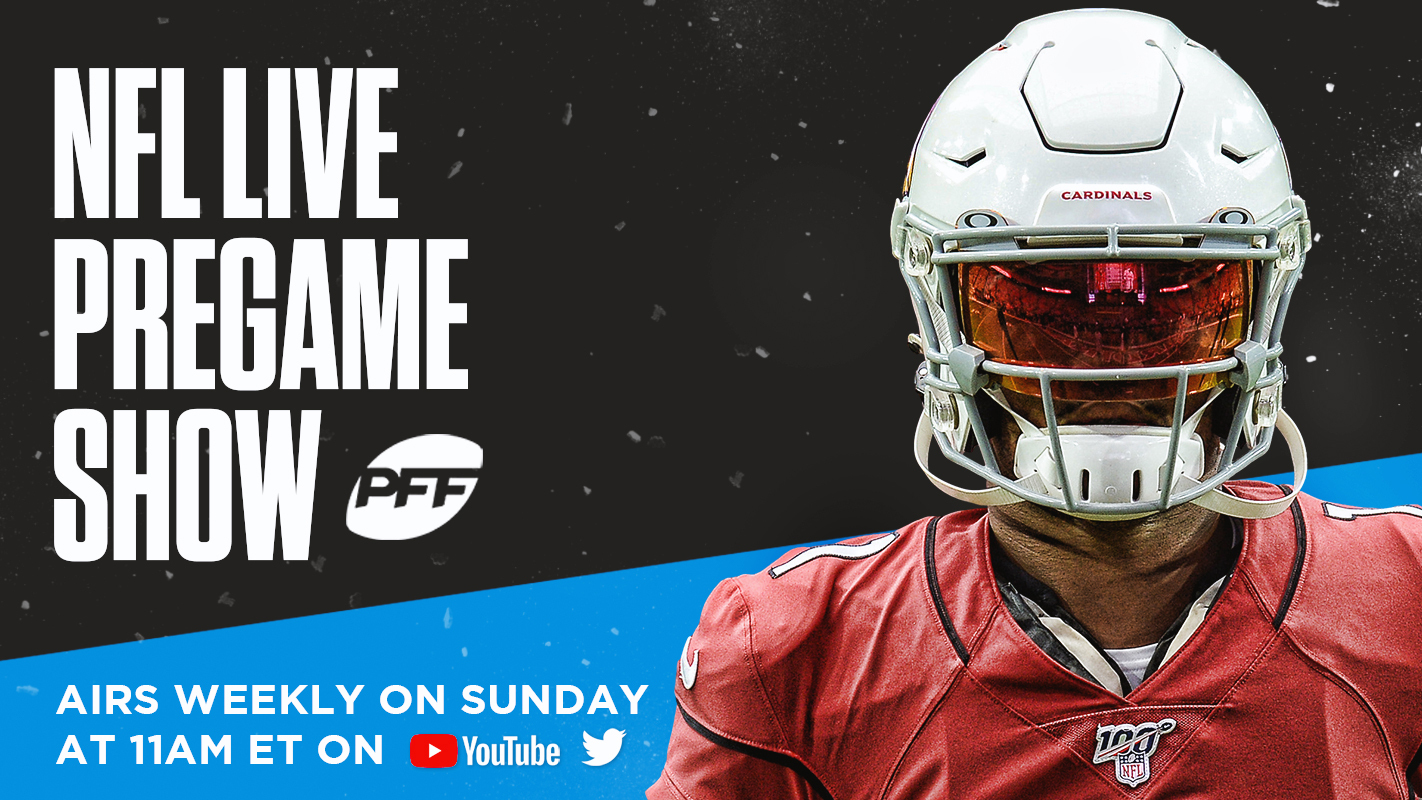 Pace
Fast-paced games lead to more plays, which lead to more points. Every week usually consists of at least a few games that could resemble a track meet based on their combined situation-neutral pace (Football Outsiders).
Combined Situation-Neutral Pace

: Represents the combined situation-neutral pace between each matchup's two offenses. A lower number indicates fewer average seconds per play (blue = fast-paced game), while a higher number indicates more average seconds per play (red = slow-paced game).
Mismatch Manifesto Week 16: combined situation-neutral pace.

Low combined numbers (blue) = two fast-paced offenses
High combined numbers (red) = two slow-paced offenses

Data from 2021, Football Outsiders pic.twitter.com/tZ5WyJGsCm

— Ian Hartitz (@Ihartitz) December 23, 2021
Get ready to see a track meet: This week's sponsored Ricky Bobby "I want to go fast" highest-projected matchup features the Rams (No. 1 in situation neutral pace) at the Vikings (No. 14). Honorable mention goes to the Giants (No. 8) at the Eagles (No. 5). Matthew Stafford vs. Kirk Cousins is either going to be incredible, or horrifically bad. Nowhere in between.
We'll be moving plenty fast elsewhere too: More matchups expected to feature plenty of total plays include Buccaneers-Panthers, Steelers-Chiefs and Football Team-Cowboys. At least Sunday night football somewhat has their shit together.
Unfortunately some offenses are slow and lame: The single-slowest matchup of the week pits the Ravens (No. 31) at the Bengals (No. 30). Let Joe Burrow cook, please.
Seriously, what are you waiting for: More matchups that might not supply the sort of volume fantasy managers are hoping for include 49ers-Titans, Browns-Packers and Colts-Cardinals. Slow-paced Christmas football seems kind of fitting to be honest.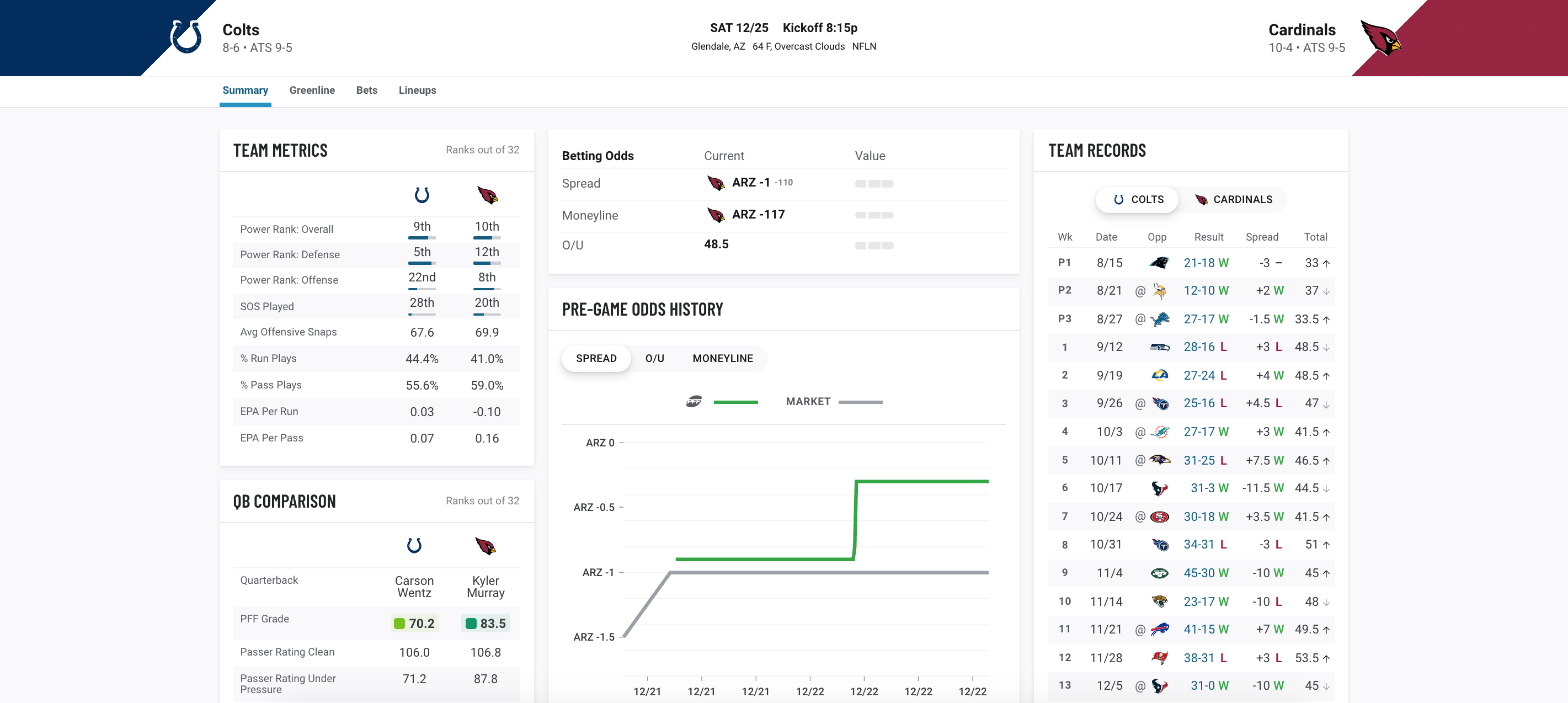 Pressure
An overmatched offensive line can result in poor fantasy days for all skill-position players involved. Meanwhile, QBs with all day to throw can help generate points in bunches. We can determine which offensive lines might be especially better (or worse) this week with help from PFF's offensive and defensive pressure statistics.
Combined Pressure Rate

: The sum of the offensive line's rate of pressures allowed per dropback and the opposing defense's total pressures generated per dropback. A higher percentage (red) is better for defenses and indicates that quarterback could be under fire, while a lower percentage (blue) indicates that matchup's quarterback could face reduced pressure.
Mismatch Manifesto Week 16: combined pressure rate

Sum of pressure rates between opposing offenses and defenses.

Higher percentage: that offensive line could be in trouble (red)
Lower percentage: not expecting much pressure on QB (blue)

Data from 2021, PFF pic.twitter.com/Xm6HLB0PXu

— Ian Hartitz (@Ihartitz) December 23, 2021
Under pressure: good song, bad for fantasy football: Quarterbacks that could feel the heat this week include: Cam Newton, Ryan Tannehill, Taysom Hill and Tua Tagovailoa. The latter signal-caller seems to always feel the heat.
Dolphins are objectively chill creatures; maybe that's why this offensive line is bad: Tua hasn't exactly had the easiest time this season working behind PFF's 31st-ranked offensive line in PFF pass-blocking grade. The likes of DeVante Parker, Jaylen Waddle (covid, IR) and Will Fuller (finger, IR) have also all missed time at one point or another.
And yet, Tagovailoa has been one of the league's more accurate deep-ball passers. Overall, only Matt Ryan (61.1%) and Kyler Murray (60.4%) have a higher adjusted completion rate than Tagovailoa (59.1%) when targeting receivers at least 20 yards downfield. Tua has averaged a league-high 20.1 yards per attempt on these passes, generally giving contested-catch artists like Parker and Mike Gesicki consistent opportunities to win in 50/50 situations.
It'd make sense if the going is tougher than usual against a Saints defense that just shut out freaking Tom Brady; just realize Tagovailoa deserves credit for largely making the most out of a rather meh offense..
Good thing quarterbacks that run are a fantasy cheat code: Taysom Hill has posted the following rushing lines in his five career starts under center:
Week 11, 2020: 10 carries-49 rush yards-2 TD

Week 12, 2020: 10-44-2

Week 13, 2020: 14-83-0

Week 14, 2020: 5-33-0

Week 13, 2021: 11-101-0

Week 14, 2021: 11-73-2

Week 15, 2021: 11-33-0
The latter performance marked the first time that Hill didn't function as a fantasy football QB1; it makes sense that this occurred against the Buccaneers' juggernaut of a front-seven. Don't expect the going to be quite so tough against a Dolphins run defense that has posted middling marks in yards per carry (4.3, 18th), explosive run play rate (13.1%, 23rd) and rush yards after contact per carry (3, 24th).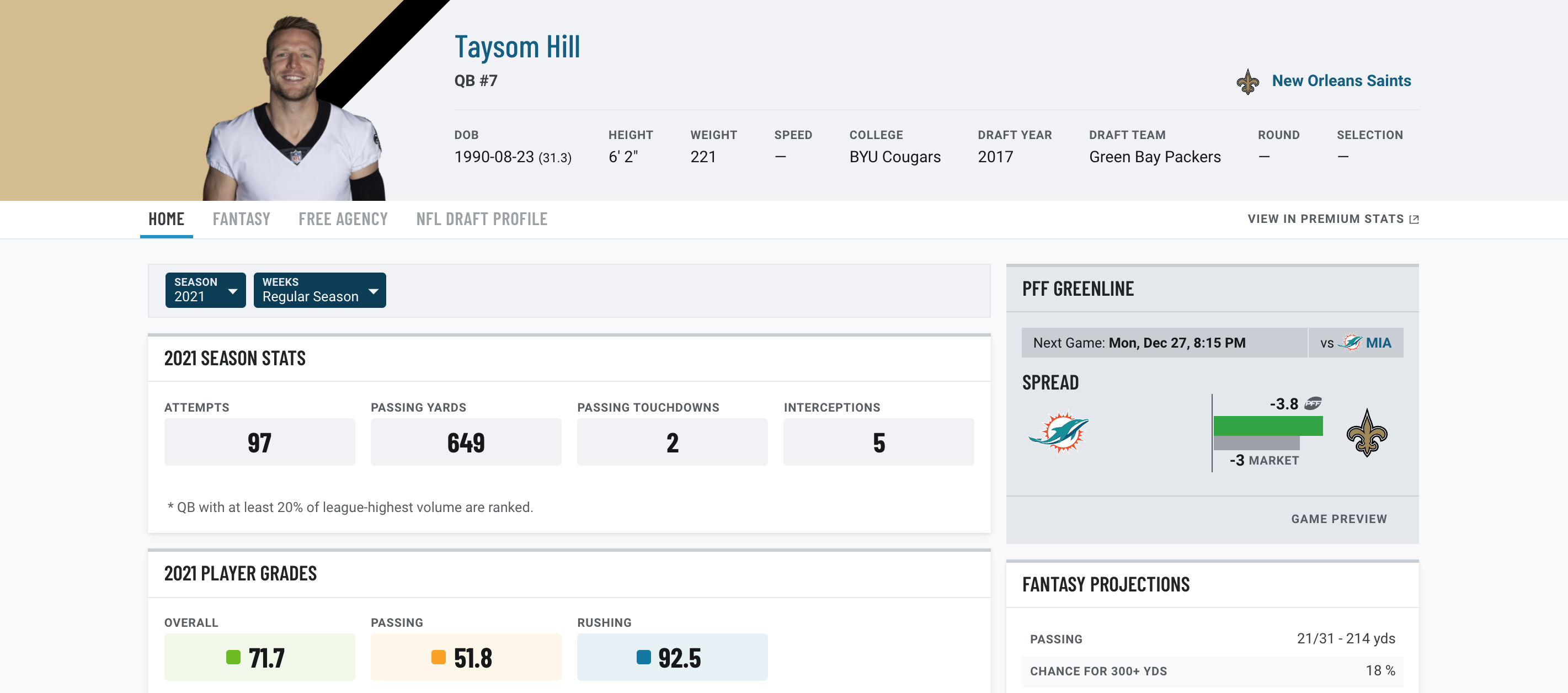 Some offensive lines and quarterbacks are just more prone to pressure: The Dolphins, Seahawks, Titans and Colts are the league's only four offenses that have been pressured on at least 35% of their dropbacks this season. Pressure sucks, but seriously Russ: What the hell, man.
Don't blame DK: D.K. Metcalf hasn't surpassed 60 receiving yards in six straight weeks. Of course, Week 14 included three separate times when he could have scored, while Week 15 featured an overthrown deep ball that also probably should have been a house call.
Metcalf was largely beating Jalen Ramsey like a drum on Tuesday night. Please don't mistake his slump as any sort of indictment on the third-year receiver's talent.
Sheesh pic.twitter.com/TU0j3WHaC4

— Ian Hartitz (@Ihartitz) December 22, 2021
And then there's Tyler Lockett (covid, IR), who posted 4-115-0, 3-96-0, 7-68-1 and 5-142-1 receiving lines prior to missing Week 15. At this point it's hard to rationalize ranking Metcalf ahead of Lockett when both are healthy enough to suit up.
Russell Wilson is averaging a pedestrian 223.5 passing yards per game and hasn't thrown more than two touchdowns in a game since Week 1. This Bears defense appeared to be on the verge of imploding after allowing 78 combined points to the Cardinals and Panthers in Weeks 13-14, but credit to everyone involved for holding the Vikings to just 193 total yards of offense in Week 15.
Sundial joke about having a ton of time to throw: Jared Goff (covid, IR), Matthew Stafford, Kyler Murray, Justin Herbert, Tom Brady and Ben Roethlisberger are set up the best to work from consistently clean pockets this week. Nobody will be happier to see Antonio Brown return than TB12.
The Brady Bunch is down, but not out: The absence of Chris Godwin (ACL, IR) elevates Tyler Johnson into the friendly confines of the slot, while I'd expect Breshad Perriman (covid, IR) to work ahead of Scotty Miller and Jaelon Darden if Mike Evans (hamstring) is ultimately sidelined.
Of course, the leader of the pack this week is Brown, who is expected to suit up for the first time since Week 6. AB truly looked to be back to his usual dominant self before his knee injury: his average of 2.82 yards per route run is tied with Deebo Samuel for the second highest mark in the league and trails only Cooper Kupp (3.15).
Brown basically only missed once during his five games this season:
Week 1: 5 receptions-121 yards-1 TD (7 targets), PPR WR12

Week 2: 1-17-0 (3), WR91

Week 4: 7-63-0 (11), WR31

Week 5: 7-124-2 (8), WR4

Week 6: 9-93-1 (13), WR6
Fire up Brown as a legit WR1 this week with both Godwin and Evans expected to be out of the picture. Constant one-on-one battles with Gilmore isn't ideal, but volume is king in fantasy land, and the ex-Patriots' cornerback didn't exactly shut down Russell Gage (4-64-0) or Stefon Diggs (4-35-1) in his only two shadow matchups this season.
Pass rushes that haunt the dreams of your favorite quarterback: The league's best pass rushes feature the Dolphins, Packers, Buccaneers, Bills and Panthers above all else. Weekly reminder that Miami is first in allowing pressure on offense and giving it up on defense. Practice must be hell for Tua.
The league's finest individual rushers of the passer: Just 10 defenders have racked up at least 60 pressures this season:  Maxx Crosby (82 pressures), Aaron Donald (74), Shaquil Barrett (72), Myles Garrett (68), Nick Bosa (68), Trey Hendrickson (63), Raashan Gary (63) and Joey Bosa (62). Those Bosa brothers are scary good.
Trench Battles
RBs receive most of the praise for an offense's rushing output, but an overmatched offensive line can thwart a team's run game before it even has a chance to get started. We can determine the offensive lines that might be especially better (or worse) off this week by looking at yards before contact.
Combined Yards Before Contact Per Rush

: The sum of an offensive line's adjusted line yards per rush and the opposing defense's adjusted line yards allowed per rush. A higher number (blue) is good for running backs, while a lower number (red) indicates that matchup's offense could have some trouble consistently running the ball.
Mismatch Manifesto Week 16: combined yards before contact per rush

Sum of each offense and defense's YBC/carry.

High number: Good run-blocking o-line vs. bad run-defending D (blue)
Low number: Bad run blocking o-line vs. stout D against the run (red)

Data from 2021, PFF pic.twitter.com/Uvvk140mJK

— Ian Hartitz (@Ihartitz) December 23, 2021
Great day to be a great running back: The Mount Rushmore of backfields set up well to run the ball this week: Chiefs, Eagles, Jaguars and Lions. Of course, this Philly backfield tends to be run through the quarterback plenty often as well.
Miles Sanders is more overdue than Tropic of Cancer: The league's leaderboard in most touches without a score is as follows:
Sanders (155 scoreless touches)

Tevin Coleman

(75)

Laviska Shenault

(67)
The good news is that Sanders has handled 27 and 20 touches in his past two games; clearly the Eagles still consider him as their lead back. Still, Jordan Howard and (especially) Jalen Hurts continue to provide all sorts of competition in typically fantasy-friendly red zone and garbage time situations. Historically offenses led by dual-threat quarterbacks don't produce the most fantasy-friendly running backs; this situation is no different.
Sanders is back on the low-end RB2 map with 251 combined rushing yards in his last two games; just realize there continue to be plenty of available factors that could lead to a dud. Howard is more of a touchdown-dependent RB3 who also suffers from Hurts' vulture tendencies. Both deserve slight upgrades for their Week 16 matchup against the Giants' eighth-worst defense in PPR points per game allowed to opposing running backs.
Personal note: Check out my Week 16 Quarterback Predictions for more fun facts and a forecast on every squad's starting quarterback.
It's James RB1son szn again: The combination of Urban Meyer getting fired, and Carlos Hyde (concussion) being sidelined, led to James Robinson seeing his most carries and targets since Week 5 and Week 3, respectively. The result was a classic RB1son performance: 88 total yards and a score in a non-competitive, two-score loss.
Nothing is guaranteed in this offense, even without Meyer around to screw anything up. Still, it's hard not to be excited about Robinson's boom potential in this week's matchup against the Jets' league-worst defense in PPR points per game allowed to opposing backfields. PFF grades the Jaguars' offensive line as just the 26th-ranked unit in run-blocking grade, but even they might have a chance to #EstablishTheRun against the league's fifth-worst defense in rush yards before contact allowed per carry.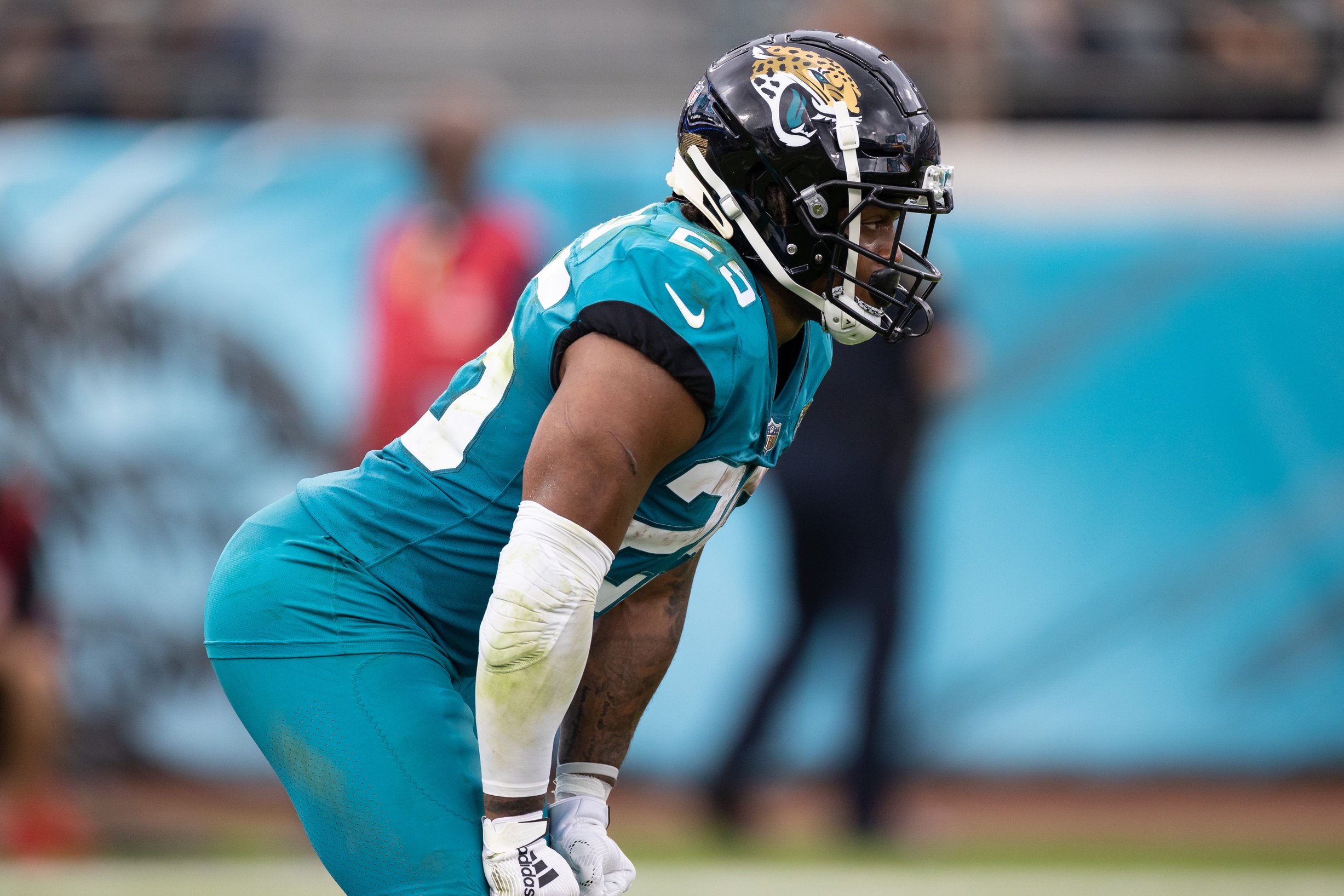 Fire up Robinson as a high-end, volume-based RB2 who I might even slide into RB1 territory after a few drinks; interim head coach Darrell Bevell seems to understand the nationwide outcry against Meyer benching Robinson a few weeks back, meaning even the return of Hyde shouldn't stop the second-year talent from clearing 20 touches in a matchup that might not feature such an extreme negative game script for a change.
Just one more personal note: Check out my Week 16 Backfield Report for more specific information on the league's ever-evolving running back stables.
More running backs expected to have a little thing called success: The Colts, Rams, Football Team and Seahawks also stand out as groups that should see more open lanes than usual this week. Of course, there has been some shuffling going on in this Los Angeles backfield.
Sean McVay sure loves changing his running back rotation: Sony Michel somewhat surprisingly took complete control of this backfield during the Rams' Tuesday night victory over the Seahawks. The ex-Patriot veteran has indeed been the more effective back this season by most tackle-breaking metrics:
PFF rushing grade:

Darrell Henderson

(77.5); Michel (76.8)

Yards per carry: Henderson (4.5); Michel (4.2)

Missed tackles forced per carry: Henderson (0.12); Michel (0.23)

Yards after contact per carry: Henderson (2.5); Michel (3.0)
The Rams have handed Michel 23, 27, 20 and 20 touches in his four starts this season; that's borderline RB1-type usage, ladies and gentlemen. Throw in a cozy Week 16 matchup against the Vikings' 27th-ranked defense in rush yards before contact allowed per carry, and it's easy to fire up Michel as a top-15 option at the position this week. Henderson unfortunately isn't anything more than a desperate FLEX play with this sort of splits.
NFC East December football: The Football Team ended J.D. McKissic's (neck, IR) season prior to their Tuesday night loss to the Eagles, setting up Antonio Gibson to work as this backfield's undisputed workhorse the rest of the way. The second-year talent has largely been nothing short of excellent as a fantasy asset since returning from the Football Team's Week 9 bye:
Week 10: PPR RB7

Week 11: RB23

Week 12: RB7

Week 13: RB6

Week 14: RB36

Week 15: RB4
Next week's matchup against Micah Parsons and company isn't ideal; only the Panthers, Saints and Titans have allowed more PPR points per game to opposing backfields. Still, Gibson is as good a bet for 20 touches as any back in the league at the moment; fire him up as a legit RB1 the rest of the way.
Gotta love a good run game scheme: Only five offenses are averaging at least 1.7 yards before contact per carry: Eagles (1.98), Ravens (1.95), Chiefs (1.86), Colts (1.78) and Bills (1.7). Call me crazy, but having a mobile quarterback might just help matters.
Best Steven Tyler voice: Run away, run away from the pain yeah, yeah, yeah, yeah, yeah: The Bears, 49ers, Falcons, Jets and Panthers look like the most screwed offenses in terms of expected success on the ground before contact. Luckily for the former squad: David Montgomery has carved out a pretty, pretty nice role for himself in the passing game lately.
Montgomery went 319 consecutive touches without a fumble until Monday night. His 83 scoreless yards weren't exactly what fantasy managers were hoping for, but it did mark the third straight week that he caught at least five passes. Receptions are a helluva drug in full PPR scoring, and the Bears' penchant for losing by multiple scores more weeks than not lately has led to plenty of garbage time opportunities for the artist known as Frankenstein.
Montgomery has at least 15 touches in all six of his games since returning from injury; he's a volume-based RB2 that would be locked in as an upside RB1 if he wasn't forced to operate inside of the league's 29th-ranked scoring offense. The good news is that next Sunday's matchup against the Seahawks should continue to yield plenty of fantasy-friendly pass-game opportunities. The following metrics denote their ranks when defending targets to running backs:
Yards per attempt: 8.3 (No. 31)

Explosive pass play rate: 12.9% (No. 26)

QB rating: 107.1 (No. 26)

Contested target rate: 4% (No. 26)

Passing Game
Some pass offenses are obviously more efficient than others, while certain secondaries are seemingly capable of shutting down any aerial attack. We can determine the week's biggest mismatches in the passing game using each offense and defense's pass yards per dropback.
Combined Passing Yards Per Dropback

: The sum of an offense's passing yards per dropback and the opposing defense's passing yards allowed per dropback. A higher number (blue) is good for quarterbacks and receivers, while a lower number (red) indicates that matchup's pass offense could be in trouble.
Mismatch Manifesto Week 16: combined pass yards per dropback

Sum of offense's pass yards/dropback with defensive rate.

Higher number: efficient pass offense vs. bad pass defense (blue)
Lower number: inefficient pass offense vs. good pass defense (red)

Data from 2021, PFF pic.twitter.com/NCeQNRR5Qr

— Ian Hartitz (@Ihartitz) December 23, 2021
Sometimes it just looks so easy: Joe Burrow, Matthew Stafford, Kyler Murray and Dak Prescott stand out as the week's top three quarterbacks in expected success through the air. Of course, 2021 has been a bit of a tale of two halves for the latter signal-caller.
Why doesn't NASA spend less time worrying about the moon and more time working on preventing calf injuries: Dak Prescott has reached 250 passing yards just once in his past five games despite surpassing 35 pass attempts in each and every game. The Cowboys have had a rotating cast of offensive linemen and wide receivers in and out of the offense for the better part of the last two months; the following splits shouldn't be viewed as a pure indictment on Prescott. Still, it's impossible to ignore the difference in this passing game's efficiency before and after Prescott returned from his calf injury:
Weeks 1-6: 87.6 PFF passing grade, 16 TD, 4 INT, 8.4 YPA, 73.2% completion rate

Weeks 9-15: 69.2 PFF passing grade, 9 TD, 6 INT, 6.5 YPA, 64.9% completion rate
CeeDee Lamb's 6-50-0 performance would have been far bigger had he not had a case of the butterfingers. He's set up rather brilliantly against this Football Team defense. Overall, Washington has allowed the third-most receiving yards and most completions to the slot, giving up big performances to the likes of:
Lamb deserves to be treated as an upside WR1 in this smash spot, while I'm also going back to the well with Amari Cooper as a lower-end WR2. Covid robbed Cooper of the chance to put forward a big second half of the season, but he's looked healthier than ever over the past two weeks and always carries true blowup potential. Michael Gallup is more of a boom-or-bust WR3; just realize having anybody from the league's second-ranked scoring offense is generally good for fantasy business.
60% of the time, Kyler Murray works every time against the Colts: The best path to success against this Colts defense sure seems to be the deep ball. The following metrics denote the Colts' rank on targets thrown at least 20 yards downfield:
Yards per attempt: 14.6 (No. 26)

Explosive pass play rate: 49% (No. 32)

QB rating: 96.7 (No. 22)

Contested catch rate: 28.6% (No. 21)
Only Matt Ryan (61.1%) has a higher adjusted completion rate than Murray (60.4%) when targeting receivers at least 20 yards downfield this season.
Both Christian Kirk (17 deep ball targets) and A.J. Green (15) have been used rather equally downfield; treat them each as upside WR3 options against a group of corners that have certainly been had by the likes of Cooper Kupp (9-163-2), A.J. Brown (10-155-1), Marquise Brown (9-125-2), Tyler Lockett (4-100-2), Deebo Samuel (7-100-1) and Elijah Moore (7-84-2) among others this season. Wesley isn't more than a lower-end WR5 as this passing game's clear-cut No. 4 option (at best)..
The government calls it a passing league for a reason: The 49ers, Packers, Falcons, and Chargers also stand out as passing attacks that should have plenty of success through the air. It'd sure be a lot cooler if the latter squad truly unleashed Justin Herbert, but life is still pretty good either way.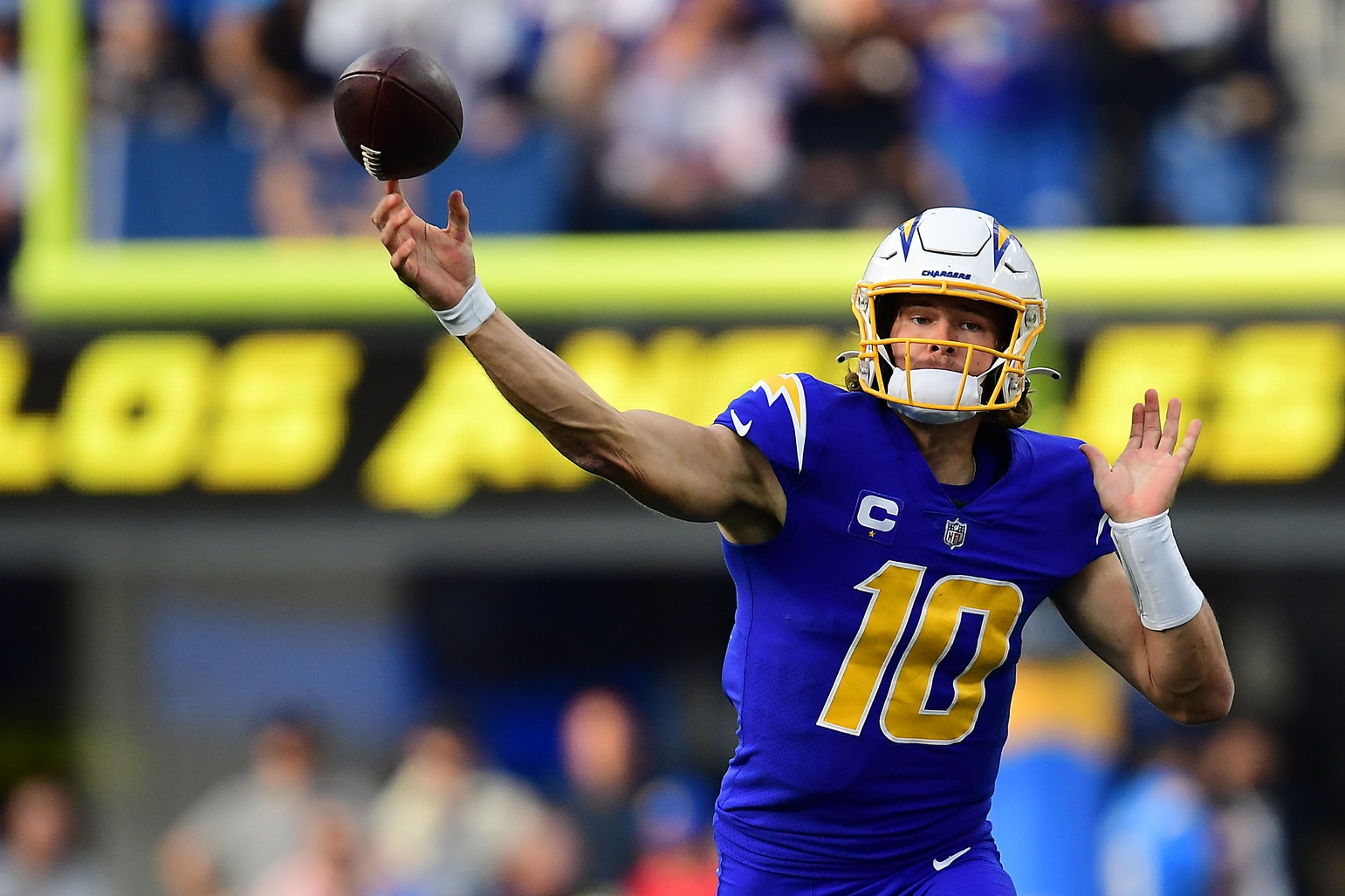 Mistake-free football is good: The main critique surrounding the Chargers' play-calling this season has been the lack of a consistent deep ball threat. Obviously Herbert is capable of making some truly incredible throws thanks to his howitzer of a right arm, so there's no reason why he should be one a bottom-seven quarterback in deep ball (20-plus yards downfield) rate.
With that said: Herbert has done a great job managing this conservative offense regardless. Only three quarterbacks have a turnover-worthy play rate of 2.0% or less this season:
Still, it'd probably behoove the Chargers to ramp up their downfield passing game in the absence of Austin Ekeler (covid, IR), particularly against the Texans' league-worst defense in contested target rate on downfield throws. If not (and probably either way): Look for Keenan Allen to continue to eat. He has at least eight targets in all seven of his games since the Chargers' Week 7 bye:
Week 8: 6 receptions-77 yards-1 TD (11 targets), PPR WR14

Week 9: 12-104-0 (13), WR3

Week 10: 8-98-0 (11), WR9

Week 11: 9-112-0 (13), WR14

Week 12: 7-85-0 (10), WR21

Week 13: 5-34-2 (8), WR9

Week 15: 6-78-1 (10), WR10
These passing games might be a bit rough n' rowdy: The Panthers, Texans and Bills look like the bottom three offenses this week in terms of expected aerial success. The Giants, Browns, Dolphins and Saints don't look to be in especially great spots, either, sometimes wide receivers are good enough to just win anyway.
Then he Waddled away, Waddle, Waddle: Jaylen Waddle has been on a heater over the past two months, ripping off PPR WR4, WR16, WR60, WR16, WR37, WR11, WR1 and WR15 finishes in his last eight games. The WR16 in PPR points per game, the floor here has been ridiculously high thanks in large part to Waddle's status as an extension of the run game. Overall, Waddle has had a whopping 60 targets thrown his way either behind the line or no further than 5.0 yards downfield — tied for the 10th-highest mark in the league.
These sort of easy quick-hitters give Waddle a floor that is impossible to bench in full-PPR formats against a Saints defense that has surrendered the ninth-most PPR points per game to opposing wide receiver rooms this season. The Dolphins' willingness to constantly use Waddle in motion and all over the field makes a shadow date with Marshon Lattimore unlikely; you'd better have multiple top-15 receivers on your fantasy squad to rationalize sitting Waddle this week.
Not so fast, my friend: Offenses that haven't averaged more than 5.7 pass yards per dropback this season: Jaguars (5.3), Panthers (5.5), Bears (5.5) and Texans (5.7). Why have the Bears played primetime games in two straight weeks?
You hear that? Bears: Forty-three quarterbacks have at least 100 dropbacks this season; none of them have a higher average target depth than Justin Fields (10.5). Consistently throwing the ball downfield isn't a requisite for success, but at least nobody can say that Fields has been playing scared.
The problem: Seattle has actually been pretty damn good at limiting the deep ball this season. The following metrics denote the Seattle defense's performance on passes thrown at least 20 yards downfield this season (pre-Week 15):
Completions allowed: 13 (No. 2)

Yards per attempt: 9.5 (No. 3)

Explosive pass play rate: 25.5% (No. 3)

Pass touchdown rate: 5.9% (tied for No. 5)

QB rating: 53.7 (No. 2)
Darnell Mooney is worthy of WR3 treatment if Allen Robinson (covid, IR) remains sidelined; both receivers are better off as lower-end WR4 types if each is active. Matt Nagy's play-calling and scheme hasn't helped matters, but these Bears receivers ultimately rank dead last in percentage of routes where the player was deemed to be open at just 36%. I'll be answering most close start/sit questions involving a Bears receiver with the other guy; that's life inside of the league's 29th-ranked scoring offense..
Dope secondaries always have the best nicknames: The Bills (5.1), Patriots (5.6), Buccaneers (5.8), Packers (5.8) and Panthers (5.8) are the only four defenses to allow fewer than 5.9 pass yards per dropback. In this economy?
EPA
Points are ultimately what wins football games. We can measure the expected points of every play on offense and defense by considering the down, distance and field position before factoring in the result. Estimated points added (EPA) is thus the value of a play that takes context into account and thereby better measures efficiency at the play level.
Combined EPA

: The sum of an offense's EPA/play and their opposing defense's EPA/play allowed. A higher number (blue) is good for offenses, while a lower number (red) indicates that offense could be in trouble.
Mismatch Manifesto Week 16: combined EPA per play

Sum of EPA/play of matchup's offense and defense to see biggest potential overall mismatches

High numbers indicate efficient offense vs. inefficient defense (blue), lower numbers are bad for o (red)

Data from 2021, PFF pic.twitter.com/IYj5jk1vEj

— Ian Hartitz (@Ihartitz) December 23, 2021
Blowout alert: The clear top-five matchups in terms of one offense likely having a huge relative advantage over their opponent: Eagles over the Giants, Chargers over the Texans, Buccaneers over the Panthers, Chiefs over the Steelers and Cowboys over Washington. Did somebody say irresponsible moneyline parlay only featuring heavy moneyline favorites?
Over alert: The highest combined matchups in expected offensive success: Browns-Packers, Rams-Vikings and Steelers-Chiefs. Honestly these totals are brutal compared to most weeks.
Under alert: Bills-Patriots, Buccaneers-Panthers and Dolphins-Saints stand out as the week's three matchups that could feature the most overall offensive futility. Hopefully there isn't extreme snow and wind in the former matchup again. And if there is? Don't complain about it on Twitter. It's annoying.
Upset alert: Teams expected to have a relative offensive advantage yet are underdogs feature the Jaguars (+1), Bills (+2.5) and Broncos (+0.5). Of course, the latter team will have to get it done without the services of Teddy Bridgewater (concussion). That means Drew Lock will be under center. Will he be good? Probably not. But could he be entertainingly bad? Absolutely.
ARE YOU NOT ENTERTAINED pic.twitter.com/30LTw9UlWr

— Ian Hartitz (@Ihartitz) December 20, 2021