It's fantasy football playoff season, which means it's a great day to be great. Let's attempt to predict the future.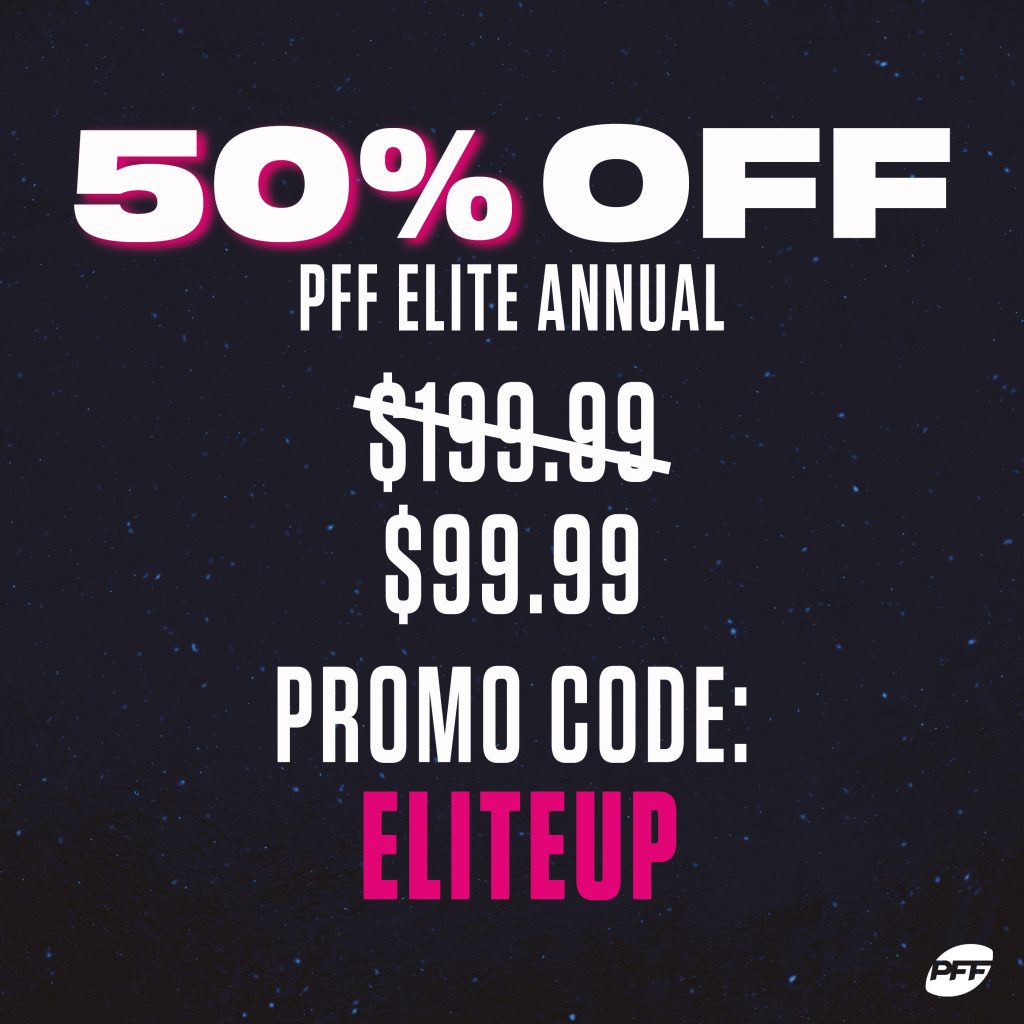 Click here for more PFF tools:
Rankings & Projections | WR/CB Matchup Chart | NFL & NCAA Betting Dashboards | NFL Player Props tool | NFL & NCAA Power Rankings
---
What follows are my best guesses for every starting quarterback's defining Week 16 storyline. This will be accomplished through a superlative format, identifying who is most likely to accomplish whatever.
Please don't confuse this as an all-encompassing preview of the position; the goal is merely to get a solid preview of the game's most-important position and attempt to learn a thing or two along the way.
Garoppolo might not make a habit of slinging dimes into tight windows down the field, but that doesn't mean he doesn't generally move the ball through the air with a high level of efficiency. This has been the case throughout his time with the 49ers:
2021: 8.5 yards per attempt (No. 1 among 43 qualified quarterbacks)
2020: 7.8 (tied for No. 9)
2019: 8.4 (No. 3)
2018: 8.1 (tied for No. 9)
This is still a run-first offense but just realize Garoppolo has largely made the most out of his opportunities all season, particularly when George Kittle, Deebo Samuel and Brandon Aiyuk are healthy enough to suit up. He's a solid enough streaming option against the Titans' 10th-worst defense in fantasy points per game allowed to opposing signal-callers.
This offense continues to look like a shell of itself. Julio Jones (hamstring) suffered a setback last week while it remains to be seen when A.J. Brown (chest, IR) will be back in action.
Ultimately, it's tough to expect this offense to truly rebound until Derrick Henry (foot, IR) is back in action. The dropoff in efficiency in both the run and pass game has been rather drastic without the Titans' workhorse:
| | | | |
| --- | --- | --- | --- |
| EPA/Play | Overall | Pass | Run |
| With Henry | 8th | 15th | 2nd |
| Without | 28th | 29th | 25th |
While it'd certainly be a lot cooler if Tannehill could get back to balling against Nick Bosa and company, this is probably wishful thinking until some of his high-end teammates are healthy enough to return to action.
Three quarterbacks have averaged more than 7.5 yards per attempt when targeting players behind the line of scrimmage:
Overall, the Browns have averaged 8.1 yards per attempt on passes thrown to targets behind the line of scrimmage — the Patriots (7.1) are the only other team even above seven. They're also first specifically when throwing screens (8.9 yards per attempt), so coach Kevin Stefanski deserves credit for consistently finding a way to create chunk gains off of these "easy" throws.
This Packers defense is going to be scary once CB Jaire Alexander (AC joint, IR) and edge defender Za'Darius Smith (back, IR) return but either way, the Packers will need to be at their best in order to limit Nick Chubb and Kareem Hunt (ankle) when they get involved in the passing game.
Some of the throws Rodgers made during the Packers' Week 15 win over the Ravens were truly wild.
Okay A-aron okay pic.twitter.com/FAQhE00JBW

— Ian Hartitz (@Ihartitz) December 20, 2021
The Packers have scored at least 31 points in four consecutive games, as Rodgers has thrown a combined 13 touchdowns against zero interceptions. This passing game is hitting its stride at the exact right time. Don't be surprised if Rodgers breaks the Packers' franchise passing touchdown record in style Saturday afternoon.
A win is a win, but Wentz's Thursday night performance against the Patriots was truly terrible. Overall, his 26.7 PFF passing grade was the worst single-game mark of the year. There have only been five other instances of a signal-caller finishing with a PFF passing grade below 30.
Of course, Wentz hasn't been this bad all season, as he's posted at least a 65.0 PFF passing grade in 10 of 14 games. The Colts don't need him to be superman as long as Jonathan Taylor continues to put the team on his back, but the least the ex-Eagles signal-caller could do is, you know, not be the world's worst quarterback the next time he suits up.
Murray boasts an asinine 8.7% big-time throw rate this season. The only other quarterbacks to clear the eight percent mark over the past five years are 2018 Russell Wilson (8.5%) and 2019 Matthew Stafford (8.2%).
Obviously, Week 15 didn't turn out the way that Cardinals' faithful hoped, but that doesn't mean Murray's 2021 campaign has been anything other than fantastic as a whole. Look for the league's eighth-ranked scoring offense to find more success in this home bounce-back spot against Darius Leonard and company.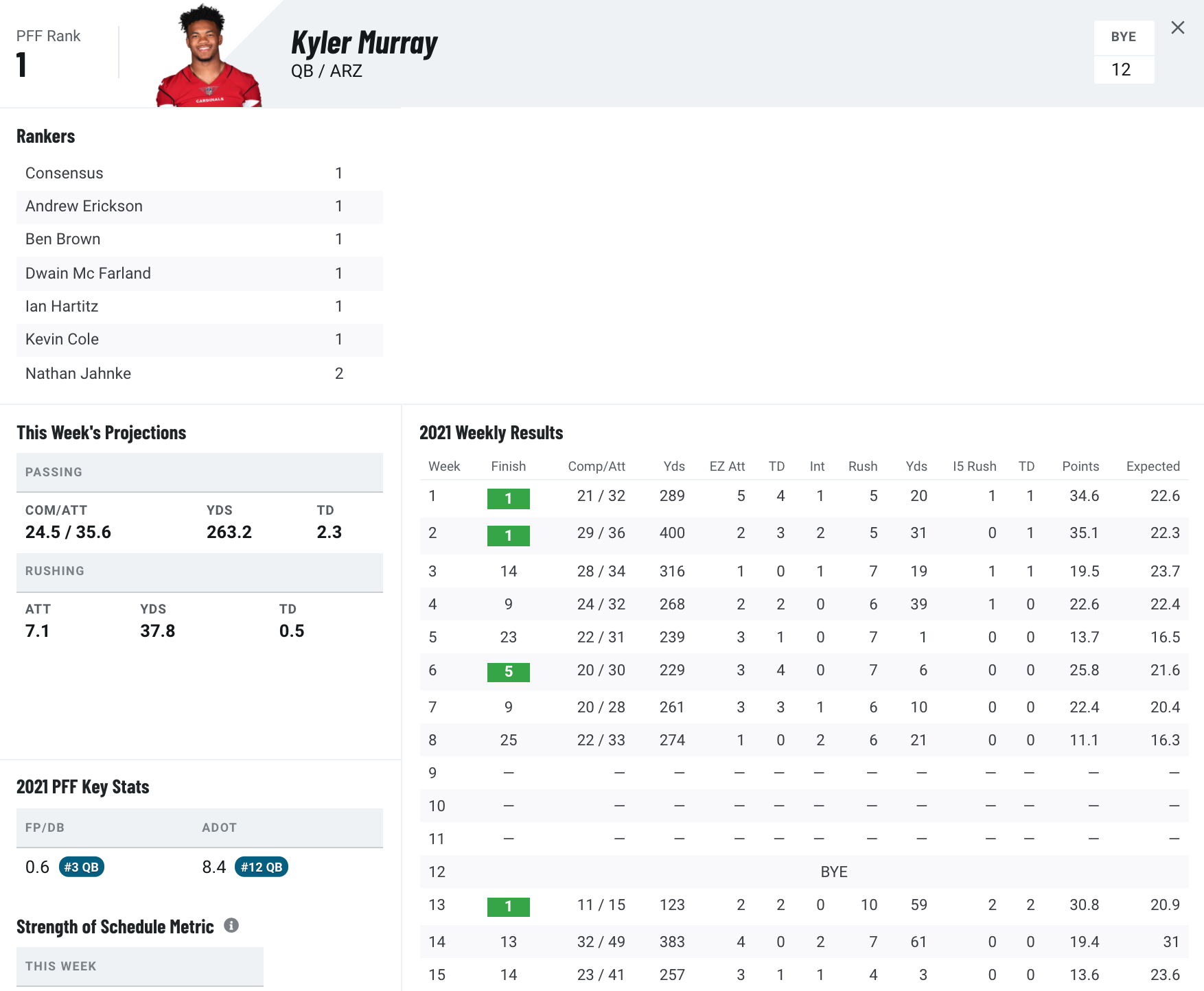 Most likely to enable his rookie slot receiver to great fantasy heights: Detroit Lions QB Jared Goff at Atlanta Falcons
Amon-Ra St. Brown has been playing well over the past three weeks:
Week 13: 10 receptions-86 yards-1 touchdowns (12 targets), PPR WR6
Week 14: 8-73-0 (12), WR26
Week 15: 8-90-1 (11), WR5 (as of Monday afternoon)
Brown didn't finish inside of fantasy's top-30 receivers on even one occasion in Weeks 1-12 so credit to the rookie for experiencing this productive second-half effort. Not having T.J. Hockenson (hand, IR) or D'Andre Swift (shoulder, IR) to soak up underneath targets has certainly helped funnel volume St. Brown's way, but that doesn't mean he shouldn't be lauded for providing some level of consistency to a passing game that has been lacking in that department all season long.
Only the Vikings, Titans and Football Team have allowed more PPR points per game to opposing wide receiver groups than the Falcons so look for St. Brown to stay hot from the friendly confines of the slot.
Most likely to continue playing some of the worst ball of his career: Atlanta Falcons QB Matt Ryan vs. Detroit Lions
Ryan simply hasn't been up to the task for large portions of 2021, posting seven-year lows in yards per attempt (6.8), QB rating (87.3) and PFF passing grade (75.8) through 15 weeks of action. Things haven't been all bad, as Cordarrelle Patterson has enjoyed all sorts of success all year, Kyle Pitts will finish the year with one of the gaudiest yardage totals that we've seen from a rookie tight end, and Russell Gage has truly been coming on strong recently. Still, Ryan has (understandably) struggled to maintain his usual top-tier efficiency without Julio Jones and Calvin Ridley's (personal, IR) services.
Of course, it'd make sense if Ryan and company can experience a better day than usual against a Lions secondary that has struggled to slow down the heavy majority of passing games that they've faced this season:
Pass yards per attempt allowed: 7.98 (No. 31)
Explosive pass play rate allowed: 17.1% (No. 30)
QB rating allowed: 104.4 (No. 25)
Contested target rate allowed: 16.4% (No. 22)
The Vikings somehow don't have a single cornerback ranked better than 60th in terms of PFF coverage grade among 127 qualified corners:
Odell Beckham took this group to school back in Week 4. Hopefully, he actually receives a catchable ball or two this time around.
Pain pic.twitter.com/sVNiy75Tcb

— Ian Hartitz (@Ihartitz) October 4, 2021
Justin Jefferson has a real argument as the single-best receiver in the game since entering the league. My money would be on Davante Adams but just realize that the second-year talent already deserves to be in the top-five conversation:
PFF receiving grade: 92.0 (No. 2 among 66 wide receivers with 100-plus targets since 2020)
Receptions: 173 (No. 7)
Receiving yards: 2,688 (No. 1)
Receiving touchdowns: 15 (tied for No. 7)
Yards per reception: 15.5 (No. 5)
Yards per route run: 2.66 (No. 2)
These totals would be even gaudier if Jefferson and Cousins had been just a bit more on the same page back in Week 14. Alas, the duo has still been nothing short of spectacular over the past two seasons. Perhaps the Rams go out of their way to limit Jefferson by deploying Jalen Ramsey on him in shadow coverage — a treatment that only Adams, D.K. Metcalf and Mike Evans have "earned" over the past two seasons.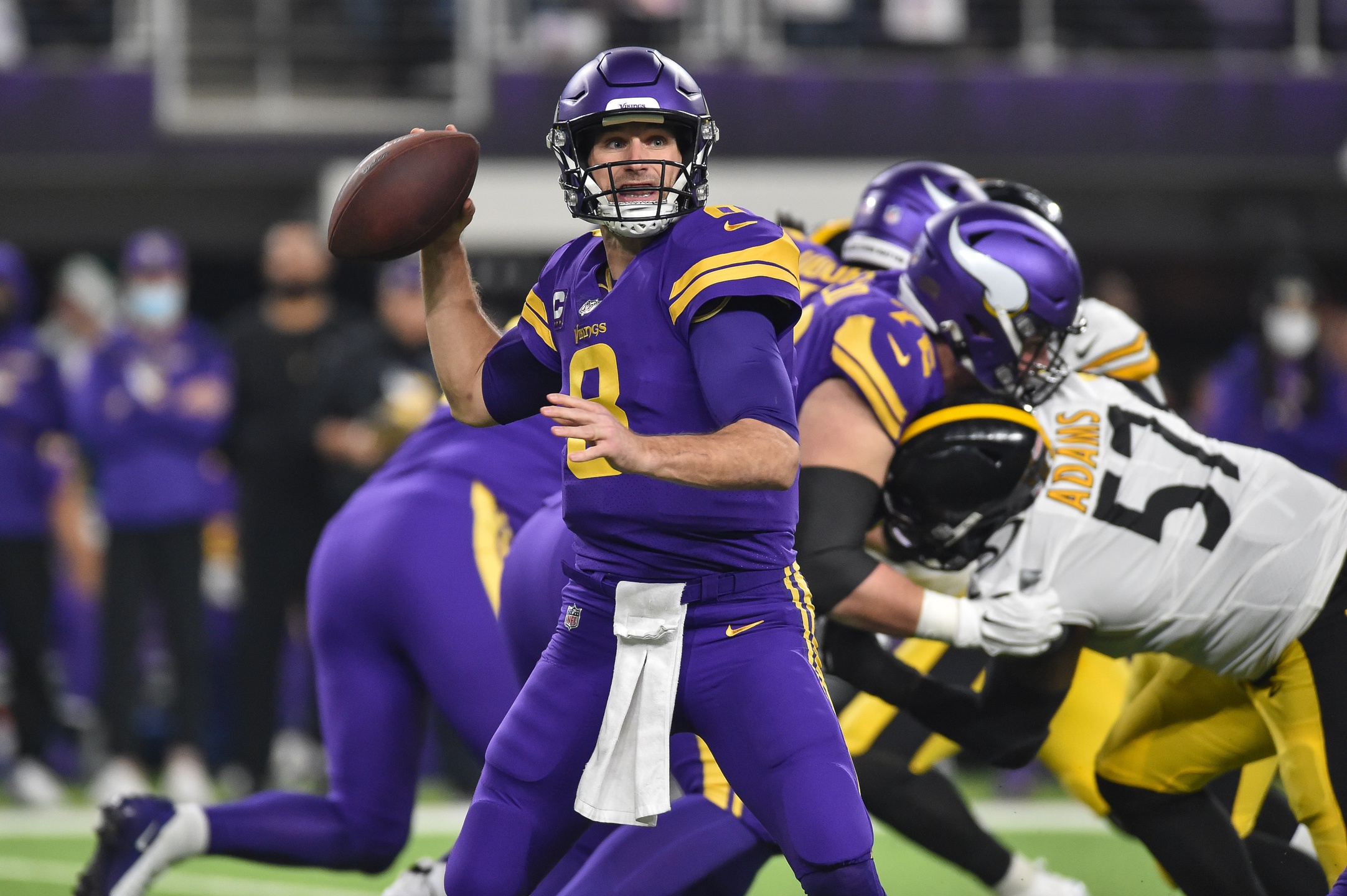 Only five offenses have posted a drop rate of at least six percent this season:
Giants (6%)

49ers (6.1%)

Saints (6.2%)

Jets (6.5%)

Jaguars (6.6%)
Obviously, Lawrence hasn't exactly been the world's best signal-caller independent of his teammate's butterfingers but just realize that dealing with the league's highest drop rate hasn't helped matters. Hopefully, the second week removed from the Urban Meyer experience results in improvements from everyone involved, but it'll more likely take until 2022 (at the earliest) to see some real signs of improvement from this passing "attack."
Only seven quarterbacks have taken at least three seconds to get rid of the ball on average this season:
Holding on to the ball for a long time isn't necessarily a bad thing if that quarterback is mobile enough to consistently extend the play and the offensive line is good enough to provide a cozy clean pocket. Regarding these points:
Wilson certainly isn't a statue in the pocket, but obviously, nobody is confusing him with Hurts, Jackson, Fields or even Hill.

The Jets rank 26th in overall pressure rate. This is bad. However, they rank 14th in quick pressure rate (pressure in under 2.5 seconds).
The latter variable is as good an indication as any that the Jets' pressure problem falls far more on Wilson's shoulders than the offensive line. Hopefully, a date with the Jaguars' 25th ranked defense in PFF pass-rush grade allows this passing attack to work under less duress than usual.
Only four signal-callers have committed a turnover-worthy play on at least five percent of their dropbacks this season:
Overall, Glennon has registered just two big-time throws against 11 turnover-worthy plays in 145 dropbacks, as he's provided so much more bad than good that it's truly worth wondering if this offense could be slightly less awful with Jake Fromm under center.
Ideally, Daniel Jones (neck) will be healthy enough to suit up come Sunday, but that won't necessarily stop the bad times from continuing to roll. Only the Texans and Jaguars have scored fewer total points than the Giants through 15 weeks.
Hurts has turned in top-12 fantasy performances in all but one of his career starts in which he played the entire game (pre-Tuesday night):
Week 14, 2020: fantasy QB11
Week 15, 2020: QB1
Week 16, 2020: QB12
Week 17, 2020: QB20 (in three quarters)
Week 1, 2021: QB5
Week 2, 2021: QB10
Week 3, 2021: QB10
Week 4, 2021: QB4
Week 5, 2021: QB11
Week 6, 2021: QB7
Week 7, 2021: QB6
Week 8, 2021: QB24 (in three quarters)
Week 9, 2021: QB12
Week 10, 2021: QB7
Week 11, 2021: QB3
Week 12, 2021: QB27
Note that the latter number sure would have looked a lot better if Eagles receivers hadn't dropped not one, not two, but three potential scores throughout the afternoon.
Hurts is locked in as a top-eight fantasy signal-caller and sure looks capable of (continuing) to make plenty of good things happen throughout the fantasy playoffs.
Bill Belichick's evil empire has largely shut down its opponent's passing game all season long. Overall, the Patriots rank among the league's top-five defenses in yards per attempt (6.38), explosive pass play rate (12.1%) and QB rating allowed (76.1). Nobody has been stingier against opposing quarterbacks in terms of fantasy points per game allowed.
Allen has generally experienced more bad than good against this group:
2018, Week 16: 217 pass yards-1 TD-2 INT
2019, Week 4: 153-0-3
2019, Week 16: 208-2-0
2020, Week 8: 154-0-1
2020, Week 16: 320-4-0
2021, Week 13: 145-1-0
Obviously, the latter performance was heavily influenced by extreme wind and snow but just realize the erratic version of Allen has been far more prevalent than the world-beater edition in this matchup over the years.

Few have been better than Jones this season when able to work within the Patriots' ever-efficient offensive system. Overall, nobody has a higher PFF passing grade than Jones (94.8) when targeting receivers deemed open or wide open. He's thrown 11 touchdowns against just one interception in these instances, averaging a robust 9.2 yards per attempt along the way.
Of course, the Bills secondary hasn't made a habit of allowing these sorts of easy throws all season long, as no team has allowed fewer completions to open targets than the Bills (165) after 15 weeks of action. It'd make sense if the group is less dominant moving forward without stud CB Tre'Davious White's (ACL, IR) services, so the Bills defense will need to bring its A-game to avoid the Patriots' rookie signal-caller getting too comfortable.
The Bengals have essentially only limited Jackson as a rusher on one occasion during their six career matchups, which occurred in a 27-3 blowout that didn't exactly require the 2019 NFL MVP to keep his foot on the gas.
2018, Week 11: 26 carries-119 rush yards-0 TD
2019, Week 6: 19-152-1
2019, Week 10: 7-65-1
2020, Week 5: 2-3-0
2020, Week 17: 11-97-0
2021, Week 7: 12-88-0
Perhaps Tyler Huntley is again under center but either way, it'd be rather surprising if the Bengals are still a top-10 defense in fewest rushing yards allowed to opposing quarterbacks by this time next week.
Burrow is PFF's highest-graded quarterback (subscribe now!) on the season after another efficient, albeit low volume, performance in Week 15. Up next is a Ravens defense that he shredded for 416 yards and three scores back in Week 7 due to his excellence against the blitz. The Ravens are one of just six defenses to blitz opponents on at least 30% of their dropbacks, and this has generally been a terrible strategy against the 2020 NFL Draft's No. 1 overall pick. The following metrics denote Burrow's performance specifically against the blitz in 2021:
PFF passing grade: 91.6 (No. 2 among 44 qualified quarterbacks)
QB rating: 121.1 (No. 6)
Yards per attempt: 10.8 (No. 1)
Adjusted completion rate: 76.7% (No. 14)
Burrow went 10-for-15 for 244 yards with two touchdowns and one interception when the Ravens blitzed him in their first matchup, and expecting different results with an ever more banged-up group of corners is probably wishful thinking for the Bengals' AFC North rival.
The main critique surrounding the Chargers' playcalling this season has been the lack of a consistent deep-ball threat. Obviously, Herbert is capable of making some truly incredible throws thanks to his howitzer of a right arm, so there's no reason why he should be one a bottom-seven quarterback in deep ball (20-plus yards downfield) rate.
With that said, Herbert has done a great job managing this conservative offense regardless. Only three quarterbacks have a turnover-worthy play rate under two percent this season:
Still, it'd probably behoove the Chargers to ramp up their downfield passing game in Austin Ekeler's (COVID, IR) absence — particularly against the Texans' league-worst defense in contested target rate on downfield throws.
Death, taxes, and Brandin Cooks clearing 1,000 yards with good health:
2014: 53 receptions-550 yards-3 TD (10 games)
2015: 84-1,138-9 (16)
2016: 78-1,173-8 (16)
2017: 65-1,082-7 (16)
2018: 80-1,204-5 (16)
2019: 42-583-2 (14)
2020: 81-1,150-6 (15)
2021: 80-947-5 (14)
Cooks is on pace to finish the season with a 97-1,150-6 receiving line despite catching passes from Mills and Tyrod Taylor so credit to the 28-year-old talent for proving capable of still putting up big numbers without the help of an elite signal-caller.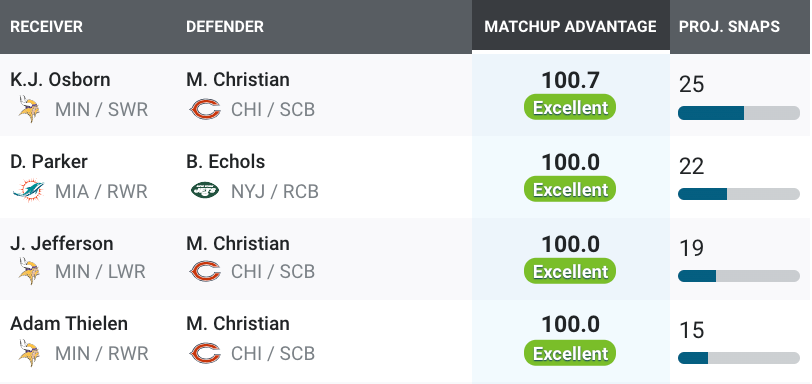 The Buccaneers will be without Chris Godwin (knee, IR) for the rest of the year while Mike Evans (hamstring), Breshad Perriman (COVID, IR), Leonard Fournette (hamstring) and Giovani Bernard (hip/knee, IR) aren't exactly operating at 100 percent either.
Having Rob Gronkowski at tight end always helps, but it's possible Tyler Johnson, Scotty Miller and/or Jaelon Darden are forced to start in three-WR sets for the Bucs' stretch run.
The good news for the Brady bunch is that Antonio Brown is eligible to return from suspension this week and is tentatively expected to return to his usual role. Brown truly looked to be back to his usual dominant self before his knee injury, as his 2.82 yards per route run is tied with Deebo Samuel for the second-highest mark in the league and trails only Cooper Kupp (3.08). Brown has typically been a luxury in this offense due to Evans, Godwin and Gronk's presence but suddenly Tampa Bay needs the ex-Steelers talent to carry this passing attack more than ever.
Panthers quarterbacks have posted the following PFF passing grades when targeting receivers deemed open or wide open:
That's right, Newton and Walker have operated as the league's bottom-two signal-callers when throwing the open receivers. D.J. Moore deserves so much better.
Good luck getting right against the Buccaneers' third-ranked defense in pressure rate.
Forty-three quarterbacks have dropped back at least 100 times this season, but none have a higher average target depth than Fields (10.5). Consistently throwing the ball downfield isn't a requisite for success, but nobody can say that Fields has been playing scared. Overall, only Russell Wilson (17.8%) has thrown a higher percentage of his passes at least 20 yards downfield than Fields (17.3%) through 15 weeks.
The problem is that Seattle has actually been good at limiting the deep ball this season. The following metrics denote the Seattle defense's performance on passes thrown at least 20 yards downfield this season (pre-Week 15):
Completions allowed: 11 (No. 2)
Yards per attempt: 8.8 (No. 3)
Explosive pass play rate: 23.4% (No. 1)
Pass touchdown rate: 6.4% (tied for No. 6)
QB rating: 58.3 (No. 3)
Wilson has posted the following PFF passing grades since returning from injury:
Week 10: 29.1
Week 11: 66.6
Week 12: 57.5
Week 13: 73.2
Week 14: 81.5
The only thing truly holding Wilson back from finally cooking at his usual level might be Tyler Lockett's (COVID, IR) absence, as he has posted 4-115-0, 3-96-0, 7-68-1 and 5-142-1 receiving lines in his past four games. Prior to Monday night, the Bears had allowed at least 29 points in five of their last seven games so look for Wilson and company to continue to move this passing attack back into the right direction, especially if Lockett is healthy enough to return to action.
Bridgewater (concussion) should be considered questionable for Sunday. It'll be Drew Lock under center if Bridgewater is unable to suit up. This superlative will remain true either way, although Lock typically struggles in a more entertaining manner than most.
ARE YOU NOT ENTERTAINED pic.twitter.com/30LTw9UlWr

— Ian Hartitz (@Ihartitz) December 20, 2021
This passing game hasn't surpassed 250 yards in a game since Week 6 despite having a rather awesome group of pass-catchers to throw the ball to in Jerry Jeudy, Courtland Sutton, Tim Patrick, Noah Fant, Albert Okwuegbunam, Javonte Williams and Melvin Gordon. Hopefully, Aaron Rodgers or Russell Wilson take their talents to Denver in the 2022 offseason.
Hunter Renfrow has posted the following production in six games since this offense lost Henry Ruggs (pre-MNF):
Week 9: 7 receptions-49 yards-1 TD (9 targets), PPR WR11
Week 10: 7-46-1 (9), WR11
Week 11: 4-30-0 (4), WR53
Week 12: 8-134-0 (9), WR5
Week 13: 9-102-0 (10), WR12
Week 14: 13-117-1 (14), WR1
The Las Vegas offense has scored 16 or fewer points in five of those six games, as this stretch hasn't coincided with the Raiders playing their best offensive football. Still, it's at least nice when bad offenses can still provide a viable fantasy asset or two (looking at you Jacksonville).
Nobody has thrown the ball short of the sticks on a higher percentage of their pass attempts than Roethlisberger (60.8%) this season. Things haven't gotten much better even after controlling for obvious pass-first situations, as only Jared Goff (63.9%) and Teddy Bridgewater (57.6%) have thrown the ball short of the sticks more often than Roethlisberger (57.3%) when needing at least five yards on third or fourth down.
The Chargers are the only team to score more than 17 points on the Chiefs since Week 7, so Roethlisberger will need to play smarter football in order to give his offense a chance. Currently, only the Football Team (+10.5 vs. the Cowboys) and Panthers (+11.5 vs. the Bucs) are larger underdogs than the Steelers (+10) ahead of Week 16.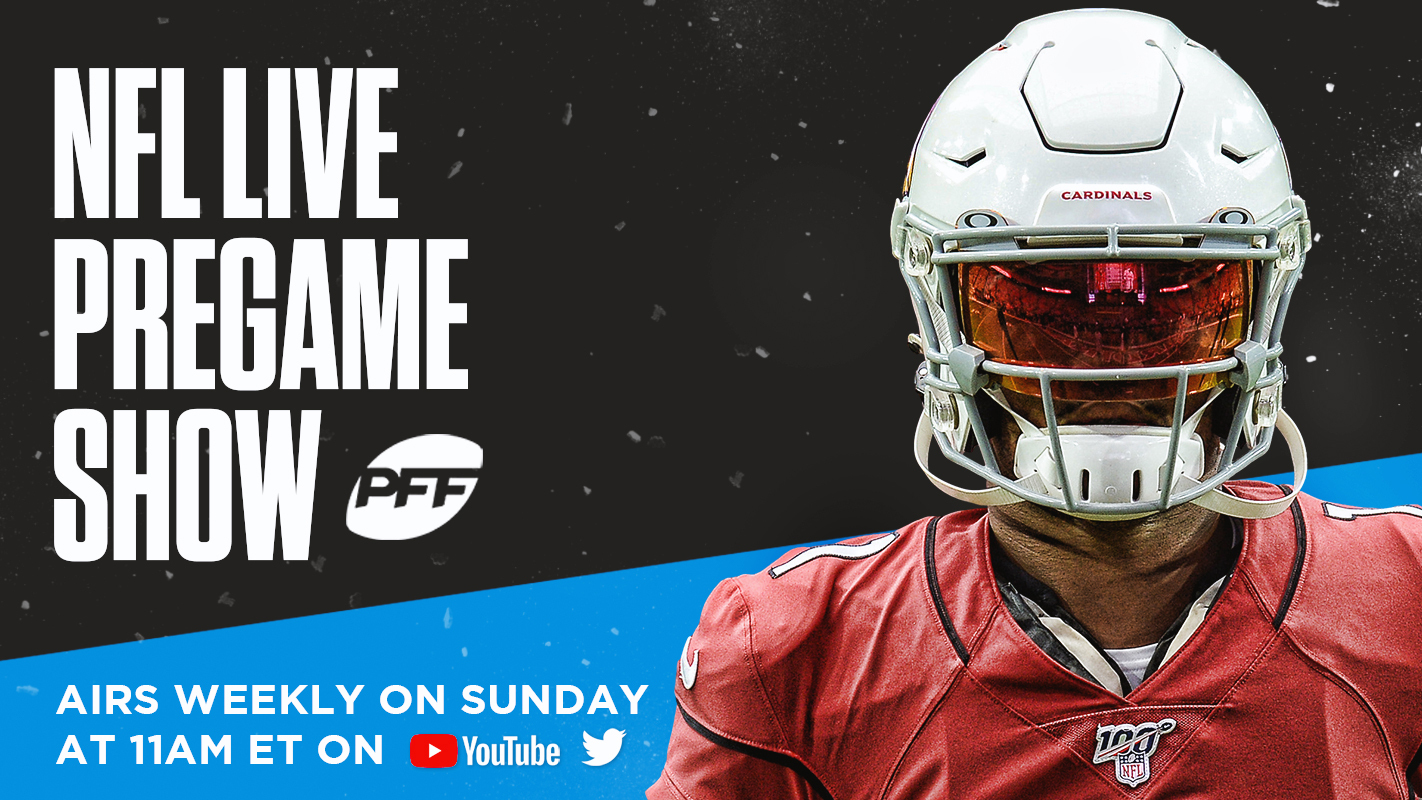 Yards after the catch (YAC) is a metric that measures both a receiver's ability to create with the ball in their hands as well as the quarterback's ability to consistently make accurate throws that hit their target in stride. The playcaller also, obviously, has plenty of impact on this stat, so the following leaderboard shouldn't be seen as a negative for Mahomes.
With that said, few quarterbacks have had a larger percentage of their passing yards come from YAC than Mahomes:
Colt McCoy

(61.5% of passing yards from YAC)

Mike White

(55.3%)

Mahomes (54.4%)
The Chiefs' franchise quarterback didn't come close to this high of a percentage in 2020 (45.1%), 2019 (49.2%) or 2018 (49.8%). Nevertheless, yards count the same regardless of how they're gained, as there's nothing inherently wrong with this style, particularly with Travis Kelce and Tyreek Hill doing most of the running. Still, Mahomes and this offense have clearly been more mortal in 2021 than in past years. Part of the reason is his career-low 8.2-yard average target depth, which puts more responsibility in his playmakers' hands than ever.
Heinicke (knee) is banged up and should be considered questionable for Sunday. Any sort of reduction in mobility would be bad news considering his general inability to force defenses to respect the deep ball this season:
PFF passing grade: 48.6 (No. 37 among 37 qualified quarterbacks)
Big-time throw rate: 18.6% (No. 34)
Turnover-worthy play rate: 15.3% (No. 36)
Yards per attempt: 9.4 (No. 33)
Adjusted completion rate: 32.2% (No. 34)
Losing Terry McLaurin (concussion) for an extended period would only make matters worse. Note that McLaurin was injured when Heinicke badly underthrew him and caused another unnecessary contested-catch situation after inexplicably waiving his No. 1 receiver to go deeper downfield.
Heinicke averaged a pathetic 3.9 yards per attempt against the Cowboys back in Week 14. Good luck finding consistently clean pockets to improve the deep ball with Micah Parsons, Demarcus Lawrence and Randy Gregory again expected to breathe down his neck early and often.
The Cowboys have had a rotating cast of offensive linemen and wide receivers in and out of the offense for the better part of the last two months, so the following splits shouldn't be viewed as a pure indictment on Prescott. Still, it's impossible to ignore the difference in this passing game's efficiency before and after Prescott returned from his calf injury:
Weeks 1-6: 87.6 PFF passing grade, 16 TD, 4 INT, 8.4 YPA, 73.2% completion rate
Weeks 9-15: 69.2 PFF passing grade, 9 TD, 6 INT, 6.5 YPA, 64.9% completion rate
Prescott turned in his worst performance of the season against the Football Team back in Week 14. The Cowboys will need him to get back to looking like the world-beater we saw for the first six weeks of the season if the squad hopes to make it deep into January.
Tagovailoa hasn't exactly had the easiest time this season working behind PFF's 31st-ranked offensive line in PFF pass-blocking grade. DeVante Parker, Jaylen Waddle (COVID, IR) and Will Fuller (finger, IR) have also all missed time at one point or another.
And yet, Tagovailoa has been one of the league's more accurate deep-ball passers. Overall, only Matt Ryan (61.1%) and Kyler Murray (60.4%) have a higher adjusted completion rate than Tagovailoa (59.1%) when targeting receivers at least 20 yards downfield. He has averaged a league-high 20.1 yards per attempt on these passes, as he generally gives contested-catch artists Parker and Mike Gesicki consistent opportunities to win in 50/50 situations.
It'd make sense he has a tougher time than usual against a Saints defense that just shut out Tom Brady but just realize Tagovailoa deserves credit for largely making the most out of a rather mediocre offense.
Hill has posted the following rushing lines in his five career starts under center:
Week 11, 2020: 10 carries-49 rush yards-2 TD
Week 12, 2020: 10-44-2
Week 13, 2020: 14-83-0
Week 14, 2020: 5-33-0
Week 13, 2021: 11-101-0
Week 14, 2021: 11-73-2
Week 15, 2021: 11-33-0
The latter performance marked the first time that Hill didn't function as a fantasy football QB1, so it makes sense that this occurred against the Buccaneers' juggernaut of a front-seven. Don't expect him to struggle against a Dolphins run defense that has posted middling marks in yards per carry (4.3, 18th), explosive run play rate (13.1%, 23rd) and rush yards after contact per carry (3, 24th).