The main thing to remember about Week 1 in fantasy football is that it was Week 1 in fantasy football. It set the stage for the season, yes, but it's only one data point. Because it's our only data point so far, it feels particularly meaningful, but in reality a lot of what we think we know is just small sample noise.
But that doesn't mean all of it is! Each week in this space, I'm going to run through some of the biggest lessons and takeaways from the week that was in fantasy. For Week 1, I'm going to hit every team, at least in passing, and point out the things that I think do mean something, and the things that I think don't.
Green Bay
What I think is real: Aaron Jones outsnapped Jamaal Williams 37-24. Williams is going to be a part of this offense, but it's Jones' job. … Jimmy Graham saw three targets in the red zone, two in the end zone. He's going to be this team's top weapon down deep, especially if he can convert like he did Sunday.… At the risk of veering into confirmation bias, I said all offseason thatMarquez Valdes-Scantling is the No. 2 Packers receiver you want over Geronimo Allison, and that looks to be very true. Maybe it's not "9.2 points to 0" want — Allison played 30 snaps compared to MVS' 41 — but there's a clear No. 2 WR in this offense, and there's a clear No. 3.
What I don't: Davante Adams' worst PPR game of 2018 was 16.0 points. He had 7.6 Thursday. Relax. He'll be fine.
Chicago
What I think is real: Allen Robinson is real, real good. … The Chicago backfield was confounding, with David Montgomery getting 27 snaps, Mike Davis 40, and Tarik Cohen 51. By opportunities (carries plus targets), it was, respectively, 7, 12, and 8. Montgomery will get more play as it goes on, but this backfield is going to be more confounding than conventional wisdom would have had you believe. … We'll see if there were injury concerns, but as it stands, the fantasy community might have been too enthusiastic about Anthony Miller this offseason. Cohen looks like the team's slot receiver.
What I don't: Mitchell Trubisky isn't very good, but he's better than that. If you drafted him as a mid-to-low QB2, he'll offer that in the long run.
Tennessee
What I think is real: The last time Marcus Mariota had more than two passing touchdowns in a game was in Week 10 of 2016 against the Packers, when he threw four. But Sunday, he managed three passing touchdowns, and while that might not be his every-week ability, he's going to have more passing success. … Delanie Walker's back.
What I don't: Corey Davis might ultimately never become what he was meant to be when the Titans spent the fifth overall pick on him in 2017, but he's not "zero receptions" disappointing. Denzel Ward's a really good cornerback. They won't all be him. … Derrick Henry had a perfectly fine day rushing, with his touchdown saving him, but the 75-yard touchdown reception is where he really made his fantasy bones, and no, that's not going to be a thing.
Cleveland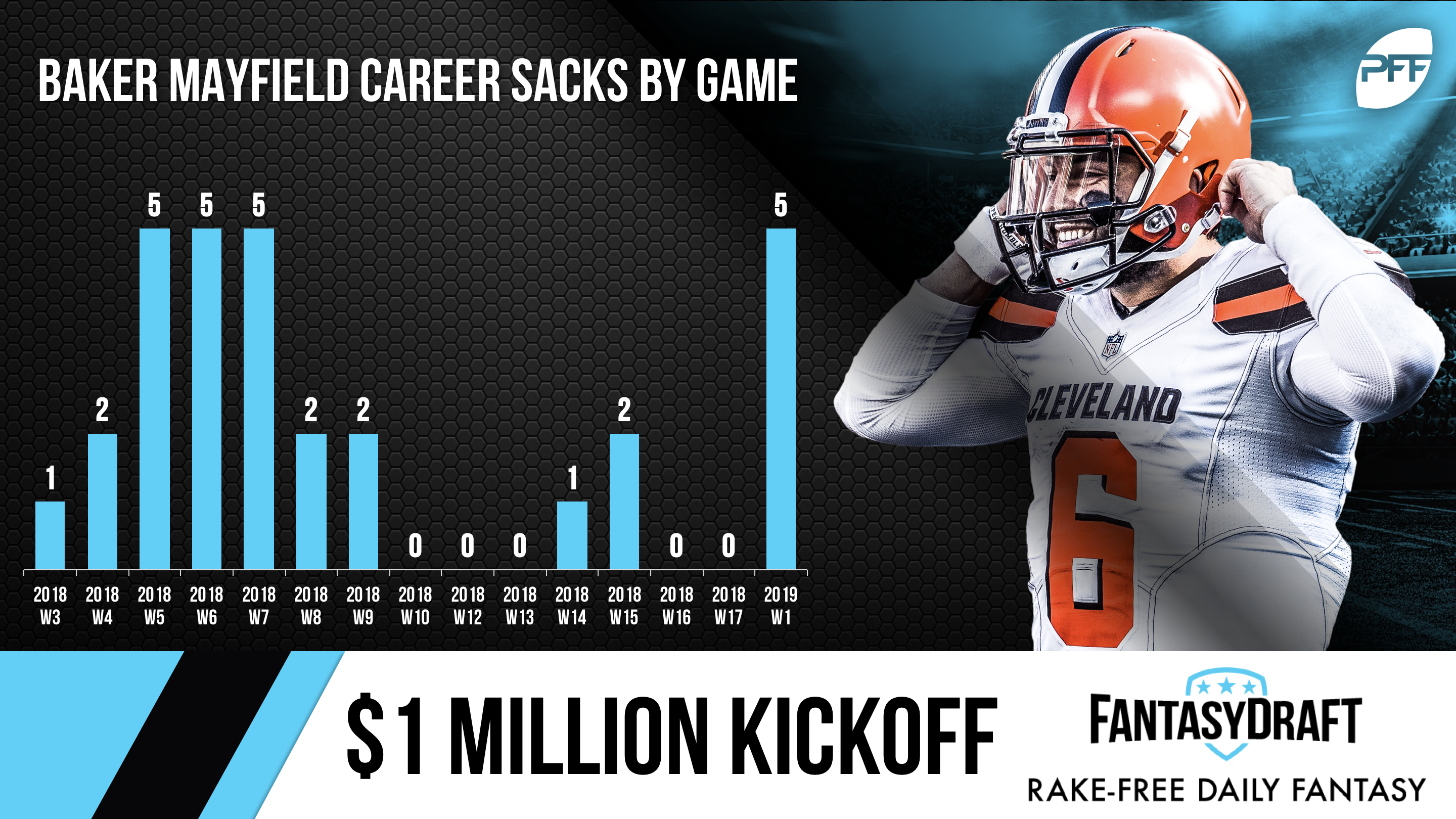 What I think is real: The Browns line is going to be a problem. Baker Mayfield was sacked three times over his last seven games of 2018, then was sacked five times Sunday. The Browns' offense should be fine overall, but the line is going to need some work.
What I don't: Everything but the offensive line. Mayfield had an awful game, Nick Chubb and Odell Beckham Jr. had meh outings, there was nothing that indicates the Browns are going to be a stud team in 2019. But the team is better than this
Baltimore
What I think is real: Lamar Jackson isn't going to throw five touchdowns passes and put up a perfect passer rating every week, obviously. But he showed some excellent touch Sunday, and people who wrote him off after last year were premature. … Mark Ingram and Gus Edwards combined for 31 carries, but Ingram averaged almost 2.5 times as many yards per carry. Edwards is nothing special, while Ingram definitely could be.
What I don't: Marquise Brown is definitely electric, but that was 147 yards, 2 touchdowns and 5 targets on all of 15 snaps. He's certainly earned more playing time, but it's going to have to shoot up for him to be worth what his stock suddenly is.
Miami
What I think is real: Everything. This team is really bad.
What I don't: I guess Kenyan Drake should average more than 12 rushing yards a game? Kalen Ballage should gain more than -0.2 yards per carry? Play your players against Miami, friends.
Minnesota
What I think is real: Dalvin Cook is real. Dalvin Cook is so, so real. … The Vikings led throughout, put up 28 points, and Kirk Cousins passed it 10 times. That might be on the extreme, since they did lead from the fourth minute of the game until the end, but this is going to be a run-heavy offense.
What I don't: Even if the team is more run-heavy than we're used to, it's hard to imagine a Vikings team where Adam Thielen and Stefon Diggs combine for five targets.
Atlanta
What I think is real: I'm officially worried about Devonta Freeman. After basically a lost 2018, he came back in Week 1 with 2.4 yards per carry on eight carries. He's improve, but the days of Star Devonta Freeman might be behind us.
What I don't: Matt Ryan ended up with a respectable 304 yards and 2 touchdowns (and two picks), but he couldn't get anything going early on. Remember, he had an awful Week 1 last year, too. He should be fine. … Julio Jones caught six of his 11 targets, but for only 31 yards. Xavier Rhodes is really good. Those two things are connected.
Buffalo
What I think is real: Bad Josh Allen. He had two interceptions, two lost fumbles, and more mistakes that the Jets couldn't capitalize on. He's just not very good. … John Brown did what most of us thought Brown would do, scoring a long touchdown and leading the team in targets. He'll be hit and miss, but the hits will be good.
What I don't: Good Josh Allen. In the fourth quarter, he led two scoring drives to ultimately win the game, rushing for one touchdown and connecting with Brown on the game-winning score. But there is just too much that is a mess about his game right now.
New York
What I think is real: After spending all preseason telling us Le'Veon Bell would not be a full-time back and we'd be seeing plenty of Ty Montgomery, Bell ended up playing all of the Jets' offensive snaps. He had 17 carries and 9 targets. Meanwhile, Montgomery had two carries and no targets. We have a bell cow.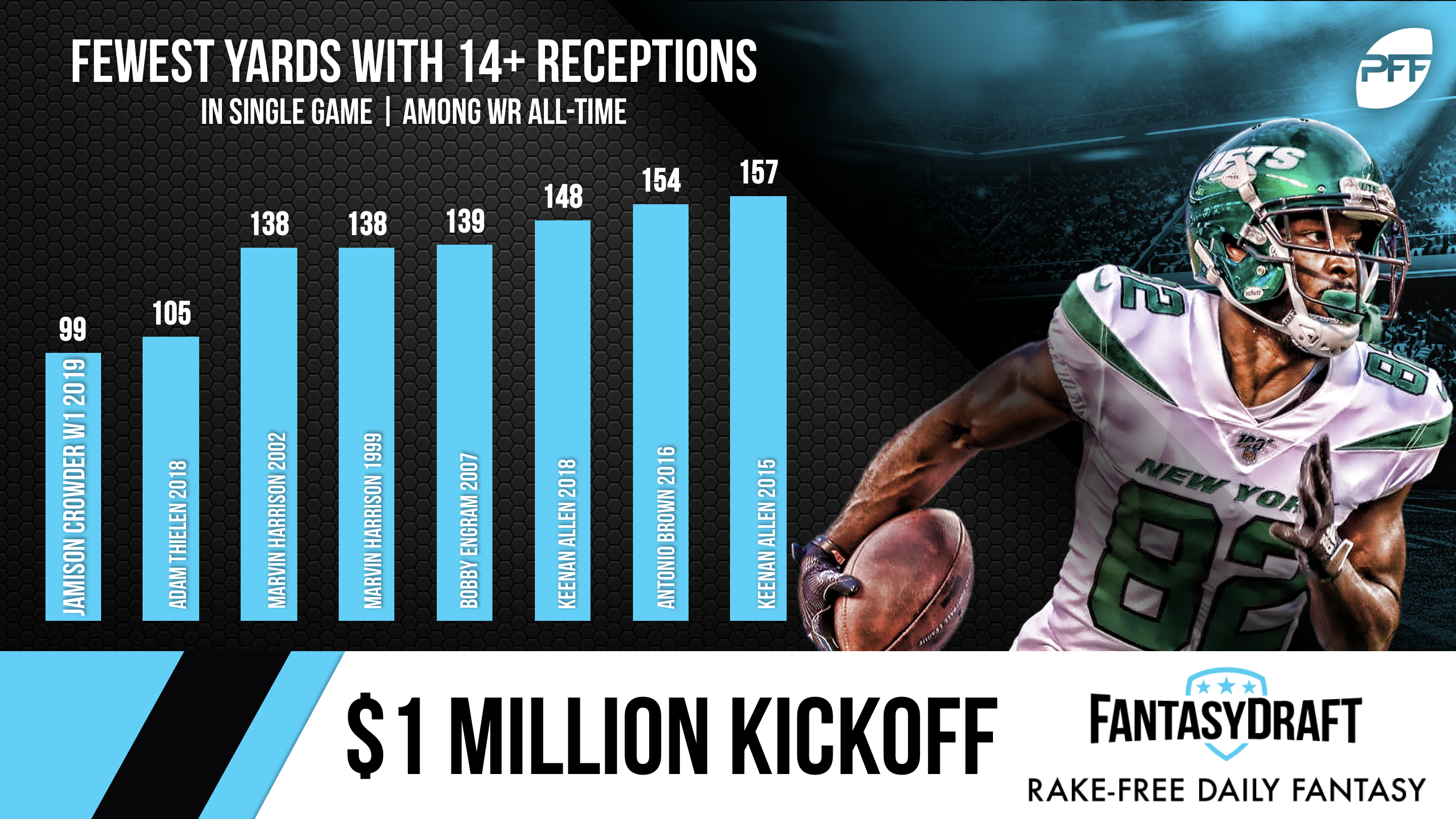 What I don't: Jamison Crowder had 14 receptions on 17 targets. For 99 yards. He's a patented underneath option, so he's never going to be a massive yards-per-reception or yards-per-target guy, but if he continues getting that sort of target load (and he should), his yardage will skyrocket.
Philadelphia
What I think is real: This is Miles Sanders' backfield — barely. Sanders and Darren Sproles tied for the Eagles' RB lead in touches at 12, while Jordan Howard had 8, but Sanders had about as many snaps (36) as Sproles and Howard combined (39). He's a rookie in his first game, so you'd have to think he'll only see more work. … Welcome back, DeSean Jackson. He'll have this sort of game on occasion. It's who he is.
What I don't: Nothing much, really. Other than the order of events — falling behind and a mad comeback — I think this is about what we can expect from the Eagles for fantasy in 2019.
Washington
What I think is real: As long as Jordan Reed is out, Vernon Davis is at least worth a look as a TE streamer. He might not have any more touchdowns like that (and I hope you saw it, it was amazing), but the old guy has some left. … Derrius Guice dominated work out of the backfield, with 10 of the team's 13 carries, but he put up only 18 yards. The Washington line is a mess, especially with Trent Williams still out, and we saw just last year that a running back's first year back from an ACL tear can be questionable.
What I don't: Don't get me wrong, Case Keenum has a role in the NFL. But that role is not "380 yards, 3 touchdowns, 0 interceptions." He's going to come crashing back to earth.
Los Angeles
What I think is real: The defense. Yes, the Rams ended up giving up 27 points to Carolina, but Cam Newton accounted for very little of that, with 239 passing yards, no touchdowns, and an interception, plus negative rushing yardage and a lost fumble. As I noted Saturday, the Rams are just a different matter when Aqib Talib is on the field (about half as many fantasy points per game allowed to quarterbacks last year when he was active). … Darrell Henderson might not have much value after all.
What I don't: Hold off on the panic button on Todd Gurley. Yes, it was very frustrating to see Malcolm Brown get both of the team's rushing scores, but Gurley still had 97 rushing yards on 6.9 yards per carry, and he played 70.8% of the team's snaps (Brown played only 26.4%). Gurley's ceiling isn't what it used to be, and I am worried about him for the season, but I'm not over the edge yet.
Carolina
What I think is real: Christian McCaffrey is really good. He had 209 total yards, two scores, and 30 combined opportunities (carries plus targets). He was my No. 1 player overall entering the year, and that isn't changing.
What I don't: It'll get better for Newton after this game, and that means it'll get better for D.J. Moore and (especially) Curtis Samuel too.
Kansas City
What I think is real: Two of Sammy Watkins' three scores came with Tyreek Hill on the field, but with Hill out for an indeterminate amount of time, Watkins is a bona fide WR2, with WR1 upside. It helps to play with Patrick Mahomes. … Damien Williams had three more carries than LeSean McCoy and he got the rushing score, but McCoy averaged 8.1 yards per carry compared to 2.0 for Williams. Yep, it's going to be confounding.
What I don't: Only three receptions for Travis Kelce? Especially with Hill out, he'll come down with a lot more balls going forward.
Jacksonville
What I think is real: If all goes right, this team could have a legitimately upper-tier receiver group, with Dede Westbrook, D.J. Chark, and Chris Conley, plus Marqise Lee when he's 100%. Chark getting 146 yards on only 4 targets might be over his head, but this is a talented group. … Leonard Fournette got 13 of the team's 16 carries, including 13 of 14 that went to running backs. We knew it's be a bell-cow situation, and it really is.
What I don't: Gardner Minshew was only the No. 8 quarterback (No. 169 overall) on our 2019 draft big board. He can certainly be a competent quarterback, perhaps a genuine Nick Foles replacement. But don't go crazy in FAAB expecting 22-of-25 passing or a 122.5 passer rating.
Los Angeles
What I think is real: Uncle. I was the dissenting voice on Austin Ekeler entering Week 1, citing his reduced efficiency when he's had a high snap count, only for him to put up 153 yards from scrimmage and three scores. I still worry about his rushing ability (Justin Jackson had virtually the same number of rushing yards on half as many carries), but he's proven he's a borderline RB1 as long as Melvin Gordon is gone. … Mike Williams got hurt in this game, but he only had three targets before that, and I'm not sure he'll see a lot more than that when Ekeler, Keenan Allen, and Hunter Henry hanging around.
What I don't: Not much. Ekeler aside, there wasn't much that stood out for fantasy for the Chargers.
Indianapolis
What I think is real: Jacoby Brissett isn't Andrew Luck, but he's better than he looked two years ago. He's going to be a competent contributor. … We saw as the preseason went on that Marlon Mack might have more of a bell-cow role in this offense than he did last year, and that came to fruition Sunday as Mack had 25 carries compared to 4 carries and 4 receptions for Nyheim Hines. He's played himself back into mid-to-high RB2 territory, even with Luck gone. … Devin Funchess is hurt, and it sounds like it'll be a while. Deon Cain out-targeted Parris Campbell Sunday, and I would not be at all surprised if that continues.
What I don't: Jack Doyle and Eric Ebron combined for two receptions for 28 yards. Brissett has always been a TE-happy quarterback. Expect one or both of the Colts tight ends to see a spike.
Seattle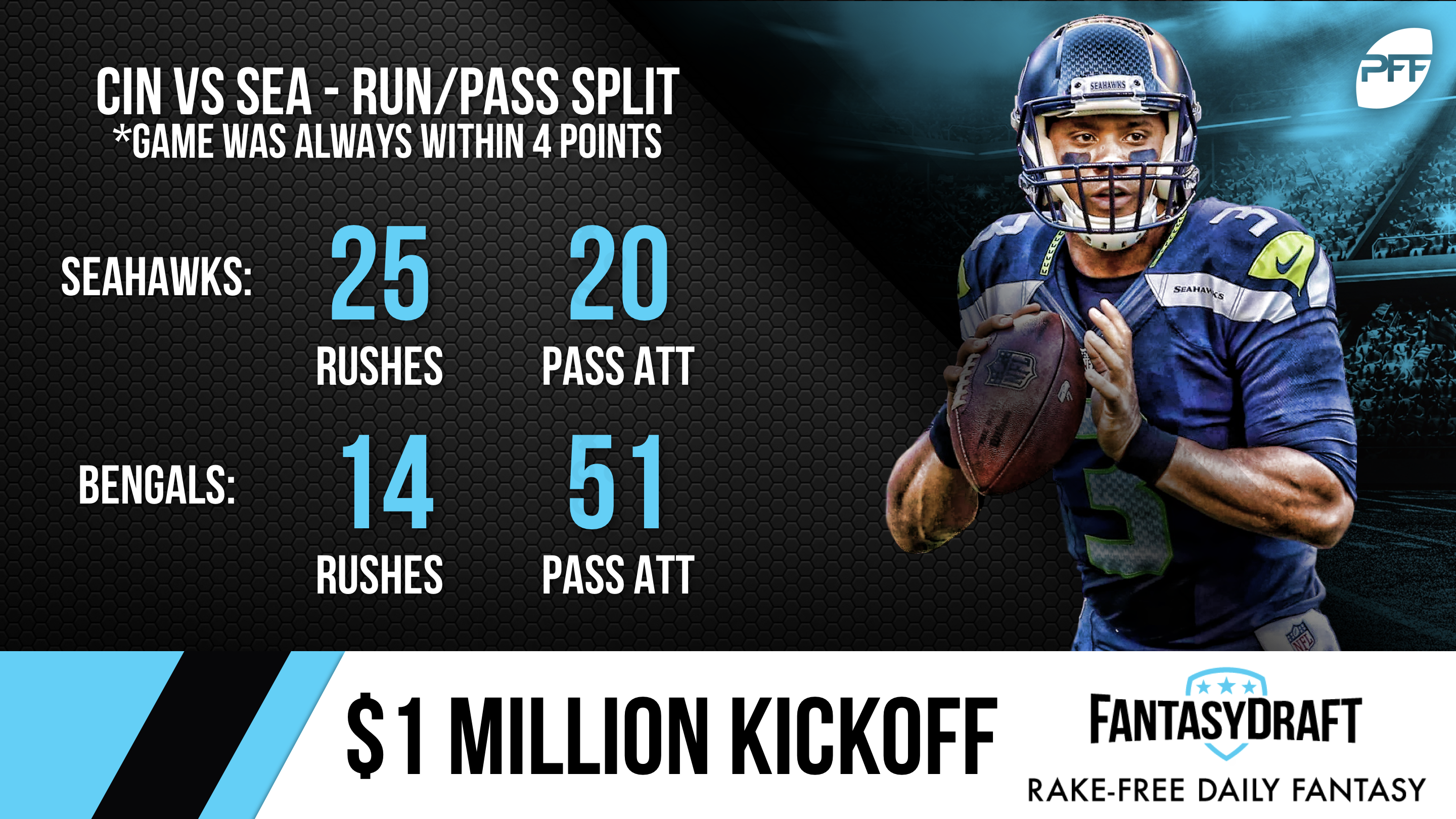 What I think is real: Even in a game that never saw more than a four-point lead in either direction, the Seahawks didn't call that many passes (25 rushes, 20 pass attempts; Cincinnati's split was 14:51) — that's going to cap the upside on every member of this passing offense. D.K. Metcalf was the only wide receiver who saw a target until the first play of the fourth quarter, and he and Chris Carson were the only Seahawks with more than two targets at all. Be wary about investing in this passing game at all. … Carson saw 15 carries and 7 targets, compared to 6 and 0 for Rashaad Penny. It's his job.
What I don't: If this game is any indication, Metcalf is the No. 1 receiver over Tyler Lockett. It's just hard to imagine that's going to be true going forward.
Cincinnati
What I think is real: Can I split the difference? I do think John Ross has more upside than he's ever shown before now that he has Zac Taylor bringing the Rams' offensive influence, but 12 targets, 7 receptions, 158 yards, and 2 touchdowns? He's better than he was before, but he's not a superstar. … For however long Joe Mixon is out, Giovani Bernard should obviously be one of the prime waiver wire pickups.
What I don't: Andy Dalton, 418 yards? Yes, Mixon's injury changed the gameplan, but that's just hard to fathom.
Dallas
What I think is real: Michael Gallup was a prime breakout candidate, and while 158 yards (what is it with receivers getting 158 yards Sunday?) is obviously over his head, this receiver group is more of a two-headed monster than it was last year.
What I don't: Jason Witten is not back, don't buy into that touchdown. … Ezekiel Elliott and Tony Pollard each had 13 carries. Don't expect any kind of a split; Elliott will get his full workload back. … Dak Prescott is good, but 405 yards and 4 touchdowns? He'll slip back.
New York
What I think is real: Evan Engram could legitimately lead all tight ends in targets this year. His ceiling is really high.
What I don't: Wayne Gallman is not going to get Saquon Barkley's touchdowns. … Cody Latimer is not going to out-target Sterling Shepard.
San Francisco
What I think is real: George Kittle is still a superstar. His final line of 54 yards on 8 receptions is somewhat pedestrian, but he had two touchdowns called back on penalties. He could have had a monster day. … Even if Tevin Coleman is out for a while, this isn't going to be a one-man backfield, Raheem Mostert is going to have a big role as the 1B to Matt Breida's 1A. … Yes, I'm officially a bit concerned about Jimmy Garoppolo.
What I don't: The 49ers receivers aren't going to be this confusing all year. Only Deebo Samuel had more than one reception among the team's receivers, nobody topped three targets, only Richie James Jr. topped 20 yards. We'll get more clarity. When that happens, I'm not as sure. (It is worth noting that it definitely doesn't look like only-played-two-snaps Dante Pettis is going to be a stud.)
Tampa Bay
What I think is real: Ronald Jones looked like an actual, genuinely competent NFL running back. He had more rushing yards Sunday (75) than he did in his entire rookie year last year (44). By snap share, he, Peyton Barber, and Dare Ogunbowale were all pretty even (he actually played the fewest snaps), but he was the best of the bunch, if not by that much. This should be his backfield in not much time.
What I don't: Look, nobody at this point thinks Jameis Winston is actually good. He's always going to throw interceptions, and he's going to have blow-up games. But this was obscene. He'll put up better fantasy numbers through sheer quantity. … Mike Evans had a disaster game, but keep in mind he was dealing with an illness up until gametime. Better days are ahead.
Detroit
What I think is real: This backfield is going to frustrate us. With an excellent gamescript, Kerryon Johnson got 16 carries, compared to 11 for C.J. Anderson. Neither topped 3.2 yards per carry. If we don't get more clarity than that, it's going to be hard to invest in either guy as any kind of real fantasy asset. … The team probably won't pass as much going forward as it did Sunday, but it seems clear this is going to be a four-headed monster for targets between receivers Kenny Golladay, Marvin Jones, and Danny Amendola and TE T.J. Hockenson. When the pass attempts fall, these guys might cannibalize each other.
What I don't: Matthew Stafford, 45 pass attempts. That was the veteran's most pass attempts in a game since Weeks 1-2 last year, and we can't expect that to continue. It was as much a product of Arizona's mess at cornerback as it was the way the Lions want to play. … Hockenson is more ready for the league than I guessed. He's legit. The problem is the aforementioned run-heavy offense. He's going to be good. He's not going to be anywhere near this good.
Arizona
What I think is real: Kyler Murray is going to have growing pains. He was something of a mess in the first half behind a bad offensive line and going against a strong defensive line before things clicked in the fourth quarter. His final line (308 yards, 2 touchdowns, about 20 fantasy points) looks good, but it's going to have ups and downs. … There are going to be a lot of targets to go around for Arizona. Five different players — Larry Fitzgerald (13), Christian Kirk (12), KeeSean Johnson (10), David Johnson (7), and somehow Damiere Byrd (7) — had at least seven targets. Gamescript called for some of that, but there are going to be a lot of passes.
What I don't: For the most part, this seems legitimate. I do think we'll see more Andy Isabella as the year goes on (he didn't even have a target), but he's not someone who needs to be rostered in fantasy right now.
New England
What I think is real: Take this already-powerful offense and add Antonio Brown? The Patriots are going to score a lot of points in 2019, friends. A lot. … We'll be seeing a fair amount of Rex Burkhead this year.
What I don't: If all you watched is Sunday's game, you'd think Phillip Dorsett is the No. 1 receiver in New England, and c'mon, no he's not. … Sony Michel getting 15 carries is good! Sony Michel getting 14 yards on those carries is not. Better days are ahead.
Pittsburgh
What I think is real: James Conner handled 10 of 12 backfield carries for the Pittsburgh and had four of the five receptions. It's still a one-man job. … People were all-in on Vance McDonald, but I held out, and I just don't think he has full-year top-10 upside.
What I don't: Donte Moncrief was the clear No. 2 receiver, playing 60 snaps compared to 47 for Ryan Switzer and 35 for James Washington. But — and we'll see what his grade was like when grades are finalized — he played really bad. That sort of snap share won't hold unless Moncrief starts playing a lot better, and soon.