When building DFS lineups for fantasy football, knowing who to play is crucial. But perhaps just as crucial is knowing who not to play, which players you should cross off your list for that slate. Paring down the player pool makes the rest of the lineup decisions that much easier.
Each week in this space, using the information and data available to PFF subscribers, I'll highlight the players in that week's main slate that I think should be crossed off for that week, or at least used very sparingly. These are the Week 1 fades.
Quarterback
The main thing working in Wilson's favor as far as passing quantity entering the season was the fact that the Seahawks defense might get worse and lead to worse gamescripts. Jadeveon Clowney's arrival seems to answer some of that, and even without that, facing the Bengals in Week 1, the team was never going to have a pass-favorable gamescript regardless. Expect a lot of carries for Chris Carson, a few for Rashaad Penny, and not a lot of production for Wilson.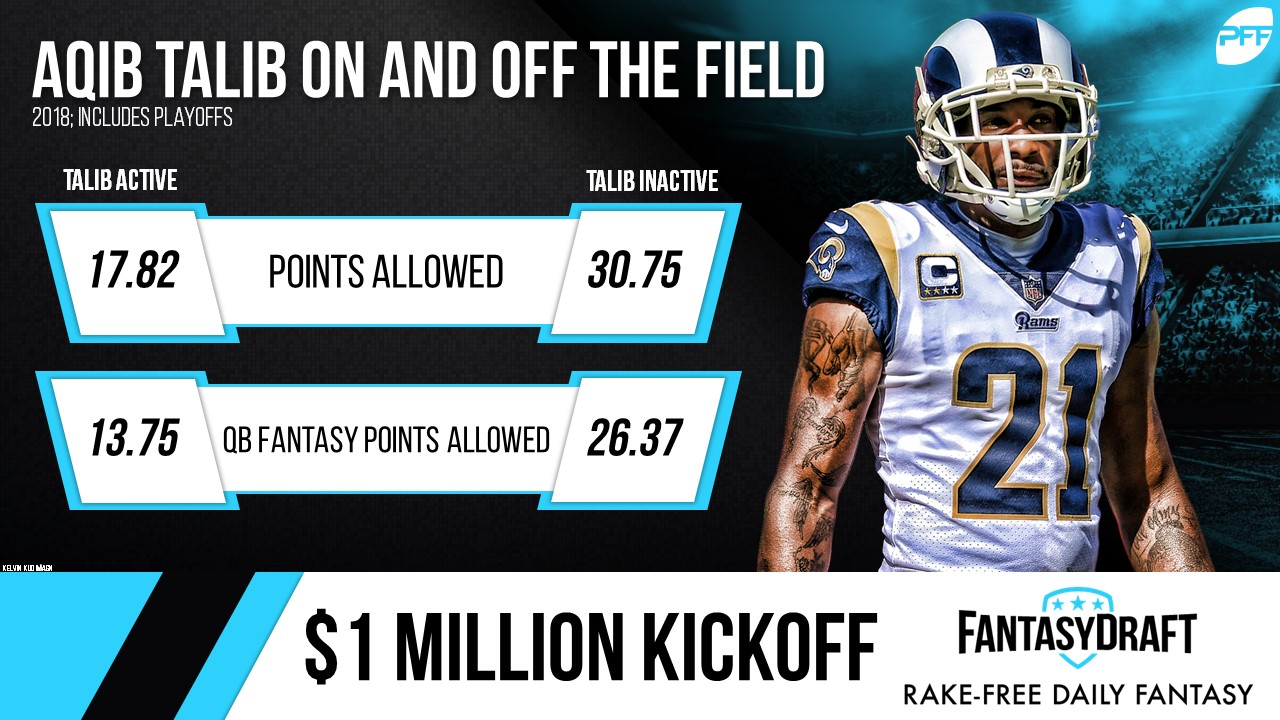 Counting the postseason, Aqib Talib played 11 games last year, sandwiched around an ankle injury that sent him to injured reserve in Weeks 4-12. In games Talib missed, the Rams allowed 30.75 points and 26.37 QB fantasy points per game. In games Talib played, those numbers dropped to 17.82 and 13.75, respectively. With Talib, this is a different defense, and not one you want to go against, especially with a quarterback coming off injury.
A subpar offensive line isn't necessarily a total dealbreaker for a running quarterback like Murray promises to be. But the combination of Arizona's 30th-ranked line and opposing Detroit's formidable defensive front that could be the league's best in 2019 is just an awful one for the rookie's debut. We'll check in on Murray later in the season to be sure, but for Week 1 I'm steering very clear.
Running back
Ten carries, 32 yards. That was Le'Veon Bell's Week 1 line in 2017 after he sat out all of training camp in a situation very reminiscent of Elliott's this year. And yes, they are different players and different situations, but I can't shake that memory, and the associated memory that people were all in on Bell in that game. "Come on, it's Le'Veon Bell." "Come on, it's Ezekiel Elliott." Come on, give 'em a week.
I've written about my concerns with Ekeler's potential workload at length this week, so I'll address different, but obviously not unrelated, points here. First, the Chargers offensive line was our No. 29 unit when we thought Russell Okung would be on the field. Take him out and it's even worse. Second, the Colts haven't allowed a 100-yard rusher since Week 15 … of the 2017 season, when C.J. Anderson did it. And third, that Colts run defense improved this offseason with the arrival of Justin Houston. Ekeler scares me.
Henry, on the road, against a good team, that has a strong defensive front, which has only gotten better this offseason, and Taylor Lewan is suspended? And even without all that … The Bills spent all offseason saying LeSean McCoy wouldn't be cut, but savvy observers noted them add Frank Gore, T.J. Yeldon, and Devin Singletary and read the tea leaves. Well, the Titans spent all offseason saying they'd be run-heavy, but their run-heavy OC left, he was replaced with a TE coach, and they added two big-name pass-catchers. This team is going to throw.
Wide receiver
The Chiefs have played the Jaguars twice in Hill's career, and he's seen shadow coverage from Jalen Ramsey both times. In those two games, he's combined for 7 catches on 12 targets for 72 scoreless yards. The game against the Jaguars last year was the only one all year in which Patrick Mahomes didn't throw a touchdown pass (and one of only two where he didn't throw multiple scores). Hill might be appealing as a tournament play on the chance he breaks off one of his big plays of two, except that our DFS ownership projections have him as the fourth-highest-owned player in FanDuel this week, fifth in DraftKings. So he doesn't even make sense as a contrarian option.
Diggs' appearance on the injury report has to give fantasy players pause. He's averaged under 10 PPR points per game in his career in games he's been on the injury report, compared to more than 15 when off it. Even if it turns out to have just been a full-disclosure thing for Week 1, he's not worth the risk.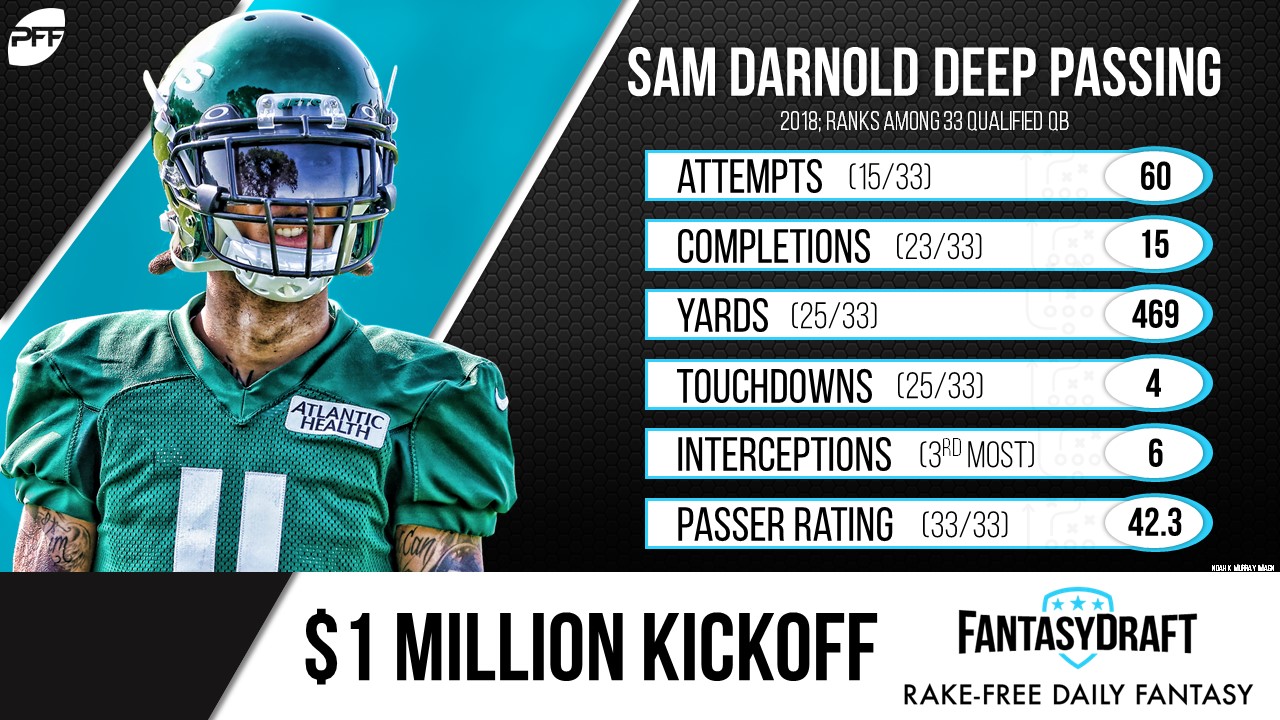 Among 33 quarterbacks with at least 200 attempts last year, Sam Darnold attempted the 15th-most passes targeted 20-plus yards downfield, at 60. That's clearly middle of the pack. He had 469 yards on those passes (25th), four touchdowns (tied for 25th), six interceptions (tied for the third-most) and put up a 42.3 passer rating on those attempts (worst). Anderson has a garbage cornerback slate this year starting right away in Week 1, and his bread and butter is the area his quarterback was worst at last year.
Ridley ranked top-20 in the league last year in yards after the catch per reception (5.73, 17th among qualified receivers). Per our WR/CB matchup chart for Week 1, he's likely to draw the lion's share of his coverage in Week 1 from Trae Waynes, who allowed only 90 yards after the catch, 2.50 per reception. Waynes' presence could undercut Ridley's after-the-catch production.
Tight end
As I mentioned in Frday's piece on Week 1 DFS locks, this week seems like a particularly strong one for the top six tight ends, and I'm unlikely to build many (if any) of my main slate lineups without those guys. But for those who want to delve deeper, there are some guys I'm wary of…
The downgrade of the Andrew Luck retirement might be offset by the upgrade that comes with the Derwin James injury, but Jack Doyle's presence still makes Ebron a non-starter for me. Unless we see evidence that he's leapt Doyle in the snap share (evidence that we definitely did not see when both were healthy last year), Ebron is a tough play in DFS.
As appealing as I find Matthew Stafford and the Lions' wide receivers in Week 1, Hockenson is a different story. The Cardinals allowed touchdowns to tight ends in Weeks 1-2 last year, then only one more the rest of the season, including holding George Kittle, Travis Kelce, Austin Hooper, and Kyle Rudolph scoreless. Kittle was the only tight end to top 60 yards against them. Patrick Peterson's suspension and Robert Alford's injury opens up the receivers, but Budda Baker and company will still be there to guard against the rookie tight end in his first career game.