(Metrics that Matter is a regular offseason feature that examines some aspect of fantasy through a microscope to dive into the finer details.)
Throughout this series we've focused mostly on PFF's Signature Stats and how they relate to fantasy football and what they mean for the 2018 fantasy season. In our last article, we shifted our focus to PFF's grades and the quarterback position. We identified a few quarterbacks who stood out as having a surprisingly high or low PFF grade and provided some analysis as to whether that made them overvalued or undervalued in current drafts. Today, we'll do the same but focusing on the running back position.
To access our 2017 season-long grades (if you're an Edge or Elite subscriber) you can go here. If you'd like to read more about our grading process, click here. If you'd like to hear a few personal anecdotes as to how our grades helped me spot a few breakout candidates before the rest of the fantasy world, I'll refer you back to the intro in our last article here.
Without further ado, here are the five running back grades I found to be most surprising.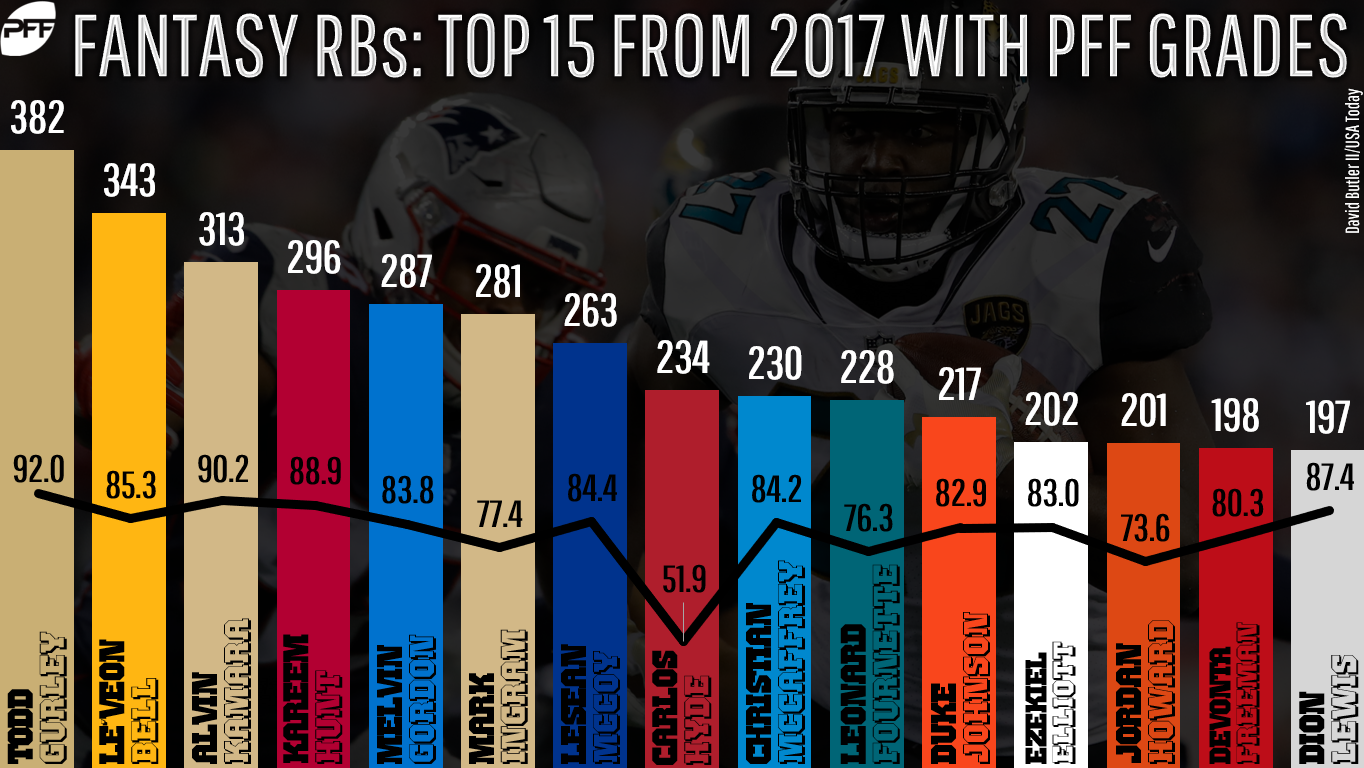 I've been one of Fournette's biggest critics since last offseason, when I argued Dalvin Cook was the superior player in college. I doubled down halfway through last season, when I noticed a bulk of Fournette's efficiency relied on two fluky 75-plus-yard runs. After pointing this out, he averaged just 3.22 yards per carry for the remainder of the season. Fournette also ranked low in a number of other per-carry stats. His biggest proponents claimed the issue was constantly running against stacked boxes, but I found even that didn't help his cause. On top of all these metrics, he graded out just 30th in PFF grade, only one spot ahead of Wayne Gallman. While I do think Fournette might be a tad overrated as a pure talent, and am worried Corey Grant and T.J. Yeldon might eat into more touches this year, he did play hurt for part of last season and has shed a significant amount of weight this offseason. He also has the benefit of an extremely attractive fantasy role, playing for the run-heavy Jacksonville Jaguars. Their elite defense should give the offense strong field position and good game-script. Despite my concerns, I have Fournette ranked as my eighth running back in non-PPR leagues, just one spot below his current ADP.
Like Fournette, there are a number of concerning efficiency metrics for McKinnon. He ranked below average by a number of different per-carry stats last year. Prior to 2017, he never significantly outsnapped Matt Asiata and his 3.5 career yards-per-carry average. Although his stats look underwhelming, he did grade out eighth-best among running backs last year. He also landed in an ideal situation. Kyle Shanahan has always been a boon to his running backs (wherever he's coached) in terms of efficiency, and he gave our 50th-graded running back Carlos Hyde 240 carries (11th-most) and 88 targets (fifth-most) last year. With Jimmy Garoppolo now under center, general team efficiency and scoring opportunities should improve, and volume should be a lock given McKinnon's hefty contract (fifth-highest among running backs).
Collins was our No. 1-graded running back on the ground last year. That's quite the accomplishment for a player who was drafted in the fifth-round in 2016 and then cut in the following season by the running back-starved Seattle Seahawks. He also ranked 10th-best of 53 qualifying running backs in PFF elusive rating. The small sample size, the lack of a pedigree, and the fact he was cut by his former team are all concerns. He's unlikely to see much work as a receiver and that will hurt in games with negative game-script, but given how well he performed last year, he should still be the favorite for early-down work in 2018.
Christian McCaffrey was one of PFF's six highest-graded runners in each of his last two seasons in college and totaled 6.1 yards per carry over this stretch. I'd love to project a bell-cow workload for him in Year 2, but after the team signed Anderson, I think that's unlikely. Anderson was our fifth-highest-graded runner last year, while McCaffrey ranked 34th (though No. 3 as a receiver) and Jonathan Stewart ranked 46th. Over the past four seasons, Anderson is one of only four running backs (of 28 to qualify) to rank top-10 in yards per carry, missed tackles forced per attempt, and yards after contact per attempt. With McCaffrey handling the bulk of the receiving work and Cam Newton still likely to steal goal-line rushing attempts, Anderson isn't high on my list of draft-day targets, but this does put a dent in McCaffrey's fantasy stock.
Last season, Lewis ranked as our fifth-highest-graded running back-overall and sixth-highest-graded running back on the ground, while Derrick Henry ranked 21st- and 17th-best, respectively. DeMarco Murray leaves behind 184 carries and 47 targets in the wake of his departure. While Henry should assume the bulk of the early-down work, I wouldn't be surprised if the rushing split is closer than most suspect, while Lewis dominates passing-down work. Dating back to college, Henry has rarely ever been used as a receiver, and I don't expect that to change in 2018. Lewis certainly doesn't have the body type (like Henry has) that implies he can handle a large workload on the ground, but he has been highly effective on his carries. Last season, Lewis ranked top-five in missed tackles forced per attempt and yards after contact per attempt, as he did in 2015 as well. With targets being worth so much more than carries, as well as Tennessee handing him the 11th-highest contract among running backs, I suspect Lewis is currently the better value at ADP (RB28 to RB18).