(Metrics that Matter is a regular offseason feature that examines some aspect of fantasy through a microscope to dive into the finer details.)
Three weeks ago, two weeks before the first day of spring, I awoke to what would eventually mount to 24 inches of snow on the ground. Despite the hazardous weather conditions, my roommate had to commute two hours to work in his 14-year-old two-wheel-drive Honda Civic. He sent me a wake-up text describing his arduous voyage, barely able to see through the snow and dangerously drifting when traffic wasn't at a standstill, though it often was.
I sent him a video in return, with the caption, "Yeah, brutal commute this morning." The video was of me, adorned in sweatpants, walking from my bedroom, through the kitchen, to the couch in my living room, where I would eventually sit down, plop my laptop on the coffee table, and put on ESPN, as per my morning routine. On any given day, this is my morning commute. He was, understandably, outraged and deeply offended, but it only made me laugh harder.
This is one of the many perks of my job. However, it's not all sunshine and lollipops. For instance, the below chart, when posted on Twitter, only received moderate levels of enthusiasm, despite the fact it took me two days to compile. I was also brought to a soul-crushing state of melancholy after humbling myself reading this brilliant article (one of many) by Adam Harstad, which inspired today's statistical dive, but tackles something slightly different (though I highly recommend still reading).
I was curious how various positions perform for fantasy at various stages throughout their careers. Do running backs really have the shortest shelf-life? When do wide receivers hit their peak? Is the sophomore season really the time to look for breakout seasons by tight ends?
My methodology was fairly simple, despite taking me a few days to realize. We're looking at all players between 2000 and 2017, who had at least one season totaling 1,000 or more yards from scrimmage and had their rookie seasons within our sample. I then looked at these players throughout their careers, took their average fantasy points per season, and contrasted that with their actual fantasy points in that year of their career.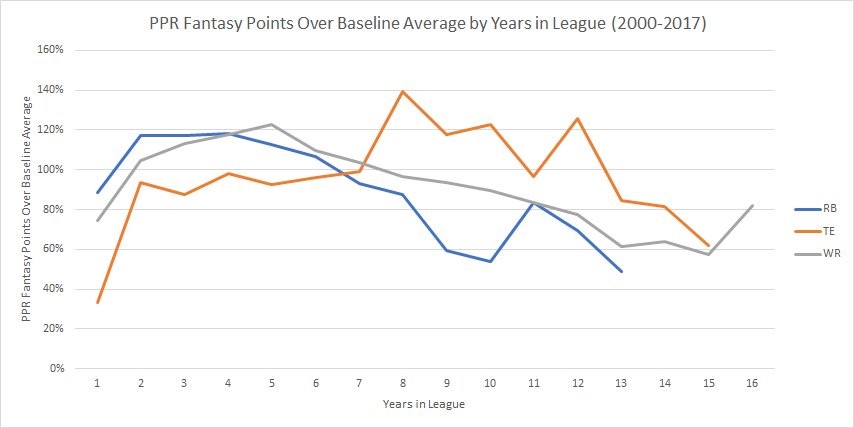 Running backs
With running backs, the common narrative holds true. Running backs are most valuable for fantasy during their rookie contracts, and then experience a significant dropoff in every subsequent season. Rookie running backs outperform rookie wide receivers and tight ends, scoring 88 percent of their baseline average in rookie seasons, while those numbers sit at 74 percent for wide receivers and 33 percent for tight ends.
Although this analysis is based purely on fantasy points and not on something more substantive from a real-NFL perspective, I do think it's typically wiser to invest in running backs via the draft than in free agency. From a fantasy perspective, the takeaway is fairly straightforward. Running backs have a lower shelf-life, and it would be wise to move off of older backs in dynasty before the decline, while their value is highest (typically after year four).
Carlos Hyde (age 27), Devonta Freeman (age 25), and Jerick McKinnon (25) are the three most notable names among running backs who have just completed their fourth year in the NFL. I'm high on McKinnon after landing in a dream spot with Kyle Shanahan and the 49ers, but so is everyone else, so it might be in your best interest to sell high in dynasty leagues. Freeman still carries an early-third-round ADP in dynasty startups and I'd gladly sell him at that price where I can, stuck serving in a low-upside committee alongside Tevin Coleman. Hyde is the oldest of the trio, has an extensive injury history, and just landed on a Cleveland Browns offense that has struggled to support fantasy-relevant running backs outside of Duke Johnson, whose presence likely means far fewer targets for Hyde.
Wide receivers
Wide receivers are slower out of the gates than running backs but exceed their career average in fantasy points by their sophomore season. They continue to climb upward until their peak in season five, which starts a steady decline throughout the rest of their careers.
For fantasy purposes, we can look at this a few ways. JuJu Smith-Schuster (age 21) and Cooper Kupp (age 24) had impressive rookie seasons and are good bets to improve in year two. First-round rookies Mike Williams and John Ross did little to impress in their rookie years, but it's especially hard to adjust to NFL competition when dealing with injuries and missing a significant portion of training camp. Corey Davis, Dede Westbrook, Carlos Henderson (man-crush alert), Kenny Golladay, and Curtis Samuel are some other notable candidates we may see breakout in sophomore seasons.
The following list of wide receivers are all hitting their fifth season (peak year) in the NFL this upcoming season: Odell Beckham Jr., Jarvis Landry, Adam Thielen, Davante Adams, Brandin Cooks, Mike Evans, Sammy Watkins, and Josh Gordon. If this seems like a who's-who of the top wide receivers in the league, that's because it is. Five of these eight wide receivers have an ADP inside the top-12 at the position.
In their eighth year in the NFL, wide receivers typically drop below their career baseline average and continue to decline throughout their careers. Julio Jones (age 28), A.J. Green (age 29), Doug Baldwin (age 29), and Randall Cobb (age 27) all just completed their seventh season in the NFL.
Tight ends
With the tight end position, we're dealing with an extremely small sample. Only 10 tight ends qualified in this exercise, while 120 running backs and 87 wide receivers make up the above chart. So, I'm not going to read too much into the data here, other than that tight ends typically make a massive leap-forward in their sophomore seasons. On average, tight ends shift from 33 percent of their career baseline average in rookie years to 94 percent in sophomore seasons. Previous research I've done (dropping the threshold to 500 yards) has yielded similar results.
This is good news for all of Evan Engram, O.J. Howard, George Kittle, David Njoku, Gerald Everett, Ricky Seals-Jones, and Adam Shaheen, who make up what's commonly referred to as a historically great draft class at this position.