With the 2021 NFL Draft in the books, PFF's Jarad Evans and I decided to put our post-draft analysis to the test in an Underdog Fantasy best ball draft. Over the past week or so, I've broken down best ball risers and fallers, along with rookie landing spots and veteran player values post-draft. 
For this exercise, we each drafted a squad and streamed the draft live on Twitter, Periscope and YouTube. I selected out of the three-hole, while Evans chose at the 12-13 turn. (Find the full video here — you won't want to miss the reaction to Courtland Sutton being selected No. 7 overall.)
Subscribe to
The following is a breakdown of the 18-round, 12-team half-point PPR best ball draft with analysis on each pick. Hopefully thinking through this process with us helps you prepare for your own best ball drafts. (Utilizing PFF's best-ball rankings is also highly recommended.)
Without further ado, here are our best efforts at turning fantasy football into a $1 million prize. Also, PFF has partnered with Underdog — if you play $10 with promo code "PFF" you'll get a free PFF subscription.
It's absolutely critical to lock up at least one bell cow running back in the first two rounds of a best-ball draft. Saquon Barkley is the No. 3 running back in my fantasy rankings, so I didn't need to think twice about drafting him here. 
Barkley has dealt with a slew of injuries over the last two seasons, but I'm betting he bucks the trend in 2021. The New York Giants don't seem overly concerned, as they recently exercised the fifth-year option on the running back.
The state of the Big Blue's offense led by vanilla offensive coordinator Jason Garrett is a potential worry, but the situation is not as dire as people make it out to be. Recall that backup Wayne Gallman ranked as the RB10 from Weeks 7-13 last season, averaging 15.8 fantasy points per game. If a backup running back can put up top-10 numbers in last year's Giants' offense, Barkley can easily reclaim his status as a top-three fantasy football RB.
Let's not be too quick to forget the generational talent that is Saquon. Despite injuries in 2019, Barkley ranked top 10 in missed tackle rate (19%) and yards after contact per attempt (3.2). 
Travis Kelce went at the 1.03 selection in my last recap, but this time around he was selected at 1.05. He's being overvalued. Keep in mind that Underdog is only half-point PPR scoring and non-TE premium, so the selection looks like a clear overpay for last year's statistics.
As Kevin Cole pointed out in his tight end takeaways from early best ball drafts, Kelce's gap in production versus the TE2 last year (Darren Waller, 4.5 fantasy points per game) isn't likely to be as drastic, even if he finishes as the TE1 for the fourth-straight season. The edge he will provide at the tight end position isn't likely to be as huge as it was in 2020.
During the 2019 regular season, Kelce outpaced TE2 George Kittle by just 0.1 fantasy points per game. In the 2018 regular season, Kelce outperformed Zach Ertz by just 1.0 fantasy points per game.
The first- and second-round turn is loaded with rock-solid RB1s. Accordingly, double-tapping running back at the 12 spot is a very strong draft strategy. I started off my draft with Akers, who enters 2021 as the prohibitive favorite to be Sean McVay's next bell cow. Akers emerged in Week 13 last year and averaged a whopping 23.8 touches per game for the remainder of the season. That rate extrapolates to 381 touches over a 17-game season, which would have only trailed Derrick Henry among all running backs in 2020.
The Rams offense should be much improved with Matthew Stafford under center, and they could even resemble the fire-breathing unit that boosted Todd Gurley into No. 1 and No. 2 overall fantasy finishes in 2017 and 2018. There is no guarantee that Akers completely takes over the Los Angeles backfield a la Gurley in his glory days, but the fact that it even is a possibility makes him a fantastic pick at the end of the first round. Akers possesses the overall No. 1 running back in his range of outcomes. 
I start off my draft with back-to-back running backs, grabbing Ekeler with the first pick of the second round. The Chargers' electric playmaker averaged 16.5 PPR points over 10 games last season, ranking ninth among all running backs.
Ekeler's situation improved significantly this offseason. Justin Herbert will presumably take a step forward in Year 2 and elevate the entire offense. The Chargers also spent sizable resources to upgrade an offensive line that ranked dead last in run blocking last season. Further, new offensive coordinator Joe Lombardi arrives from New Orleans where he deployed a similarly explosive runner and receiver out of the backfield in Alvin Kamara — perhaps Lombardi utilizes Ekeler in a similar fashion this season. 
Flash back to 2019 when a healthy Ekeler played 16 games and finished as the PPR No. 4 running back. The dynamic game-breaker has already demonstrated that top-five upside is well within his range of outcomes.
I considered Joe Mixon and Nick Chubb here as well but ultimately went with the Akers and Ekeler combination. All four of those players are in the same tier as true studs, and you cannot go wrong with any of them.
You don't know how you truly feel about players until they are staring you in the face with time dwindling on the draft clock. That's how I felt with both Kittle and Darren Waller available at the end of the second round. 
Grabbing a premier tight end in Round 2 is sharp — locking up one who often operates as the team's pseudo-No. 1 wide receiver should continue to be a top priority among best-ball drafters.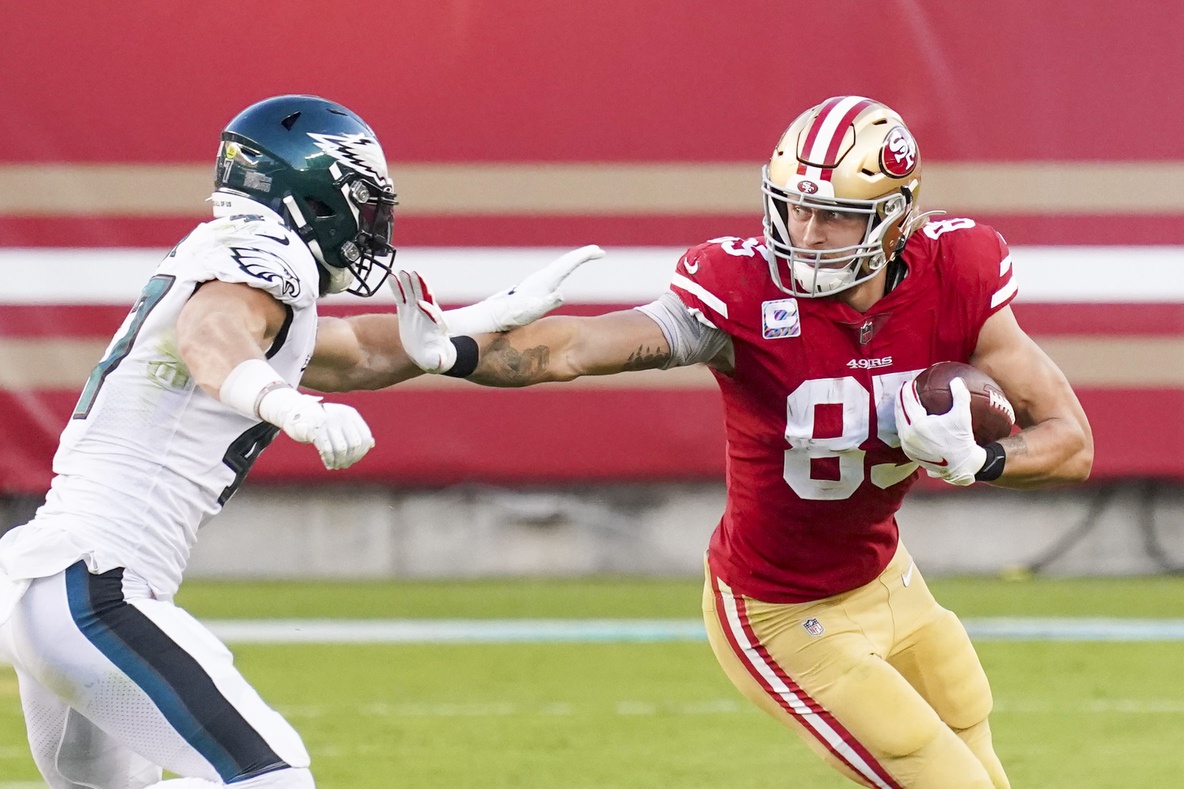 Kittle is my No. 2 ranked tight end, but it's razor-close between him and Waller. From a target competition standpoint, it's hard to not favor Waller in the Raiders' offense versus Kittle in the 49ers' offense. Deebo Samuel, Brandon Aiyuk and the insertion of a mobile quarterback might make passing targets slightly more difficult to come by for Kittle.
Waller, meanwhile, should have zero concerns about being the clear-cut target leader in the Raiders' offense. The Black Hole's tight end also scored more fantasy points per game (17.5) in 2020 than a healthy Kittle did in 2019 (15.9). 
Waller went two spots after I nabbed Kittle. The rankings might need to updated. 
Fantasy football doesn't have to be hard. Running back volume is more important for fantasy success than efficiency. Najee Harris is going to see anywhere between 250 and 300 touches in 2021, and that will lock him into top-15 RB fantasy production regardless of what the Steelers' offensive line plays like. 
The Athletic's Mark Kaboly recently said there is "no reason to think Harris won't push the 275-touch mark as a rookie."
I also considered Clyde Edwards-Helaire here, but I sided with Harris due to the guaranteed volume and stacking potential. The K.C. offense is extremely difficult to capture multiple parts of because its players are super expensive. The Steelers' offensive pieces are much cheaper. 
After selecting Akers and Ekeler with my first two picks, I decided to hit running back one more time and solidify the position with three studs. Pete Carroll has spoken at length this offseason of a return to his "establish the run" glory days, and Carson should be the primary beneficiary. Though he carries the dreaded injury-prone label, Carson has finished as a PPR top-15 running back on a per game basis in each of the last three seasons: 15th (2018), 12th (2019) and 14th (2020). 
Seattle's entire offseason points toward Carson being the guy for one last hoorah. They signed him to a three-year contract that is only guaranteed for 2021 — the Seahawks can cut Carson next offseason with zero penalty.  Further, they let Carlos Hyde walk and did not sign a replacement. Assuming Carson stays healthy, the bruising running back is a lock for top-12 production. 
I did not select a fourth running back until my final pick in the draft because I spent such high draft capital on this position. If my team is going to advance into the best ball mania playoffs, I will need Akers, Ekeler and Carson to perform at RB1 levels this season.  
Despite catching passes from Alex Smith and Dwayne Haskins, McLaurin still managed a PPR WR20 fantasy finish last season. Enter Ryan Fitzpatrick who presents a significant upgrade at the most important position. His ascension to starting quarterback on the Dolphins in 2019 elevated DeVante Parker into the PPR No. 11 wide receiver fantasy finish. McLaurin has registered an 85.3 PFF grade (13th) since 2019 and possesses an even higher ceiling than Parker, who has posted an 82.0 PFF grade (23rd) in that same time frame.
McLaurin tallied 128 targets (11th) in 15 games last season and is set up extremely well to see 130-plus targets in 2021. Additionally, Washington's alpha wide receiver suffered from extremely poor touchdown luck last season — among the 15 wide receivers to see over 120 targets, McLaurin was the only one with fewer than five touchdowns. Positive regression is coming, en route to a top-12 fantasy finish. 
Diontae Johnson is starting to pull away as the favorite to be the Steelers' fantasy WR1 in ADP, and I agree with the market. When the trio of Pittsburgh receivers played together last season — 12 games with a fully healthy Johnson — Johnson was the clear target leader (26%).
I'm also not concerned about his league-leading 12 drops last season; that kind of statistic isn't super predictive year over year.
What's more predictive is expected fantasy points, and Johnson finished second in that category (18.5) in his healthy games last year. His 17.8 actual fantasy points scored ranked fifth. 
With Barkley as my first overall selection, I need the New York Giants to ball out in 2021 if I'm going to have any chance of taking down this massive tournament. For me, pairing Big Blue's RB1 with its new WR1, Kenny Golladay, was a no-brainer. 
Kenny G scored a touchdown or had at least 100 receiving yards all four healthy games in 2020. 
The reigning Offensive Rookie of the Year finished ninth overall and seventh on a per-game basis in fantasy points among quarterbacks last season. Herbert's rookie season was truly incredible, and it is scary to think about the fact that his situation improved drastically this offseason. The offensive line underwent a much-needed makeover. New HC Brandon Staley and OC Joe Lombardi figure to deploy a more aggressive offense than the run-first preference of former HC Anthony Lynn.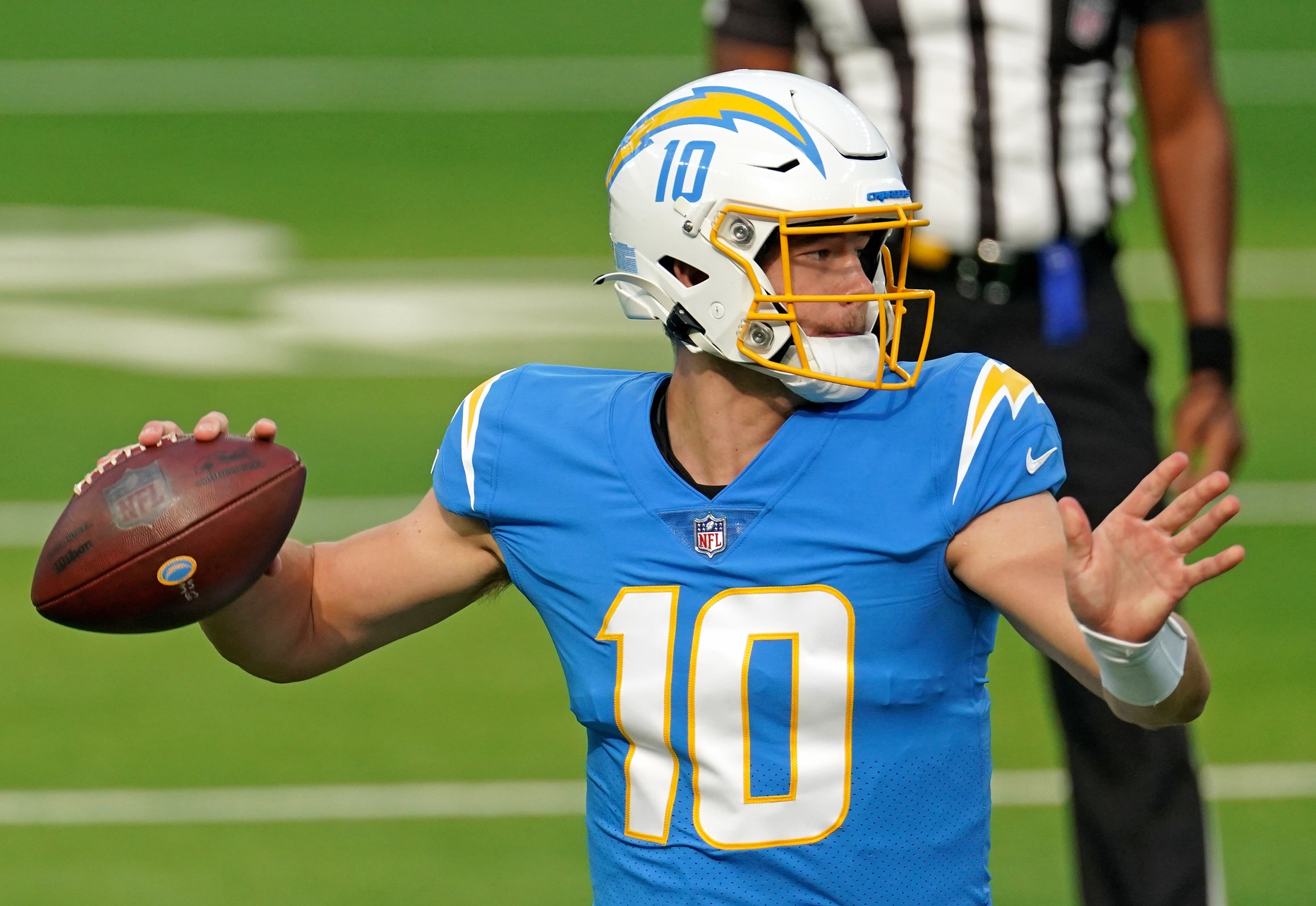 We should be targeting high-upside quarterbacks in the middle rounds, and Herbert possesses a legitimate top-five ceiling. Additionally, Herbert stacked with Ekeler in best ball is mouth-watering.
Higgins' ADP is in decline right now, presumably because of a worry that Ja'Marr Chase caps his target potential. However, the Bengals offense should have enough play volume to support three dynamic pass-catchers. Joe Burrow had more dropbacks during Weeks 1-11 last season than anyone else in the NFL. 
Buy the dip on Higgins before people start to realize that the 2021 Cincinnati Bengals are going to be one of the most fantasy-friendly offenses in the NFL. The Bengals possess the dream fantasy combination of ascending young quarterback, explosive offensive playmakers and terrible defense. Though Chase is a future superstar, it is certainly possible that Higgins functions as Cincinnati's No. 1 receiving option in 2021 — 1,000 yards and double-digit touchdowns is a realistic ceiling.   
With two Steelers already rostered, I figured I may as well go all-in. Chase Claypool's ADP has fallen as the narrative surrounding Big Ben's withered arm grows stronger. But we can't overlook the fact that Claypool's aDOT (15.1) was by far the highest on the team. He also led the NFL in targets of 20-plus yards (42) when including plays negated by penalties and finished 11th in deep ball yards. 
Only Justin Jefferson (16.9) and Brandon Aiyuk (15.4) scored more fantasy points per game than Claypool (13.6) among first-year players.
It's quite the feat considering Ben Roethlisberger was one of the league's most inaccurate quarterbacks throwing the ball 20 or more yards downfield. His on-target percentage (34%) on those throws was well below league average (42%), ranking 31st out of 36 qualifying quarterbacks. 
There's baked-in upside with Claypool's role as the team's primary deep threat even with an erratic/declining passer under center; I'll take that all day in best ball. 
It seemed only fitting that I round out the WR trio by selecting JuJu Smith-Schuster with my seventh-round pick. His extremely low aDOT from last season  (6.0, ranked 107th out of 112 qualifying WRs) is concerning, but I'd expect it to regress positively in 2021. His 2020 average depth of target is considerably lower than what it was during his first three seasons (9.9).
Even with a flurry of low-value targets, Smith-Schuster managed to turn them into fantasy production. He averaged 16.1 fantasy points per game (14th) in the 12 games the trio was active together in 2020.
The Steelers wide receiver room collectively scored the most expected fantasy points and the second-most fantasy points last season, so I'm thrilled about stacking the top three options. 
After going running back heavy through the first few rounds, I need to shoot for upside with my wide receiver selections. Smith has a clear path to 120-plus targets and will function as Philadelphia's No. 1 receiving option from the moment he steps onto the practice field.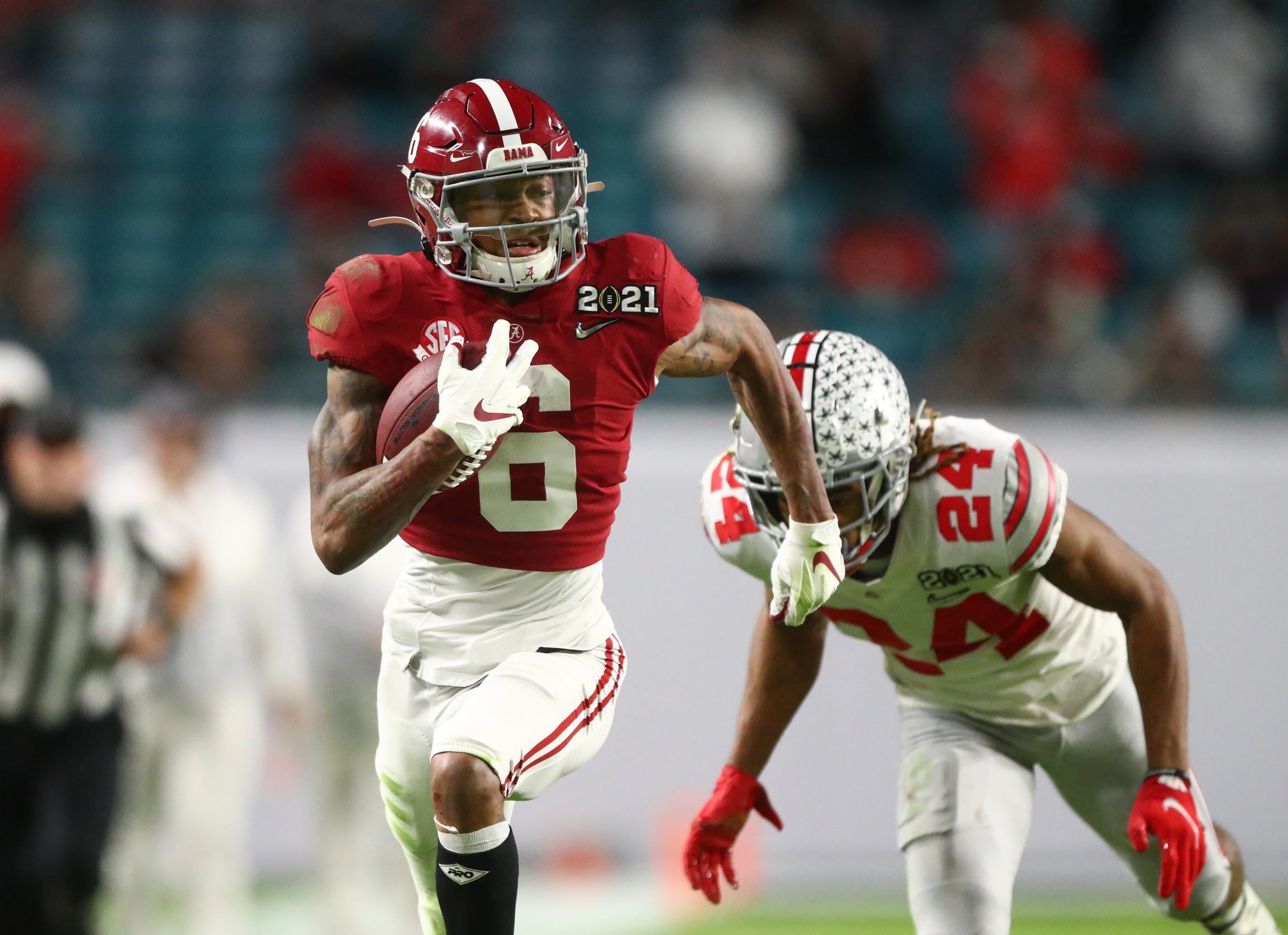 The reigning Heisman Trophy winner went completely bonkers in his final season at Alabama, tallying a monstrous 117-1,856-23 receiving line. Smith is more than ready to be Philadelphia's alpha, and he should see all the targets that he can handle. 
I am aggressively targeting Burrow in fantasy football drafts of all shapes and sizes. The Bengals offense is a discount version of the 2020 Dallas Cowboys. Prior to his injury, Dak Prescott averaged 27.1 fantasy points per game, which would have ranked first among all quarterbacks last season. Of course, Burrow is probably not going to approach that level of production, but he is an ascending quarterback with three explosive pass catchers on a team that is going to be passing at a top-five level from a sheer volume perspective. 
Upside is the name of the game in best ball, and Burrow boasts a realistic top-five ceiling. Stack him with Higgins, Joe Mixon, Tyler Boyd and Ja'Marr Chase and prosper.
I am now finished drafting quarterbacks since I have two very strong options at the position in Burrow and Herbert. 
I wanted to lock down a few more running back options before the draft turned to the double-digits because that's when the pickings get extremely slim. I want to have at least two stud RBs, followed by RBs that have a legitimate path to an above-average workload. 
Jets rookie running back Michael Carter was by far my biggest riser in both best ball (RB30) and dynasty rookie rankings (RB5). He might not be a complete workhorse, but he has the talent and pass-catching chops to be the 1A in the Jets backfield. Remember that he played well enough at North Carolina to keep Javonte Williams in a timeshare. 
At worst, we should see him split time with Tevin Coleman until the veteran inevitably goes down with an injury. 
A low-key winner from the NFL Draft was Buffalo Bills running back Zack Moss. Despite several reports, the Bills wisely chose to not invest in the RB position, which puts Moss in the driver's seat to lead the Buffalo backfield. That might not sound appealing to some considering the Bills seemed to want nothing to do with running backs in their offense last year, but offenses can and do change year over year.
What we know about the Bills is that they're going to score a lot. Fantasy production for RBs is often tied to the general state of the offense, so if the Bills' O is firing on all cylinders we should expect to see decent to above-average fantasy production from a healthy Moss in Year 2. He has moved up over 30 spots in ADP since March. 
After Moss comes off the draft board, the RB options become extremely uninspiring. If Moss isn't available in Rounds 9 or 10, you're much better addressing other needs — the RBs in Rounds 11-14 are hardly much different than ones in Rounds 15-18.  
I was sweating bullets that Williams would drop to me here and could not have pressed the draft button any quicker. He forms a juicy Chargers stack with Herbert and Ekeler to offer massive spike-week potential. 
Consistency is not exactly Big Mike's strong suit, but his weekly ceiling is immense — Williams topped 20 PPR fantasy points three times last season. Of course, his floor is also scary low — the big receiver scored five or fewer fantasy points five times. But that boom/bust nature is exactly what makes the 6-foot-4 and 220-pounder a perfect fit in best ball.
Smith saw at least four targets in seven games last season and scored double-digit fantasy points in five of those games. Kyle Rudolph is now gone, opening the door for Smith to be Minnesota's every-down tight end. Additionally, the No. 3 option in this Vikings passing game is wide open and Smith could legitimately double-up the 41 targets that he had last year.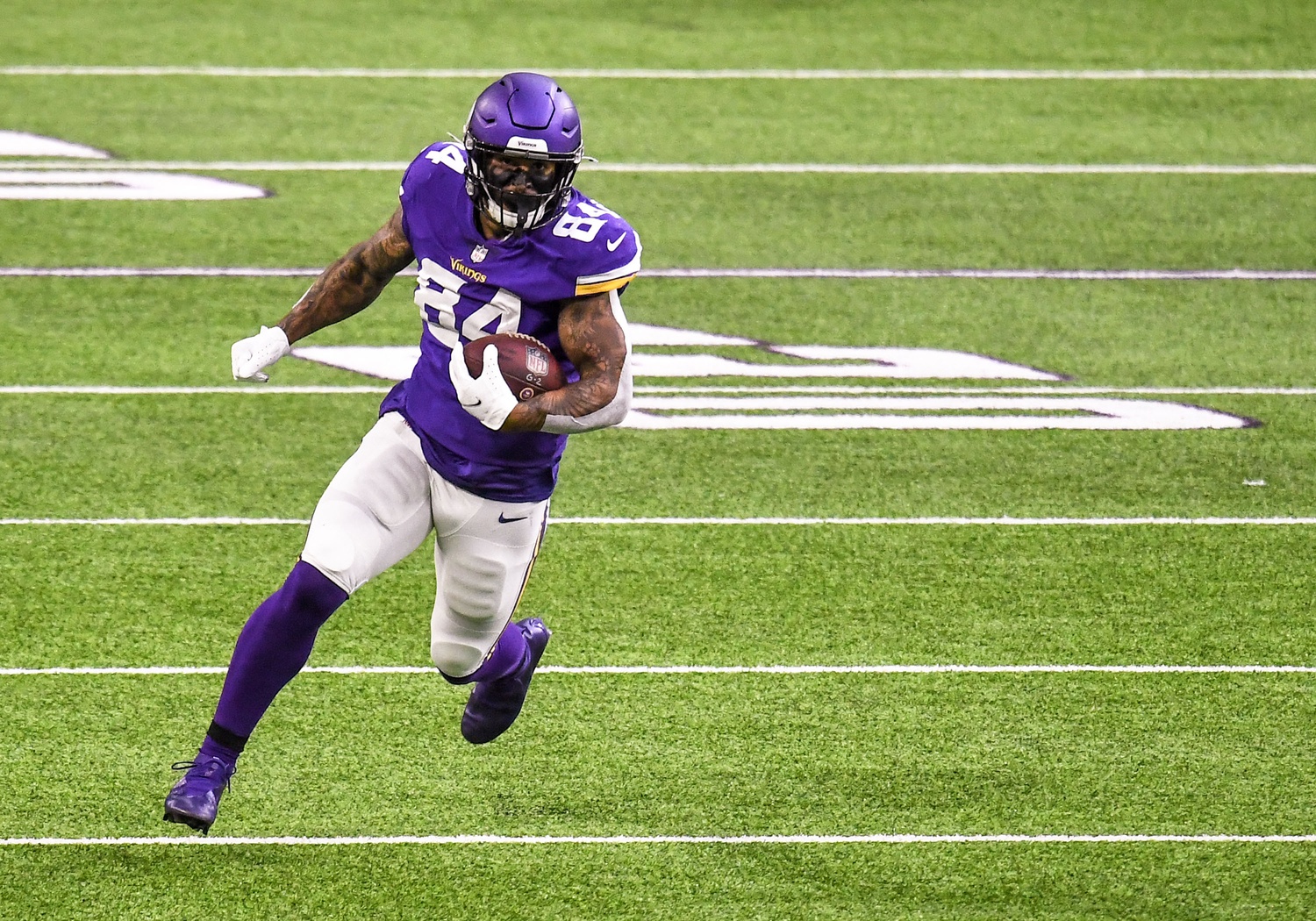 The 6-foot-2 and 242-pound tight end generated a stellar 141.8 passer rating on his targets last season (second) and can be a reliable safety valve and red-zone threat for Kirk Cousins. I plan on drafting three tight ends because it is my weakest position, and Smith is a high-floor option to start that process. 
We don't hate players. We hate ADPs. Case in point, Corey Davis is not a player I am particularly high on entering 2021 — or so I thought. Apparently, the market isn't too fond of the New York Jets' projected No. 1 wide receiver, so I am more than happy to draft him in the 10th/11th round. 
Davis finished the 2021 season sixth in yards per route run (2.46), eighth in PFF receiving grade (85.6) and 25th in fantasy points per game (14.2). He also fits Zach Wilson's play style. The former BYU QB relied heavily on mesh concepts last season, and Davis finished last year as PFF's highest-graded receiver (92.8) on drag routes.
The other WRs in this ADP range include wideouts like Mecole Hardman, Marvin Jones, Antonio Brown and DeVante Parker — all figure to have more difficulty commanding a high target share in their respective offenses. 
I'm much more bullish on Jets rookie WR Elijah Moore, who has the potential to be an absolute star in the NFL. He offers the entire package and should be Gang Green's next PPR slot machine. He should take over the starting role in the slot, as the team has an "out" in Jamison Crowder's contract and can save over $10 million by releasing him.
Unlike Crowder, Moore is a downfield home-run threat — a skill that will transition well with his new rookie quarterback. Wilson ranked first in PFF passing grade on 20-plus yard throws and compiled the fourth-most yards on those deep pass attempts. No quarterback threw an accurate ball at a higher rate on 20-plus yard passes in 2020 (73%).
Adding Moore to my squad also inadvertently created a Jets mini-stack, which is a plus. At least I hope it is.  
I am laser-focused on accumulating volatile wide receivers with upside, and Davis is exactly that. The Bills are loaded with pass catchers and Davis will be competing with Emmanuel Sanders to be the No. 3 option on this offense. However, there is serious spike week potential for both Davis and Sanders on an offense that passes at one of the highest rates in the NFL — Josh Allen's 572 pass attempts were the sixth-most last season.
The 6-foot-2 and 216-pound receiver emerged in Week 9 last season and surpassed 15 PPR fantasy points in four of Buffalo's final eight regular season games. Additionally, Davis is just an injury away to Sanders or Stefon Diggs from becoming a true difference-maker. Handcuff wide receivers are not as widely chased as running backs, but they have underrated league-winning upside in best ball. 
By this point in the draft, I have already decided that I will be drafting nine wide receivers. This allows me to aggressively target unknown upside without worrying about downside. There is a decent chance that Marshall emerges as the No. 3 wide receiver on the Panthers at some point this season, but there is huge uncertainty with his prospective role. However, the risk here is irrelevant to me at this point of the draft and I only care about upside. 
The Panthers supported three top-25 pass catchers last season in D.J. Moore, Robby Anderson and Curtis Samuel. Marshall is a physical freak at 6-foot-3 and 205 pounds with 4.38-second speed, and he has a path to top-25 production on this explosive Panthers offense, led by wizard OC Joe Brady. 
Practice makes perfect. In a previous best-ball contest, I flubbed my mega Giants offensive onslaught by not drafting Daniel Jones. I instead opted for Cam Newton, and that team disgusts me.
I didn't make the same mistake twice, selecting Jones 18 slots ahead of ADP at the 12.10 spot. In hindsight, I probably should have not reached.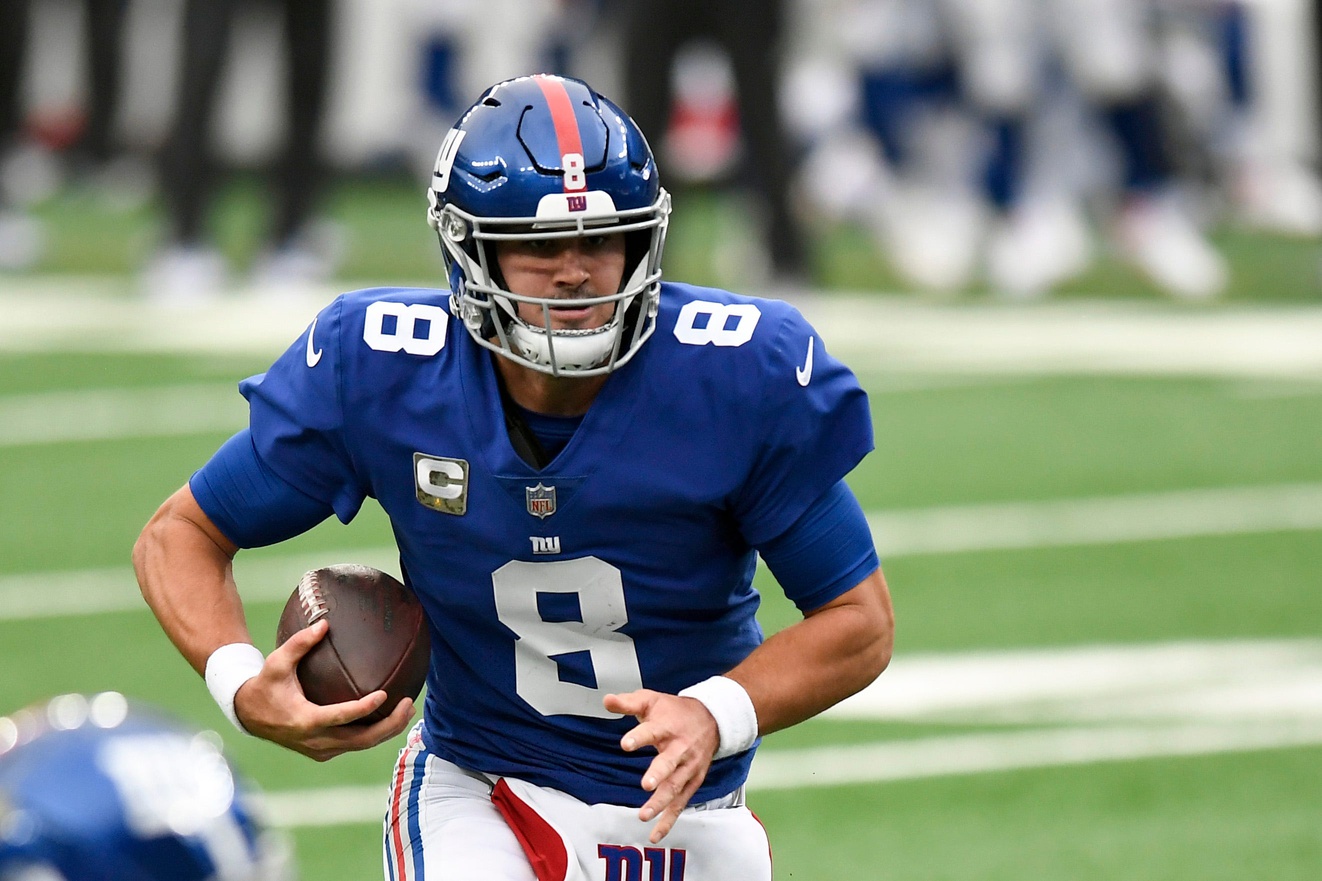 Considering I own the majority of Giants players, no other manager was likely to overly pursue Jones as a draft option. He probably would have made it back to me at the top of the 15th round. But considering I didn't love any other option,  I don't think it was too egregious of selection.
Overdrafting for QBs in the earlier rounds is much more of a detriment to the upside of a best-ball roster. 
This was an auto-pick. But it just goes to show that even the most best-ball-tested individuals can screw up picks with the 30-second timer beating down on them. 
I honestly didn't like anybody on the board, and Hunter Henry was my highest-ranked player. 
A second tight end was a position of need, but I think I might have preferred waiting longer on the position. Saints tight end Adam Trautman was drafted four rounds later, and he's more than serviceable as a TE2. 
It would have been savvier to select one of the high-upside backup RBs like Alexander Mattison, Darrell Henderson or Jamaal Williams.
Campbell was one of the biggest ADP risers leading up to last season, but his expected breakout campaign ended after suffering a freak knee injury in Week 2. He figures to be the Colts starting slot receiver, which could turn out to be a very fantasy friendly role. In Week 1 last season, Campbell turned nine slot targets into a 6-71 receiving line. 
I continue hammering volatile pass catchers in uncertain situations. Campbell has electric 4.31-second speed and makes a phenomenal high-upside late-round selection in a muddled Indianapolis receiving corps.
Firkser was one of my favorite picks in this entire draft. Jonnu Smith is gone, and his 63 targets and eight receiving touchdowns from last year are up for grabs. Firkser is a bargain in the 14th round as my No. 2 tight end. 
The Titans do not have any proven pass-catchers outside of A.J. Brown, creating a potential scenario where Firkser becomes Tennessee's No. 2 receiving option. This happened to the Washington Football Team last year with Terry McLaurin and Logan Thomas, and the burly tight end saw a ridiculous 105 targets. 
At this point in the draft, I shifted my focus to fortifying my stacks. Sterling Shepard gets notoriety for being a poor best-ball option, but he's more than serviceable this late. He's been a top-36 wide receiver in terms of fantasy points per game over the past two seasons.
Shepard is also coming off arguably his best season as a pro, earning career-highs in PFF receiving grades (79.4), catch rate (75%) and yards per route run (1.77). 
Kadarius Toney has caused Shepard's ADP to fall outside the top-150, but that seems like an overreaction by the masses. Shepard is still going to start in three-WR sets and split time with Toney in the slot. I'd be surprised to see Toney out-produce him in Year 1. 
I had zero intention of ever building a full-blown Jets stack, but here we are. Carter, Davis, Moore and Zach Wilson fill out my four-man Gang Green stack, and I am all for it. New York's defense still isn't good, so I like Wilson's chances of airing the ball out plenty as the team plays catch up in 2021.

Garbage time points still count. 
I am aggressively drafting Collins everywhere while he remains basically free. The Texans have an open depth chart at wide receiver and Collins could easily start on the outside opposite Brandin Cooks. Houston has the lowest win total in the entire league and is going to be trailing a lot, which means passing and garbage time fantasy points galore.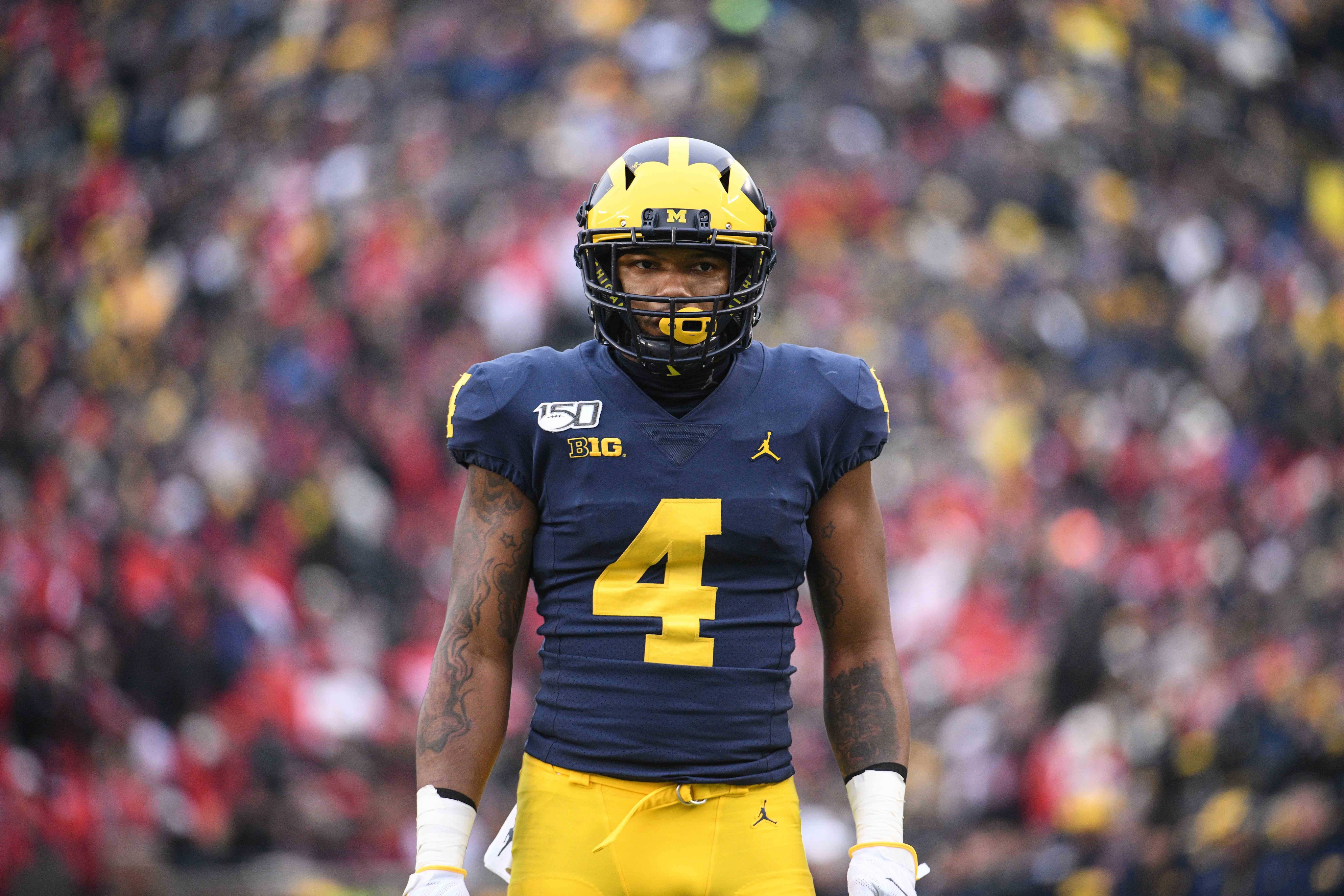 Houston traded up to select Collins early in the third round, which presumably means they have big plans for the 6-foot-4 and 215-pound receiver with 4.42-speed. Do not sleep on Nico Collins late in fantasy drafts. 
I'm throwing a dart here on Palmer strictly because of my Chargers stack. The former Tennessee product is a favorite of PFF's Mike Renner, and we have recently seen third- and fourth-round picks make a surprising impact in their rookie seasons: Terry McLaurin, Diontae Johnson and Gabriel Davis to name a few. 
The Chargers receiving depth chart is open for business after Keenan Allen and Mike Williams. Perhaps Palmer can beat out Jalen Guyton and Tyron Johnson to emerge as the No. 3 receiver. 
Darius Slayton's job is in jeopardy after the team drafted Toney, so this could easily be a wasted pick. But his big-play upside and tendency to blow up whenever Jones has huge fantasy games makes him worth adding to my Big Blue stack.
Since entering the league in 2019, Slayton has seen 20-plus yard downfield passes on 25% of his targets. That mark ranks 10th among all WRs with at least 150 targets the past two seasons. 
Big plays are the name of the game, and that's basically all Slayton is good for. 
I don't recommend drafting three quarterbacks in best-ball formats but will do so if I don't invest in one early. With only two unproven QBs from New York on my team, adding Big Ben to the mix seemed appropriate with my second-to-last pick.
As bad as the narrative is around Ben Roethlisberger, he still finished last season as the QB14 overall and QB18 in fantasy points per game. He's the QB26 per ADP — ahead of Sam Darnold. Come on, people.  
San Francisco's backfield is ridiculously overcrowded, yet we have seen a 49ers running back emerge from the absolute clouds to become a fantasy difference-maker in each of the last two seasons. In 2019 it was Raheem Mostert. In 2020 it was Jeff Wilson Jr. Maybe it is Elijah Mitchell in 2021?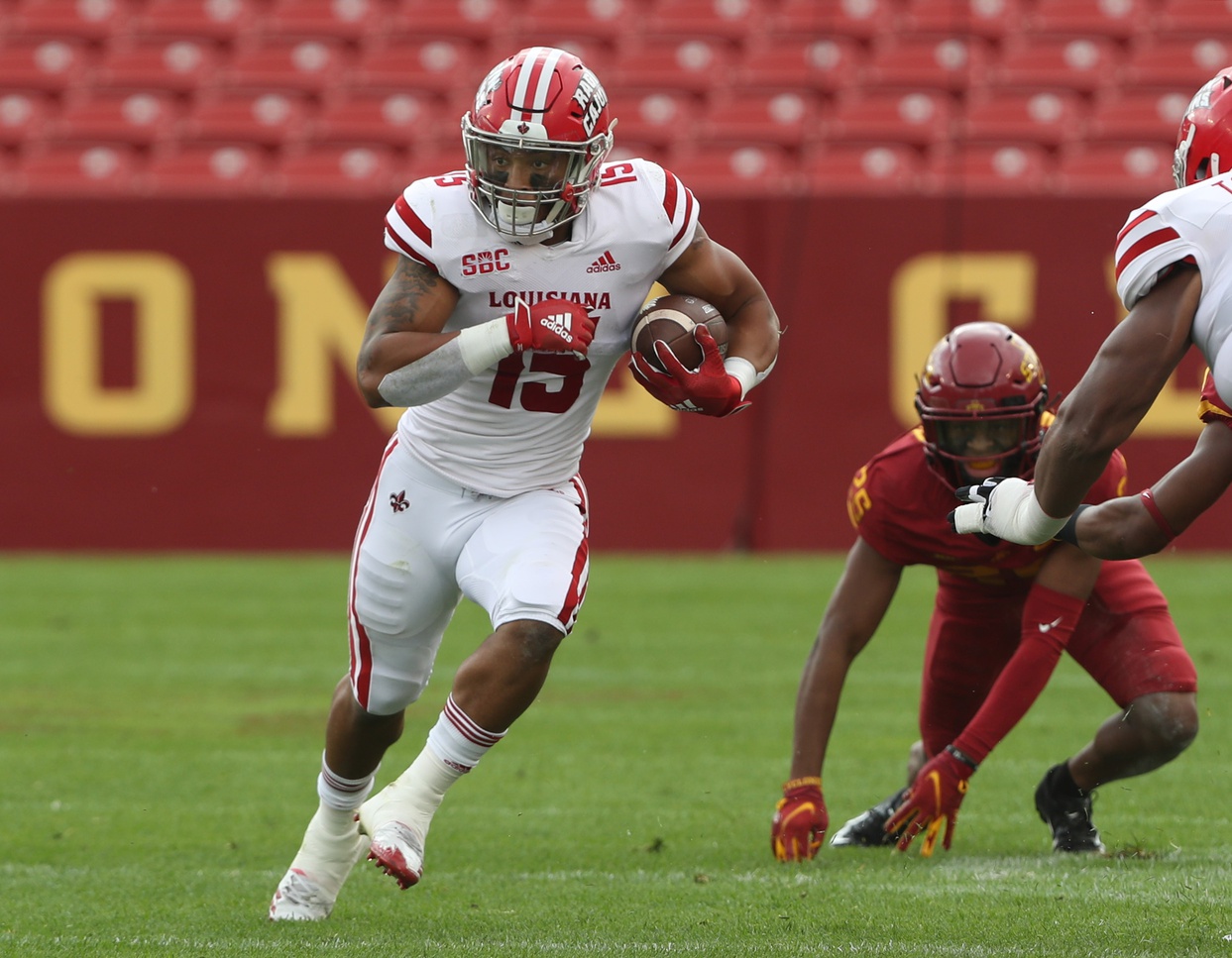 Injuries happen at the running back position more often than anywhere else on the field, and it would not be crazy for Mitchell to make the roster and find himself in the featured role at some point this season. The 5-foot-10 and 201-pound runner boasts electric 4.38-second wheels; perhaps he becomes Kyle Shanahan's next unheralded running back turned fantasy star. As unlikely as this scenario is, the opportunity cost in the 17th round is negligible. 
I need a third tight end and decided to add to my Bengals stack with Uzomah. Assuming he is recovered from the torn achilles suffered last September, Uzomah is the favorite to be Cincinnati's starting tight end. I only made this pick because I drafted Burrow earlier — I plan on targeting Uzomah in the 18th round on my Bengals stacks that need to roster a third tight end. 
The 6-foot-6 and 260-pound behemoth is built to be a red-zone monster and could become this year's Robert Tonyan.
With my last pick, I selected newly signed Tennessee Titans wide receiver Marcus Johnson. My strategy with the 18th-round pick in all my drafts is to choose a player that won't be rostered in most leagues. Again, all of the late-round picks are dart-throws; I just prefer my dart-throws to lesser-owned so that if they do hit, my team will benefit the most. 
If Josh Reynolds hits, the edge he provides won't be nearly as impactful because he is rostered in every league. I'd rather take a late-round shot in best ball formats on Johnson, who is a one-trick pony as a deep threat. His yards per reception (17.2) ranks seventh and aDOT (17.3) ranks fourth among all WRs since the start of 2019. 
And if he does nothing (the most likely outcome), my 18th-round pick probably wasn't going to be a difference-maker anyway.