Last week, I updated my 2021 best ball rankings with 2021 NFL free agency essentially wrapped. There were some big risers and fallers in the overall rankings, so my previously released top-12 wide receivers and top-12 running backs in best ball required adjustments.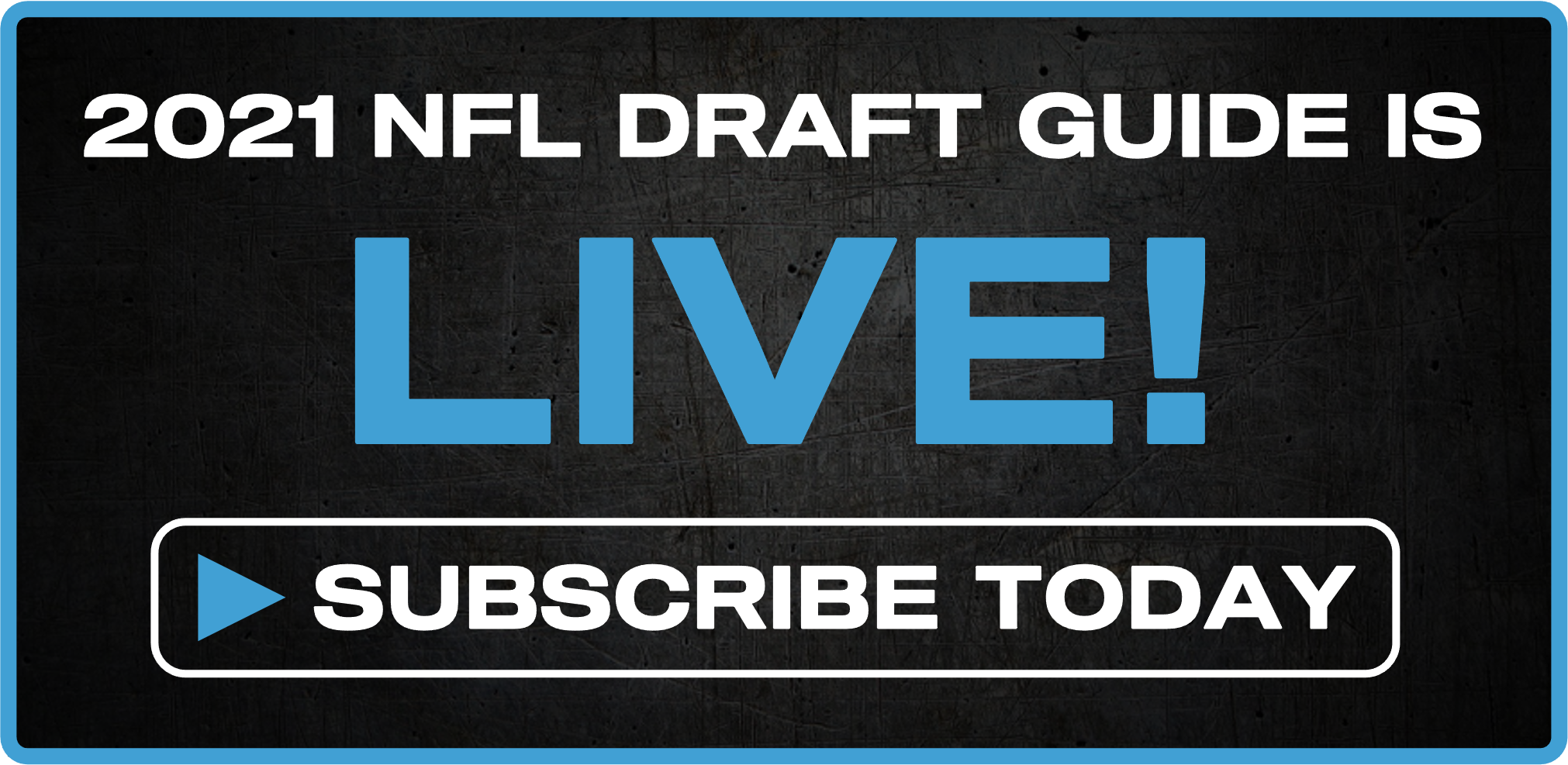 Aaron Jones' return to the Green Bay Packers shook up the RB ranks; he leapfrogged Joe Mixon, D'Andre Swift and Ezekiel Elliott to RB9. Rookies continue to be the wild cards ahead of the 2021 NFL Draft, but we'll know more about them soon enough. 
With the heavy-hitters at RB and WR set (for now), the time has come to rank the top 10 of everybody's favorite position in fantasy football: the tight end. 
It shouldn't come as a surprise that Travis Kelce checks in as the No. 1 tight end overall in my rankings. After all, he's finished first at the position for three consecutive seasons and in four of the last five years. Still, the 2020 season was by far the best we have seen from Kelce.
The veteran posted career-highs in PFF grade (93.8), yards per route run (2.59), touchdowns (14) and fantasy points per game (22.1). Kelce's final PFF grade ranked No. 1 among all WRs/TEs and his average fantasy points per game finished second only to Davante Adams (25.2). 
He was also one of the league's most consistent producers, hanging at least 90 receiving yards eight times. Only Stefon Diggs (10) and Calvin Ridley (nine) had more. Kelce also had the slight edge as the 1A to Tyreek Hill's 1B in the Chiefs offense, commanding a higher target share than the speedy WR1 (25% versus 23%). 
Kelce's spectacular 2020 campaign has vaulted him into the first round of Underdog best ball drafts — he's been drafted as early as No. 3 overall. 
That's a price point that is way too rich for me; we can't expect Kelce to run laps around the tight end position like he did last season, even if he finishes as the TE1 overall yet again. 
As Kevin Cole pointed out in his tight end takeaways from early best ball drafts, Kelce's gap in production versus the TE2 last year (Darren Waller) isn't likely to be as drastic in 2021.
Kelce averaged over 4.5 fantasy points per game more than Waller in 2020. But in the two previous seasons — keep in mind that Kelce was the TE1 in all three — the gap between Kelce and the next-best tight end was more narrow.
TE Fantasy points per game 2018-2020
| | | | |
| --- | --- | --- | --- |
| | 2018 | 2019 | 2020 |
| Travis Kelce | 18.1 | 16.9 | 22.1 |
| Fantasy TE2 | 16.7 | 14.6 | 17.5 |
| Differential | +1.4 | +2.3 | +4.6 |
The edge Kelce will provide at the tight end position isn't likely to be as huge as it was in 2020 with Waller and/or George Kittle poised close the gap.
The fantasy points per game listed above includes postseason play in order to incorporate as much data as possible. But if we slice the sample size to just regular-season games, Kelce's advantage over the field shrinks even more.
During the 2019 regular season, Kelce outpaced Kittle by just 0.1 fantasy points per game. In the 2018 regular season, Kelce outperformed Zach Ertz by just 1.0 fantasy points per game. 
The 2020 season was a year to forget for the San Francisco 49ers. Coming off a Super Bowl appearance, the team was unable to find similar success because of a multitude of injuries. Most notably, George Kittle was forced to miss eight games. 
That didn't stop Kittle from producing when healthy — the monster tight end continued to put up video-game numbers whenever he was at full strength. He finished first in yards per route run (2.84) for the third year in a row and third in fantasy points per game (15.6). Kittle has been uber-consistent on the field the past three seasons, with his fantasy production falling between 15 and 16 points per game each year.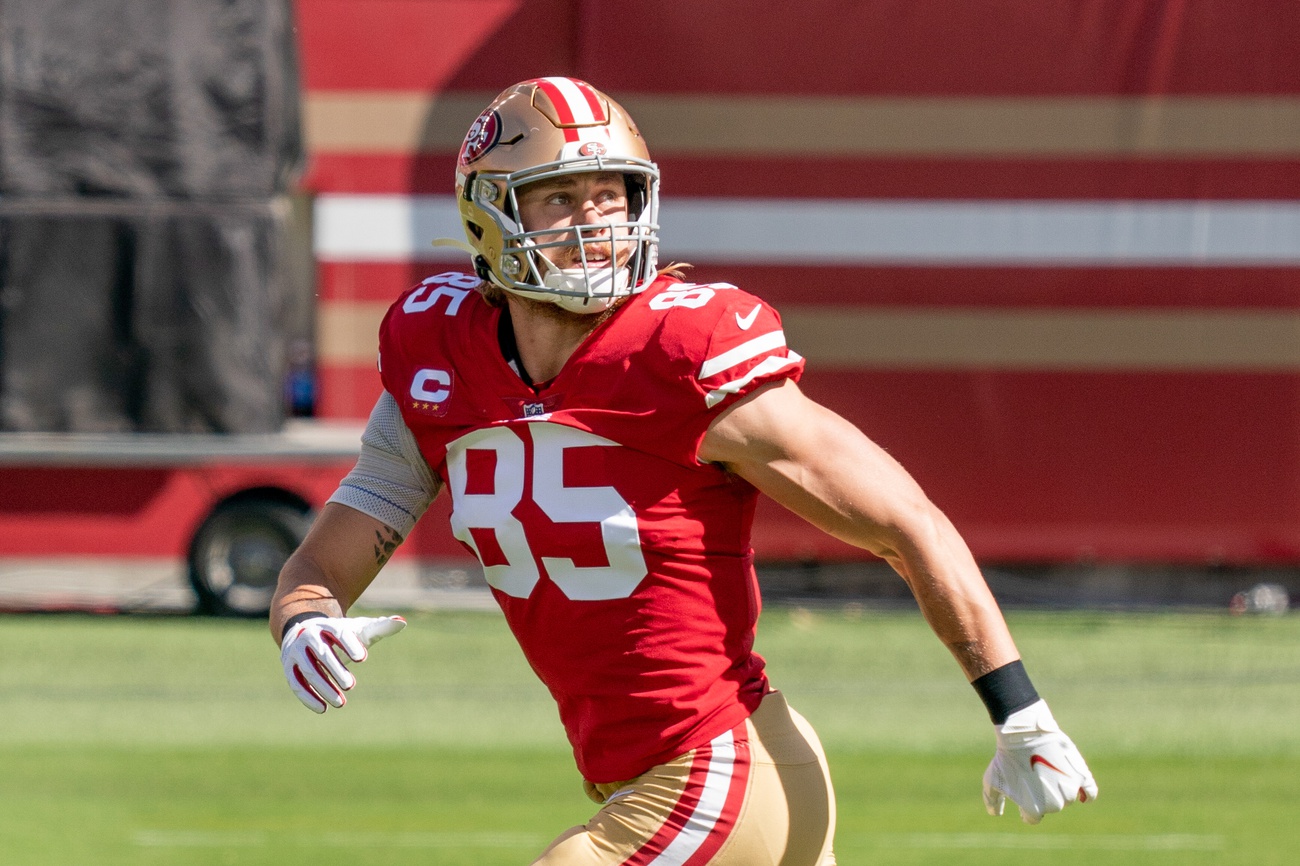 The lack of fantasy buzz around Kittle is probably due to the increased target competition around him in the form of Deebo Samuel and Brandon Aiyuk. But in the four games the trio played together last season (Weeks 4-7), Kittle reigned supreme with a 30% target share. 
The amount of vacated air yards and targets in San Francisco's offense is also being overlooked. The team has the fifth-most vacated targets and seventh-most vacated air yards. 
There's more than enough volume to go around for Kittle to resume his status as a top fantasy tight end. He should be in the conversation to unseat Kelce as the No. 1 tight end in fantasy.
Darren Waller finished the 2020 season with the league's second-best PFF receiving grade versus man coverage (93.4). That figure was actually the second-best by a receiver in the entire PFF era — Davante Adams' 2020 grade is the only one better. 
PFF receiving grade versus man coverage | 2020
| | |
| --- | --- |
| Player | PFF Grade |
| Davante Adams | 94.5 |
| Darren Waller | 93.4 |
| Justin Jefferson | 92.5 |
| A.J. Brown | 92.3 |
| Rob Gronkowski | 91.3 |
| Stefon Diggs | 91.1 |
Waller's 27% raw target share led all tight ends and ranked fourth-highest in the NFL. I was too low on Waller heading into 2021 because I thought the additions the Las Vegas Raiders made at the other skill positions would hurt his target share in the offense. That couldn't have been farther from what transpired.
Entering 2021, it's hard to imagine Waller not being "the guy" for Derek Carr with the Raiders trotting out some combination of Henry Ruggs III, Willie Snead IV, John Brown and Bryan Edwards as his main competition for targets.  
Waller could end up seeing his biggest boost from touchdowns — the team's leader in end-zone targets last season (Nelson Agholor) moved on to New England. 
The big-bodied tight end averaged 16.0 expected fantasy points per game in 2020. That mark ranked second only to Kelce (17.5). Waller is as safe as they come at the tight end position. 
Waller's current ADP as the 20th player off the board in Underdog best ball drafts makes him the best value among the league's elite tight ends.
Mark Andrews is being drafted at the end of the fifth or the top of the sixth round in Underdog best ball drafts — a massive drop-off from his ADP last year, which was often around Round 3 or 4. Considering the fragility of the tight end position, I'm surprised Andrews fell this much based on his numbers. Andrews' fantasy points per game (12.2 versus 13.9) and expected fantasy points per game (12.5 versus 12.6) hardly changed from 2019.
The market seems to be relatively down on Andrews despite finishing last season fourth in fantasy points per game and fifth in PFF receiving grade (81.9). He also ranked first among all tight ends in team air yards share (28%) and second in team end-zone target share (37%), which shows how vital he is to the Ravens' passing game.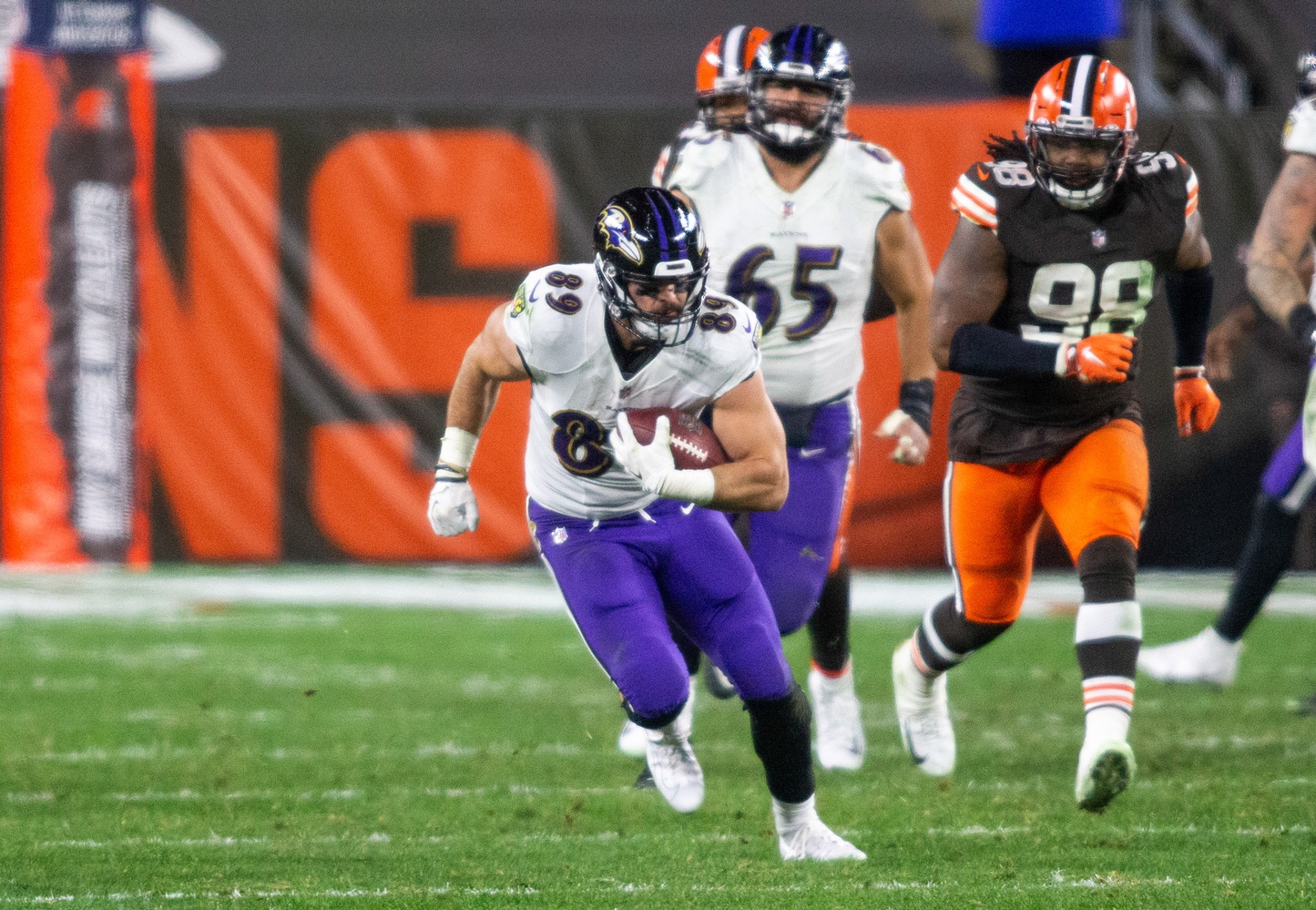 Andrews is being drafted around where Waller was last season, and we all know how that turned out. With Baltimore's supporting cast of receivers featuring the likes of Marquise Brown, Sammy Watkins, Josh Oliver and Devin Duvernay, Andrews is likely to lead this team in target share for a second straight season.
T.J. Hockenson has a chance to drown in targets in 2021. The Detroit Lions rank near the top in terms of team vacated targets and air yards after opting to revamp their entire receiver room from a season ago. 
I can't stress enough how key "opportunity" is for finding the next great fantasy tight end. Hockenson looks primed to be that guy in 2021. Last season, he ranked fifth in targets and 10th in routes run at the position.
That resulted in Hockenson finishing sixth in both points per game (11.0) and expected points per game (11.5). He finished third in receiving yards (723) at the position in just his second season.
If Jared Goff could make an elite tight end out of Tyler Higbee — albeit for just a small stretch of games — then he surely can get Hockenson fully there next season with the Lions projected to throw plenty while playing alongside a rebuilding defense.
Since 2019, Goff has targeted the tight end position at a 22% clip, which ranks 10th-highest over that span. The new Lions quarterback also ranked fifth in passing yards (2,102) and fifth in total attempts (264) to TEs.
I haven't been shy about proclaiming my love for Dallas Goedert — he has elite tight end production written all over him. We just need Zach Ertz to finally be released or traded, and then we can let the DG hype train run hog-wild. 
Goedert will finally have the chance to step out of Ertz's shadow and be the clear-cut No. 1 tight end in Philly. He showed massive upside with Ertz out from Weeks 8-12, finishing as fantasy's No. 2 tight end (12.3 fantasy points per game) behind only Travis Kelce. He averaged nearly 38 routes run per game.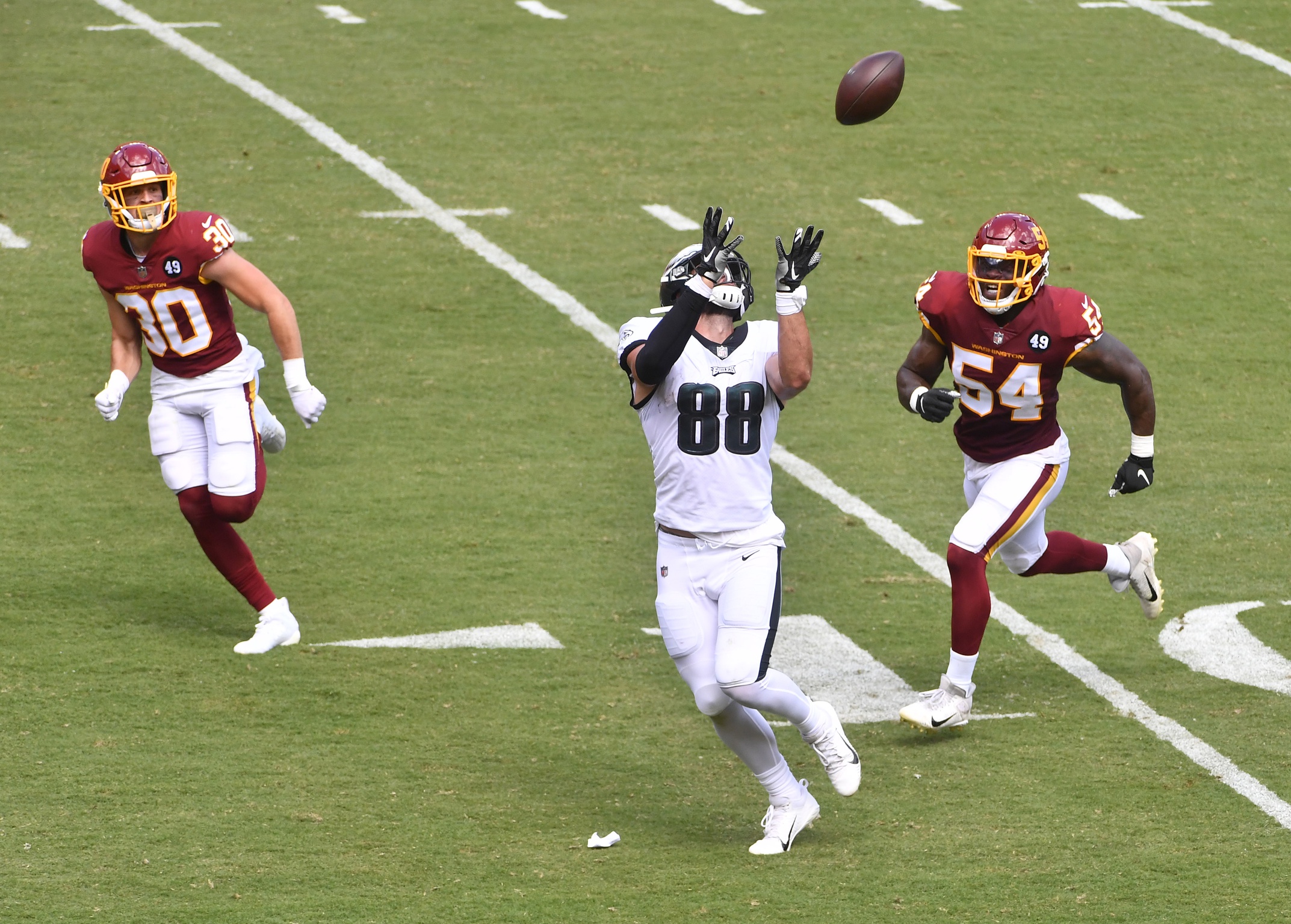 With the Eagles dropping from the No. 6 spot in the 2021 NFL Draft to No. 12, it's less likely they add a top playmaker. Goedert is a huge winner with this move because it takes Kyle Pitts out of range for the Eagles. I thought Pitts might land in Philly, but that no longer seems to be in play.
Noah Fant finished last year as the TE11 in total fantasy points and TE6 in PFF receiving grade (80.3). He also ranked sixth in YAC/reception (6.0), marking the second consecutive season he's finished near the top of the league in making plays after the catch.
Fant finished first in that category in 2019 (8.3) and likely would have flirted with a repeat performance had it not been for injuries. Denver's quarterback play didn't help, either. 
All in all, Fant's second season was impressive. When we remove the games where Fant was limited because of injury/sickness or games that featured college WRs under center, he averaged 11.2 fantasy points per game (sixth) and 11.0 expected fantasy points per game (ninth) to go along with an 18% target share — second only to Jerry Jeudy on the roster (22%).
The only drawback when projecting Fant in 2021 is that his volume seems capped. The team is returning alpha wide receiver Courtland Sutton and basically all of its targets and air yards from a season ago. 
Fant has the talent and YAC-ability to be an elite tight end, but the lack of elite usage is holding him back. 
Historically, rookie tight ends have not produced for fantasy purposes in Year 1. But there's no debating that Kyle Pitts is not your typical rookie TE. The 20-year-old is built differently than almost any tight end we have seen enter the NFL. 
During Florida's pro day, Pitts' wingspan (83 3/8 inches) measured longer than any WR or TE in the last 20 years. He also ran an unofficial 4.44 40-yard dash at nearly 6-foot-6 and 245 pounds. Freak.
Kyle Pitts:
???? 6′ 5 5/8″, 245 lbs
???? Wingspan: 83 3/8″
???? 40-yard: 4.44

Calvin Johnson:
???? 6'5″, 239 lbs
???? Wingspan: 82″
???? 40-yard: 4.35 pic.twitter.com/ZmjJaZAmZF

— PFF Draft (@PFF_College) March 31, 2021
We can't even compare his godly 2020 season to other tight ends. His PFF grade (96.1) led all tight ends and was the highest grade in the PFF era. It was also better than any wide receiver last season.
Pitts is a "tight end" by positional designation, but make no mistake that he is much more of a wide receiver — and an excellent one at that. His ability to create separation against opposing defensive backs is top-rate.
Pitts earned a 97.0 PFF receiving grade and averaged 4.91 yards per route run against man coverage. Those ranked first and second, respectively, among all players. No other tight end averaged over 3.0 yards per route run or posted a grade higher than 87.2. 
Pitts also has sure hands — he didn't have a drop on 65 targets. He was the only player in college football to have zero drops while commanding at least 65 targets. 
It's equally impressive that Pitts had this insane season of production (32% dominator rating) at just 20 years old. High-end, age-adjusted production is extremely encouraging for receivers and tight ends as they enter the next level.
Pitts technically "broke out" during his 19-year-old sophomore season in 2019 when he posted a dominator rating over 15%. The guy has it all — he'll be a mismatch nightmare even for opposing linebackers and safeties in the NFL.
Again, Pitts' naysayers will point to the fact that rookie tight ends rarely produce in their first seasons, but I'd argue that no rookie tight end in recent memory fits the profile of Pitts. There are whispers that NFL teams are considering him as more of a wideout, so fantasy managers would be wise to follow suit. 
Banking on Pitts delivering as a rookie might seem like a stretch to some, but the positional advantage he could provide makes him well worth the investment. 
The biggest factor is where he lands in the draft. If he's drafted by a team like the Cincinnati Bengals, Miami Dolphins or Carolina Panthers (all have top-10 picks) where he can step in and earn targets right away, then consider me all-in on Pitts in fantasy. 
It wasn't all that long ago that we saw Evan Engram post a top-five fantasy season as a rookie. But keep in mind that that Odell Beckham Jr. played just four games that year. If OBJ had played a full season, Engram likely wouldn't have come close to finishing top-five. Targets are a tight end's lifeline. 
Last summer, I wrote about Mike Gesicki's potential to breakout in 2020 with Tua Tagovailoa set to become the Dolphins starter. Gesicki ended up having a pretty solid season, finishing eighth in fantasy points per game (10.6), 11th in yards per route run (1.60), seventh in PFF receiving grade (79.4) and fourth in aDOT (11.6).
It was easily the best season of the young tight end's career. 
The switch to Tua from Ryan Fitzpatrick jump-started Gesicki's fantasy production. He averaged 11.5 fantasy points per game (fifth) and 10.8 expected fantasy points per game (10th) in contests started and completed by Tagovailoa. 
Both averages were better than Gesicki's splits with Fitzmagic under center despite the tight end's target share in the offense (15-16%) remaining relatively stable. 
Gesicki flashed his upside with Tua at QB Weeks 13 and 14, finishing both games with 23-plus fantasy points. 
It doesn't hurt that new co-offensive coordinator George Godsey has been the team's tight end coach the past two seasons. He's probably an upgrade from a coaching perspective over former OC Chan Gailey, who infamously underutilized tight ends. 
Unless the Dolphins add Pitts in the draft, I'd say Gesicki is in good shape for a top-10 finish in 2021. 
I listed Logan Thomas as a "sell" candidate at the beginning of March because I was concerned about increased competition in the Washington passing game. My fears came to fruition when the team added Curtis Samuel and Adam Humphries in NFL free agency. 
At first glance, those two receivers don't seem like they would present too much of a threat to a tight end, but Thomas isn't used like most TEs. Per PFF's Seth Galina, Thomas played 565 snaps from the slot, which was the most by a tight end in a season over the last decade. 
Samuel (72%) and Humphries (81%) both played the majority of their snaps from the slot in 2020. They each commanded a 21% target rate from the slot, which is a massive increase over what the Washington slot wide receivers were seeing: Isaiah Wright (15%) and Steven Sims (13%).
Thomas' fantasy production last season was solely tied to the insane amount of volume/usage he saw in the WFT offense. He finished the season first in routes run (610) and third in targets (105), which helped vault him to a TE4 finish.
Without that volume, Thomas will need to increase his efficiency drastically. Last year, he finished 28th in PFF receiving grade (64.3), 27th in yards after the catch per reception (4.1) and 38th in yards per route run (1.10) at the tight end position.
I expect Thomas to see an uptick of efficient targets with Ryan Fitzpatrick under center, but it won't be enough to make up for the decreased volume in 2021. 
Drawing a Mike Gesicki comparison can help project Thomas' fantasy outlook with Fitzpatrick under center because both tight ends are heavily used in the slot.
During Fitzpatrick's seven starts with the Miami Dolphins last season, Gesicki averaged 9.9 fantasy points per game (10th) and had a 15% target share. 
Thomas earned a 19% target share last season, which ranked fifth-highest at the position. He's clearly a talented player, but the usage is now in question.