One of the biggest storylines entering Super Bowl LV is what Tom Brady has been able to do this season at 43 years old. That storyline led me to wonder which seasons in the 15 years since PFF began collecting data have been comparable, and this piece is the result — a team of ageless wonders whose level of play defied their years. 
We kick things off with the inspiration for the piece and the man preparing to start in his 10th Super Bowl. 
Age at start of season: 43 
Brady's level of production this season at 43 years old shouldn't be possible. His 92.6 PFF grade through the regular season ranked second among all quarterbacks behind only Aaron Rodgers, and his success is largely coming in the form of pinpoint downfield passes as the orchestrator of a vertical passing attack in Tampa Bay. 
Brady recorded a league-high 91 attempts and 36 completions targeted 20 or more yards downfield, and his 9.7-yard average depth of target was tied for the highest in the NFL with Drew Lock. There are no signs of his arm failing him, and it's a big reason why the Buccaneers find themselves in the Super Bowl a year after missing the playoffs.   
Age at start of season: 31
At 31 years old entering the 2007 season, Taylor is the youngest player on this team — a function of the short shelf life at the running back position. Taylor was excellent in that 2007 season for Jacksonville, splitting time with second-year running back Maurice Jones-Drew. 
Taylor's 90.0 rushing grade ranked third in the league among rushers with 100 or more carries behind only Adrian Peterson and Marion Barber. His 51 missed tackles forced on the ground were one shy of the top mark in the NFL (Marshawn Lynch at 52), and he was one of just four running backs in the league to average at least 3.0 yards after contact per carry on 100-plus rushes.     
Age at start of season: 34
Fitzgerald has played three seasons since this 2017 campaign, but it's fair to say he hasn't quite been the same player he was for much of his career. In 2017, though, Fitzgerald still graded out as one of the league's best at 34 years old, earning an 80.0 PFF grade that ranked 14th at the position. 
Fitzgerald managed to put up the numbers he did despite turnover at the quarterback position with each of Carson Palmer, Blaine Gabbert and Drew Stanton dropping back to pass over 150 times. Still, Fitzgerald racked up fewer receptions (109) than only Jarvis Landry.
Age at start of season: 34
Mason was comfortably rookie quarterback Joe Flacco's top target in 2008, earning 42 more targets than anyone else on the team during the regular season. The 34-year-old was efficient with those targets, as well. His 90.0 receiving grade ranked second in the league behind only then-Carolina Panther Steve Smith, and Mason's 11 missed tackles forced after the catch were a top-10 mark at the position.  
Mason would go on to have solid campaigns in both 2009 and 2010 with the Ravens, but his play wasn't at quite the same level as it was in 2008. That three-year stretch is still one of the more impressive late-career wide receiver runs we've seen at PFF since 2006. 
Age at start of season: 35
Galloway played until 2010, but 2007 was his last season as a high-level contributor. Galloway didn't clear 200 receiving yards in any of his final three seasons in Tampa Bay, New England and Washington. In that 2007 season, though, Galloway brought down 57 passes for 1,014 receiving yards with a 77.4 PFF grade.  
As he was for much of his career, Galloway was a threat down the football field, even at 35 years old. His 17.8 yards per reception were second-most among all wide receivers with 50-plus catches — trailing only Santonio Holmes (18.3). 
Many of those big receptions came via long runs after the catch. Galloway's 6.6 yards after the catch per reception were third-most at the receiver position despite an average depth of target over 14.0 yards downfield. That kind of explosiveness isn't often something you see in receivers so late in their careers. 
Age at start of season: 36
Gonzalez is arguably the greatest tight end in NFL history, so it shouldn't come as a big surprise that he was still getting the job done at 36 years old. In his final season in 2013, Gonzalez still picked up a 75.5 PFF grade with 859 receiving yards and eight touchdowns, but his numbers were even more impressive the previous season. 
In 2012, Gonzalez's 89.3 PFF grade ranked second among all tight ends behind only Rob Gronkowski (90.9), and his 64 receiving conversions — consisting of first downs and touchdowns — led the position. He was still very much one of the elite tight ends in the NFL toward the tail end of his 17-year NFL career.    
Age at start of season: 38
Whitworth's 2020 season joins Brady's on this list, and his spot is well deserved. Whitworth and Jason Peters were the only two tackles to play this season who have been around since PFF began collecting data in 2006, and while Peters' age is beginning to show, Whitworth graded out as one of the league's best left tackles.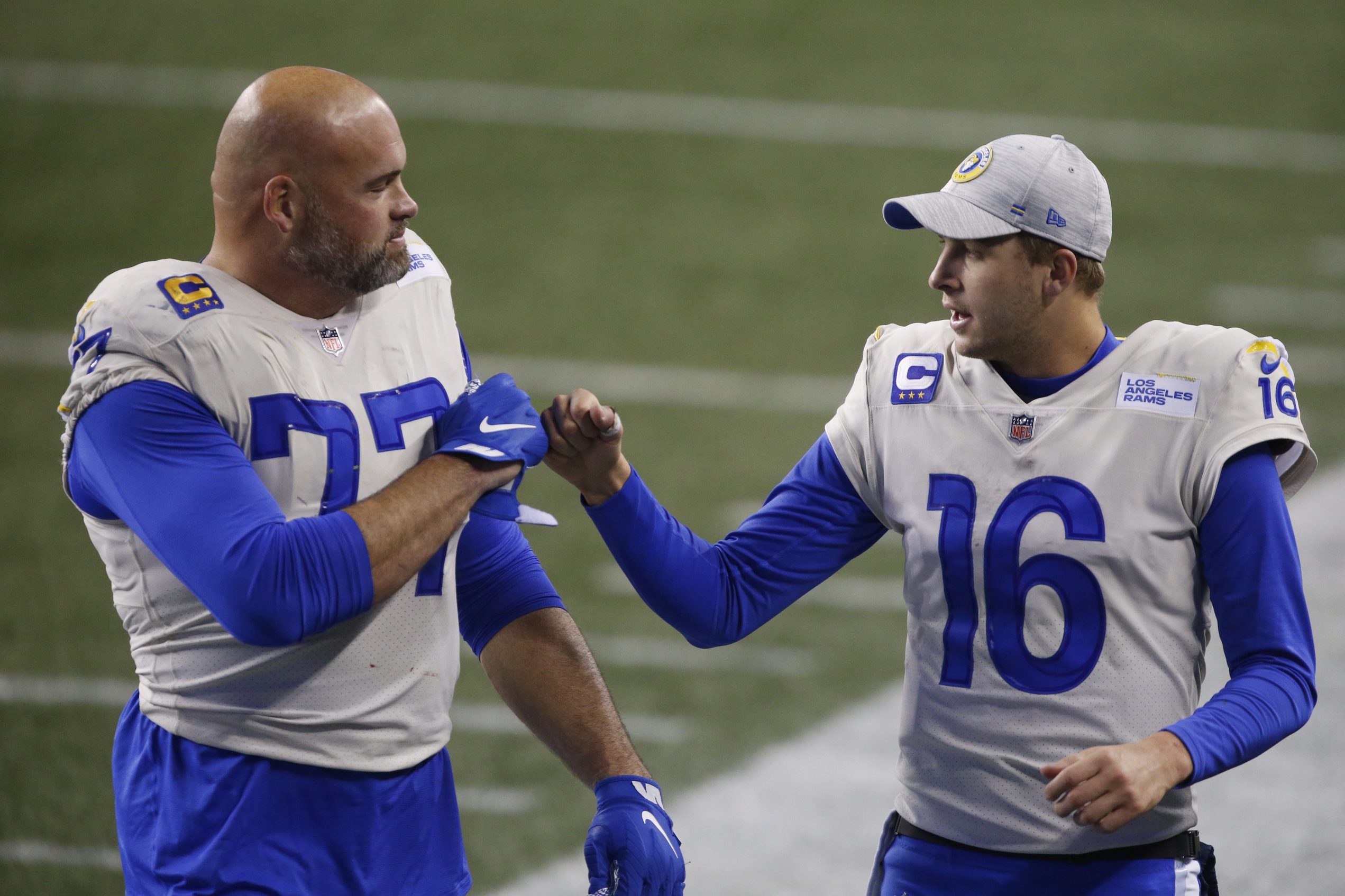 Whitworth struggled in pass protection in the postseason after somehow managing to return to the Rams for their playoff run, but his 88.7 PFF grade through the regular season ranked fourth among left tackles prior to tearing his MCL in Week 10. His 1.8% pressure rate allowed — including a clean slate when it came to sacks — was the best mark at the position. At his age, it was a remarkable performance.   
Age at start of season: 35
The 2008 season was the last of Kendall's 13-year NFL career that spanned stops in Seattle, Arizona, New York and Washington, and it was a good one. The former first-round pick in the 1996 NFL Draft finished the season with an 87.3 PFF grade, ranking sixth in the NFL among all left guards. Kendall allowed just 14 pressures in 577 pass-blocking snaps over the course of the year and graded out even better as a run blocker in an offense where Clinton Portis ran for nearly 1,500 yards.    
Age at start of season: 35
The 2008 season was the first and only Pro Bowl appearance in Wiegmann's career, which spanned from 1996 to 2011. The only center in the NFL with a higher PFF grade than Wiegmann that season was the New York Jets' Nick Mangold, and he was the only center in the league with grades north of 90.0 as both a pass protector and run blocker.
Wiegmann was truly an ironman, playing over 11,000 consecutive snaps to close his career. He provided high-level play, particularly in pass protection, to the end.  
Age at start of season: 34
Few offensive linemen in the past 20 years were as consistently dominant as Yanda spanning a 13-year career from 2007 to 2019. His final season was no exception. The Ravens' offensive line was one of the drivers of their success in 2019, and Yanda was at the center of it. 
His 85.2 PFF grade ranked third among all right guards behind only Brandon Brooks and Zack Martin. Yanda transitioned quickly from being one of the most dominant offensive linemen in the NFL to a nearly unrecognizable figure, dropping over 60 pounds in the first three months of his retirement.
Age at start of season: 33
Anderson spent 12 of his 13 seasons with the Cincinnati Bengals after being selected 10th overall in the 1996 NFL Draft, and his accolades in Cincinnati were certainly impressive. Anderson was named a first-team All-Pro each season from 2004 through 2006. He didn't earn that nomination in his lone season with Baltimore in 2008, but it was an impressive end to Anderson's career nonetheless.
Anderson's 86.0 PFF grade ranked fifth among qualifying right tackles in 2008, and he was one of the more well-rounded players at the position. Anderson joined David Stewart and Damien Woody as the only three right tackles in the league with pass-blocking and run-blocking grades above 80.0.  
Age at start of season: 37
Traylor's pass-rushing threat in his final two seasons — the only two seasons of his career that PFF graded — was nonexistent. In his final season in 2007, Traylor recorded just six pressures the entire year, but he remained one of the more dominant run defenders in the NFL at 37 years old. 
His 87.1 run-defense grade was a top-15 mark among all qualifying interior defenders. Maintaining that level of effectiveness against the run late into his career lands the three-time Super Bowl champion on the list.   
Age at start of season: 33
Campbell is one of the younger defenders on this team — coming off a solid season in 2020 with Baltimore — but you rarely see defensive linemen develop into elite players at 30 years old like Campbell did toward the tail end of his time in Arizona and then across three seasons with Jacksonville.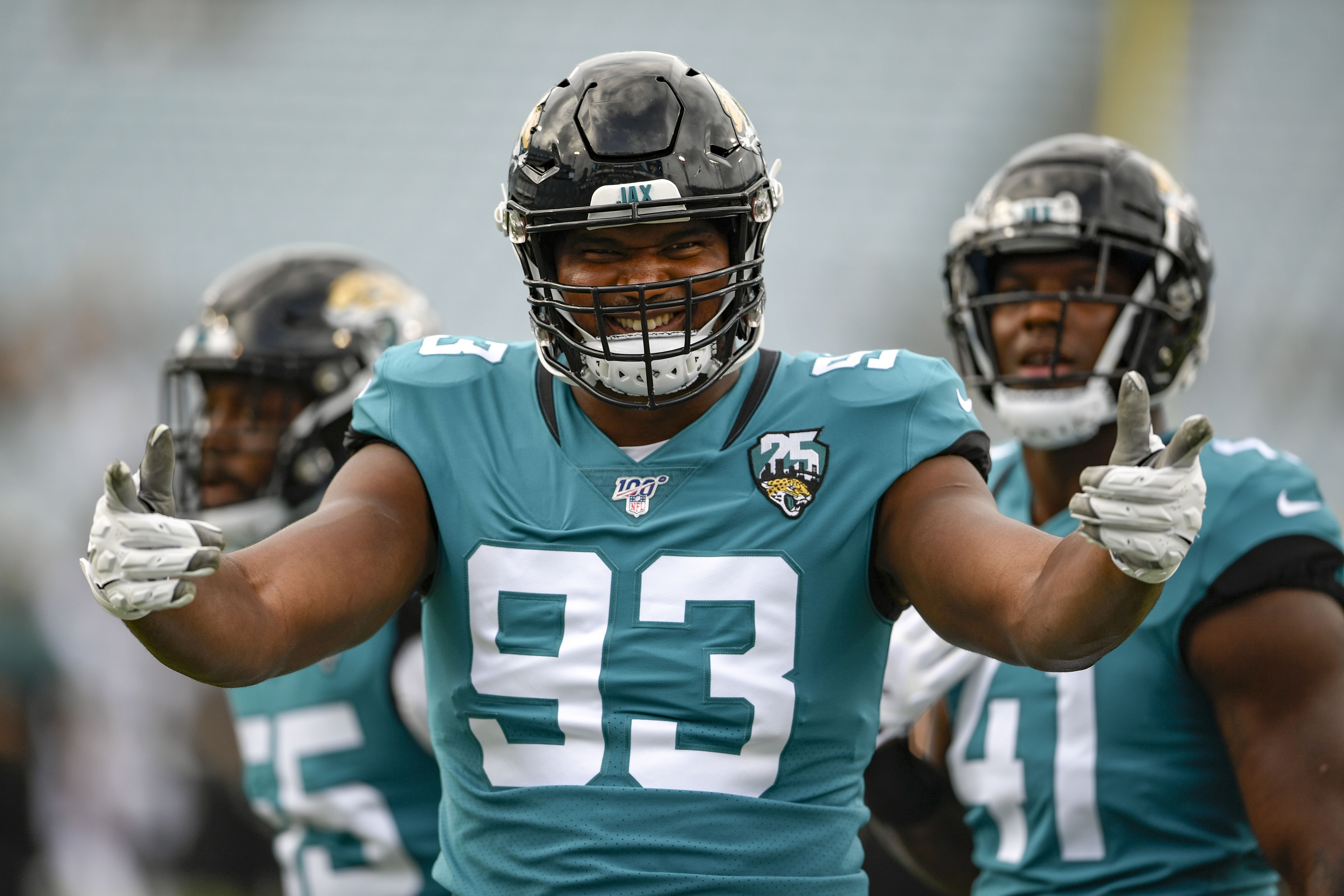 By the 2019 season, Campbell was coming off three consecutive seasons with a PFF grade above 90.0, and he accomplished that once again at 33 years old. Playing both inside and outside on the Jaguars defense, Campbell was one of 12 defenders in the league to record 70 pressures, and he was named PFF's Run Defender of the Year for his standout, well-rounded play.
Age at start of season: 38
Harrison entered the NFL in 2002, but he didn't earn a full-time starting role until 2007. As a result, much of his success occurred later in his career, including this 2016 season with Pittsburgh that came several years after his first retirement from the league. 
Harrison wasn't seeing quite as much playing time as he was at his peak, but he still played over 500 defensive snaps and put up an 89.6 PFF grade at 38 years old that ranked fifth in the NFL among all edge defenders. He delivered multiple impressive performances in the postseason with 12 combined pressures during Steelers victories against Miami and Kansas City, as well. 
It would be the last season of significant action for Harrison, whose final year in 2017 spanned just 193 defensive snaps across time with both Pittsburgh and New England.
Age at start of season: 35
Much of Strahan's career came before PFF began collecting data in 2006, but we were able to capture his final season in 2007. Strahan (67 pressures) and Osi Umenyiora (65 pressures) both ranked among the top five edge defenders in the NFL in regular season pressures, and Strahan added 19 more to that total during the Giants' Super Bowl run. Add in a strong 85.8 run-defense grade and it was an impressive close to a Hall of Fame career.      
Age at start of season: 36
There are a number of years that qualify for Lewis. The former Miami Hurricane and first-round pick in the 1996 NFL Draft played well deep into his 30s, including his second-to-last season in 2011. 
Lewis had lost a step in coverage, but he was still a solid coverage linebacker — especially considering his age — and remained elite against the run. His 90.7 run-defense grade during the regular season ranked first among qualifying linebackers, and his 44 run stops were a top-10 mark with few missed tackles to speak of.
While Lewis picked up his second Super Bowl ring the following season in 2012, his 2011 season was the last year he contributed at a high level to Baltimore's defense. 
Age at start of season: 36
Oddly enough, the second linebacker on this team is also a 36-year-old linebacker from the 2011 season. Fletcher wasn't the same player as he was for much of his career in his final two seasons (2012 and 2013), but he still graded out as one of the better linebackers in the league in 2011.
Fletcher joined Patrick Willis, Stephen Tulloch and Karlos Dansby as the only off-ball linebackers with run-defense and coverage grades of 75.0 or higher, and he was a top-10 most valuable linebacker in the league per PFF WAR. That's an impressive result at Fletcher's age, particularly at a position like linebacker where athleticism is so important.    
Age at start of season: 38
You simply don't see many cornerbacks play until they're nearly 40 years old like Newman did, and you see even fewer that deliver seasons like Newman's 2016 campaign with Minnesota. 
Nearly all of Newman's snaps came at outside cornerback, and he allowed just 245 receiving yards into his coverage all season on over 400 coverage snaps. Newman had nearly as many forced incompletion (nine) as he did first downs allowed through the air (12). He gave the Vikings several strong seasons late in his career, but that effort in 2016 was the best of the bunch.  
Age at start of season: 35
We go from one Vikings cornerback to another. The father of impressive 2020 rookie safety Antoine Winfield Jr., Winfield graded above 78.0 every season from 2006 to 2012 to end his career. 
Winfield's coverage stats were impressive — he allowed a passer rating of just 70.4 on 90 passes into his coverage in 2012 — but not as impressive as his run defense and tackling. Winfield led all cornerbacks this season in run-defense grade (92.3). That was a trademark for the undersized Winfield throughout his career.  
Age at start of season: 33
Across 13 games in this 2011 season, Bailey allowed just 34 receptions into his coverage while breaking up 10 passes and intercepting another two. Bailey followed up that regular season by breaking up more passes in the postseason (three) than he allowed receptions (two) on nine targets across two games. 
It wasn't a surprising result for the first-ballot Hall of Famer, but it was an impressive performance given his age. It was the last year of dominance from Bailey, as his coverage began to trail off in the 2012 and 2013 seasons before his retirement.  
Age at start of season: 38
Woodson was a player who benefitted from a late-career move to the safety position, and it led to continued strong play even at 38 years old in 2015. Playing at free safety for the Oakland Raiders, Woodson earned a 90.1 PFF grade and earned second-team All-Pro honors.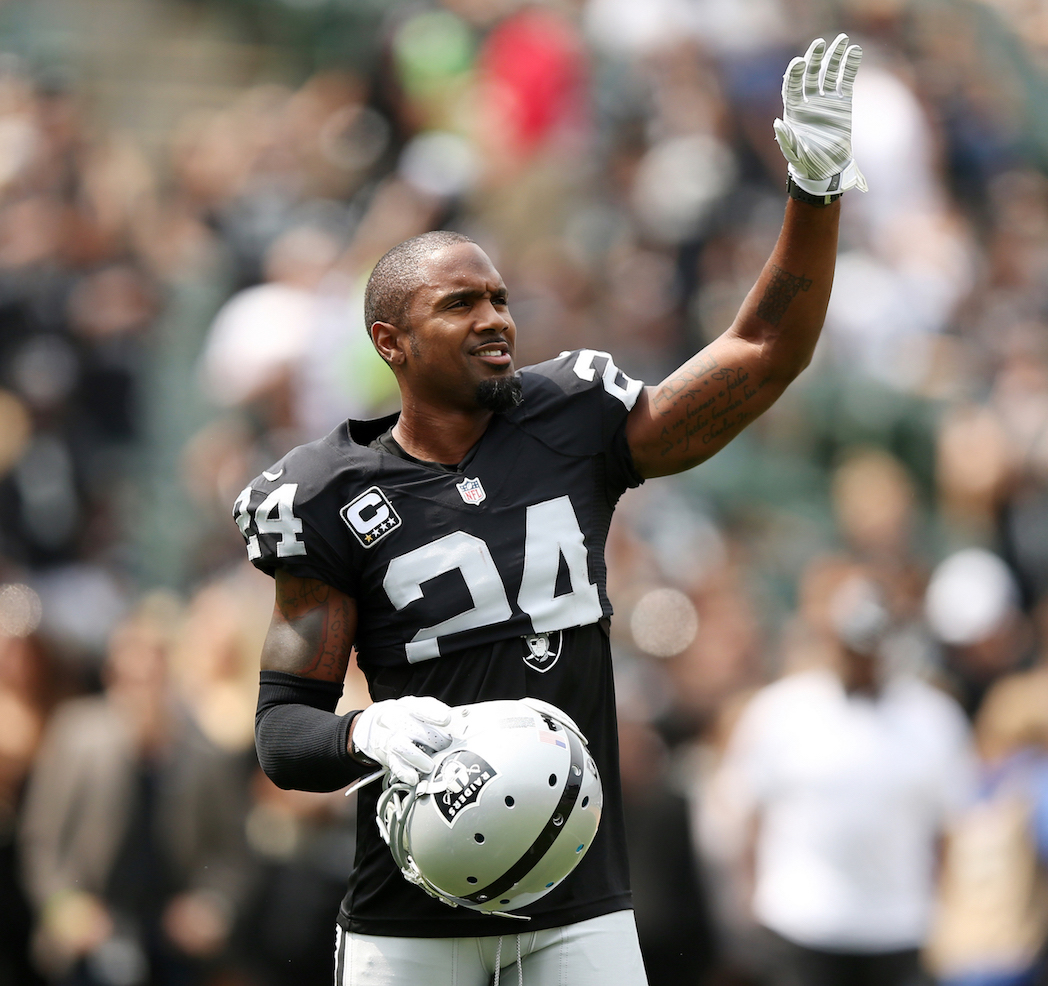 Playing the deep role on the Raiders' defense, Woodson didn't see the ball come his way all that often, but that didn't stop him from picking off five passes and breaking up another four. On top of that, no team allowed fewer receptions on passes 20 or more yards downfield than the Raiders (14). It was a fitting end to his second stint with the team and an impressive career.   
Age at start of season: 37
Barber's final season with the Buccaneers in 2012 was arguably his best across the seven seasons PFF charted of his career. Like Woodson, Barber transitioned from cornerback to safety, with 2012 serving as Barber's first and only season at the position. 
The three-time first-team All-Pro cornerback transitioned well to his new role. Barber's 79.4 PFF grade ranked 12th among qualifiers at safety, and he allowed just a 68.8 passer rating on 58 throws into his coverage thanks in large part to a 1:4 touchdown-to-interception ratio on throws into his coverage.