According to ESPN's Adam Schefter, Ravens tackle Orlando Brown has been traded to the Kansas City Chiefs in a blockbuster deal less than a week before the 2021 NFL Draft. 
The Chiefs are sending Baltimore their first- (No. 31), third- (No. 94) and fourth-round (No. 136) picks along with a 2022 fifth-round pick. In return, Kansas City will receive T Orlando Brown Jr., the Ravens' second-round pick (No. 58) and their 2022 sixth-round pick.
More of PFF's 2021 NFL Draft tools here: 
2021 NFL Draft Big Board | 2021 NFL Draft Guide | 2021 NFL Draft Stats Export | NFL Mock Drafts | NFL Mock Draft Simulator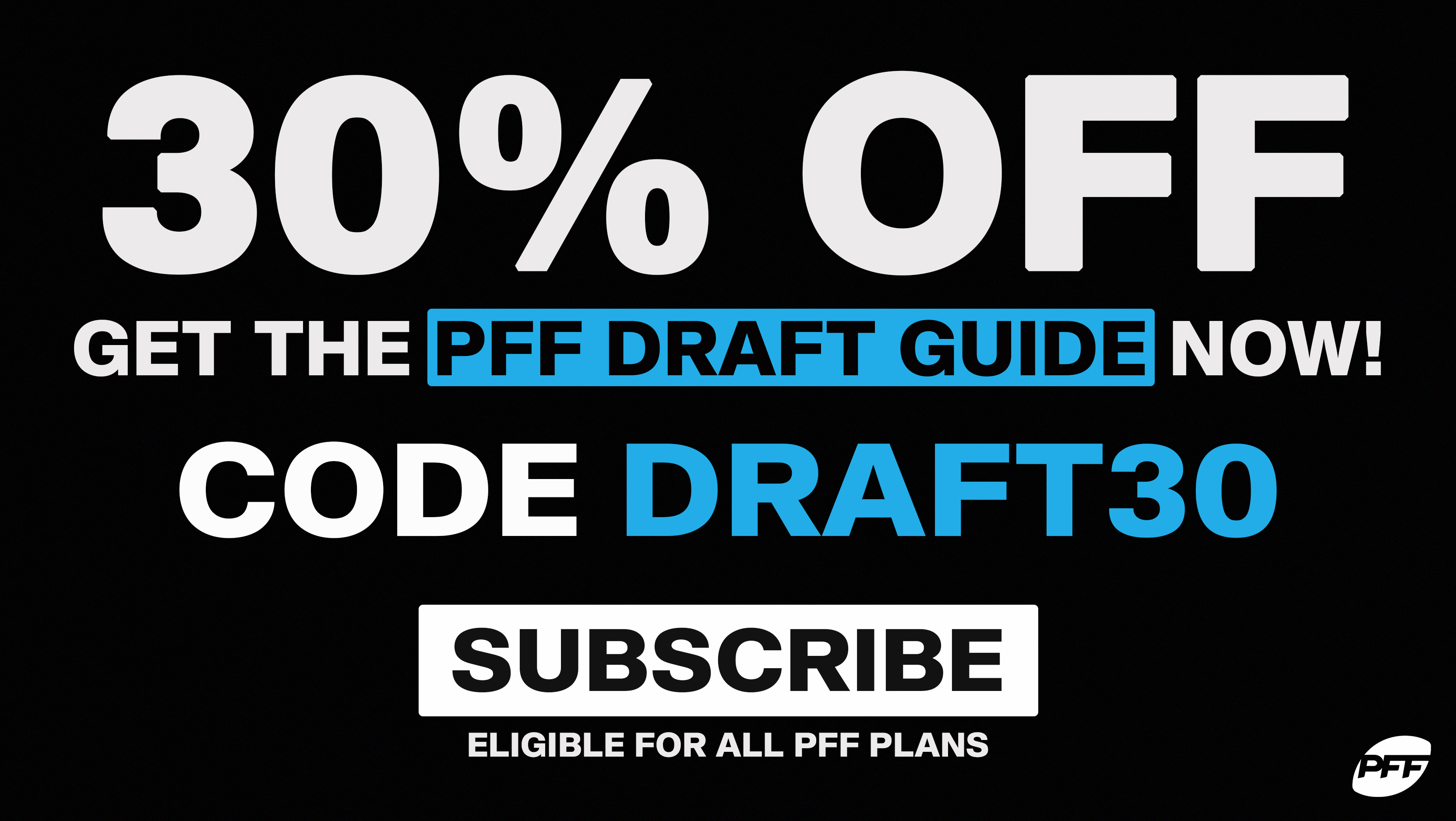 Per Sports Illustrated's Albert Breer, the Chiefs view the total compensation package as equivalent to the No. 45 overall pick, which would imply they used the Jimmy Johnson draft trade chart to value the picks. Per PFF's wins-above-replacement-based draft value chart, the total compensation package is worth roughly the No. 27 overall pick. 
Baltimore now has the No. 27 and No. 31 picks in the first round of this year's draft. The Ravens traded their third-round pick to the Minnesota Vikings at the trade deadline, which ended up becoming the No. 90 pick; they now essentially recoup that pick by adding No. 94 from Kansas City. 
Orlando Brown Jr. has been the fifth-most valuable offensive tackle since entering the league in 2018 out of Oklahoma, earning the same amount of wins above replacement as his teammate Ronnie Stanley, who signed a five-year contract worth almost $100 million during the 2020 season. Stanley is now the fourth-highest-paid tackle in football, trailing only 49ers LT Trent Williams, Packers LT David Bakhtiari and Texans LT Laremy Tunsil, which perhaps could've made it challenging for the Ravens to also shell out top dollar to Brown in the near future.
When Stanley went down shortly after signing his extension, Brown took over for him at left tackle and was very good in his 700 snaps there. He surrendered no sacks and no quarterback hits in his starts at the position and allowed just 16 pressures overall. He reportedly wants to play left tackle instead of right tackle, which makes sense given the pay disparity between the two positions. The switch would necessitate a trade out of Baltimore. 
Per NFL Network's Mike Garofalo, there are currently no plans for the Chiefs to extend Orlando Brown Jr., and he will play out the final year of his contract. Even with the franchise-tag at Kansas City's disposal for 2022 — which will likely carry a value of roughly $16-$17 million — this provides tremendous leverage for Brown in talks next offseason as he'll look to become the next $20M-plus per year left tackle.
Philadelphia Eagles RT Lane Johnson, also a former Oklahoma Sooner left tackle, has been in his own stratosphere in terms of compensation among right tackles for his entire career for this very same reason. He was drafted No. 4 overall 2013 with the idea that he'd eventually slide over to left tackle and supplant Jason Peters. But Peters has continued to play as he approaches 40 years of age. 
Johnson's 2016 extension with an average of $11.25 million per year set a record among right tackles in terms of the average as a percent of the salary cap at signing (7.2%). It took until 2019 for another right tackle to even reach the $10 million per year mark. Subsequently, Johnson reset the record in 2019 with an extension averaging $18 million per year, which came out to 9.6% of the cap at signing. The next highest-paid right tackle is Cleveland's Jack Conklin, currently making $14 million per year.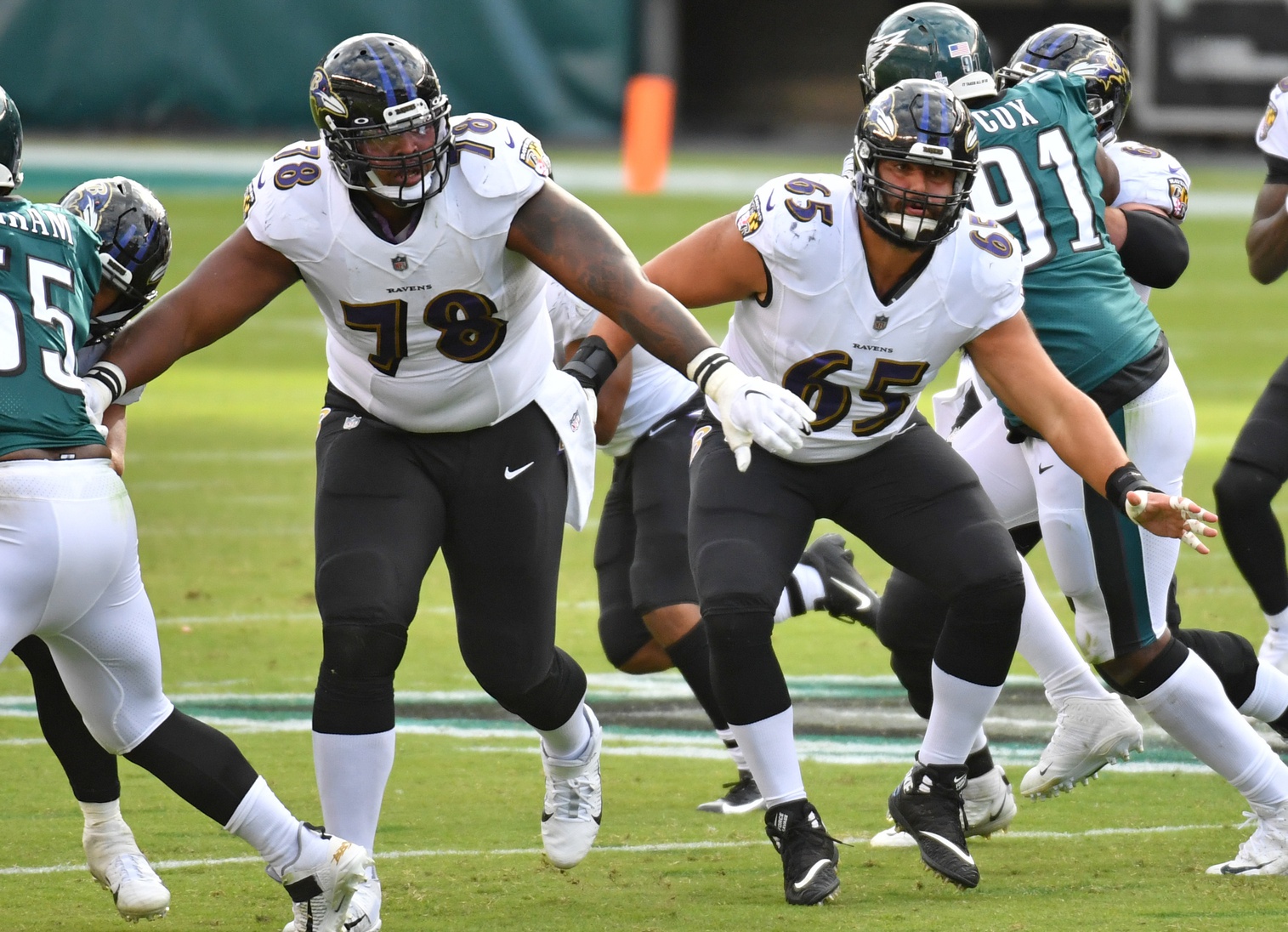 Beyond just the financial implications, Orlando Brown shared a Twitter thread detailing how his late father — also a member of the Baltimore Ravens back in the late 1990s/early 2000s — had always hoped he would play left tackle.
Orlando Brown is the best recent example of why the NFL Combine can be overvalued and too much stock can be placed in a series of athletic tests that may not necessarily show up on the football field. Brown's testing numbers were pedestrian enough to drop him all the way down to the No. 83 overall pick in the third-round in 2018 after many experts believed he would fall somewhere in the late-first to early-second round. 
The Baltimore Ravens trusted Brown's tape from Oklahoma, where he started every game at left tackle from 2015-17 protecting the blindside for QB Baker Mayfield. The Sooners went 34-6 over the three-year stretch, capped off with an appearance in the 2018 College Football Playoff, where Oklahoma eventually fell in an epic 54-48, double-overtime shootout to the Georgia Bulldogs.
Brown quieted his NFL doubters pretty much immediately, showing no significant issues with adjusting to NFL speed and power in his rookie season. Offensive tackles have one of the steeper learning curves among all positions, making Brown's 67.8 overall grade in his rookie season — at a position he hadn't played recently in right tackle — all the more impressive.
Brown has three straight seasons with pass-blocking grades of 73.5 or better but took a big leap in 2020 in run-blocking, which is of course crucial to the Ravens offensive attack. His 72.8 run-blocking grade in 2020 in the NFL's run-heaviest offense further illustrates that his athleticism concerns were overblown. 
Brown was voted onto the original ballot for the 2020 Pro Bowl, which earned him a nice raise to his base salary in his fourth and final season of his rookie contract in 2021. This pay raise for rookies in the final year of their contract is called the Proven Performance Escalator, which you can read about on Over the Cap here. This means Brown will have a $3.384 million salary and cap hit for the Chiefs in 2021.
After the Chiefs' failures to keep the Buccaneers out of Patrick Mahomes' face for all to see in the Super Bowl, there might be more of a premium placed on the position in the 2021 offseason. Brown Jr. will be playing next to left guard Joe Thuney, whose $16 million per year contract from Kansas City made him the highest-paid guard in the NFL. The Chiefs also brought back swing tackle Mike Remmers and signed G Kyle Long and C Austin Blythe.
Baltimore will undoubtedly be worse off in 2021 with the loss of a great young bookend on their offensive line — a unit that already lost a star left guard of 13 seasons in Marshal Yanda following the 2019 season. For these reasons, Baltimore holding out for a first-round pick — even though the full trade package was more complex than that — makes sense.
The good news for Baltimore is that the 2021 Draft appears to have an elite crop of offensive tackle talent, including several top end players that already play on the right side. Oklahoma State's Teven Jenkins, among others, could be the solution for the Ravens come April. In the meantime, Josina Anderson has reported that former Steelers T Alejandro Villanueva and the Ravens have been engaged in negotiations and there is optimism that a deal can be struck. Baltimore will wait until after the draft when Villanueva's signing no longer counts against the compensatory pick formula, and Villaueva will have to make the move to RT, where he's played four total snaps in his career — all coming back in 2015.