• Philadelphia Eagles WR A.J. Brown made his debut with the Eagles and helped them to victory with 155 yards on 10 catches.
• Miami Dolphins WR Tyreek Hill also found success with his new home, catching eight passes for 94 yards on his way to a Dolphins victory.
• New Orleans Saints QB-turned-TE turned runner Taysom Hill gained 81 yards on four carries and scored a touchdown in one of the most surprising performances of the day.
---
PFF's fantasy football recap focuses on player usage and stats, breaking down all the vital information you need to achieve fantasy success in 2022.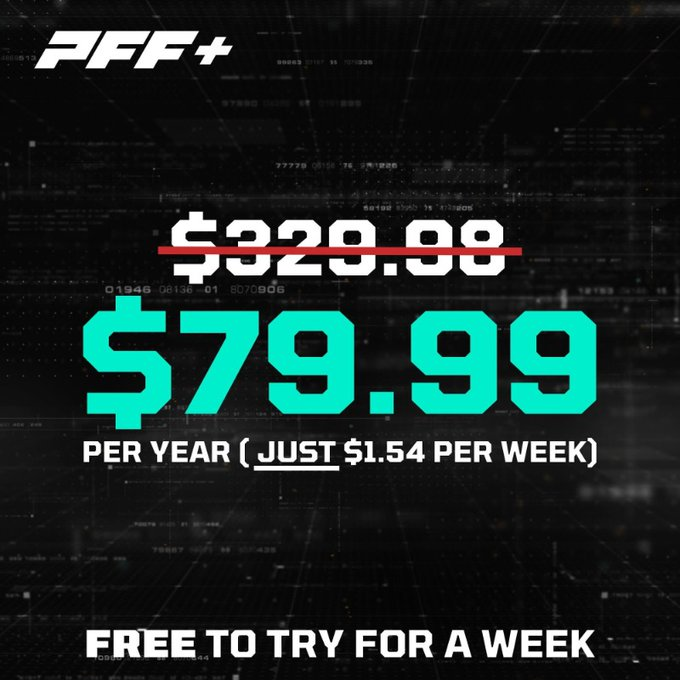 ---
D'Andre Swift

: 15 carries, 144 yards, one touchdown, three receptions, 31 receiving yards.

A.J. Brown

: 10 receptions, 155 yards.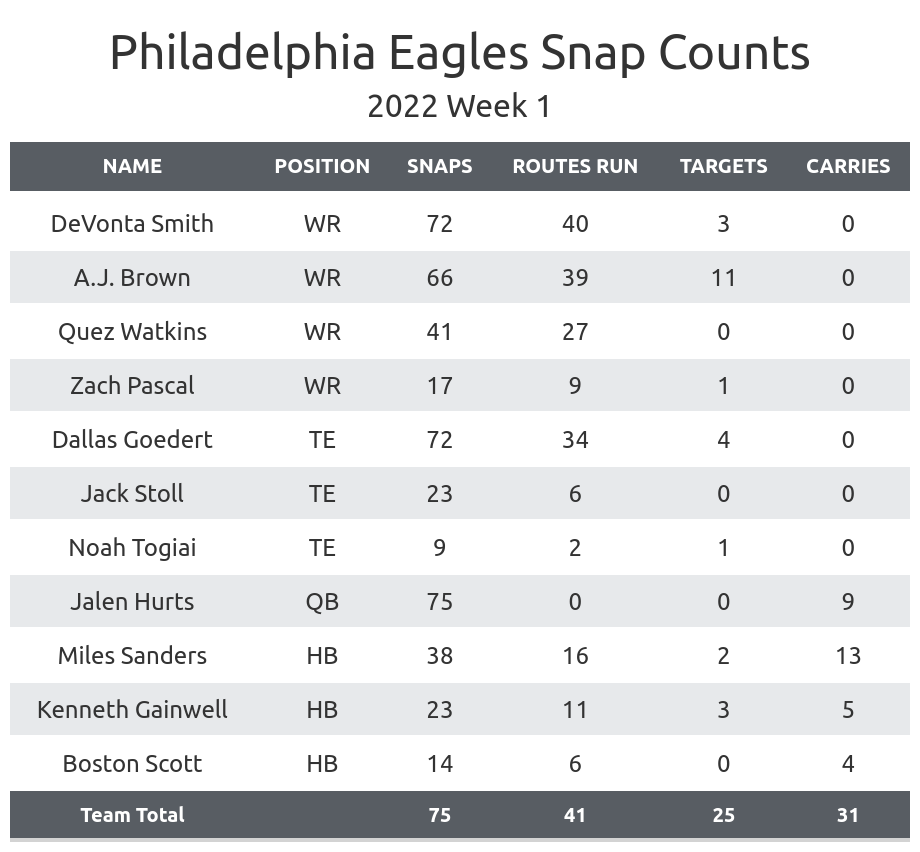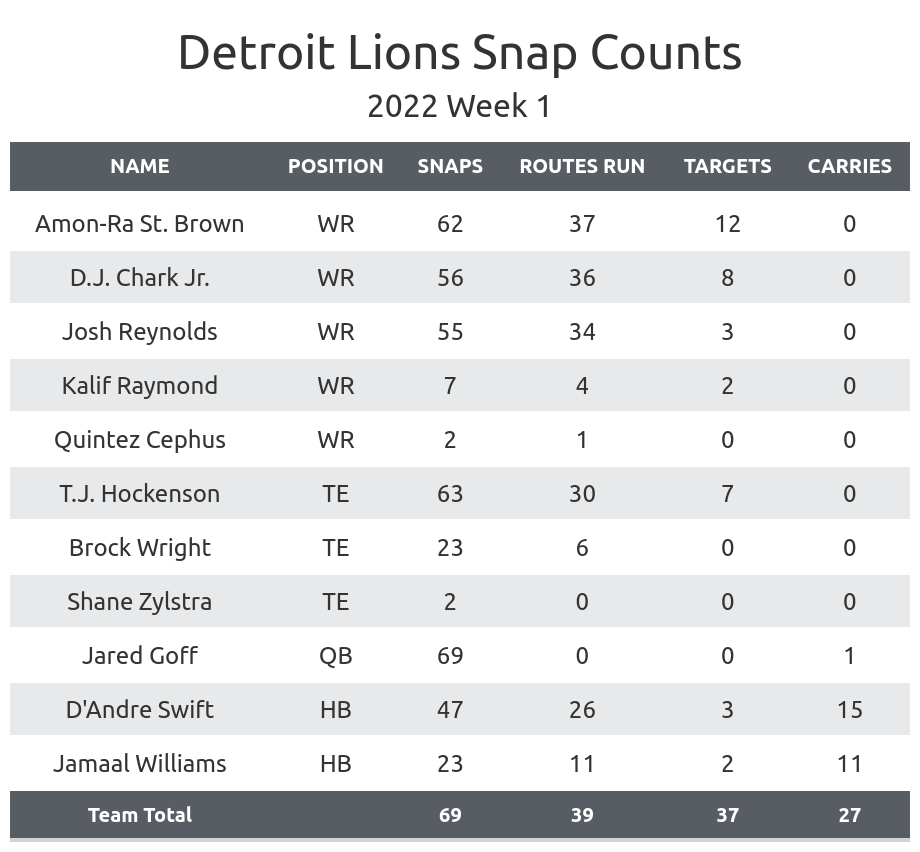 Add Kenneth Gainwell: Gainwell served as the No. 2 back behind Miles Sanders and saw more playing time against the Lions than in any game last season when all of the Eagles' backs were healthy.
Gainwell ran five times for 20 yards and a touchdown and was tied for the second-most targets on the team (4).

He saw more than half of the snaps on typical third downs while also playing significant time on early downs.

He would be a fantasy starter if Sanders gets hurt, but he could also gain more playing time from Sanders as the season progresses.

He's available on over 70% of leagues at ESPN.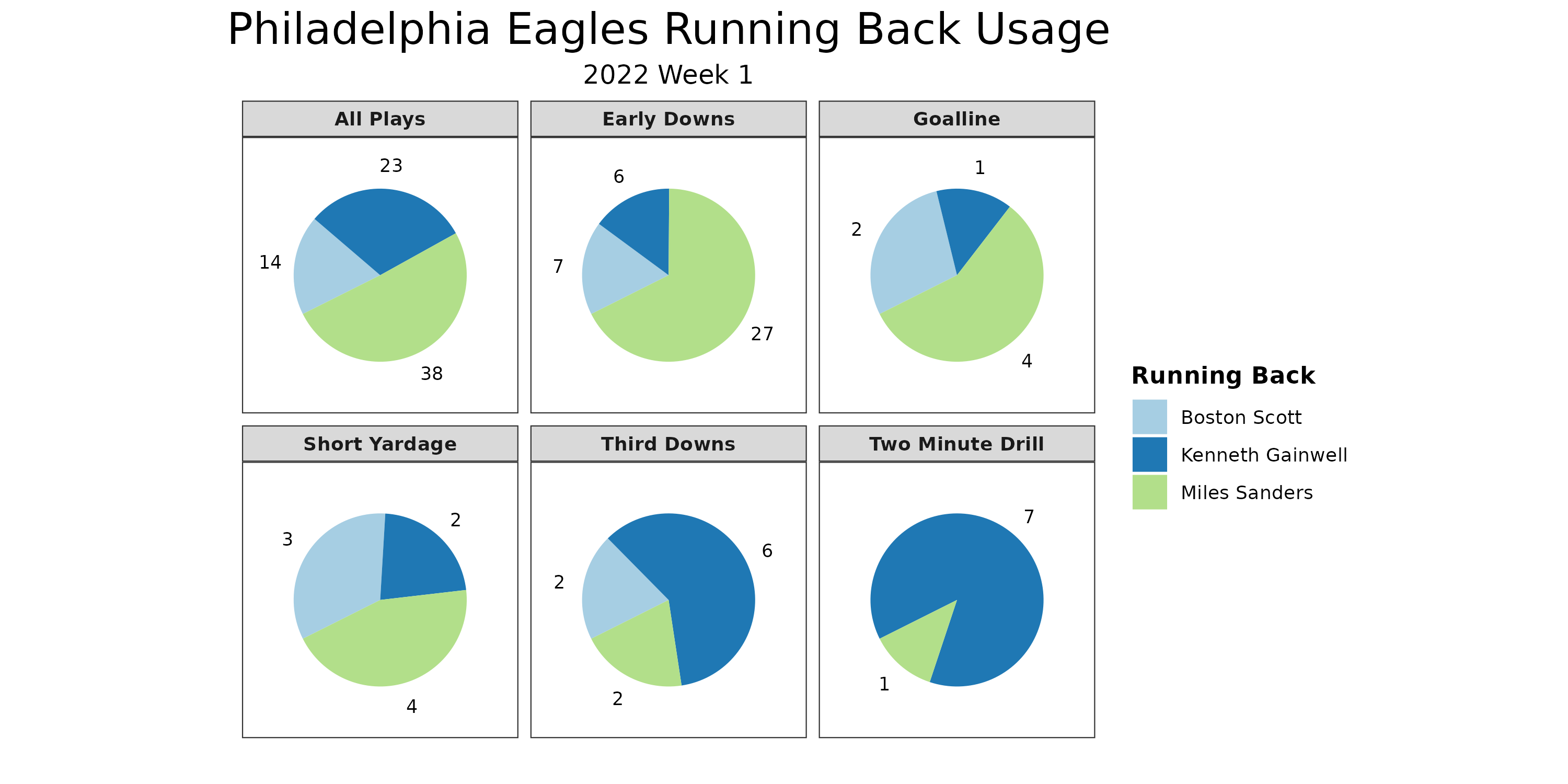 Add Jamaal Williams: The Lions continued to use a two-back committee, similar to last season, with Williams seeing the majority of the goal-line work en route to two touchdowns.
Both Detroit running backs saw double-digit carries, with Williams gaining 28 yards on 11 attempts.

If the Lions can continue to remain competitive in games, Williams could be a flex play in larger leagues, and one of the top running back handcuffs.

While Swift dominated in snaps due to pass routes, the Lions continued to de-prioritize targets to running backs. They were thrown at on just 13.5% of pass routes. Detroit stopped throwing to their backs as much once Dan Campbell took over as the play-caller mid-last season.

With this usage, the value of the two Lions' backs isn't as far apart as perceived based on their ADP.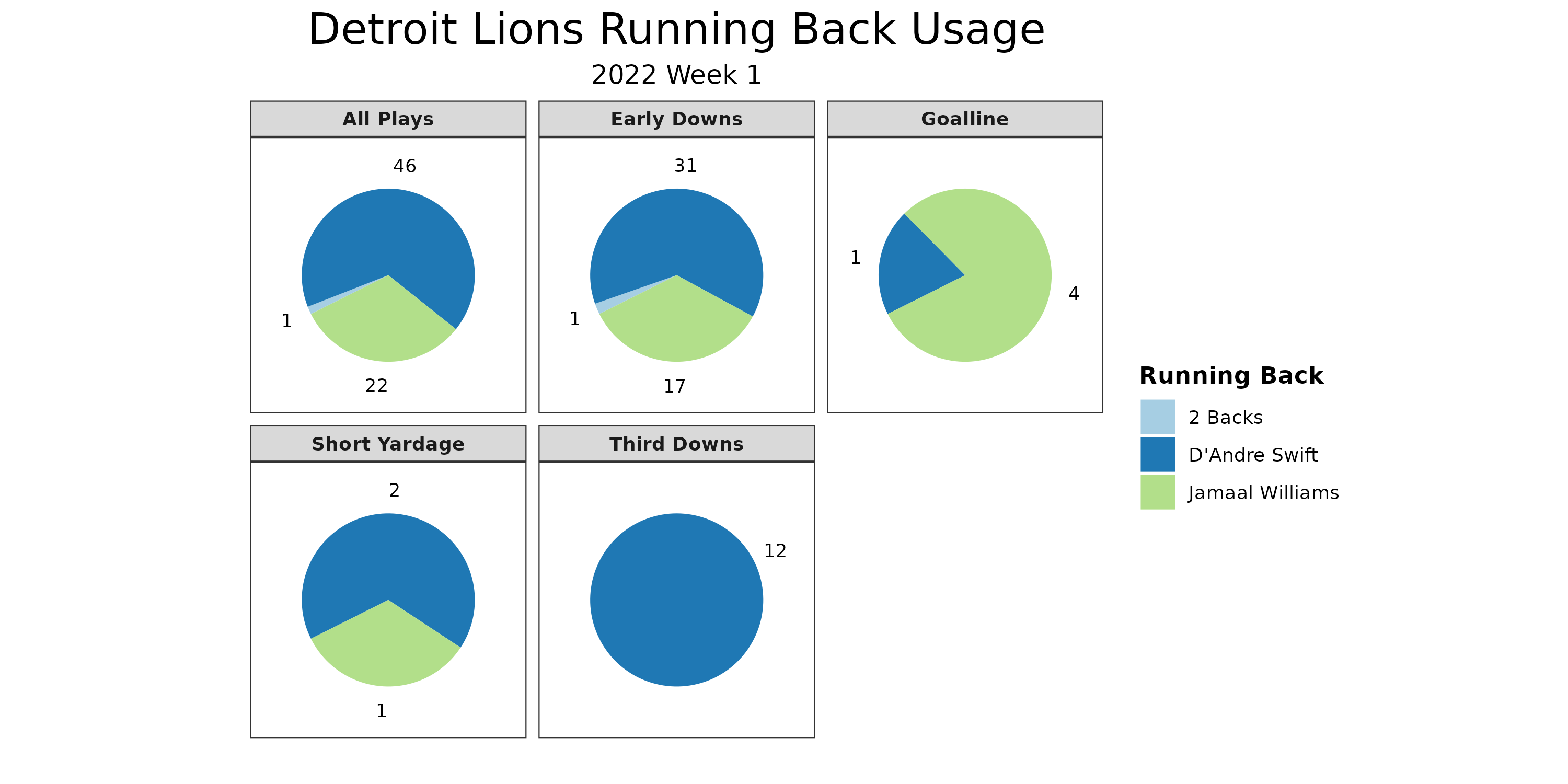 ---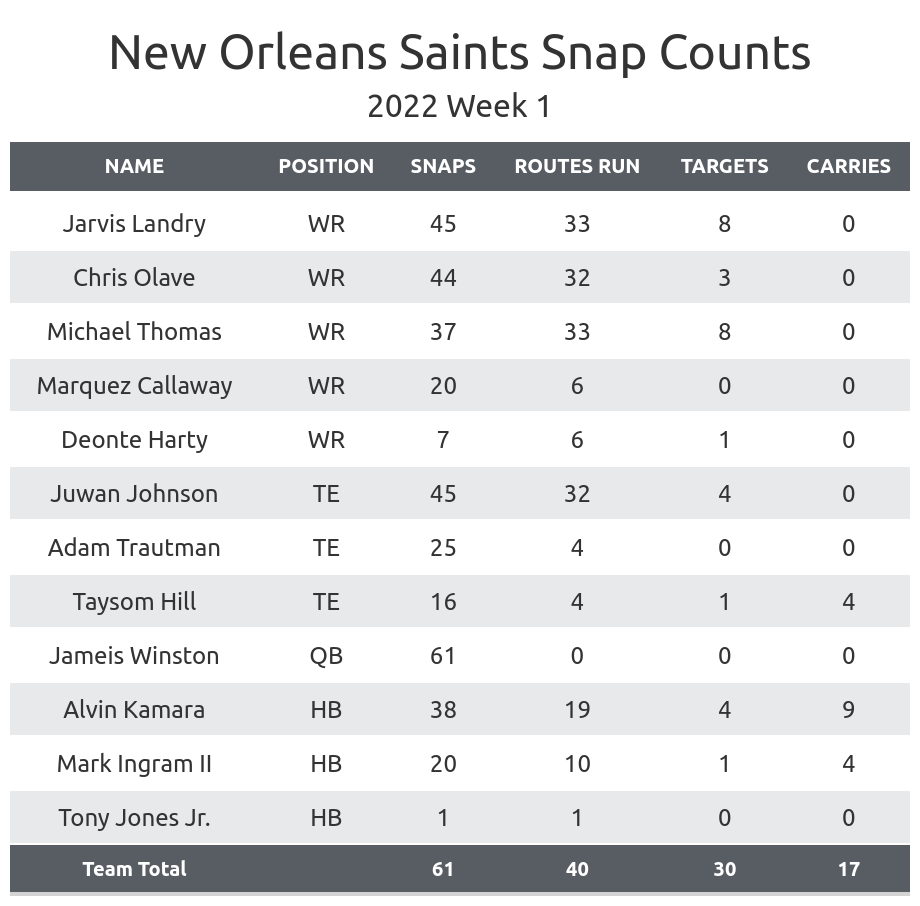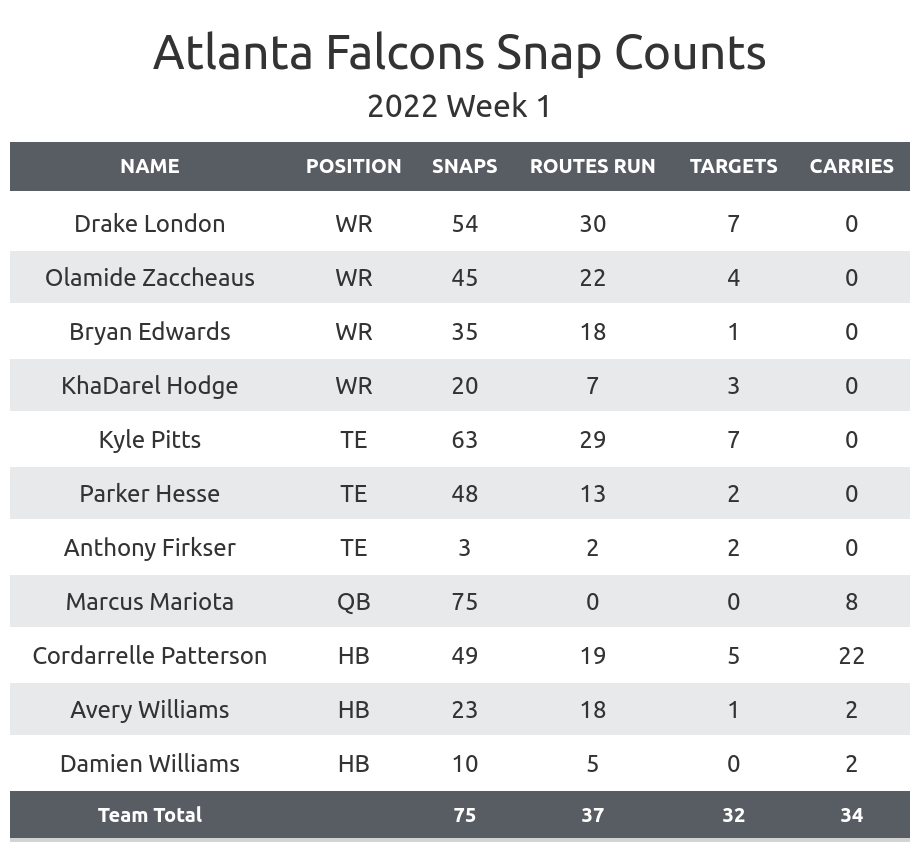 Monitor the Damien Williams injury: Williams injured his ribs in the middle of the first quarter and did not return. PFF injury expert Mario Pilato doesn't expect him to miss significant time, but he potentially could be out 2-4 weeks.
Williams played on seven of the Falcons' first 10 snaps, seeing more snaps than

Cordarrelle Patterson

on first downs, second downs and third downs in the limited sample.

Patterson can be considered a sell-high candidate if the injury isn't very serious as expected. His high carry total was in part due to the injury.

Williams is a waiver wire target if the injury isn't serious.

Fifth-round rookie

Tyler Allgeier

was a healthy inactive. He should see an increase in snaps in the short term if Williams misses more games.
Let someone else pick up Taysom Hill: Hill put up great fantasy points for a tight end with one touchdown, but his usage is unlikely to produce many great fantasy performances.
He was on the field for only 16 plays and blocked on half of them.

He will probably see a carry or two in most games, but it's unlikely he sees four very often. And when he does, he probably won't break many 50-yard runs.

His four routes aren't nearly consistent enough to be in fantasy starting lineups.
Add Juwan Johnson: Johnson was the clear receiving tight end for the Saints. He ran a route on 80% of their pass plays and finished third in targets.
He caught two passes for 43 yards, finishing third on the team in receiving yards.

He should be more of a red-zone threat in future weeks, which is good news if the offense continues to play this well.

Adam Trautman

can be dropped from whatever deep leagues he might still be on. He was used as just a blocker.
Start Michael Thomas: The former All-Pro receiver had a great return for the Saints, and his usage could lead to more big games in the future.
The Saints' offense was off to a slow start, but Thomas achieved a 33.3% threat rate and 2.71 yards per route run over the second half.

The Saints liked to change offensive personnel a lot, but whenever it came to passing the ball, New Orleans used its expected three wide receivers on the field.

It might be too early to also consider

Jarvis Landry

a must-start, but he should at least be picked up in the leagues he's available.

Landry caught seven passes for 114 yards.
---
Kareem Hunt

: 11 carries, 46 yards, one touchdown, four receptions, 24 yards, one receiving touchdown.

Robbie Anderson

: 5 receptions, 102 yards, one touchdown.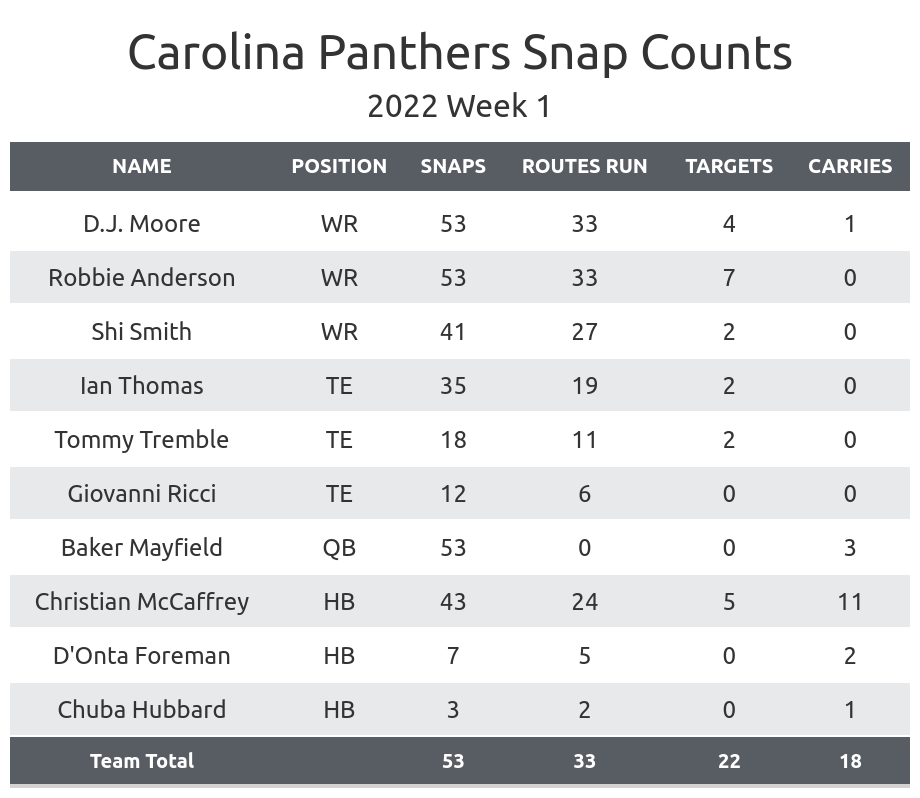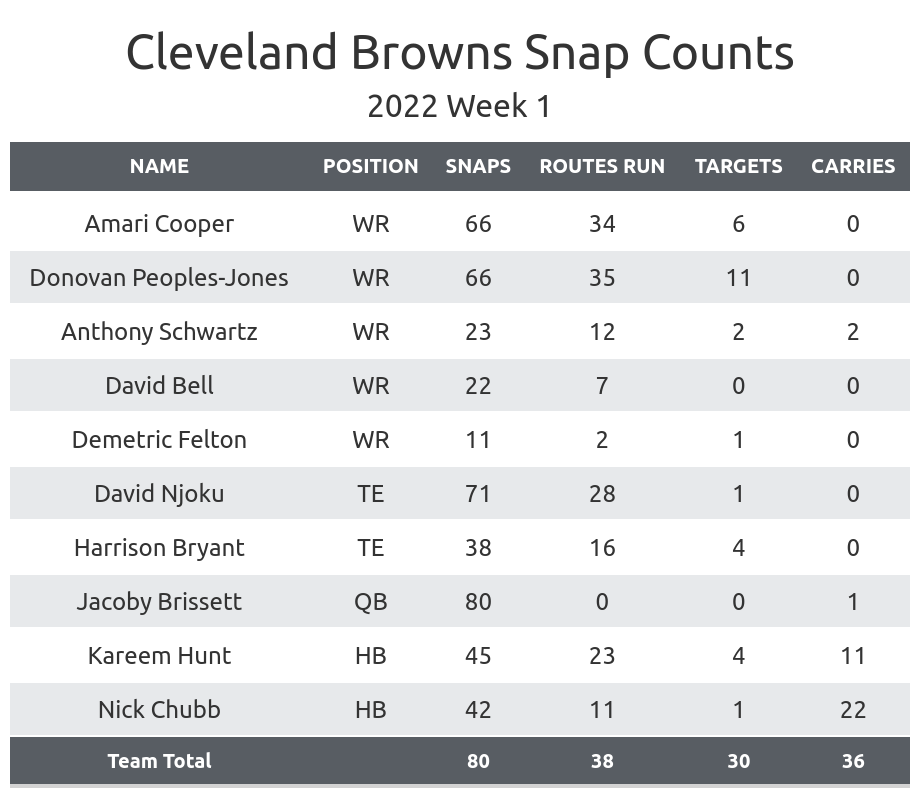 Add Robbie Anderson: The Panthers wide receiver led the team in targets (8) and caught a 75-yard touchdown pass.
The Panthers threw the ball only 27 times, so Anderson could garner even more targets when the offense is passing more.

Two-thirds of the Panthers' passes went to their top three receiving options, which is great news for fantasy football managers of those players.

It was predictable that Anderson would be on the end of

more big plays in the pass game

, as was the case Sunday, so more such plays should be in his future.
The return of Christian McCaffrey: McCaffrey had a relatively quiet return, with 33 rushing yards on 10 carries and four catches for 24 yards.
The Panthers eased him into action. He played 72% of snaps in the first half compared to 92% in the second half.

Similarly, his carries jumped from three to eight from one half to the other.

It couldn't hurt to send a trade offer to whoever drafted McCaffrey just in case they are worried after one game.
Add Donovan Peoples-Jones in deeper leagues: He led the team in routes run (35), targets (11), receptions (6) and receiving yards (60)
He's a clear starter on the team, with everyone below him on the depth chart fighting for the third spot.

He's unlikely to have consistent fantasy value despite being a clear starter due to the quality of the offense and how much the team relies on its running backs.

He could potentially be a fantasy starter in deeper leagues in the right matchup.

He should have more value late in the season when Deshaun Watson

returns from suspension.
---
Deebo Samuel

: 8 carries, 52 yards, one touchdown, two receptions, 14 yards.

Khalil Herbert

: 9 carries, 45 yards, one touchdown, one reception.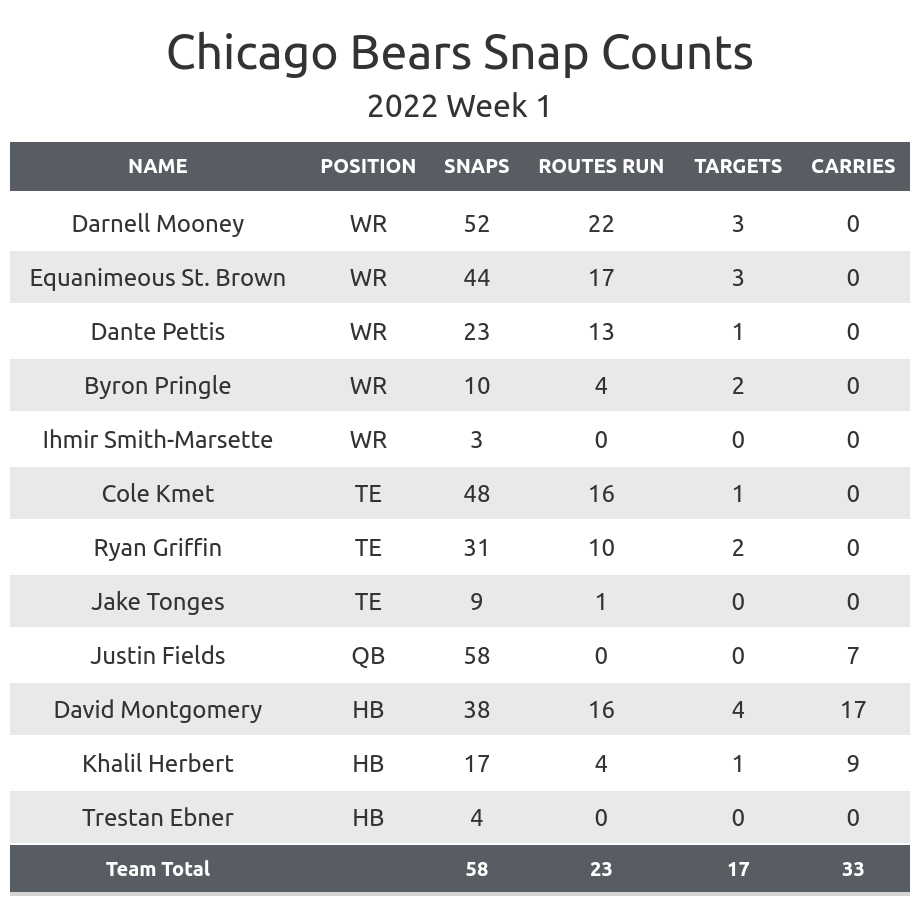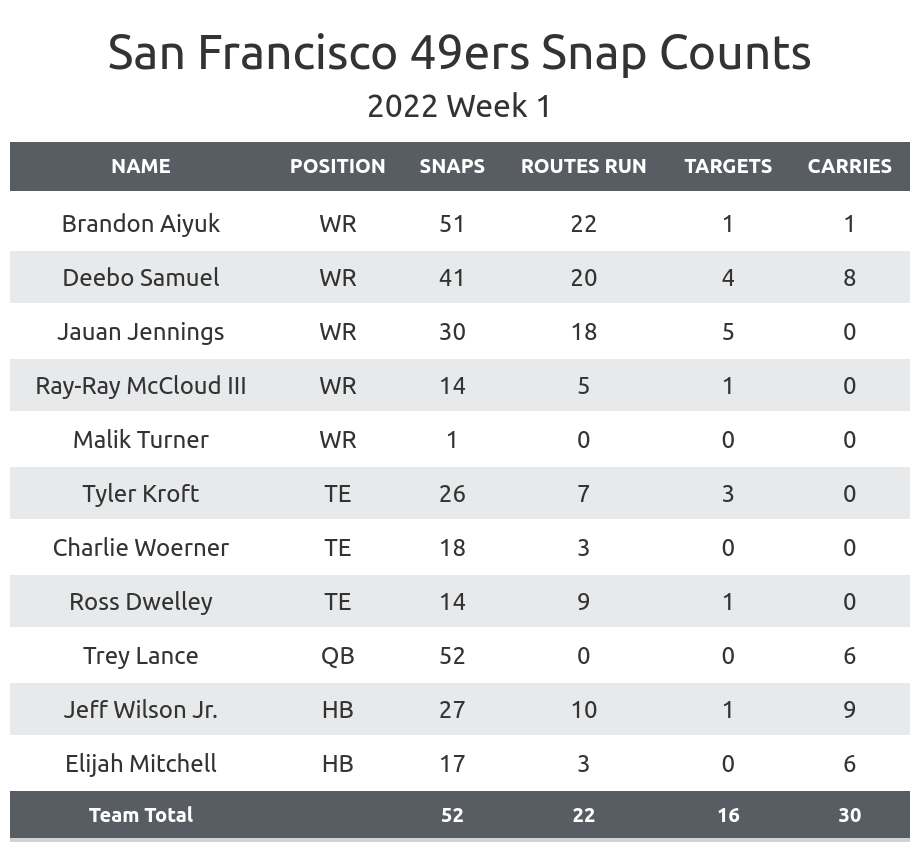 Monitor the Elijah Mitchell injury: Mitchell suffered a knee injury in the second quarter. PFF injury expert Mario Pilato believes it's an MCL sprain, which depending on the severity could keep him out 1-to-6 weeks.
Mitchell was off to a fine start with 41 rushing yards on six carries.

He played on 17 of the first 19 snaps of the game, including every first and second down.

The 49ers had only three third downs during that time. Mitchell stayed on the field for third-and-2, while

Jeff Wilson Jr.

and

Kyle Juszczyk

saw the snaps on the longer third downs.

Wilson took over as the running back on early downs after the injury. He should be one of the most popular waiver wire additions this week.
Add Jauan Jennings in deeper leagues: The 49ers' third receiver led the team in targets (6), receptions (4) and receiving yards (62).
Jennings might not see as many targets once

George Kittle

is healthy, but he should still be on the field for almost every pass play.

It's too early to start Jennings, but he could become a favorite for new starting quarterback

Trey Lance

. 

It's worth noting the only reason

Brandon Aiyuk

played so many more snaps than

Deebo Samuel

is the 49ers' use of 22 personnel. These were all run plays, and Aiyuk was the wide receiver for each of these plays.
Add Khalil Herbert: Herbert led the team in rushing yards with 45 despite having roughly half the carries of David Montgomery. He also scored the team's only rushing touchdown.
Herbert most notably handled both goal-line carries, which could be a sign of more touchdowns to come for Herbert.

Montgomery remains the clear starter, but if Herbert continues to outperform Montgomery as a runner, he could see more playing time as the season goes on.

He is available in 75% of ESPN leagues.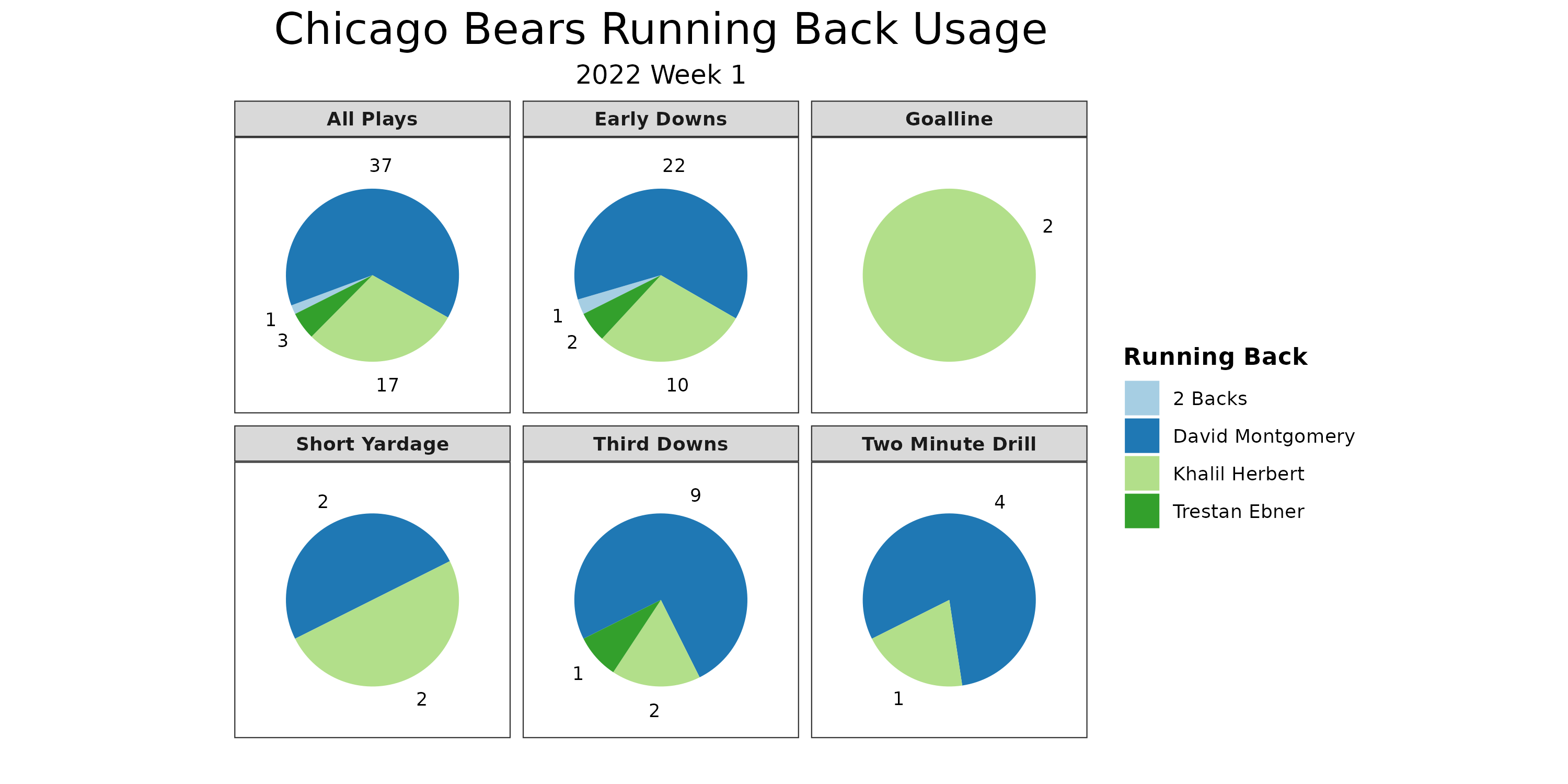 Don't Start Cole Kmet: The Bears' tight end ran a route on under 70% of the Bears' pass plays and received just one target, which fell incomplete.
Kmet was never on the field when the Bears were in 21 personnel. This is traditionally a rushing formation, but the Bears ended up passing more than running out of the formation.

The percentage of routes Kmet runs per dropback should increase, as the passing out of 21 personnel likely won't be as much of a factor in future games.

The Bears are a run-first team, and the passing game isn't there yet. It will be hard to trust Kmet because his opportunities could remain limited due to the offense.
---
Ja'Marr Chase

: 10 receptions, 129 yards, 1 touchdown.

Joe Mixon

: 27 carries, 82 yards, seven receptions, 63 receiving yards.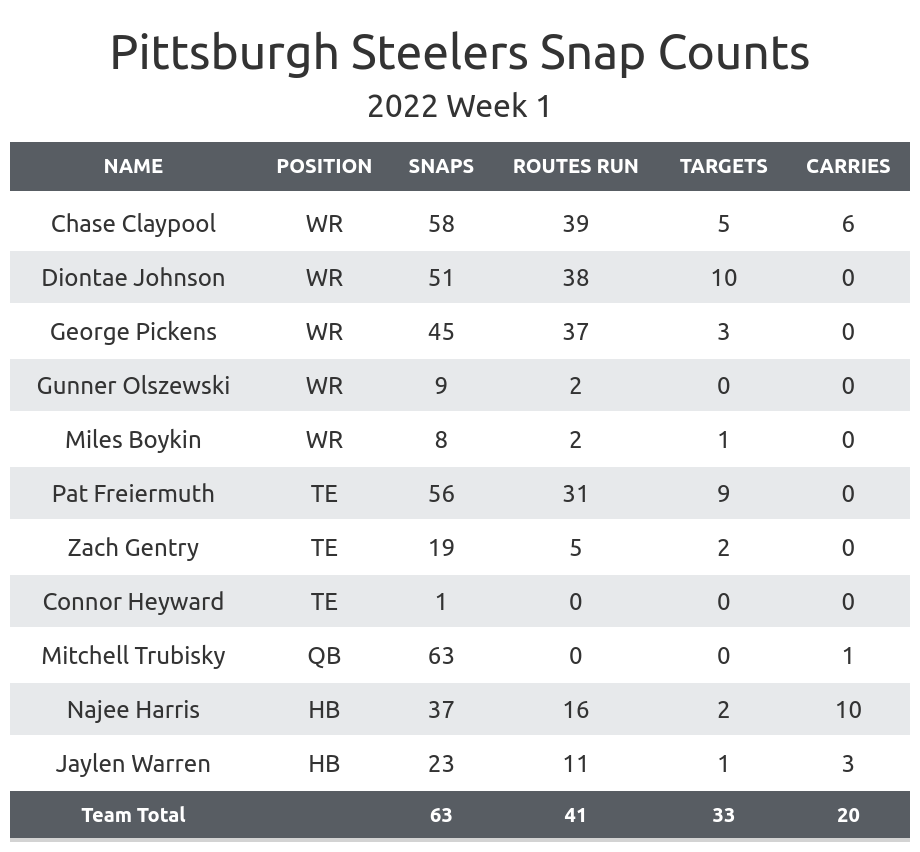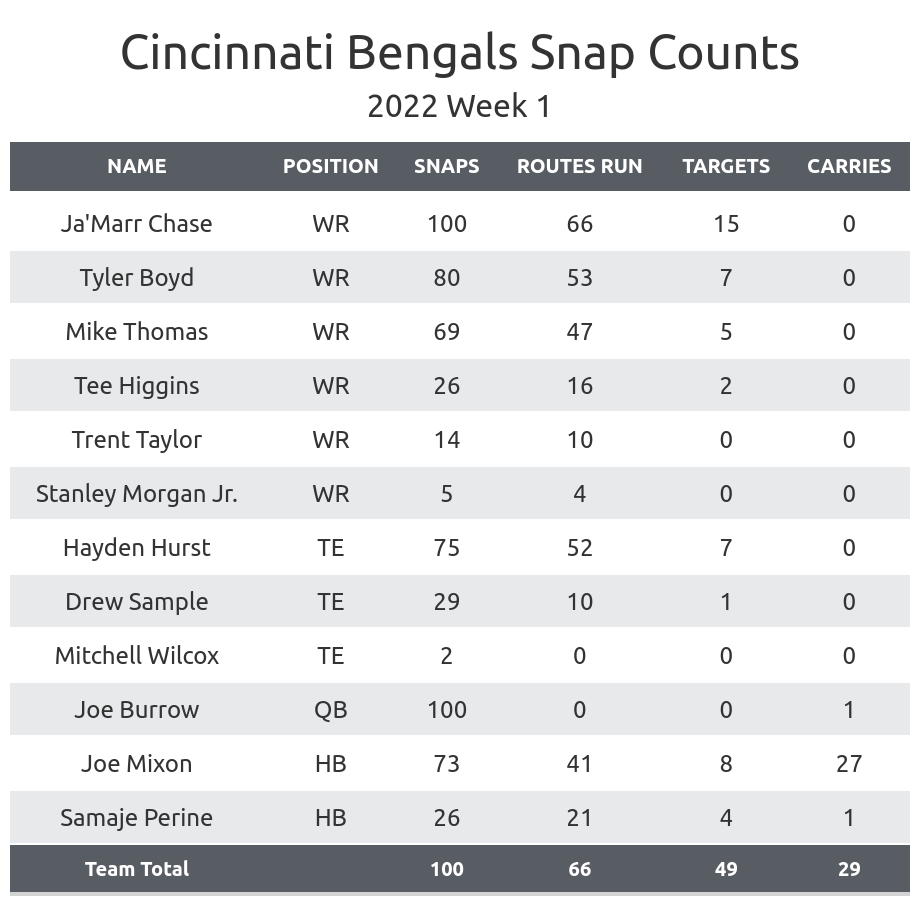 Monitor Tee Higgins' injury: Higgins was removed from the game in the middle of the second quarter after suffering a concussion.
Higgins caught two passes for 27 yards prior to that point.

Mike Thomas

took over as the outside receiver opposite of

Ja'Marr Chase

, while

Tyler Boyd

remained in the slot.

Thomas can be left on the waiver wire even if Higgins misses a game. This should mostly mean more touches for the other skill players.

Thomas was held to one catch for five yards.
Monitor the Najee Harris injury: Harris suffered what PFF's Mario Pilato believes to be a high-ankle sprain, which will likely keep him out for 2-to-3 weeks but could linger the rest of the season.
Harris played on only 77% of snaps during regulation. He played on over 77% of snaps in 13 of 17 games last season.

Jaylen Warren

took all of the other snaps in place of Harris, including all of the snaps in overtime. He is the clear waiver wire target both for the short term and potentially the long term if the injury lingers.

The offensive line continues to do the running backs no favors. The two combined for one yard before contact compared to 28 after contact on 13 carries.

Harris' fantasy value for this game was saved thanks to a touchdown catch in the second quarter.
Start Pat Freiermuth: The Steelers tight end led the team in receiving yards (75) while finishing second in targets (9).
He's been a clear fantasy starter since

Eric Ebron

suffered an injury last season but for whatever reason was starting in less than half of leagues at ESPN.

If you drafted him to be your backup, this could be a good time to trade him.
Add Hayden Hurst: The Bengals tight end was running a route on the vast majority of pass plays, leading to seven targets.
He caught five of them for 46 yards.

His biggest potential is in the red zone. The Bengals should be scoring more than they did in this game, which means Hurst should have a decent chance of finding the end zone in most weeks.

Only add him if there is uncertainty to your starting tight end each week.
---
Jonathan Taylor

: 31 carries, 161 yards, 1 TD, 4 receptions, 14 receiving yards.

O.J. Howard

: 2 receptions, 38 yards, 2 touchdowns.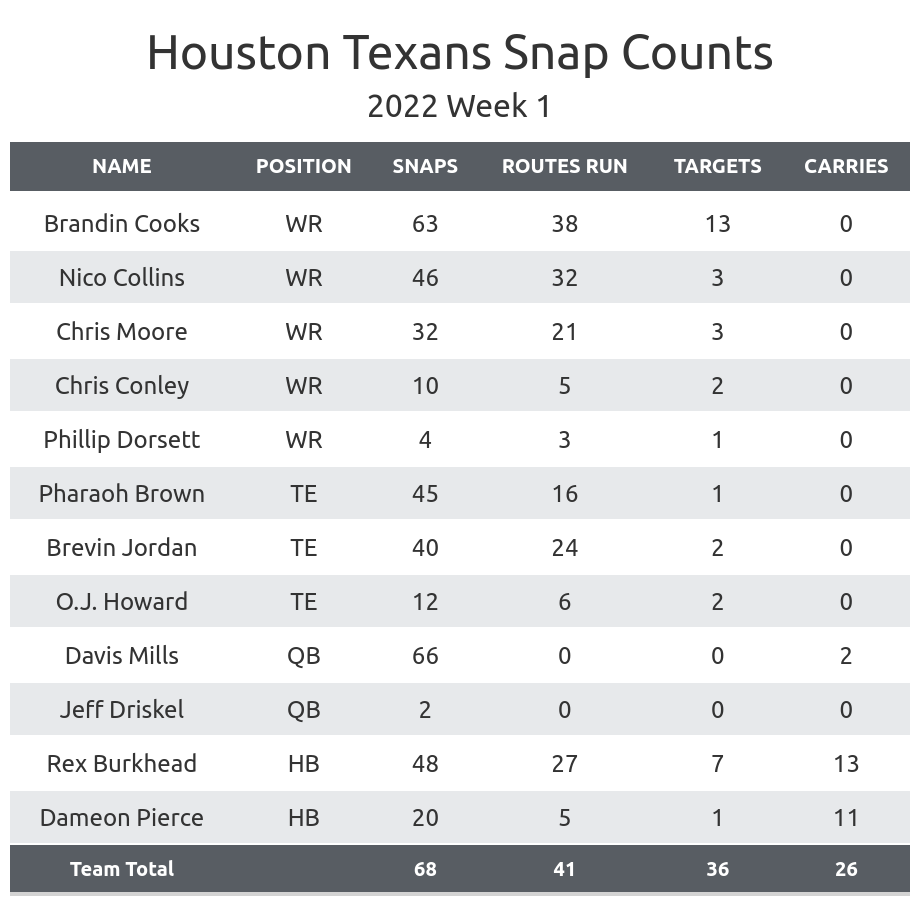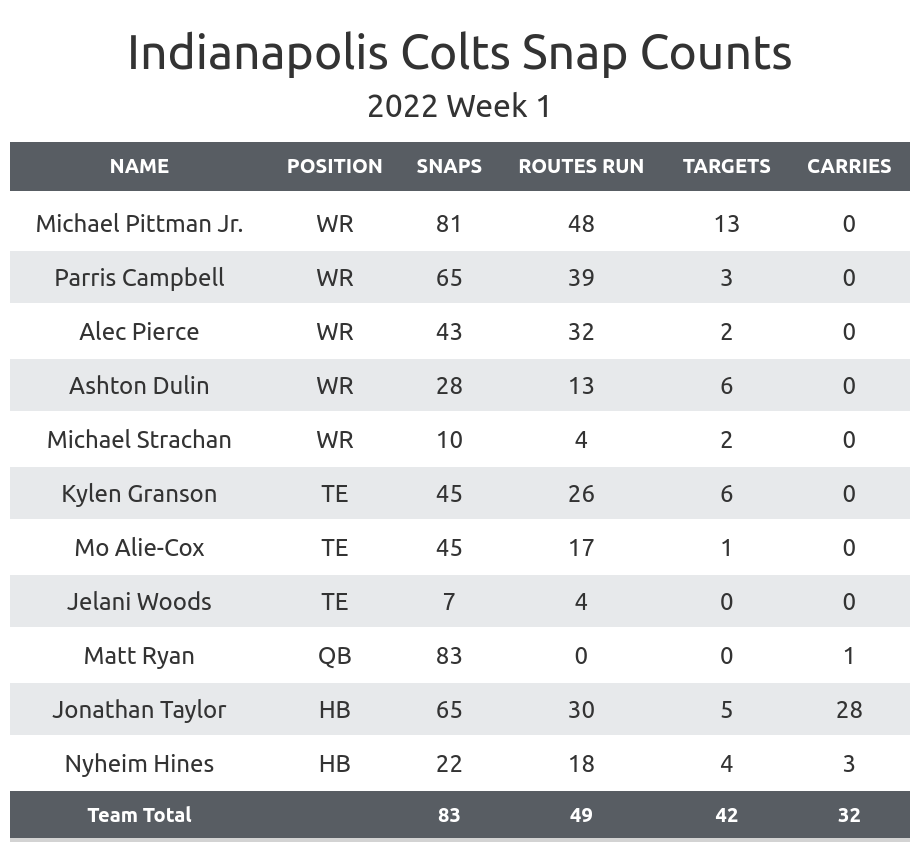 Add Rex Burkhead: Burkhead was both the lead rusher and receiving back for Houston, including playing the vast majority of snaps in some key situations.
Burkhead played every snap in the two-minute drill.

He played on all but one third down.

Dameon Pierce

took one snap on a third-and-2, but Burkhead also played on multiple third-and-2s.

Burkhead even dominated early-down snaps, with 17 compared to eight by Pierce outside of two-minute drills.

He gained 40 yards on the ground from 14 carries and 30 in the air on five passes.

Pierce can be expected to take on more of the early-down work as the season progresses, but it seems unlikely he takes much of the passing-down work. He should be left out of fantasy starting lineups.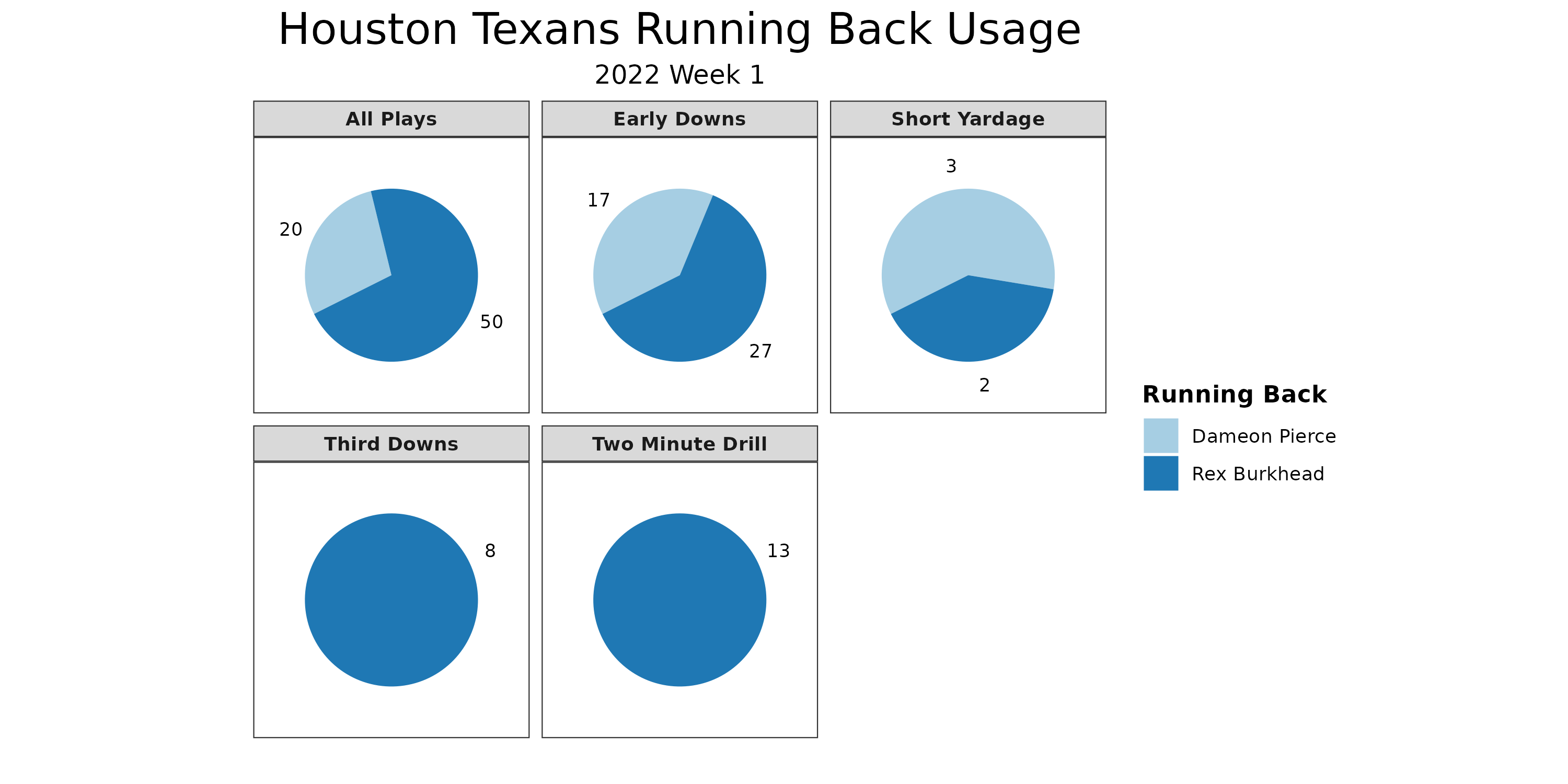 Don't Add O.J. Howard: Howard may have caught two touchdowns, but he ran a route on only six of the Texans' 41 pass plays.
Brevin Jordan

remains the Texans' lead receiving tight end but will be unreliable as a fantasy starter as long as

Pharaoh Brown

is also seeing significant early-down work.
Monitor the Colts' tight ends: Kylen Granson led the Colts' tight end room in pass routes en route to six targets.
He caught only three passes for 22 yards.

The two tight ends were used interchangeably, but

Mo Alie-Cox

was on the field more often on run plays and was asked to stay in to pass block more often.

It had seemed like Alie-Cox would be more of the receiver based on the preseason.

This is likely a situation to avoid because it could be either player any given week.

If either tight end suffers an injury this season, the other should be a waiver wire pickup.
---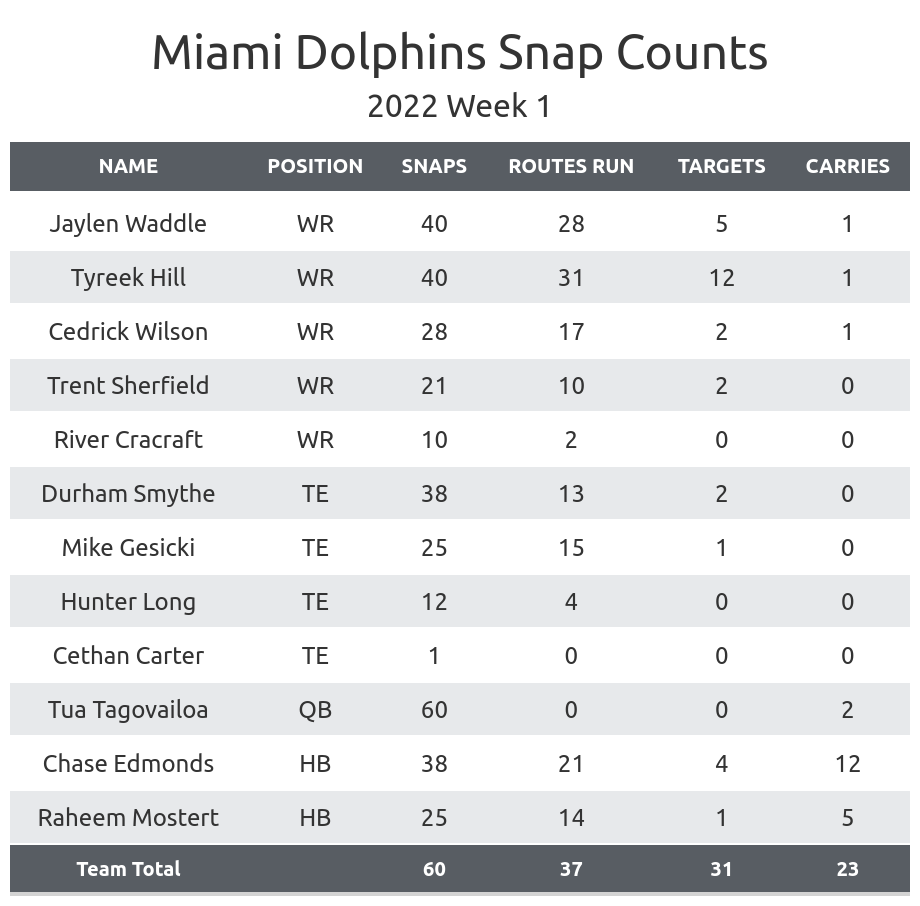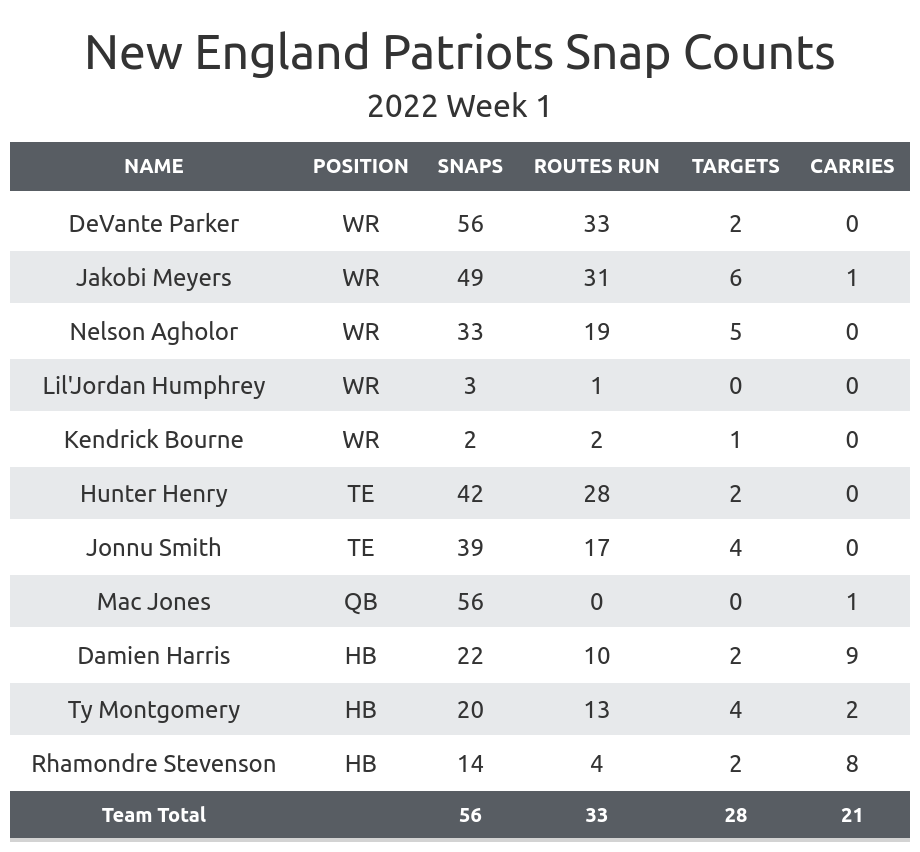 Start Chase Edmonds: The former Cardinal split offensive snaps with Raheem Mostert while dominating snaps on third down, giving him a large enough role to be a must-start player.
He gained 25 yards on 12 carries and 40 yards on four catches.

This was only a two-man backfield despite Miami keeping four halfbacks on the roster, so Edmonds is competing with only one player for snaps.

The Dolphins didn't have any goal-line opportunities, but the fact that Edmonds was used just as much as Mostert in short-yardage situations is good for his touchdown potential.

Edmonds historically has been an inconsistent big-play runner with big-play potential. He gained an explosive run on 13% of his carries in 2020-2021, ranking seventh-best among running backs.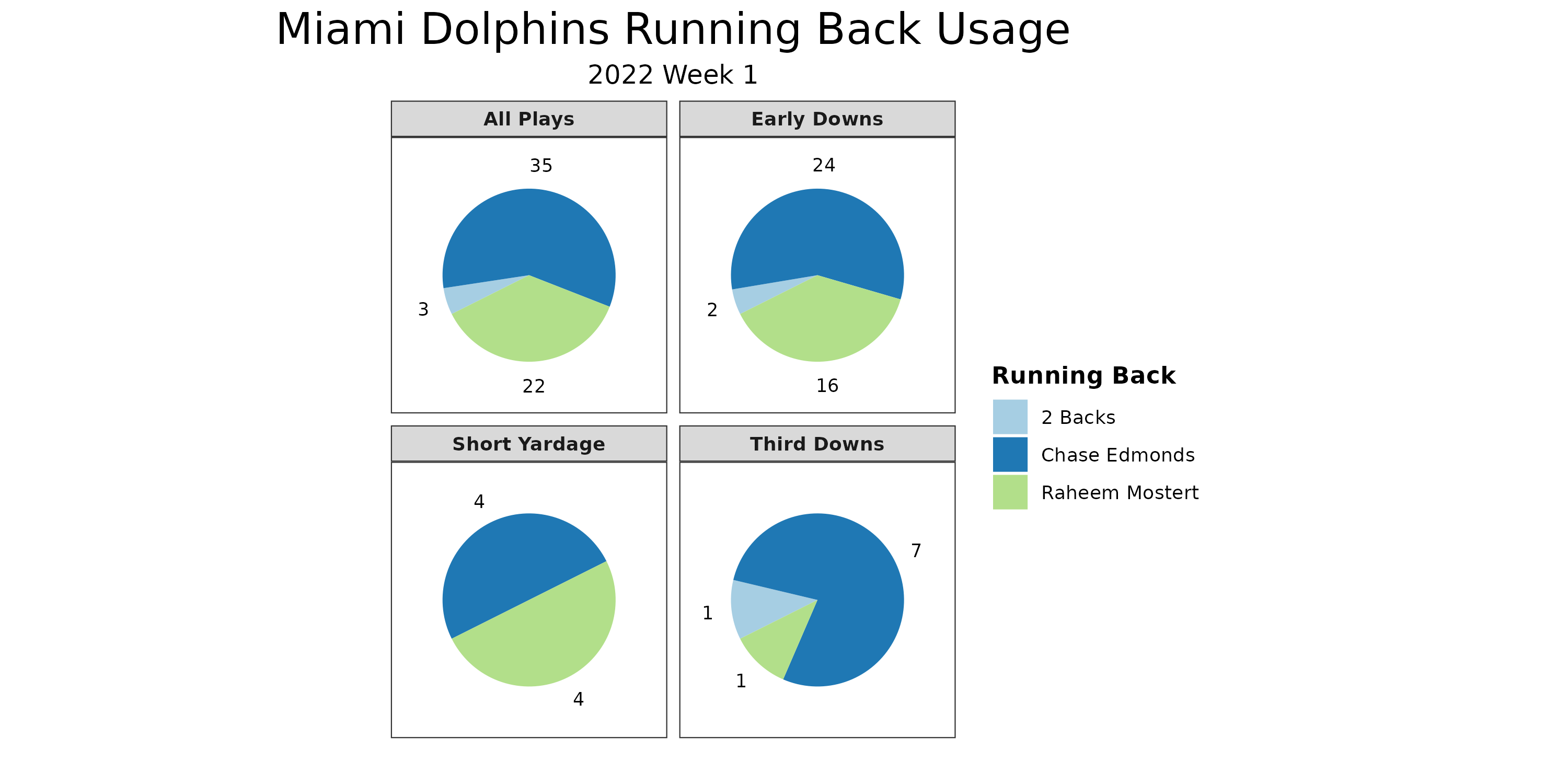 The Patriots' Same-Old Backfield: There was much talk of the Patriots potentially using Damien Harris and Rhamondre Stevenson more on third downs compared to seasons past. Instead, Ty Montgomery handled the vast majority of third downs.
Montgomery played eight of nine snaps on third down, with Harris taking a snap on third-and-2.

He also played five snaps on early downs, mostly in passing situations.

Montgomery caught three passes for 15 yards and a touchdown.

Harris and Stevenson were both held to single-digit carries, and each caught two passes.

Harris saw most of the early down-receiving work, but that may not stay consistent.

Both Harris and Stevenson can be borderline fantasy starters in the right matchup.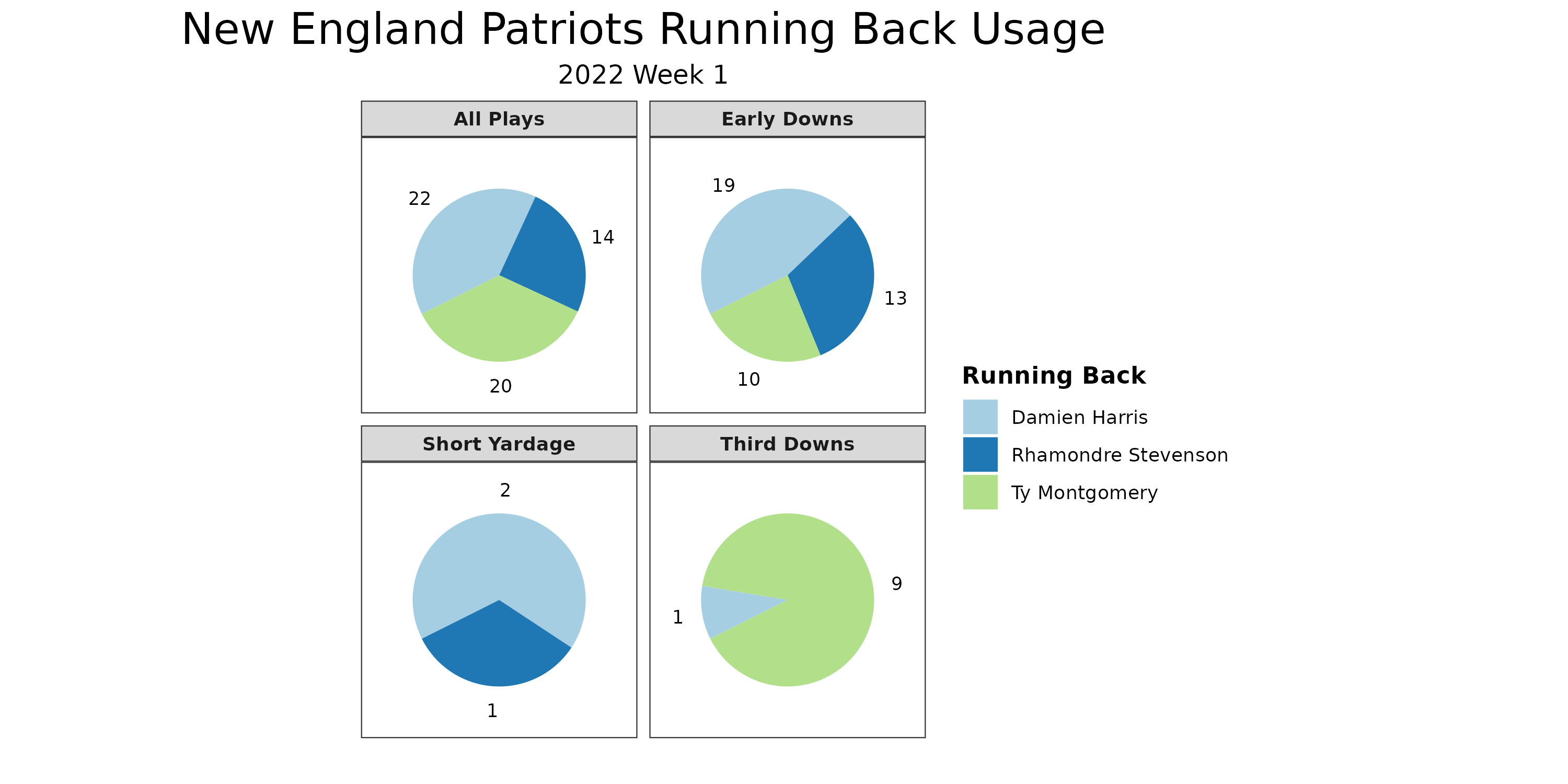 Monitor the Patriots' receiving usage: The Patriots used significantly more two-tight end sets in passing situations compared to last season. 
Third wide receiver

Nelson Agholor

saw just barely more routes run than second tight end

Jonnu Smith

. Smith was largely used as a blocker last season.

Both players were big parts of the Patriots' pass game, hauling in three catches each while finishing second and third in targets.

Kendrick Bourne

, who was once a clear top-three receiver on the Patriots' depth chart, ran only two routes but still finished second on the team in receiving yards (41).

It's possible the Patriots return to more three-receiver sets if they regain trust in Bourne, or once

Tyquan Thornton

is healthy.

When that happens, we could see fewer routes from

Hunter Henry

compared to this game.

Jakobi Meyers

is the only Patriots receiver who should be trusted on a weekly basis.
Don't start Mike Gesicki: The once-consistent fantasy starter has moved fully to tight end and ran a route on less than half of the Dolphins' pass plays.
The Dolphins ran 25 snaps from 21 or 22 personnel, and Gesicki was never on the field in those situations.

He was almost always on the field in 12 personnel, but only 62.5% of the time in three-receiver sets.

The best-case scenario for Gesicki at this point is for the Dolphins to trade him.
Monitor the Mac Jones injury: Jones played every snap but was said to be dealing with a back injury. It's unclear if it is serious.
If he misses any time, this will make it even harder to start any Patriots receiver. It would likely lead them to rely even more on running backs, which could give a boost to the team's two lead rushers.
---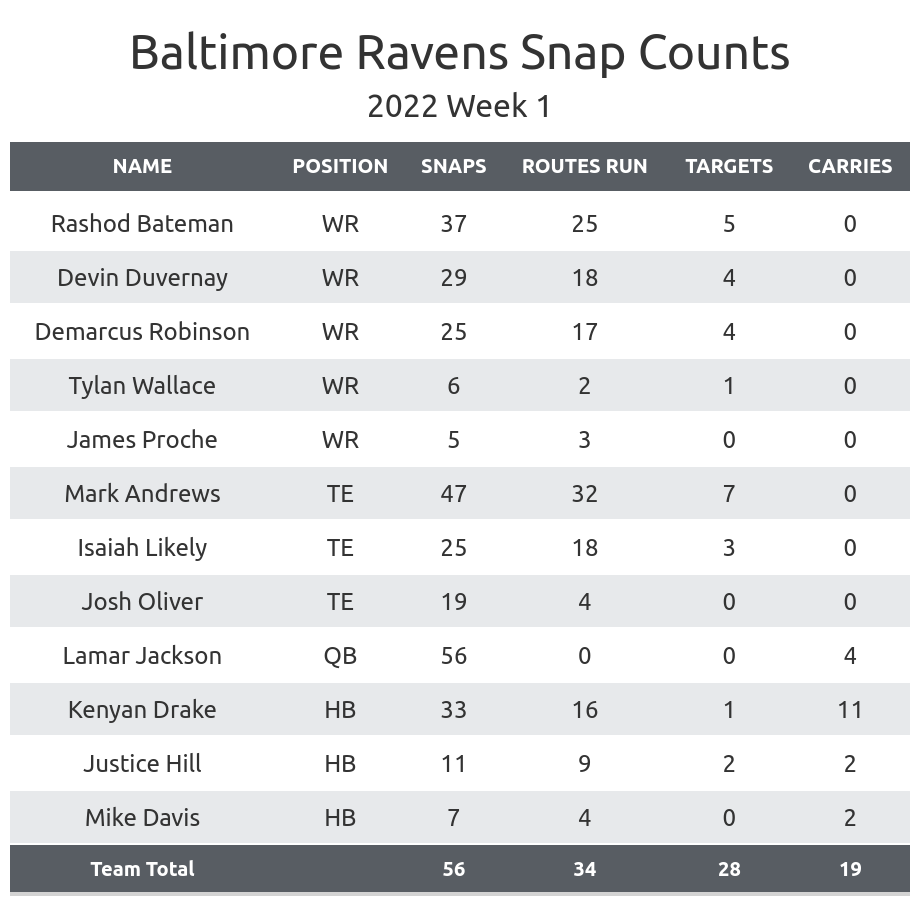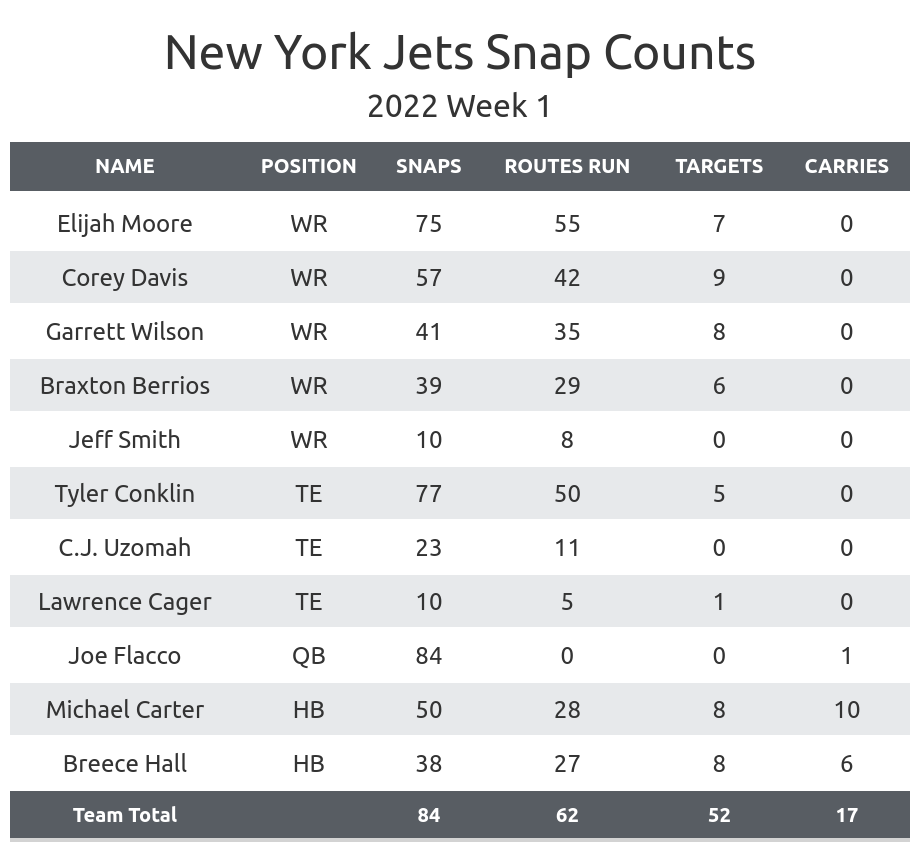 Drop Mike Davis: Davis fell to third on the depth chart for a team that will soon have more healthy running backs.
Recently signed

Kenyan Drake

was typically on the field for Baltimore, and he handled double-digit carries.

Justice Hill

was the backup. Historically, he's been a third-down back, but Hill also saw more playing time than Davis on early downs.

Davis received only two carries for 11 yards.

J.K. Dobbins

could return to the Ravens as early as next week, which could move Davis to a gameday inactive or even off the roster.

Gus Edwards

is eligible to return in Week 5.
Let someone else add Devin Duvernay: The Ravens receiver caught two touchdowns but barely played more than 50% of the team's offensive snaps or pass routes.
The Ravens ran only five plays in three-wide receiver sets. That's something likely to continue, especially as Baltimore's typical running backs can start seeing the field.

Duvernay was typically on the field for two-wide receiver sets.

He also rarely played in one-wide receiver sets. This isn't something done often by most teams, but Baltimore did so on 16 of their 56 snaps.

This all adds up to Duvernay being unlikely to increase his playing time, which greatly limits his upside.

Tight end

Isaiah Likely

was just as much a part of the Ravens' offense as their other wide receivers. The three tight ends for Baltimore lined up in the slot 42 times, compared to 22 by all of the wide receivers combined.
Monitor the Jets backfield: Breece Hall saw more work with the Jets' starters compared to the preseason, but there are still obstacles to overcome before he can be a fantasy starter.
Michael Carter

led the team as a rusher, gaining 60 yards on 10 carries. Hall gained only  23 yards on six carries.

Carter received all of the goal-line and short-yardage work, which will be the biggest obstacle for Hall to overcome.

Carter also saw most of the third-down work, but both receivers saw significant targets while the Jets threw 59 times.

It should be safe to leave Carter in fantasy starting lineups.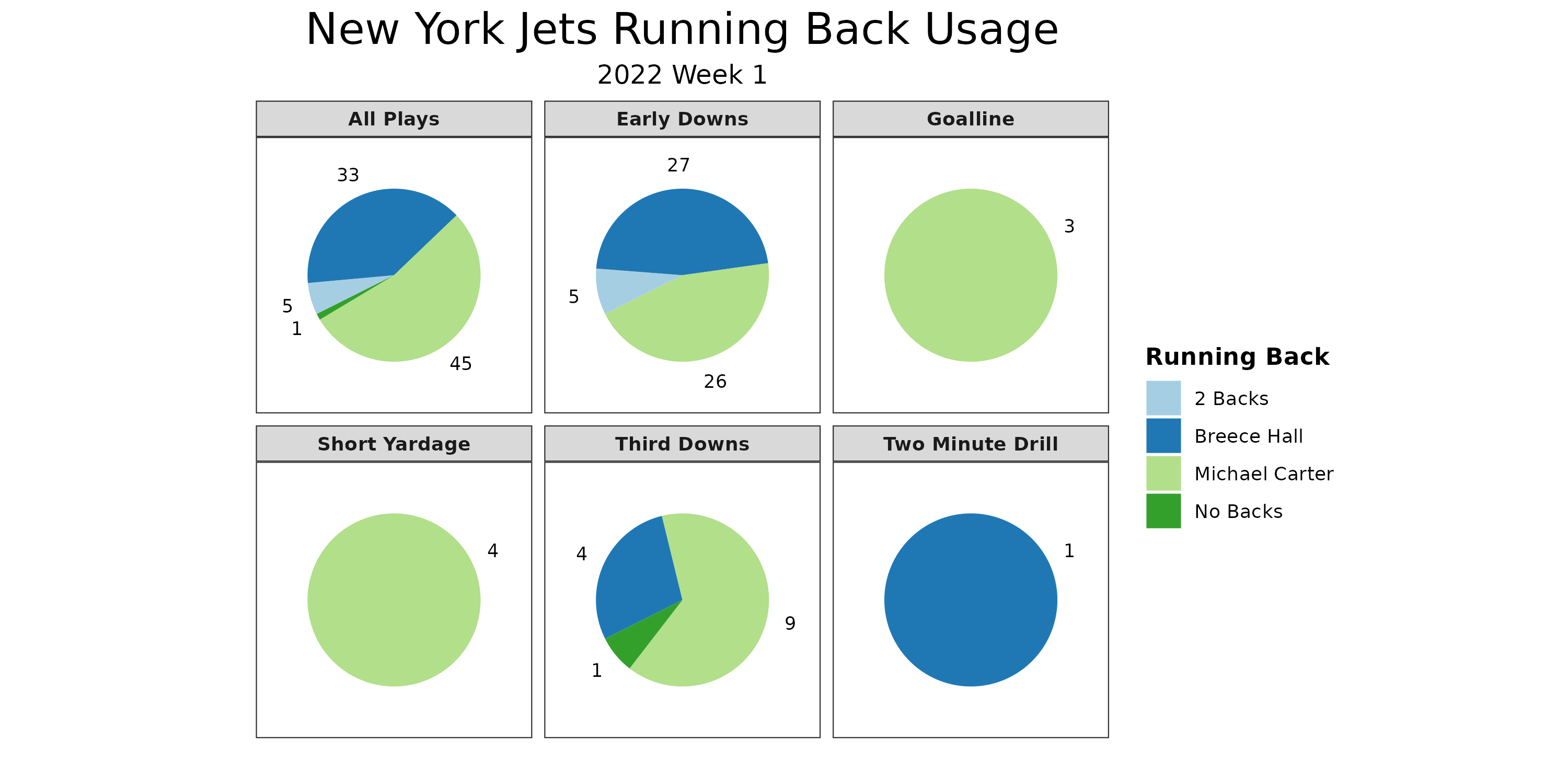 The Jets' frustrating receiving room: The Jets gave all four of their top wide receivers between six and nine targets, while also giving significant targets to the running backs.
---
James Robinson

: 11 carries, 66 yards, 1 TD, 1 reception, 3 yards, 1 receiving touchdown.

Jahan Dotson

: 3 receptions, 40 yards, 2 touchdowns.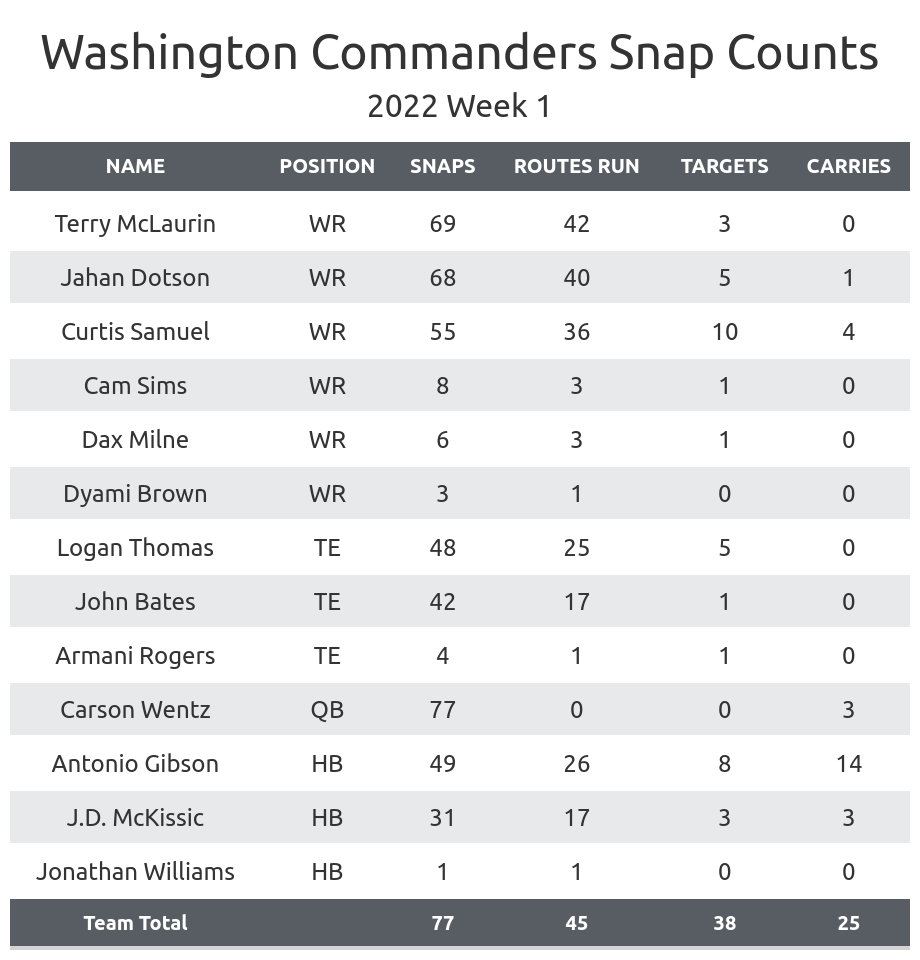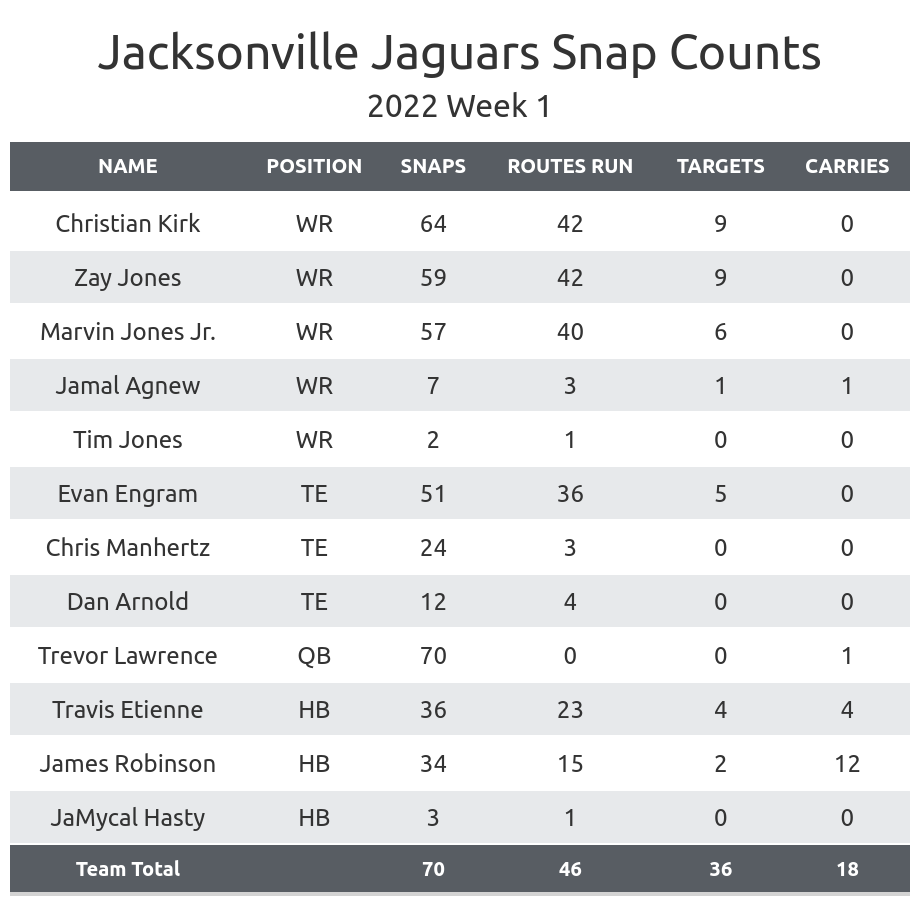 Monitor the Jaguars' backfield: The Jaguars had both James Robinson and Travis Etienne together for the first time. The two saw an almost even split in snaps, which could lead to headaches for fantasy mangers going forward.
Etienne was a clear leader in snaps in the first half, 24-13. Robinson still ran the ball more in the half, but the Jaguars spent most of the half passing with Etienne on the field.

Etienne fumbled the ball near the end of the first half. This may have contributed to Robinson seeing more snaps in the second half, 21-12.

Robinson appears to have a clear hold on the early-down work, and Etienne the passing down. This should give Etienne more fantasy value long term, but it could still change from one week to another.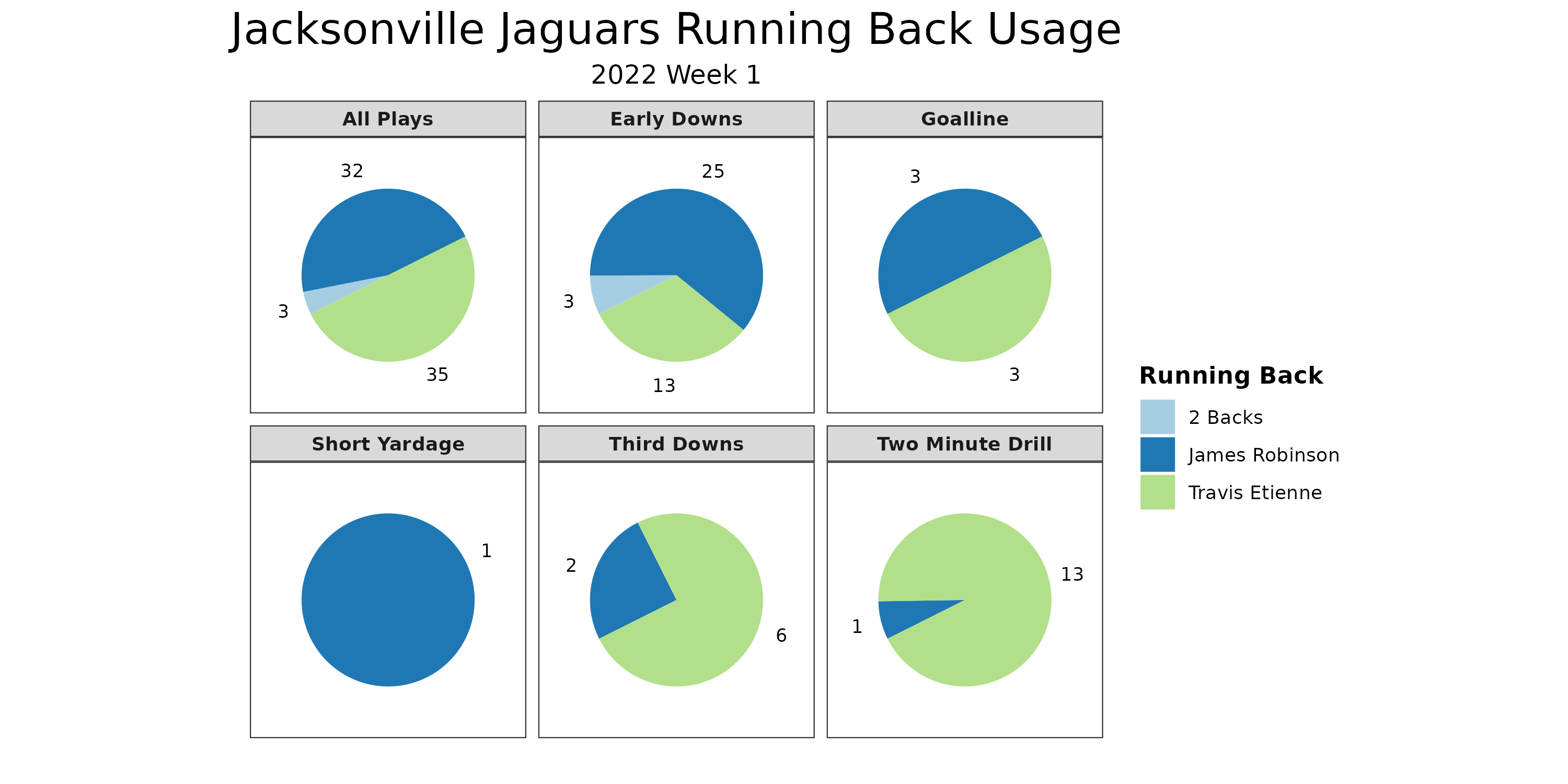 Start Christian Kirk: Kirk was the clear favorite target, catching six of nine passes thrown his way for 117 yards.
He's the top wide receiver on an offense that will be throwing the ball a lot. They chose to early in the game, and they had to late.

This means he should be in starting lineups from volume alone, regardless of what you think of his talent.

It's worth noting that the NFL has him for 12 targets, but PFF doesn't chart targets for plays such as uncatchable throwaways. The NFL gives the target to the closest wide receiver in these situations. Those kinds of plays lead to the discrepancy. 
Sell High on Antonio Gibson: Gibson caught the ball seven times for 72 yards to go along with his 58 rushing yards on 14 carries, but it's unlikely he sees that many targets again.
He still never played on third-and-long or during the two-minute drill, and Washington had fewer of those plays than usual.

J.D. McKissic

was used at times on goal-line plays as well as short-yardage plays, making it less likely Gibson sees a touchdown in future weeks compared to what some fantasy managers might like.

Brian Robinson Jr.

could return in a month and cut into that goal-line and short-yardage work even further.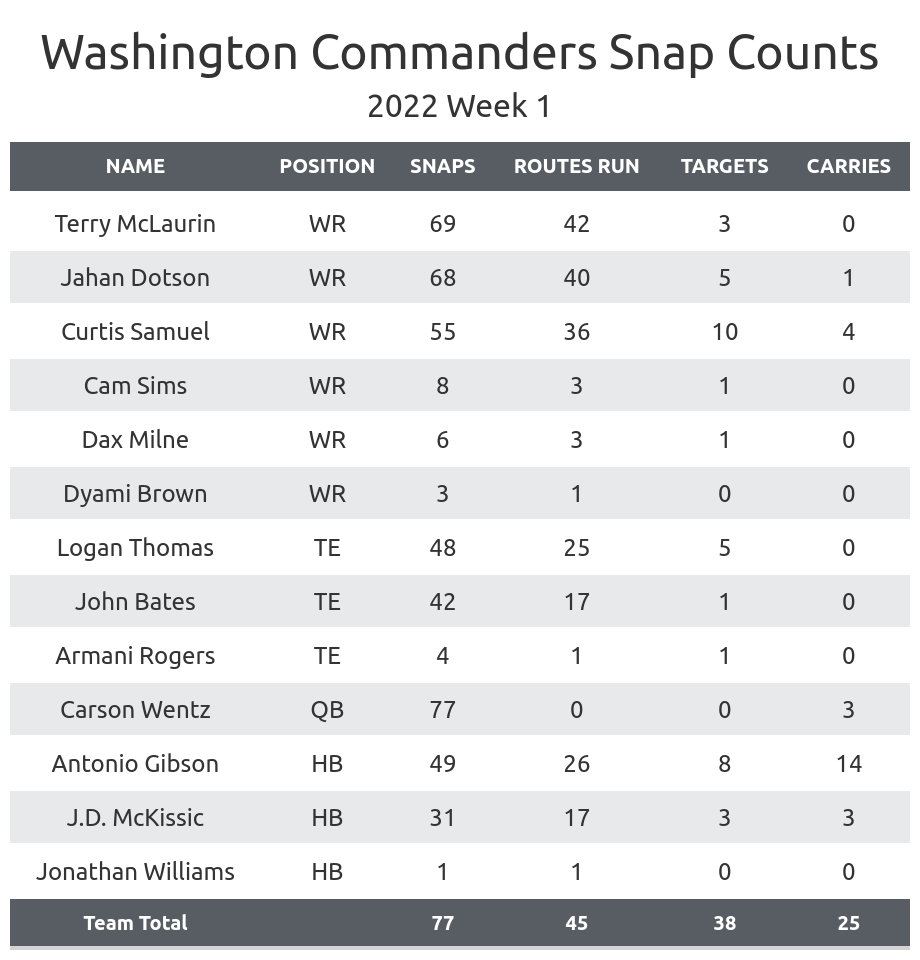 Add the Commanders' wide receivers: Curtis Samuel put up double-digit targets, while rookie Jahan Dotson scored two touchdowns in his first NFL game. Both players should at least be on rosters in case things continue to go well.
Samuel caught eight of 10 passes thrown his way for 55 yards and a touchdown. He also ran the ball four times for 17 yards.

Dotson also ran the ball once but lost 10 yards.

Samuel was a fantasy starter the last time he was fully healthy, giving him a decent chance of being a fantasy starter again.

It will be hard for these players to consistently find fantasy success with the number of weapons around them and the limitations at quarterback, but it's possible the offense plays better than expected or there's an injury.

Samuel is available in over 90% of ESPN leagues, while Dotson is available in over 40%.
Add Logan Thomas: The Washington tight end was questionable coming into the game but played significantly. He was targeted on 20% of his routes.
He caught three passes for 45 yards while splitting time with

John Bates

.

It can be expected he sees more playing time as he's healthier.

At his peak, he was seeing 100% of offensive snaps.

He's available in 95% of ESPN leagues.
---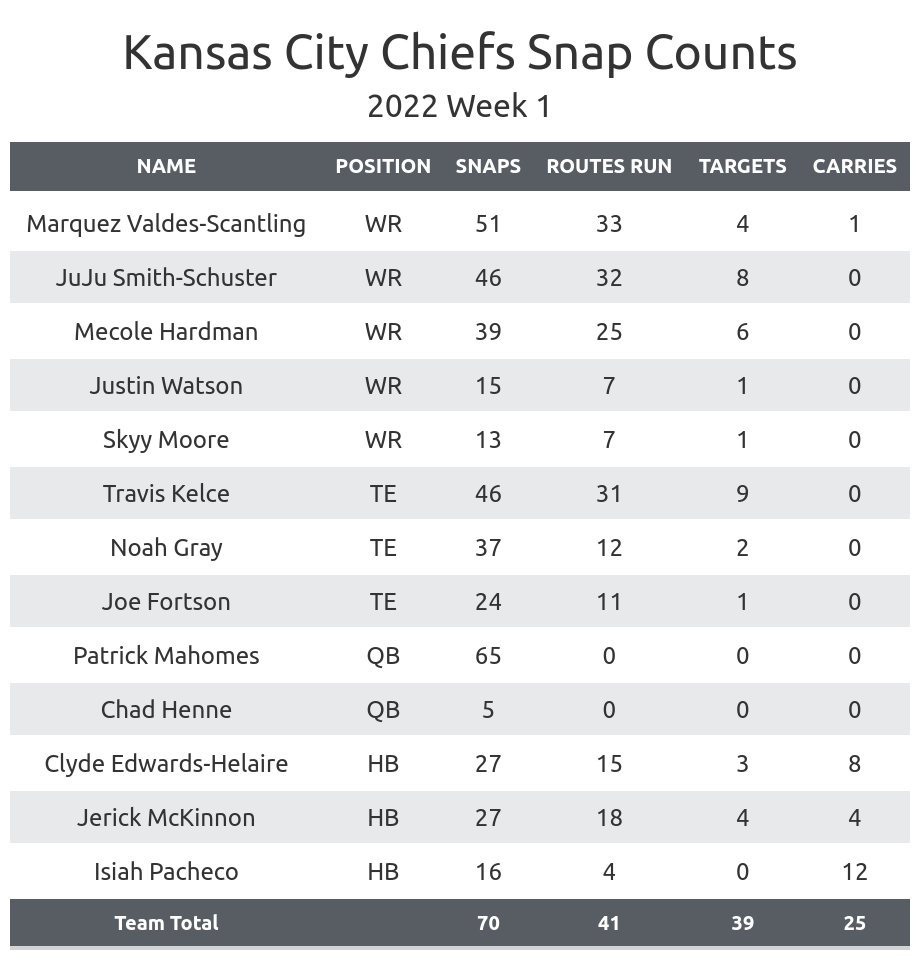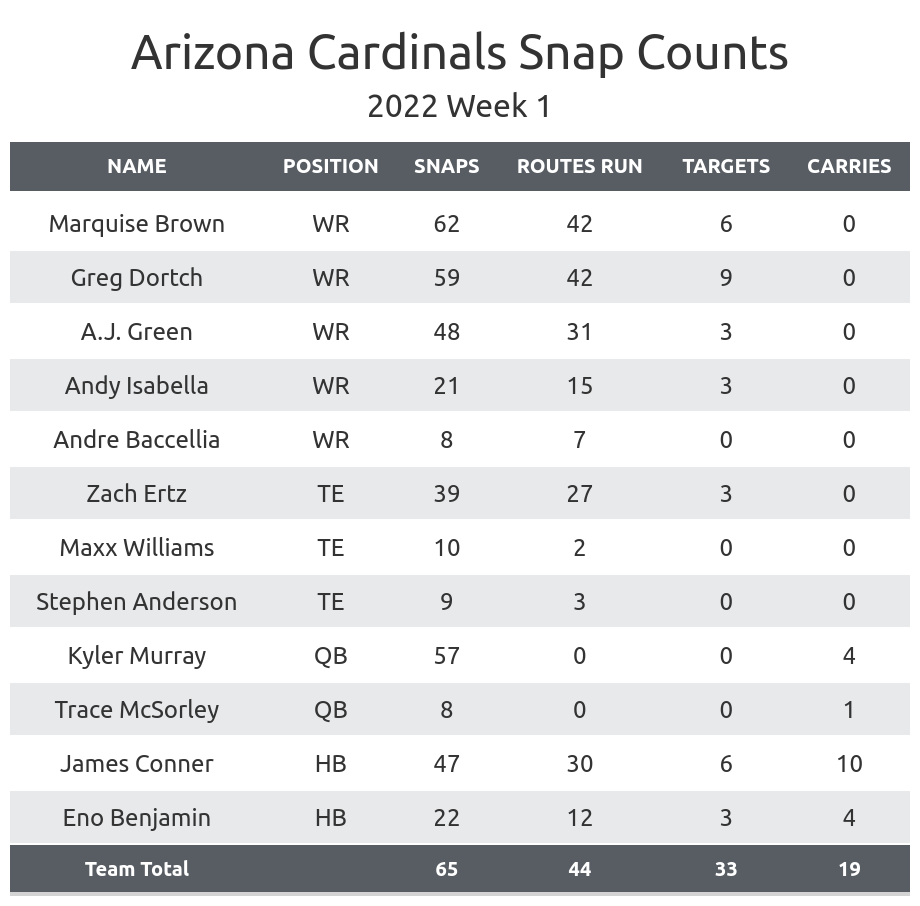 Start JuJu Smith-Schuster: The Chiefs wide receiver wasn't among the lucky players to score a touchdown, but he did finish second in targets (8), receptions (6) and receiving yards (79)
Kansas City used a rotation of wide receivers similar to last season. Both Smith-Schuster and

Marquez Valdes-Scantling

were clearly at the top of the rotation.

Smith-Schuster was in less than 50% of ESPN starting lineups.

Skyy Moore

had the nice 30-yard catch, but he remains fifth on the depth chart. He should be on rosters but nowhere near starting lineups at this point.
Sell High on Isiah Pacheco: The backup running back led the team in rushing attempts (12) and yards (62), and he scored the team's only rushing touchdown. But much of that came late in the game.
Pacheco played only four of the 56 snaps in the first three quarters.

Kansas City had a 37-7 lead at this point, leading to Pacheco playing significantly in the fourth quarter. The Chiefs were running out the clock, which allowed Pacheco to accumulate yards.

The Chiefs will have more 30-point leads this season, but it's not something that should be relied on for fantasy football purposes.

Clyde Edwards-Helaire

had a strong day as well, making it unlikely he will lose snaps after this game.
Add Eno Benjamin in deeper leagues: Benjamin was the clear backup running back in this game and ended up with significant touches in his limited playing time.
He gained 28 yards on four carries and caught three passes for 33 yards.

He was the only other Cardinals running back to see offensive snaps, making it clear he's the backup.

His value is only in case

James Conner

gets injured.

Conner could be considered a buy-low target. He wasn't very effective on his touches but remains the clear starter. The volume alone will make him a clear fantasy starter most weeks.
Don't add Greg Dortch: The backup receiver led the Cardinals in receiving yards (63) and targets (7)
He played almost exclusively in the slot, which is the role

Rondale Moore

would have taken if he was healthy.

On one hand, this could be a good sign for Moore that the Cardinals are still willing to feature their slot receiver so prominently in their offense.

On the other hand, the Cardinals could have liked what they saw from Dortch, and that could cut into Moore's playing time a little.
---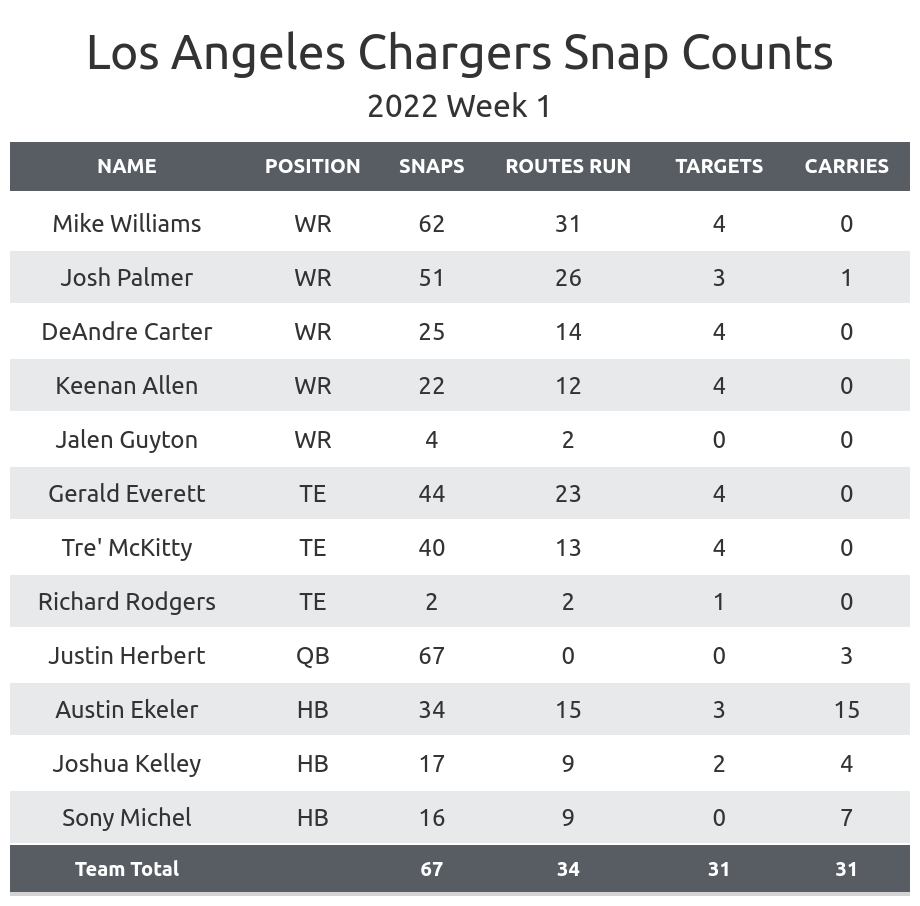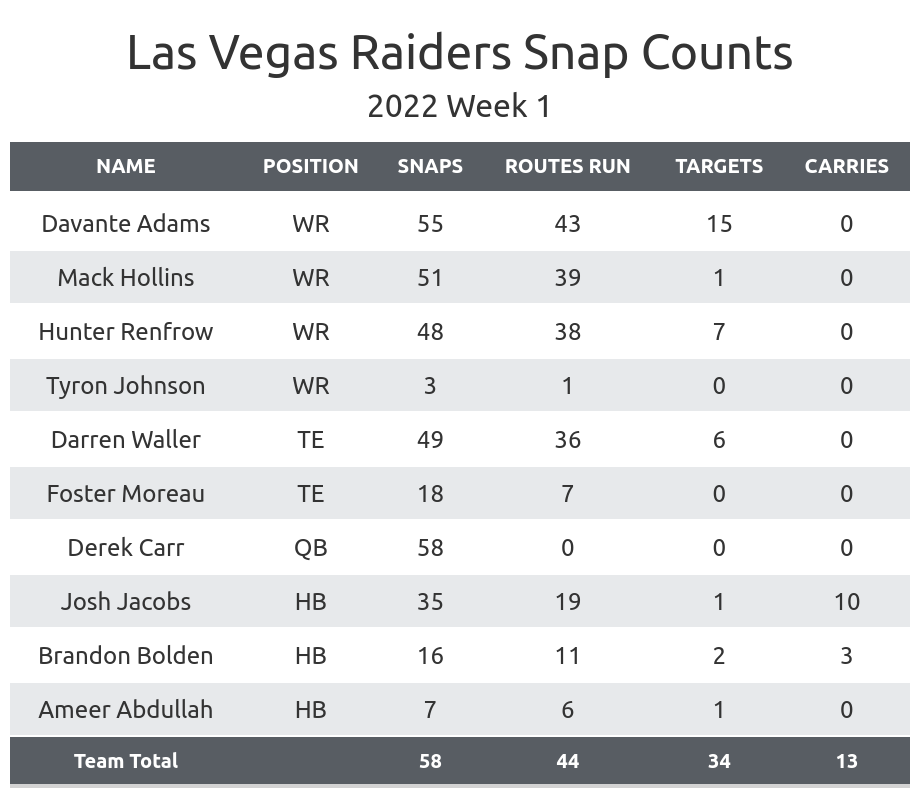 Monitor the Keenan Allen injury: Allen suffered a hamstring injury. There is a wide range of outcomes for how many games he might miss, depending on the severity of the injury.
Allen still led the team in receptions and receiving yards, with four and 66, respectively.

Josh Palmer

was already the clear third wide receiver over Jalen Guyton prior to the injury, with him playing 24 snaps in the first half compared to two for Guyton.

DeAndre Carter

was the direct replacement for Allen in three-receiver sets, but both he and Palmer saw significant playing time out of the slot.

Palmer took every snap in two-tight end sets after the injury, compared to none of the snaps prior to the injury.

Palmer should be the biggest beneficiary because of the increased usage in two-receiver sets. He is available in over 60% of leagues on ESPN.
Some reason for concern with Austin Ekeler: There was talk of Ekeler seeing a slightly decreased role, but he ended up playing only about 50% of offensive snaps.
He ran the ball 14 times for 36 yards, while his backups carried 11 times for 33 yards.

Similarly, he caught four passes for 36 yards, but his backups ended up running more routes than him.

This will definitely hurt Ekeler's ceiling in terms of receptions and rushing yards if Los Angeles continues to use him this way.

The one bright spot is that he continued to see all of the snaps at the goal line and almost all of them in short-yardage situations. This means he should still be the back scoring the touchdowns.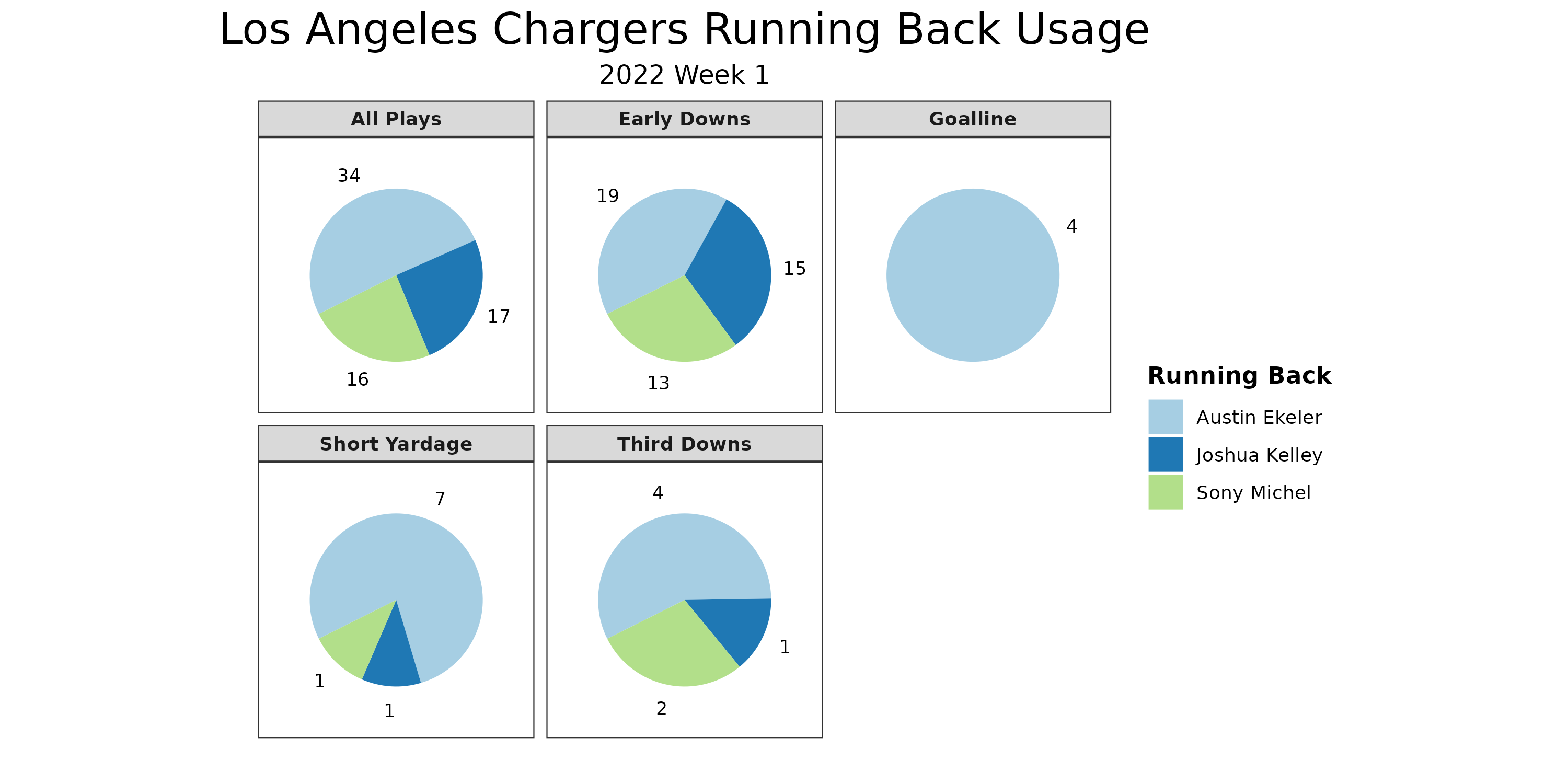 Monitor the Raiders' backfield: The Raiders' backfield was destined to be a three-man committee when Josh McDaniels became head coach, but those three players have changed and could continue to do so.
Josh Jacobs

has remained the clear early-down back, and that continued against the Chargers. He gained 57 yards on 10 carries and should have even better weeks when the Raiders have an easier matchup.

Ameer Abdullah

seemed set to be the third-down back, but

Brandon Bolden

ended up taking most of that role.

Typically, a third-down back will have trouble becoming fantasy value, and it is even harder when two players are splitting that role.

Rookie Zamir White

was active but didn't see any offensive snaps. He could potentially take snaps from any of these three players as the season progresses.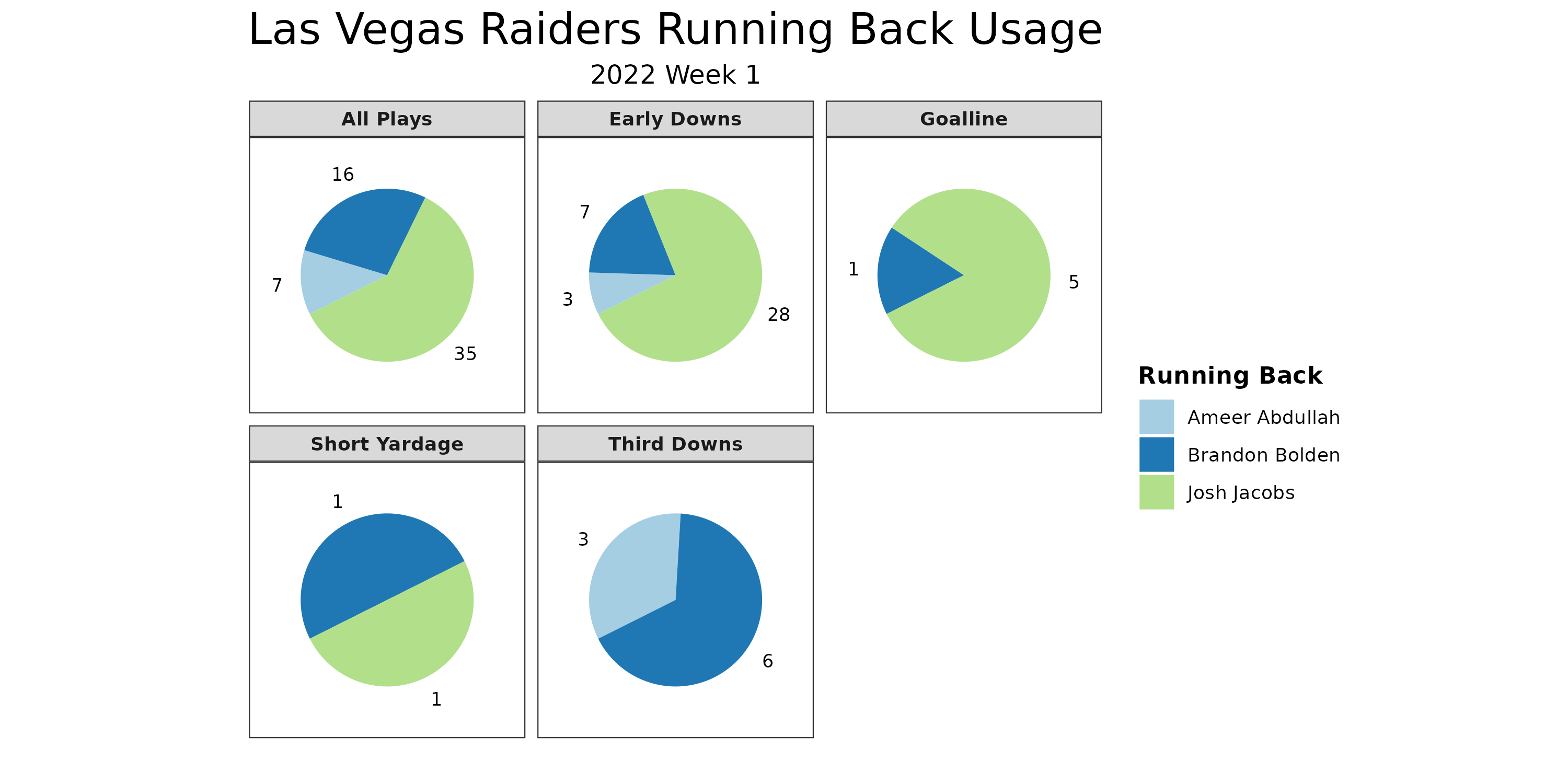 ---
Justin Jefferson

: 9 receptions, 184 yards, 2 touchdowns.

A.J. Dillon

: 10 carries, 45 yards, 1 touchdown, 5 receptions, 46 receiving yards.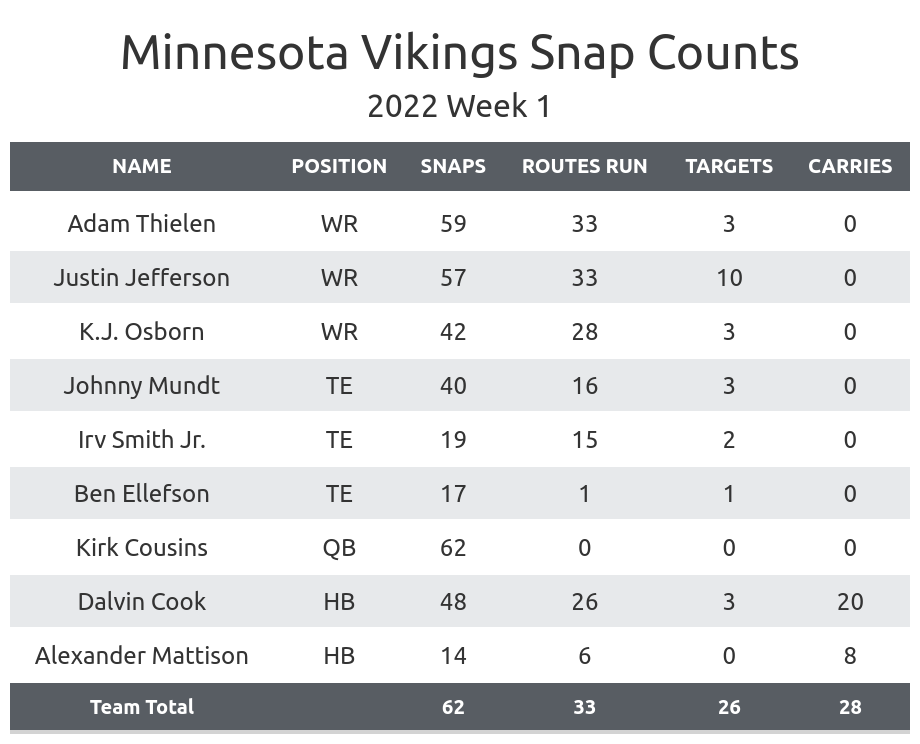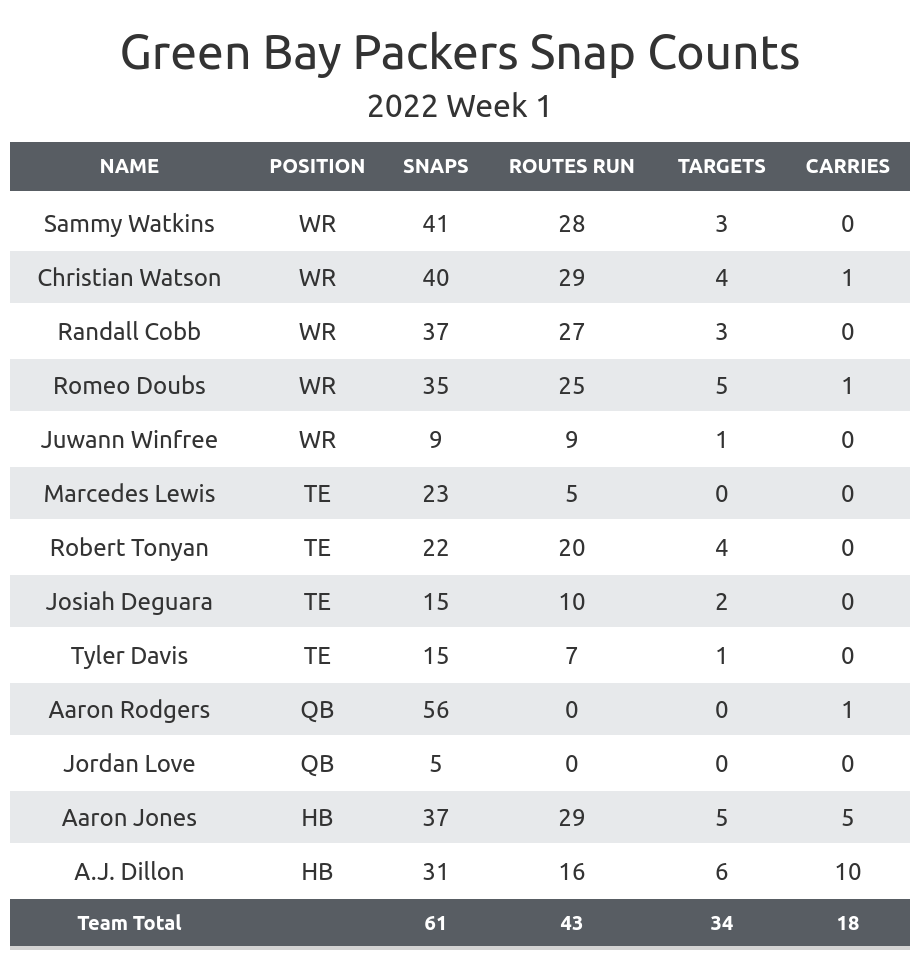 Keep but don't start Irv Smith: Smith didn't catch a pass and played limited snaps, but that is likely due to a thumb injury he's still recovering from.
Smith played on 10 of 11 snaps out of 11 personnel on third downs.

He was rarely used at any other time, including on just one of 14 plays when a fullback was on the field and two of six from 12 personnel.

He will ideally see more playing time in the near future, but it's safer to leave him on the bench until that happens.
Follow a similar plan with Robert Tonyan: Tonyan is similarly recovering from an injury. For him, it's a knee ailment that kept him limited in practice and the game.
Tonyan was rarely on the field in anything other than 11 personnel.

He had a tendency to be in on third downs, but it wasn't as strong as Smith.

He caught three passes for 36 yards.

Ideally, he sees a lot more playing time when he's at 100%, but the Packers have used several tight ends in the past and could continue to do so all season.
Don't start the Packers receivers, but add the rookies: The Packers didn't have Allen Lazard, which left them using four different wide receivers running a route on roughly two-thirds of the pass plays each.
Romeo Doubs

led the wide receivers in targets (5), receptions (4) and yards (37). He is the one of the four who played Sunday most likely to have fantasy value over the rest of the season.

Christian Watson

missed most of training camp with an injury, leading him to be cut by plenty of fantasy managers. He surprisingly finished second in snaps Sunday, which is a good sign he could see more time as the season progresses.

This should have been the game in which Sammy Watkins

and

Randall Cobb

succeeded the most, with Lazard out and the rookies playing their first game. Instead, they saw three targets each. They can likely be dropped.
---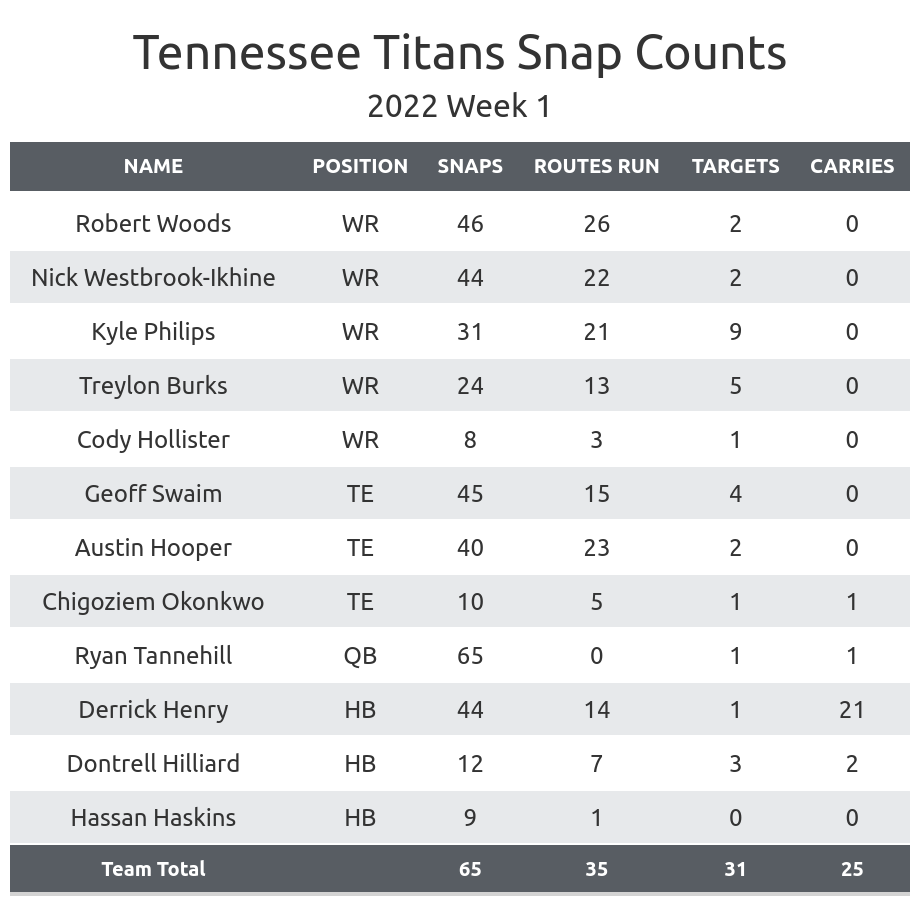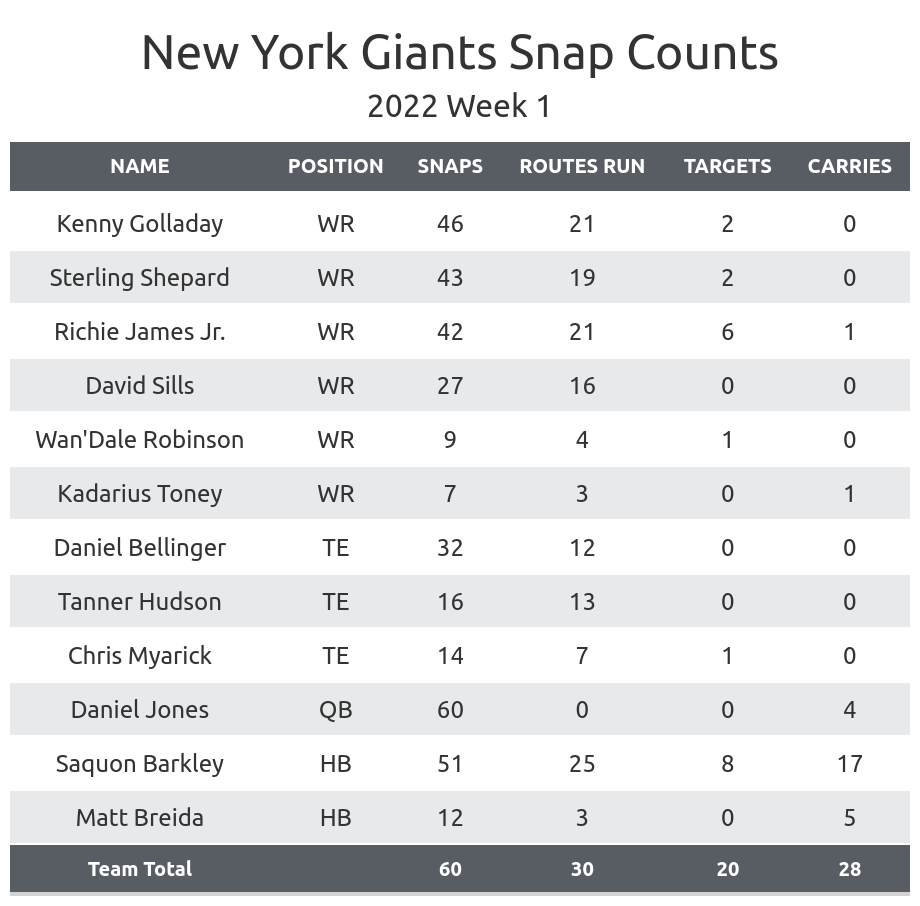 Monitor the Wan'Dale Robinson injury: The rookie receiver suffered a knee injury and was quickly ruled out. The severity is unclear, but the fact that he was ruled out quickly isn't a great sign.
Robinson wasn't seeing as much playing time as in the preseason with the starters.

Sterling Shepard

was taking most of the snaps in the slot in three-receiver sets early in the game.

Richie James Jr.

also played significantly in the slot. It's likely Robinson could have seen several of those snaps.

Kadarius Toney

was oddly used on only six plays, placing him sixth on the depth chart. It's unclear at the time of writing why that happened, but ideally we hear more from the team later. The best case for Toney at this point might be a trade.

This whole receiving room is one to avoid.
Add Kyle Philips: The late-round rookie led the Titans in both receptions (6) and receiving yards (66).
He was pretty consistently the Titans' slot receiver in three-receiver sets, although there were times he was off the field.

It's typically difficult to trust a receiver who plays only in the slot in three-receiver sets, particularly within a run-first offense.

Despite that trend, it's still worth taking a chance on a rookie who plays well in Week 1 with a clear role in the offense.

Treylon Burks

remains fourth on the depth chart. He should still be on fantasy rosters, but not considered for starting lineups.

Even when Burks emerges, it likely won't be at the expense of Philips.
Add Dontrell Hilliard, but only as a handcuff: He scored two touchdowns and is the clear backup to Derrick Henry, but don't spend too much FAAB on him.
He put up a lot of fantasy points thanks to his touchdowns, but he still touched the ball just five times. 

Most of his value is as a handcuff to

Derrick Henry

.

It's worth noting rookie Hassan Haskins

' snaps all came in the last 66 seconds of the game, as the Titans wanted him as a pass-blocker. This hurts Hilliard's standalone value.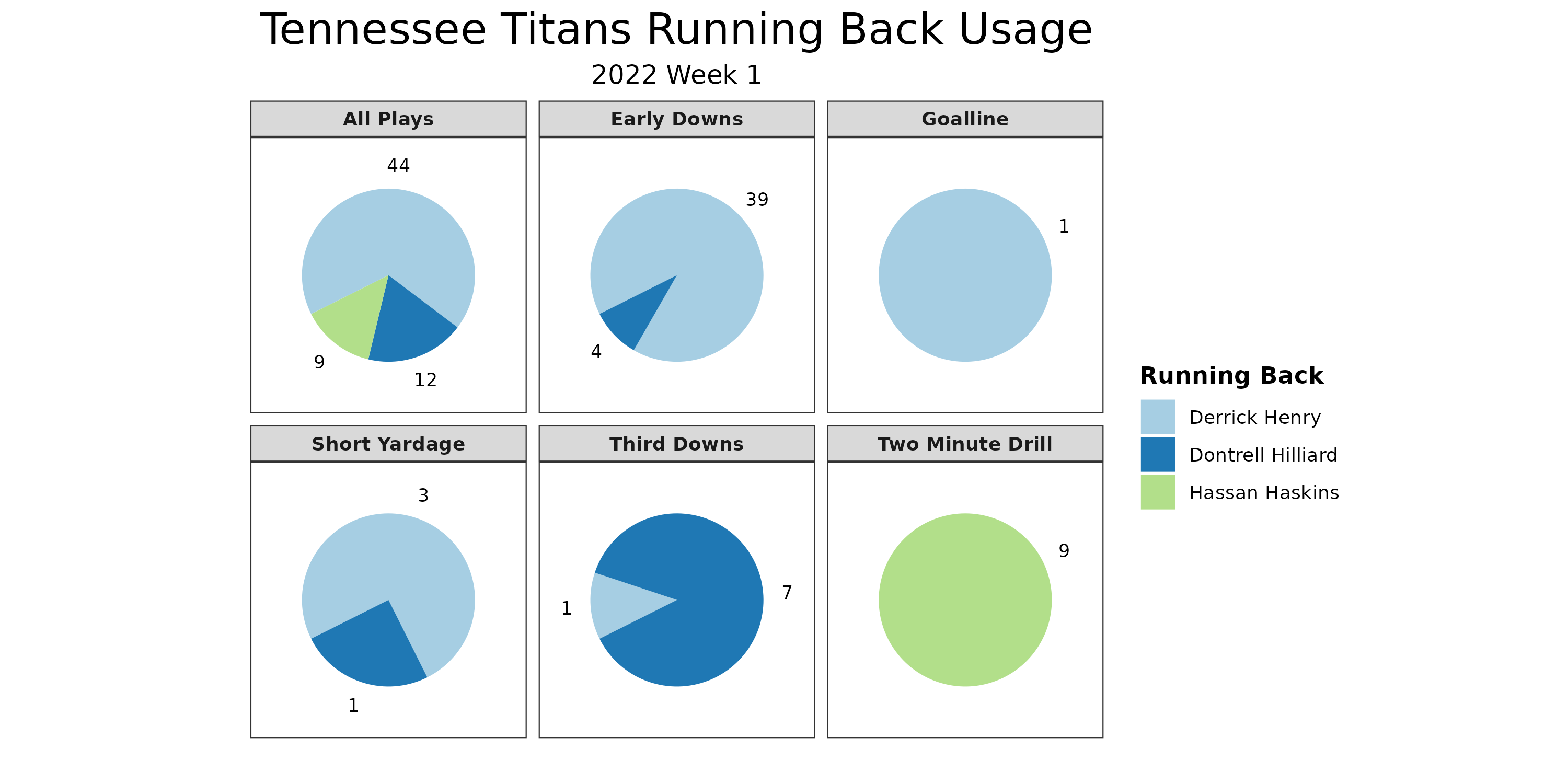 ---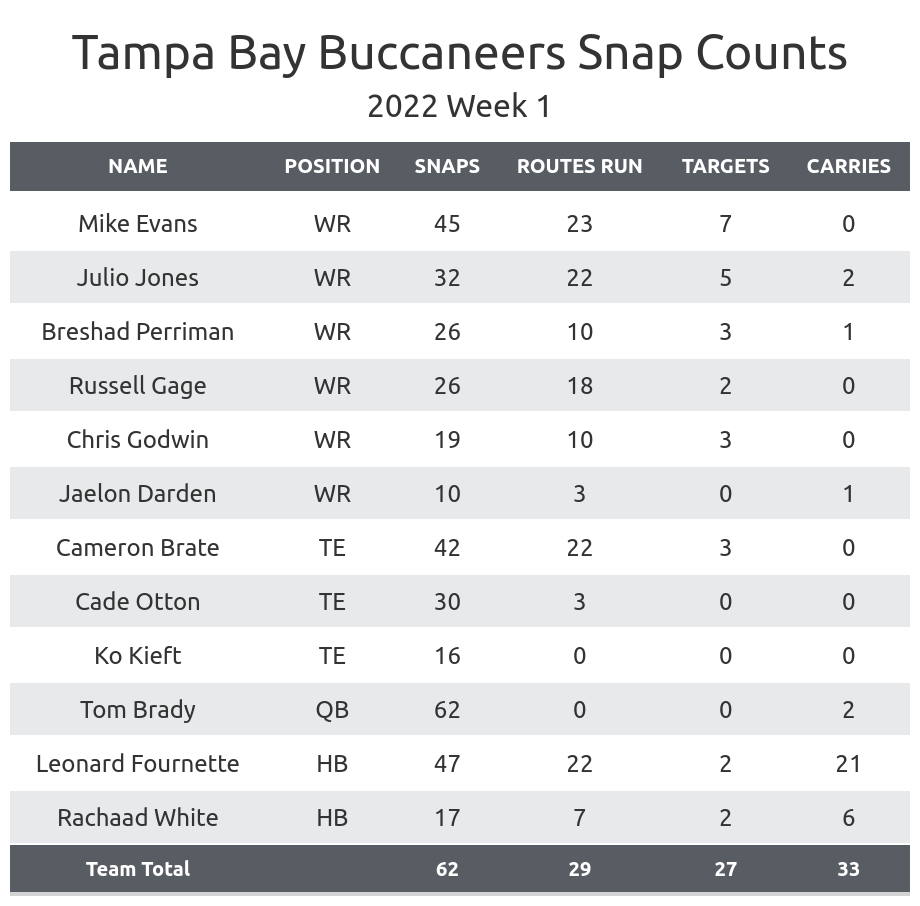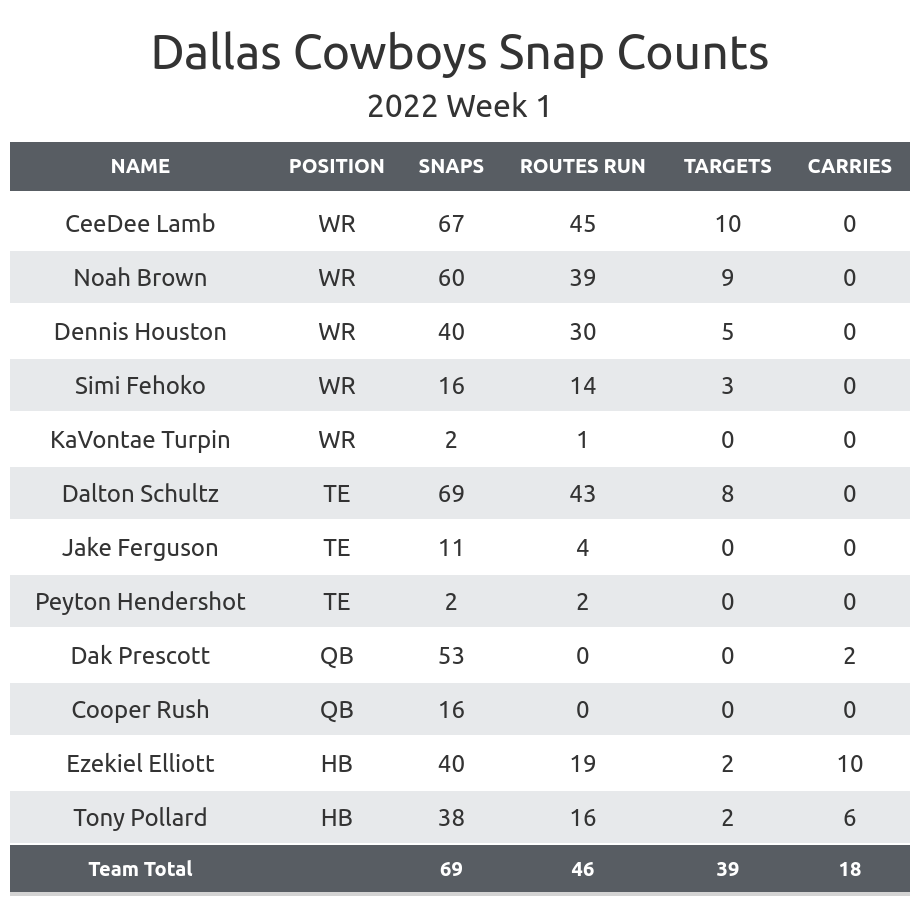 Monitor the Chris Godwin injury: Godwin was questionable coming into the game due to his knee injury. He played for most of the first half but then suffered a hamstring injury and was ruled out of the game shortly after.
He played 19 of 34 snaps in the first half and caught all three passes thrown his way for 35 yards.

Both

Russell Gage

and

Breshad Perriman

saw an increase in playing time in the second half.

Gage was also questionable coming into the game with a hamstring injury. He was limited in practice all week. He would likely be the biggest beneficiary if Godwin misses time. Gage saw an increased percentage of snaps from the slot following Godwin's departure.

It's hard to read too much into the Buccaneers' future wide receiver usage in the first half when two of the four wideouts were questionable coming into the game.
Consider cutting Jalen Tolbert: Tolbert was a healthy inactive for the Cowboys, while undrafted rookie Dennis Houston was the team's third wide receiver. 
It's one thing for a rookie receiver to be behind a veteran early in the season. It's another for another rookie to have surpassed him on the depth chart. Other wide receivers who were ahead of Tolbert are also relatively young.

Tolbert will fall even further down the depth chart once

Michael Gallup

is healthy — and potentially when

James Washington

is, too.

Houston caught two passes thrown his way for 16 yards.

Tony Pollard

was effectively the Cowboys' fourth wide receiver, running the fourth-most routes from either the slot or out wide.
Leonard Fournette has RB1 potential: Fournette dominated playing time in the Buccaneers' backfield in a way that could give him RB1 potential each week he keeps the role. He played 43 of 47 offensive snaps in the first three quarters.
He had a three-game stretch in 2021 from Week 12 to Week 14 where he played over 80% of offensive snaps each game, and he was RB1 over those contests.

That ended in Week 15 due to injury, but when he returned to the lineup for the divisional round of the playoffs, he played 86% of offensive snaps.

There was talk this offseason of those days being over, but the Buccaneers are currently most comfortable with Fournette seeing all of the workload.

Rookie

Rachaad White

was the only other back to get offensive snaps. He gained eight yards on four carries and seven receiving yards on two catches.

Fournette could be considered a sell-high candidate, as he's unlikely to maintain this workload all season, but you also wouldn't want to trade him too early. It could be months before White sees significantly more playing time.
Monitor the Dak Prescott injury: Prescott suffered a right-hand injury late in the fourth quarter and quickly left for the locker room.
Cooper Rush

took over for the rest of the game.

Rush likely isn't a waiver wire target, and if Prescott misses time, it would further hurt the fantasy value of the Cowboys' skill players.
---
Table Notes
• Snaps include plays called back due to penalties, including offensive holding or defensive pass interference. The other three stats have these plays removed.
• Targets may differ from official NFL sources. The most likely discrepancy would be from a clear thrown-away pass, where the NFL may give the target to the nearest receiver, while this data will not.
• Carries are only on designed plays. Quarterback scrambles won't count for the total number of carries in the game.