Picking the right wide receiver in the middle-to-late rounds of fantasy football drafts could be the key to winning a league.
Amon-Ra St. Brown and Hunter Renfrow were afterthoughts during fantasy drafts in 2021, and both had relatively quiet starts to the season; however, both finished among the top-eight fantasy wide receivers over the second half of the season.
Even if it's hard to find a consistent every-week starter in the mid-to-late rounds, there will at least be players that can start in the right matchups.
With that in mind, we are going to dive into five sleeper wide receivers who are typically available in Round 10 or later in fantasy football drafts, as this removes roughly the top-50 wide receivers by average draft position (ADP).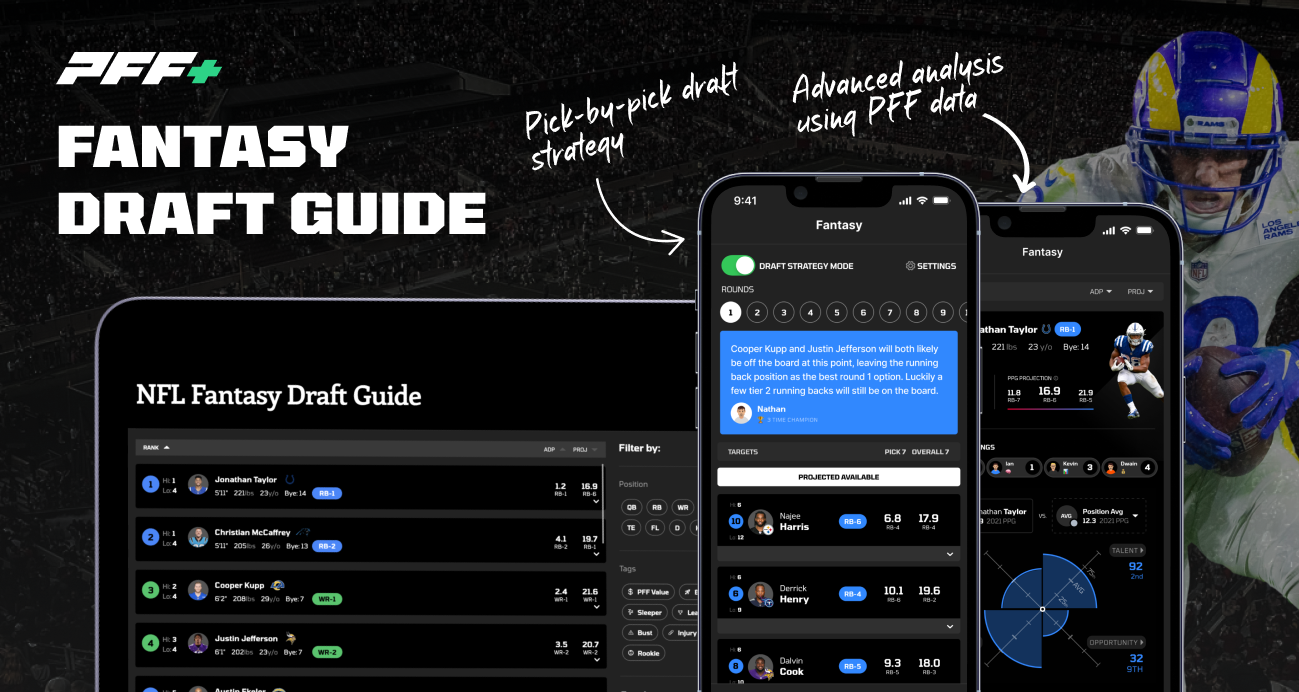 Wilson was the 10th overall pick in the NFL draft, landing with a Jets team that needed more offensive weapons. His elusiveness and body control are excellent, but he is still somewhat of a work in progress. He ranked third among wide receivers on PFF's big board (13th overall).
He's fallen below other rookie wide receivers in fantasy drafts due to his landing spot, as Jets QB Zach Wilson posted the third-lowest PFF passing grade last season while some other rookie wide receivers landed with some of the best quarterbacks in the league. Wilson will also compete for targets with second-year receiver Elijah Moore, who had a great end to his season before an injury.
Wilson should be targeted in the mid-rounds of a fantasy draft because similar players have faired well. Below are other wide receivers who ranked among the top 20 on the PFF big board in recent years — 40% finished as a top-24 wide receiver while 80% reached the top 48. Several of these receivers dealt with questionable quarterback situations and competition for targets, but their talent ultimately enabled them to prevail.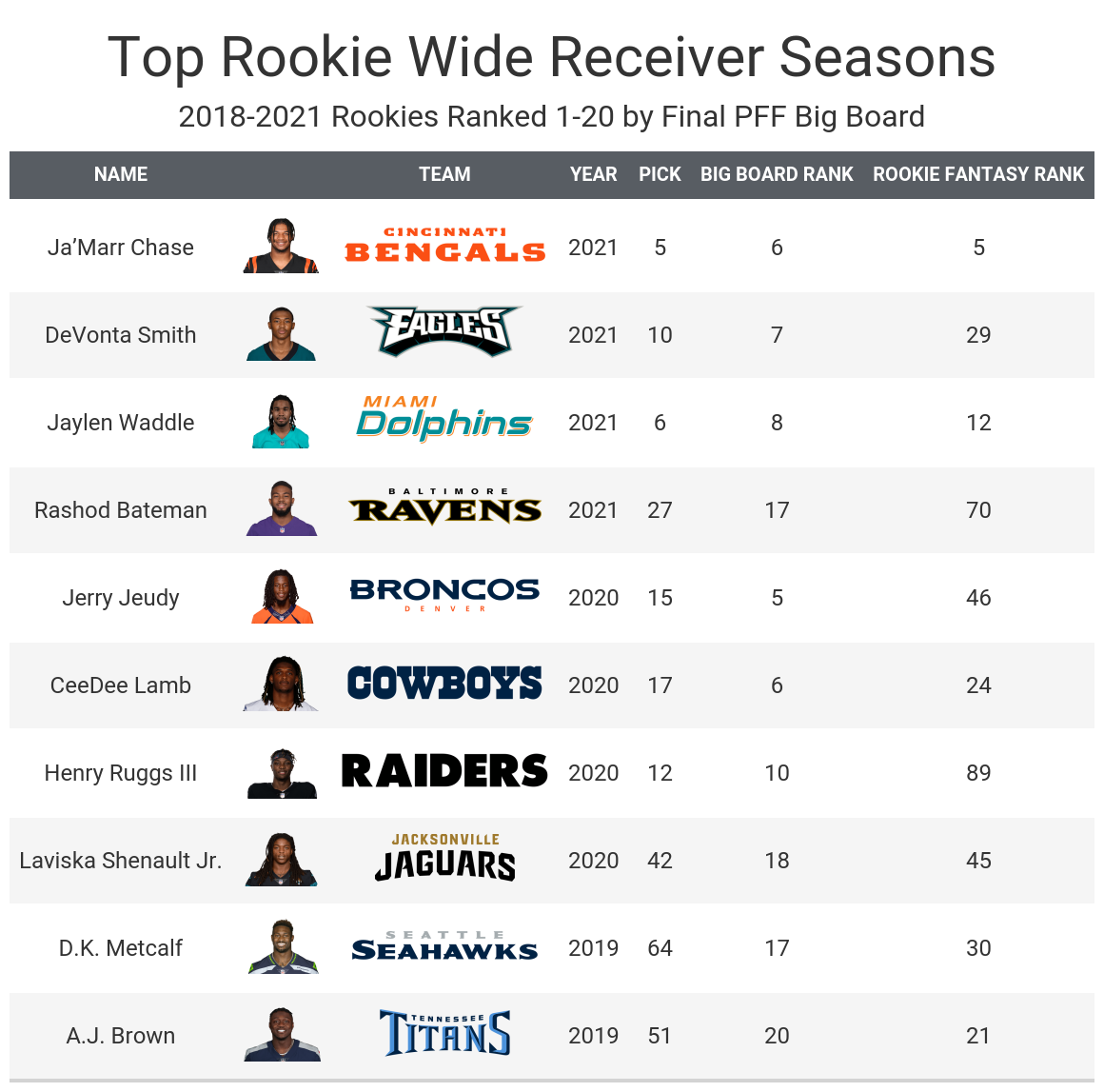 There is no guarantee Wilson can elevate the Jets' offense as a rookie, but he's worth the gamble due to having a higher upside than other wide receivers picked in the 10th round or later.
---
Boyd has spent the last four seasons as the Bengals' primary slot receiver, gaining at least 800 receiving yards each season with 15th, 17th, 30th and 31st fantasy finishes at the position. Few wide receivers have been as productive in the slot as Boyd even during his least-productive seasons.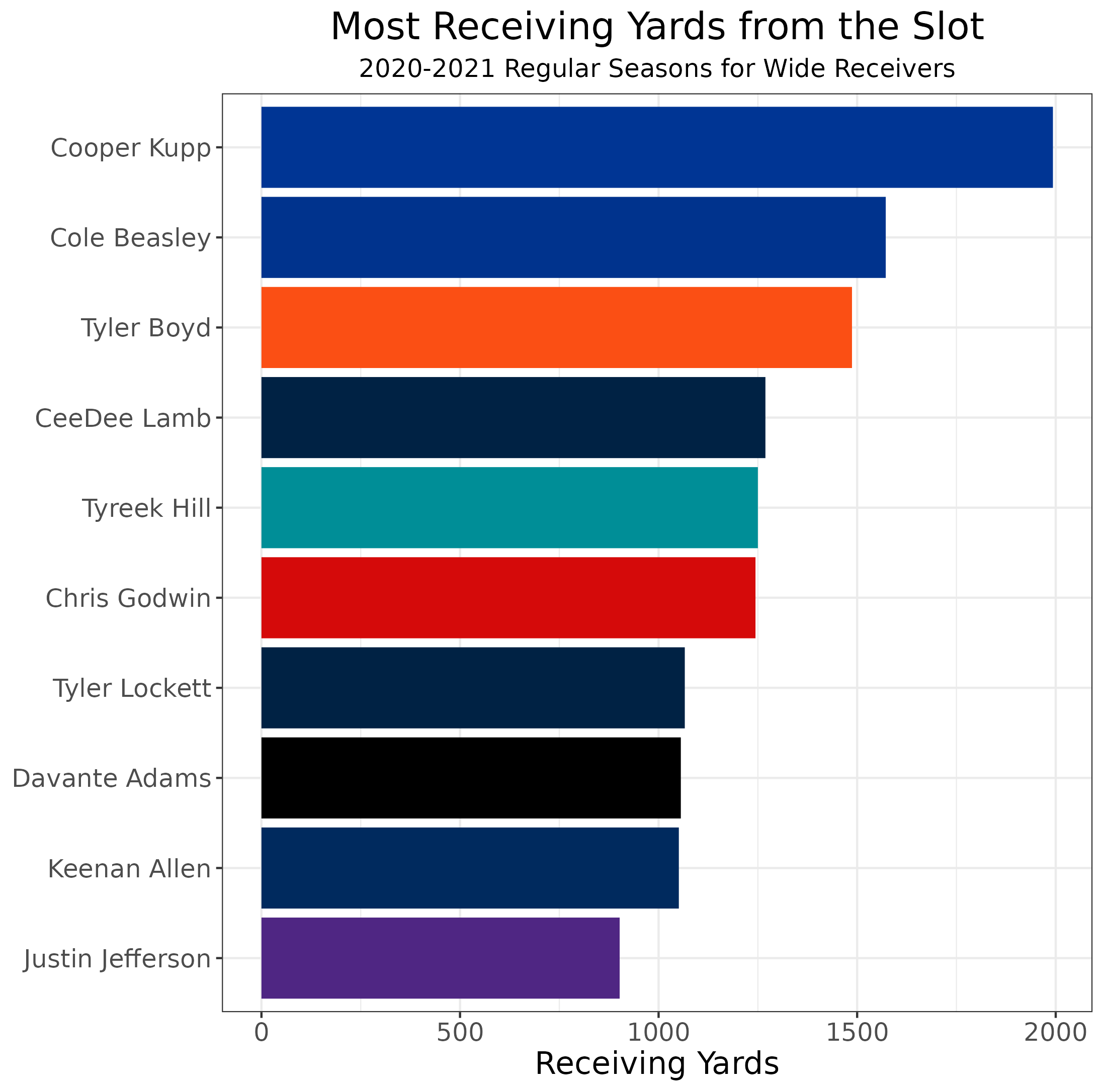 Boyd is getting drafted much later than his recent finishes because he's now a clear third on Cincinnati's receiver depth chart. The Bengals ran 11 personnel for 76.7% of their offensive snaps last season, ranking second-most among teams. The Bengals proved last season that it can support three fantasy-relevant wide receivers. During their excellent seven-week stretch from Weeks 11-17, both Ja'Marr Chase and Tee Higgins ranked in the top seven of fantasy receivers while Boyd was WR18.
There could be a big opportunity for Boyd if Chase or Higgins sustained an injury, as the Bengals don't have any other great options as backups and didn't address the position this offseason. Typically, slot receivers don't see much change when an outside receiver gets injured, but Boyd has experience playing on the outside in two-receiver sets. Additionally, his best seasons came as the second-best option in the offense, and that kind of productivity would only be elevated with Joe Burrow as his quarterback.
If Boyd found himself as a No. 2 receiver in Cincinnati due to injury, he could become a top-12 receiver in fantasy football.
---
Myers was an undrafted rookie out of North Carolina State in 2019, but he became a starter for New England in mid-2020 and took over the main slot role in 2021 — a role was once held by Wes Welker, Danny Amendola, and Julian Edelman. He put together a fine season, finishing as fantasy football's WR30.