It's the day of your draft. You're feeling pretty good. You have site ADP printed out. You have our rankings printed out. You've spent all month reading our articles (including our Draft Guide) and playing with our Draft Master tool. Though flexible to spotting value, you have a set strategy in mind. After using our Draft Master tool to run mock drafts specific to your league settings, you have a good idea of what players are going to be available to you in each round.
But then, in the first round, your guy gets sniped right in front of you. The same thing happens in the second and third rounds. You can't believe your luck. You wanted to have three running backs by Round 4 but all of your opponents loaded up on running backs and now you're forced to employ a more-zero-RB-approach. You weren't ready for this. You didn't deserve such poor luck.
Mike Tyson once said, "Everyone has a plan until they get punched in the mouth." Metaphorically speaking, I suppose that's true for fantasy drafts as well as boxing.
In today's article I wanted to construct what an ideal draft (for me) might look like, with the benefit of everything going my way. In this exercise I'll be drafting from the No. 4 spot. In an effort to keep things realistic, only three times in this draft can I select a player below his ADP and never more than three spots below his ADP.
The focus in this article was building the best overall and complimentary roster, rather than the players themselves.
Notes: All references to ADP are for PPR leagues and come from FantasyFootballCalculator.com.
Round 1 (1.04)
I have Johnson behind Le'Veon Bell and Todd Gurley in my rankings but there's little separating the three. In 2016, Johnson totaled 407.8 fantasy points and 362.2 expected fantasy points. Among non-quarterbacks, both numbers rank best this past decade. It's hard to get too excited about Arizona's offensive line or offense as a whole but I'm not sure it matters too much for Johnson. Targets are worth 2.74 times as much as carries and help keep a running back afloat in poor gamescript (and for some running backs, typically those of Johnson's archetype, negative gamescript can be more valuable than positive gamescript). Among all positions (including wide receiver and tight end) Johnson was our highest-graded receiver in 2016. That year he totaled 120 targets (second-most by any running back this past decade) and 487 yards in air (most of any running back this past decade by 200). Considering Arizona doesn't have another running back on the roster with even 35 career touches and Larry Fitzgerald is the only other active receiver with 35 or more receptions in a single season, Johnson should again draw a massive workload in 2018.
Round 2 (2.09)
Last season, Carlos Hyde ranked fifth among all running backs in expected fantasy points per game (17.2). This was despite grading out 53rd of 57 qualifying running backs (McKinnon graded out sixth-best). Hyde drew 88 targets last year, despite totaling only 64 in his first three NFL seasons. With McKinnon now ranking as the sixth-highest-paid running back in the NFL, he feels like a lock for a similarly strong workload. I also suspect McKinnon will do more with this role than Hyde had (14.8 fantasy points per game, 12th). Given that McKinnon is a far better receiver than Hyde (and thus a better fit for the offense) and that San Francisco's offense should take a step forward with a full year of Jimmy Garoppolo under center, McKinnon feels like a good bet to return mid-RB1 value at a high-end RB2 price-tag. There's definitely some risk here, but Kyle Shanahan has done more with less throughout his career.
Round 3 (3.04)
There is a lot working against McCoy this year. He is 30 years old and posted the lowest yards-per-carry average (4.0) of his career last year. There's a new offensive coordinator in Buffalo and no quarterback currently on the roster has ever started more than three games at the NFL level. The Bills lost starting offensive linemen Eric Wood, Cordy Glenn, and Richie Incognito this offseason, with little done to replace them. To make matters even worse, Buffalo now has a competent backup in the form of Chris Ivory and McCoy is at risk of a suspension or landing on the Commissioner's Exempt List. All of that said, volume is still king at the running back position and McCoy's volume was tremendous last year, ranking sixth in expected fantasy points per game (16.9). He was decently productive as well, ranking 10th in actual fantasy points per game (16.6). New OC Brian Daboll has employed an extremely run-heavy approach throughout his career and, it seems, Buffalo has little choice but to again run their offense through McCoy. If McCoy is suspended this pick could easily blow up in my face, but I still think he's a value relative to the risk and reward.
Draft thoughts: As I alluded to here, I prefer to go RB-heavy early in drafts this year. I think Johnson is a lock for high-end RB1 numbers, while McKinnon and McCoy are more high-risk/high-reward selections. I suspect both, but hopefully at least one, will be a high-volume gamescript-proof bell cow and an easy start every week. Right now I feel pretty good with my running backs and will reserve my later round selections for other positions (outside of maybe one more high-upside running back selection).
Round 4 (4.09)
Draft thoughts: Obviously, right now, my squad looks weak at the wide receiver position relative to my peers. So, with my first wide receiver pick, I opted to go for someone with safety. This year, there are more than a few wide receivers with a good deal of upside that I like in the later rounds.
Tate has finished 12th (2017), 17th, 23rd, and 11th among wide receivers in PPR over the past four seasons. In PPR fantasy points per game, he's finished 15th, 19th, 27th, and 12th. Not only was he extremely productive last year, but he was also incredibly consistent, finishing tied with the third-most WR1 weeks and fifth-most WR2 weeks. In contrast to his current ADP (WR20), he's an easy value, priced well below his floor.
Round 5 (5.04)
Draft thoughts: Again, I opted to go with a wide receiver who offers a great deal of safety. I think I actually prefer Landry to Tate but I'll happily take both.
Landry ranks fourth, 13th, and 11th among wide receivers in fantasy points over the past three seasons. So, obviously, his ADP (WR24) makes little sense. Yes, Landry is now in Cleveland, but Josh Gordon is still missing in action and I'm not sure the landing spot is as unideal as drafters are making it out to be. Cleveland ranks seventh (to Miami's 25th) in passing plays per game over the past two seasons. Either Tyrod Taylor or Baker Mayfield should be a clear upgrade over Jay Cutler in 2017. Taylor and Landry have quickly established a strong rapport in camp, and as highlighted here, both Taylor and Mayfield are at their bests when targeting slot wide receivers.
Round 6 (6.09)
Draft thoughts: After selecting two high-floor wide receivers with our last two picks, I felt better about chasing upside here.
Edelman is 32 years old, missed all of 2017, and is suspended for the first four games of the season. That's all true, but Edelman also offers unrivaled per-game upside relative to his draft cost. Over his last 12 games (including postseason), he averages 18.5 fantasy points per game. Over his last 35 games (including postseason), he averages 17.6 fantasy points per game. For perspective, those numbers would have ranked third- and fifth-best last year, respectively.
Round 7 (7.04)
Pierre Garcon, WR, San Francisco 49ers (ADP: 7.06)
Draft thoughts: The seventh round offers three of my favorite wide receiver values in the entire draft, between Garcon, Emmanuel Sanders, and Randall Cobb. I'll take Garcon here today but may pivot if beat writers continue to speculate Marquise Goodwin might supplant him as the top option in the passing game.
Garcon ranked fifth among wide receivers in targets (61) before a season-ending neck injury suffered in Week 8. Somehow, I'm drafting him here as the 32nd wide receiver off the board. His volume wasn't as good as his production (22nd among wide receivers in total fantasy points) but still well above his ADP. He also played much better than his efficiency suggests, grading out 19th-best as a receiver last year. This implies Garcon's efficiency woes were more due to poor quarterback play than his own, but that shouldn't be as much of a problem next year with Jimmy Garoppolo under center.
Round 8 (8.09)
As I outlined here, when Reed has been fully healthy, he's averaged 17.7 fantasy points per game – or, as much as a mid-range WR1 and more than any other tight end (including Rob Gronkowski).
Draft thoughts: We waited at tight end but got one with as much upside as anyone. Due to injury risk, we'll have to draft a competent backup in the later rounds but I feel really good about this pick.
Round 9 (9.04)
Draft thoughts: After taking three running backs with our first three picks I didn't really feel as though this pick was a need, but I like the value and upside here.
Jones is suspended for the team's first two games and was our least efficient running back in pass protection last year. He's unlikely to garner much work in the passing game (with Ty Montgomery expected to resume that role) and should start the season off in a three-way committee. That said, Matthew Berry is predicting a breakout (per his sources) and quarterback Aaron Rodgers might be an even bigger fan. Jones averaged 5.53 yards per carry last season (on 81 carries) while his fellow running backs combined for just 3.62 yards per carry. With a healthy Rodgers back on the field, and thus lighter fronts and more red-zone trips, Jones has a lot of fantasy potential, even despite the other concerns.
Round 10 (10.09)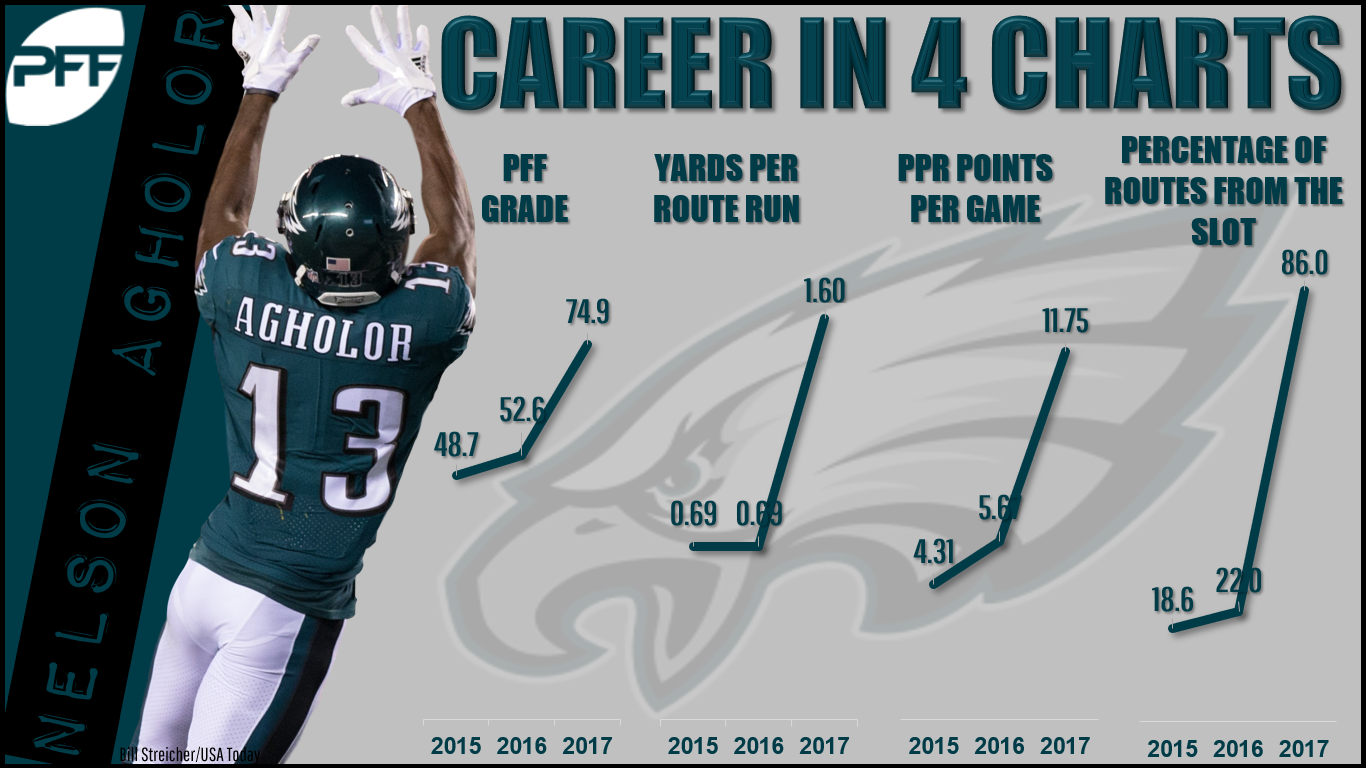 Unlike current drafters (it seems), I'm willing to completely throw out Agholor's first two seasons in the NFL. Agholor was our single-worst-graded wide receiver in both 2015 and 2016 but finished 24th-best last season. He finished ninth-best in WR rating last year after finishing ninth-worst (of 89 qualifying) in 2016. What changed? Mainly, Agholor reverted back to his more natural position in the slot. Agholor ran 52.3 percent of his routes from the slot in his final year of college (2014) and 86 percent last year, but just 20.5 percent during his first two years in the league. Agholor offers decent safety, after finishing 27th in fantasy points per game (12.1) last year, and especially relative to his price (WR46). Also, per beat writer Brandon Lee Gowten, Agholor looks even faster this year, so there might be room for improvement as well.
Round 11 (11.04)
Benjamin was unproductive for fantasy last year, but he was also playing with a minor knee injury since Week 3 and with a torn meniscus since Week 11. Still, he was highly efficient on a per-target basis, at least relative to his quarterback play (which is important given Buffalo's lack of experience at the position). He ranked 25th and 15th at the position in fantasy points in his two previous seasons and won't have much competition for targets on a Buffalo offense likely to spend most of their games trailing their opponents.
Round 12 (12.09)
Josh Doctson, WR, Washington Redskins (12.09)
I prefer Doctson in standard leagues, but even in PPR leagues, I still really like his upside relative to ADP (WR55). Paul Richardson has underwhelmed in camp thus far, while Doctson has stood out. This offseason, Redskins HC Jay Gruden said he wanted Doctson even more involved in the red zone, but Doctson was already brimming with touchdown-upside. Doctson saw 16 targets in the red zone last season – 11th-most among wide receivers. 22 percent of Doctson's targets came in the red zone last season, or the most of any wide receiver last year. 22 of his 78 career targets have also come in the end zone (28.2 percent). For perspective, the next-closest wide receiver (by 2017's numbers) was Michael Crabtree with only 18.2 percent. I suspect he'll be tough to predict on a week-to-week basis but will likely end the year ranking top-36 in fantasy points per game.
Draft thoughts: Despite waiting on the wide receiver position, I still feel really good about my core group of guys. I suspect Tate and Landry will be every-week-starters while Edelman, Garcon, Agholor, Benjamin, and Doctson will fight it out over the other one or two available starting spots.
Round 13: (13.04)
Draft thoughts: Rather than going with a safer tight end to pair with the high-risk/high-reward nature of Reed, I doubled down and drafted the only tight end with as much risk and upside as Reed. I don't like to do it but may need to draft a third tight end to cover my downside.
In 2015, Eifert ranked fifth among tight ends in fantasy points per game. He also led the position in fantasy points per target, which isn't too surprising when you realize he also led the position in touchdowns (13, in 13 games). However, to highlight just how efficient he was, if you removed every touchdown from every tight end that season, he still would have led in fantasy points per target. In 2016, Eifert again ranked top-three in fantasy points per target and ranked seventh in fantasy points per game (or second if we exclude all games playing 15 snaps or less). That being said, Eifert is probably the most injury-prone player in football, having now played on only 24 of his team's last 65 regular-season games.
Round 14 (14.09)
Last year, Winston averaged 306.9 yards per game in games he played on at least 50 percent of his team's snaps. For perspective, 306.9 yards per game would have led the position last year by 20.8. During those weeks, he averaged 19.9 fantasy points per game, or what would have ranked fourth-best among all quarterbacks with as many qualifying games. At ADP (QB22 and falling), Winston is a glaring value despite the suspension.
Draft Thoughts: I go late-round QB every year but this year feels like the deepest the position has been since I started playing fantasy football. Winston is now my third player drafted who starts off the year suspended. I'll gladly take the ADP discount on all three players. Though I'm disadvantaged to start the year, I rarely miss the playoffs in any league and feel this sets me up well for the fantasy postseason. Of course, I'll have to draft another quarterback for Winston's suspension weeks and bye week (which luckily comes early in the year in Week 5).
Round 15 (15.04)
As I outlined here, Seals-Jones and Watson are both glaring values at current ADP. I have them neck-and-neck in my rankings and am fine with either player as my TE3. Though, I suspect I may drop whichever one it is by Week 1 if Reed is still 100 percent.
Rounds 16 (16.09)
Tyrod Taylor, QB, Cleveland Browns (17.01)
Despite rookie phenom Baker Mayfield waiting in the wings, Taylor should cover you during Winston's suspension and bye weeks. When he's on the field, I'd be shocked if Taylor didn't post QB1 numbers. Taylor ranks 11th among quarterbacks in fantasy points per game over the past three seasons – on a conservative run-first Buffalo offense with a lesser receiving corps than the one he has now in Cleveland. Taylor's ground-game production should keep his weekly floor high, and it may be even higher now than it was in Buffalo, considering DeShone Kizer ranked just ahead of Taylor and behind only Russell Wilson and Cam Newton in rushing fantasy points last season.
Rounds 17-18
In my final two rounds, I will not be selecting a kicker or a defense. Instead I will be streaming both positions as I argued you should be doing here and here. Instead I'll draft any two of the deep sleepers I recommended targeting here. Once Week 1 rolls around, I'll drop the two players (on my roster) I feel least excited about add the kicker and defense I feel have the best matchups that week.