In a recent article we looked at quarterback passing tendencies – how frequently certain quarterbacks targeted various positions – to see if this couldn't help us gain an edge in fantasy football. However, this article spoke only to volume and told us nothing of efficiency. Today, I wanted to look at how efficient each quarterback was when targeting each fantasy-relevant position.
In the below chart we're looking at all 24 likely starters with at least 1,000 pass attempts this past decade and measuring each quarterback's passer rating (over the past decade) when targeting the following positions: running backs (halfbacks only, no fullbacks), wide receivers when running routes from the slot, wide receivers when running routes outside, and tight ends.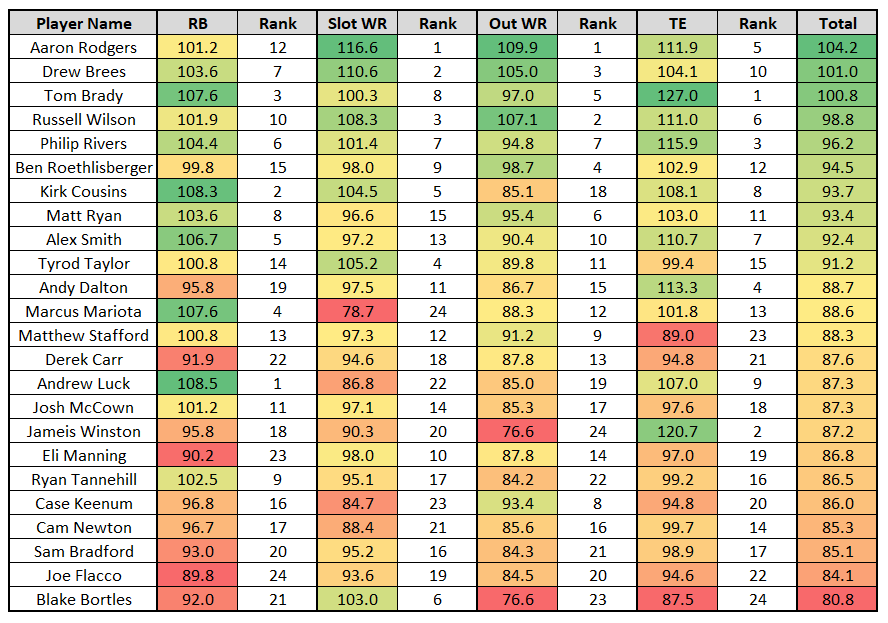 In many cases it's hard to divorce a quarterback's efficiency ranking when targeting a specific position from the talent-level of the receivers who primarily played that position. For instance, how much of Tom Brady's league-leading 127.0 passer rating when targeting tight ends is because he had the luxury of playing with Rob Gronkowski for the past eight years? It will be my job in the analysis below to separate the signal from the noise and try to find instances where this ranking might be more useful for fantasy football players.
Without further ado, here's what I found to be the most interesting and most important takeaways from this chart: