It's always good to have a fantasy football draft strategy, and that doesn't start with the minute you sit down to actually conduct your draft. Personally, before my draft, I print out both a copy of the PFF Fantasy staff rankings and a copy of the ADP from the site I'm using to draft. As the draft progresses, I'll cross off names from both lists and make my selections based on general research and our rankings.
By about the fifth or sixth round, the values become glaring. According to PFF's sheet, there will always be a few players still listed who should have been taken off the board rounds ago but are still a few picks away according to my ADP sheet. I'll then move these players to the top of my queue, as these are likely the current best values in my draft.
Individual site ADP is heavily influenced by casual drafters, and if it is true that PFF's experts are the best in the business — and it is — then that site's ADP is inherently inferior. One of the biggest advantages you can gain as a drafter is by exploiting your draft site's specific ADP. You can use the method I outlined above (if you're more old-school like I am), or you can use our DraftMaster tool, or, well, you can read this.
Below I will highlight some of the most undervalued players (per PFF's rankings) on ESPN drafts. These players will be ranked in order of their ESPN ADP. You can check out our rankings if you're a subscriber.
(ESPN ADP: RB10, 18th overall)
Earlier this year, I questioned why we weren't treating Conner like we would Le'Veon Bell had he never left Pittsburgh. Last week, Pittsburgh beat writer Mark Kaboly confirmed Conner is still the team's bell cow running back, and Jaylen Samuels' touches won't be coming at Conner's expense. In my own rankings, I have Conner as the RB7 and as a first-round pick, well above ESPN's ADP.
(ESPN ADP: RB11, 21th)
Despite battling injuries and recovering from ACL surgery last season, Cook averaged 0.27 missed tackles forced per touch, which led the league and ranks fifth-best by any running back this past decade. From Week 11 (his first week off the injury report) until the end of last season, Cook played on 76% of the team's snaps and averaged 15.7 fantasy points per game, which would have ranked 11th-best last year. Latavius Murray is no longer on the team, but Gary Kubiak now is. In 12 seasons as an offensive coordinator, Kubiak's offense has ranked top-five in rushing yards nine times and top-12 12 times. In his last year in the league, Kubiak led the league in outside zone runs and outside zone run percentage. Over the last two seasons and of 38 qualifying running backs, Cook ranks fourth-best in yards per carry when running in outside zone. Cook feels like an easy bet to beat his ADP.
(ESPN ADP: Thielen WR14, 29th; Diggs WR16, 31st)
Thielen and Diggs have both finished top-12 in fantasy points per game in back-to-back seasons. It's a tough call to know for sure who to take first, but I do know neither wide receiver should be drafted this far outside of the top-12.
(ESPN ADP: RB19, 38th)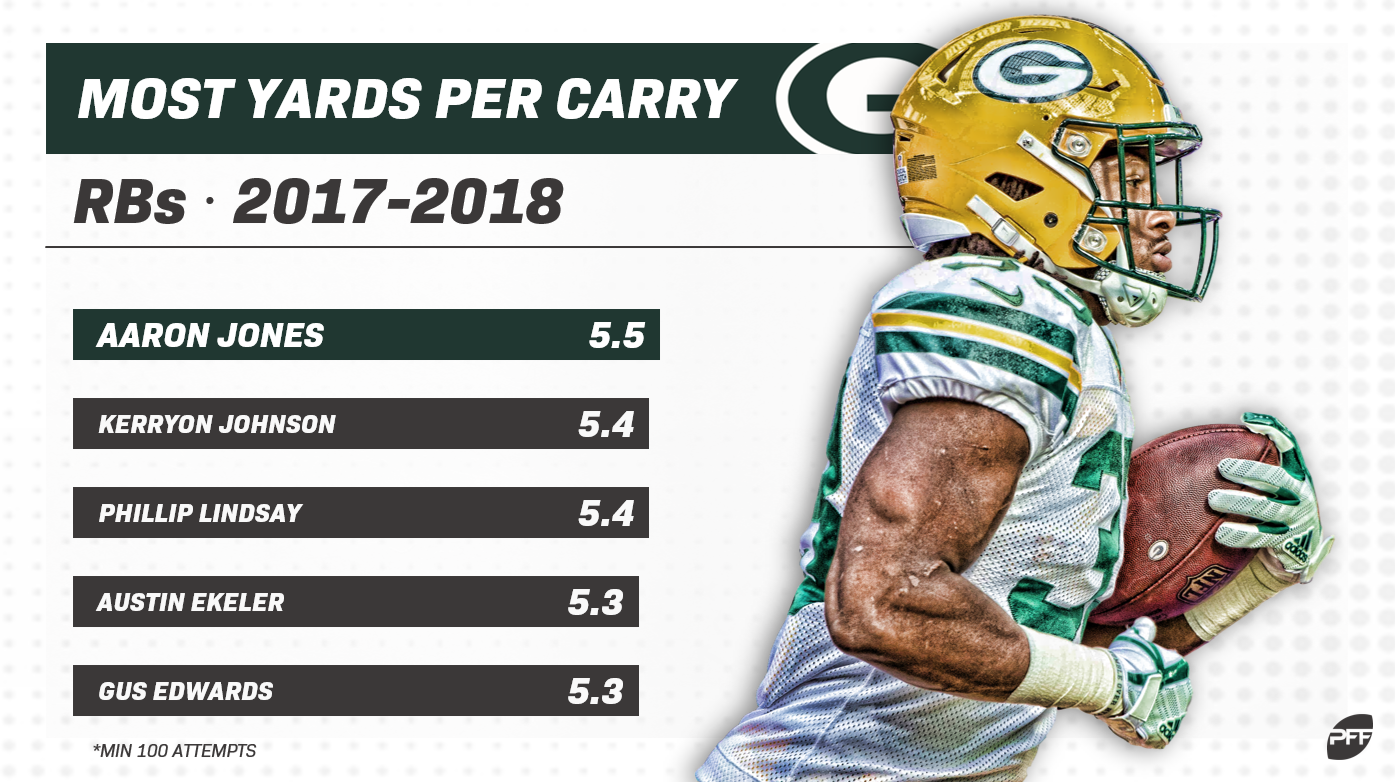 Over the past two seasons, Jones leads all running backs in PFF rushing grade (90.4) and yards per carry (5.54). Since the start of the offseason, head coach Matt LaFleur has continually stated he wants a running back by committee approach in 2019. On what should be one of the NFL's top offenses, even if he is just the lead back in a committee, that'll still be enough to return value at current ADP.
(ESPN ADP: RB21, 45th)
After hyping up Williams all camp, Andy Reid recently changed his tune and indicated a preference for a committee approach in 2019. This caused me to move Williams further down my rankings, but even so, Williams has no business going this low (late fourth round).
Note: If drafting Williams, make sure to grab Darwin Thompson in final rounds of your draft. He's really good.
(ESPN ADP: TE5, 66th)
Howard has arguably been the league's best tight end on a per-route or per-target basis since entering the league. Last season he tied for fifth at the position in fantasy points per game (12.1), despite splitting time with Cameron Brate and leaving two of those games early due to injury. He seems to be a perfect fit for the Bruce Arians offense and a breakout waiting to happen.
(ESPN ADP: WR42, 96th)
ESPN's ADP hasn't yet to adjust to the influx of hype surrounding Samuel, but our expert rankers certainly have. Earlier this month, Steve Reed of the Associated Press questioned if Samuel (rather than D.J. Moore) was going to be the team's WR1 this year, because he's "looked THAT good." Keep in mind, Samuel was a running back in college, so, with another year of experience, a big third-year breakout might not be too unlikely.
(ESPN ADP: WR49, 109th)
Allison is Green Bay's starting slot wide receiver, and, luckily for him, Aaron Rodgers loves throwing to the slot. Over the past 10 seasons, Rodgers has targeted wide receivers out of the slot on 25.6% of his throws (fourth-most among quarterbacks) with a 111.6 passer rating (best). Allison played in only four full games last season but averaged 7.3 targets and 15.0 fantasy points per game in those four. Since Rodgers was named the starter in 2008, Green Bay's WR2 has yielded two WR1 seasons, four WR2 seasons, two WR3 seasons, and two WR4 seasons for fantasy. On ESPN, however, you can get him at just a high-end WR5 price tag.
(ESPN AD): WR52, 126th)
Last season, Mitchell Trubisky averaged a 103.7 passer rating when targeting wide receivers out of the slot. When targeting wide receivers split out wide, that number was just 82.4. In 2017, Trubisky's favorite target was slot wide receiver Kendall Wright, who amassed 51% more targets than the next-closest player. In 2016 (in college), Trubisky's favorite target was another slot wide receiver, Ryan Switzer, who drew 44% more targets than the next-closest player. In 2017 (in college), Miller ranked sixth-best of 179 qualifying wide receivers in yards per route run from the slot (3.43). Last season, Miller ran 69% of his routes from the slot, and wasn't Trubisky's favorite target. Perhaps this was due to the fact that (since Week 3) Miller was dealing with a bad shoulder injury that popped out "maybe five to six times" throughout the season. In spite of it, he still led the team in receiving touchdowns (seven). Like with Allison, I'm expecting big things in 2019 and for similar reasons.
(ESPN ADP: WR55, 129th)
Tate is going to hurt you to start the year (four-game suspension), but he'll be back when it matters most. Tate has long been a favorite of mine, and is, I think, a good bet to out score Sterling Shepard on a per-game basis and return mid-range WR3 value when he's on the field. The early-season zeroes are going to be worth that return on investment.
(ESPN ADP: QB16, 139th)
More so than any other player, Jackson is my favorite ADP value in current drafts, and he's even lower on ESPN than most of the places I've been drafting.
(ESPN ADP: WR62, 161st)
Last season, Josh Allen saw 40% of his (fantasy) passing production come on deep passes (balls traveling 20 or more yards through the air), which ranked first among all quarterbacks. Brown has 4.34 speed and, last season, saw 36% of his receiving yards come on deep passes (11th-most). He worked as the team's WR1 in Week 1 of preseason. Though he's an unsexy pick, and likely highly volatile week-to-week, he is a value.
(ESPN ADP: TE16, 167th)
Last year, Andrews totaled 552 yards, or the 22nd-most by a rookie tight end in NFL history — remember, rookie tight ends typically make a sizeable leap in their sophomore seasons. On top of this, he was also hyper-efficient, ranking fifth of 30 tight ends in yards per route run. Perhaps most importantly, he was also Jackson's most productive receiver, comprising a team-high 26% of Jackson's passing yards, and on just 12% of his throws. Per Jeff Zrebiec of The Athletic, "This year, he's been the Ravens' most dangerous and productive offensive player. Andrews seems to be well on his way to becoming one of the top young tight ends in the league." A 14th-round ADP? Take that value every time.
(ESPN ADP: TE17, 168th)
Last season, Eric Ebron was out-snapped (331 to 164) and out-targeted (32 to 22) by Doyle in games both players were active. Doyle very well could be a wasted pick, or he could be Indianapolis' TE1. At ESPN's lowly price tag, it's worth taking that gamble.
(ESPN ADP: QB18, 169th)
I'm lower than most of our rankers on Winston this year, but even I can see his incredible value at current ADP. Over the past two seasons, Winston has averaged 20.6 fantasy points per game (in 2018) and 17.8 fantasy points per game (in 2017) when playing on at least 75% of the team's snaps. For reference, those numbers would have ranked sixth-best (last year) and eighth-best (in 2017) at the position. Yet, he ranks just 18th at the position on ESPN.
(ESPN ADP: QB20, 183rd)
Cousins ranked 12th in fantasy points last year, after finishes of sixth, fifth, and eighth over the prior three seasons. So, why does he rank 20th this year by ADP? I have no idea.
(ESPN ADP: RB51, 186th)
With an ADP in the 14th round, Harris is well worth a bet against Sony Michel's knee holding up for a full year.
Josh Allen, QB, Buffalo Bills
(ESPN ADP: QB24, 243rd)
Allen was the quintessential Konami Code quarterback last year, ranking first in fantasy points per game (24.2) over the final six weeks of the seasons, and in spite of poor passing efficiency. He's currently being drafted in the 16th round of current ESPN drafts. He's a glaring value in ESPN drafts as an ideal high-upside QB2.
Josh Gordon, WR, New England Patriots
(ESPN ADP: undrafted)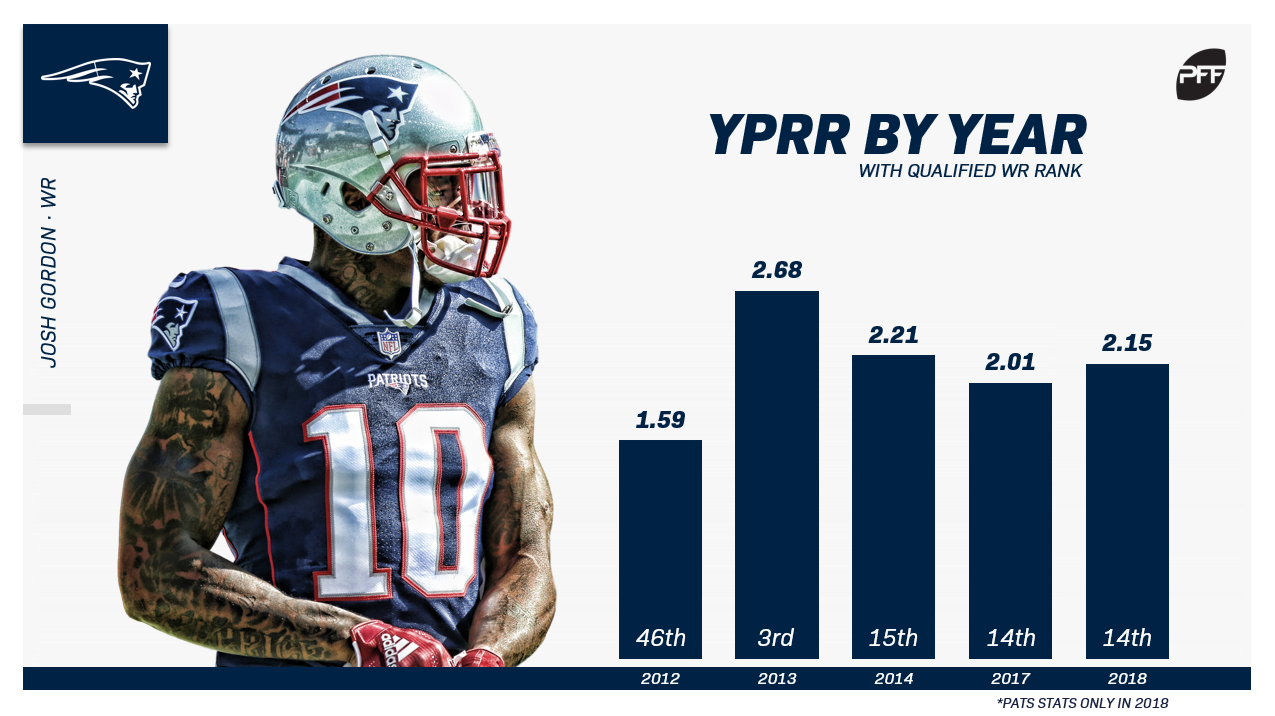 Gordon is currently going undrafted in ESPN leagues but ranks much higher in our rankings. Sure, he might not play a single game all year, but his upside is far more valuable than the cost to acquire him. Last season, while with the Patriots, Gordon averaged 2.15 yards per route run (12th-best), not far off his numbers across his previous three seasons: 2.01, 2.20, and 2.68. Gordon also averaged 11.8 fantasy points per game with New England, which would have ranked 29th. No other wide receivers in his ADP-range has his talent or his upside.
Other players who are going undrafted who shouldn't be: Dallas Goedert, Justice Hill, Tony Pollard, Alfred Morris, Mecole Hardman, Darren Waller, Chase Edmonds, Phillip Dorsett, Quincy Enunwa, Trey Quinn, Marquise Goodwin, Malcolm Brown, Darwin Thompson, Ty Montgomery, Tyler Eifert