Le'Veon Bell was a top-three overall draft pick in three of the past four fantasy football seasons. James Conner, this year, only ranks 12th overall by current ADP. Of course, James Conner isn't Le'Veon Bell, so it makes sense that we're…
Hey, wait a second. Why aren't we valuing James Conner the same as we would Le'Veon Bell?
Conner's 2018 season wasn't just similar to Bell's 2017, it was actually vastly superior by any number of efficiency metrics.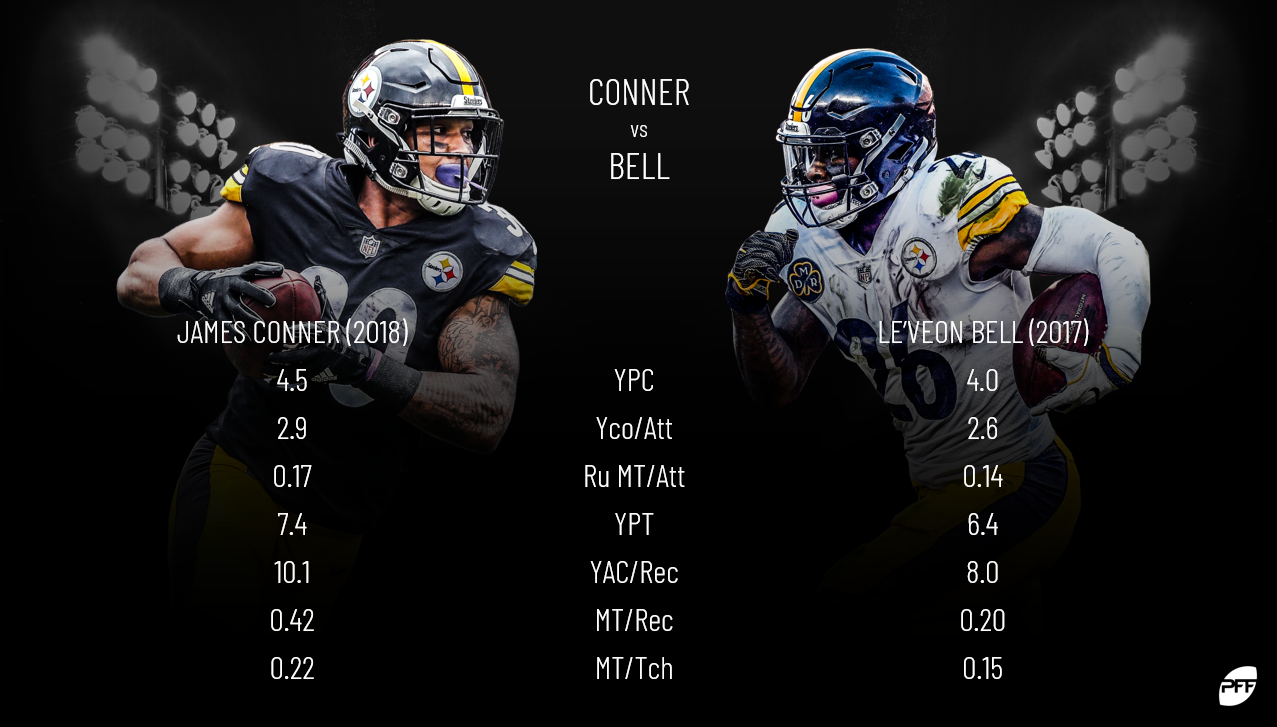 Conner's 2018 season trumped Bell's 2017 season in (*deep breath*) yards per carry, yards after contact per attempt, rushing missed tackles forced per attempt, yards per target, yards after the catch per reception, missed tackles forced per reception, and missed tackles forced per touch.
By fantasy production there wasn't much difference either. Conner averaged 21.5 fantasy points per game last year (Bell's career average is 21.9), or 23.0 if we exclude games he left early due to injury (Bell averaged 23.2 fantasy points per game in his second-best fantasy season).
At PFF, we're constantly lecturing the casual fan over the overstated value a premium running back brings to an NFL team. It's a position that's easily replaceable, and that was never more evident than last year, after what we saw from Conner as well as from C.J. Anderson in relief of Todd Gurley. For the Steelers, it's even true over a larger sample — since Bell entered the league, Pittsburgh has averaged 1.5 more points per game and 24.4 more yards per game when Bell was inactive. In fantasy football, that's also true, but in the sense that volume matters far more than efficiency for fantasy running backs.
The good news for Conner is, he's locked into what's probably the single-best role for any fantasy running back. Head coach Mike Tomlin has preferred to utilize his primary running back in a bell-cow capacity, regardless of the talent level or experience of whoever that running back might be.
There was very little difference between Conner's usage last year and Bell's usage throughout his tenure in Pittsburgh (2013-2018).

In fact, there was very little difference in usage between Bell and any other Pittsburgh running back who led the team in snaps (in any game since 2013).

Over the past six seasons, Pittsburgh's bon-Bell RB1 (by snaps) — players like Conner, DeAngelo Williams, Jaylen Samuels, Felix Jones, Fitzgerald Toussaint, Isaac Redman, and Jonathan Dwyer — averaged 18.8 fantasy points per game, or just 3.3 fantasy points per game off Bell's average.
For further perspective, these numbers, respectively, would have ranked second, ninth, 14th, third, third, fourth, and third, respectively, among all running backs not named Bell in 2017. That's right. The combination of Bell's backups would have ranked second-best in snaps per game, third-best in fantasy points per game, and third-best in snap share in 2017 if we exclude Bell.
Not only are these numbers ridiculously good, but it shows ridiculous consistency — a consistency that's unmatched and unrivaled by any other team within this sample.
In 2019, fantasy drafters aren't treating Conner like we treated Bell when he was in Pittsburgh, but that might just be a mistake.
Check out our rankings to see exactly where Conner lands.
(Spoiler/hot take alert: I have Conner ranked above Bell.)