Exactly how to utilize the handcuff in fantasy football is fair to debate, between drafting your player's handcuff, drafting another manager's handcuff, or simply ignoring handcuffs in the draft and monitoring them over the course of the season. What is less debatable is the simple idea. Handcuffs in some form or another will matter in 2019, like they do every year.
Obviously, we can't forecast who will get hurt with anything approaching confidence, but we can break down the handcuff situations. And below, that's just what we're doing. From 1-32, these are the handcuff situations to monitor in fantasy in 2019, however you choose to do that. These are the backups who have the best combination of standalone value even if the starter plays and a big ceiling if something were to happen to the guy in front of him.
Starter: David Johnson
Handcuff: Chase Edmonds
Edmonds won't have huge value so long as Johnson is healthy, but if something happens to the starter, he immediately becomes an RB1 or close, and that's in an offense that should be running as many plays as it can fit into a single game.
Starter: Alvin Kamara
Handcuff: Latavius Murray
Murray has maybe the most standalone value of the handcuffs, because the Saints are a running back fantasy machine. But as a handcuff, if something were to happen to Kamara, Murray would likely get the lion's share of the carries while some combination of Dwayne Washington and Jacquizz Rodgers handles the receptions. He'd still have big value, but his receiving might not measure up.
Starter: Chris Carson
Handcuff: Rashaad Penny
The Seahawks were the run-heaviest offense in the league in 2018, and with Mike Davis gone to Chicago, Carson and Penny will dominate the backfield work. If one goes down, the other would have ridiculous value.
Starter: Phillip Lindsay
Handcuff: Royce Freeman
Theo Riddick (when healthy) and/or Devontae Booker will have a role in this offense no matter the health of these two, but Freeman would still be a low-end RB2 at worst if Lindsay were to go down to injury.
Starter: Melvin Gordon
Handcuff: Austin Ekeler/Justin Jackson
This one's frustrating, because we might already be looking at this situation coming to fruition, but it's hard to know how to handicap the two handcuffs. Ekeler is the better back by virtually all the metrics, but there's plenty of question how he'd handle up to any kind of full-time workload. He and Jackson would probably form a full-blown committee, limiting either guy's upside.
Starter: Todd Gurley
Handcuff: Darrell Henderson/Malcolm Brown
We just saw at the end of last year what Gurley' handcuff could do, as C.J. Anderson was a league-winner down the stretch. The problem is, who to target? Henderson has all the buzz, but there are rumors that he's going to be the pass-catcher and Brown would be the real handcuff if Gurley went down. If you guess right, it's a league-winning guess. But how lucky do you feel?
Starter: Joe Mixon
Handcuff: Giovani Bernard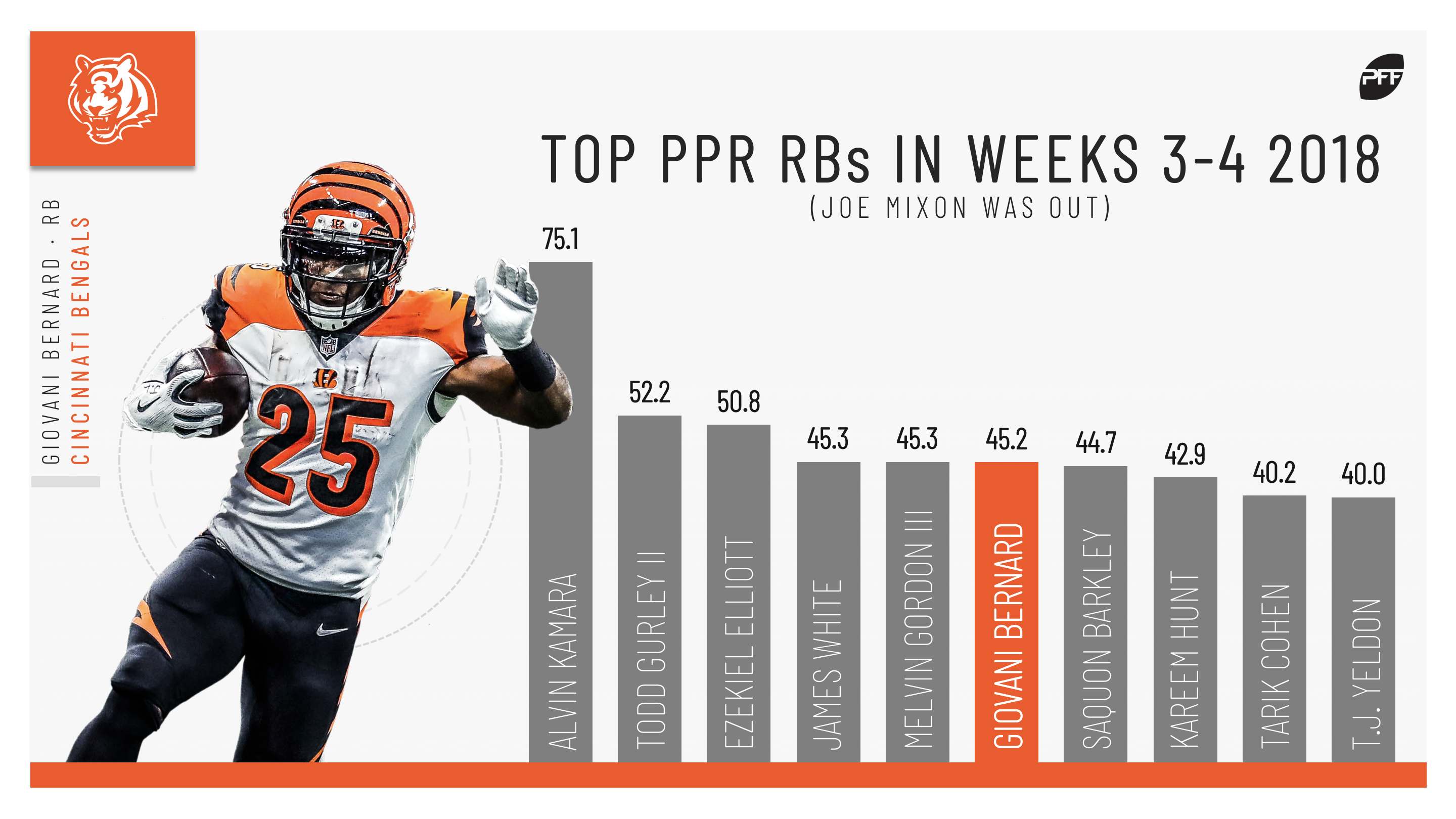 Two things you might not remember: First, Bernard was a top-20 PPR back every year 2013-2015. And second, when Mixon missed Weeks 3-4 in 2018, Bernard was fantasy's RB6, with three touchdowns and 182 yards. If Mixon went down, Bernard would have the misfortune of one of the league's worst offensive lines, but he'd have plenty of value.
Starter: Dalvin Cook
Handcuff: Alexander Mattison/Mike Boone
A month ago, this situation might have been No. 1, with Mattison the most appealing handcuff anywhere. But the team leaned on Boone in Week 1 of the preseason and he offered big returns, leading to speculation he, and not the rookie Mattison, could be the handcuff. Or it could be a committee. Either way, monitor the Vikings, because Cook's lengthy injury history means a handcuff could be needed.
Starter: Mark Ingram
Handcuff: Justice Hill/Gus Edwards/Kenneth Dixon
It seems virtually unanimous that Dixon will be cut before the season, so maybe he shouldn't even be listed here. Still, there should be more than enough carries in the Baltimore backfield to support multiple backs having relevance, and if Ingram were to go down, the Hill/Edwards duo could be powerful.
Starter: Tevin Coleman
Handcuff: Matt Breida
A few weeks ago, this would have been a stay-away backfield in almost any circumstance. But with it looking increasingly likely that we might not see much of Jerick McKinnon in 2019 (if we see any), suddenly Coleman has higher regular value and Breida could be a very valuable handcuff.
Starter: Derrius Guice
Handcuff: Adrian Peterson
On the one hand, this might be the most likely handcuff situation to come to fruition, with Guice still not cleared for game action after a preseason ACL tear a year ago. On the other, between Peterson's deterioration as the year went on in 2018 and the presence of Chris Thompson as the receiving back, it's hard to imagine old man AP having anything like the value he offered last year.
Starter: Tarik Cohen/David Montgomery
Handcuff: Mike Davis
The problem in Chicago is that it would probably take two of the three backs here getting hurt for the third to have standalone fantasy value that was that significant. This could be one of the most productive backfields in 2019, but each guy might disappoint somewhat.
Starter: Kerryon Johnson
Handcuff: C.J. Anderson
Theo Riddick's departure opens the door for Johnson to be a true bell cow, but if he goes down, it would be a surprise to see Anderson have that sort of role, or to see him produce like he did for the Rams last year.
Starter: Aaron Jones
Handcuff: Jamaal Williams
In the five games Jones missed most or all of last year (Weeks 1-2, 15-17), Williams was the No. 14 PPR back … with under 4.0 yards per carry, a 66.5 PFF rushing grade, and a 26.0 elusive rating that ranked 52nd of 69 qualified backs. The role is good. The back probably isn't.
Starter: Damien Williams
Handcuff: Carlos Hyde/Darwin Thompson
If Hyde gets cut before the season, this one jumps to the top five. But absent that, we don't really know who will take the main role if Williams goes down, no matter what the preseason buzz tells us.
Starter: Kenyan Drake
Handcuff: Kalen Ballage
Who knows here. Drake has failed to seize a full-time role under multiple coaching staffs and is hurt. Meanwhile, Ballage ranked 82nd of 85 backs (min. 30 carries) in PFF rushing grade last year and averaged barely 2.0 yards per carry if you take out one long run. Miami's a bad team with a worse line. There isn't much depth, so if something does happen to one of them we'll see a lot of the other, but it's hard to get excited.
Starter: James Conner
Handcuff: Jaylen Samuels/Benny Snell
The Le'Veon Bell-era Steelers were the top handcuff offense in the league, because the team always employed a bell cow, no matter who that bell cow was. Now? There are whispers it could be a committee even with Conner healthy. If he goes down, we'll see plenty of both Samuels and Snell.
Starter: Ronald Jones/Peyton Barber
Handcuff: Peyton Barber/Ronald Jones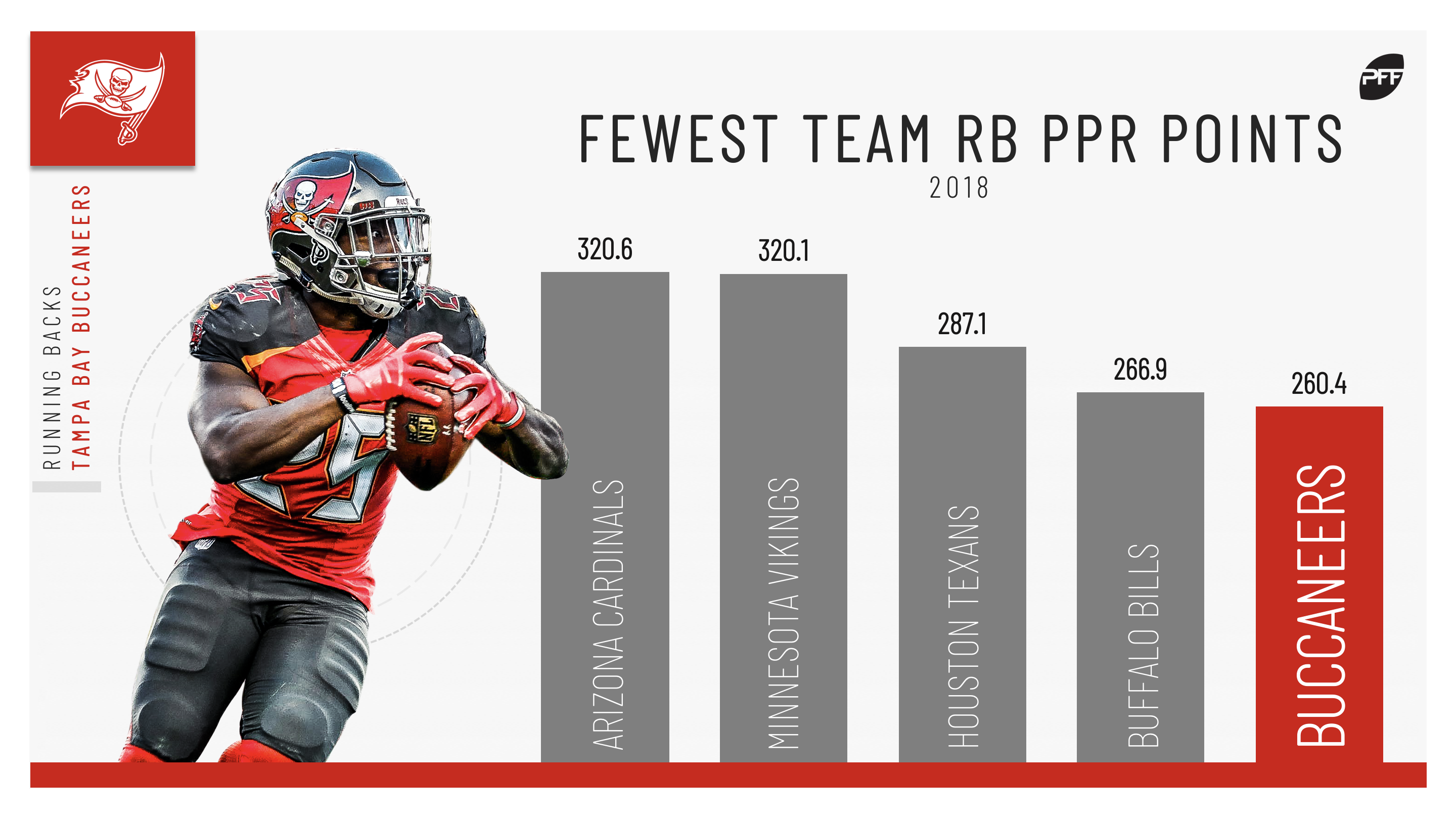 Identifying the handcuff in Tampa Bay is easy — it's whoever doesn't start. But getting value out of that guy is harder, because this was the worst fantasy backfield in the league in 2018 and it's the same guys now.
Starter: Sony Michel/James White
Handcuff: Damien Harris
Look, it's Bill Belichick. There's a scenario where Michel gets hurt and Brandon Bolden and Rex Burkhead each average 10 carries a game. Who the heck knows. But Harris has worlds of upside if he does get a big-time role.
Starter: Derrick Henry
Handcuff: Dion Lewis
If the Titans do in fact go as run-heavy as the talk has been this offseason (I don't buy it), Henry will get all the carries. But if he goes down, do we trust Lewis to have the same sort of workload? He's never had 200 carries in a season and has only topped 160 once. And he's surprisingly old, turning 29 at the end of September and entering his ninth season.
Starter: Josh Jacobs
Handcuff: Doug Martin
Jalen Richard is going to have a role in this offense no matter what, and it'll be bigger if Jacobs gets hurt, but Martin will be the load-carrier in that instance. And we just saw how that would go last year when he replaced Marshawn Lynch. And it wasn't good.
Starter: Leonard Fournette
Handcuff: Ryquell Armstead/Alfred Blue
Armstead spent the first part of training camp on the PUP list. Blue is the same guy he's always been. The Jaguars just need to hope Fournette can stay healthy.
Starter: Nick Chubb
Handcuff: Dontrell Hilliard/Kareem Hunt
If Chubb gets hurt in, say, Week 8 or 9, Hunt's got league-winning handcuff upside over the back half of the season. If Chubb gets hurt in Week 3, while Hunt's suspended? It could get real sad.
Starter: Devonta Freeman
Handcuff: Brian Hill/Ito Smith/Qadree Ollison
Freeman's going to have the primary role in this backfield, but we'll see the others in designated roles. If Freeman goes down? It'll be a full-fledged committee or two, maybe three guys, and that will be impossible for fantasy.
Starter: Ezekiel Elliott
Handcuff: Tony Pollard/Alfred Morris/Mike Weber
This is another one where we might learn the situation sooner than expected if the Cowboys don't get Elliott on the field soon. But good luck deciding between one admittedly impressive rookie, one less exciting one, and the remains of Morris. It's a mess.
Starter: Saquon Barkley
Handcuff: Paul Perkins
Barkley is one of the top picks in 2019 because he's got a monster role, yes, but also because he has the talent to overcome the poor roster around him. Could Perkins do that if Barkley were to go down? That's harder to imagine.
Starter: Lamar Miller
Handcuff: Duke Johnson/Damarea Crockett
Miller hasn't exactly lit the world on fire as a Texans, but the team also hasn't gone nuts in trying to find someone who will. Johnson was a trade acquisition this preseason, but he's unlikely to ever be a bell cow type. He will, though, have big-time pass-catching value, which means Crockett, even if he gets Miller's ball-carrier load, will have a very low ceiling.
Starter: LeSean McCoy
Handcuff: Frank Gore/T.J. Yeldon/Devin Singletary
We don't know how the touches will break down in Buffalo even with all four guys in place, so we don't know any more about how it would shake out with three. Just avoid it unless you're diving super deep.
Starter: Le'Veon Bell
Handcuff: Ty Montgomery/Bilal Powell/Elijah McGuire
We're already worried about the effect of head coach Adam Gase on Bell's workload to start things off; if Bell were to go down is there any chance one guy will have enough value to do much for fantasy? Maybe Montgomery, but ultimately it's unlikely.
Starter: Marlon Mack
Handcuff: Jordan Wilkins/D'Onta Foreman
With Nyheim Hines around as the pass-catching back and unlikely to be more than that, a Mack-less Colts would probably split the work between the underwhelming Wilkins and the just-lost-his-job-on-a-Texans-team-without-much-else Foreman. Good luck.
Starter: Christian McCaffrey
Handcuff: Who freakin' knows, man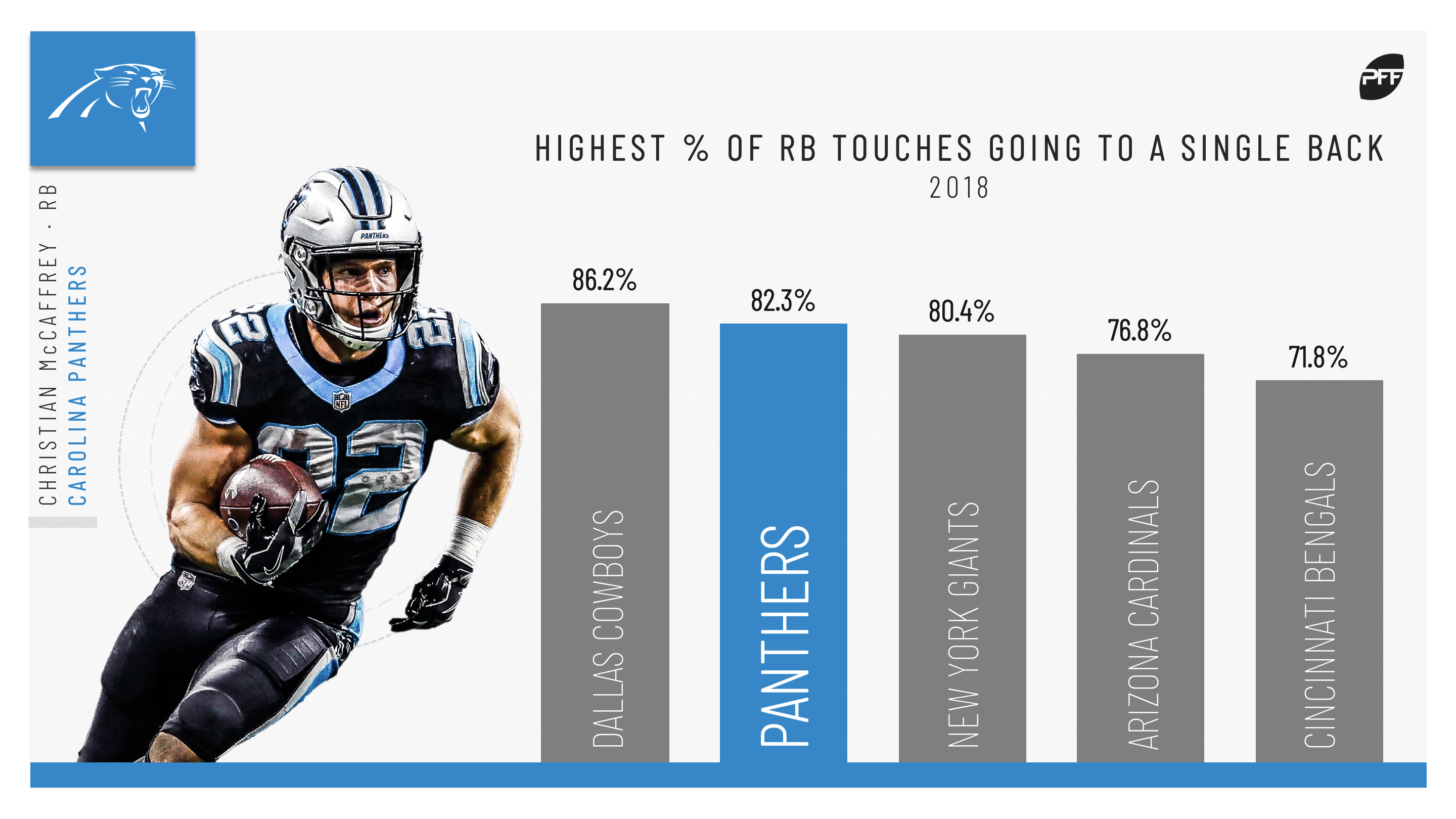 There's a famous story about the Colts not giving any practice reps to Peyton Manning's backup quarterback because, if Manning goes down, "we're [redacted], and we don't practice [redacted]." That appears to be the Panthers' general approach to McCaffrey. Woe unto those who have McCaffrey if he gets hurt.
Starter: Miles Sanders
Handcuff: Jordan Howard/Darren Sproles/Corey Clement/Wendell Smallwood/Josh Adams/Boston Scott
The exact opposite of the Panthers' situation is the Eagles, with far too many names to deal with to figure much out behind Sanders, and that's even assuming the rookie does take the No. 1 role. The backfield was a mishmash a year ago after Jay Ajayi went down, and all the same guys are back plus Sanders and Howard. For real football, that's great. For fantasy? Shudder.