The wisdom of the crowd means that over the long run, the fantasy football drafting community gets it fairly close to correct. Sure, in an individual draft there's going to be the occasional crazy person doing crazy-person things, but if you look at overall ADP, it's rare you're just going to see something that looks insane.
That said, even the crowd isn't perfect. Every year, some players are regularly over- or underdrafted by enough as to make their ADP not reflect what it should be (at least subjectively). So today, we're looking at the players who are the most out of line so far, per Fantasy Football Calculator ADP.
Below are the players most overvalued by round so far this drafting season. Wednesday, we'll look at the most undervalued by round.
Round 1
(Current ADP: 1.06, 6th overall)
There are a few things to note here. First, the first round so far this drafting season actually makes a lot of sense. There are no egregious overdrafts that I can find. Second, Hopkins is my No. 1 receiver, just like he's going in ADP. But third, my personal draft strategy says that taking a receiver as high as sixth overall is asking for it. Taking Hopkins at six means your best running back could end up being Damien Williams or Kerryon Johnson — good backs, no question, but riskier than I'd like as my No. 1 back. Meanwhile, taking a running back (Le'Veon Bell and James Conner are the next two by ADP) means you can get Mike Evans or Keenan Allen as your No. 1 receiver, and I like that roster construction better.
Round 2
(Current ADP: 2.07, 19th)
I would not be at all surprised if Chubb's end-of-year point total made it look like he warranted a pick this high, or even higher. The problem is that he is the single most likely player in all of fantasy to frontload his production this year. Now that Duke Johnson is gone from Cleveland, it's going to be the Chubb show until Kareem Hunt's suspension ends … but then it will end, and Hunt will have a role, and the back you've been relying on all season could see a big drop in production just in time for the most important part of the season. (And all this assumes the Browns' offensive line — easily the weakest part of the team — doesn't handcuff Chubb's season from the start.)
Round 3
(Current ADP: 3.05, 29th)
Mahomes is the obvious odds-on favorite to lead the quarterback position in fantasy scoring again. But early/mid third round? Nearly three full rounds later, you can get Deshaun Watson, the No. 2 quarterback in our PFF Fantasy staff rankings and a perfectly fine contender for Mahomes' crown. In short, you can get Mahomes and, say, Mike Williams, or you can get Watson and, say, T.Y. Hilton. Watson/Hilton makes far more sense to me. (To say nothing of waiting even longer on QB, getting an excellent late-round option, and crushing the skill positions.)
Round 4
(Current ADP: 4.04, 40th)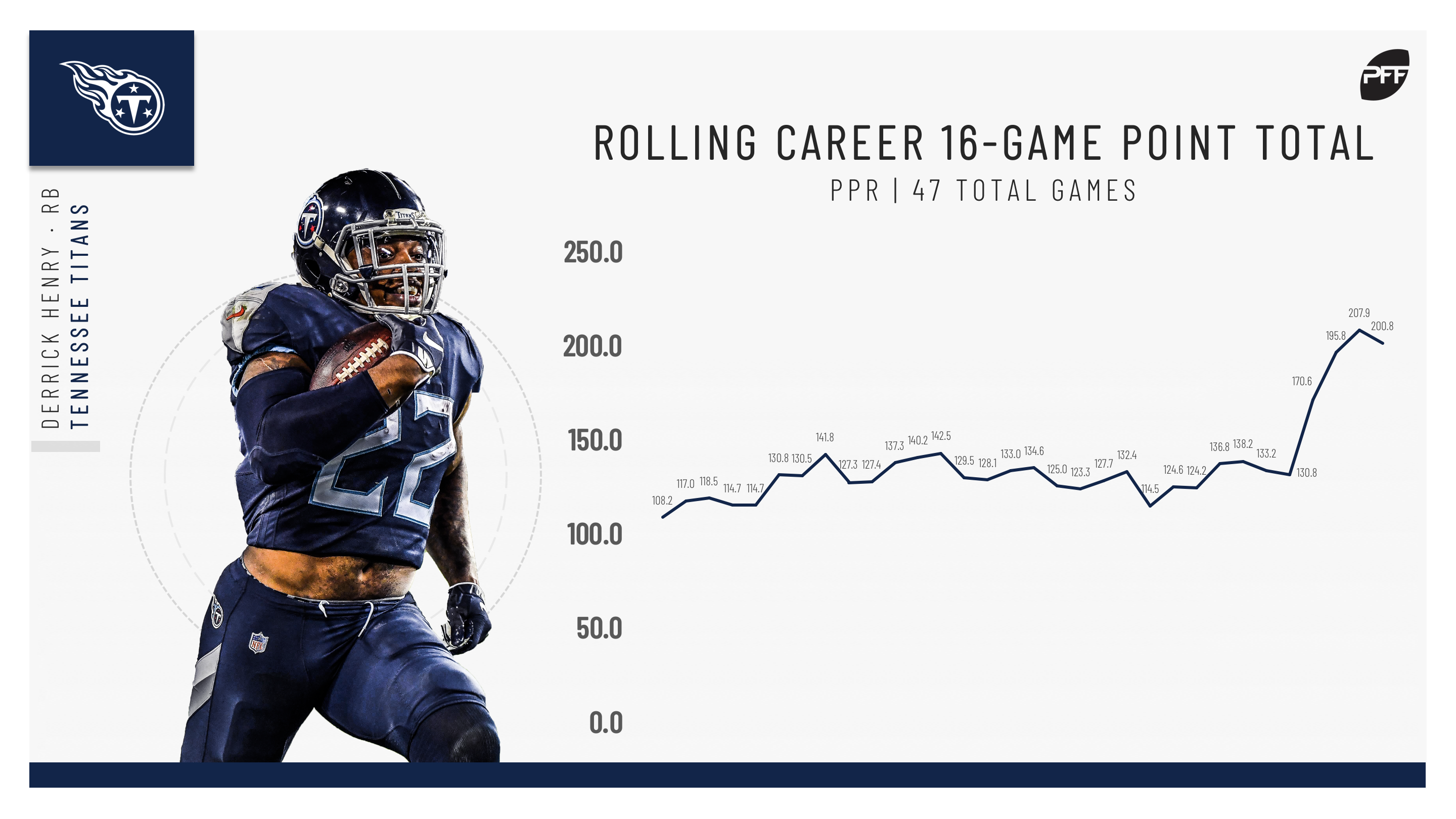 After the Titans (a) made a TE coach their OC; (b) signed a high-profile free agent WR; (c) drafted a second-round WR; (d) signed a competent backup QB; and (e) added no backfield help this offseason, we're supposed to believe Henry — he of the one month of real fantasy production in a three-year career — is now going to run the ball all the dang time this year? Sorry, I don't buy it. This team is still going to throw the ball, Dion Lewis is still going to be relevant, and Henry is going to disappoint.
Round 5
(Current ADP: 5.07, 55th)
It's not that the Patriots drafted Damien Harris. It's not that Michel's knee apparently keeps bothering him. It's not that James White is still going to get his. It's not that Rex Burkhead is apparently healthy this year. It's not that Bill Belichick is still Bill Belichick when it comes to the backfield. It's … well, it's all those things. I just can't trust Michel this high.
Round 6
(Current ADP: 6.09, 69th)
All the buzz coming out of San Francisco this preseason so far has been about Deebo Samuel, about Jalen Hurd, about Tevin Coleman. Some has even gone Marquise Goodwin's way. And of course there is George Kittle. None of that means Pettis won't be a very productive receiver, but we're basing a lot off 40 total targets as a rookie and one game of more than 83 yards. Pettis didn't even reach 500 snaps in 2018; he's not the locked-in No. 1 weapon in this offense that his draft position seems to believe he is.
Round 7
(Current ADP: 7.04, 76th)
Just being real here, there isn't a screaming overdraft in the seventh round. Good job, seventh-round drafters. But the risk that Penny isn't so much the 1A to Chris Carson in the Seattle backfield as much as he's the distant No. 2 is real, and that means I'd rather the two backs going right behind him (Miles Sanders and Derrius Guice) more.
Round 8
Jordan Howard, RB, Philadelphia Eagles (Current ADP: 8.04, 88th)
Kareem Hunt, RB, Cleveland Browns (Current ADP: 8.07, 91st)
Chicago Bears defense (Current ADP: 8.09, 93rd)
On the flip side of that relatively well-drafted seventh round is the mess that is the eighth round. We have Hunt, who won't even be eligible to play until Week 10, and I bet most teams that draft him will have to drop him before he can play. We have Howard, who even if Sanders falls flat on his face has about a hundred other running backs to contend with in Philadelphia and still offers next to nothing as a receiver. And we have a defense going off the board in the eighth round, which oh my lord do not that. I was going to pick one overdrafted pick per round, but I just couldn't decide here. Fix the eighth round, people.
Round 9
(Current ADP: 9.10, 106th)
What is Samuels' ceiling, really? Even if you buy the hype that the Steelers are going to use more of a committee approach than they have in the past, Samuels never topped 77 carries in a season in college. Outside of a big Week 15 last year, he averaged 3.2 yards per carry across 37 carries. Will he have PPR value? Sure, probably, though this is also a team that has a breakout candidate at tight end and a plethora of receivers to choose from. But the carries are going to go to James Conner first, and Samuels and Benny Snell will get the leftovers. I can't invest here.
Round 10
(Current ADP: 10.11, 119th)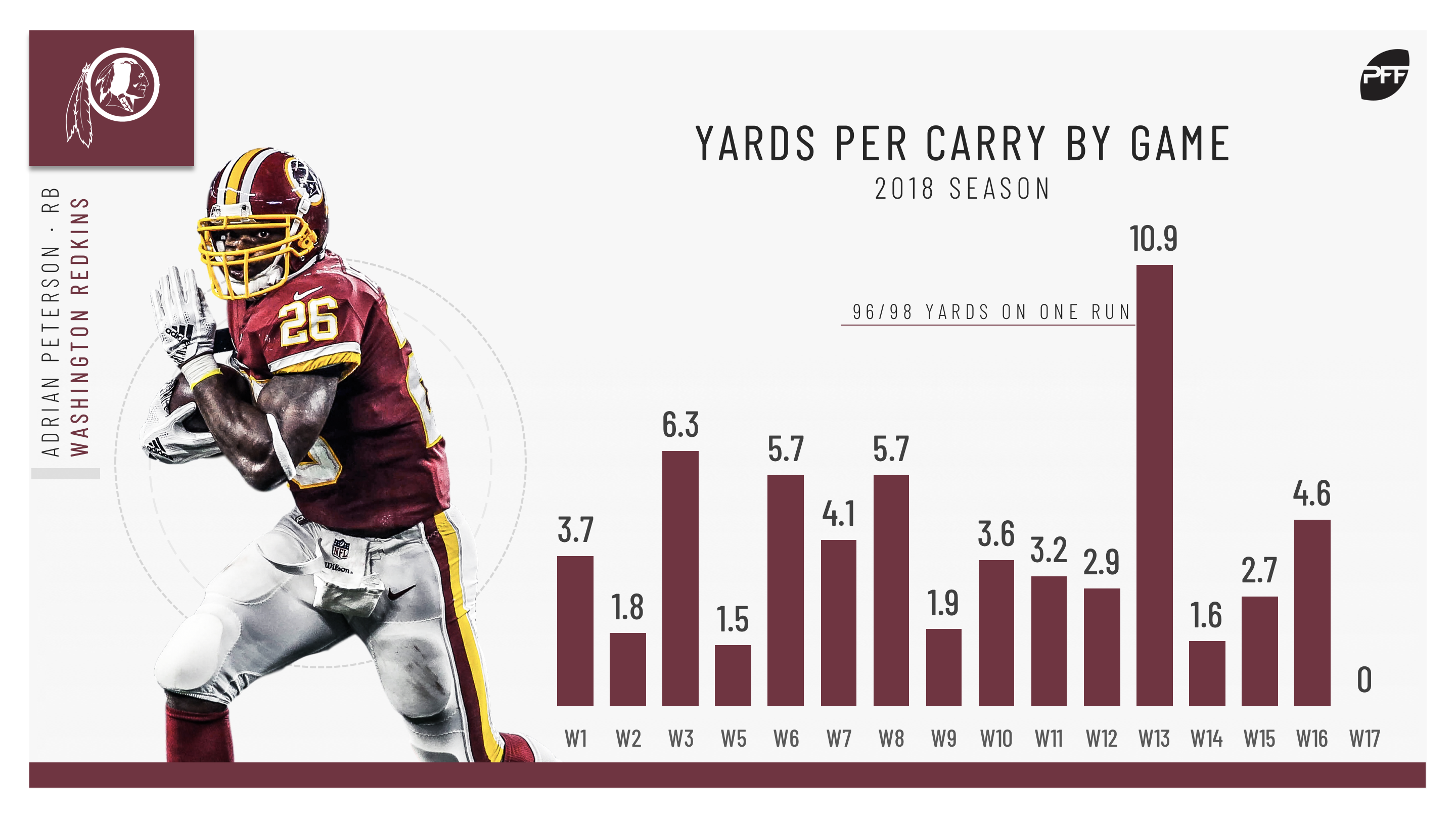 If Derrius Guice produces like everybody thought he would entering last year, Peterson's just not going to have a big role. And if Guice struggles and/or can't prove he's healthy, what is Peterson's upside? He averaged almost twice as many PPR points in Washington wins last year as losses (16.7 to 8.5), and there's little reason to think the team will be better this year than it was last year. Add to that the fact that Peterson clearly got worse as the season went on last year — he averaged 4.4 yards per carry over his first eight games, then only 3.8 in his last eight, and if you take out one 96-yard run in Week 13 that accounted for all but two of his yards in that game, it was 3.0. 2018 was a nice last hurrah for the veteran, but it was a last hurrah.
Round 11
(Current ADP: 11.11, 131st)
I know reports out of Detroit have been almost universally positive for Hockenson so far in his rookie training camp, but until we see it on the field, I'm sticking with the "don't invest in rookie tight ends" truism. The Lions have three receivers in Kenny Golladay, Marvin Jones, and Danny Amendola who are all at least competent, signed Jesse James to a free agent contract, and have regularly said they want to be run-first in 2019. Even if Hockenson bucks the trend of rookies and is good right away, will he have enough quantity to justify being drafted as a low-end TE1 or high-end TE2? I don't see it.
Round 12
(Current ADP: 12.07, 139th)
If you can find something Smith was good at as a rookie, let me know. He averaged 3.5 yards per carry, tied for 53rd out of 62 qualifying backs. He only broke three carries of more than 15 yards out of 90 attempts. Supposedly a pass-catcher, he generated only an 87.2 passer rating when targeted, 44th of 54 qualifiers. He didn't even average a full yard per route run. He was just a rookie, so there is clearly room for improvement, but with Devonta Freeman back and Qadree Ollison and Brian Hill both in the mix, it's hard to see Smith having much standalone value and you can't confidently say he's even the handcuff.
Round 13
This late in the draft, there isn't an obvious bad pick … except for going with a kicker. In a 12-team league, the absolute earliest I'd take a kicker is near the end of the 14th, and even that is probably jumping the gun. We simply can't confidently say what kickers will do well in a given year (no, we can't), and these rounds need to be spent on lottery tickets and upside flyers.