One of the final pieces of the puzzle for projecting rookies in fantasy football is evaluating each player's landing spot. Which NFL team drafts any particular rookie — and when they do so — affects their near-term value compared to how we might have felt about the players in a vacuum. 
I don't like to weigh the landing spot too drastically versus my pre-draft rookie analysis when it comes to the long-term projection of players, but in traditional, one-year redraft leagues, these things directly affect Year 1 production. 
Subscribe to
So it's important to look ahead and identify the best potential fantasy football landing spots for rookies. We can't project each top-tier rookie to his own elite NFL offense — that's not realistic. We're looking for landing spots that are within the range of outcomes based on the current selection order of the 2021 NFL Draft.
Let's take a look at the best fantasy football landing spots for the 2021 crop of NFL rookies.
The New York Jets are both a likely landing spot and a great one for fantasy purposes. Wilson has been most often tied to this spot in mock drafts, and he's best suited for an offense that leverages an outside zone scheme. 
PFF's Seth Galina explained how BYU's outside-zone rushing scheme created openings in the passing game off play-action for Wilson. It's one of the things that helped fuel his magnificent junior season and skyrocket his draft stock. 
New Jets offensive coordinator Mike LeFleur stems from Kyle Shanahan's outside-zone scheme coaching tree, making the Wilson-to-New York pairing one we should be excited to watch unfold.  
Joe Brady is one of the brightest young offensive minds in the NFL, but last year the Carolina Panthers' offense was held back because of Teddy Bridgewater. 
Bridgewater finished third in the league in adjusted completion percentage (80%), and that can be attributed to his conservative nature. His passing accuracy percentage was only above league average when his receiver was considered "open." His red-zone touchdown rate (12.5%) ranked well below league average (22.6%).
Teddy B threw just 15 touchdown passes in 15 games. That's not getting it done in fantasy football.
Carolina is clearly intent on upgrading the QB position this offseason; there have been multiple reported attempts to acquire veterans like Deshaun Watson and Matthew Stafford.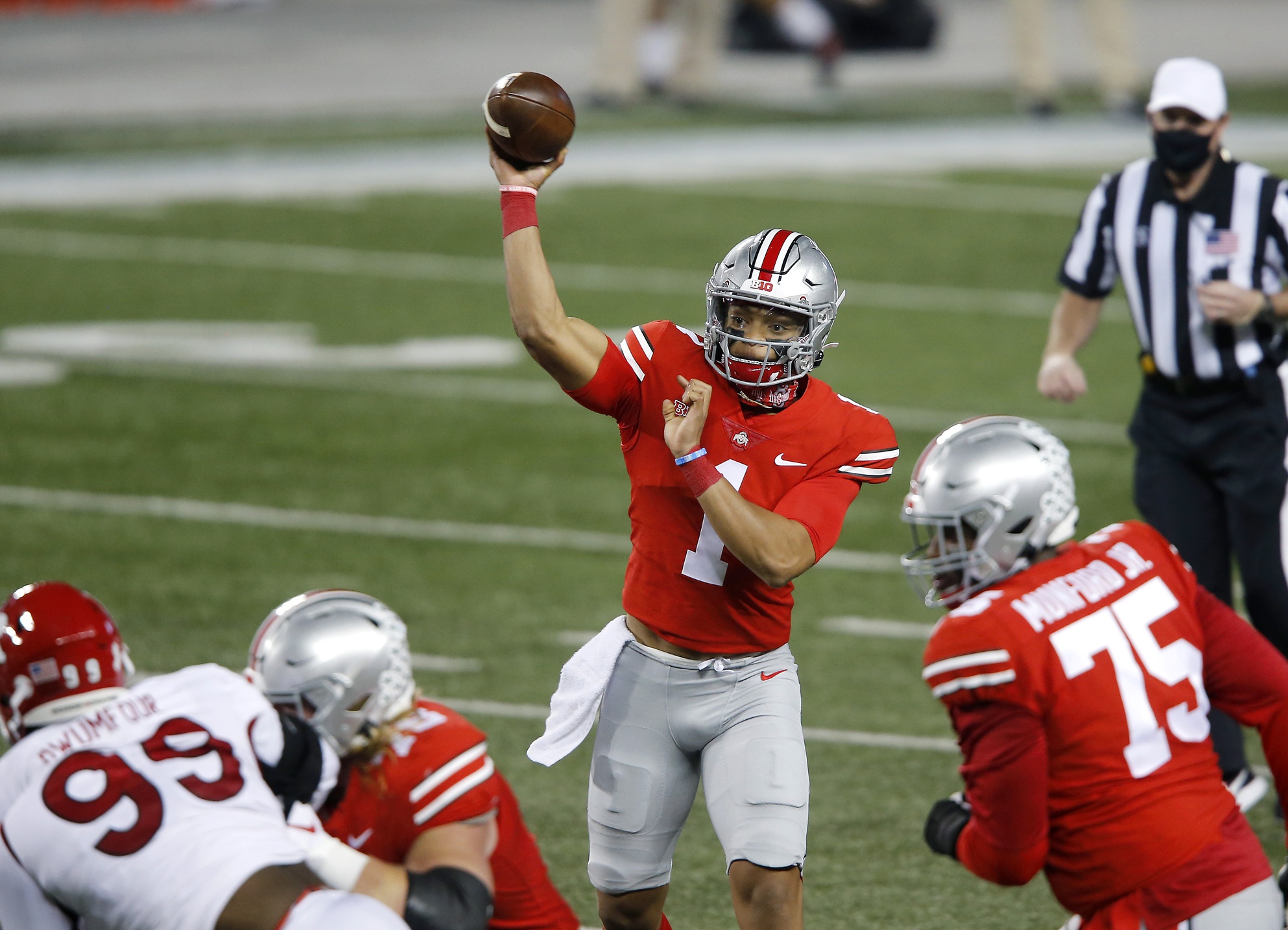 But with no luck in the veteran quarterback market, it would make all the sense in the world for them to address the position in the draft. Fields is  what this offense needs. His dual-threat ability, super-accurate precision passing and deep-ball prowess would be a perfect fit here. 
No quarterback in college football was more accurate than Fields in 2020. His 72.4% accurate-pass rate, per PFF's ball location charting, made him one of just two quarterbacks to hit at least 70% (Mac Jones). His adjusted completion percentage (81%) ranked No. 2 in the nation. 
Fields also finished second in passing touchdowns of 20-plus yards (29) and third in air yards percentage (71.2%) since the start of the 2019 season, showcasing his affinity to throw the ball downfield.
Those types of statistics suggest that Fields would be a major boon for skill players like D.J. Moore and Robby Anderson. 
The New England Patriots were shockingly aggressive in free agency, so we can't rule out more major changes coming in the NFL Draft.  
Several teams picking in the top 10 aren't in need of a quarterback. Mustering a trade package to move up in another most non-Patriots move seems only appropriate here in 2021.
I'm already excited about Cam Newton in this revamped offense from a fantasy perspective, and Trey Lance would be the perfect understudy. We already know the Patriots offense is ready-made for a running-style quarterback, and that's exactly what Lance will bring to the table. 
In his lone full season as a starter in 2019, Lance rushed for 1,150 yards, fourth-most at the quarterback position. And the incoming rookie offers the type of cannon arm Newton doesn't.
Lance would likely sit behind Newton to start the year, but that's probably a good thing for his long-term development.
As noted in my dynasty rankings update piece earlier this week, there are several landing spots for running backs that are ripe for the taking. Unfortunately, we Mike Davis jumped one one such opportunity, signing a two-year, $5.5 million deal with the Atlanta Falcons.
I'm not sure that means the Falcons will be out of the running back market next month, however. Some teams like to go after the sexy RB names coming out, and I think that will be the case for Atlanta. 
The Falcons have a dire need for explosiveness at the running back position. Since 2019, Atlanta RBs have compiled the fifth-fewest rushes of 15-plus yards. 
Davis is not going to deliver big, explosive plays. The former Panther posted the third-lowest breakaway run percentage (15%) in 2020 (min. 150 carries). 
With former Tennessee Titans OC Arthur Smith bringing in an offense that saw Derrick Henry post the fourth-most explosive run plays over the past two seasons, adding a home-run threat like Etienne to an offense already littered with playmakers can put this unit over the top.
From 2018-2019, Etienne posted a 92.4 PFF rushing grade and 40 rushing attempts of 20-plus yards — 11 more than the next-closest running back.
The Titans' offense predominantly focused on running the ball with zone schemes the past two years, and Etienne compiled more than 2,500 rushing yards off zone concepts while at Clemson. He also greatly improved his receiving ability this past season. Etienne finished first in PFF receiving grade (90.9), first in receiving yards (588) and second in receptions (48) at the running back position.
His jump in receiving production has led to many anoint Etienne as the league's next Alvin Kamara. I wouldn't go that far, but new Atlanta general manager Terry Fontenot might disagree. Fontenot spent his last 18 years with the New Orleans Saints, where he saw plenty of Kamara in action. 
Any of the "Big Three" at running back would work for the Falcons, and I would bet their fantasy price will be suppressed because of the Davis signing. But Davis should not deter anyone from going after a rookie running back who lands in Atlanta.
Davis was similarly efficient back in 2018 while playing for the Seattle Seahawks, which led to a two-year, $6 million contract with the Chicago Bears.
The Bears proceeded to draft David Montgomery that same year and released Davis in November. Don't avoid a young talent in a prolific offense because of a veteran's backup money. Davis is making essentially the same amount as Devontae Booker. 
As a final note,  Etienne has also reportedly had Zoom meetings with the Pittsburgh Steelers. His skill set would fit nicely there as well. New Steelers offensive coordinator Matt Canada ran an inside-zone system his last season coaching at Maryland. Etienne is PFF's second-highest graded rusher (90.7) from inside zone concepts since 2019. 
I love the idea of Najee Harris within the Jets' zone-running scheme. He back owns PFF's fourth-highest grade (87.7) when running outside zone since 2019.
Harris would step in and become an immediate bell cow for the Jets with their current bare-bones RB depth chart. He could easily still be on the board at pick No. 34 overall.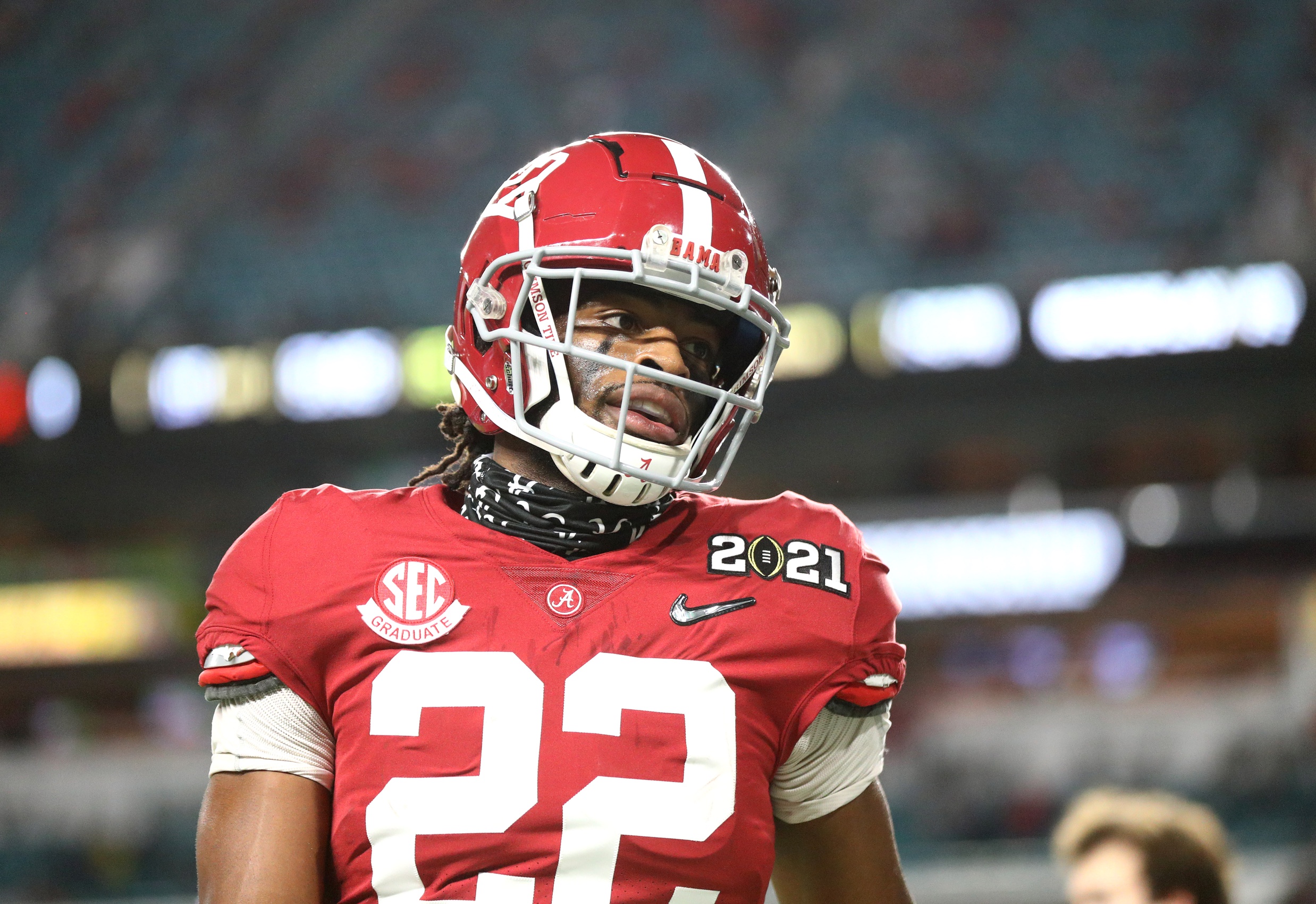 If the Jets elect to wait longer in the draft to find their outside-zone runner, they can look no further than my No. 5-ranked rookie running back, Khalil Herbert. He earned PFF's highest grade (91.7) and ranks first in yards per attempt (9.2) on outside-zone runs since 2019.
For awhile I felt like the lone wolf fueling draft buzz about Herbert, but the NFL masses are starting to catch on. Per Grindingthemocks.com, Herbert is now being mocked as the RB10 overall. He was not anywhere near that spot a month ago. 
DeVonta Smith to the Lions makes a ton of sense from a real-life and fantasy perspective. Armed with the seventh overall pick, Detroit has a good chance of acquiring Smith even if they decide to trade down. 
The Lions are clearly trying to move away from contested-catch receivers like Kenny Golladay and Marvin Jones. Signing players like Tyrell Williams and Breshad Perriman is a bet on building a group of receivers who win with separation against man coverage. 
Perriman had the second-highest PFF grade versus man coverage in 2019 (90.2). His overall grade fell off a bit in 2020 (86.1, 16th), but it was superior to both Golladay (75.7, 44th) and Jones (76.0, 40th). 
Williams didn't play in 2020, but he finished 2019 16th in PFF receiving grade versus man coverage (80.0) and seventh in yards per route run  (3.13). 
Campbell commented on the new WR acquisitions in a recent press conference and had this to say about the players' roles, per LionsWire.  
"(Jared Goff's) job is to make the right decisions, put the ball on the receivers, give them a chance to make a play and our receivers' job is too freaking get open and separate. And if the ball hits your hands, you better find a way to come down with it," Campbell said.
It's hard to ignore Campbell's emphasis on separation as a desirable trait at the wide receiver position and not connect the dots back to Smith.
No college player since 2018 has more receiving yards than Smith with at least one step of separation. He also ranks second in receptions (146) and third in yards per route run (4.65) with at least one step of separation behind only Jerry Jeudy and former Minnesota wide receiver Tyler Johnson.
Smith could easily be this team's No. 1 wide receiver on Day 1, with Perriman and Williams his top two competitors for targets. I'd also assume that he'd carve out a huge role in the slot because the Lions have yet to fill that void with Danny Amendola currently an unsigned free agent. 
Smith led the nation last season in yards per route run (5.64) operating from the slot. We've seen the majority of Goff's success when hyper-targeting savvy route-running slot receivers like Cooper Kupp and Robert Woods in his days with the Los Angeles Rams, so Smith would be a perfect fit in the offense.
Several recent mock drafts have connected the Philadelphia Eagles and Kyle Pitts, including PFF's Mike Renner's latest three-round 2021 mock draft. 
At first glance, it seems like an atrocious landing spot for Pitts with Dallas Goedert entrenched as the team's starting tight end. But with some NFL general managers viewing Pitts as more of a receiver than an actual tight end, I hope the Eagles draft Florida's dynamic playmaker and deploy him as such.
The Eagles have a severe lack of playmakers on offense, and that means Pitts could immediately slide in and command targets. If anything, Goedert's blocking ability would enable the offense to rely on Pitts less as a traditional tight end and more as a receiver, which is where most of his value lies.
Pitts earned a 97.0 PFF receiving grade last season and averaged 4.91 yards per route run against man coverage. Those ranked first and second, respectively, among all pass-catchers — wide receivers and tight ends alike. 
The Eagles also tried former wide receiver Hakeem Butler at tight end last year, so the idea of cross-pollination at WR/TE isn't some newfound idea for the Eagles organization. 
Pitts doesn't have as many other desirable landing spots inside the top-10 as you'd think, so Philly might end up being his best bet for fantasy.
Do we want another first-round tight end joining the Lions (T.J. Hockenson, Eric Ebron, Brandon Pettigrew) just to be wasted away?