The whirlwind of NFL free agency has died down at this point, and while there are still quality players available, a lot of the glaring needs across the league have already been addressed. That means it's time to dive deep into the mock-draft game again, but this time, we're going to take a look at the first three rounds.
With the desperation across the league at quarterback evident this free agency, I fully expect a run on quarterbacks early in Round 1.
View PFF's 2021 NFL Draft position rankings:
QB | RB | WR | TE | T | iOL | DI | EDGE | LB | CB | S
Round 1
No one they could have signed in free agency is changing this one.
Wilson's fit in Mike LaFleur's offense is seemingly too perfect. No one in the country posted a higher grade off play action last year, and it wasn't even close. Wilson's 96.5 passing grade on such passes was a far cry from the next best in the draft class — Alabama's Mac Jones at 92.9.
While this could be a trade-down spot, you're not always going to be in a position to take a prospect of Sewell's caliber — and that's because they don't even exist in every draft. Teams weren't just evidently desperate at the quarterback position this offseason; they were desperate at the tackle position, too.
The 49ers give up a future first and some change to get their guy. The pick not only represents a possible upgrade over Jimmy Garoppolo, but it also clears $23.6 million in cap space from Jimmy G's contract that the 49ers could use after the Trent Williams deal.
The Panthers were unable to get a deal done with their division-rival Falcons, but the Bengals were more than willing to slide a few spots down with Penei Sewell off the board. Lance goes to a perfect situation where he can sit behind Teddy Bridgewater as long as possible, and he will have legit weapons whenever he's called upon.
Positional value be damned — you won't find another Pitts in this draft or any other draft any time soon. The Eagles can find a receiver later or even use Pitts as such if they want. The Florida tight end ranked third among all college football players last year in yards per route run against man coverage.
7. Detroit Lions — WR Ja'Marr Chase, LSU
Given Dan Campbell's press conferences, one might think that they'll be drafting only linebackers and fullbacks this year, but G.M. Brad Holmes has already shown that he knows where the game is won. Forget about the "tone-setters," Chase plays a valuable position and is too special a talent to pass up here.
The Bengals are going with the kitchen-sink approach to fixing the offensive line, and this is one pick that will certainly stick. Slater has five-position versatility and is as NFL-ready as they come.
Did I mention that I don't think the quarterbacks will last long? The only way the Patriots' free-agency spending spree works out long term is if they don't have to spend big money on a quarterback. They are now in quite the predicament: If Cam Newton plays too well, they suddenly can't keep their roster together with what his price tag will be. That means they will likely be in the market in a deep quarterback class because they obviously don't plan on picking anywhere near the top 10 in 2022.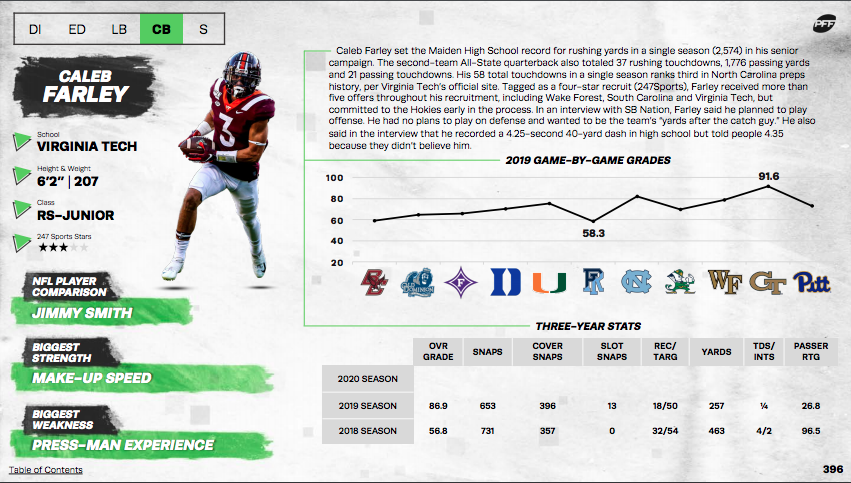 10. Dallas Cowboys — CB Caleb Farley, Virginia Tech
The Cowboys have to have at least one outside corner with some speed, and Farley certainly has that. He also has the size and length that Dan Quinn covets in his defense. Farley was lights-out before opting out — he allowed a passer rating of just 26.8 on throws into his coverage in 2019.
11. New York Giants — CB Jaycee Horn, South Carolina
The Giants made the splash of free agency late last week when they inked wide receiver Kenny Golladay to a deal worth more than $18 million a year. That might take them out of the receiver class and into the corner class. They dabbled with Julian Love at outside corner toward the end of last year, but that's still a question mark. Meanwhile, Horn's skill set is tailor-made to go one-on-one on the outside.
Here we have a mini-run on the cornerback position, as Atlanta simply has to get better there if they're going to compete with the Bucs in the NFC South. Because of that, they take a page out of Tampa Bay's playbook and go secondary for the second straight year in Round 1.
This is how you compete with the Chiefs in the AFC West — you counter with your own juggernaut offense. Smith's talent does not need any false praise after his Heisman campaign. He is a bonafide stud and brings a little more to the table vertically than both Mike Williams and Keenan Allen, as well.
14. Minnesota Vikings — OT Christian Darrisaw, Virginia Tech
It's unclear what the plan is with tackle-turned-guard Ezra Cleveland going forward, but adding offensive tackles is never a bad thing. Darrisaw dominated a season ago, earning the highest grade in the Power 5.
Denver misses out on the cornerback class, but after free agency, that's A-OK with them. Vic Fangio gets a flexible chess piece in JOK, who could even replace Kareem Jackson's role in the defense if the Broncos wanted him to.
Just like last year, when both Jerry Jeudy (Pick 15) and CeeDee Lamb (Pick 17) unbelievably fell out of the top 10, Smith and Waddle fall to 13 and 16, respectively. Waddle brings the explosive threat they always wanted Andy Isabella to be in the offense.
17. Las Vegas Raiders — LB Micah Parsons, Penn State
Parsons won't be everybody's cup of tea, and that could cause him to fall. Still, it's hard to see him not being Jon Gruden's kind of guy. At 245 pounds, Parsons plays a physical brand of football that the Raiders' defense simply hasn't had.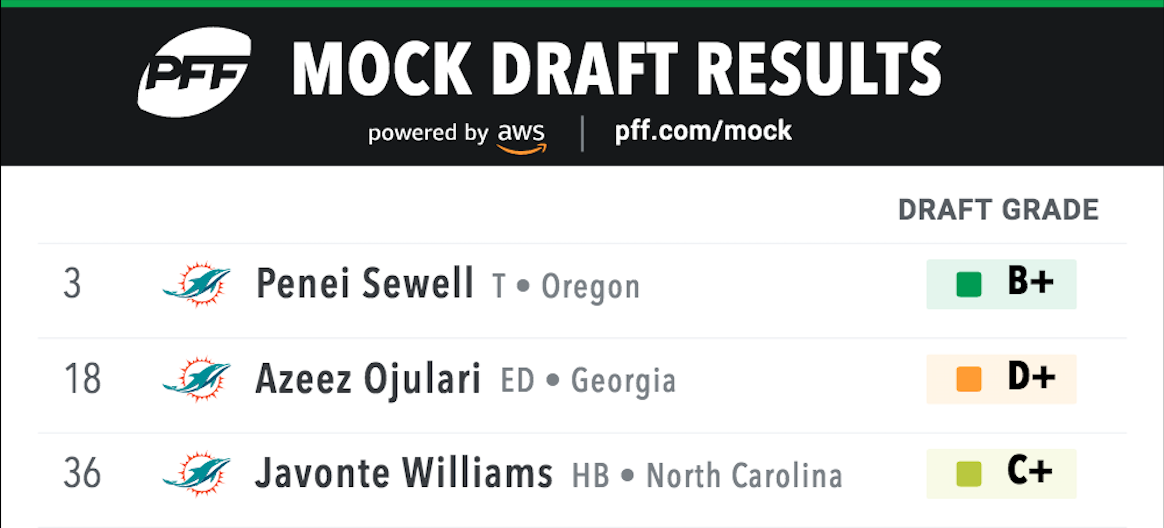 18. Miami Dolphins — EDGE Azeez Ojulari, Georgia
The Georgia product is the first edge off the board, and it's because of scheme-fit more than anything else. Ojulari can fill the shoes left by Kyle Van Noy's release while also being able to win one-on-one as a pass-rusher more consistently. His 91.7 pass-rushing grade in 2020 was the highest of any edge defender in the draft.
A curveball? Moehrig is that good, and the answer to the Football Team's linebacker woes may very well be on the roster. Moehrig's addition could allow Landon Collins to stay in the box full-time, where he's a much more natural fit.
20. Chicago Bears — IOL Alijah Vera-Tucker, USC
Vera-Tucker is yet another versatile offensive lineman who started at left guard in 2019 and left tackle in 2020. With the flux along the Bears' offensive line in recent years, that flexibility is a necessity at this point.
Old Mickey Loomis isn't going to change his stripes anytime soon. They go up and get "their guy" across from Marshon Lattimore after Janoris Jenkins' release. The Saints are yet another team that sees the success of the Bucs' strategy within the division.
22. Tennessee Titans — DI Christian Barmore, Alabama
A defensive tackle? Well, A). Barmore is that good; he earned a 91.5 pass-rushing grade as a redshirt sophomore that led all defensive tackles in the country in 2020, and B). the Titans have clearly prioritized the trenches this offseason after cutting their starting corners and signing Bud Dupree. Barmore and Jeffery Simmons would be a problem.
The Jets have the draft capital to swing for the fences a bit. It would be a big swing to get Paye here, but he has absurd burst and cornering ability at his size. The encouraging thing is how much he's improved every year of his career. Robert Saleh gets another horse on the edge to try and replicate his success in San Francisco.
24. Pittsburgh Steelers — OT Teven Jenkins, Oklahoma State
We rarely advocate for pigeonholing yourself in a position, but given the Steelers' roster and contract situations, they pretty much have to go offensive line. They're in luck because Jenkins is as mean as they come at tackle — he earned a 93.6 run-blocking grade last year.
The Jags take a page out of the Bengals' playbook here and pair Trevor Lawrence with a rangey No. 1 type of target so that they can grow together throughout their careers. Marshall is only scratching the surface of what he could be, as he is yet to even turn 21 years of age.
26. Cleveland Browns — EDGE Jayson Oweh, Penn State
Oweh is a different caliber of athlete from even the other freaks in the class. With his length and get-off, he doesn't need much more to make an impact. He's relatively new to the game, and we saw massive improvement from him from 2019 to 2020 despite what his sack totals say.
27. Baltimore Ravens — WR Rashod Bateman, Minnesota
Bateman is the reliable, big-bodied separator the Ravens offense craves. Lamar Jackson is never going to be an elite go-ball-thrower, but he can thread needles over the middle of the field where Bateman does some of his best work.
More than any other defense in the NFL, the Colts covet long athletes on defense. You may not find a longer defensive end in the draft class than Rousseau. It's why he was darn near impossible for guards to block when he kicked inside and racked up 16 sacks as a redshirt freshman in 2019 before opting out in 2020.
The Packers quite obviously don't care about addressing their most glaring roster needs via the draft. They also consistently invest in the trenches early on and covet athletes on both sides of the ball. All that points to the man who's played just one game over the past two seasons but ran the fastest three-cone in modern history for an offensive lineman at his pro day (6.9 seconds).
30. Buffalo Bills — IOL Landon Dickerson, Alabama
The ACL tears are concerning, but without them, Dickerson is a top-20 pick. The Bills don't need him Week 1; they need him come playoff time. Dickerson has played every offensive line position over his college career, and there's no more NFL-ready interior lineman in the class. He was the highest-graded center in the country last season.
The Chiefs did a ton to address their offensive line via free agency, but none of it did anything to fill the shoes of the two starting tackles they released. Cosmi is one of the most experienced tackles in the class. He has 1,529 career pass-blocking snaps to his name and is one heck of an athlete, as well.
A "luxury" pick for a team that quite frankly doesn't have many open spots on the roster after they ran it back in free agency. Harris' hands and tackle-breaking ability in space are night and day from any other back on the Bucs' roster.
Round 2
34. New York Jets — OT Dillon Radunz, North Dakota State
35. Atlanta Falcons — EDGE Jaelen Phillips, Miami (FLA.)
40. Denver Broncos — CB Asante Samuel Jr., Florida State
41. Detroit Lions — LB Zaven Collins, Tulsa
42. New York Giants — EDGE Joseph Ossai, Texas
44. Dallas Cowboys — DT Daviyon Nixon, Iowa
48. Las Vegas Raiders — OT Alex Leatherwood, Alabama
50. Miami Dolphins — WR Kadarius Toney, Florida
52. Chicago Bears — WR Tutu Atwell, Louisville
54. Indianapolis Colts — OT Liam Eichenberg, Notre Dame
56. Seattle Seahawks — IOL Creed Humphrey, Oklahoma
58. Baltimore Ravens — EDGE Joe Tryon, Washington
61. Buffalo Bills — RB Travis Etienne, Clemson
62. Green Bay Packers — EDGE Carlos Basham Jr., Wake Forest
Round 3
66. New York Jets — CB Ifeatu Melifonwu, Syracuse
67. Houston Texans — WR Tylan Wallace, Oklahoma State
68. Atlanta Falcons — TE Brevin Jordan, Miami (FL)
69. Cincinnati Bengals — DI Milton Williams, Louisiana Tech
71. Denver Broncos — DI Alim McNeil, North Carolina State
72. Detroit Lions — CB Eric Stokes, Georgia
75. Dallas Cowboys — S Jamien Sherwood, Auburn
76. New York Giants — DI Marvin Wilson, Florida State
78. Minnesota Vikings — DI Levi Onwuzurike, Washington
81. Miami Dolphins — IOL Trey Smith, Tennessee
83. Chicago Bears — QB Kellen Mond, Texas A&M
85. Tennessee Titans — TE Hunter Long, Boston College
88. Los Angeles Rams — IOL Kendrick Green, Illinois
89. Cleveland Browns — CB Shakur Brown, Michigan State
93. Buffalo Bills — IOL Ben Cleveland, Georgia
94. Kansas City Chiefs —  ED Joshua Kaindoh, Florida State
96. New England Patriots (compensatory selection)— RB Michael Carter, North Carolina
97. Los Angeles Chargers (compensatory selection)— OT D'Ante Smith, ECU
98. New Orleans Saints (compensatory selection)— S Jamar Johnson, Indiana
99. Dallas Cowboys (compensatory selection)—  ED Payton Turner, Houston
100. Tennessee Titans (compensatory selection)— OT Brady Christensen, BYU
101. Detroit Lions (from Los Angeles Rams; compensatory selection)— S Talanoa Hufanga, USC
102. San Francisco 49ers (special compensatory selection)— TE Tommy Tremble, Notre Dame
103. Los Angeles Rams (special compensatory selection)– DI Tommy Togiai, Ohio State
104. Baltimore Ravens (special compensatory selection)— S Andre Cisco, Syracuse
105. New Orleans Saints (special compensatory selection)— LB Baron Browning, Ohio State