Welcome to the Week 6 edition of the fantasy football facts and stats to know for DFS. In this column, we use PFF's extensive football data to uncover in-game matchups with massive fantasy football and DFS implications.
Last week, we connected on boom performances by Michael Thomas, Chris Godwin, Julian Edelman, Adam Thielen, Leonard Fournette, and Austin Ekeler.
Here are the facts and stats to know for Week 6:
Our PFF Shadow Matrix projects a shadow matchup between Josh Gordon and Janoris Jenkins, which should tilt heavily in Gordon's favor. You may recall what Mike Evans did to Jenkins back in Week 3, and Gordon is a similarly big-bodied receiver with even more athleticism. Jenkins is allowing the third-most fantasy points per route among all cornerbacks, a truly outlandish number for a shadow corner. We nailed the Julian Edelman explosion in last week's column, and it would not surprise for Tom Brady to try and get his embattled superstar receiver going in another matchup where the Patriots can truly do whatever they please.
It's impossible to begin any writing about the Panthers without mentioning Christian McCaffrey, but you don't need me to tell you to play him every week. Instead, let's look at the fact that the Bucs have become a massive pass funnel unit despite facing a gauntlet of the NFL's premier running backs through the first five weeks: the 49ers electric trio, McCaffrey, Saquon Barkley, Todd Gurley, and Alvin Kamara. And yet, the Bucs rush defense is allowing a league-low 0.3 rushing yards before contact per attempt, which surely is leading to their league-highest 217 passing attempts faced. It feels like only a matter of time until D.J. Moore and Curtis Samuel have a breakout game, and a London affair against the NFL's premier pass funnel is as good a time as any. PFF's WR/CB Matchup Chart ranks Moore as having the 12th-best matchup this week against Vernon Hargreaves while Samuel has the second-highest 40-time speed differential against Carlton Davis.
A battle between the winless Redskins and Dolphins is not exactly projected to be a fantasy football El Dorado, but perhaps there may be some usable production here. In particular, Miami's Preston Williams seems like a great candidate for positive regression as his usage metrics do not match up with his production. Despite already having his bye week, Williams has racked up a whopping 11 red-zone targets (seventh-most) and four end-zone targets (eighth-most), while only managing one touchdown. A forgiving Washington coverage unit allowing a league-high 13 passing touchdowns serves as the perfect opportunity for the positive regression fairies to surface.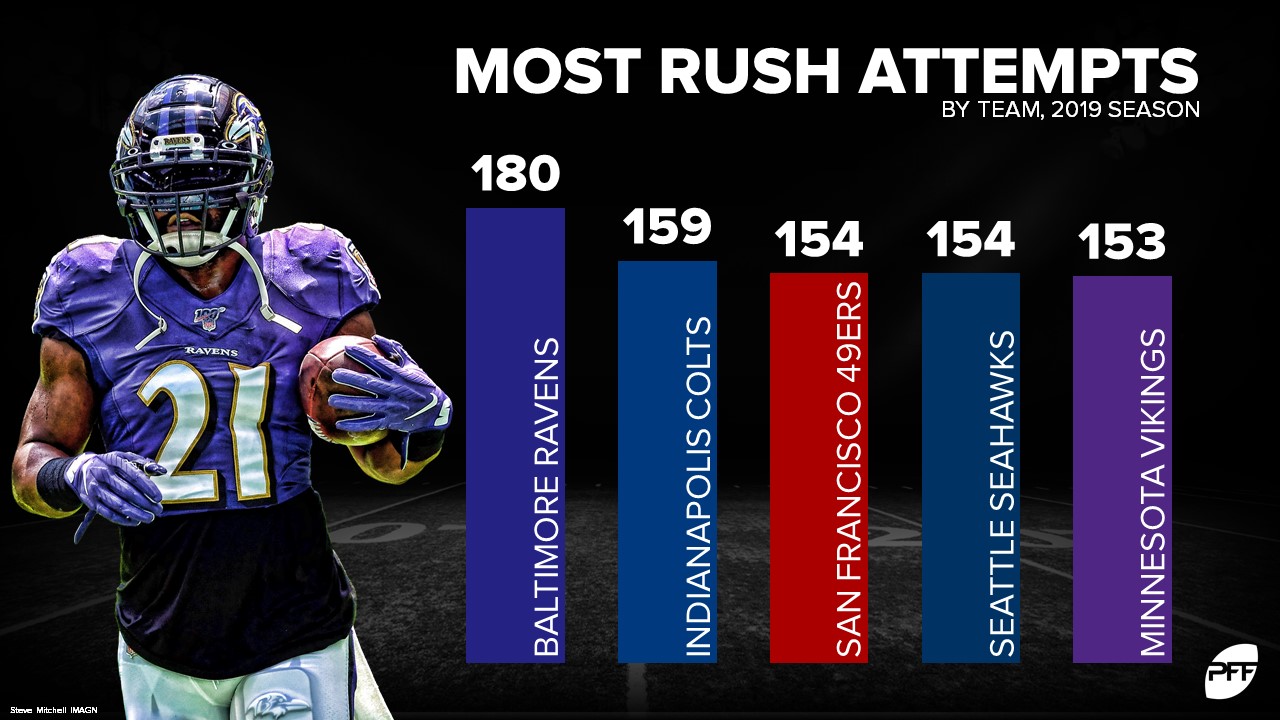 No offense runs the ball more than the Ravens and their league-high 180 rushing attempts (21 more than the next team), with a heavy dose of production coming before contact at 2.3 yards before per attempt (fourth). Conveniently, the Bengals have faced a league-high 166 rushing attempts, allowing seven touchdowns (most), and 27 explosive runs of 10-plus yards (most) while getting gashed before contact at a clip of 1.8 yards per attempt (eighth-most). PFF's O-Line/D-Line Matchup Chart projects the Bengals to have the highest chance of allowing a rushing touchdown this week.
The squeaky wheel narrative is a long-time favorite of your author's, and it is a complete Yahtzee when squeaky wheel meets positive matchup, which happened last week when we nailed the Adam Thielen eruption. Week 6 against Philadelphia's pass funnel is the perfect opportunity for the Vikings to get disgruntled superstar Stefon Diggs going – the Eagles are allowing just 0.4 rushing yards before contact per attempt (second-fewest) while facing only 97 rushing attempts (fourth-fewest). Diggs pasted the Eagles secondary in this matchup last year, catching 10 balls on 11 targets for 91 receiving yards. Rasul Douglas projects to cover Diggs, which is a winnable matchup for Diggs – Douglas has already allowed two touchdowns this season.
Here we have what is quite likely to be Week 6's best game environment with a lofty 55-point Vegas total, a full 3.5 points higher than any other game. We completely whiffed on what will forever be known as Will Fuller week, but this column will always focus on matchups and never chase points. To that end, DeAndre Hopkins has a juicy matchup in shadow coverage against Bashaud Breeland, with PFF's WR/CB matchup chart ranking that as this week's fifth-best matchup among all wide receivers. A complete Hopkins dud in Week 5 will likely suppress his ownership level, (check the PFF DFS ownership projections) despite a perfectly reasonable $7,400 price tag on DraftKings. Hopkins comes in as the No. 2 wide receiver in the PFF Fantasy staff rankings this week for a reason.
On the Kansas City side, Demarcus Robinson has a matchup against the NFL's most heavily targeted cornerback in Johnathan Joseph as his 45 targets are six more than anyone else. Robinson has been fairly quiet since his Week 2 coming-out party, but he has quietly racked up 14 targets over the last two weeks and has PFF's 11th-best WR/CB matchup for the week.
Attacking the Saints via the slot continues to be pay dividends for DFS players, and we were all over Chris Godwin last week. Now we have an opportunity to buy-low on Dede Westbrook in a tasty matchup with P.J. Williams, as PFF's WR/CB Matchup Chart ranks Westbrook with this week's No. 21 matchup, putting him comfortably in WR2 territory. Westbrook runs 86% of his routes in the slot, where the Saints are allowing 62 targets (sixth-most), five touchdowns (third-most), and a 119.1 passer rating (eight-highest). Specifically, opposing offenses relentlessly torment Williams via the slot with 22 targets (sixth-most), where he is coughing up 1.57 yards per cover snap (10th-most).
While Russell Wilson is a true superstar, if Pete Carroll had his druthers the Seahawks would run the football on just about every play. We all watched the 49ers running game rumble over the Browns Monday night, which sets up beautifully for Chris Carson, who has amassed 324 rushing yards after contact (fifth) and 32 tackles avoided (third). The Browns run defense has a 4.75-yard average depth of tackle (fifth-most), 24 missed tackles (seventh), and 2.3 rushing yards before contact per attempt (third-most). PFF's Jeff Ratcliffe ranks Carson as the No. 9 running back this week in the PFF Fantasy staff rankings, and Carson's $6,000 price-tag on DraftKings is begging to be clicked.
George Kittle scored his first touchdown of the season Monday night and is in another great spot this week against the Rams, possessing PFF's second-best tight end matchup in the coverage of John Johnson, who is being targeted on 28% of his routes (third-most). Kittle still has positive touchdown regression coming as he has yet to score on any of his three end-zone targets this year. Despite Kittle's relatively slow start (by his lofty standards, anyway), he still ranks second among all tight ends with 2.58 yards per route run.
The Falcons continue to mystify fantasy owners and NFL fans, and yet their offensive firepower keeps us all crawling right back each and every week. We'll go back to the well with Austin Hooper, who has PFF's fifth-best tight end matchup and is this week's lucky contender to face off against a Cardinals defense allowing ridiculous production to tight ends – 46 targets (third-most), 461 receiving yards (most), six touchdowns (most), and 10.0 yards per attempt (sixth-most). The narrative nearly connected yet against last week, but Andy Dalton just missed Tyler Eifert on a should-have-been touchdown.
Larry Fitzgerald has a fantastic matchup in the slot against Damontae Kazee and his 1.80 slot yards per cover snap (fifth-most) and 137.3 passer rating (seventh-highest), ranking ninth in PFF's WR/CB Matchup Chart. As a coverage unit, the Falcons are allowing slot receivers to hit on a generous 123.2 passer rating (sixth-highest) and four touchdowns (10th-most).
After getting trampled in both the run and receiving game by Aaron Jones, the Cowboys are looking like one of the premier matchups to target for running backs. Enter Le'Veon Bell, who will fare much better with the return of Sam Darnold elevating the entire Jets offense. The Cowboys defense is filtering usage to running backs, allowing 43 targets (second-most) and 35 receptions (third-most), and is also vulnerable on the ground with 1.7 rushing yards before contact per attempt (ninth-most), 30 missed tackles (most), and a 14% rate of 10-plus-yard runs (fifth-most). For Bell's part, his 28 tackles avoided are fourth most among all running backs. Bell is PFF Fantasy's eighth-ranked running back this week, yet has an ownership projection down into the teens. Don't be surprised to see Bell mimic the Aaron Jones goodbye wave as he waltzes into the end zone.
The Broncos are coming off their first win in a major upset over the rival Chargers, while the Titans suffered a heartbreaking loss to the Bills. Situationally, this sets up as a Tennessee bounceback spot and Denver letdown, which would lead to a lot of Derrick Henry, who ranks fourth among all running backs with 333 rushing yards after contact. Remember when Leonard Fournette steamrolled the Broncos in Week 4? The Broncos are allowing a hefty 3.1 rushing yards after contact per attempt (sixth-most), and offenses hand the ball off on 57% of plays (eighth-most) when they get inside Denver's 10-yard line. Henry is PFF's No. 14-ranked runningback this week, yet is projected for a sub-5% ownership.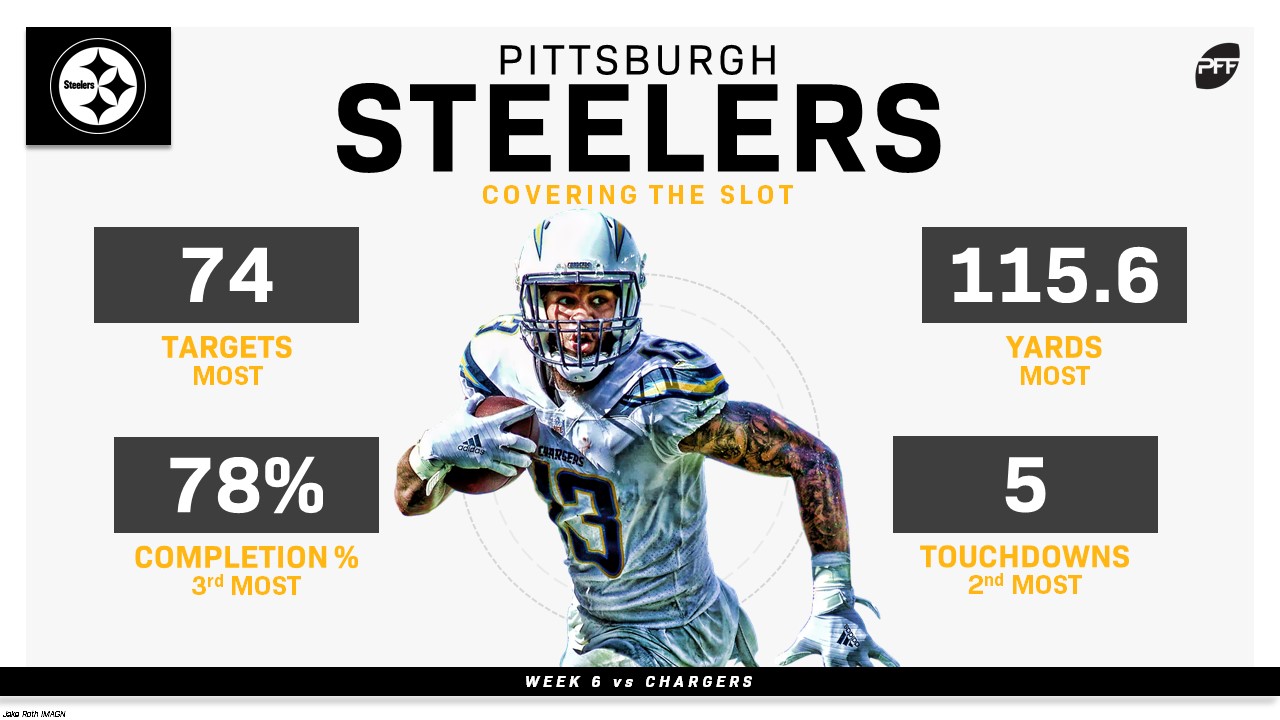 No NFL defense is allowing more production to slot receivers than the Pittsburgh Steelers — 74 targets (most), 716 yards (most), 78% completion percentage (third-most), and five touchdowns (second-most). Mike Hilton is the primary offender in coverage, allowing 1.76 yards per cover snap (sixth-most), 4.6 cover snaps per target (seventh-most), and a 75% slot catch rate. After starting the season with his hair on fire, Keenan Allen has posted back-to-back disappointing weeks — the Steelers swiss-cheese slot defense could be just the cure for him (52% slot snap rate) to get back on track. Our PFF Fantasy projections have Allen leading all wide receivers in receiving yards in Week 6.
We are in for a real treat Monday night when two of the NFL's emerging superstars in Kenny Golladay and Jaire Alexander do battle on the perimeter. Alexander is coming off his worst performance of the season as Amari Cooper ran circles around him, and quarterbacks are not afraid to test his coverage with 39 targets ranking second-most among all cornerbacks. The Lions heavily feature Golladay in the red zone, where he has 13 targets (second-most) and four touchdowns (third). Golladay's touchdown expectation is quite high in a matchup where the Lions will likely have to pass to keep up with Aaron Rodgers and company.