Welcome to the Week 5 edition of the fantasy football facts and stats to know for DFS. In this column, we follow the data breadcrumbs for every game around the NFL in search of matchups with important fantasy football implications.
Last week, we nailed smash performances from Chris Godwin, Jared Goff, Robert Woods, and James Conner, while avoiding the landmines of Dak Prescott and Amari Cooper. What does Week 5 have in store for us?
Here are the facts and stats to know for Week 5:
Last week's column scored a massive hit with the Chris Godwin eruption, courtesy of the Rams secondary filtering targets to the slot. Marcus Peters and Aqib Talib are so good in outside coverage (combined 15 catches allowed, fewest among starting wide CB duos), that QBs are forced to attack the slot — the Rams have seen 56 slot targets (fourth-most) this season, and were pasted by Godwin's 9-target, 7-106-1 line. Let's go right back to the well in this matchup with Seattle's Tyler Lockett, who operates out of the slot on 73% of snaps where he has a strong 22% target share and averages 2.74 yards per route run (fifth) with two touchdowns.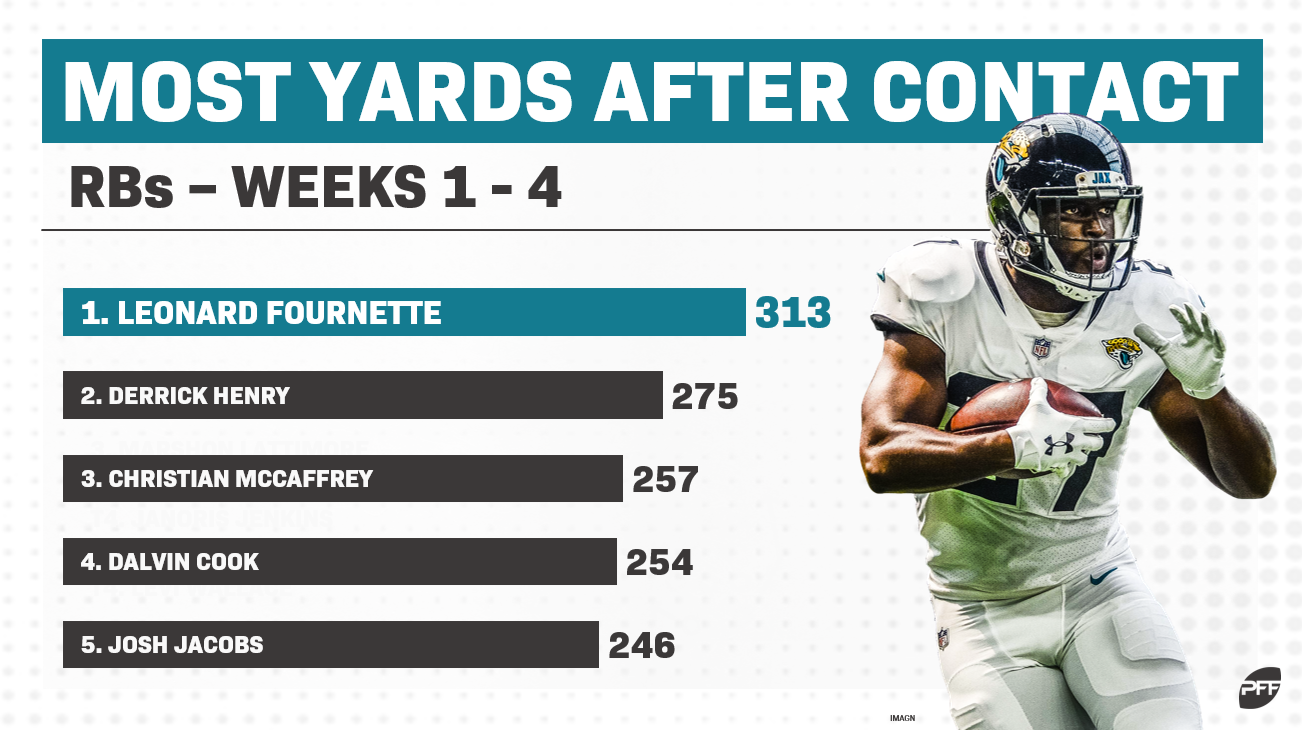 After looking like a mothball for 99% of the Week 3 Thursday game vs. Tennessee, Leonard Fournette rebounded in a big way against the Broncos. Fournette's season numbers are quite respectable — he leads all running backs with 313 rushing yards after contact, averages 4.35 yards after contact per attempt (third) and has a league-high 12 runs of 10-plus yards. Carolina's run defense is vulnerable, particularly considering they just placed Kawann Short on injured reserve. The Panthers have given up 19 runs of 10-plus yards (second-most) at a rate of 18% of attempts (second) while allowing 3.0 rushing yards after contact per attempt (10th-worst).
The Patriots are a mismatch against the Redskins in just about every facet, but it appears that Julian Edelman may have the best matchup in the slot. Fabian Moreau has taken over slot coverage duties over the last two games and in 28 cover snaps he has allowed seven targets, seven catches, 89 yards, and 3.18 slot yards per cover snap (second-most). Edelman had 10 targets apiece in plush matchups against the Steelers and Jets, and it wouldn't shock for him to push for double-digit targets in this spot.
A.J. Brown had a surprisingly dominant performance in Week 4 vs. the Falcons – 94 yards, two touchdowns, and 5.88 yards per route run (first). However, Brown only ran 16 routes out of 29 Marcus Mariota dropbacks. He is not a full-time player and has yet to eclipse a route share above 60% for a game — here are his routes run percentages for the first four games: 60%, 49%, 58%, 55%. When Brown is out there, he'll be defended by one of the league's top coverage units – Buffalo's cornerback group has seen a sizeable 80 targets (sixth-most), but is not surrendering much of anything with a measly 5.9 yards per attempt (third-best), a 71.4 passer rating (third), and just one touchdown.
Mason Rudolph has the biggest discrepancy among all NFL QBs when kept clean vs. under pressure – 129.4 passer rating when kept clean (third best) vs. 32.3 passer rating under pressure (second worst). When Rudolph is kept clean, he looks to JuJu Smith-Schuster (13 targets, 9-177-1, and 137.5 passer rating) and Diontae Johnson (10 targets, 9-143-2, and perfect 158.3 passer rating). The Ravens defense has a middling pressure rate of 35%, but this comes on the heels of a poor performance against the Browns where Baltimore only pressured Baker Mayfield on 22% of dropbacks, the lowest rate in the league. Which Ravens pass rush shows up could be the key to this game.
The Steelers' coverage unit is allowing serious production to slot receivers – 58 targets (third most), 83% catch rate (third), 637 yards (second), 11.0 yards per attempt (fourth), four touchdowns (fifth), 14 explosive plays of 15-plus yards (third), and a 128.2 passer rating (fourth). Marquise Brown (36% slot snap rate) has a bona fide chance to bust a big play in a cushy matchup against the Steelers.
The Bengals defense is a mess in a multitude of facets, but as anyone who watched Monday night's Bengals/Steelers game can attest, they have no clue how to defend pass-catching running backs. Despite the fact that the winless Bengals have not seen much in the way of a positive gamescript, their coverage metrics against RBs are terrible – 25 targets (ninth-most), 216 yards (third), four touchdowns (most), 140.3 passer rating (highest), and 8.4 yards per play (sixth-most). Enter David Johnson, whose 20 targets over the last two games are tops among RBs and seventh most among all offensive players. For the season, Johnson is tied with Christian McCaffrey for a league-high 127 routes run while also being used out of the slot (32 routes), where the Christian Kirk injury could spark a slot snap uptick.
After the Falcons coverage unit was thrashed by the lethal Marcus Mariota-A.J. Brown connection, fantasy owners are likely to chase these points by targeting the Texans passing attack. The idea of Will Fuller being a viable play appears to be gaining steam, especially considering he just missed a long 75-yard touchdown and Kenny Stills is banged up. However, for all of Atlanta's coverage woes, they have been quite solid against the deep ball – on throws 20-plus yards downfield, the Falcons have seen just 11 targets (seventh-fewest), five completions (10th), 50.2 passer rating (eighth), and zero touchdowns. Fuller has hauled in three of nine deep targets (sixth-most), accounting for 39% of his entire target share. Meanwhile, the Falcons have allowed a league-high six touchdowns on targets between 10-19 yards – an area where DeAndre Hopkins has 14 targets (sixth most) and two touchdowns, while Fuller has just four targets for a 2-26-0 line.
Bucs slot corner M.J. Stewart had an extremely rough day at the office in slot coverage against the Rams – 16 targets, 10 catches, 125 yards, and a touchdown. While Jared Goff undoubtedly caught the nut gamescript in heavy catchup mode, the fact that Stewart was targeted a whopping 16 times bodes well for our prospects of attacking him in fantasy. In fact, the last cornerback to be targeted at least 16 times in a single game was Philadelphia's Jalen Mills back in Week 3 of the 2017 season. While Michael Thomas is not a full-time slot receiver, he moonlights there on 30% of snaps where he has a preposterous 39% target share while averaging 3.89 yards per route run (second best).
There are vital slot implications on the other side of the ball as well, where the Saints have seen 53 targets (sixth-most), 39 catches (fourth), 546 yards (third), 10.3 yards per attempt (sixth), four touchdowns, and a 115.8 passer rating. Chris Godwin (61% slot snaps) just wrecked the Rams secondary and has 227 slot receiving yards (fifth) with an 82% catch rate – Godwin makes for a very strong play once again.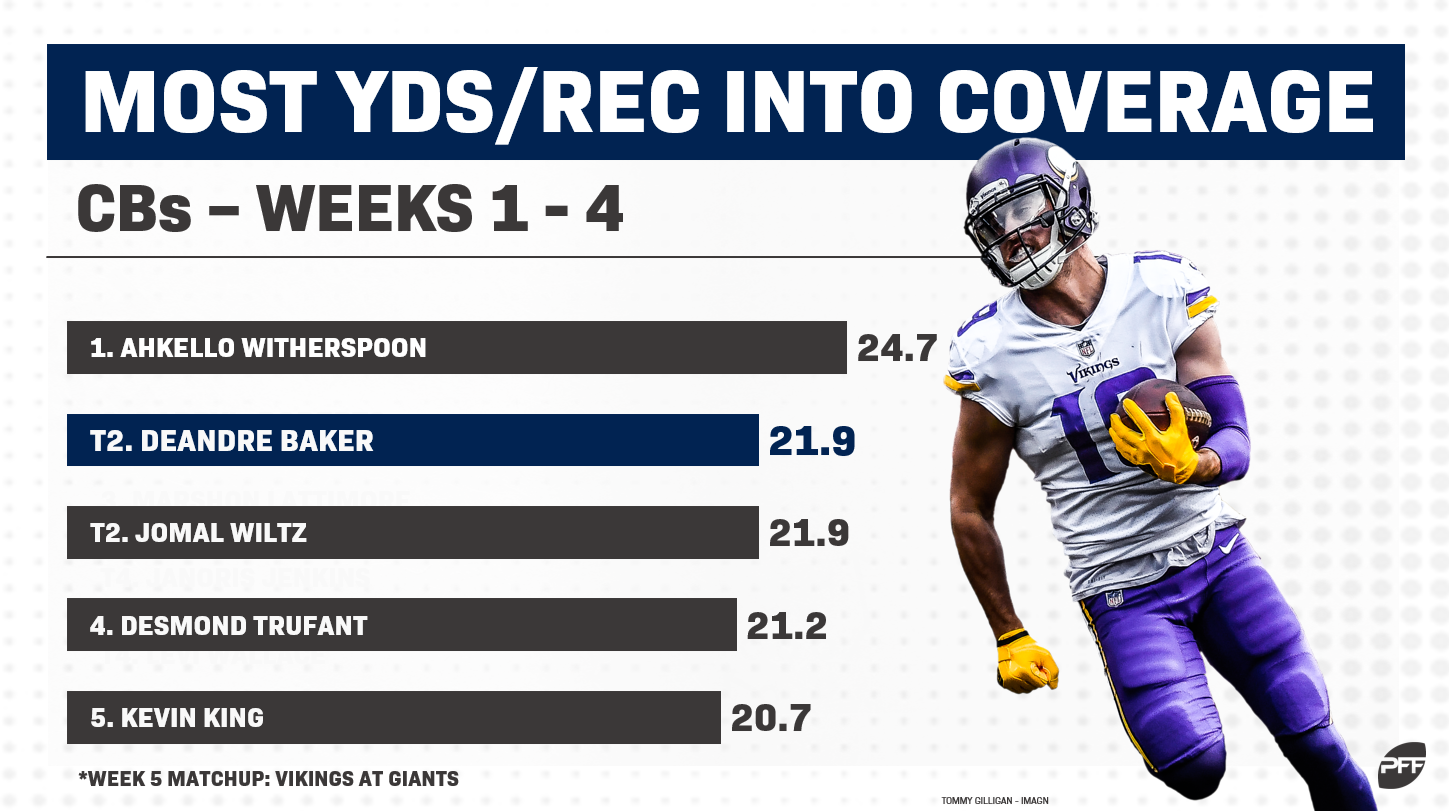 Having publicly pleaded for the Vikings to pass more, Adam Thielen is the quintessential "squeaky wheel" ripe to be peppered with targets. Volume has been Thielen's biggest hindrance thus far with a target every 5.2 routes run (44th among WRs), a sharp decline from last year's 4.4 rate (19th). Thielen also happens to have PFF's top WR/CB matchup against the Giants perpetual whipping boy in DeAndre Baker – 78% catch rate, 307 receiving yards (second-most among all CBs), 155.8 passer rating (fourth-worst), and two touchdowns. In fact, the Giants stout run defense may even tilt this matchup to the air – the G-Men are allowing just 2.4 rushing yards after contact per attempt (ninth best) while limiting big plays (7.1% rate of runs 10-plus yards, third-best). A Giants pass funnel could be the perfect slump buster for Kirk Cousins and company.
London games seemingly always yield weird results and a Chase Daniel vs. Derek Carr matchup is guaranteed to surprise. When Daniel was the Bears QB last season during Weeks 12 and 13, he relied heavily on Tarik Cohen out of the backfield. In those two games, Cohen had a hefty 22 targets (fourth most among all offensive players) despite only running 46 routes, yielding a ludicrous 48% target share and 4.37 yards per route run (first). While Cohen has run 91 routes this season (10th-most) while seeing 23 targets (sixth), he has not been very efficient with 0.98 yards per route run. Yet, volume is king in fantasy football. Oakland's defense has been middling in defending pass catching backs this season, with 26 targets (15th) for 6.7 yards per play (12th-most).
The Eagles stout run defense presents an extremely difficult matchup for Le'Veon Bell as they are allowing a league-best 0.1 rushing yards before contact. Philadelphia's pass funnel will tilt the Jets to the air, but can Luke Falk take advantage? The Eagles cornerbacks have been bashed repeatedly by outside wide receivers all season – after last Thursday's Davante Adams party, they are up to a league-high 80 targets (13 more than anyone else), 692 yards (most), and five touchdowns (most). In theory, this sets up well for Robby Anderson (80% snaps out wide) as a trust the matchup type of play. Hurry back, Sam Darnold.
Led by the strong play of Jamal Adams, the Jets defense has completely erased opposing tight ends – 8 targets (fewest), five catches, 81 yards, and zero touchdowns. Zach Ertz is the highest-priced tight end on the main slate and makes for a smart fade this weekend.
After getting shredded by Leonard Fournette, the Broncos run defense has now allowed an average depth of tackle of 5.3 yards (second worst), 1.7 yards before contact per attempt (seventh), 3.3 yards after contact per attempt (fourth), 15 explosive runs of 10-plus yards (seventh), and 22 missed tackles (third). The return of Melvin Gordon complicates matters, but he is unlikely to step into a full workload just yet. Conveniently, Austin Ekeler's DFS price has been slashed just in time for this juicy matchup, despite coming off an electric 29.2 PPR performance. Ekeler also has five carries from inside the 5-yard line (second most), producing two touchdowns – the Broncos have allowed four rushing touchdowns from inside the 5 (fourth-most).
This column highlighted Green Bay's run defense woes last week, and though we guessed wrong on the Jordan Howard/Miles Sanders decision, the process was sound. There will be no guesswork this week on who will get the bulk of carries against the Packers: Ezekiel Elliott. The Packers run defense is getting gashed through contact, allowing 420 rushing yards after contact (second most) at a clip of 3.7 yards per attempt (second-most), while missing 24 tackles (most). Elliott has a high touchdown expectation in this matchup – offenses are running the ball inside Green Bay's 10-yard line on 65% of snaps (fourth most) with four touchdowns. If Jaire Alexander locks down Amari Cooper, look for the Cowboys to try and get their $90 million man going via the path of least resistance. Zeke's modest 2019 production and the Tyron Smith injury may even temper ownership somewhat.
The Colts zone defense filters targets to the tight end, setting up a prime Travis Kelce spot. Indianapolis has allowed TEs to rack up 34 targets (fourth-most), 85% catch rate (fourth), three touchdowns (second), and a 117.7 passer rating (10th). Kelce has been steadily productive with a healthy 2.65 yards per route run (third among TEs). Also, Kelce is due for a close-range touchdown – of the 12 pass catchers with at least four targets from inside the 10-yard line (Kelce has four such targets with only one catch), Kelce is the only one yet to find the box.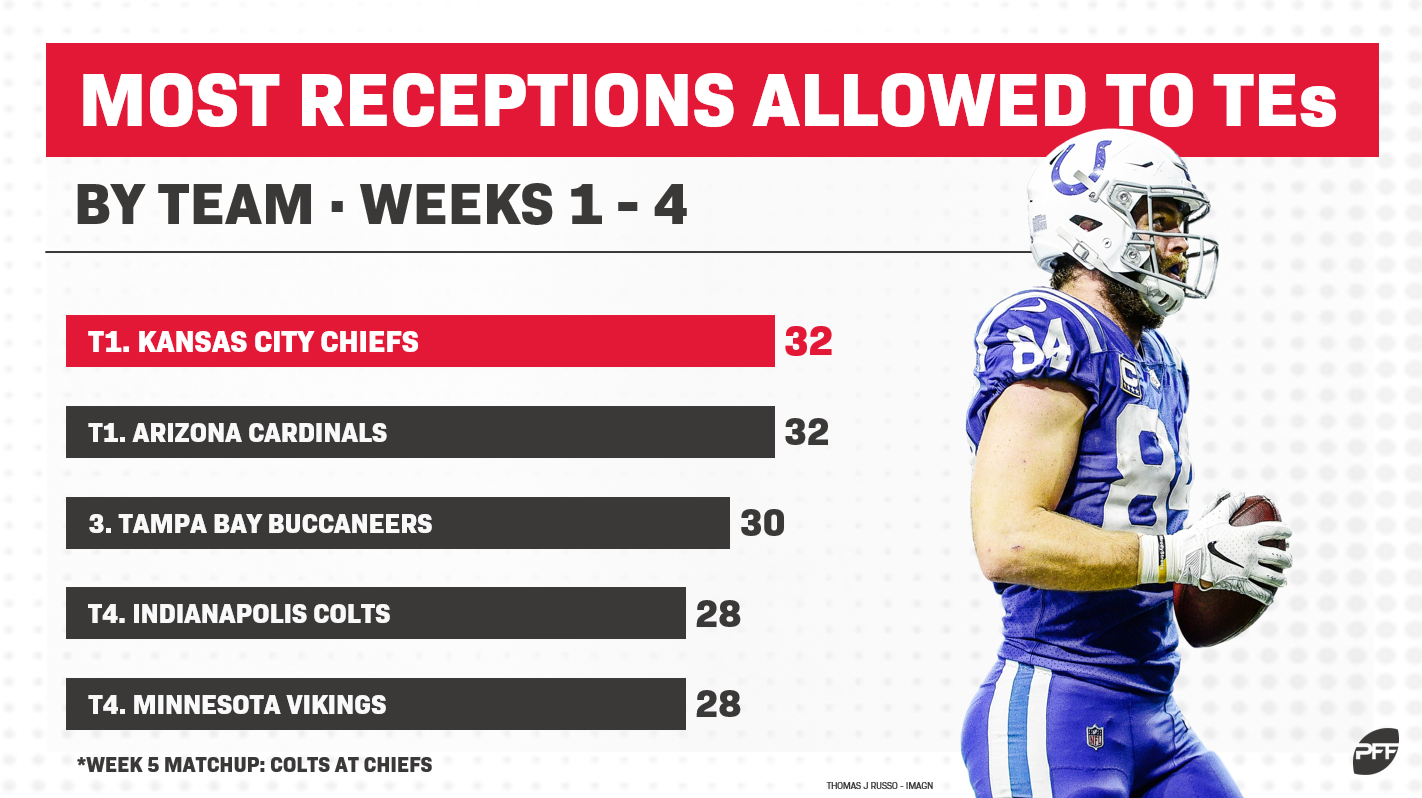 Venturing into Arrowhead will be a tall task for the Colts, but perhaps their best chance of success is to also utilize the tight end. The Chiefs are allowing a league-high 46 TE targets and 32 receptions for 284 yards (fourth) and a touchdown. Jack Doyle and Eric Ebron are both viable options in a game where the Colts will have to air it out in order to keep up with Patrick Mahomes.
The Browns recorded a season-saving victory over the Ravens thanks to an outstanding defensive performance against what to date had been perhaps the league's most explosive offense. Yet, warts exist for the Browns coverage unit where they have had major issues defending the play-action fake – 42 attempts (third-most), 11.2 yards per attempt (fourth), and four touchdowns (most). Jimmy Garoppolo's 41% play action rate is the highest in the NFL and he is averaging a cerebral 12.0 yards per attempt (fourth).