It's very important to secure one of the top six tight ends for 2021 fantasy football. Unfortunately, it's easy to miss out. Those drafting in the second half of the first round might not have a chance to take Travis Kelce, and it's a little early for George Kittle and Darren Waller. Once the fourth tight end is gone, the fifth and sixth will be quick to follow.
For those who miss out on the top six tight ends, it's best best to wait on the position. Many tight ends who found fantasy success last season are unlikely to repeat this year, so it's be better to pick a younger, high-upside player who finds himself in a better situation than last year. These players have a better chance of busting than some of the more proven tight ends but also have a higher chance of finishing in the top five.
More of PFF's 2021 Fantasy Football tools here: 
Fantasy Football Draft Kit | Rankings & Tiers | Draft Guide | Cheat Sheets
Projections | Strength of Schedule | Expected Points | Weekly Finishes
The following are five sleeper tight ends typically available in Round 10 or later who could be league-winners in 2021 fantasy football leagues.
Smith is one of 10 tight ends who ran over 300 routes last season and finished with a PFF receiving grade above 75.0. Four of the others are among the top six fantasy tight ends, while three have quarterbacks who rank in the bottom four of our quarterback rankings. The other two have more competition from other tight ends on their rosters compared to last season.
Smith is the only unproven tight end who graded out well last season and is in a position to succeed this season. He played second fiddle to Kyle Rudolph the first two years of his career but has seen significant playing time because of the Vikings' heavy usage of two-tight-end sets.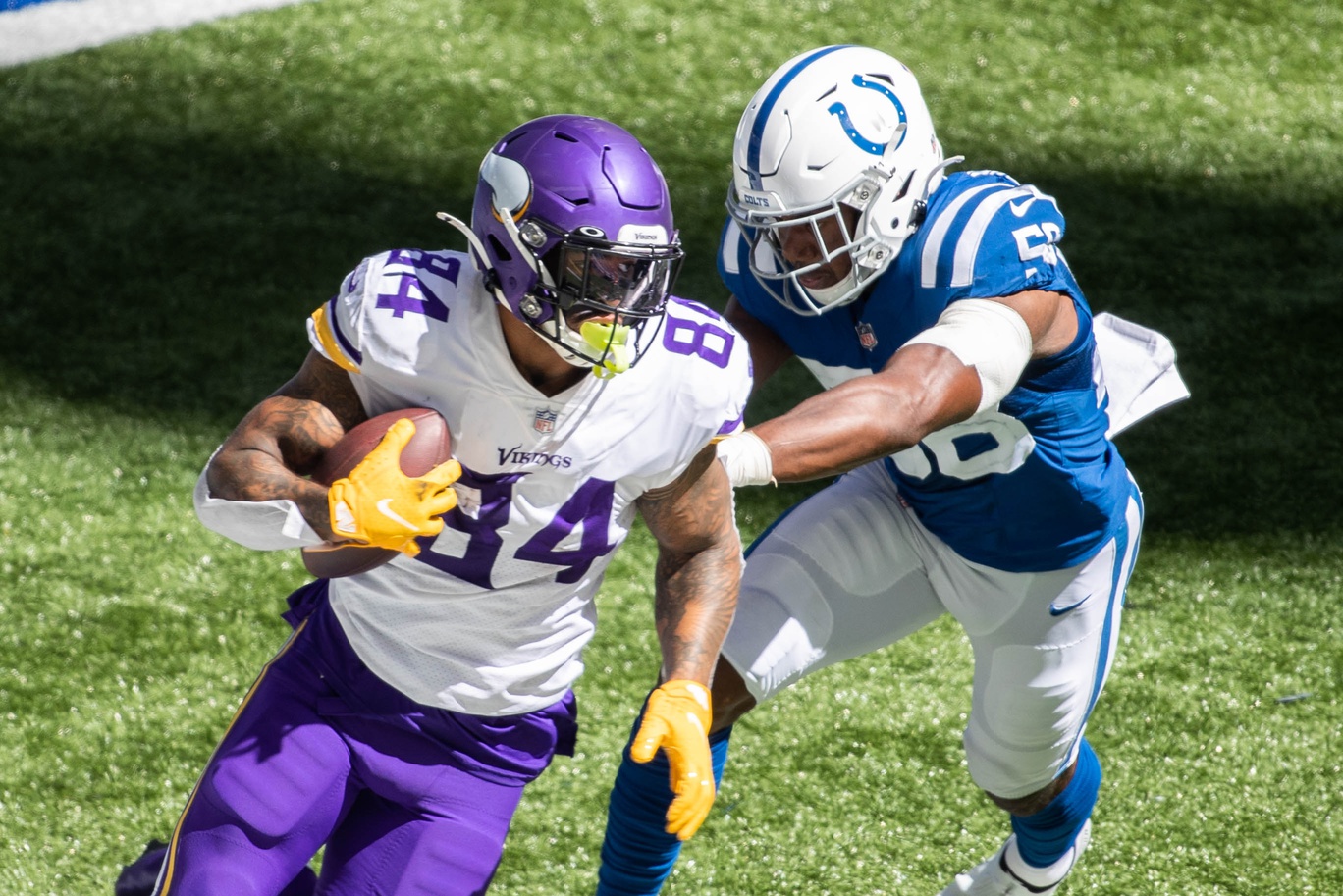 Rudolph departed for the New York Giants, leaving the former second-round draft pick as the top tight end on the Minnesota depth chart. Smith showed off his potential with Rudolph out during the last four weeks of 2020, though he was inconsistent, finishing as a top-three fantasy tight end twice but the TE26 in the other two games. The coaching staff and offensive personnel is largely similar to last season in Minnesota. 
The 23-year-old should be one of the top 10 tight ends drafted. He's been one of the bright spots in the Vikings training camp so far and will be a weekly fantasy starter in Year 3.