The NFL world is still digesting the weekend's blockbuster trade between the Los Angeles Rams and Detroit Lions. Yesterday I took a look at what Matthew Stafford's presence means for the Rams' fantasy football prospects in 2021. 
Today I'm doing the same for the Lions' side of things. Initially, it looked like Detroit was just taking Goff's lucrative contract in order to better the return for Stafford. But it appears that the team still views Goff as a franchise quarterback — at least in the near-term. It's worth noting that new Lions general manager Brad Holmes was with the Rams for his entire career before joining Detroit.
This looks like Goff's job to lose even if the Lions take a quarterback with the seventh pick in the 2021 NFL Draft. 
The trade certainly shakes up how we should view several offensive pieces on the Detroit roster. Let's dive into the fantasy football fallout on the Lions' side. 
QUARTERBACK
As a statuesque quarterback, Jared Goff isn't going to turn heads in fantasy football anytime soon. Every top-five fantasy quarterback last year had at least 250 rushing yards. Last season, four of the top six QBs rushed for at least 300 yards. Eight of the top 10 fantasy quarterbacks rushed for at least 230 yards. 
Goff has never rushed for more than 130 yards in a season and is likely to regress after rushing for a career-high four rushing touchdowns last season. 
His pairing with the team's new offensive coordinator will hopefully lead to a system built around his strengths and that of the offensive personnel. We have seen Anthony Lynn orchestrate run-heavy offenses with the likes of Tyrod Taylor and pass-heavy offenses with Philip Rivers. 
I'd expect the Lions to try to get the ball out of Goff's hands quickly. He has struggled versus pressure over the past two seasons, ranking 30th in PFF passing grade (42.9) out of 40 qualifying quarterbacks when pressured.
The Lions offense will need to move away from deep quarterback dropbacks and deep pass attempts, which were staples with Stafford under center. Though Goff has struggled the past two seasons, he has been solid when passing between 10-19 yards. On those intermediate throws, Goff ranks third in yards per attempt (11.3), second in passing yards (2,991) and 11th in PFF passing grade (91.1).
Unfortunately, quarterbacks who aren't aggressive downfield and offer little rushing upside are hard to get behind in fantasy football, so count me out on Goff in fantasy for 2021 as of February. The offensive weaponry isn't present for Goff to make the most out of his conservative skill set. 
RUNNING BACKS
There's no doubt that the entire Lions offense takes a hit with Goff under center. Stafford offers more upside than him as a downfield passer, which means that this team is unlikely to score as many touchdowns next season. 
Under Stafford, the Lions scored a touchdown on 27.5% of their drives — good for the 12th-best rate in the NFL. Under Goff, the Rams scored a touchdown on 21.9% of their drives — 20th in the league. Based on the average number of drives per team last season, this difference could amount to about 10 touchdowns in 2021. 
Because RB ceilings in fantasy football are tied to touchdown production, Cam Akers is an easy choice over De'Andre Swift in 2021. But there's a possibility that Goff's presence ends up making Swift a value in PPR formats come draft season.
Non-mobile quarterbacks tend to target running backs more in the passing game than QBs who rush the ball — that's becoming an important factor when so many of the game's best QBs offer at least some rushing skill. Last season, Swift was 12th in targets (56) and seventh in yards per route run (1.58) among RBs. He barely trailed Austin Ekeler in both categories. Ekeler always saw heavy usage in the passing game during the Lynn era in San Diego/Los Angeles. 
Jared Goff, if you're gonna do one thing in Detroit – just throw it to D'Andre Swift. We won't shame you for a low aDOT.

sincerely,
everyone pic.twitter.com/MyLzVaxVQV

— Andrew Erickson™ (@AndrewErickson_) February 1, 2021
The Lions should prioritize Swift in the passing game. Targeting running backs as receivers worked well during Goff's 2017-2018 run when he was PFF's 11th-highest-graded QB (83.1).
During that stretch, Goff owned a 17.5% target share to the running back position, and Todd Gurley II ranked fourth in the NFL in targets among RBs. Over the past two seasons, that target share has dipped to 11%. 
Swift's pass-game usage could easily vault the talented second-year back to low-end RB1 status by the end of 2021. 
WIDE RECEIVERS
I mentioned that Goff's weapons are at a crossroads. The Lions are in a tough situation when it comes to their wide receivers. Kenny Golladay, Marvin Jones Jr. and Danny Amendola are all free agents. Jones and Amendola appear to be as good as gone, with Golladay likely the team's primary focus to lock up longterm. 
At 27 years old, Golladay still has a lot to offer as a true No. 1 wide receiver, but it remains to be seen if he will stick around now that Goff is the quarterback. Either way, Golladay thrives as a downfield and contested-catch receiver — two areas where Goff isn't particularly known for excelling.
Since the start of the 2019 season, Stafford ranks second in pass-play percentage over 20 yards (17%) and second in aDOT (10.7). Goff ranks 31st (9%) in pass-play percentage over 20 yards and 52nd out of 60 qualifying quarterbacks in aDOT (7.5) over that two-year stretch. 
On 20-plus yard passes over the past two seasons, Stafford has a 93.0 PFF passing grade (1,869 yards, 13 TD, 6 INT, 13.0 YPA, 98.1 rating). Goff sits at just 77.6 (1,011 yards, 4 TD, 6 INT, 9.3 YPA, 55.0 rating).
Goff is also a lot less likely to make tight-window throws. Over the past two seasons, only 17% of his throws have been into tight windows compared to 25% for Stafford.
Golladay ranks fourth in receiving yards on 20-plus yard throws since 2018 (1,072) and fourth in contest catch percentage since 2019 (67%). Golladay and Goff are hardly a match. If I were Golladay's agent, I'd been advocating for him to sign elsewhere. 
The fit isn't there for Golladay to reclaim top-12 wide receiver fantasy production as long as Goff is entrenched as the starter. 
TIGHT END
The biggest winner of the Goff deal to Lions is T.J. Hockenson — in more ways than one. With Goff slated to QB the team, free agent wide receivers could easily shy away from the situation, especially with an unproven head coach in Dan Campbell at the helm.
Hockenson's main competition for targets at this point is only second-year wide receiver Quintez Cephus, RB/WR hybrid Jamal Agnew and opt-out returnee Geronimo Allison. That's nobody's idea of an elite receiving unit.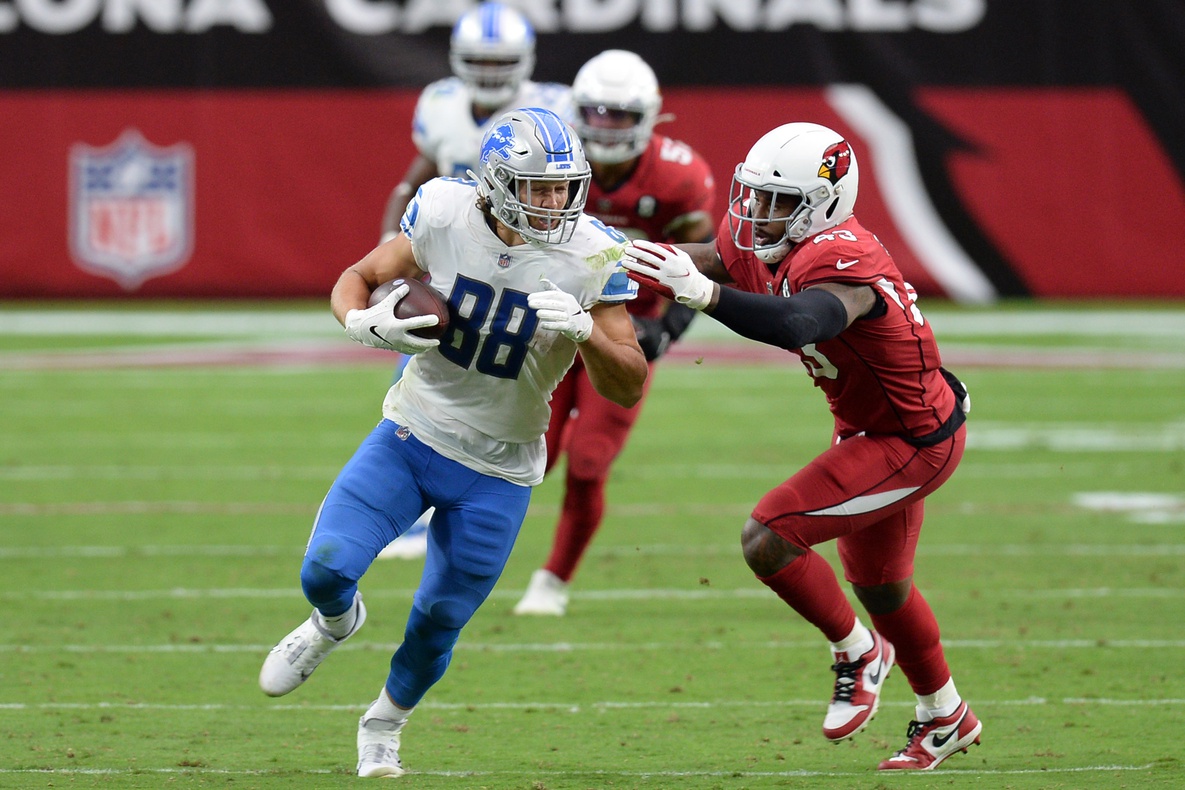 Identifying the next breakout tight end is always about finding the player with the easiest path to targets — Hockenson fits that profile. Just last season, he ranked fifth in targets and 10th in routes run at the position. 
For further Hockenson hype, consider that Goff's last two seasons have featured plenty of tight end production. He targeted the position at a 22% clip, which ranks 10th-highest since 2019. The new Lions quarterback also ranked fifth in passing yards (2,102) and fifth in total attempts (264) to TEs. 
Keep in mind that Goff fueled Tyler Higbee's infamous 2019 late-season breakout. If Goff could make an elite tight end out of Higbee — albeit for just a small stretch of games — then he surely can get Hockenson fully there next season.