The first wave of 2021 NFL free agency is starting to slow down, and just a few of the top free-agent options remain on the market, so teams and analysts alike will now begin to turn their attention to the 2021 NFL Draft.
The more I look at the 2021 wide receiver class, the more the parallels with last year's group leap out. This year's crop of pass-catchers once again includes two first-round stars from Alabama who are stylistically very different, and they are vying with a stud from another powerhouse blue-blood college program to be seen as the best receiver in April's draft.
The sheer depth is also incredible. For the second year in a row, several receivers will be selected in the first round, and they will be joined by a host of impact rookies taken on Day 2 and Day 3 of the draft, such is the array of talent available.
The comparisons with last season's top prospects beg the question of how the group would be ranked if they were all in the same draft class. And this becomes especially interesting given the added information we learned about last year's group from their rookie seasons in the NFL.
That NFL experience isn't going to be used to affect this ranking, as we are viewing these receivers purely as draft prospects to keep the comparisons fair. That added knowledge of how last year's crop did in the NFL only serves to potentially sway what we might think about this year's group with the benefit of hindsight derived from similar players a year ago. So, although Justin Jefferson was the best rookie receiver, he won't be the top-ranked player on my list because I didn't have him as the top-ranked receiver before he hit the ground running so impressively.
Here are my top 10 receivers from the 2020-2021 draft classes.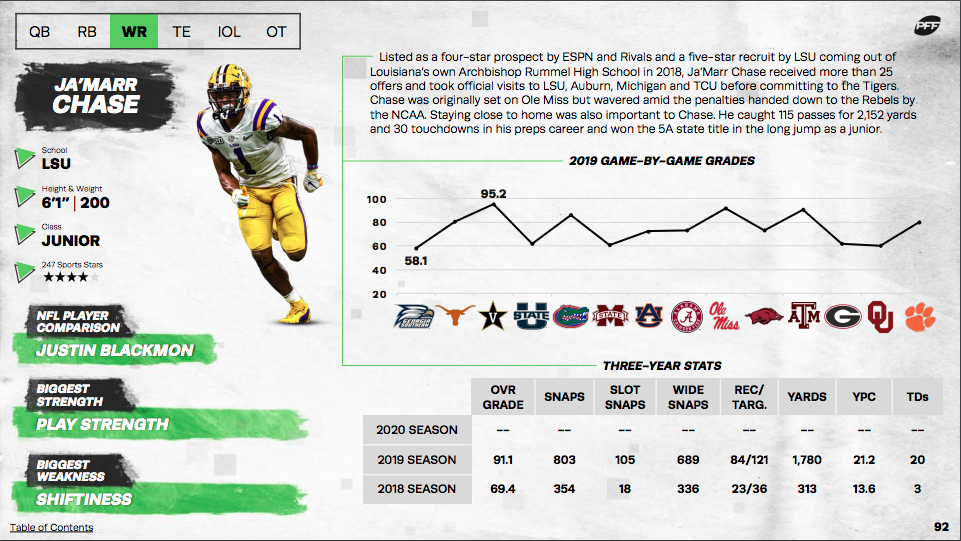 Draft class: 2021
It's great news if you need a wide receiver and are set to pick near the top of the 2021 NFL Draft.
We have seen the success of the receivers drafted a year ago, and for as good as they were as prospects, I think Ja'Marr Chase tops them all. The closer we get to the draft, the more hard work some analysts are doing to find holes in Chase's game, but he dominated on a national champion team and put up crazy numbers in his monster 2019 season before opting out in 2020.
It is true that Joe Burrow's incredible accuracy made some of his evaluation tricky, as I discovered on my journey through his tape, but the bottom line is that Chase does everything well. He gained more than 3.5 yards per route run in that season and should hit the ground running as a dominant NFL receiver right out of the gate.
Related — 2021 NFL Draft Profile: LSU WR Ja'Marr Chase, via Sam Monson
Draft class: 2021
Smith is coming to the NFL fresh off a Heisman season where he was completely unstoppable. He was on his way to torching Ohio State for some truly record-setting numbers in the national title game before injuring his hand and having to head to the sideline after he had already recorded 12 catches for 215 yards and three touchdowns.
Smith stood out as a star even in an offense with three other first-round receivers. And when he finally got the limelight and target share to himself this season, his numbers jumped into the stratosphere. He gained 4.4 yards per route run this season, and he generated an NFL passer rating of 153.4 when targeted for his college career.
The only thing keeping Smith from being the No. 1 player on this list is his build. He currently weighs 170 pounds at 6-foot-1, which is what his college playing weight was and what his NFL playing weight will likely be. That is just such a rare build that it has to carry some degree of uncertainty along with it. To his credit, it doesn't show up on tape, but I'll be safe and stay with Chase as the top player on this ranking.
Related — 2021 NFL Draft Profile: Alabama WR DeVonta Smith via Sam Monson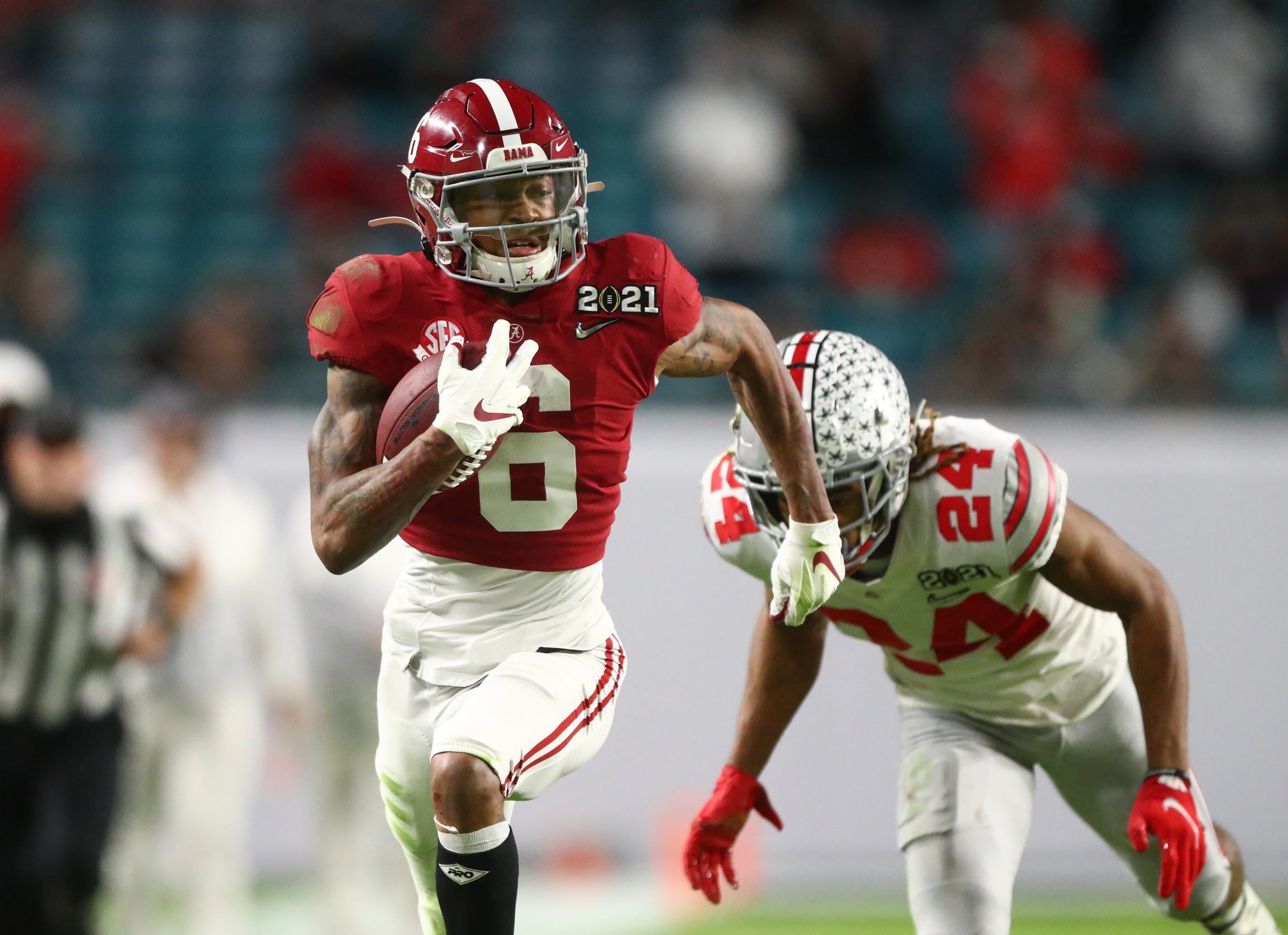 Draft class: 2020
Much like Chase vs. Smith this year, last season felt like the battle of irresistible route running from Jerry Jeudy against the broader all-around skill set of CeeDee Lamb.
I thought the two were incredibly close, though. And while I was in absolute love with the route-running skills Jeudy brought to the table, I thought there was a greater chance that Lamb would be a top player, that he could do more things reliably.
Lamb broke 26 tackles on just 63 catches in his final season in college. While there was a certain degree of Big 12 defense at play in that production, it spoke to a kind of playmaking ability with the ball in his hands that separated him from other receivers in the class. Add in the impressive body control at the catch point that was on display in his rookie season, and he was — by a hair, in my opinion — the best receiver available a year ago.
Draft class: 2020
Jeudy was my crush in last year's draft class. He is the most sophisticated and polished route runner I have seen enter the NFL … maybe ever. That translates and gives him a massive floor because he will be consistently open at any level.
We saw exactly that in his rookie season, but while his floor is extremely high, the question was always centered around the height of his ceiling. Does he have the skills at the catch point to elevate himself into the elite level of receivers?
Separation is fantastic, but even the best receivers in the game need to show up and Moss somebody every now and then. Randy Moss himself made a career out of running past people down the field, but the thing he did best, which turned his name into a verb, was contested catches. Jeudy can separate with the best of them, but I'm still not convinced he has enough Moss in him to be truly dominant.
Draft class: 2021
I'm not as high on Jaylen Waddle as everybody else. Some people have him above DeVonta Smith as the second-best receiver in the draft and others who still have him as WR1 in this group. I think that's madness, to be honest.
When I worked through Waddle's tape, it was easy to see what people love. He is a dynamic playmaker with speed to burn and more strength than you might expect, but his role in college was designed to protect him and let him shine. If we're comparing him to the likes of Chase, Smith, Lamb and Jeudy, we have to be convinced that he can excel in a role beyond what he was doing in college. At the very least, we have to think that his specific role can be as effective as theirs in a smaller scope, because he will be a bigger playmaker.
I'm not convinced either is true. Waddle is a dangerous playmaker, but I see him as more of a complementary piece in an offense who adds value as a punt returner.
Related — 2021 NFL Draft Profile: Alabama WR Jaylen Waddle via Sam Monson
Draft class: 2021
If there is a receiver over the last couple of seasons who probably hasn't got enough credit or attention, it's Minnesota's Rashod Bateman. While he hasn't been as stunningly dominant as Chase or Smith, he also hasn't had the same helpful situation. And in a strange offense, he was deployed extensively in the slot in his final season, which didn't necessarily play to his strengths.
When I look back at what I found working through his tape, there's almost no negative to speak of. He has elite size, speed, body control and releases off the line to be an incredibly productive receiver. If Ja'Marr Chase didn't exist this season, he could well be pushing Smith as the prototypical alternative at the top of the draft.
Related — 2021 NFL Draft Profile: Minnesota WR Rashod Bateman via Sam Monson
Draft class: 2020
Reagor is the receiver who looks out of place when rookie hindsight is applied because his debut season with the Philadelphia Eagles was a rare disappointment among a class of standouts.
The TCU product was a really exciting prospect this time last year. He had speed to burn in TCU's offense and one of the worst quarterback situations of any receiver in the nation to navigate, which was artificially suppressing his production. According to PFF's charting data, Reagor saw an accurate pass on just 31% of his targets, by far the worst of any receiver in that draft class.
His workout numbers pre-draft were an unusual breakdown (his three-cone and 20-yard shuttle times were both under the 10th percentile, while his vertical and broad jump scores were in the 98th percentile or better), which further muddied his evaluation. Still, there is a more talented player there than we saw in Year 1.
Draft class: 2020
Ruggs was the first wide receiver taken in last year's draft, but with Al Davis no longer calling the shots for the Raiders, I have no idea why. Of course, Ruggs ran a 4.27-second 40-yard dash, and speed will always cause people to go overboard a little when it comes to the draft, but the production in college was simply never there to suggest that he should be ranked above the likes of Lamb or Jeudy.
The latter player, in particular, was always a better player in the same offense, and he did more things for Alabama. Ruggs wasn't just a speedster and has considerable skills at the catch point — arguably better in that regard than Jeudy — but he just didn't win in enough ways for him to be ranked as highly as the Raiders apparently had him ranked.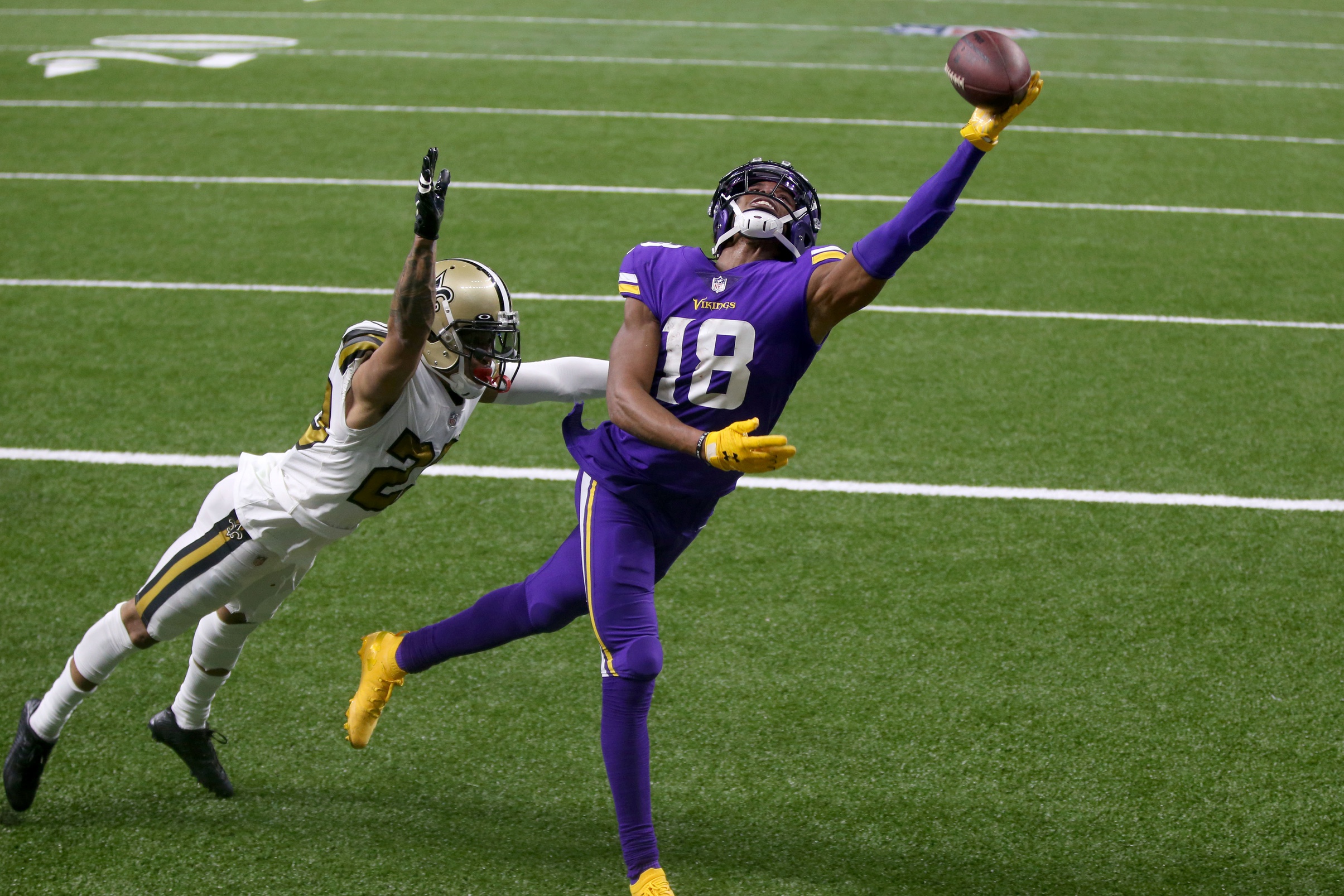 Draft class: 2020
If we were re-drafting the 2020 wide receiver class, Jefferson would presumably be the first receiver off the board, given his incredible production as a rookie. Jefferson broke a Vikings rookie record held by Randy Moss and then went on to break the NFL record for yards on his way to a season where he was able to replace Stefon Diggs without skipping a beat.
If we rewind to his evaluation as a college prospect, we find an open question: Can he dominate on the outside as a true X receiver the same way he did in the slot for LSU? In total, 98.3% of his snaps in his final season came when lined up in the slot, so it was a fair question with little way of determining the answer. The answer was evidently a resounding yes, but at the time, it was a fair and unanswered question, and that doubt was why he ranked as low as this.
Draft class: 2020
The more I watched Brandon Aiyuk as a rookie, the more I felt I was too easily moved off my initial feelings for him when I watched his tape. He jumped off the tape even the year before when I was looking at N'Keal Harry, and he was clearly a dangerous playmaker any time the ball came his way.
Aiyuk averaged 10.9 yards after the catch per reception in his final season to go with an average depth of target of 10.1 yards downfield. Aiyuk broke 14 tackles and was one of the most explosive playmakers on tape, but as the draft evaluation process went on, I backed away from pushing him as one of the very best receivers available. After his rookie season, maybe I should have stuck to my original instincts.
The Rest
Even though some of these players are just prospects at this point, it has still become clear just how absurdly talented these receivers are. I don't have the likes of Laviska Shenault Jr., Tee Higgins, Denzel Mims, Rondale Moore or Kadarius Toney making the list, and I like all of those players a lot.
If we want to include the likes of Kyle Pitts as a player who can genuinely play X receiver, he might be top of the entire lot.
The combination of the previous draft and the upcoming one will provide the league with some of the greatest volumes of receiver talent in NFL history. It is a good time to need upgrades at the position.
---
View PFF's 2021 NFL Draft prospect rankings: