This year's wide receiver class might just be even better than you've heard. All 10 players below make the top 40 on PFF's latest draft board, but that doesn't mean that teams should wait on the position safe in the knowledge that they could snag talent in the second round. While that's very well possible, Ceedee Lamb and Jerry Jeudy are in a class by themselves in this receiver group — they are special WR1 type prospects that you don't see every year, and teams should take the opportunity if they're presented with the option to select them.
[Editor's Note: PFF's 2020 NFL Draft Guide is LIVE and available to all EDGE and ELITE subscribers. Download your copy today!]
1. Jerry Jeudy, Alabama
Draft Board Rank: 5th
If you were to flip-flop Jeudy and Lamb at the top of this receiver group, I wouldn't argue with you. Jeudy is a similarly special talent with almost no weaknesses in his game to speak of. He simply hasn't had as many contested opportunities as Lamb, and he hasn't run as many routes from the outside as Lamb has. That doesn't mean he can't do either of those things, though, as Jeudy has excelled at everything he's been asked to do. He reminded everyone in the bowl game against Michigan just how unguardable he is with six catches for 204 yards. He likely has 4.3-type speed, and he possesses the unbelievable body control that allows him to contort and adjust his body along his routes and after the catch.
2. Ceedee Lamb, Oklahoma
Draft Board Rank: 6th
As stated in the intro, Lamb is not worth passing on at the top of the draft; he is as complete a wide receiver prospect as we've seen in our six years of grading college football. Whether it's at the line of scrimmage, as a route-runner, at the catch point or after the catch, Lamb is elite compared to his peers in every phase of the receiver position. He may not test out as freakishly athletic as some, but he's more than athletic enough. What separates him from Jeudy is his proven ability to win outside. Altogether, 493 of his 682 snaps this year came as an outside wide receiver, and he still went for 1,325 yards on only 62 catches.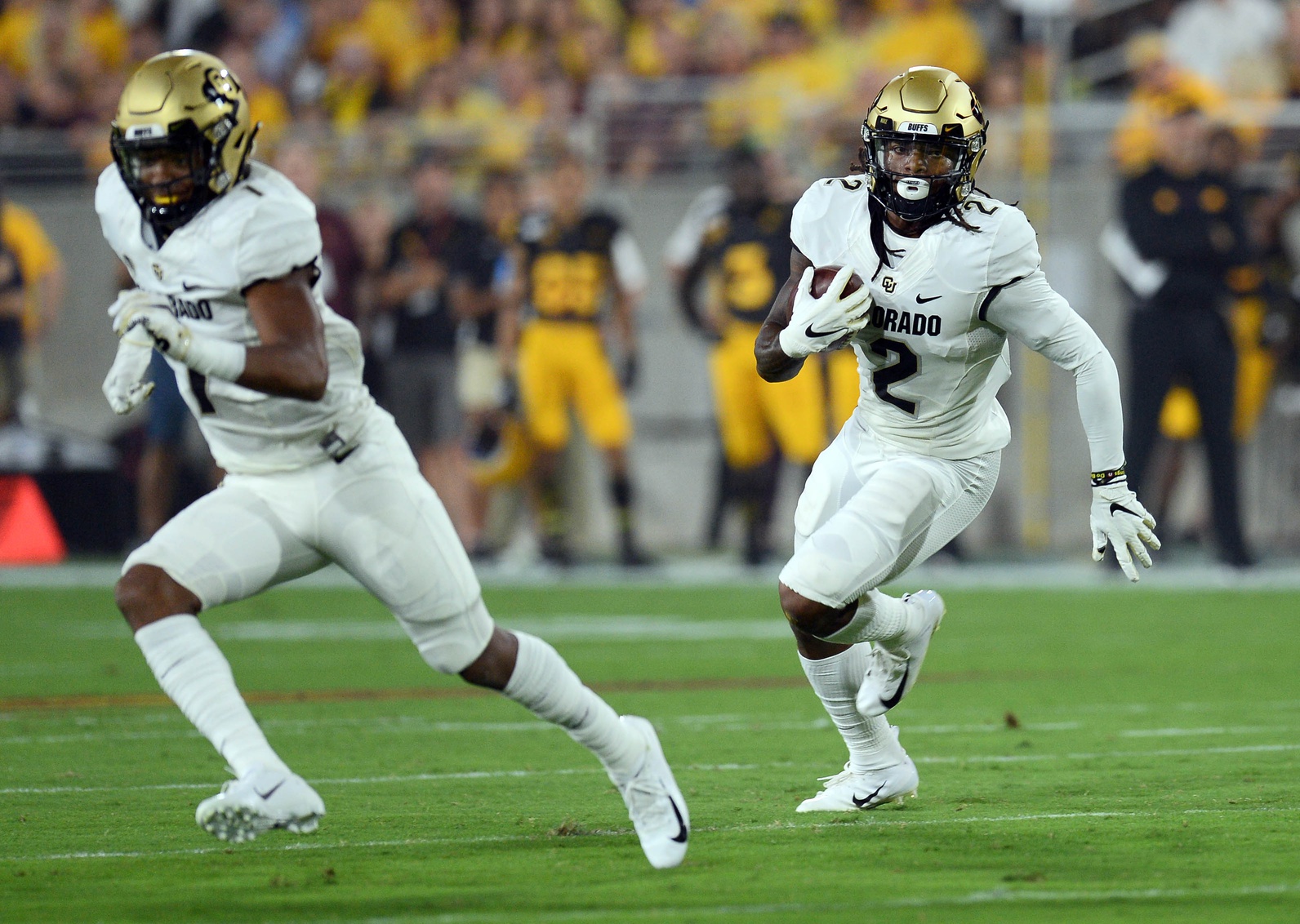 3. Laviska Shenault Jr., Colorado
Draft Board Rank: 13th
Shenault is still more of an offensive weapon than a wide receiver, but he's one deadly weapon, nonetheless. As a true sophomore, he caught 87 passes for 1,019 yards and broke 29 tackles on the year. The combination of his size at 220 pounds and likely sub-4.4 explosiveness is unmatched at the receiver position in the draft class. The worrisome thing is that it so far hasn't translated to downfield production. Even before his injury-plagued 2019 season, Shenault only had 22 of his 87 catches come on targets 10-plus yards downfield (and only 14 this past season), while both Lamb and Jeudy have had more in each of the past two seasons. However, you just can't teach his physical tools, and all you have to do is find a way to get him the ball for good things to happen.
4. Henry Ruggs, Alabama
Draft Board Rank: 16th
Ruggs is in a very similar boat to Shenault in that his production comes with some question marks, but Ruggs at least has the excuse that he played with a teammate who ranks higher than him on this list along with two more teammates who are likely to make this list in 2021. Ruggs only has 98 career catches, but an incredible 24 of those have resulted in touchdowns. The Alabama wideout might legitimately have sub-4.3 speed the way he changes angles from defensive backs. He's averaged 9.0 yards after the catch for his career, and he possesses game-breaking big-play ability.
Most yards after the catch per reception (draft-eligible WRs, min. 500 snaps, 2017-19)
| | | | | | | |
| --- | --- | --- | --- | --- | --- | --- |
| Rk | Name | Rec. snaps | Rec. | Yds. | YAC | YAC/Rec. |
| 1 | Brandon Aiyuk | 611 | 98 | 1,666 | 966 | 9.9 |
| 2 | Henry Ruggs III | 764 | 98 | 1,702 | 878 | 9.0 |
| 3 | Ceedee Lamb | 1,081 | 173 | 3,288 | 1,520 | 8.8 |
| 4 | Markis McCray | 571 | 86 | 1,014 | 727 | 8.5 |
| 5 | Chris Platt | 870 | 76 | 1,264 | 620 | 8.2 |
| 6 | Deshaunte Jones | 800 | 146 | 1,507 | 1,159 | 7.9 |
| 7 | Quez Watkins | 974 | 158 | 2,398 | 1,235 | 7.8 |
| 8 | Jauan Jennings | 531 | 92 | 1,424 | 711 | 7.7 |
| 9 | Kirk Merritt | 855 | 154 | 1,812 | 1,176 | 7.6 |
| 10 | KJ Hamler | 743 | 98 | 1,659 | 738 | 7.5 |
5. Tee Higgins, Clemson
Draft Board Rank: 25th
Higgins offers something that no other receiver in the top-five does in terms of his massive catch radius. At 6-foot-4, 215 pounds, Higgins has hauled in a ton of off-target throws throughout his career. However, unlike most big receivers, Higgins can get off the line of scrimmage and separate deep. This past season, he hauled in 15 of his 23 deep targets for 565 yards, which is a freaky rate. We also saw him truck stick Kristian Fulton in the National Championship, which was just one of the 12 tackles he broke on 59 catches this season.
6. Jalen Reagor, TCU
Draft Board Rank: 26th
Reagor has the off-the-charts explosiveness that saw him go for over 1,000 yards as a true sophomore in 2018. He was very much hampered by his quarterback situation in 2019, though, as he saw the fourth-highest rate of off-target passes of any receiver in the country. However, his raw stats don't tell the whole story, as he can't just get open down the field, but he can also win 50-50 balls despite his size. He's hauled in 23 of his 50 contested-catch opportunities over the past two seasons.
7. Brandon Aiyuk, Arizona State
Draft Board Rank: 30th
Aiyuk played second fiddle to first-round pick N'Keal Harry in 2018 when both were juniors, but he proved this season, at least in our eyes, that he's the better pro prospect. Aiyuk is far more explosive and is a threat to take it to the house every time he gets his hands on the ball. He averaged 10.9 yards after the catch this past season as his 710 total yards after the catch were the fifth most in the country. He did all of that with the vast majority of his snaps coming out wide, as well (540 of 655).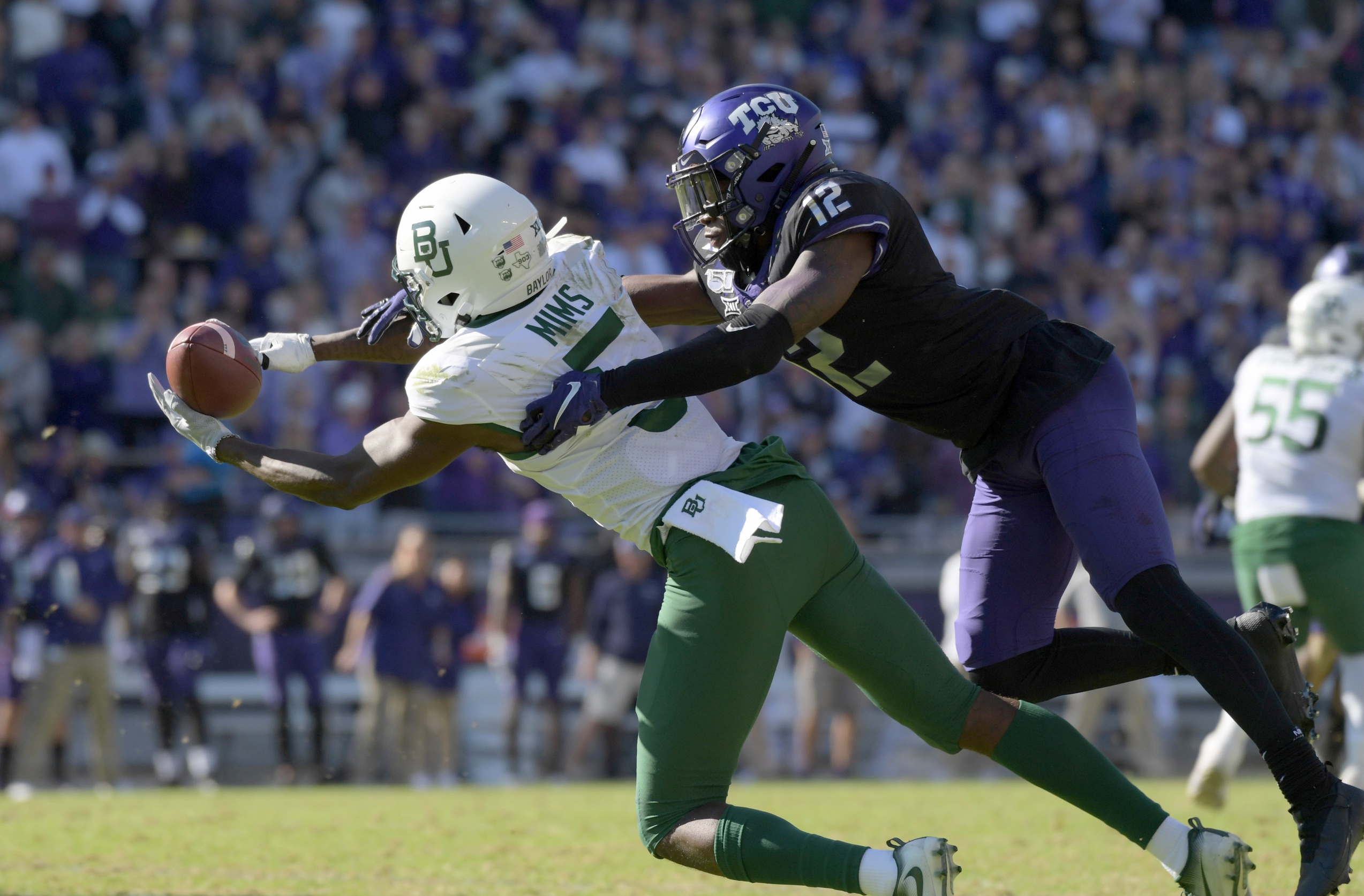 8. Denzel Mims, Baylor
Draft Board Rank: 31st
After Laviska Shenault, Mims has arguably the best combination of size and explosiveness at the receiver position in the draft class. While he ran a bit of a limited route tree at Baylor, he showed out in a big way on a more complete tree at the Senior Bowl. He won 94% of his routes and had the highest grade of any receiver in attendance during the one-on-ones that week — those are eye-opening numbers that saw him make a big leap up our board.
9. Michael Pittman Jr., USC
Draft Board Rank: 38th
Pittman doesn't have the same separation ability down the field as the others ranked above him on this board, but his dominant trait is his ball skills — the man just does not let the ball hit the turf if it's in his vicinity. He has only five drops on 176 catchable passes in his career, and he's excellent at using his physical dominance at 6-foot-4, 220 pounds to separate underneath and at the intermediate level. If you're looking for a possession/red-zone receiver in this class, Pittman is your guy.
10. Jauan Jennings, Tennessee
Draft Board Rank: 42nd
There's no other way to describe Jennings' post-catch ability other than "special." He broke 30 tackles on 59 catches this season despite only six of those being screens. The shake in his lower half is rare for a 6-foot-3, 208-pound wideout, and it showed in the way he got off press at the Senior Bowl one-on-ones. Jennings didn't have more than 580 receiving yards in a season until his redshirt senior year, though, and he's likely the slowest receiver in this top 10. It's difficult to think he won't be a problem after the catch and in the red zone at the next level, however.