A torn ACL and MCL in his junior year at Notre Dame pushed now-Dallas Cowboys linebacker Jaylon Smith from a sure-fire first-round pick in the 2016 NFL draft to a question mark, as uncertainty clouded his future as a pro. But when the Cowboys selected him in the second round, they kept faith that the All-American and Butkus Award winner would eventually return to form, and Smith may have done it even faster than anticipated, as his performance in 2018 has earned PFF's award for Breakout Player of the Year.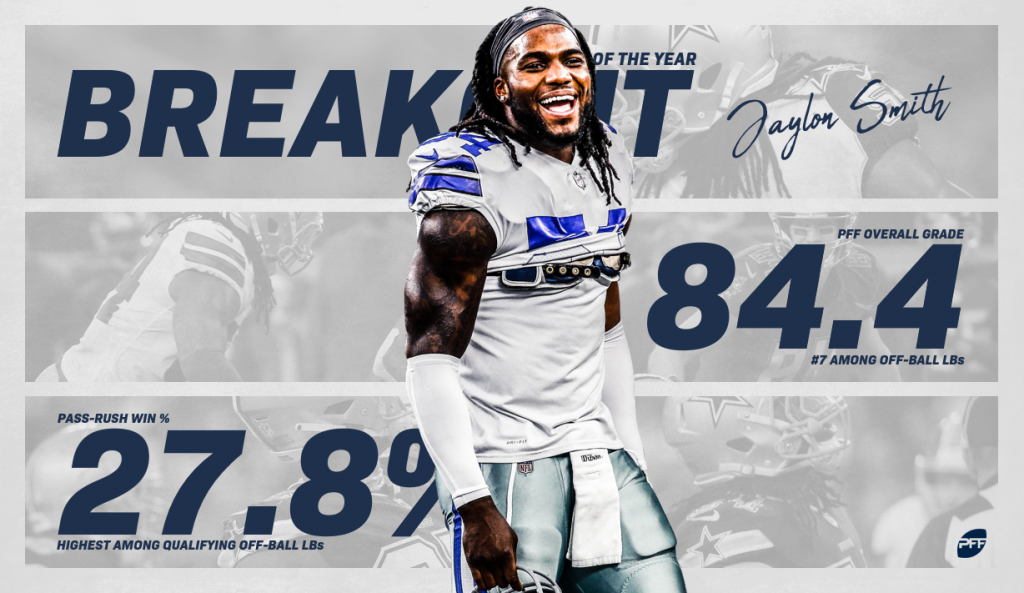 After wrapping up the 2018 regular season with playoffs looming, Smith has developed into one of the league's most dominant all-around inside linebackers in just his second year. Alongside rookie sensation Leighton Vander Esch, Smith's pass-rush prowess as an inside linebacker was unparalleled.
Among off-ball linebackers with 50 or more pass-rush snaps, his 27.8 win percentage as a pass rusher ranked first, and his 22% pressure rate on those snaps was tied for eighth. While inside linebackers are generally expected to patrol the middle of the field in coverage and against the run, Smith's well-rounded skill set proved to be an asset for the Cowboys' defense as it helped provide a late push to win the NFC East.
Smith vastly improved his run defense from a season ago. When lined up in an off-ball linebacker position in 2017, he averaged first contact on runners only after they had gained nearly 2.6 yards. In 2018, he shrunk that number all the way down to just one yard before he made first contact, stifling opposing running backs before they had time to break away.
As a result, the Cowboys allowed just 44 runs of 10 or more yards, the sixth-fewest among defenses. Smith's 74.3 run defense grade ranks in the top-20 of off-ball linebackers, and it's a much-improved mark from his 53.5 grade a season ago.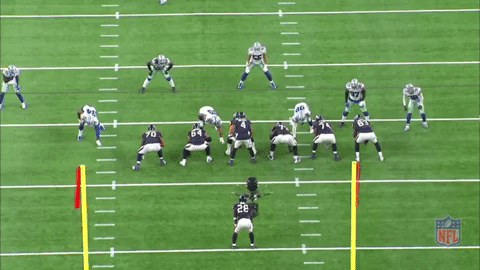 Coverage is often a rough area for most linebackers. Most teams accept the fact that passes will be completed into their coverage, but it's up to the player to stop those throws from gaining large chunks or touchdowns. Smith did just that in 2018 as one of six off-ball linebackers with 500 or more coverage snaps to allow one or fewer touchdowns in coverage.
He also surrendered just one completion targeted 20 or more yards downfield when he was the primary defender and is one of three off-ball linebackers with 95 targets in coverage over the past two seasons to have allowed one touchdown or less.
Maybe one of the more underrated aspects of Smith's tremendous regular season is how reliable he was. He played 95% of possible snaps and missed just 48 snaps all season. Not to mention, he committed only one penalty on the year — he's the quintessential inside linebacker as he showed by breaking out in 2018 when so many thought his knee injury would end his career before it started.
Now, Smith owns an 84.4 overall grade (7th) and has the Cowboys looking primed for January football. He's a force as a pass-rusher, a dependable cover linebacker, and an improving run defender. He shined in college, overcame a significant injury to show glimpses in his rookie season, and finally broke out in 2018 as one of the NFL's best at his position.

Keep up to date with PFF's end of season awards:
Offensive Rookie of the Year | Defensive Rookie of the Year | Comeback Player of the Year | Offensive Player of the Year | Defensive Player of the Year | The Stephenson Award | PFF's Most Valuable Player | The Hutson Award for Best Wide Receiver | The Matthews Award for Best Offensive Lineman | The Reggie White Award for Best Pass Rusher | The Ted Washington Award for Best Run Defender | The Lane Award for Best Coverage Defender | Breakout Player of the Year | Pass Blocker of the Year | The NFL's Best Offensive Line | Run Blocker of the Year | Passer of the Year | Special Teams Player of the Year