Bobby Wagner, Jaylon Smith, Myles Jack, Joe Schobert, Blake Martinez and Danny Trevathan are among the league's notable linebackers that will join Atlanta Falcons' Deion Jones as unrestricted free agents in 2020 if current contracts are maintained. Five of the seven aforementioned names rank inside the top-15 in three-year (2016-18) coverage grade and six of the seven rank inside the top-20 among 75 qualifiers.
Wagner could reset the market, while the younger guys will either fall closely behind him or push ahead of him with more guarantees on longer deals. The ones that hit the open market will sign for the most; the first few to be extended will sign cheaper deals. Atlanta would be smart to opt for the latter.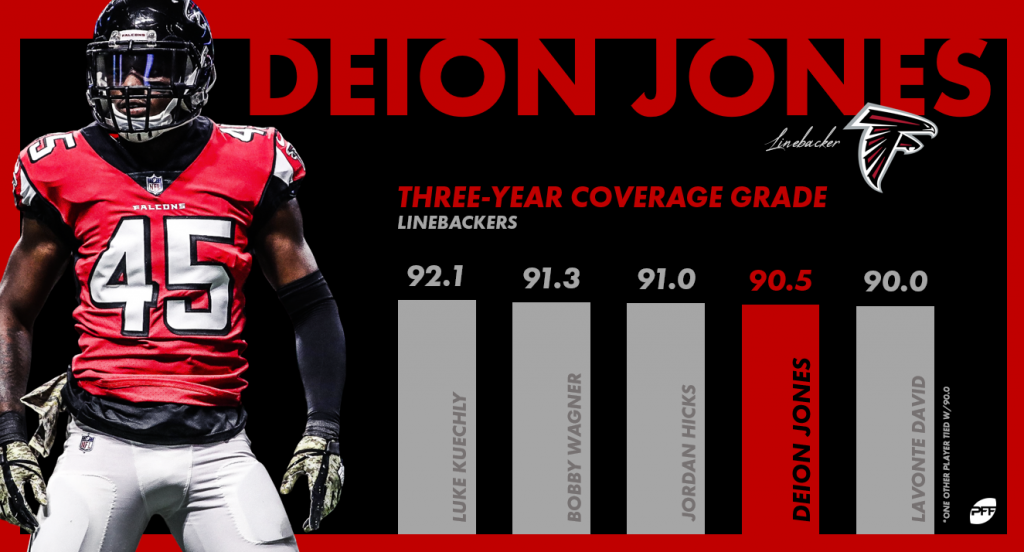 The Minnesota Vikings opted for the latter in July of 2018, signing edge defender Danielle Hunter to an extension worth up to $72 million prior to his contract year. The result? Hunter totaled 15 sacks and earned a 78.4 overall grade in 2018; Minnesota benefited from high-end production from Hunter and avoided breaking the bank on him this offseason, a free agency period that's bound to see the edge rushers cash in.
OTC Founder Jason Fitzgerald's latest projections have Demarcus Lawrence, Jadeveon Clowney, Trey Flowers, Dee Ford, Frank Clark, and Grady Jarrett all signing contracts with higher per year averages than Hunter's $14.4 million this offseason.
Atlanta can follow in Minnesota's footsteps with Jones.
In his three years in the NFL, Jones has earned a 90.5 coverage grade across his 1,460 coverage snaps, ranking fourth among the 75 off-ball linebackers with at least 1,000 defensive snaps since 2016. His overall grade (82.6) also ranks seventh among the same group of off-ball linebackers.
Prior to his injury-plagued 2018 campaign, in which he played just 384 snaps yet still logged an impressive 75.8 overall grade, Jones exploded onto the NFL scene with his stellar 2017 season. The LSU alumnus put it all together as a sophomore, earning an 87.3 overall grade and a 91.1 coverage grade across his 1,020 defensive snaps.
In 2017, Jones ranked sixth in forced incompletion percentage (12.3), tied for third in total coverage stops (22), tied for sixth in passer rating allowed (79.3) and tied for seventh in yards allowed per reception (7.9) among the 74 off-ball linebackers with at least 25 targets in coverage that season. Also, on passes thrown nine or fewer yards beyond the line of scrimmage, Jones allowed just 5.2 yards per target, ranking ninth among qualifiers.
Jones didn't quite return to form when he came back from injury in Weeks 13-17, but that shouldn't keep the Falcons' brass from banking on him bouncing back. He's proved he can excel in coverage across a significant sample size, a sought-after but a rarely found trait in off-ball linebackers. The injury combined with the timing of the contract extension could very well have Atlanta rostering the league's best coverage linebacker on a bargain.