Edge defender Calais Campbell just wrapped up his 11th NFL season and completed his third straight elite-level year with a 91.0-plus overall grade. It's clear the veteran is showing no signs of slowing down any time soon, and like a fine wine, actually seems to be getting better with age along the Jacksonville Jaguars' defensive front.
Despite a disappointing season for the Jaguars, Campbell maintained his consistent dominance on the edge. He's proved to be a sort of a different breed at the position, as he isn't the elite pass rusher like other high-profile edge defenders are known for. Rather, he offers unique balance by performing at a high-level in many key areas, with his specialty being run defense.
For the season, Campbell was the best run-defending edge defender in the league, and it wasn't even close. His career-best 93.8 run-defense grade and 43 run stops both led the league in the regular season. The remarkable 43 run stops were also the most ever recorded by an edge defender in a single season.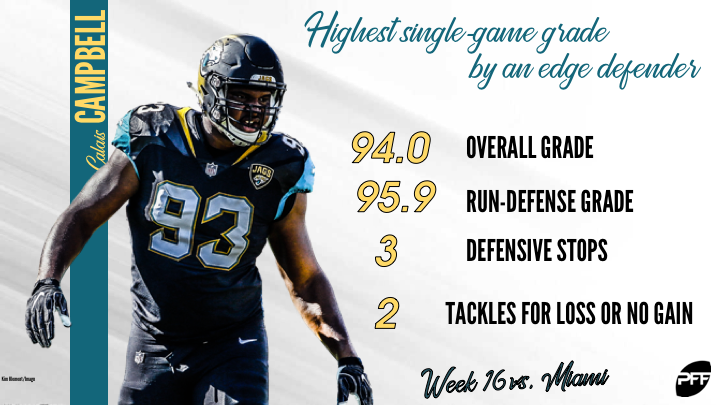 On a game-by-game basis, Campbell had many notable performances throughout the 2018 season, including seven games with an overall grade north of 80.0. He was his usual unblockable self throughout the year with an incredible 11 games with three or more pressures and 10 games with three or more defensive stops.
During a late-season run in which he produced a 91.8 overall grade from Weeks 12-17, Campbell waited until Week 16 vs. Miami for his best performance, which turned out to be the best performance by an edge defender in 2018.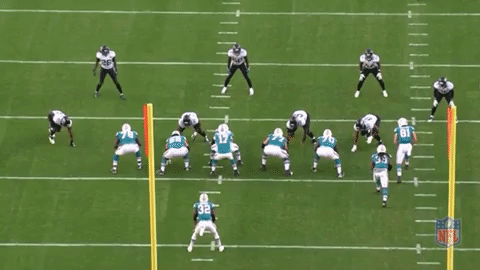 With both teams out of playoff contention, it would have been easy for Campbell to mail it in, but he did just the opposite. He generated a 94.0 overall grade and 95.9 grade in run defense en route to the team's 17-7 win over the Dolphins. On 36 total defensive snaps, the veteran wreaked havoc with four total pressures, three of which were hits on the quarterback. He also recorded three defensive stops in the late season victory.
Over the latter stages of his 11-year NFL career, Campbell has blossomed into one of the very best players at his position, notably finishing among the top three in overall grade among his peers in each of the last three seasons. The Jaguars made the no-brainer decision to exercise their 2019 team option for Campbell in February, with plans of a contract extension in the future. Barring injury, expect more elite-level outings from Campbell next season with the likely possibility of one being the best performance at the edge position once again.