While 2020 free agency rages on, teams are also looking forward to next offseason, where no shortage of big names are up for new contracts. There are a lot of things that will change from this point forward. A large portion of these players probably won't end up hitting free agency at all while others will see their stock rise or fall based on their 2019 performance. As things stand right now, though, these are the top-25 projected free agents heading into the 2021 season. First, I must lay down a couple of ground rules for this list:
Players who are still free agents right now (

Jadeveon Clowney

,

Cam Newton

,

Jameis Winston

, etc.) were not included. There is a decent chance that those guys sign one-year deals to get back on the market next year, but it hasn't happened yet.

Players whose fifth-year options have already been picked up (

Marshon Lattimore

,

Ryan Ramczyk

, etc.) or players whose fifth-year options are likely to get picked up (

Patrick Mahomes

,

Deshaun Watson

, etc.) were not included. They are ranked in a separate blurb at the bottom of the article. 

This list considers age and positional value. Players who will play the entirety of their next contract in their prime were weighted more heavily than those that will be declining by the time a multi-year contract has run its course. The same is true for certain positions. There were many high-end running backs from the 2017 draft class who will be up for new deals, but the only one to crack the list was Alvin Kamara at No. 25. For reference, here are

all the data points showing why you should never pay big money to a running back

.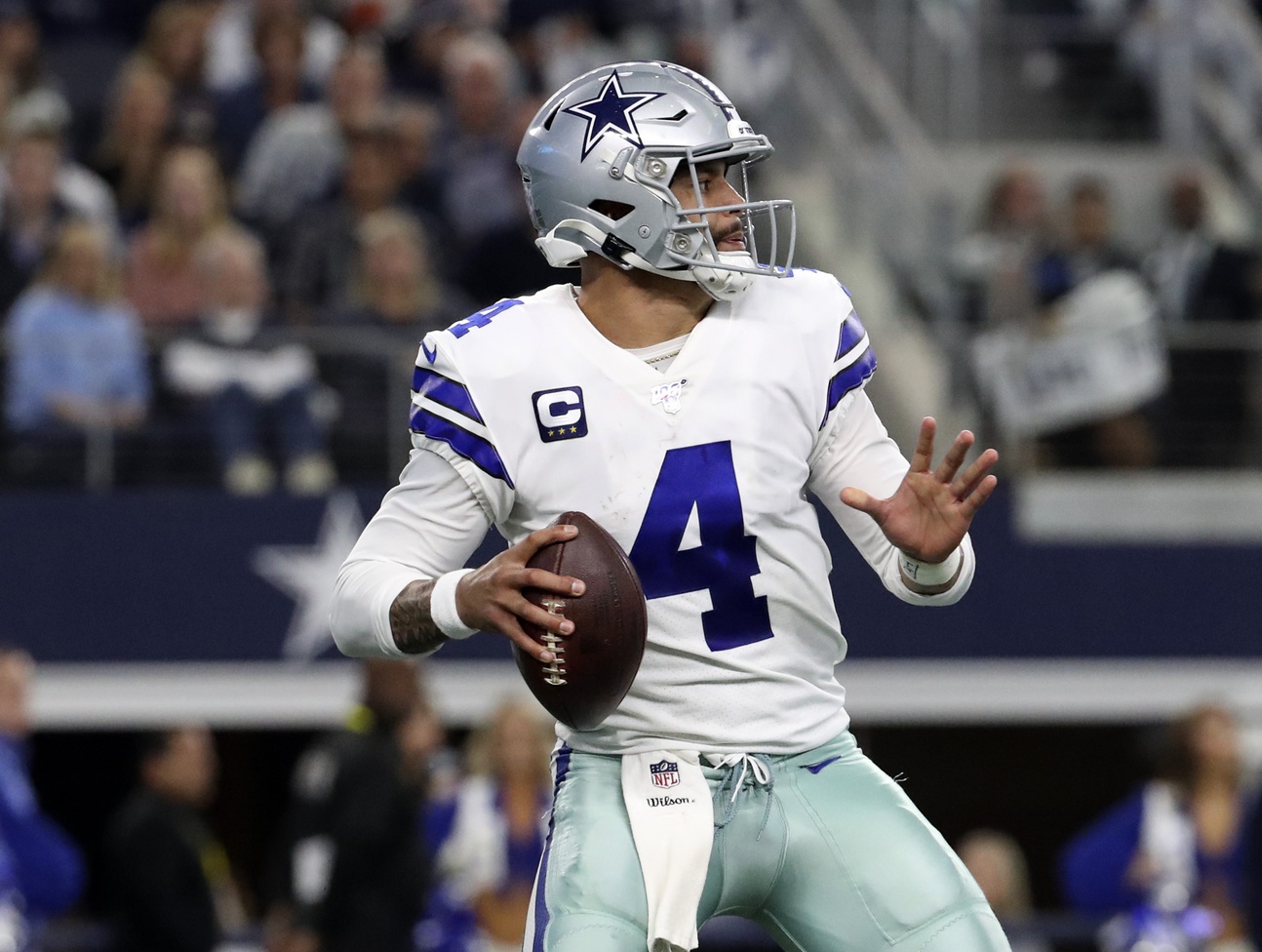 The Dallas Cowboys are certainly going to continue to work toward a long-term deal with Prescott over the next year, but as of now, there hasn't seemed to be much progress between the two sides. That has forced Dallas to use the franchise tag on him this year and continues to leave the door open for an eventual exit. It's not an ideal situation for the Cowboys. After several middle-of-the-pack seasons following a strong debut as a rookie, Prescott showed that he was a franchise quarterback last season. He was a top-10 quarterback by PFF grade, ranked third at the position in wins above replacement and led the third-most efficient offense in the NFL according to EPA per play. With his 27th birthday coming up in July, Prescott is going to get paid — it just comes down to whether Dallas or someone else is going to do it.
Godwin just turned 24 years old, and he is coming off a season in which he was the highest-graded wide receiver in the entire league (90.7). That's not too shabby. He had success from the slot and out wide, posting receiving grades of 85.0 or higher from both alignments on over 200 routes run. It wasn't a one-year wonder for Godwin, either. Granted, he had smaller roles in past campaigns than the one that he enjoyed this past season, but Godwin had grades north of 80.0 in his rookie 2017 season and in 2018. There aren't a whole lot of holes to poke in his game, and the fact that he will be only 25 years old next offseason with that kind of track record makes him the top option at the position.
When the Los Angeles Rams traded two first-round selections and a fourth-round pick to acquire Ramsey last season, they surely did so with the idea that they would get more than a season and a half from the cornerback. Like the Laremy Tunsil situation (which will be touched on later), this puts the Rams in a corner to get a new deal done despite their depletion of resources the past several seasons. There is no doubt that Ramsey is worth the money, though. From traits to production, there are few cornerbacks, if any, who top what he brings to the table. Since entering the league in 2016, there are 37 cornerbacks who have seen at least 250 targets. Ramsey ranks among the top five in completion percentage (55.5%) and passer rating (76.1) allowed. Then, of course, there is this from early last season.
Jalen Ramsey was targeted 120 times covering AB/TY/Tyreek/OBJ/D-Hop, he's allowed a 69 passer rating.

Rest of the NFL allowed a 104 rating when covering that group.

JR is the only corner with 300+ targets that allowed -EPA/target (offense is worse off after the play).

— George Chahrouri (@PFF_George) September 17, 2019
Allen has put the "injured" label behind him with three consecutive seasons of 800 or more offensive snaps, and he has gotten back to the kind of play that we saw from him as a rookie in 2013 — one of the best seasons from a rookie wide receiver since the PFF era began in 2006. Over the past three years, Allen ranks fourth among qualifying wide receivers in PFF grade behind only Michael Thomas, Julio Jones and Deandre Hopkins, showing that we are perhaps underrating him in the conversation of the league's top wideouts. Creating separation is king for receivers, and Allen is among the league's best route-runners. There isn't a team out there that couldn't benefit from adding him to their roster.
There was no better spot for Kittle to land than in Kyle Shanahan's offense with the San Francisco 49ers. Shanahan's scheme that excels at getting Kittle into open space where he can use some of the best after-the-catch ability in the entire league is an ideal fit, and it's hard to see San Francisco just letting him walk. For the sake of this exercise, though, Kittle will theoretically be available.
He is coming off a season where he was named PFF's Stephenson Award winner, given annually to the "best player in the NFL" regardless of position. While his blocking is noteworthy, what truly separates Kittle is the absurd after-the-catch numbers that he has put up over the past two seasons. He is averaging 8.6 yards after the catch per reception since 2018. The next closest wide receiver or tight end with 100 receptions is Cooper Kupp at 6.4.
The biggest moment of Williams' career to this point — the missed tackle on Stefon Diggs that led to a postseason loss in dramatic fashion — doesn't really define his career at all. He has been one of the best safeties in the NFL since coming into the league in 2017. Over that three-year stretch, he ranks sixth among qualifying safeties in overall grade at 90.8 overall, and Williams nearly had as many combined pass breakups and interceptions (10) as he did receptions allowed as the primary coverage defender from his free safety role (11) last season for the Saints. At just 24 years old next offseason, there will be few better options than Williams, regardless of position, if the Saints can't lock him up on a long-term deal.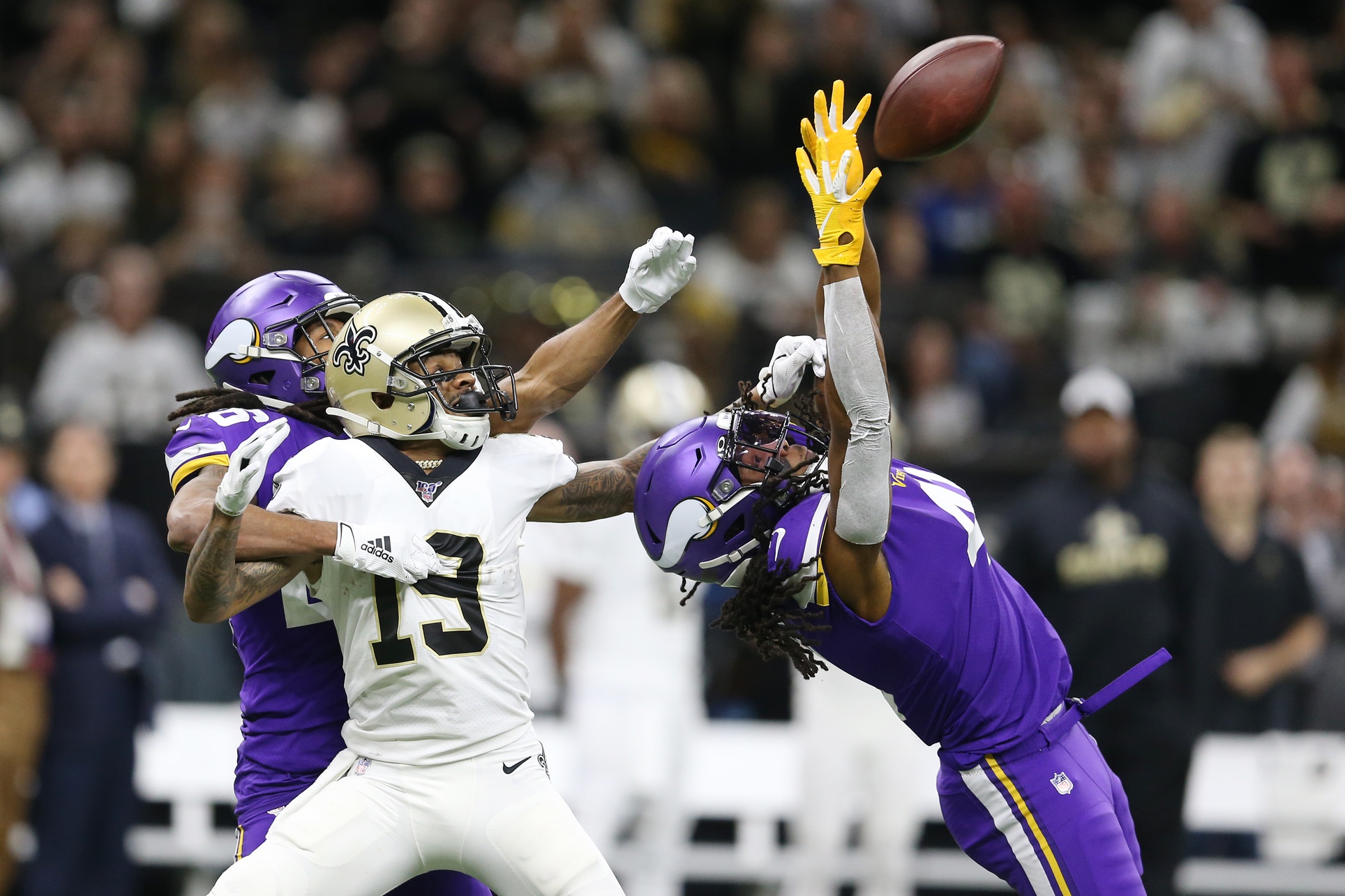 Harris was one of the top free agents on the market this offseason before being franchise tagged by the Minnesota Vikings, and he should be again next season if he doesn't strike a long-term deal before the 2021 league calendar opens. Over the past two seasons, he has been a top-three graded safety in the NFL, and he ended the 2019 season as the second-most valuable safety in the league. The instincts and playmaking ability that he has shown on the back end of the Vikings' defense are the kinds of things that can change a defense. It may have taken him several years to find his footing in the NFL, but his coverage ability and sure tackling is going to lead to a payday sooner rather than later.
Since Bosa entered the league in 2016, Khalil Mack leads all qualifying edge rushers in pass-rushing grade at 91.9. Bosa is the next name on the list at 91.5, and his 21.7% pass-rush win rate leads the position, joining Cameron Wake and Von Miller as the only two players at 20% or higher. It's hard to argue that Bosa has already cemented his spot near the top of the list of the league's best pass rushers, and he doesn't even turn 25 years old until this upcoming July. If he were to hit the open market, teams would be lining up to add him to their defense.
When it comes to pressure rate allowed, tackles are viewed on a different scale as interior offensive linemen. Stanley broke that scale in 2019, allowing pressure on just 1.3% of his pass-blocking snaps for the Baltimore Ravens. For context, the next closest tackle was at 2.9%, and two centers were the only two offensive linemen to post better rates than Stanley. Even in the situations that typically put more stress on a pass protector (long dropbacks, no help, no play action, etc.), Stanley performed at an elite level. That kind of performance didn't come out of nowhere, either. Stanley has been a top-flight pass protector since his rookie season in 2016, and that's a skillset teams are always looking to add to their roster at tackle.
I'm just hoping for Robinson's sake that he can find a quarterback who deserves him. After wallowing through his early years with Blake Bortles at quarterback, Robinson was rewarded with Mitchell Trubisky at the helm for the Chicago Bears. If you lay out the passing grades for those two with Robinson, it looks a little something like this.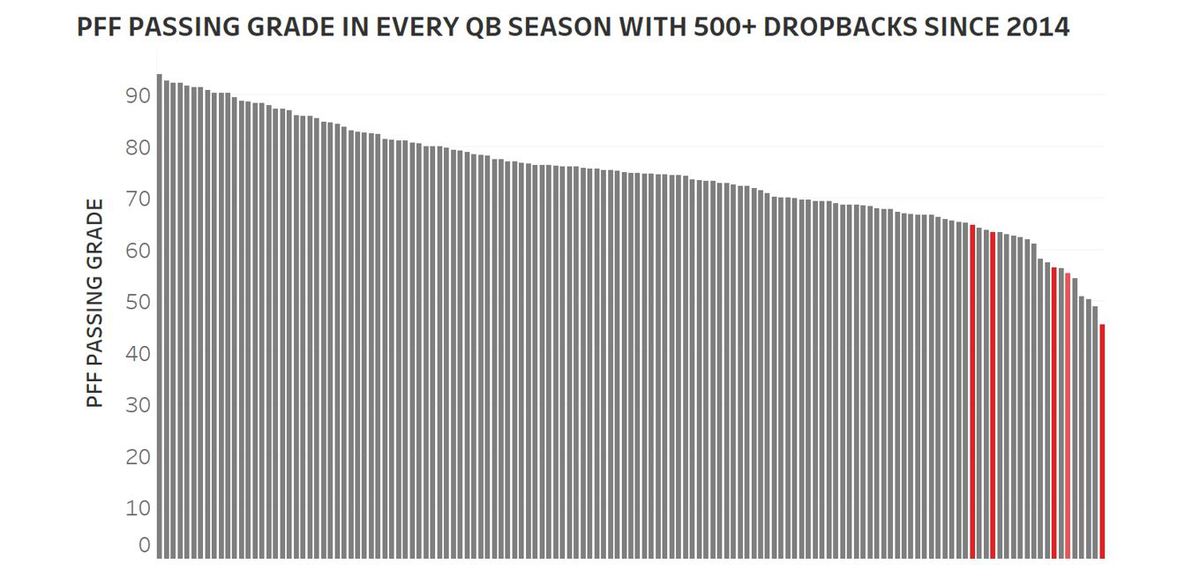 Despite that, all Robinson has done is produce. Since joining the Bears in 2018, he sits sandwiched between Stefon Diggs and Emmanuel Sanders in PFF grade (82.9 overall), and his 99 first down or touchdown receptions rank 12th among all wide receivers. He showed the same ability with Bortles, posting 1,400 yards and 14 receiving touchdowns back in 2015. Robinson is still just 26 years old, and I don't think it's too much to ask to see what he could do with an average NFL quarterback — either in Chicago or elsewhere.
Jones' future remains very much up in the air after the Kansas City Chiefs placed the franchise tag on him earlier this offseason. A trade is still on the table, which would likely come with an extension from his new team, but there is still a chance that he could play through the tag this season and hit the market again in 2021. In that case, one of the best young interior defenders in the NFL would be available. Jones ranks third among interior defenders in pass-rushing grade over the past four seasons (trailing Aaron Donald and Fletcher Cox), and his 212 pressures rank fourth behind the same two and Geno Atkins. He has been strong against the run as well, and there aren't many interior defensive linemen who can affect the game the way Jones can.
When it comes to shadowing the opposing team's top wide receiver, few players have done more of it or done it as well as Peterson has throughout his career. Drawing those tough assignments on a weekly basis makes the numbers that he has put up throughout his career that much more impressive. No cornerback has played more regular-season coverage snaps than Peterson's 5,237 since 2011, and his 7.5 coverage snaps per target were the third most among 72 cornerbacks with 2,000 or more coverage snaps over that time frame, trailing only Richard Sherman and Casey Hayward Jr. Peterson will be 31 next offseason, but there should still be some shutdown years left for the highest bidder.
Stanley may have won PFF's top pass protector honors this past season, but Bakhtiari has been the standard at the position since being drafted by the Green Bay Packers in the fourth round back in 2013. His 94.0 pass-blocking grade over those seven seasons ranks second among all tackles since 2013 to only Joe Thomas, and if you look at just the past five seasons, Bakhtiari sits alone in first by a comfortable margin. In comparison to a 2020 tackle market that wasn't exactly flush with sub-30-year-old, high-end pass protectors, Bakhtiari is part of an intriguing 2021 class as things stand right now.
Golladay showed flashes in limited action as a rookie in 2017, and he has solidified his status as a No. 1 wide receiver over the past two seasons. He averaged over 15 yards per reception in both 2018 and 2019 on his way to 1,000-yard seasons and overall grades of at least 79.9 in both years. Golladay is at his best in contested catch situations. Among 39 wide receivers with 30 or more contested targets since 2018, he ranks second in contested catch rate to Michael Thomas (61%) and tied for first in total contested catches (43). That lent itself well to the downfield passing attack that the Detroit Lions were running before Matthew Stafford went down with injury.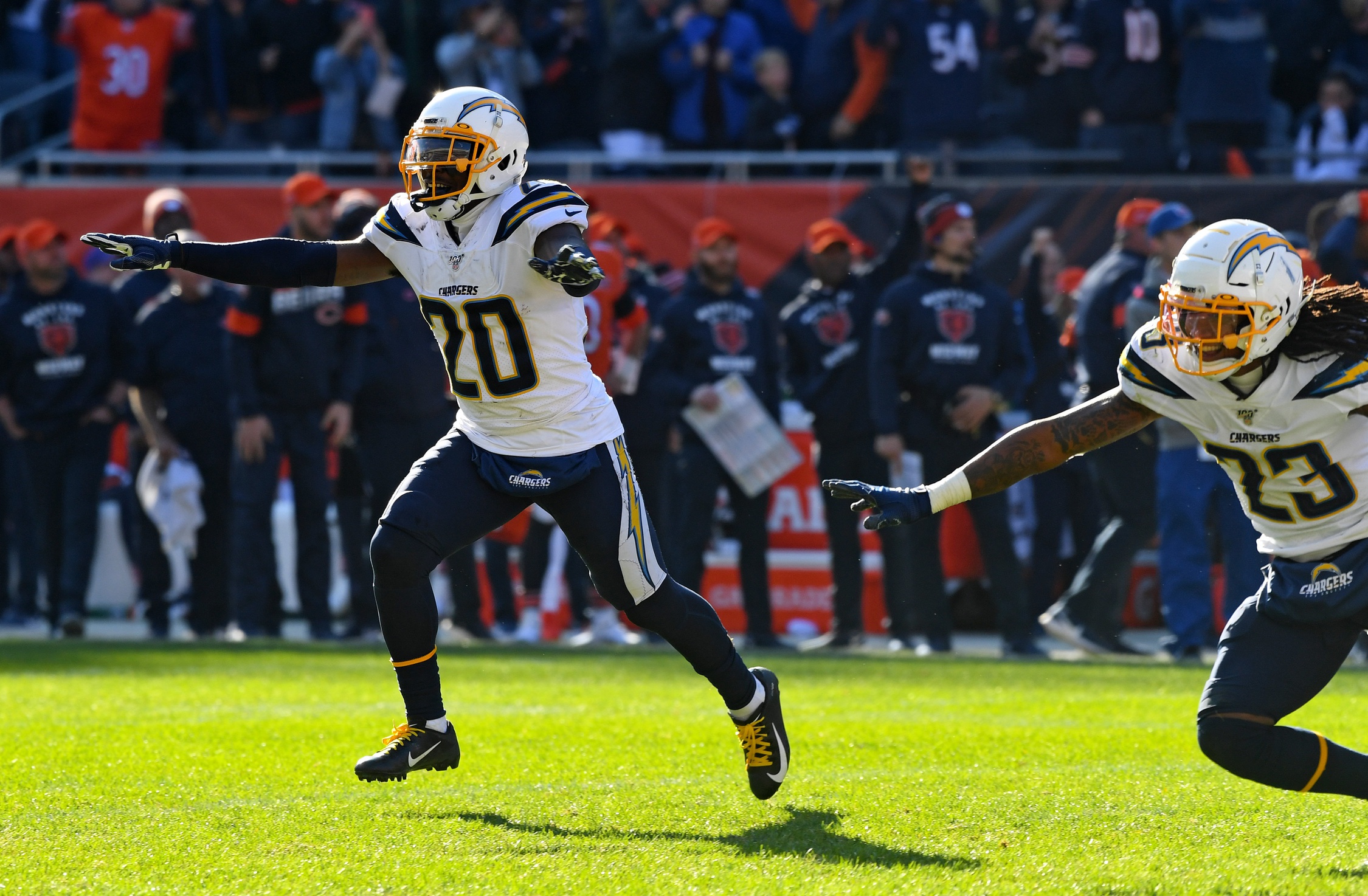 By the standards that King set across his first two seasons in 2017 and 2018, his performance last season was a disappointment (69.4 overall grade). That speaks more to just how high he set the bar, however. Across the 2017 and 2018 seasons, King ranked second among qualifying cornerbacks in PFF grade and sixth in PFF WAR, showing that slot cornerbacks can be some of the most valuable players on the football field. He has played almost exclusively in the slot, but that appears to be set to change this season with reports that Chris Harris Jr. will be playing in the slot for the Los Angeles Chargers next season. Depending on how things play out this season, King could be one of the more likely players on this list to hit the market in 2021.
Yes, Sherman just turned 32 years old, but if 2019 is anything to judge by, there is still gas in the tank. He took home PFF's top coverage defender award in 2019 with a dominant performance on a much-improved San Francisco 49ers defense. Over the course of the regular season, Sherman allowed just 227 receiving yards on 517 coverage snaps. His 0.44 yards allowed per coverage snaps led all qualifying cornerbacks, serving as the only mark below 0.5 at the position. Limiting production like that is what Sherman has been doing throughout his career.
| | |
| --- | --- |
| Player | Passer Rating Allowed 2011-2019 |
| 1. Richard Sherman | 54.0 |
| 2. Darrelle Revis | 69.1 |
| 3. Casey Hayward Jr. | 70.1 |
| 4. A.J. Bouye | 73.7 |
| 5. Chris Harris Jr. | 73.8 |
His 54.0 passer rating allowed since entering the league in 2011 is over 15 points ahead of the next closest qualifying cornerback — Darrelle Revis. Even at 33 years old, Sherman figures to be one of the more valuable players on the market next season.
There are reports that the Houston Texans have offered Tunsil $18.5 million per year. Houston might as well hand him a blank check after trading two first-round picks for him prior to last season, and it sounds like that is the scenario playing out right now considering Tunsil is countering with a "significantly higher" offer, per Aaron Wilson of the Houston Chronicle. Regardless of where he ends up in 2021, Tunsil's team will be getting a young and improving left tackle coming off his best two seasons as a professional. In 2019, Tunsil earned a career-high 75.8 overall grade and 88.2 pass-blocking grade, a mark that ranked third at tackle behind two other members of this list (Stanley and Bakhtiari).
The Cincinnati Bengals and Green have been in contract talks for a while at this point, but they haven't been able to come to terms on a multi-year extension, instead being forced into a franchise tag situation that will leave them in a similar position next offseason if no deal is in place.
The question with Green is just how much his increasing age and recent history of injuries will impact his performance. When he is on the field and healthy, Green has been a borderline top-five wide receiver in the NFL for nearly his entire career. He has picked up overall grades of 82.0 or higher each year since 2012 and came in as the sixth-highest graded wide receiver of the past decade. 2020 should go a long way toward answering some of the questions about how much he still has in the tank.
The argument can be made that Williams was the best tackle in the NFL from 2011 to 2018. Jason Peters was the only other tackle outside of Williams to record pass-blocking and run-blocking grades of 90.0 or higher over that eight-year stretch. The concerns with Williams are the injuries that he has dealt with and the uncertainty surrounding what kind of player will return after sitting out the entire 2019 season. That uncertainty and the fact that he'll be 33 years old heading into the 2021 season keeps him lower than guys such as Stanley, Bakhtiari and Tunsil on this list, but there will certainly be teams that are interested in his services should things continue to go south with the Washington Redskins.
The Denver Broncos may be working toward a long-term deal for Simmons, but the franchise tag was the right move for this season. He played well in 2017 with a 74.5 overall grade, but then he saw that drop to 60.9 in 2018 with a 51.2 grade in coverage. Simmons followed up that disappointing season with a 90.8 grade (91.1 in coverage) and the highest PFF WAR value at the safety position in 2019. That has led to a situation where "wait and see" is probably the best approach for 2020 to see if Simmons can repeat that type of performance.
No, I do not think Simmons will end up being a free agent. But as of now, he is a candidate to hit the market. If he puts up a similar performance in 2020 to the one, he had last season, he'll be one of the better options out there at 27 years old.
Clark is a player who can sometimes get overlooked when discussing the league's best interior defenders, but he has shown over the past several seasons that he deserves a spot in that conversation. In 2018, Clark joined Aaron Donald as the only two interior defenders to record grades of 88.0 or higher in run defense (89.4) and as pass rushers (88.8). Though his run-defense grade took a hit this past season, dropping to 67.8, Clark remained dominant as a pass rusher with an 87.0 grade in that facet and a career-high 62 total pressures. The Packers will likely get a deal done to extend Clark, but if not, he would hit the market next season at just 25 years old.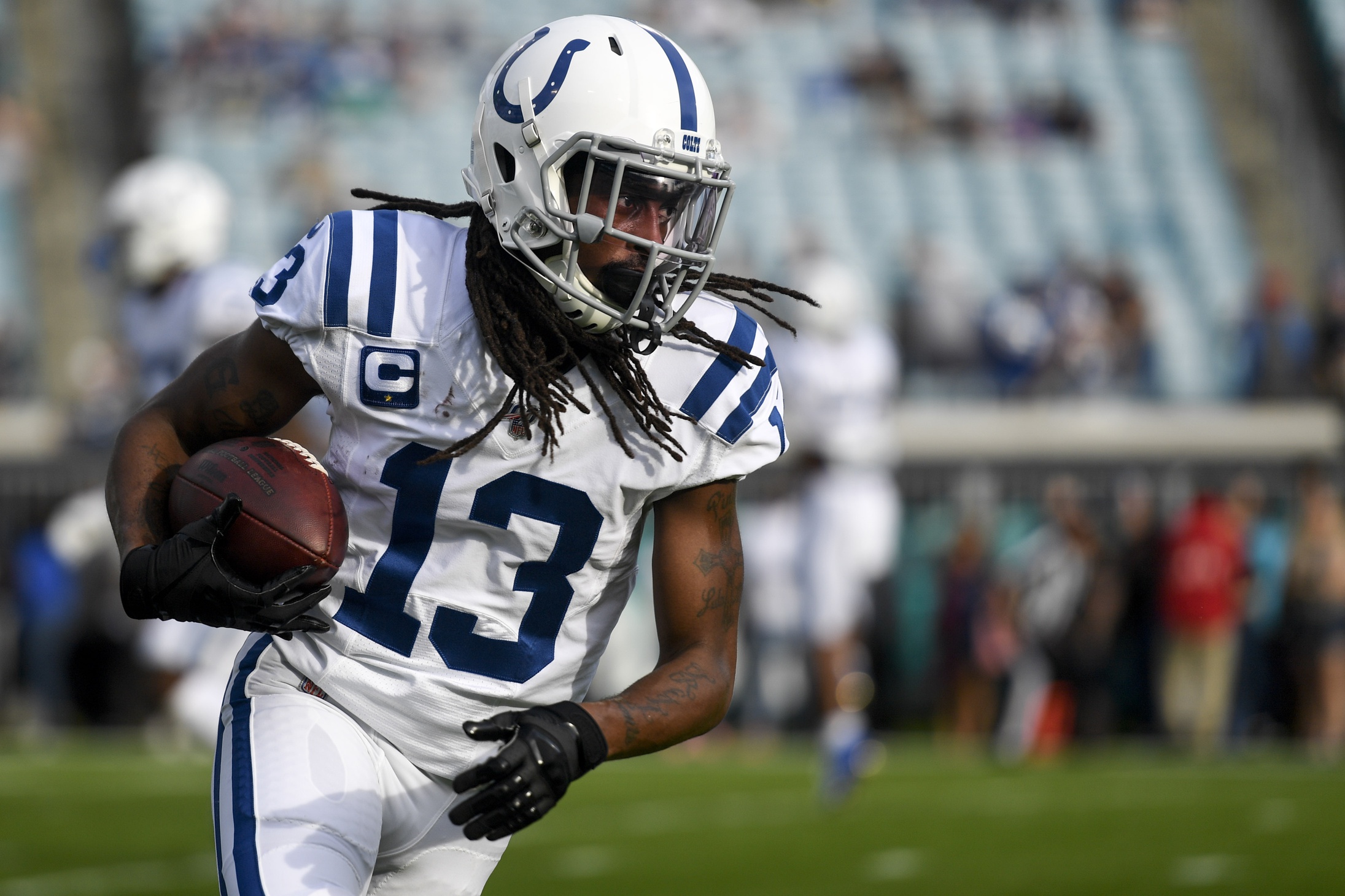 Injuries and poor quarterback play limited Hilton over the second half of last season. His 501 receiving yards and 11.1 yards per reception were by far the lowest marks of his NFL career, but the expectation is that Hilton will bounce back next season healthy with Philip Rivers at quarterback. From 2012 to 2018, Hilton recorded 195 receptions of 15 or more yards, fewer than only Julio Jones, Antonio Brown and Demaryius Thomas, and his 2.09 receiving yards were a top-10 mark among 61 wide receivers who ran at least 2,000 routes across those seven seasons. He may be turning 31 years old this upcoming season, but Hilton still brings that dynamic playmaking ability to an offense.
It is expected that an extension for Heyward is on the way and for good reason. Heyward has earned two All-Pro selections over the past three seasons, and he is coming off the three highest-graded campaigns of his career in 2017, 2018 and 2019, capped by a 91.5 overall grade on a much-improved Pittsburgh Steelers defense last season. His 180 quarterback pressures over those three years are fourth among interior defenders, rounding out a profile that also includes a top-10 grade at the position against the run. The only thing keeping him this low on the list is his age, as Heyward will be 32 years old by next offseason. Coming off a career year, though, there are no signs of slowing down right now.
Henry is another player who is set to play the 2020 season under the franchise tag, leaving the door open to possible availability on the 2021 free-agent market. The big question with Henry, like with his teammate Allen early in his career, is whether he can stay on the field to produce. Henry came out of the gates strong as a rookie in 2016 with an 83.0 grade, building that up to 87.2 (second to only Rob Gronkowski) during the 2017 season. But he missed nearly the entire 2018 season with a torn ACL and was limited by injuries again this past year. Henry has looked at times like he can join that upper echelon of tight ends, but he needs to stay on the field to do so.
Kamara is not an exception to the idea that you should never pay a running back big-time money, and he'll likely command more money than a team should end up paying him. That doesn't change the fact that he is right up there with Christian McCaffrey when it comes to the kinds of players that you want to play running back for your offense.
He fought through injuries in 2019, hurting his production as a result, but Kamara joins McCaffrey and Todd Gurley as the only three running backs with 1,500 receiving yards and 1,000 rushing yards between the tackles over the last three years. The kind of routes that he can run out of the backfield, his versatility to line up in the slot or out wide and his elusiveness with the ball in his hands all make him one of the most valuable running backs in the NFL, sneaking him in on the back end of this list.
Top fifth-year option candidates
The first round of the 2017 NFL Draft produced its fair share of high-end starters, headlined at the top by two quarterbacks in Mahomes and Watson. There is no doubt their options will be exercised if no long-term deal is in place. Realistically, all 15 of these players could end up playing on a fifth-year option, and several have already been picked up.