The first opportunity for teams to improve their rosters in a meaningful way is just around the corner with the start of free agency. Everybody wants to build through the draft, as that route is cheaper and you can potentially see your new acquisition form a key piece of the roster puzzle for a longer period. That said, free agency can provide teams with an immediate and dramatic upgrade at crucial positions with proven NFL commodities—if they are willing to pay the asking price.
Subscribe to PFF's EDGE or ELITE Annual subscription using promo code PFF30 to save 30% anytime between now and the Super Bowl!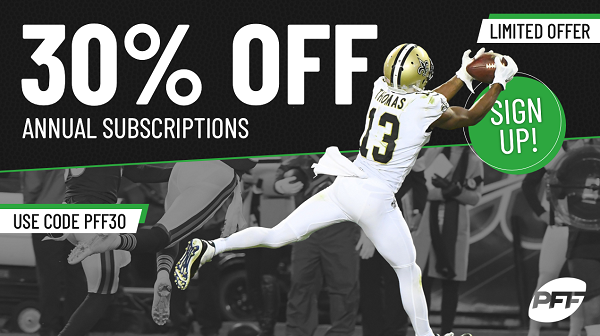 Many of the players topping the list of upcoming free agents will not get as far as the open market and will instead be slapped with the franchise tag, asked to either play out the 2020 season under that one-year guaranteed figure or work out a new deal under that tag. For the moment, though, this is the list of the best players slated to come available when free agency opens.
[Editor's note: The value of the quarterback position trumps all else, so instead of ranking them alongside all other available free agents, we have covered that position separately, here.]
After multiple years of strong grading at Stanford and now multiple seasons in the NFL, as well, Blake Martinez has shown all the qualities necessary to be a superstar linebacker and complete player — he's just never shown all the qualities at the same time. He has earned top-level grades in all facets of the game but hasn't been able to put them all together in the same season, and this year, in particular, he looked like a liability at times against the run. Martinez doesn't have the athleticism to make up for plays where he is late to read things developing, and he has missed double-digit tackles in each year of his career.
Suspension derailed Jarran Reed's career, but before that, he was coming into 2019 on the back of a career year with the Seattle Seahawks. Reed is a solid player across the board, whose 11 sacks two years ago may have flattered his pass-rushing a little. Perhaps suited to more of a rotational role on defense, he isn't bad at any one aspect of defensive line play, but he's not spectacular either, which ultimately may see him slip through the cracks of free agency until the later waves when the big names have been cleaned up.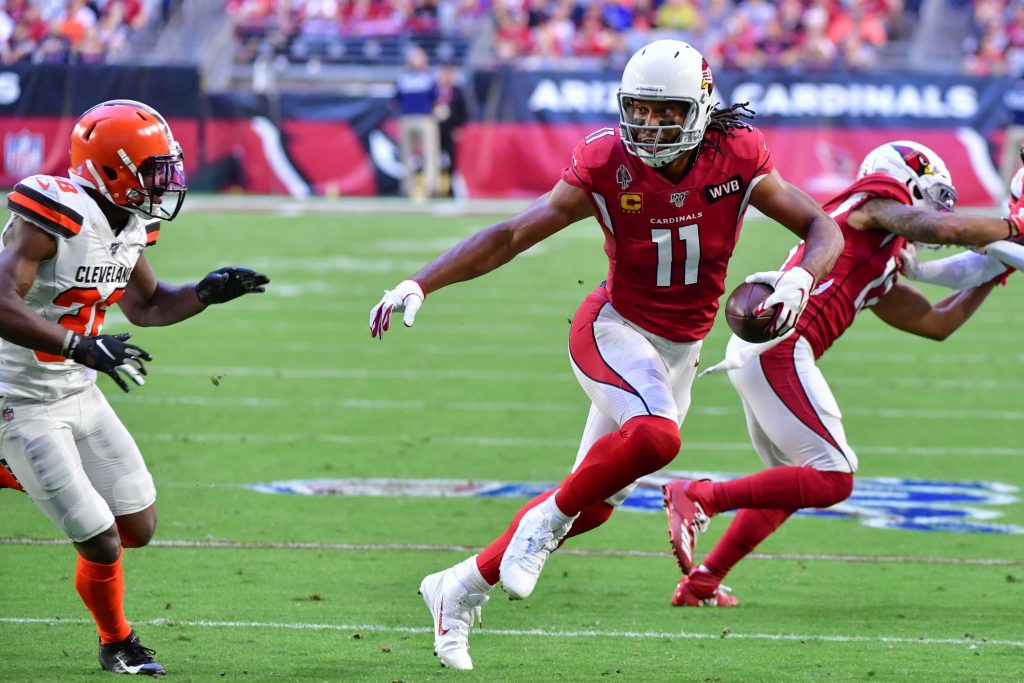 © Matt Kartozian-USA TODAY Sports
The NFL needs Larry Fitzgerald in it, and the Hall of Famer is somehow still playing at a pretty high level, even if he isn't quite the force he once was. This season, Fitzgerald caught 72.1% of the passes thrown his way and didn't drop a single pass all year. Fitzgerald has had the best hands in the game since he came into the league, and despite slowing down, he was still able to register a catch of 54 yards this season along with four touchdowns. His days as a true No. 1 receiver are long gone, but in a league that needs deep benches of receiving talent, Larry Fitzgerald can still be a valuable member of a receiving corps and a solid contributor on Sundays.
There's no arguing that Kendall Fuller's career has been heading south at a rapid rate of knots, but we are just two years removed from him looking like the best slot defender in the NFL. In 2017, Fuller earned an overall PFF grade of 90.6 thanks to four interceptions and eight pass breakups; he allowed a passer rating of just 56.7 and only 9.3 yards per catch. The Chiefs moved Fuller to safety where his play fell off a cliff, but a new team might try and resurrect his best play in the slot given that he is just 25 and should theoretically have his best football ahead of him.
Robert Quinn's 2013 season, the one in which he racked up over 90 total pressures and earned an overall PFF grade of 93.6, is still one of the best edge-rushing seasons that PFF has ever seen. That year, Quinn was a phenomenon when it came to beating tackles around the corner, but frustratingly, he was never able to get near that level again. His career went sideways when he was forced into schemes that asked him to be a stand-up linebacker on the edge, but his 2019 season in Dallas saw him return to some of his better play as a defensive end. This season saw him post 57 total pressures, the best figure he has recorded since that 2013 season.
Humphries battled injuries early in his career, only flashing the ability that made him a 2015 first-rounder, but he is coming off his best effort as a pass blocker. He gave up only 30 pressures on 677 attempts in 2019, just two more pressures than he allowed in 2018 on 335 fewer opportunities. It was Humphries' first season grading below 72.0 in the run game, but he could be the classic "late bloomer" along the offensive line as he heads into his age-26 season.
A player who has always earned consistently solid grades, Karl Joseph just hasn't made enough splash plays in his time in the NFL to convince his own team to buy-in long-term or even keep his starting spot secure. Joseph has just four interceptions in four seasons with the Raiders and has forced just a single fumble, but he has hit double-digit defensive stops every season and shown the ability to be a solid force on defense. Joseph has talent, particularly in a coverage scheme that plays with split safeties, and he will likely be available for a bargain fee given how his Raiders tenure panned out.
Jamie Collins' last attempt at free agency was the ultimate case of beauty being in the eye of the beholder. Multiple seasons of elite play in New England during his first stint with the franchise led the Browns to become besotted with him, but his time in Cleveland was little north of disastrous. However, his return to the Patriots saw him rediscover a stretch of elite play before cooling off and ending the season with a sequence of disappointing play. Collins may represent one of the largest potential variances of any free agent available, but he remains an athletic and intriguing player who could tempt teams into trying to take advantage of a playmaker and game-changer on defense.
A player who has consistently graded well since he came into the league, the only question teams will be asking about Shelby Harris is how good can he be and how big a role can he assume for a new team? Harris earned a PFF grade of 90.8 back in 2018, but he played just 391 snaps that year, and when the Broncos scaled up his workload as a reward, his play trailed off to an overall grade of just 76.8. Harris may ultimately be an elite-level role player or an average player with a bigger role for a new defense, but either way, he represents a valuable addition to some teams and likely won't cost a fortune.
© Eric Hartline-USA TODAY Sports
Somehow Jason Peters is still plying his trade at an extremely high level despite approaching 38 years of age. That age obviously makes Peters a short-term option for prospective teams, and Peters also comes with a significant injury history and the prospect that he might not last 16 games in any given season. But he is still an impressive figure when he is on the field, and he ended the 2019 season with an overall PFF grade of 82.8 after allowing 25 total pressures on the season. Peters won't be receiving many multi-year offers, but he could provide a very useful short-term fix for a team struggling to find answers on the offensive line.
Coming off his best season, Poole posted an 80.0 coverage grade and allowed only 7.4 yards per reception in 2019, and he hits the market as an experienced slot corner. He graded in the 60.0s in coverage for the Falcons between 2016 and 2018 and missed double-digit tackles in all three seasons. Poole has played almost exclusively in the slot, so look for that to continue no matter where he ends up.
With a position rank almost the same as his age, there's no doubt Andrew Whitworth has finally started to decline. But given that he was arguably the best left tackle in the game when he was at his best, he still has a lot to offer a team willing to take a short-term rental while they figure out their long-term future on the offensive line. Whitworth just posted his lowest overall PFF grade since the 2008 season (72.8) but still had a pass-blocking grade of 84.7 that was still good enough to rank seventh among tackles. He also was beaten for just one sack all season. Whitworth's All-Pro days may be long behind him, but there are many teams that could use him as a significant upgrade while they wait for a young player to develop.
As a former first-round draft pick, Trae Waynes hasn't become the star that the Minnesota Vikings would have been hoping for, but he has developed into a consistently viable starter who excels in the run game while showing enough glimpses of coverage ability to keep teams buying into his overall potential. Waynes has impressive speed, but he has never been able to consistently avoid getting beaten enough to rank among the better corners in the game. He's given up 16 touchdowns over the last four seasons.
Mike Daniels isn't particularly hitting free agency at the best time, given how the past couple of seasons have gone for him, but he isn't far removed from being one of the most disruptive interior linemen in the entire NFL. Daniels now has to sell teams on looking past his recent injury history, downtick in form and the fact that he is now the wrong side of 30. However, he can still generate pressure and play with excellent leverage against both run and pass — and he shouldn't break the bank anymore.
Ryan has had a solid career, and he hits free agency once again after three years in Tennessee. He's a slot corner who has graded between 62.0 and 76.2 in coverage in all but one year of his seven-year career, and that level of consistency makes him an intriguing candidate for teams looking for help in the slot. Ryan has generally been an excellent tackler, though 20 of his 49 career misses came in 2019.
Despite a down year by his lofty standards, Pierce has been one of the best run stoppers in the NFL since entering the league as an undrafted free agent in 2016. He peaked in 2018 with a 92.0 grade against the run, and that was also his best year as a pass-rusher, as he notched 21 pressures on 247 rushes. Pierce is a role player, but he's proven to be capable of putting together a valuable 400-500 snaps as an early-down run stopper.
There's been a distinct line between Schobert's play in the run game (where he's graded at 55.0 or below over the last two years) and in coverage (where he graded at an excellent 87.7 in 2018 and a solid 67.6 last year). He finished 2019 with four interceptions and four pass breakups, and he's transitioned nicely from college pass-rusher to valuable coverage linebacker. In a new system, that pass-rushing ability could come in handy, as he only rushed the passer 62 times last season after rushing over 100 times in his previous two years as a starter.
After a slow start to his career in Detroit, Van Noy found a home in New England, and his versatility was an asset to the team as they made multiple Super Bowl runs. Van Noy is a true hybrid linebacker with pass-rushing skills, a coveted skillset by the Patriots and one that has him hitting free agency with many potential suitors given the recent growth of the Bill Belichick coaching tree. The 2019 season was the first year that we saw Van Noy used almost exclusively as a pass-rusher, and he picked up 60 pressures (eight sacks, nine QB hits, 43 hurries) on 464 rushes.
Nobody quite exemplifies the current understanding of running backs being dependent on their environment — at least long term — than Melvin Gordon. The Chargers star held out at the start of the 2019 season, looking for a big payday off the back of his best-graded season perhaps with the understanding that replicating that 2018 season was unlikely given the blocking in front of him. So it proved, as Gordon averaged only 3.8 yards per rush attempt, 2.5 of which came after contact, on his way to a 66.0 overall PFF grade. Gordon has shown he can be a big-time player with some help around him, but so have a lot of backs.
On his third NFL team already, Breshad Perriman resurrected his career in Tampa Bay this season, particularly with his play down the stretch. A big-bodied receiver with elite speed, Perriman stepped up when the Bucs had an injury crisis at wide receiver and made a lot of big plays for quarterback Jameis Winston. Drops were the curse of his play in Baltimore, but he dropped just one pass in 65 targets for the Bucs, and Jameis Winston had a passer rating of 94.7 when throwing his way. Far from a sure-fire success going forward, Perriman did at least show teams that his first-round talent still exists.
Hooper has developed into a solid receiving option, but he's more of a dependable, complementary piece rather than a mismatch creator. Since 2016, Hooper has gained 75.5% of his receiving production on targets defined as holes in zones or underneath the defense (think drag routes, flat routes) — by far the highest percentage in the league. Add to it that Hooper has just a 58.9 receiving grade against single coverage since 2016, and it's clear that his production has largely been a product of the situation in Atlanta. All that said, Hooper is a mid-tier run blocker who can take advantage of being surrounded by good playmakers on the outside, and he has value as a complementary piece in the passing game.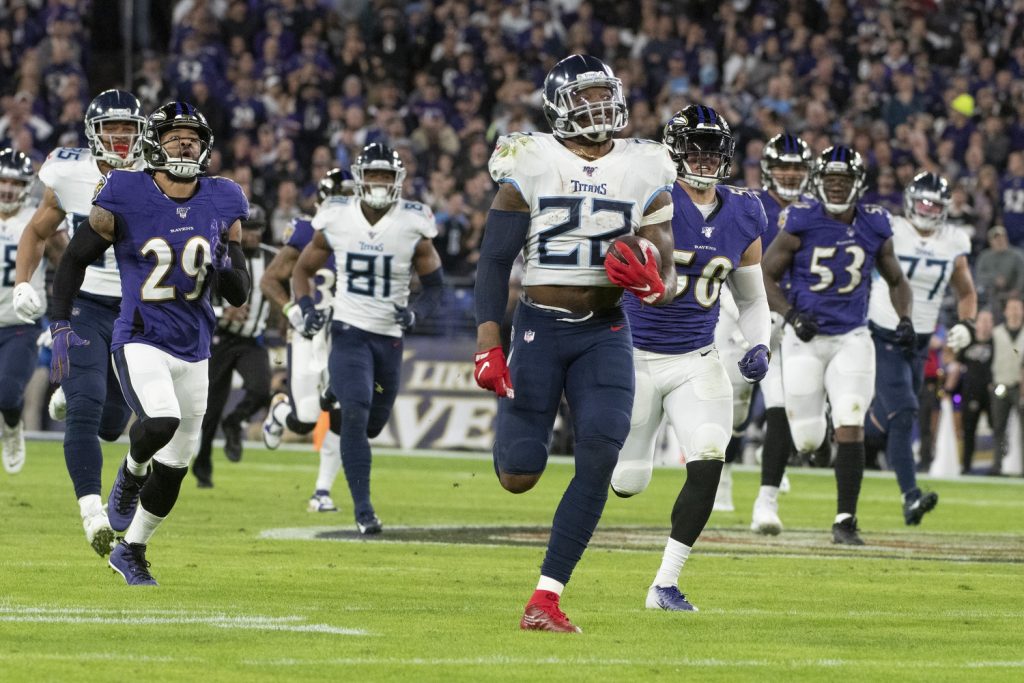 © Tommy Gilligan-USA TODAY Sports
Ward has worn many hats in the 49ers' secondary, but 2019 has been his best season by a longshot, as he ranked eighth among safeties with an 84.2 overall grade during the regular season. After playing slot corner, outside corner and every safety variation, Ward's career year has came after spending 71% of his snapsat free safety, where he's broken up eight passes and missed just three tackles on the year. Ward has been flying around the field this season, and he's become a playmaker on the back end of the one of the best defenses in the league.
Derrick Henry was the rushing champion in 2019 and set about an incredible playoff run that demonstrated an impressive ability to pound the football at the NFL level just as he did in high school and college, but it would be a mistake to get carried away with that performance and throw huge free agent money his way. Henry is barely a factor in the passing game and was the beneficiary of some solid offensive line play, and overwhelming data shows that running backs simply are more a product of their environment than their own transcendent talent.
A PFF favorite in the first draft we covered with the benefit of full play-by-play college grading, Troy Hill has developed into an interesting player. At just 5-foot-11 and 183 pounds, Hill is very undersized compared to the league's better corners, and he can struggle against the physical monsters that many teams boast as their top receiver. When the Rams acquired Jalen Ramsey to cover those players, though, Hill was transformed as a corner who can consistently win battles against No. 2 receivers. This season, he finished the year ranked 12th in PFF grade; he allowed only 45.1% of passes thrown his way to be caught for a passer rating of just 54.9.
Some of the gloss on Leonard Williams' career has faded, as he never became the dominant force along the defensive line that he was once pegged as. In his second year, he notched 55 total pressures and earned an overall PFF grade of 81.4, but that grade has slipped to barely above 70.0 this past season. The draw of Williams is that he has shown high-level play in the past, and will enter the 2020 season just 26 years old, but he needs to prove he can be a significant factor rushing the passer again or his value has a very defined cap to it.
Javon Hargrave has improved his overall PFF grade in every year of his NFL career, and this season, he had to step into a larger role when Stephon Tuitt went down injured for the Pittsburgh Steelers. Hargrave played 200-plus snaps more than his previous career-high and showed that he can be more than just a run-stuffing nose tackle. He ended the season with 49 total pressures, which was a top-10 figure among interior defenders, and he did it while still grading well as a run defender and tackling with impressive efficiency. Interior defenders are readily available this offseason, but Hargrave is a good one.
Nose tackles upwards of 330 pounds aren't as desirable as they used to be, so the good news is that D.J. Reader has been able to show that he is more than just a two-down run stuffer. Reader has played more snaps with each season of his NFL career and answered that increased workload with more pressures as a pass-rusher. This year he posted career-best marks in overall PFF grade (85.5), total pressures (36) and defensive stops (35), and he played over 600 snaps for the Texans. Reader will draw interest as a run stuffer, but he has proved that he can push the pocket and play on passing downs too, which is vital for his value.
Over the last three seasons, Boston has quietly been one of the best pure free safeties in the league, and he's done it with three different teams. He's not as versatile as other safeties on the list, as he lines up almost exclusively as a free safety, but with 11 interceptions and 16 pass breakups over the last three years, Boston is a game-changer on the back end. On the other hand, his tackling has been poor, as he's missed 25 tackles over the last two seasons. While his tackling and lack of versatility drop his value, Boston is a perfect fit in a deep safety role for both single- and two-high safety teams.
Even with a perceived rejuvenation to his career in 2018, Ebron has enough of a sample size for teams to feel comfortable about his skillset as a solid pass-catching threat and below-average run blocker. Ebron set career-highs in receptions (74), yards (827) and touchdowns (14) in 2018, though when paired with a 70.5 receiving grade, we see that some of that production was fool's gold. Even if he never reaches those heights again, he's heading into next season at 27 years old with four straight campaigns of 69.0-plus receiving grades — and that's a good resume for an athletic tight end who can work the middle of the field.
Potentially heading on to his third team in fewer seasons, Ha Ha Clinton Dix took a short-term 'prove-it' deal with the Chicago Bears to try and hit the open market again with improved interest. As a former first-round pick, expectations for his play are high but may need to be adjusted to simply 'solid' given what he has shown so far in his NFL career. Clinton-Dix makes plays on the football in coverage, which is the most important aspect of safety play, but he can come up lightweight against power and misses too many tackles to be happy with (eight in each of the last three seasons).
Former first-round pick Arik Armstead has been a solid enough player for the 49ers since being drafted, but this season he took a step towards being something else entirely. Armstead has played the most snaps of his career this season and has been dramatically more productive as a pass-rusher, almost doubling his previous career-high in total pressures. Armstead has elite physical tools and impressive versatility, but a big leap forward in production in a contract year will always set alarm bells ringing. Armstead's potential is significant, and he showed this season that high-level production is there to be drawn out of him if a team thinks they can be the one to do it.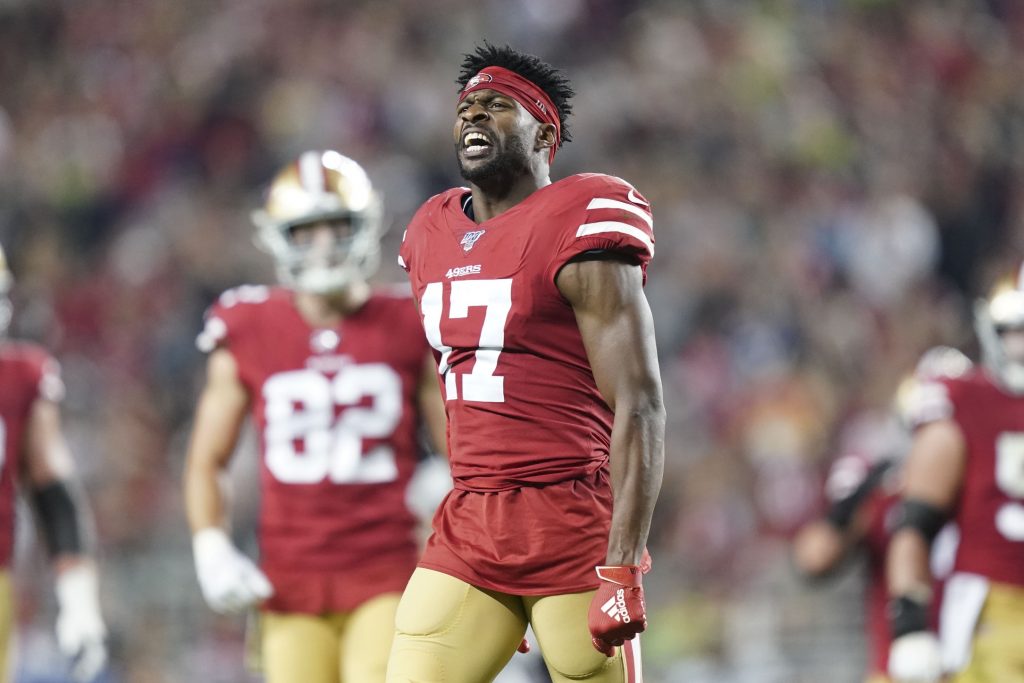 © Kyle Terada-USA TODAY Sports
Returning from a significant injury, Sanders has been a better player late in his career than he was at the start of it. He has transformed the 49ers' passing attack since arriving and is one of the savviest route runners in the league. In addition to all of that route-running skill, Sanders had just one drop this past season and has some of the best hands in the game. Age will scare teams off, and he's certainly not a long-term option, but the veteran wideout has recently proven that he can completely change an offense in need of receiving help.
Ngakoue has followed his collegiate profile as a good pass-rusher and below-average run defender (career-high grade of 60.0 in 2018). His best season came in 2017, as he graded at 81.0 overall to go with an 88.2 pass-rush grade and 82 total pressures (14 sacks, 15 QB hits, 53 hurries). Over the last two years, he's posted pass-rush grades of 76.8 in 2018 and 77.5 this season, both solid numbers but not at the 2017 level that had Ngakoue looking like the next great pass-rusher in the NFL. At just 25 years old, he looks like a strong presence off the edge for the foreseeable future, but his questionable run defense coupled with the fact that more valuable positions are hitting the open market has us lower on him than most.
Barrett has gone from underrated role player to potentially overrated pass-rusher after a career year that saw him pressure the quarterback 82 times (20 sacks, 18 QB hits, 44 hurries). The sacks will get most of the attention, and will perhaps lead to him being overpaid, but it's the 82.0 pass-rush grade that is a better indicator of Barrett's future success. He's graded between 71.3 and 82.0 as a pass-rusher in all five years of his career, and that baseline projects a solid player rather than the Defensive Player of the Year candidate that the stats would suggest. Barrett deserves credit for taking advantage of a starting role and putting together a career year, but potential suitors must look beyond the gaudy sack totals before investing long term.
It's been a story of continuous improvement for Thuney since entering the league in 2016, and he finished the 2019 regular season with the No. 5 overall grade among guards (77.4). Thuney has had his best year in pass protection, allowing just 16 pressures on 693 attempts, good for the third-highest pass-blocking grade in the league (87.4). A converted college offensive tackle, Thuney struggled against more powerful players early in his career, but he's developed nicely into one of the best all-around guards in the league.
The only thing keeping McCourty from being higher on the list is age, as he enters the 2020 season at 33 years old. McCourty exemplifies what you want in a "safe" safety, as he's rarely out of position in the passing game and is a sure tackler in space with just 71 career misses on 890 tackle attempts. While McCourty has dabbled in multiple roles playing closer to the line of scrimmage or covering tight ends, he's at his best as a deep free safety where he will rarely bust coverages and frequently take advantage of quarterback mistakes when presented.
After playing over 1,000 snaps in each of his first two seasons, Scherff has battled injuries over the last three years, missing 15 games along the way. When healthy, he's been among the league's best, grading between 75.0 and 81.4 in all but one of his five NFL seasons. In 2019, Scherff finished with the No. 28 overall pass-blocking grade (72.0), but his No. 15 ranking on true pass sets bodes well for a resurgence next season. In the run game, Scherff ranked in the top six when blocking for both gap and zone schemes, and he is a fit for any NFL team looking to upgrade on the interior, though recent injuries are certainly a concern.
Conklin is the best right tackle on the market, and he's coming off a regular season which he finished 12th overall among tackles in PFF grade (78.3) and fifth in run-blocking grade (81.0). Conklin has some issues in pass protection, as his pass-blocking grade ranks just 49th on true pass sets over the last two seasons, and he's on the higher end among offensive tackles receiving help (double teams, chip blocks, etc). Still, Conklin is a versatile run blocker who finished with the No. 6 grade on zone runs and the No. 14 mark on gap runs.  He's been one of the better right tackles in the league since being drafted in the first round in 2016.
Simmons had a breakout 2019 season, grading at 90.8 overall and earning PFF first-team All-Pro honors. The only thing keeping Simmons from being higher on the list is the multiple-year sample, as his previous three years saw Simmons grade between 60.9 and 75.3 prior to his 2019 ascension. The biggest place where Simmons improved has been at the catch point, where he broke up 11 passes in 2019 after breaking up just three in his first three years in the league. At only 26 years old, Simmons will be coveted by two-high safety teams with interchangeable roles, and the hope is that his breakout season was an indicator of big things to come. Even if he can't duplicate his All-Pro season, Simmons still brings a solid all-around safety who can line up all over the field.
Another receiving weapon, Anderson has done his best work down the field for the Jets, where he has the 15th-best grade in the NFL on 20-plus yard throws since 2016 and ranks 11th in deep receiving yards (1,311). Anderson has been part of one of the worst groups of playmakers in the league during that time, making his value even more intriguing for a team that has better complementary pieces.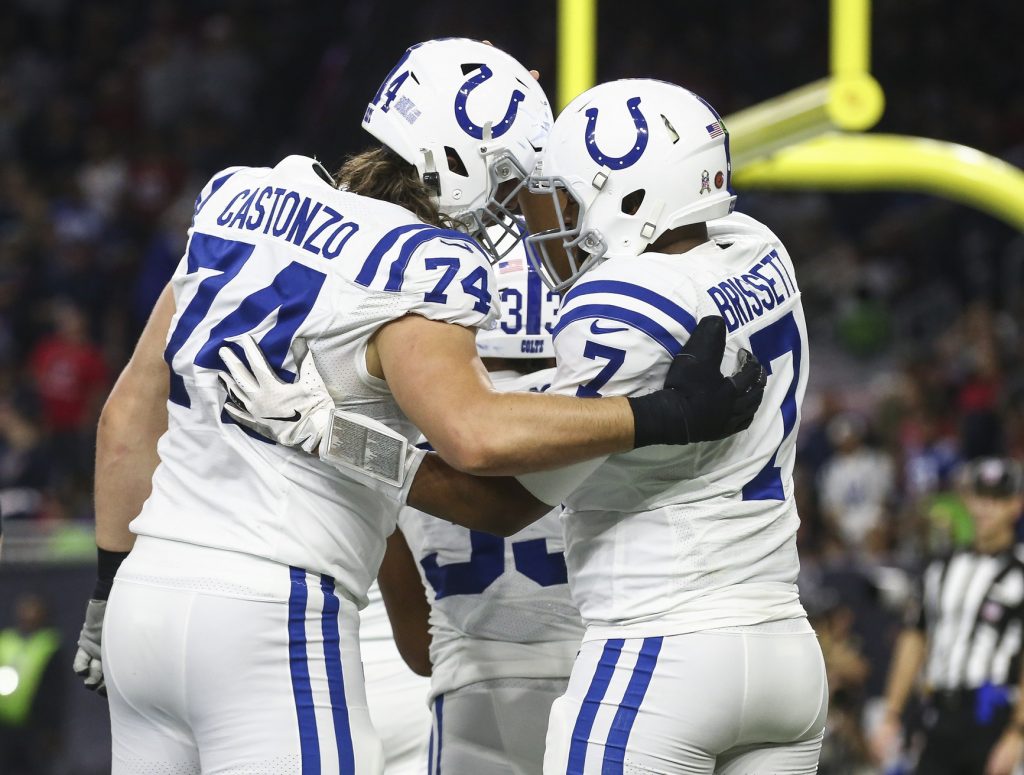 © Troy Taormina-USA TODAY Sports
One of the most underrated players in the league, Castonzo has been consistently good throughout his career, posting above-average grades between 76.9 and 83.4 in every season dating back to 2012. He's one of the best pass-protecting left tackles in the league — his 84.4 grade ranked eighth last year, and he had the fifth-highest grade in "true pass sets" (think pure dropback passing situations). Castonzo is less effective — but still solid — in the run game; he finished 16th among tackles with a 70.2 run-blocking grade last season while flashing his ability to play in any scheme. Heading into next season at 32 years old, Castonzo is one of the most valuable tackles in the league.
Littleton has quietly become one of the best coverage linebackers in the league, capable of running the seam with tight ends and closing quickly on running backs underneath. He has 18 pass breakups and six interceptions over the last two seasons, and he's posted a 90.6 coverage grade that ranks third-best in the league. However, while potential suitors are going to love Littleton's ability to affect the passing game, he has had his struggles against the run. His 50.8 run-defense grade ranks just 103rd out of 126 qualifiers over the last two years, so that could hurt his value for teams looking for an all-around three-down linebacker.
Since entering the league in 2016, there have been two constants in Henry's career: injuries and production. When healthy, he's one of the best receiving tight ends in the game, and his 90.5 receiving grade against single coverage is eighth-best in the league since 2016. Henry is also a solid run blocker, posting above-average seasons in two out of his three full years. Any team looking for his services is going to get a mismatch weapon who can win in-line, in the slot or on the outside. That versatility is extremely valuable in today's NFL.
Clowney put up an 88.0 overall grade in 2018 — the highest mark of his career — and he followed up with an 87.3 grade after a trade to the Seahawks despite seeing his sack total drop from nine to three. Clowney has the 11th-best overall grade among all edge defenders since 2017, including the third-best mark against the run (91.3), but his pass-rush grade of 83.9 ranks just 25th among that same group. Pass-rushers earn massive contracts for their ability to get after the quarterback, but Clowney has always been good, not great, in that department. The price tag may be too high for many teams, but Clowney brings top run defense and solid pass-rush to the table, though his game has never really lived up to his draft hype and he's never matched the production of other dominant edge defenders.
While he'll be 32 years old on opening day of the 2020 season, Green's consistent track record of production makes him an intriguing offseason possibility for many passing attacks. Green missed all of 2019 after playing only 458 snaps in 2018, so injuries and age are certainly a risky proposition. But when healthy, Green wins at all levels of the field. He finished the decade with the sixth-highest grade among all receivers and 3,273 yards on deep passes, which ranked third. Green is worth a look for teams in need of a downfield threat on the outside.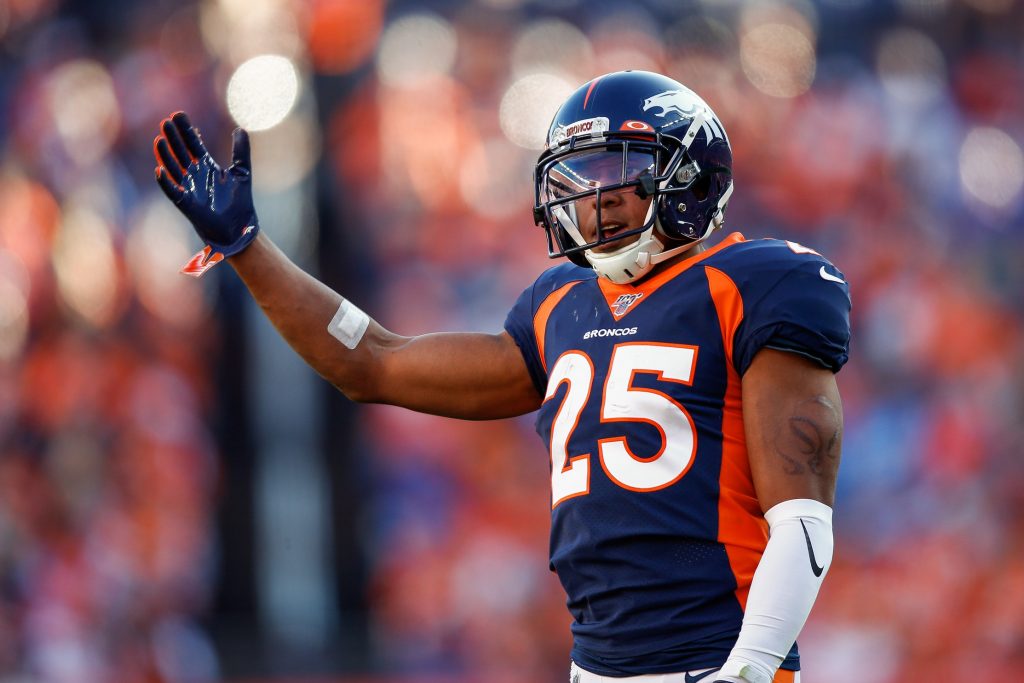 © Isaiah J. Downing-USA TODAY Sports
Another top coverage player, Harris has an extended track record of success, but he's going to be 31 at the start of the 2020 season. He's also coming off his worst season, finishing with a slightly above-average coverage grade of 66.8. However, this was the first season of Harris' career that saw him play exclusively on the outside after he spent the majority of his career cementing his standing as the best slot corner of the decade with more than enough talent to hold his own on the outside when needed. Harris is an intriguing candidate for teams looking to put him back in the slot, where he excels in both man and zone coverage.
A move to cornerback rejuvenated Jones' career in 2018, as he showed that he could play single coverage on the outside at a high level. He finished with the 14th-best coverage grade among corners in 2018 (80.4) before dropping to 21st in 2019 (74.8), but those are extremely valuable numbers as he hits the open market. Many will point to Jones not picking off a pass over the last two years, but his 74.1 coverage grade in single coverage is 11th-best during that time, and he has also shown the ability to match up against tight ends when called upon. Jones brings youth and coverage ability to the open market, making him the top defensive free agent heading into the offseason.
One of the league's most underrated players, Harris has been a playmaker on the back end of the Minnesota defense since seeing extended playing time in 2018. Harris has the top regular-season coverage grade among safeties at 91.6 after ranking sixth last season. He's played the majority of his snaps at free safety, but this season has seen him play about 40% of his snaps in the box or over the slot, showing that he can play a more versatile role in a defense. Harris has nine interceptions and seven pass breakups over the last two years, all while missing just four of his 100 tackle attempts. Playmaking, sure-tackling safeties are of immense value in the NFL, and Harris has shown both traits as much as any safety in the league over the last two seasons.
Heading into his age-26 season, Jones is one of the best young defensive linemen in the game. He graded at 84.9 overall during the regular season, good for sixth among interior defensive linemen; it marks his third consecutive year in which he's ranked in the top eight at the position, and this year saw him move around the defensive front more than ever. Jones' 58 total pressures were the fourth-most among interior defenders this year, and he's proven to be a capable, disruptive run defender.
There was a clear increase in production in the Dallas Cowboys' offense once Cooper arrived in the middle of 2018, and he finished the 2019 regular season with the seventh-highest overall grade among receivers (84.1). Cooper set a career-high with 503 yards on deep (20-plus yard) passes, the third-highest mark in the league, and he caught 62.5% of the deep passes that were thrown his way (tied for fifth). The Cowboys' passing offense has been one of the league's best with Cooper on the field, netting 122.0 EPA on his 907 plays compared to just 2.95 EPA on 425 plays without him. That massive difference is the best explanation for quarterback Dak Prescott's increase in production and Cooper's spot atop the offensive free agent list.
[Editor's Note: All ELITE subscribers have access to PFF's advanced statistics and grades for every NFL free agent this offseason. Subscribe today to gain access.]