PFF and the rest of the analytics community have already done plenty of work evaluating the importance and impact of running backs on today's NFL, and even before that, there was plenty of talk about the devaluing of the position. But where do things stand now as we look ahead to free agency?
One of the things PFF, and analytics generally, tries to achieve is identifying the underlying factors that drive production and success — because only then can you hope to replicate it and build it again from scratch. If you can understand the things needed to generate certain production and numbers, you can emulate that success without needing to acquire the exact players who were producing somewhere else. This is a vital component of team building in a league where entire front office and coaching staffs change positions regularly.
While the running back is the guy who ends up with the rushing yardage at the end of a play, 21 other guys were doing something that had varying impacts on that yardage — 10 teammates and 11 defenders, not to mention the coaches and playcallers.
The key to understanding success — not just in the rushing game but on offense generally — is to try and quantify how much of that success can be attributed to each of those players, and use that as an indicator for where to allocate the finite contract resources of the salary cap.
PFF's Eric Eager used data to show that the quality of the offensive line has a far bigger impact on predicting rushing success on a per-play basis than the quality of the running back receiving the handoff. This might seem far-fetched if you were looking at the splits in rushing yardage between yards before and after contact. In 2019, the average rush attempt featured 1.5 yards before the ball carrier was contacted by a defender and nearly double that after that contact. But it would be too simple to look at yards before contact as blocking yardage and yards after contact as running back yardage. While a low before contact yardage figure will definitely point to poor blocking, quality blocking will not always translate to more yards before contact.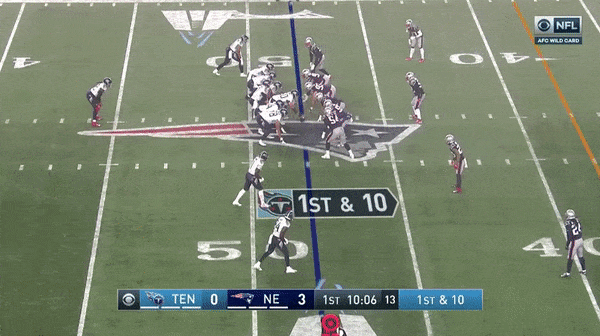 Take a look at this play from the postseason as an example. Derrick Henry is able to break off a pretty decent gain, and depending on the line you draw for what constitutes contact, generates 8-10 yards of it after contact. But that's only possible because of the hole opened up by Taylor Lewan driving his man all the way back to Nashville on the play. Lewan's block opens up a hole on the defensive line that allows Henry to cross the line of scrimmage with a full head of steam and not have to check his run to get around traffic before he can get rolling. Blocking may not always be reflected in yards before contact, but it will directly impact the success of the play, as it does here.