Now that the Kansas City Chiefs have been crowned Super Bowl LIV champions, the offseason is now officially underway. Some teams have more holes to fill than others, but every team has areas of their roster that could use some work heading into 2020. Using PFF's play-by-play grading and data points, we've identified areas of need for all 32 squads this offseason.
AFC NORTH
Baltimore Ravens: Someone who can generate pressure without a blitz
Secondary needs: interior offensive line, wide receiver, linebacker
The giant strides that the Ravens made offensively this season overshadowed just how interesting and effective their defensive scheme was. They blitzed more than any other defense has since the beginning of the PFF era in 2006 (55%), and they allowed just 4.6 yards per play on those plays, ranking third in the league behind the 49ers and the Bills. Using those blitzes and stunts to manufacture pressure allowed the Ravens to mask the fact that they didn't have a dominant pass rush. Their best pass rusher — Matthew Judon — is due for a new contract, and even he benefited from the scheme, with 35 of his 62 pressures coming as unblocked or cleanup pressures.
The Ravens don't have a long list of needs; they were one of the best teams in the NFL this season, even if they were one-and-done in the postseason. A pass rusher who consistently wins one-on-one matchups is on top of that small list, though. Additionally, they could use an interior offensive lineman, with Marshal Yanda's future up in the air, and a wide receiver to take away some snaps from Willie Snead IV and Seth Roberts. They also wouldn't turn down a multi-dimensional off-ball linebacker that could cover, defend the run and blitz after not paying C.J. Mosley a season ago and being thin at the position in 2019.
Pittsburgh Steelers:  New faces on the interior offensive line
Secondary needs: edge defender, field-stretching tight end, quarterback
The Steelers have had one of the most stable and consistent offensive lines in the NFL over the last several seasons, but it could be time to inject some new life into the group, particularly on the interior. Ramon Foster is 34 years old and coming off the worst overall PFF grade of his career in 2019. Maurkice Pouncey is also coming off the lowest PFF grade of his career and carries a cap hit of $11 million in both 2020 and 2021. It would behoove the Steelers to start looking toward the future at those positions, especially with backup interior offensive lineman B.J. Finney entering free agency.
As for other needs, the future of the quarterback position became a clear priority with the dismal play of Mason Rudolph and Devlin Hodges in relief of Ben Roethlisberger. No team had fewer receiving yards from the tight end position than the Steelers, so an upgrade could certainly be in order there to give Roethlisberger another downfield threat. Lastly, edge becomes a priority if Bud Dupree leaves in free agency, something that the Steelers shouldn't be afraid to allow happen if the price gets too high.
Cleveland Browns: Improvements at the tackle position
Secondary needs: linebacker, safety
As a unit, the Browns' offensive line slotted in at 23rd in PFF's end-of-the-year offensive line rankings. Part of that was the play they got from their tackles. Greg Robinson has never come close to living up to his second overall draft position in 2014. His 66.9 overall grade was the best of his career, but it still was among the bottom half of qualifying left tackles around the league. Meanwhile, Chris Hubbard is under contract for several more seasons, but he could be a cap casualty after ranking 36th out of 38 qualifying right tackles in PFF grade this past season. There is room for improvement at both positions.
The Browns also have several starters on defense ready to test free agency in Joe Schobert and Damarious Randall, but even if both return, Cleveland could stand to improve at those positions. The linebacker and safety positions for Cleveland combined to allow a 110.3 passer rating, 27th in the NFL — and ahead of only the Raiders, Cardinals, Jaguars, Lions and Dolphins. Replacing coverage liabilities with assets at those positions should be a priority.
Cincinnati Bengals: A quarterback who can deliver their first playoff win in 30 years
Secondary needs: everywhere
When the Bengals made the decision to go with Ryan Finley following their Week 9 bye, they made it clear that the Andy Dalton era in Cincinnati was over. Finley's 28.2 PFF passing grade in his three starts — backed by an impressive zero big-time throws compared to 10 turnover-worthy plays — showed that he isn't the long-term solution, either. Enter Joe Burrow. With the No. 1 overall pick in this year's draft, the Bengals would be foolish not to take Burrow, who is coming off arguably the greatest quarterback season that we've seen since the start of the PFF College era in 2014. He has the potential to be a true franchise changer for a team desperately in need of one.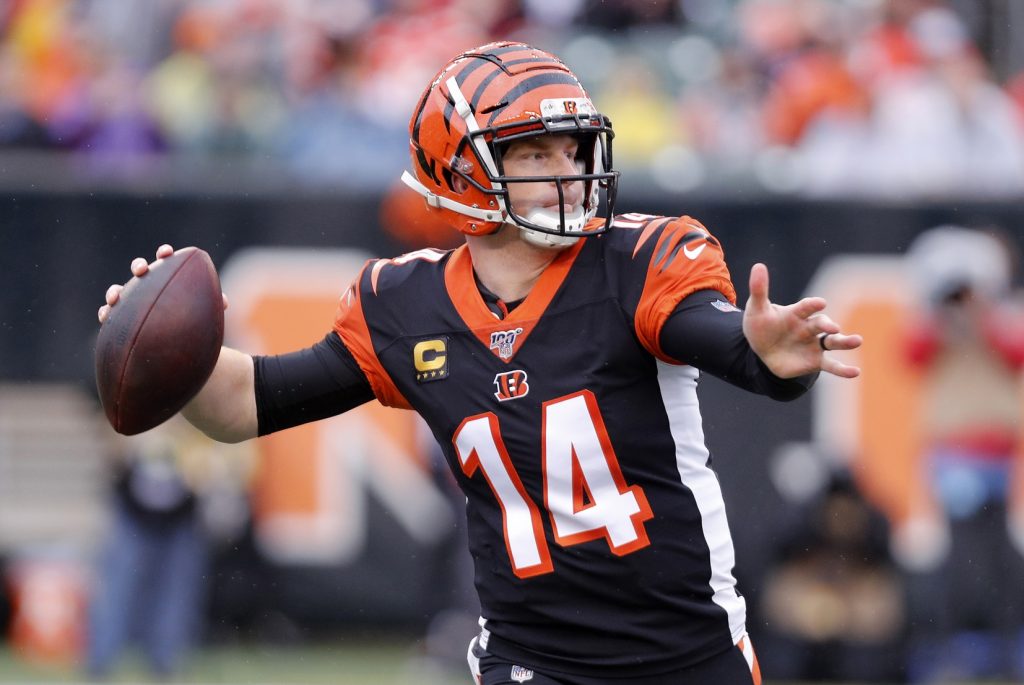 © David Kohl-USA TODAY Sports
The needs don't end at quarterback; the Bengals have legitimate holes to fill all over their roster. They ranked in the bottom half of the league in team passing, pass-blocking, receiving, rushing, run-blocking, run-defense, pass-rushing and coverage grades. There is room for improvement across the board.
AFC EAST
Secondary needs: quarterback, pass rushers
As much as people want to pile on Tom Brady for having a down year — which he did, by his standards — the weapons at his disposal were among the worst in the NFL. The Patriots haven't done a good job of drafting skill position players in recent seasons, and that left them thin after Rob Gronkowski's retirement and the departures of high-risk signings in Josh Gordon and Antonio Brown. There were a lot of rookie wide receivers who made legitimate impacts in their first season; N'Keal Harry wasn't one of them, posting a 66.6 overall grade in limited action. Whether it be at wide receiver to give Julian Edelman some help or at tight end, the Patriots need to go after offensive weapons who can get open.
With Brady's future in the air, quarterback could rise to the top of this list quickly. Regardless of Brady coming back, the Patriots need to look to the future of the position. Pass rushers will be in need, as well. The Patriots do a good job of manufacturing pressure with blitzes and stunts, but they had only one player with 200 or more pass-rushing snaps and a pass-rushing grade north of 70.0. That player is 2020 free agent Danny Shelton. The Patriots had a great defense this past season, but the individual pass-rush talent could be bolstered.
Secondary needs: edge defender, interior offensive line
Brown and Beasley proved to both be solid investments this offseason who could separate and provide reliable targets for Josh Allen in a revamped offensive scheme that was built by Brian Daboll to highlight Allen's strengths. Both receivers are going to be on the wrong side of 30 next season, though, and the Bills could use a bigger, field-stretching wide receiver to complement their skills. On the season, Bills receivers caught just 40.3% of their contested catch opportunities (28th in the NFL). Adding someone who excels in those tight-window situations would give Allen another weapon to work with.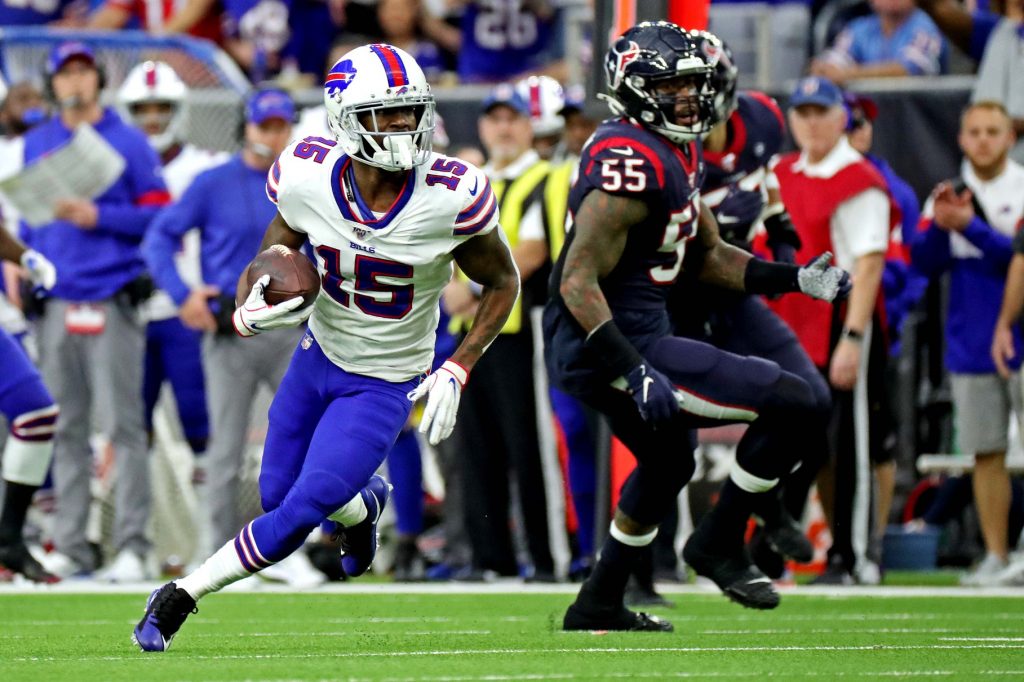 © Kevin Jairaj-USA TODAY Sports
The offensive line is another area that the Bills can look to just a season after investing heavily in the unit. Quinton Spain is set to become a free agent, and the Bills should be looking to upgrade there, anyway. Spain ended the 2019 season with a 55.9 overall grade that ranked 28th among 39 qualifying left guards. Edge defender could also be addressed, with Lorenzo Alexander retiring and Shaq Lawson entering free agency off a career-high 14.4% pressure rate in 2019.
Secondary needs: cornerback, edge defender, wide receiver
The Jets' highest-graded offensive lineman this season was left tackle Kelvin Beachum (67.1). His grade ranked just 21st among qualifying players at the position, and he is set to become an unrestricted free agent this offseason. It was an overall lackluster performance from the group in 2019. They allowed pressure in 2.5 seconds or less on 27.5% of their dropbacks (second-highest rate in the NFL), and no team created fewer yards before contact in the run game than the Jets did. They could use some fresh faces among the five guys up front to lead a turnaround.
Their remaining biggest needs lie on the defensive side of the ball. The Jets' best edge rusher this season was Jamal Adams — a safety — which tells you that they could stand to upgrade at the position. Cornerback also looks like a position that they can attack despite somewhat surprising strong seasons from Brian Poole (80.0 coverage grade) and Maurice Canady (73.6) in addition to Blessuan Austin (69.9) in limited action.
Miami Dolphins: A reason not to put Ryan Fitzpatrick back on the field (as fun as that may be)
Secondary needs: offensive line, everywhere
For the situation around him, Fitzpatrick played about as well as you could have expected this season. His 76.5 overall PFF grade ranked 14th among quarterbacks, and he developed chemistry with breakout receiver DeVante Parker down the stretch. But at this stage of his career, we know what Fitzpatrick is — a volatile, stop-gap solution for a team looking for a long-term option at quarterback. The Dolphins are in a strong position to make a play for that quarterback this offseason, whether it be through free agency or the draft.
They also need an offensive line to protect whoever that quarterback is because their group up front this season was the worst in the NFL. They had the worst time to pressure allowed in the league along with the worst quick pressure rate allowed (33%). That's a quick way to ruin the start of any young quarterback's career. Like the Bengals, they won't turn down upgrades at any position, though. Their roster was among the worst in the league, and they have a good amount of work to do this offseason to turn it around.
AFC SOUTH
Secondary needs: offensive line, linebackers who can cover
The Texans' cornerbacks had a higher PFF coverage grade than only the Dolphins this season. That's not where you want to be. Second-round pick Lonnie Johnson Jr. was consistently beaten when on the field, picking up a 31.7 coverage grade in 532 defensive snaps while allowing a 128.9 passer rating on throws into his coverage. Trade acquisition Vernon Hargreaves III wasn't much better, earning a 50.3 coverage grade and a 125.6 passer rating allowed after coming from Houston. With the younger players like that struggling like they did and veterans such as Johnathan Joseph and Bradley Roby set to hit free agency, cornerback should be at the top of Houston's list.
The Texans went after offensive line help in last year's draft, and they could go back to it in 2020. Max Scharping and Zach Fulton both failed to crack 60.0 overall grades at guard. Fulton is a prime candidate for release to create $7 million in cap savings. The Texans should also look to improve in coverage at the linebacker position. No team's linebackers allowed a higher passer rating into their coverage than Houston's did (124.7).
Secondary needs: quarterback, running back, offensive tackle
The Titans had nine players with 100 or more pass-rushing snaps this season. The only one with a pressure rate above 10.0% was Cameron Wake. He is nearing 38 years old. What Wake has been able to do at this stage of his career is remarkable, but at some point, that is going to come to an end. Harold Landry hasn't yet shown the ability to consistently win as a pass rusher, failing to crack a 65.0 pass-rushing grade in each of his first two seasons. That means the Titans need to find a difference-maker off the edge to improve on their 32% pressure rate as a team that ranks 27th in the NFL.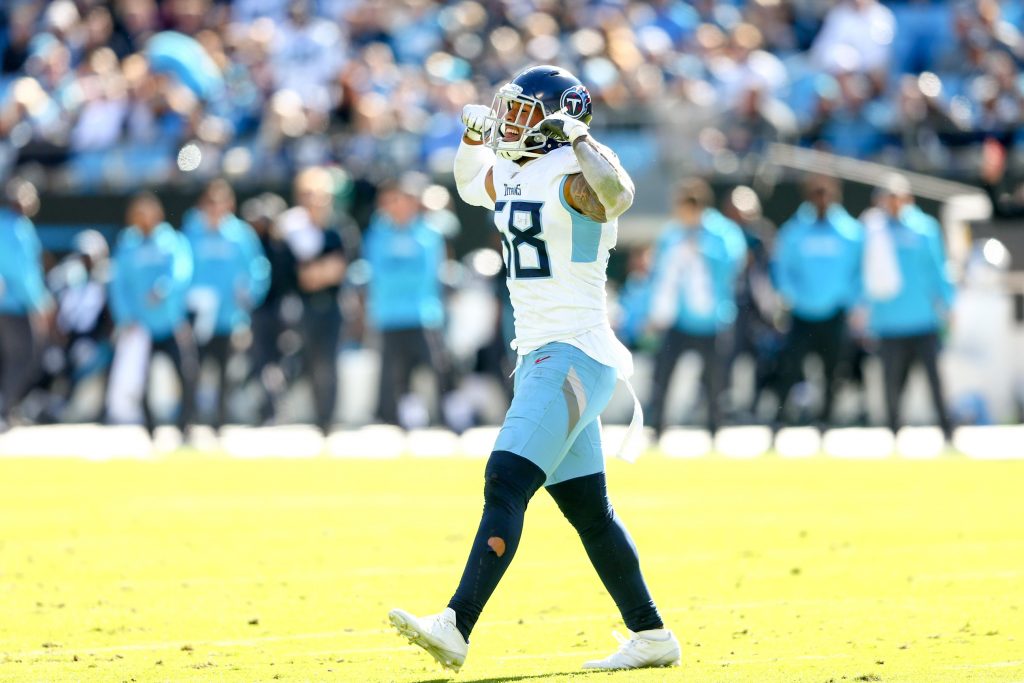 © Jeremy Brevard-USA TODAY Sports
The other big needs for the Titans come down to what they decide to do with the players currently on their roster who are entering free agency. Ryan Tannehill, Derrick Henry and Jack Conklin are all offensive starters who have played well this season, and the Titans have to decide whether they are willing to commit to each long term.
Secondary needs: reliable receiving options, defensive line
The Colts made Brissett their guy following Andrew Luck's retirement, and he is under contract through next season with a cap hit of over $20 million. He showed this season that he is not a long-term solution at the position, however, despite some early-season success. Brissett ended the year as the 29th graded PFF quarterback out of 32 qualifiers, ahead of only Case Keenum, Mason Rudolph and Kyle Allen. His 23.9% uncatchable pass rate trailed only Josh Allen. There weren't a whole lot of things that went right for Brissett, and there doesn't look to be much upside to the Colts running him back out there in 2020.
The Colts' offensive struggles can't be pinned solely on Brissett, though. His receiving options left a lot to be desired, particularly with T.Y. Hilton dealing with injuries for much of the year. Parris Campbell didn't have nearly the same impact as some of his fellow rookie wide receivers, catching just 18 passes for 127 yards in 119 routes run this season. With those struggles and Eric Ebron looking like he's on his way out of town, the Colts need to address their receiving corps this offseason.
Secondary needs: interior defensive line, offensive line, tight end
The Jaguars had six different linebackers play 200 or more defensive snaps this season. Their overall grades were 46.1 (Myles Jack), 33.1 (Quincy Williams), 26.9 (Donald Payne), 68.1 (Leon Jacobs), 41.6 (Najee Goode) and 44.4 (Austin Calitro). Those are some rough performances, particularly from Jack — who just received a hefty contract extension this offseason. With uncertainty over whether Telvin Smith will ever return, the Jaguars need to address the position and hope that Jack bounces back from a down season in 2019.
The Jaguars' offensive and defensive lines could use some help, as well. Left tackle Cam Robinson (54.8 overall PFF grade) and the right guard tandem of A.J. Cann (54.8) and Will Richardson (43.0) were the weakest links offensively, while the defensive line could use some reinforcements on the interior to pair with Taven Bryan's promising sophomore campaign. The Jaguars should also look to improve the tight end position, where James O'Shaughnessy led the way with just 14 receptions and 1.35 receiving yards per route run.
AFC WEST
Secondary needs: linebacker, running back
Charvarius Ward and Rashad Fenton have both shown they can provide solid play at cornerback, but neither is a proven, lockdown defender at this point in their careers. Outside of those two, Bashaud Breeland seems unlikely to return with the team in 2020 after picking up a 43.9 PFF coverage grade in 560 coverage snaps during the regular season. Kendall Fuller has also struggled, posting a 55.3 coverage grade and a 131.4 passer rating allowed on his 33 targets. The Chiefs could stand to add a couple cornerbacks to improve the competition there this offseason.
Damien Wilson (55.3 overall grade), Anthony Hitchens (49.0) and Ben Niemann (59.7) are all candidates to be replaced with upgrades heading into 2020, as well. The Chiefs could also look to target a running back this offseason, as none of the options they've gone with this season have been overly impressive. As we saw in their win over the Texans in the Divisional Round, though, they shouldn't prioritize running back early, as they can hang 51 points on a team without a run game.
Secondary needs: offensive line, cornerback
Sutton emerged this season as a legitimate No. 1 wide receiver who could step into the void left by Emmanuel Sanders after his trade and flourish in it. He was the only player to step up in that receiving corps, though. Tim Patrick led the rest of the Broncos' wide receivers with only 1.18 yards per route run — almost a full yard less than Sutton — and DaeSean Hamilton was next in total receptions (28). If the Broncos want to full evaluate Drew Lock next season with a full arsenal of weapons at his disposal, they need to give Sutton some help.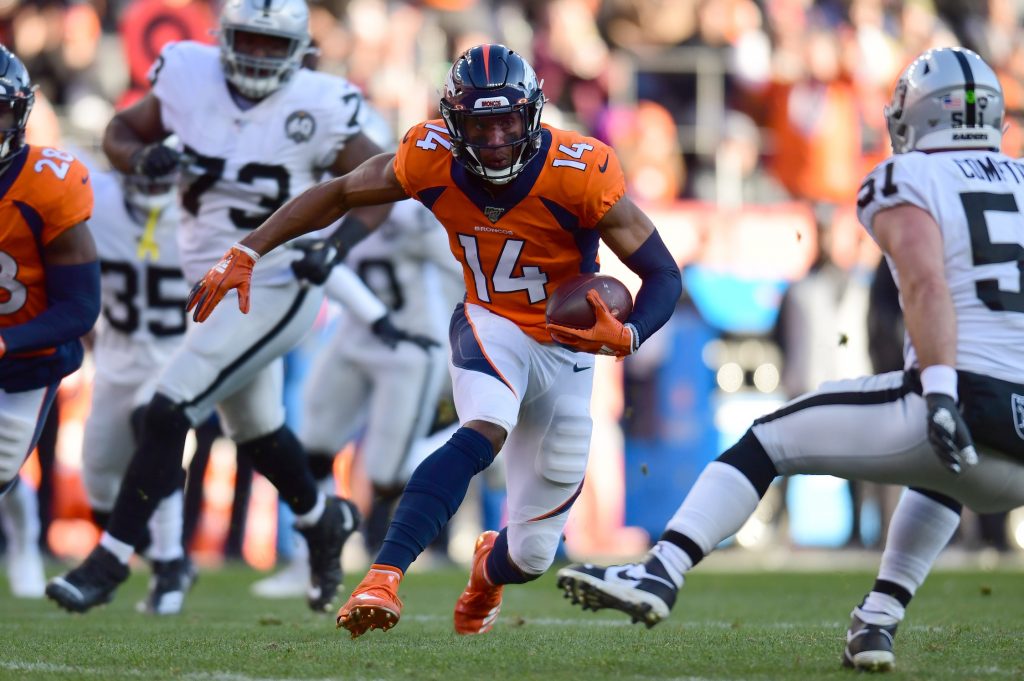 © Ron Chenoy-USA TODAY Sports
The Broncos' offensive line wasn't as bad as the consensus claims, finishing 12th in PFF's end-of-the-year offensive line rankings, but there is still room for improvement. They also have a potential big swing at cornerback if they don't retain one of the best at the position over the past decade in Chris Harris Jr. Even if they keep Harris, all the other cornerback positions could be upgraded. As a team, the Broncos' cornerbacks graded in the bottom half of the NFL this past season.
Secondary needs: wide receiver, linebacker
Problems have existed in the Raiders' secondary for years now, and they've tried to remedy that by bringing in players through the draft and free agency in recent seasons. It hasn't worked to this point. The secondary was still a major issue in 2019. No team in the NFL allowed more expected points per pass play than the Raiders, and they were one of the more susceptible teams to big plays, allowing 2,196 passing yards on gains of 20-plus yards. That was more than any other team in the league. Whether it be cornerback, safety or linebacker, the Raiders should continue to try and remedy their coverage woes.
Another position that the Raiders went after this past offseason but needs attention once again is wide receiver. Obviously, the saga that was Antonio Brown's 2019 season has a lot to do with that. Because of that, Tyrell Williams was thrust into a No. 1 role that he isn't best suited for. Hunter Renfrow had a strong rookie season with a 76.0 overall grade, but the Raiders should continue to be on the hunt for dynamic receivers as they prepare to make the move to Las Vegas.
Secondary needs: quarterback, interior defensive line
The Chargers' offensive line has been the biggest deficiency on their team for some time now. They haven't had a team pass-blocking grade ranked higher than 26th in the league since the 2014 season. That's five years of bottom-of-the-barrel performances, and that begins to take a toll on an offense. They had dismal play from tackles Sam Tevi and Trent Scott, combining to allow 88 quarterback pressures — second-most among tackle duos this season.  The interior offensive line play wasn't a whole lot better, particularly from Dan Feeney, who earned a 51.2 overall PFF grade. It's going to take a lot to overhaul this line, but the Chargers need to start the process.
The man that line has protected — Philip Rivers — enters an interesting offseason where several veteran quarterbacks have contract situations up in the air. The Chargers must decide whether they want to give it another shot and run it back with a roster that was more talented than the results would indicate this season or if they want to move on at quarterback. They may not have a choice given several recent reports. Los Angeles also needs to add depth at interior defensive line after a disastrous rookie season for Jerry Tillery in which he was the lowest graded player at the position in the entire league.
NFC NORTH
Green Bay Packers: A secondary option in the passing game
Secondary needs: linebacker, cornerback
Davante Adams is one of the best wide receivers in the NFL, hands down, and he displayed that in the Packers' victory over the Seahawks this past weekend. The Packers don't really have a whole lot of reliable weapons in the passing game outside of Adams, though. Geronimo Allison and Marquez Valdes-Scantling both have PFF overall grades south of 60.0, and while Allen Lazard has flashed some potential in his second season out of Iowa State, the Packers could use an upgrade at their number two wide receiver spot. The same can be said for tight end, where Jimmy Graham is nowhere near the same player he was back with the Saints and Jace Sternberger has had his rookie year derailed by injury.
Next on the list for the Packers would be the linebacker position. Blake Martinez was the only player to play more than 300 snaps there for Green Bay this season, and he ended the year with a 58.7 overall grade — largely because he struggled in the run game (47.0 grade). The Packers will have a decision to make on whether to bring him back or not for 2020 at the price he'll command on the market. Cornerback could also be an area Green Bay looks given the age of Tramon Williams and the shaky play from Kevin King at times.
Minnesota Vikings: Cornerbacks who can cover as well as the Vikings' linebackers and safeties can
Secondary needs: interior offensive line, wide receiver
For the most part, the Vikings have a very strong defense. They have the top edge-rushing duo in the NFL in total pressures (Danielle Hunter and Everson Griffin), the highest-graded linebacker in the NFL (Eric Kendricks) and a safety duo that combined for the highest forced incompletion rate in the NFL (Anthony Harris and Harrison Smith). The cornerback position undid a lot of that good, however, with how porous it was throughout the season. Xavier Rhodes is a prime candidate to be released after allowing 84% of the passes into his coverage to be completed. No cornerback on the team finished with a coverage grade above 65.0. Fixing that will be the top priority.
The Vikings' interior offensive line was routinely abused in pass protection. They combined to allow a pressure roughly once every five dropbacks, which ranked last among all teams this season. Upgrades there, along with at wide receiver, should be in order this offseason. As we saw following Adam Thielen's injury this year, the depth behind him and Stefon Diggs is lacking.
Secondary needs: offensive line, tight end
We're going into Year 4 of Trubisky as the Bears' starting quarterback, and he has still failed to crack a 70.0 PFF overall grade. He just isn't going to develop into the guy the Bears were hoping for when they took him as the second overall pick in the 2017 NFL Draft. With plenty of intriguing quarterback options available to the Bears via free agency this offseason, they should attack the position to get back to contending in 2020.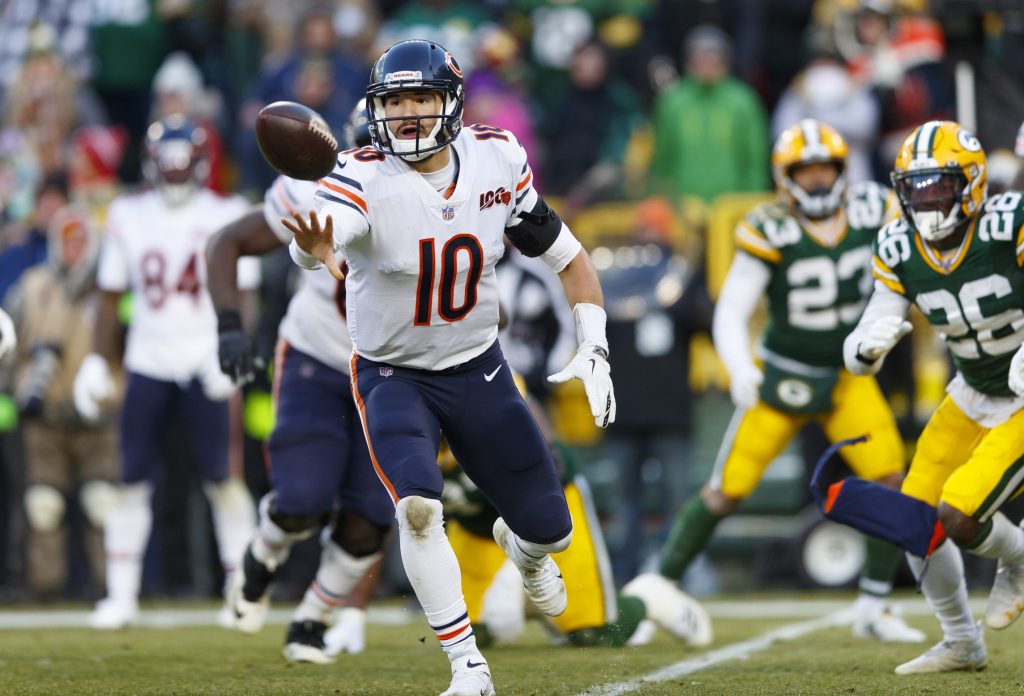 © Jeff Hanisch-USA TODAY Sports
There are a few other positions along the offense that could use some work, with the offensive line being at the forefront. That group took a big step back from where it was a season ago, finishing 25th in our final offensive line rankings following the regular season. Along with the offensive line, the tight end position could use some work. The 425 combined receiving yards by Bears tight ends was more than only the Patriots and the Steelers this season. Injuries to Trey Burton and Adam Shaheen played a role in that, but even prior to their ailments, they weren't making an impact.
Secondary needs: pass rushers, linebackers
Slay has widely been considered one of the best cornerbacks in the NFL over the past five or so years, and he has been exactly that. This season, though, he took a step back with a 56.9 overall grade, and he is set to enter free agency in 2021. Outside of Slay, Justin Coleman and Rashaan Melvin (free agent in 2020) both struggled with passer ratings allowed north of 100.0 and coverage grades south of 60.0. Rookie cornerback Amani Oruwariye flashed some promising performances to close the season, but the Lions still need to address the position.
Surprisingly, given the addition of Trey Flowers and Mike Daniels to a talented group from the 2018 season, the Lions also need to add pass rushing this offseason. Their 30.3% pressure rate this season ranked 29th in the NFL — ahead of only the Dolphins, Seahawks and Falcons. Getting someone other than Flowers who can rush the passer should be in the cards. They should look to improve their linebacking corps, as well, as Jarrad Davis (40.4 overall grade) and Christian Jones (43.8) both finished the 2019 season with PFF grades among the worst at the position.
NFC EAST
Secondary needs: cornerbacks, safety
The Eagles' 2019 season was defined in large part by their attrition, particularly at offensive skill positions down the stretch. A lack of wide receivers, and specifically Desean Jackson, due to injury created a season in which running back Miles Sanders led the team in receiving yards on passes 20 or more yards downfield. It's hard to have an effective passing game when that is your reality. Jackson should be back and healthy in 2020, but the Eagles could still benefit by adding a speedy receiver or two this offseason.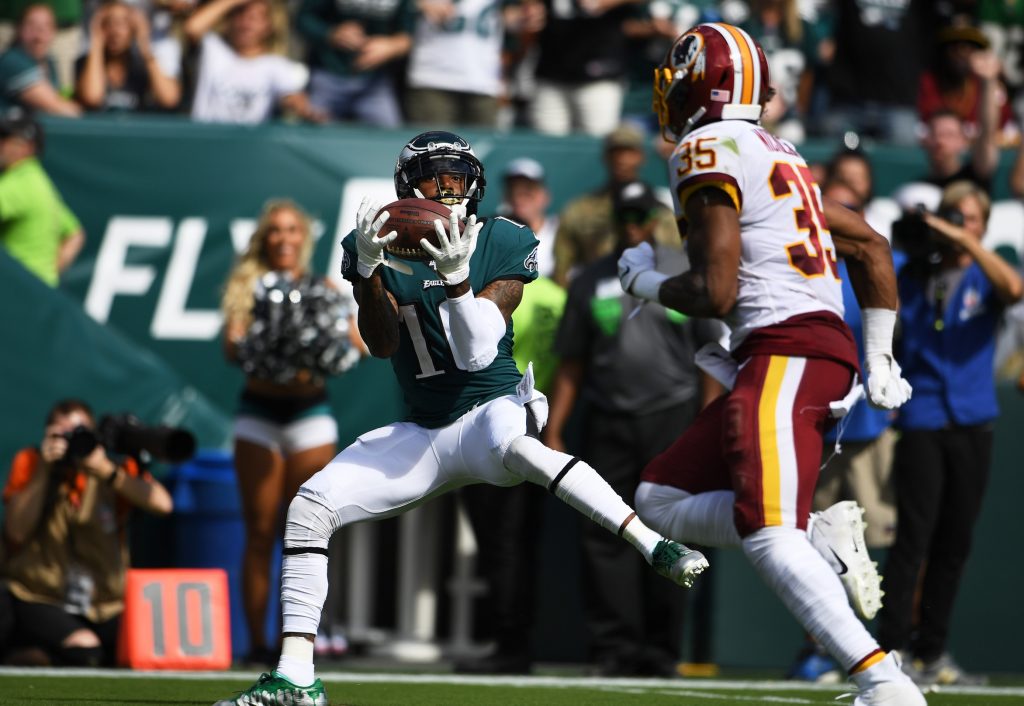 © James Lang-USA TODAY Sports
On the other side of the field, the Eagles' coverage was one of their bigger weaknesses. The cornerback position provided subpar play for much of the year. Rasul Douglas, Avonte Maddox, Ronald Darby and Jalen Mills all finished the season with PFF grades below 60.0, and Darby had one of the worst coverage lines of any cornerback in the league with 17 yards allowed per reception and a 117.9 passer rating into his coverage. Adding cornerbacks and safeties who can positively impact the most important aspect of defense in today's NFL — coverage — will be key for Philadelphia this offseason.
Secondary needs: tight end, defensive line
The Cowboys' offseason needs revolve around keeping their stars at important positions locked down with new contracts. Prescott earned the second-most wins above replacement of any quarterback this season and showed that he can run one of the most efficient passing offenses in the NFL. Cooper was a top-10 wide receiver this season by PFF overall grade. Jones is a top-10 cornerback in PFF coverage grade over the last two seasons among qualifiers. These are impact players at impact positions, and though the Cowboys will be strapped for cap space, they need to make every effort to keep all three.
Outside of in-house work that needs to be done, the Cowboys should look to improve their depth at tight end and along the defensive line. Jason Witten wasn't the savior at the tight end position in his return from the broadcast booth, and the Cowboys have several of their better pass rushers not named Demarcus Lawrence — Robert Quinn and Maliek Collins — entering free agency this offseason.
Secondary needs: cornerback, offensive tackle
With the fourth pick in the 2020 NFL Draft, the Giants aren't likely to win the Chase Young sweepstakes. But Young or no Young, they need a reliable pass-rushing option off the edge. Markus Golden impressed with a double-digit sack total this season, but he enters free agency with a PFF pass-rushing grade of 63.0 that indicates he wasn't as strong there as his sack total would suggest. The Giants will be in the hunt for edge defenders across free agency and the draft — either to play alongside Golden or replace his production from this season.
The Giants should also be on the lookout for cornerback help after the recently drafted cornerbacks they ran out there this season failed to produce. DeAndre Baker, Grant Haley, Corey Ballentine and Sam Beal were all drafted within the last two seasons, and they all failed to produce a 60.0 coverage grade, while all four also allowed a passer rating of at least 100.0 into their coverage. Along with looking for improvements to a tackle duo of Mike Remmers and Nate Solder that allowed more combined pressures than any pair in the NFL, the Giants should look to the secondary this offseason.
Secondary needs: offensive line, tight end
The Redskins had one elite player at both wide receiver (McLaurin) and cornerback (Dunbar) this season. That's a good start, but the problem was that the remaining players at each of those positions left a lot to be desired. McLaurin had an 85.7 PFF receiving grade, one of the highest marks that we've seen from a rookie wide receiver in the PFF era. No other wide receiver had a grade higher than 65.0. Similarly, Dunbar ranked second among all cornerbacks in coverage grade (89.5) to only Richard Sherman, but no other Redskins' cornerback topped 65.0. Getting some depth at those positions should be a priority for Washington.
The offensive line had a decent season without its best player, Trent Williams. The unit finished 13th in the final PFF offensive line rankings, but its top-ranked offensive lineman from this season — Brandon Scherff — is set to be a free agent, and there are still questions at the tackle position given the age of Donald Penn and the regressing play of Morgan Moses. Tight end also becomes a spot to attack, with Jordan Reed missing the entire 2019 season and playing just over 700 snaps in the past three years due to injury.
NFC SOUTH
Secondary needs: quarterback, cornerback
Michael Thomas is awesome. He just had one of the best wide receiver seasons that we've ever seen, hauling in an NFL record 149 passes for 1,725 yards and nine touchdowns this season. As his Twitter handle says, you can't guard Mike. Life would be easier for him, though, if the Saints added a second wide receiver who could lighten the load. No wide receiver besides Thomas registered over 1.00 yards per route run for the Saints this season. Ted Ginn Jr. and Tre'Quan Smith were two of just 15 wide receivers with 250 or more routes run and less than one yard per route run. Improving that situation would go a long way to improving the offense.
The person distributing the football to the receiving options in 2020 is still up in the air. Drew Brees and Teddy Bridgewater are both entering free agency this offseason, so the Saints have a decision to make as to which direction they want to take at the quarterback position. Similarly, they have a decision to make at cornerback, where Eli Apple will be a free agent. Marshon Lattimore's job is secure at one of the outside cornerbacks, and rookie Chauncey Gardner-Johnson was fantastic in the slot, but the other outside cornerback position will be up for grabs heading into 2020.
Secondary needs: edge defender, offensive line
There's no getting around the fact that the Falcons were bad in coverage in 2019. They ranked 26th in expected points allowed per pass play, and Isaiah Oliver and Kendall Sheffield both disappointed with PFF coverage grades below 55.0. Desmond Trufant ended the season as PFF's 31st highest-graded cornerback and has been solid throughout his career, but the Falcons need to add some pieces around him to succeed next season.
They also have several decisions to make regarding their edge defenders who are set to be free agents — Vic Beasley Jr. and Adrian Clayborn. Though Beasley ended the year with more sacks, Clayborn was the better pass rusher on a per-snap basis and probably makes more sense to bring back on a less expensive deal. Meanwhile, the offensive line really struggled this season after the Falcons put a lot of resources into the unit last offseason. Left guard would be the priority to upgrade, as free agent acquisition James Carpenter managed just a 45.3 overall grade there last season.
Tampa Bay Buccaneers: Figure out what the plan is at quarterback moving forward
Secondary needs: edge defender, offensive tackle
The Buccaneers are one of the teams this offseason with a veteran quarterback in limbo. Jameis Winston has been one of the more polarizing players in the league, pushing the ball downfield with reckless abandon and racking up yards, touchdowns and interceptions in the process. We've been in the camp that the Buccaneers should give Winston one more chance to see if they can capture a high-variance season, but they will have to decide whether they are willing to live with all the negative plays and risk that he brings to the table. Winston's 149 turnover-worthy plays since 2015 are 22 more than any other quarterback in the NFL.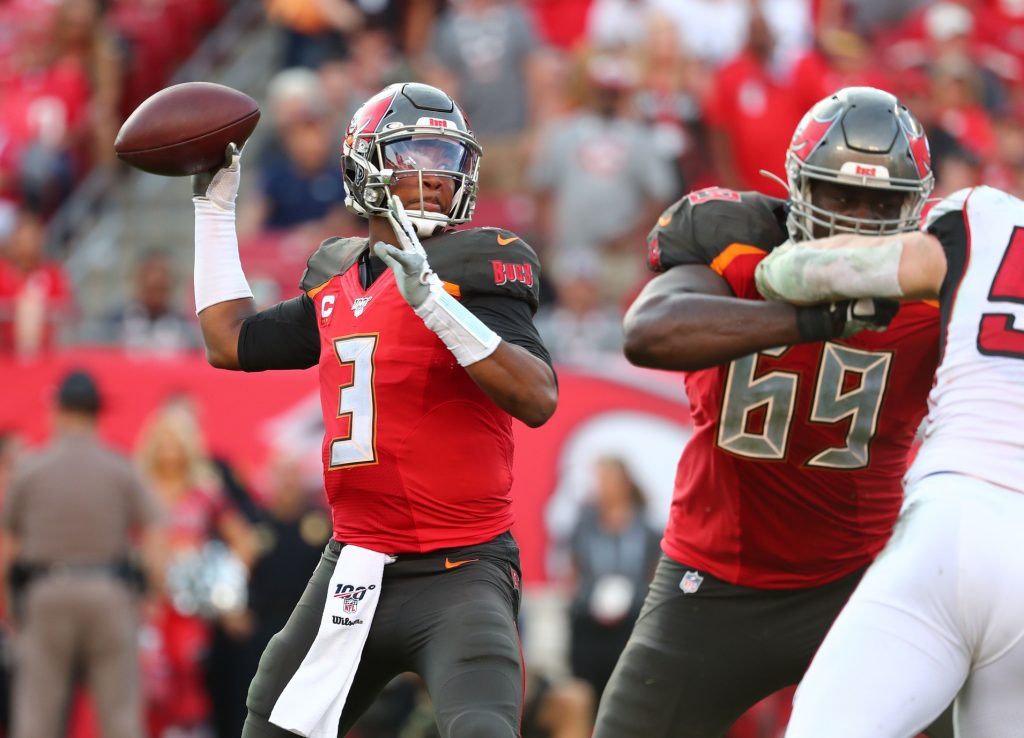 © Kim Klement-USA TODAY Sports
Outside of Winston, the Buccaneers also have a high-value defensive free agent set to hit the market in Shaquil Barrett, who certainly boosted his value this season on a one-year, prove-it contract by leading the NFL in sacks. Depending on the price point, the Buccaneers will have to decide on Barrett and then depth at the position, since Barrett's 81 total pressures nearly doubled the next closest Bucs' edge defender — Jason Pierre-Paul (44).
Secondary needs: quarterback, offensive line
None of James Bradberry, Ross Cockrell or Donte Jackson had seasons that the Panthers will be feeling confident about heading into the 2020 campaign. All three finished with PFF overall grades of 60.0 or lower, and they were the worst in the league when asked to come up and make plays in run defense. Though not the most important task that a cornerback is assigned, their 38.1 run-defense grade as a cornerback unit ranked worst in the league by far.
Like many teams, the Panthers also have a decision at quarterback. Injuries have kept Cam Newton at less than full strength for several seasons now, and his backups who saw action this season — Kyle Allen and Will Grier — posted PFF overall grades of 49.7 and 29.0, respectively. Neither of them is the long-term solution from what we've seen, so the Panthers will have to decide if they want to continue to commit to Newton and hope he can remain healthy or if they should look elsewhere this offseason.
Several recent departures of veteran leaders left a couple more holes on the roster at linebacker and tight end. Shaq Thompson is left to carry the torch for the league's best linebacker for much of his career, Luke Kuechly, and that's not an easy task. He played reasonably well in 2019 with a 66.4 overall grade, but the Panthers need to add depth behind him. The same can be said for Greg Olsen. Ian Thomas and Chris Manhertz are the leading options as of now, but both could be improved upon this offseason.
NFC WEST
Secondary needs: wide receiver, safety
The 49ers don't have a whole lot of holes on their roster, but one of the areas that could be upgraded is the offensive line and, more specifically, the interior offensive line. Laken Tomlinson, Mike Person and Weston Richburg have all been solid if not spectacular in 2019, but they could benefit from added depth and more competition at those positions.
The wide receiver position really comes down to the 49ers retaining Emmanuel Sanders on a new deal after trading for him this season. He has some of the surest hands in the league, dropping only one pass on 96 targets this season, and the 49ers would surely love to have him back in 2020. Safety is a similar story with Jimmie Ward. He has been the seventh-highest graded safety in the NFL this season (84.2), but he enters this offseason as a free agent. Keeping those two in house would be a win for San Francisco.
Secondary needs: defensive line, cornerback
No qualifying quarterback has been under pressure on a higher percentage of their dropbacks since entering the league than Wilson has. He's the only quarterback over 40% since 2012. Things weren't any better in 2019, as the Seahawks were one of the worst pass-blocking teams in the NFL. They allowed pressure in 2.5 seconds or less on 26.7% of his dropbacks and forced him into improvisation mode more often than you'd like to see. Duane Brown has been the only truly consistent player on that line, so upgrades anywhere else make sense heading into next year.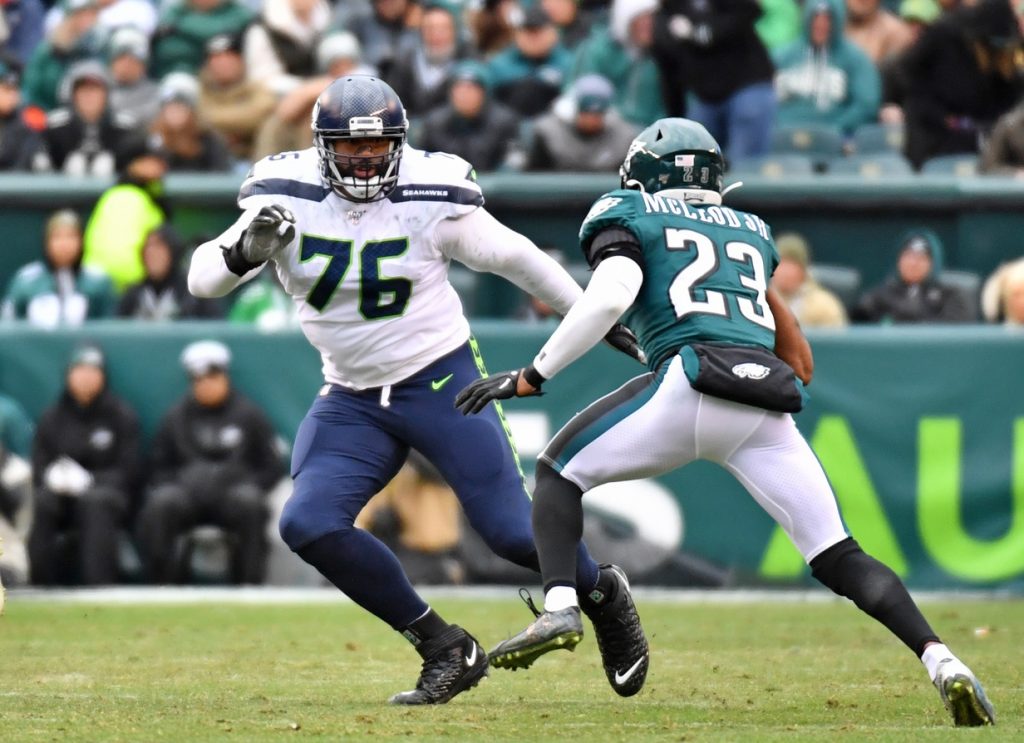 © Eric Hartline-USA TODAY Sports
The Seahawks will also need to look for reinforcements to the defensive line, particularly if they aren't able to retain Jadeveon Clowney. Even with Clowney this season, the Seahawks forced more pressure than only the Dolphins. Cornerback is also a position of need. Outside of Shaquil Griffin and his 21.2% forced incompletion rate that ranked second among cornerbacks, the Seahawks don't have any long-term answers at the position. Tre Flowers managed only a 53.1 coverage grade, and no other cornerback played more than 200 coverage snaps given how often they ran base defense.
Los Angeles Rams: Offensive linemen that can get the Rams' line back to its 2018 form
Secondary needs: edge defender, linebacker
The Rams' offensive line was one of the better units in the league in 2018, and their offense flourished behind it as a result. That all fell apart this past season, with injuries and personnel changes taking a toll on the group. They finished the season 31st in PFF's offensive line rankings, and now, the most consistent player from the line — Andrew Whitworth — is set to be a free agent at 38 years old. There isn't a position on the line that the Rams can't look to improve on in 2020.
They should also look to add some new pieces defensively. Edge defender becomes an area of need with the impending free agency of Dante Fowler Jr., but even if the Rams retain him, they can look to improve the other starting edge slot over Clay Matthews (54.2 overall grade in 2019) and Samson Ebukam (66.7). At linebacker, the Rams should make every effort to re-sign Cory Littleton. Since 2018, his coverage grade of 90.1 trails only Lavonte David and Luke Kuechly among linebackers with 1,000 or more defensive snaps.
Secondary needs: offensive line, wide receiver
No team had a worse defensive success rate (percentage of plays where they allowed positive expected points) than the Cardinals in 2019. A big part of that was just how bad they were in coverage, allowing a 117.9 passer rating on targeted passes and 75.5% of all those passes to be completed. Those were both league-worst marks during the regular season. Whether it be linebackers, cornerbacks or safeties, the Cardinals need to address that problem prominently this offseason.
There is also work to be done on the offensive line. Kyler Murray was at fault for the most sacks of any quarterback in the NFL this past season, so the pass protection wasn't as bad as it might seem — and it was much improved over last season — but the Cardinals were one of the worst run-blocking teams in the NFL by PFF grade. They'll also have to face the possibility that Larry Fitzgerald will be retiring soon, if not this season, and there are many unknowns in the receiving corps outside of him. No Cardinals wide receiver other than Fitzgerald ran more than 250 routes and recorded a receiving grade higher than 65.0 in 2019.