If you go take a look at the cap space available for every team at Over the Cap, it's not a pretty picture for the Minnesota Vikings. They are over $10 million in the hole as it stands right now, and they have a large portion of their secondary ready to hit free agency (Anthony Harris, Trae Waynes, Mackensie Alexander and Jayron Kearse). This is a team that just went 10-6 and won a playoff game, so you have to imagine that they will be looking to compete again next season. The lack of resources at their disposal makes it significantly harder to retool and improve this offseason, however. That lack of flexibility will force them to make some tough decisions in the coming weeks and months. 
[Editor's note: Available to all of PFF's EDGE and ELITE subscribers, PFF's Free Agent Rankings Page consists of three-year grades, PFF WAR and in-depth analysis for all of the top NFL free agents. Contract information from our friends at Over The Cap is also available. Subscribe today for access!]
Cut Candidates
I am by no means a salary cap expert, so the purpose of including these figures from Over the Cap is to provide a rough — emphasis on the rough — idea of the money the Vikings would have to work with after parting ways with some of their veteran players. And they will have to part ways with some of their veterans. With all these cut candidates, restructured deals to reduce the cap hit are also on the table, but for simplicity's sake, we'll assume the players aren't willing to restructure their deals, which leads to their release. 
CB Xavier Rhodes ($4.8 million dead money / $8.1 million savings)
New cap space: -$3.3 million
This has been written about before, but it just makes too much sense to cut Rhodes. At this stage of his career, it is very clear that he is doing more harm to the defense than good when he's out on the field. Teams targeted him mercilessly this past season, and it resulted in plays like this one by Courtland Sutton too often.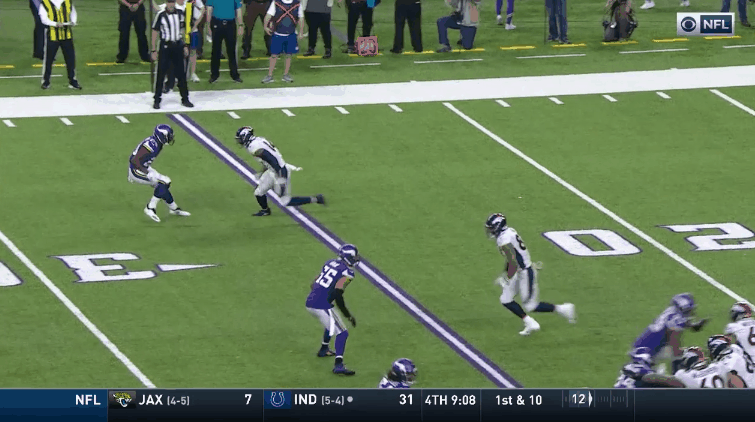 When Rhodes wasn't allowing a league-high 84.3% of the passes thrown into his coverage to be completed, he was committing penalties at a top-five rate among cornerbacks (10). The fact that he made the Pro Bowl this season tells you all you really need to know about the Pro Bowl. It's best for both parties at this point if Minnesota moves on this offseason. 
Subscribe to PFF Edge to continue reading
Already have a subscription? Sign In