The New England Patriots are in uncharted waters. Gone is Tom Brady, arguably the best quarterback in league history, and with him the more than 44 wins above replacement since we've been charting the metric (2006). Also gone are Duron Harmon, Danny Shelton, Elandon Roberts, Kyle Van Noy and Jamie Collins from a defense that was first in the NFL in expected points allowed in 2019. The team used a second-round pick on wide receiver Mohamed Sanu during the season and still didn't see an uptick in efficiency at the position, even with the targets available after the retirement of tight end Rob Gronkowski last offseason. 
In a free agency period that saw unprecedented movement at the quarterback position, with Brady, Philip Rivers, Teddy Bridgewater, Marcus Mariota, Chase Daniel and Case Keenum all changing teams, and Cam Newton, Jameis Winston and Joe Flacco still available, there is a significant chance that the Patriots go into the 2020 season with fourth-round incumbent Jarrett Stidham and third-time Patriot Brian Hoyer at the position.  
What Are Stidham's Chances of Success?
If the Patriots are trying to win in 2020, this is a poor decision, as Stidham had one of the worst projections in our college-to-pro system going into last year, with statistical comps like Colt McCoy, E.J. Manuel, Christian Ponder, Deshone Kizer and… Josh Allen (sorry, Bills fans).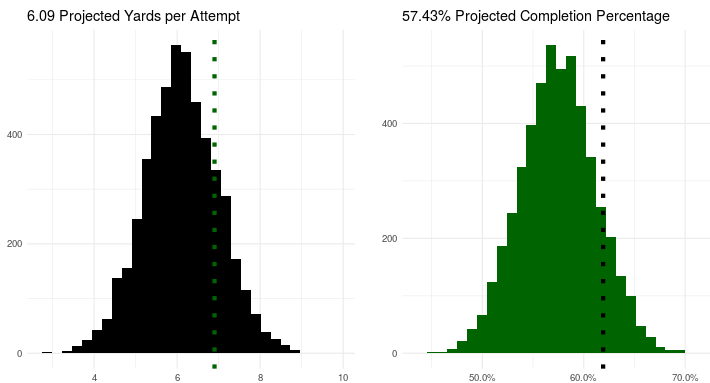 Jarrett Stidham's projected yards per attempt and completion percentage during the first five years of his NFL career in the context-free environment.  Median NFL players during their first five years are represented by the dotted line.