The 2020 NFL Scouting Combine is officially here, and PFF is in Indianapolis covering the event.
Quarterbacks, tight ends and wide receivers addressed the media on Tuesday, and these were some of the notable quotes that followed. In this article, we'll analyze the key takeaways by using the advanced statistics that can be found in PFF's recently released and newly updated 2020 NFL Draft Guide.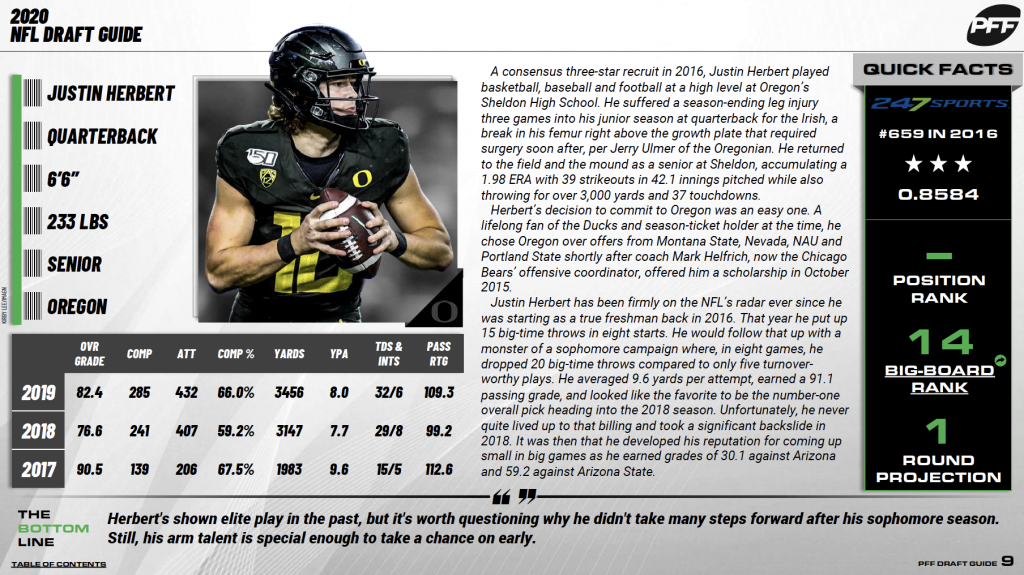 "Joe Burrow put any rumors of him not wanting to go to the Bengals to rest. Says he wants to be the first pick and "be able to go home for dinner" with Cincy so close to his hometown" – Mike Renner
We've said it before and we'll say it again: Joe Burrow was fantastic in 2019. According to PFF WAA, he was far and away the most valuable player of the 2019 season as well as the most valuable player we have ever seen since PFF College's inception in 2014.
When it comes to quarterback evaluation, accuracy is arguably the most important trait, and that's a trait that Burrow has in spades. Last season, 37% of the passes that he threw beyond the sticks were charted as "accurate-plus" (perfectly placed) in PFF's QB charting system, a figure that was five percentage points higher than any other college quarterback. Need we say more?
---
"Arkansas TE C.J. O'Grady said a missed workout led to him getting kicked off Arkansas this past season. Was open that he screwed up and adamant he's learned from it… He's got Day 2 talent but a lot of red flags" – Mike Renner
O'Grady flashed potential when he was on the field, and he owns some of the best after-the-catch ability in this tight end class. In his four seasons with Arkansas, O'Grady averaged 6.3 yards after the catch per reception, and he broke 17 tackles on his 87 career catches. In 2018 alone, O'Grady owned the sixth-highest receiving grade at his position at 87.5. The off-field issues may see him slip to Day 3 or later. If he had no red flags, though, PFF would see him as a top-three tight end in the class.
---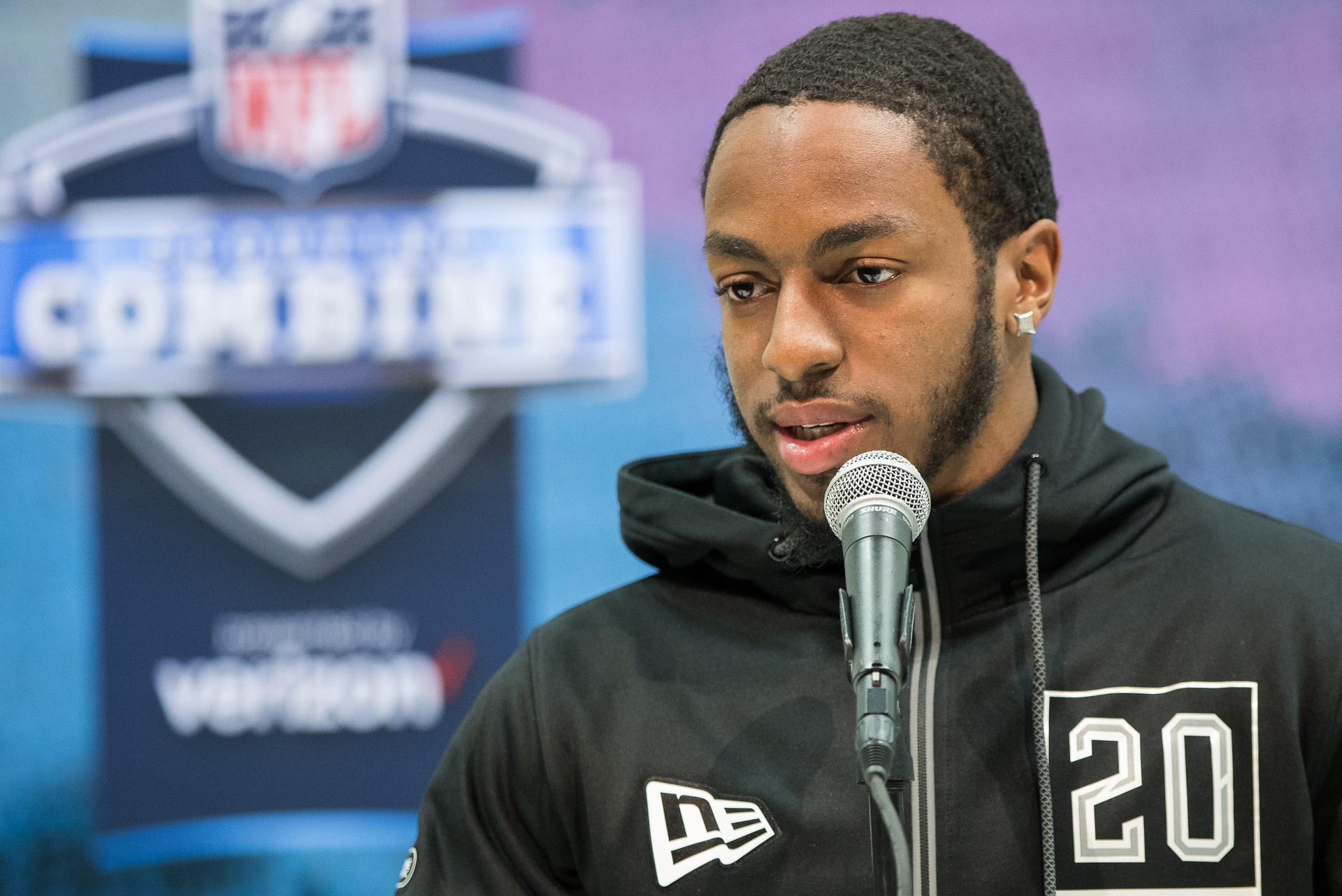 "Penn State's K.J. Hamler on what makes him stand out in this class: "I'm a dog. That's just point, blank, period." Dude has a legit presence, commands a room" – Austin Gayle
Due to being in the same draft class as Jerry Jeudy and CeeDee Lamb, Hamler just doesn't get enough recognition for the separation he routinely created during his time in college. Hamler had a step or more of separation on 64% of his targets from passes thrown 10-plus yards downfield in 2019, which was the fourth-highest rate in college football.
Over the last couple of seasons, Hamler also produced the fourth-most explosive plays of 15-plus yards from the slot — he is one of the most difficult receivers to stick with and, as he said, an absolute dog when working inside.
---
"Washington TE Hunter Bryant said Utah's Bradlee Anae was the toughest player he faced at the collegiate level, praised him for his size/athleticism." – Austin Gayle
Bradlee Anae was hands down the best defensive lineman in the Pac-12 conference; he is a top-100 prospect in PFF's eyes. In that matchup, Bryant did let up a pressure in pass protection, but he also posted the highest single-game run-blocking grade of the 2019 season.
Bryant's bread and butter isn't his blocking, though, it's his receiving. We saw a taste of this in 2017 and 2018, but injury prevented us from getting the full meal. When healthy in 2019, however, Bryant showed why he's TE1 in this draft class. He averaged 7.7 yards after the catch per reception and broke 10 tackles on his 52 catches. He ended the year with a receiving grade of 82.5 that was among the 10 best at his position in college football.
---
"Just repetitions is how I learn and how I get better at things. I'm a visual learner. I'm an active learner. I like to get my hands on. So just repetitions…just keep going through the motions…keep catching that ball…focusing on keeping my eyes 'til it's in my hands and tucking it in." – Brycen Hopkins on how he plans on improving on his eight drops from last season
When you're talking about this class' speedy downfield threats at the tight end position, Hopkins' name is on top of the list. Over his four-year career at Purdue, however, he dropped enough passes to make the potential issue noteworthy. In all, Hopkins dropped 22 of his 216 targets. When you look at that number in relation to just catchable passes, Hopkins' drop rate of 13.8% is the worst in the class among qualifiers. That's not where you want to be, but it appears that Hopkins is actively focusing on improving his concentration and hands this offseason.
---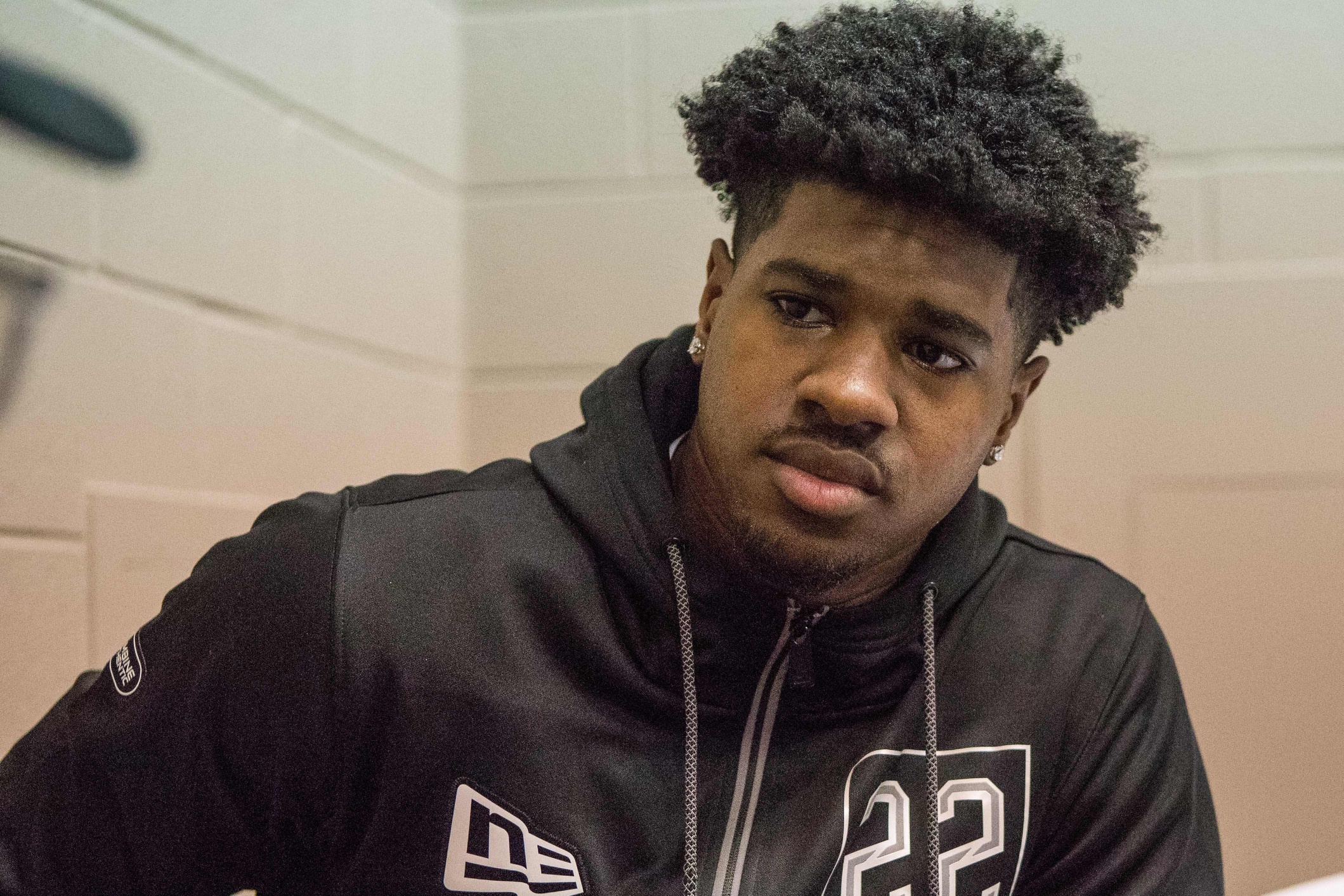 "Definitely a go ball. For sure." – John Hightower on his favorite route to run
When Hightower said his favorite route was the go ball, he wasn't kidding. Altogether, 27 of his 89 targets this past season came on go routes, and he caught all seven of his catchable go-route targets.
It's clear that Hightower has speed to burn, and with a quarterback who can get him the ball deep consistently at the next level, he could end up being one of the biggest steals in this year's deep wide receiver class.
---
"Yeah, I mean, I haven't really put a lot of thought into that because I've been a receiver this whole time, but it's something that I think could add versatility to my game. But right now I'm just focusing on being the best wide receiver I can be." – Chase Claypool on potentially playing tight end in the NFL
In Claypool's write-up in PFF's 2020 NFL Draft Guide, our own Mike Renner said, "Claypool may have a Darren Waller-esque transformation in his future. He's just not much of a modern wide receiver with where he wins. His catch radius is fantastic, though, and he can find a spot on the field somewhere."
Claypool shot down the notion of a switch to the tight end position, remarking on how people may assume that his weight is "bad weight." Claypool earned a receiving grade of 82.3 in 2019 after playing nearly 100% of his snaps at wide receiver.
---
"Tennessee's Jauan Jennings knows he isn't a track star, says he's his best forcing missed tackles and running after the catch — just get him the ball." – Austin Gayle
Jennings appears to have a good grasp of where he adds the most value. Few wide receivers in the country were better after the catch than Jennings was this past season. He averaged 8.0 yards after the catch per reception, ranking seventh among wide receivers in the class who recorded 50 or more catches,  while his 30 broken tackles were four more than second-placed CeeDee Lamb. Ability to make people miss like that translates, and Jennings has that ability in spades.
---
"I'm still learning … still adjusting to all the different techniques that these tests require, so I feel like March 25th at my pro day is when I'm going to be best and feel most comfortable." – Tyler Johnson on why he isn't running the 40-yard dash at the Combine
Johnson addressed the questions as to why he decided not to run this week in Indianapolis, stating that he was still working on his technique to run as best he could at his pro day in March. As Mike Renner said in the PFF Draft Guide, Johnson "may not wow with his speed," but he converted on the downfield opportunities that he saw in the Minnesota offense this past season. Johnson caught 13 of his 18 targets 20 or more yards downfield for 485 yards and four touchdowns during the 2019 season.
---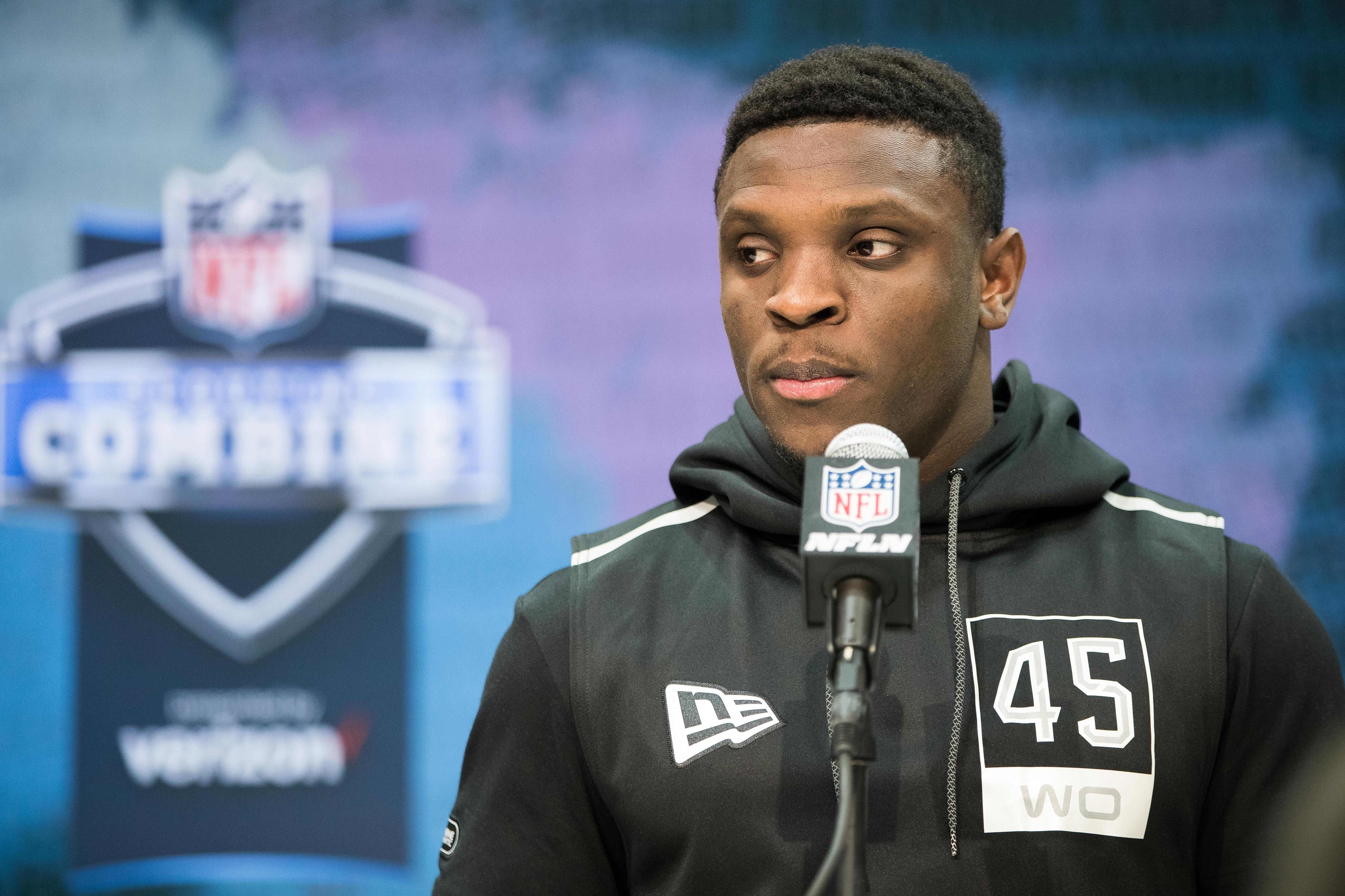 "Jalen Reagor really hammered home that his versatility is a big strength, said he has experience playing outside, slot, RB and QB dating back to high school — he's eyeing a much more versatile role in the NFL than his at TCU." – Austin Gayle
Over the course of his three-year career with the Horned Frogs, Reagor lined up on the outside on 84% of his total offensive snaps. He's among the elite receivers in this class as far as athleticism goes, and he is in the running for quickest 40-yard dash time on Thursday with 4.2 seconds being the target. The production was less than ideal for Reagor in 2019, but we can't forget about the all-around bad situation he was in at TCU. In addition to being limited to the outside, Reagor saw the fourth-worst rate of accurate targets according to PFF's QB charting process.
---
"You can audible based on leverage…space…pretty much attacking space. It's simple football, but it's also complex. You're going to attack. You're looking for numbers, and you're looking to attack them any way that you can. Getting a run play is when the box light, and if not, you're probably going to air it out." – Anthony Gordon on Mike Leach's offensive system
Washington State passed the ball on 82.6% of their offensive plays this past season, over 10 percentage points higher than any other team in the FBS. Surprisingly, that's an environment that quarterbacks love to play in. To Gordon's point about running against light boxes, Washington only ran the ball eight times with eight or more defenders in the box last season. That was the lowest number of any FBS team, and they were one of only nine teams with fewer than 50 attempts on the season.
---
More from the 2020 NFL Scouting Combine: