Nothing highlighted the New England Patriots' recent issues in finding true playmakers on offense more than seeing them try to get the ball to rookie receiver N'Keal Harry Saturday against the Tennessee Titans. Harry saw eight targets — three more than any other receiver on the team — but caught just two of them for 21 yards. He had one carry for seven yards in the game, bringing his total offensive output for the year to just 154 yards on 17 touches.
Harry was taken in the first round, and though injuries have undoubtedly played a significant part in his lack of impact in year one, the fact that he struggles to separate and generate open targets for his quarterback was evident throughout his college tape as well as his rookie campaign. He had the 15th-best PFF grade among rookie receivers, albeit on an extremely small sample size.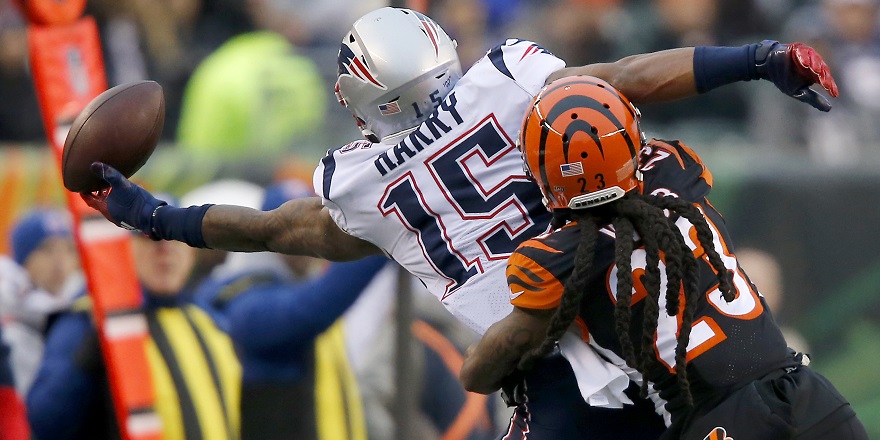 © Joe Maiorana-USA TODAY Sports
What's fascinating is that it was Harry who tempted Bill Belichick and the Patriots back into the game when it comes to drafting skill position players at the top of the draft, because over the last decade-plus they have been incredibly gun-shy in that regard.
The selection of Sony Michel in the first round of 2018 represented the first time the team had spent a first-round pick on a skill position player since 2006, and even that pick was their second selection of the draft, having already secured their future left tackle in Isaiah Wynn eight picks earlier. Harry was their first swing of the bat in 2019.
The 2006 draft by the Patriots now looks like something of an anomaly in a roster-building strategy that has been as focused on free agency and trades as it has been the draft. For years, the Patriots built their roster through the draft from the inside out, but used free agency and trades heavily to acquire role players and skill positions.
In '06, they spent their first four picks on offensive skill position players: Laurence Maroney (RB) in the first, Chad Jackson (WR) in the second, David Thomas (TE) in the third and Garrett Mills (FB) in the fourth. Thomas was arguably the best player of that group, and his best season came in 2009, where he gained 397 yards as a tight end for the Saints. Maroney did have a 1,000-yard season in 2007, but didn't surpass 1,000 again in his career after that.
That draft seemed to scare the Patriots away from skill position players, or at least back to their tried and tested methods. The following year they didn't draft any skill position players, and the year after that they didn't take one until the fifth round. Instead, they pivoted to acquiring proven veterans, shipping draft picks for Randy Moss and Wes Welker. In all, since that draft the Patriots didn't use a first-round pick on a skill position until 2018, and used their second-rounder on one just three times in 13 years – one on Rob Gronkowski.
Setting aside the last two seasons of drafts as too soon to tell, in that 13-year period three players have emerged as unquestionable successes as draft picks: Gronkowski, Julian Edelman (seventh round, 2009) and James White (fourth, 2014). In terms of on-field performance, they also nailed the Aaron Hernandez pick in the same draft as Gronk, but obviously that's more complicated.
The Patriots seemed to realize that projecting college to pro transitions for skill position players — particularly wide receivers in their scheme — was extremely tricky, and that projecting how established veterans would do in their offense was easier. They brought in Welker, Moss, and later Brandin Cooks, trading as much as a first-round draft pick to make moves happen. Given how the NFL calendar functions, they also have a shot to address weaknesses in the roster with trades and free agency before the draft. The moves for Moss and Welker transformed their wide receiver group in a way that probably saved them multiple draft picks at the position over the next few years.
The problem the team currently faces is that its offensive success was built on a very small number of foundation pieces, and those have slowly begun to disappear. Gronkowski, like Moss before him, was one of the greatest players the league has ever seen and was able to paper over a lot of cracks, but when he retired that left a huge void that has yet to be filled. They traded away Cooks rather than commit to him long term, and the next two attempts at veteran fixes (Josh Gordon and Antonio Brown) proved to be too high-risk. Without those two players, in 2019 they were relying on an aging Edelman and little else to form a receiving corps Tom Brady could have faith in.
| | | | | | | | |
| --- | --- | --- | --- | --- | --- | --- | --- |
| Name | Pos | Rec. Grade | Tgts | Rec | Yds | TDs | Rating |
| Antonio Brown | WR | 90.0 | 8 | 4 | 56 | 1 | 112.5 |
| Julian Edelman | WR | 72.0 | 147 | 100 | 1117 | 6 | 98.4 |
| Phillip Dorsett | WR | 66.9 | 56 | 29 | 397 | 5 | 104.5 |
| N'Keal Harry | WR | 66.6 | 23 | 12 | 105 | 2 | 75.5 |
| Jakobi Meyers | WR | 64.7 | 40 | 26 | 359 | 0 | 83.2 |
| Mohamed Sanu | WR | 58.8 | 45 | 26 | 207 | 1 | 67.5 |
| Gunner Olszewski | WR | 51.5 | 4 | 2 | 34 | 0 | 79.2 |
The story could have been different if they had they nailed their first-round draft pick. Harry is the first wide receiver Bill Belichick has drafted in the first round since he was running the Cleveland Browns. He's the first wide receiver the Patriots have taken in the first round as an organization since Terry Glenn in 1996. The 2019 draft also featured immediate impact players like D.K. Metcalf, A.J. Brown, and Terry McLaurin, not to mention Marquise Brown and others. Hindsight is 20:20, but had they opted for a different first-round receiver, things could have looked far healthier this season. To be fair, should Harry show that first-round talent in 2020, it could also go a long way toward repairing some of the damage, but one player does not make a receiving corps, and the Patriots have just found themselves too bare when it comes to playmakers.Edelman had 147 targets this season, but their next highest figure was 90, and that was to running back White. Benjamin Watson had the most targets among the tight ends with just 23. By the end of the year, teams understood that if they focused their coverage on Edelman, the Patriots didn't have anybody else that could win one on one.
They now enter one of the most critical offseasons in the franchise's history. Brady's contract is expiring, and they have no ready succession plan in place. Even if Brady and the Patriots do continue their marriage, he showed this season that he is no longer able to drag a ragtag group of no-names to success beyond their means. Brady needs help in the form of playmakers, so the Patriots need answers over the course of free agency and the upcoming draft. If Harry can turn things around after a slow start, that would help, but they need an injection of speed and talent at those positions beyond what he alone can bring. The Patriots have had a very unusual approach to acquiring skill position players over the course of their dynasty, and for the first time it's suddenly left them in a tough spot and needing to nail a sequence of moves over the course of one offseason to fix it. If they can't, we might have witnessed the end of the dynasty whether Tom Brady is there or not.